A Daring Couples Bedroom Game
As teens, my friends and I would play a game called "Never Have I Ever…" It was a simple sleepover game that we used to open up to each other. We'd talk and laugh about new adventures we tried or were definitely way too scared to try. It was an opportunity to be honest and talk to each other about our similarities and differences and give each other ideas about fun things to try in the future. I remember talking about everything from "Never have I ever failed a test." to "Never have I ever eaten sushi!" The game is best played in the middle of the night after consuming ridiculous amounts of sugary treats.
Anyway, in the original game, each player holds up all the fingers on one (or two) hands and then each person takes turns saying something they've never done. If you have done the announced action, you put down a finger. Once all your fingers are down, you've lost, so if you're super adventurous and a huge risk-taker, it's not a game you're going to win but it's still fun to play. The winner is the one with the last finger standing! After chatting about it, the Divas decided we loved the simplicity of this game and thought it would be so fun to adapt to play in the bedroom—talk about risque! Get ready for a simple, spicy, Diva-style version of the classic slumber party game that's perfect for couples who want to try a few new things!

Disclaimer: This post contains affiliate links. To learn more about 'em, click here.

Now, you could totally play this game with nothing more than you, your spouse and a touch of creativity but sometimes it's hard to get those creative juices flowing when you're also trying to have an intimate evening, so we thought we'd take some of the 'work' out of the idea for you. Everything you'll need to start your own intimate game of Never Have We Ever can be printed out on just a few sheets of cardstock, to create a spicy deck of playing cards.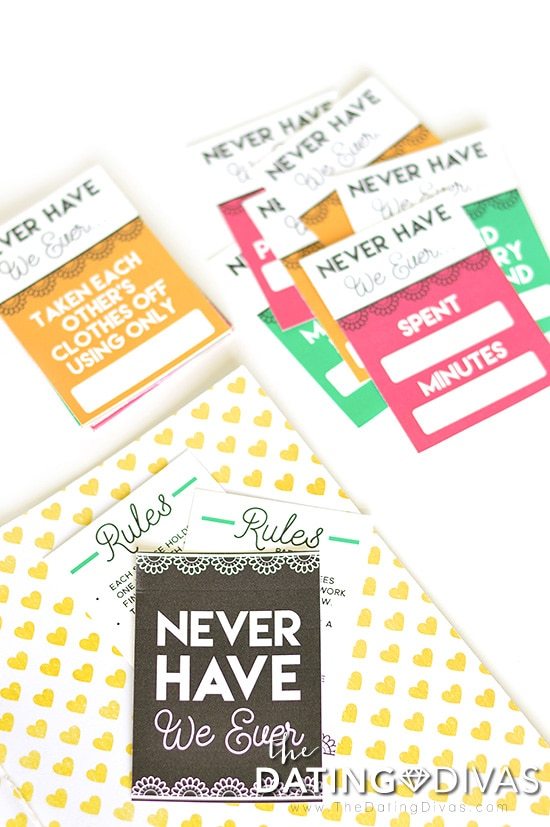 The set of cards that Courtney from Paperelli created is not your average deck, it's bright, colorful and enhanced with oh-so-sexy lacy details that help set the perfect, intimate mood. I love that the rules cards are the same size as the rest of the deck, so everything fits together perfectly. It makes it easy to store and therefore easy to replay over and over again! Trust me, you're definitely going to want to play again.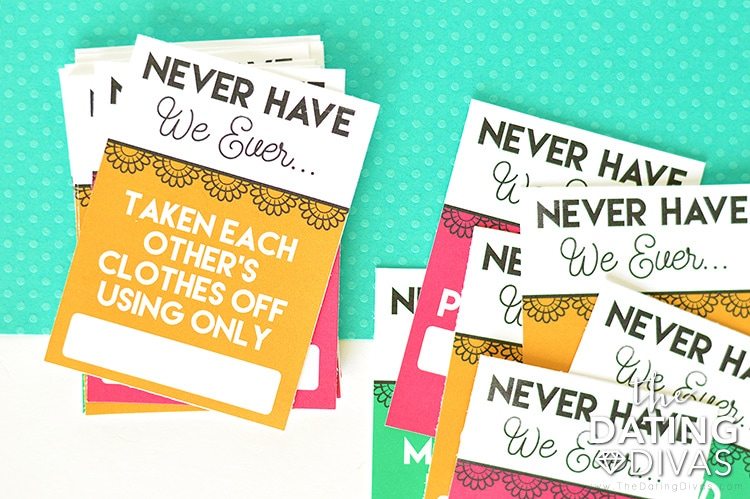 There are all kinds of ways to modify how the game is played, but you're basically competing with your spouse to see who can come up with the best new ideas for your intimate activities. In case you or your spouse needs a last-minute refresher on how to play the game, we've included the basic rules on two of the cards.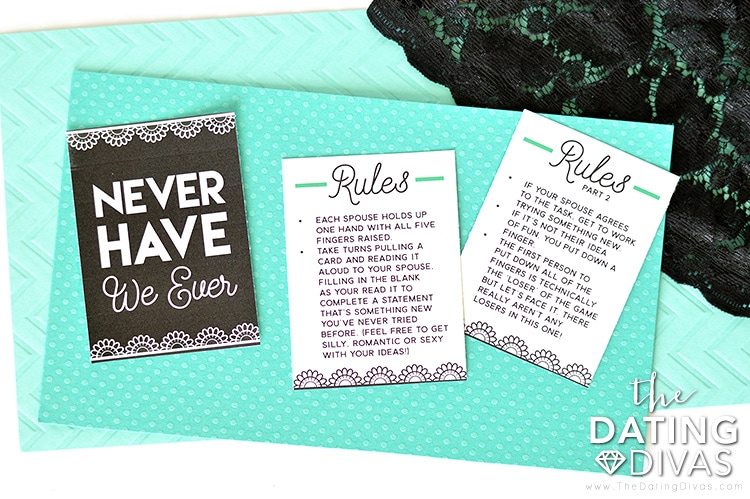 To start playing, just hold up your fingers and take turns pulling cards. Each card has a sentence that starts with the phrase "Never Have We Ever…" and ends with a suggestive bedroom idea.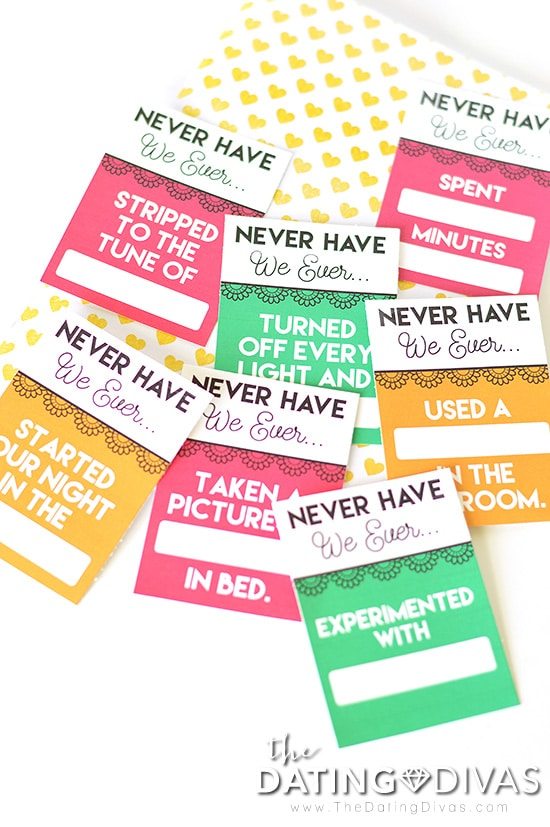 When it's your turn to read a card, fill in the blank with a new idea that you and your spouse have never ever tried before! If you're both interested in trying, get to it.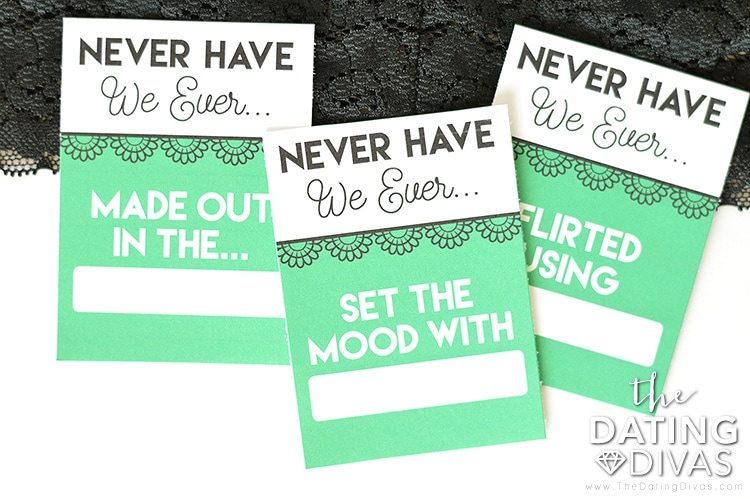 If your spouse isn't feeling in the mood for that particular activity, no worries, you'll just get to draw more cards and try again BUT since you were being a little more adventurous than your spouse, you do have to put down one of your fingers.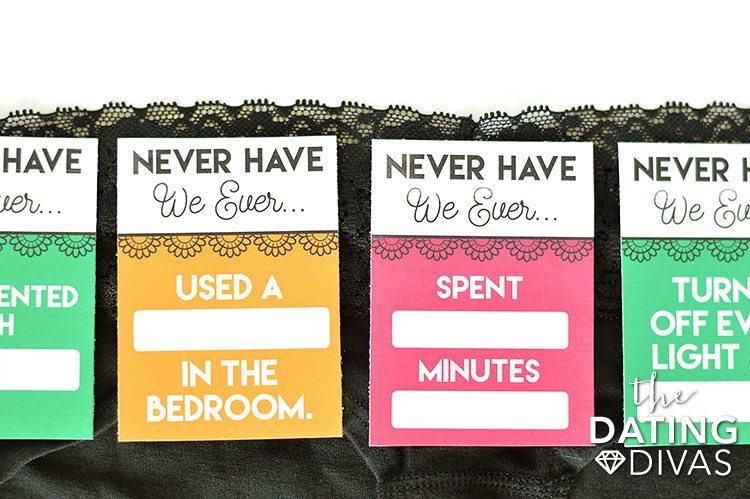 If you start to feel extremely daring, you can even come up with some ideas that aren't in the cards. It's totally okay to get creative, just remember that you want to try new things that your spouse will be interested in trying too!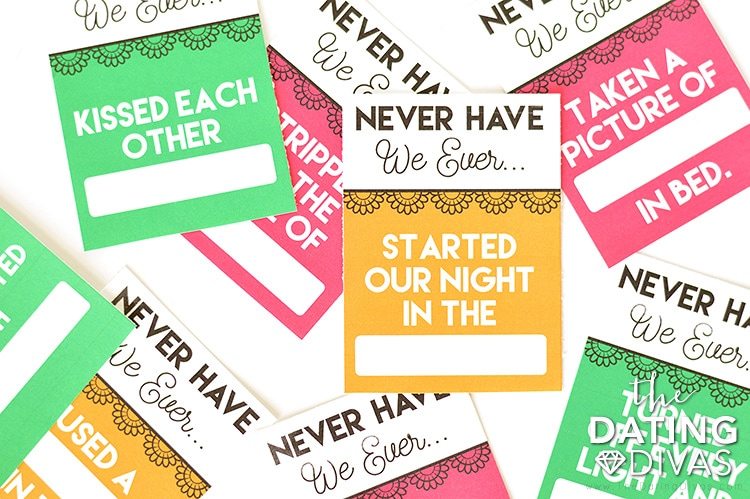 Well, are you ready? Start with this one, Never Have We Ever… played Never Have We Ever in the Bedroom… that is, until tonight!!
If you're looking to spice things up even more, check out JimmyJane. They have tons of products to keep things exciting in the bedroom! We also can't get enough of The Game of Love – it is SO fun and a totally different game every time you play! Honestly, we could rave about it all day! One Diva bought it instead of an expensive dinner out for her last anniversary, and they've have been singing the praises ever since!
Never Have We Ever in the Bedroom
Printables Designed by Courtney @ Paperelli Exclusively for The Dating Divas