Ideas for New Year's
Crank up the sparkle-factor and get ready to confetti because it's almost New Year's! If you're anything like us, NYE means getting down and and partying hard! If you're always up for new ideas on how to make that happen, well, we've got your back! With our list of over 70 New Year's Eve Ideas, we'll help you ring in the New Year like never before. From couples to families (and kiddos, too!), we've got something for everyone and will help make THIS New Year's Eve a total success. Ready for the good stuff? Let's party!

Disclaimer: This post contains affiliate links. To learn more about 'em, click here.
To help make your idea-hunting as easy as possible, we've divided our list into six simple categories:

8 New Year's Eve Treats for Kids
18 New Year's Eve Activities for Kids
8 New Year's Eve Treats for Families
24 New Year's Eve Activities for Families
8 New Year's Eve Treats for Couples
12 New Year's Eve Activities for Couples
Pretty great, huh?! Keep reading!
8 New Year's Eve Treats for Kids
What's a party without the spread?! These New Year's Eve nibblers are totally on-theme and guaranteed to please even the pickiest of palettes. Save these ideas on Pinterest!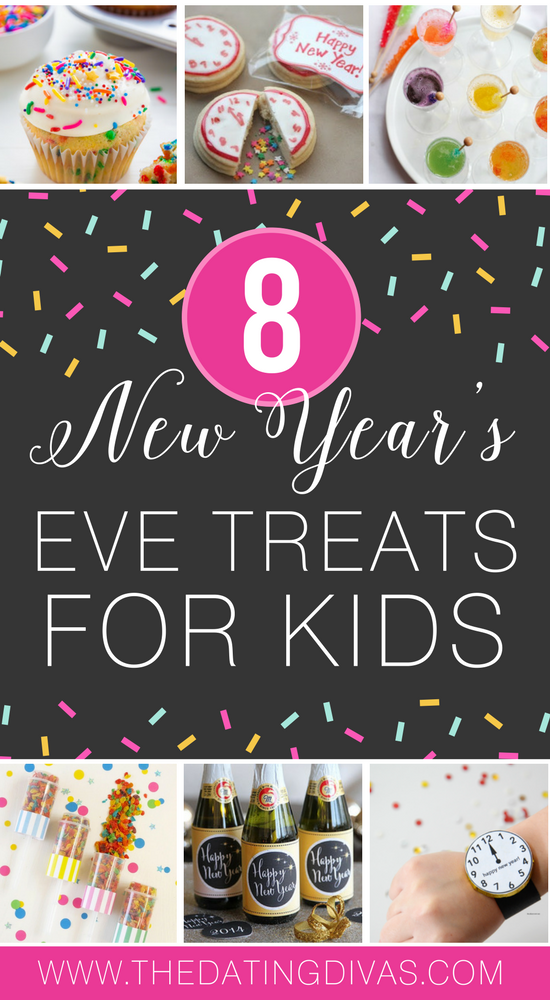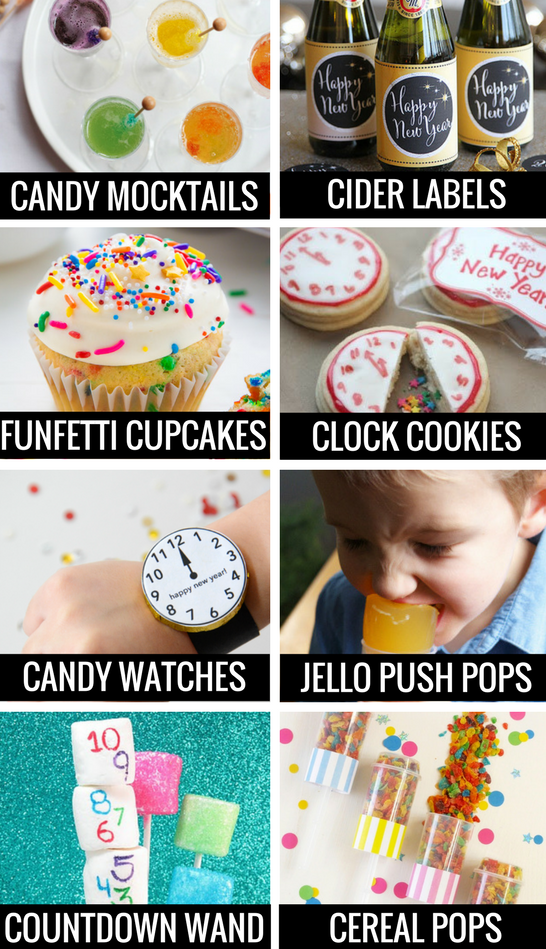 1. Candy Mocktails (Modern Parents Messy Kids) – Little ones will LOVE sipping their own non-alcoholic cocktails that are perfectly sweet and easy to whip up!
2. Cider Labels (Living Locurto) – Give everyone's favorite sparkling drink an extra dose of cuteness with these printable cider labels.
3. Funfetti Cupcakes (Baker by Nature) – Unleash some confetti in the sweetest way possible with these tasty treats that are total kid-pleasers.
4. Clock Cookies (Repeat Crafter Me) – Clock adorned and confetti-filled, these easy cookies are definite scene stealers. These sprinkles would look so cool!
5. Candy Watches (The Idea Room) – Give little ones their own personal countdown clock with this confection-filled goodie!
6. Jello Push Pops (Modern Parents Messy Kids) – These adorable push pops will take sparkling cider to a whole new level!
7. Countdown Wand (The Decorated Cookie) – This DIY marshmallow countdown will help infuse a little magic into your NYE bash.
8. Cereal Pops (Bird's Party) – Swap out the usual confetti for a cereal-themed treat that's as cute as can be!
18 New Year's Eve Activities for Kids
The countdown to midnight is on, but these activity ideas will keep your littles entertained until then!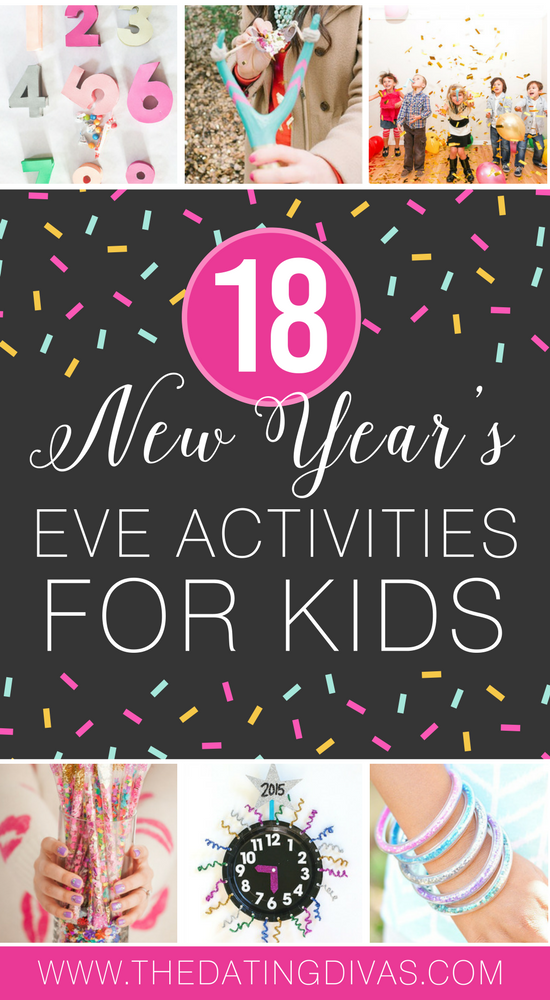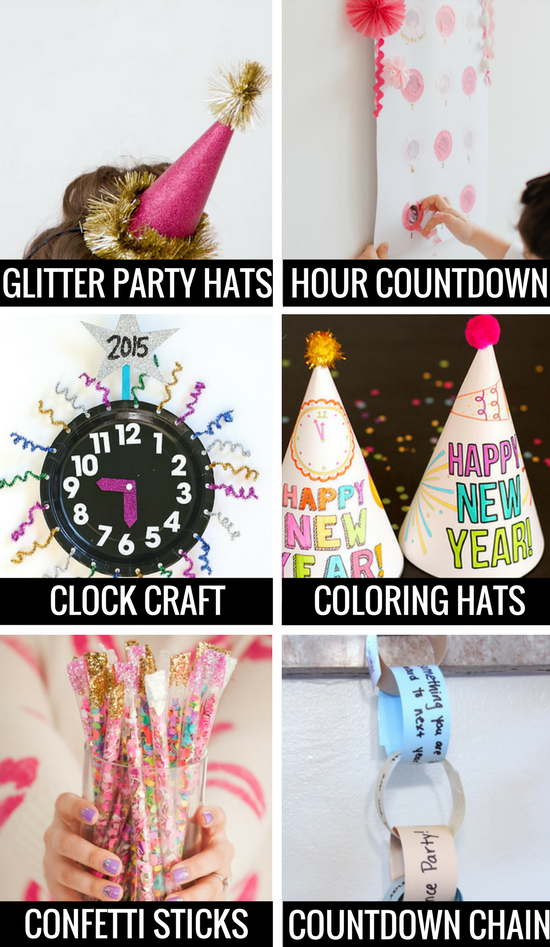 9. Glitter Party Hats (Studio DIY) – Add a little pizazz to your NYE outfits with these DIY party hats!
10. Hour Countdown (Modern Parents Messy Kids) – Keep everyone entertained and excited with this hour-by-hour countdown that's fun to make and use.
11. Clock Craft (Buggy and Buddy) – Infuse a little teaching time with this DIY clock craft that's both educational and crazy cute!
12. Coloring Hats (Happiness is Homemade) – An activity and fashion statement all in one? Sign us up!
13. Confetti Sticks (Best Friends for Frosting) – It doesn't get much greater than this! These DIY confetti straws will take celebrating to a whole new level.
14. Countdown Chain (The OT Toolbox) – Easy peasy and perfect for families, this paper chain countdown turns a classic activity into the perfect New Year's treat.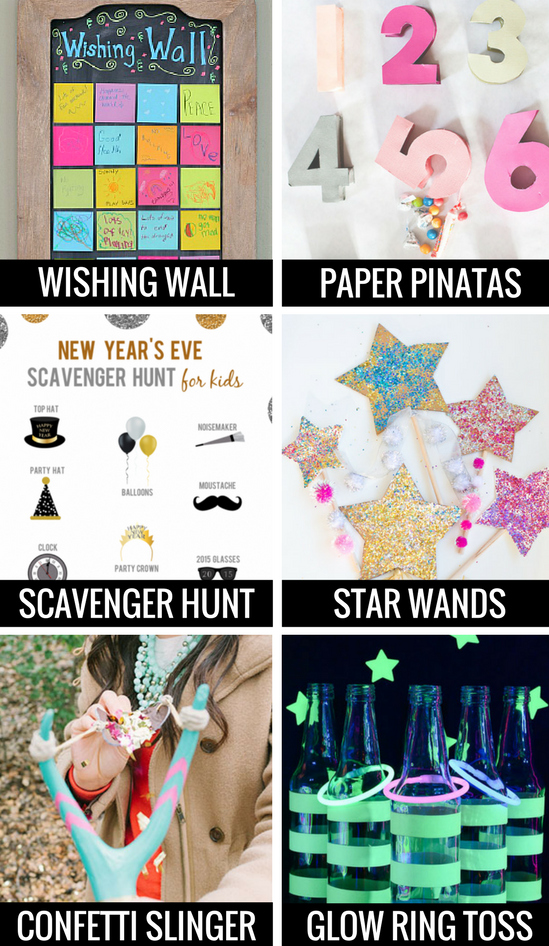 15. Wishing Wall (Buggy & Buddy) – Get ready for the new year with this wishing wall that's fun for adults and kiddos alike!
16. Paper Piñatas (A Subtle Revelry) – A pretty, candy-packed countdown idea, these Paper Number Piñatas will be a hit! Literally.
17. Scavenger Hunt (Reasons To Skip the Housework) – Let the games begin with this perfectly New Years-themed hunt.
18. Star Wands (Hello, Wonderful) – A little glitter, cardboard, and imagination combine to make these magical wands that are PERFECT for ringing in the New Year.  
19. Confetti Slinger (Green Wedding Shoes) – Swap out traditional poppers for a whole new confetti experience with these slingers!
20. Glow Ring Toss (A Pumpkin & A Princess) – Let this night-friendly game take center stage!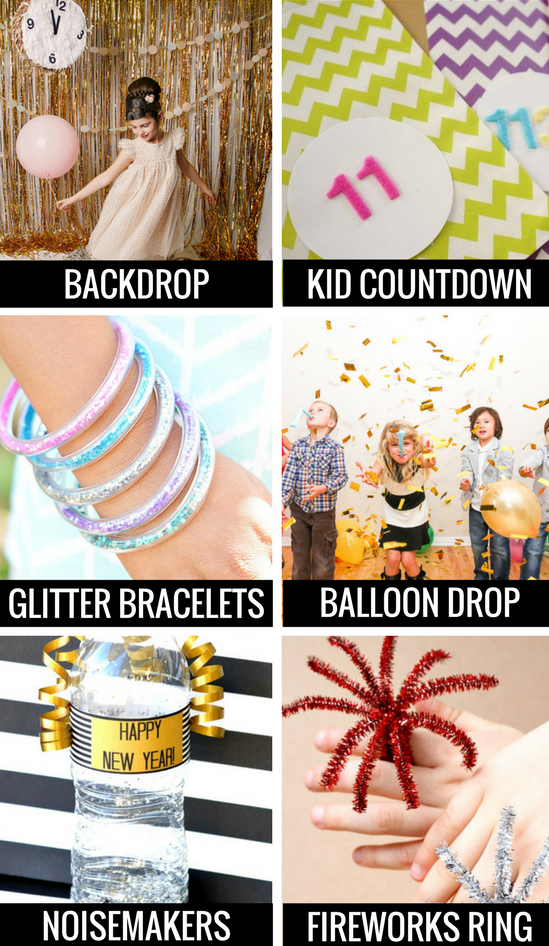 21. Backdrop (Project Nursery) – A stunning photo backdrop or play area, this DIY idea is so New Year's Eve-worthy it's scary!
22. Kid Countdown (DIY Inspired) – Try this interactive countdown for kids to keep everyone busy, and giggling too!
23. Glitter Bracelets (A Pumpkin & a Princess) – Give those little fashionistas a clever craft to keep them busy and celebrating in style.  
24. Balloon Drop (Evite) – Is there anything more exciting than a balloon drop?! We don't think so.
25. DIY Noisemaker (Sincerely Jean) – Gather up those empty water bottles and get ready for some noise!
26. Fireworks Ring (Fantastic Fun and Learning) – Extra small kiddos will love the simplicity and creativity that goes into making these Fireworks Rings (and you will too!).
8 New Year's Eve Treats for Families
Oh, so sweet is the name of the game with these tasty morsels that are perfect for families!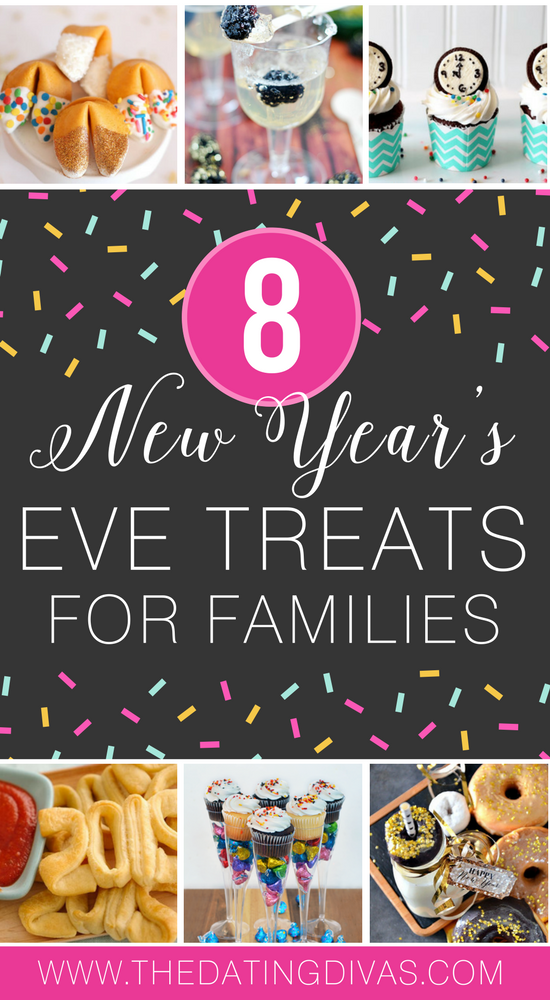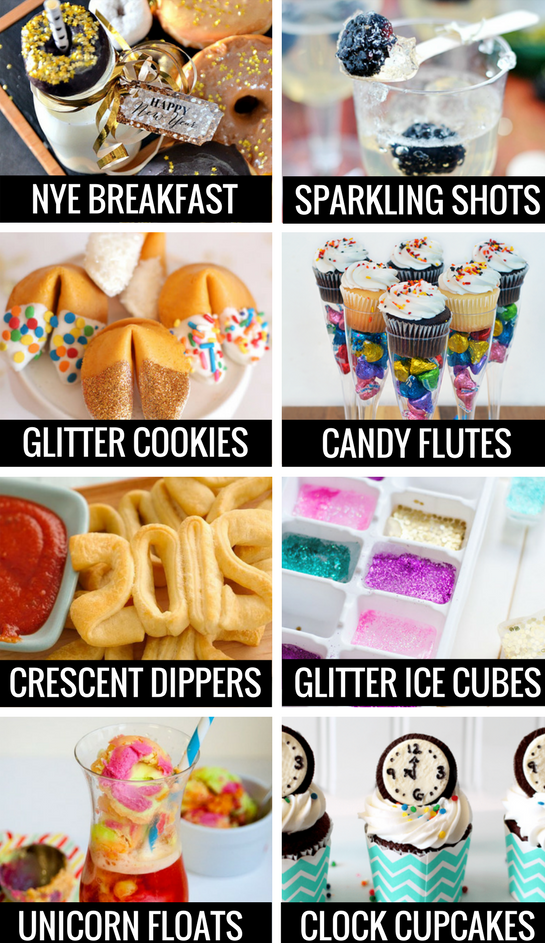 27. NYE Breakfast (The 36th Avenue) – Have yourself a NYE breakfast fit for a king with these dazzling and glittery goodies!  
28. Sparkling Shots (Something Swanky) – Looking for a family-friendly alternative to alcohol? You've found it!
29. Glitter Cookies (Happiness is Homemade) – It's about to get all sorts of sparkly with these glitter-dipped goodies.
30. Candy Flutes (i Heart Arts N Crafts) – Forget the bubbly in favor of these candy packed, kid-friendly flutes!
31. Crescent Dippers (Pillsbury) – A tasty treat that just screams New Year's is a total win in our book!
32. Glitter Ice Cubes (A Subtle Revelry) – Normal ice cubes are SO last year. Use these glittery cubes at your NYE bash!
33. Unicorn Floats (The Bewitchin' Kitchen) – Littles will love these crazy colorful drinks!
34. Clock Cupcakes (Somewhat Simple) – Piled with frosting and topped with a clock, these countdown cupcakes are almost too cute to eat! Almost… 
24 New Year's Eve Activities for Families
From party hats to countdown bags, there's something for everyone!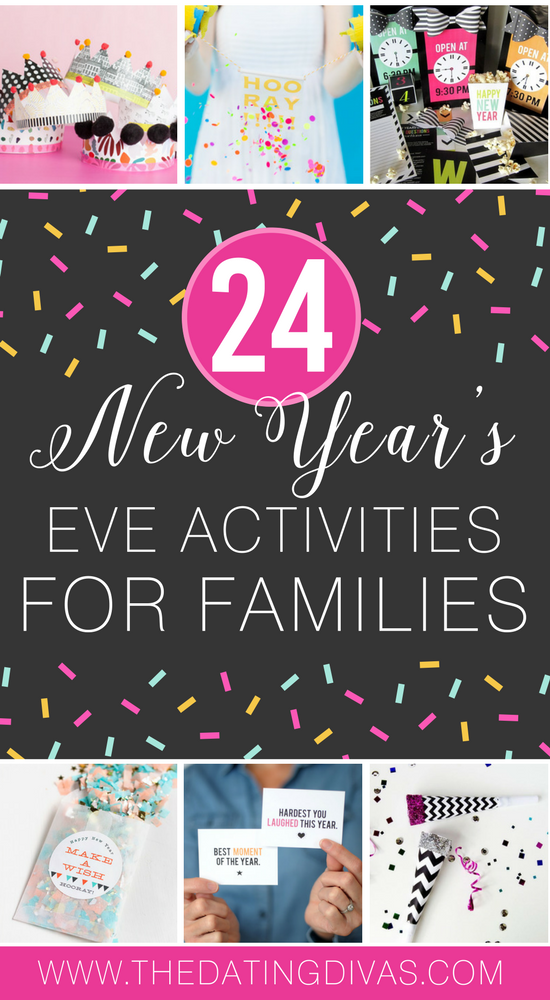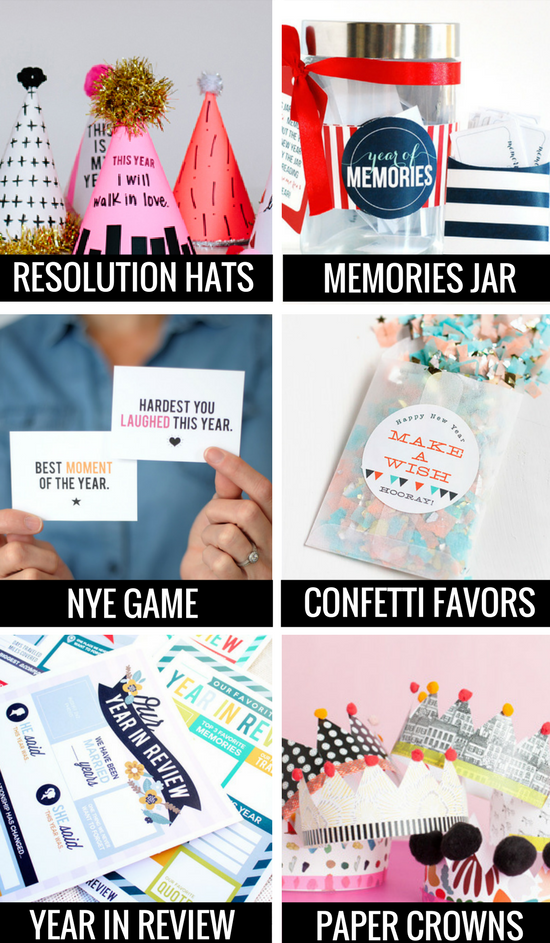 35. Resolution Hats (Walk in Love) – Take normal paper party hats to the next level like these by writing in your resolutions!
36. Memories Jar (The Dating Divas) – Get a jump on your new favorite New Year's idea with this clever memory-making idea.
37. NYE Game (Alice & Lois) – Take some time to go over the past year's best and worst moments with this darling printable game.
38. Confetti Favors (Evermine) – DIY confetti, pouches, and poems combine to make one fabulous favor that's loved by all ages!
39. Year in Review (The Dating Divas) – Gather the fam and take a walk down memory lane with this totally done-for-you Year in Review kit.
40. Paper Crowns (The House that Lars Built) – Add a touch of glamour to your gathering with these printable paper crowns.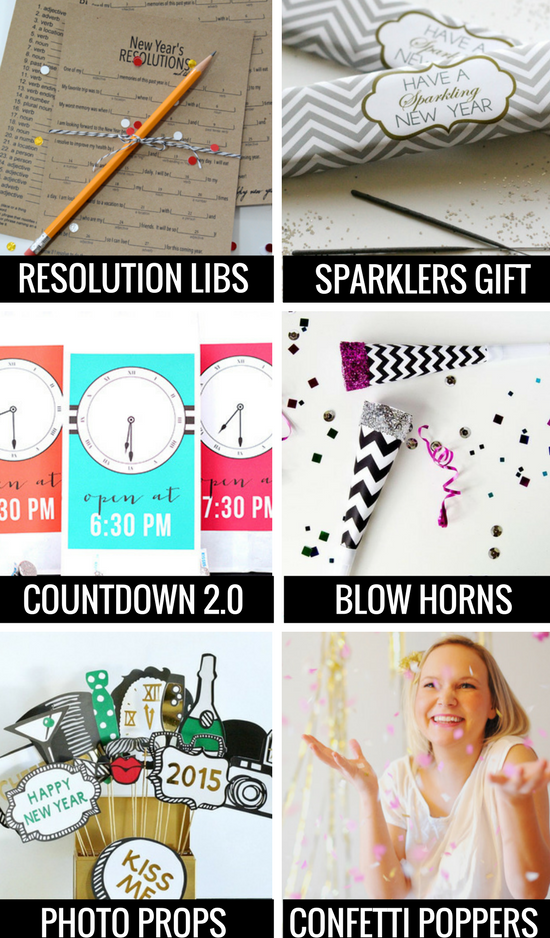 41. Resolution Libs (The Idea Room) – All aboard the laugh train! These kooky and crazy libs will have everyone in stitches!
42. Sparklers Gift (Lil' Luna) – Turn ordinary sparklers into a clever gift for each family member.
43. Countdown 2.0 (The Dating Divas) – Our classic countdown bags are BACK with a whole new spin you won't want to miss!
44. Blow Horns (Love the Day) – Make some noise for the new year with these DIY blow horns.
45. Photo Props (The Crafted Sparrow) – If you're ready for giggles and a whole lot of grins, these photo booth props are exactly what your family needs!
46. Confetti Poppers (Ruffled Blog) – The forecast for this evening is an extra dose of COLOR!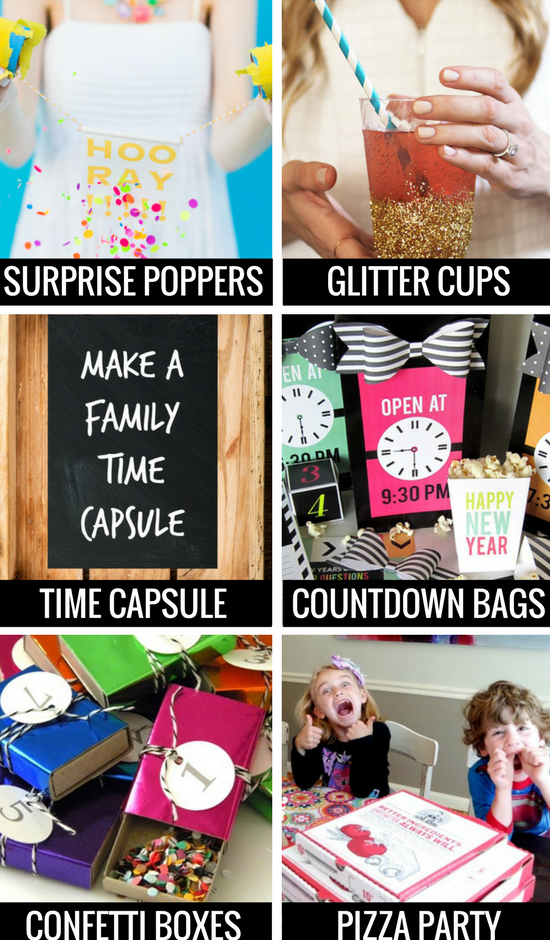 47. Surprise Poppers (Studio DIY) – Slip a secret message into these confetti poppers and wait for the smiles!
48. Glitter Cups (Evite) – Sip in style with this clever glitter cup craft.
49. Time Capsule (Kids Activities Blog) – Gather the kiddos and make a memory that will LAST with these DIY time capsule idea.
50. Countdown Bags (The Dating Divas) – Take the traditional countdown to a WHOLE new level with these hourly treat bags that done for you and absolutely adorable!
51. Confetti Boxes (Homework) – A countdown like no other, these individual confetti boxes are a crafty and colorful way to make it to midnight!
52. Pizza Party (My Life and Kids) – If your family likes pizza and parties you are in major luck.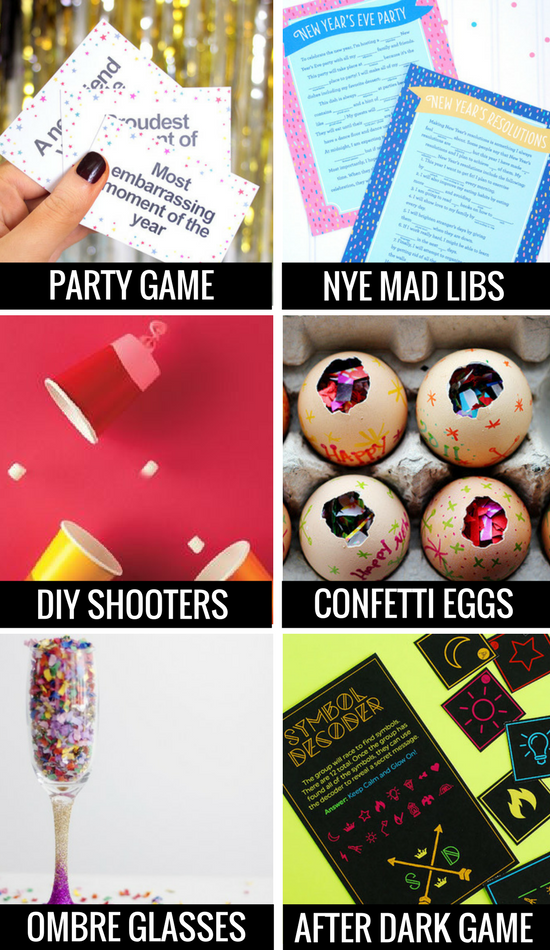 53. Party Game (Party Delights) – Get an inside look into everyone's best and worst moments of the year with this printable party game that's sure to delight!
54. NYE Mad Libs (The Dating Divas) – Get ready for laughs! These printable New Year's-themed mad libs will have everyone hootin' and hollerin' in no time!
55. DIY Shooters (Real Simple) – Who said NYE had to be civilized? Not us!
56. Confetti Eggs (Radmegan) – Try switching things up with this egg-selent activity that may become your family's favorite tradition!
57. Ombre Glasses (Rock N' Roll Bride) – Help everyone get their inner artist on by creating your very own toasting glasses that have the perfect level of sparkle.
58. After Dark Scavenger Game (The Dating Divas) – Score some major points with the kiddos by unleashing this clever after dark game!
8 New Year's Eve Treats for Couples
Perfect for sharing, these New Year's Eve goodies will hit the spot!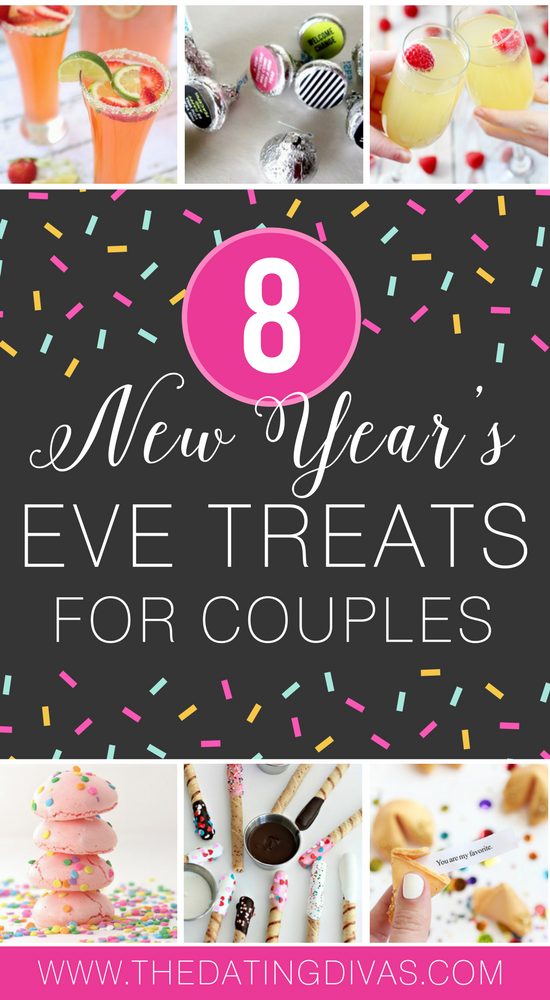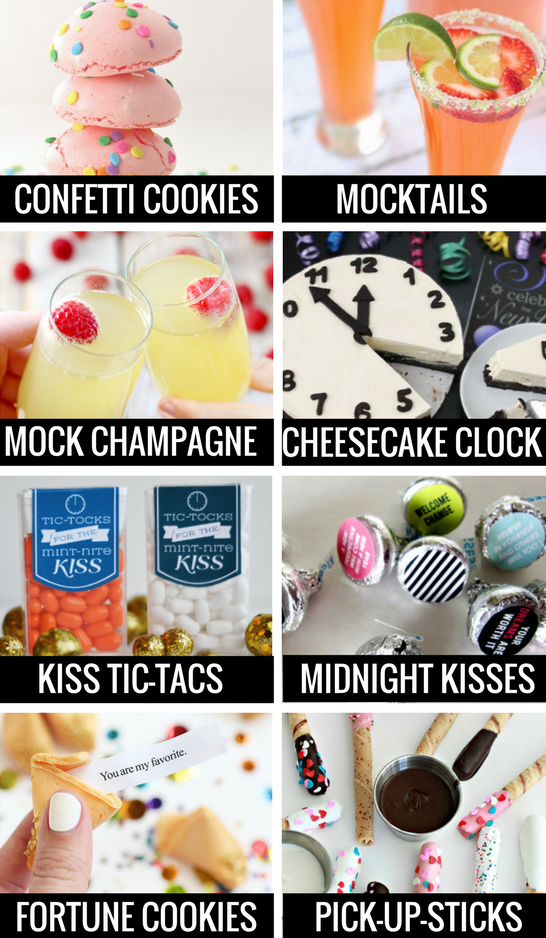 59. Confetti Cookies (Easybaked) – Sweet, pink, and with a healthy dose of confetti, these light-as-a-feather cookies will help woo your sweetie in no time.
60. Mocktails (Play. Party. Plan.) – With elegant notes like citrus and strawberry, it's hard to believe there isn't any booze in these bubbly mocktails.
61. Mock Champagne (Love Bakes Good Cakes) – Non-alcohol drinkers will adore this Mock Champagne recipe, just perfect for two!
62. Cheesecake Clock (Hungry Happenings for Tablespoon) – Did someone say cheesecake? Count us IN!
63. Kiss Tic-Tacs (Infarrantly Creative) – Make sure that kiss is minty fresh with these printable tic-tac labels.
64. Midnight Kisses (The Dating Divas) – That midnight kiss is about to get a whole lot sweeter with this chocolate/fortune/kiss combo!
65. Fortune Cookies (I Spy DIY) – A clever twist on a fabulous treat.
66. Pick Up Sticks (A Nest of Posies) – A dippable game and goodie in one? We're so there! 
12 New Year's Eve Activities for Couples
Slow things down and crank up the romance this NYE with these couple-approved ideas!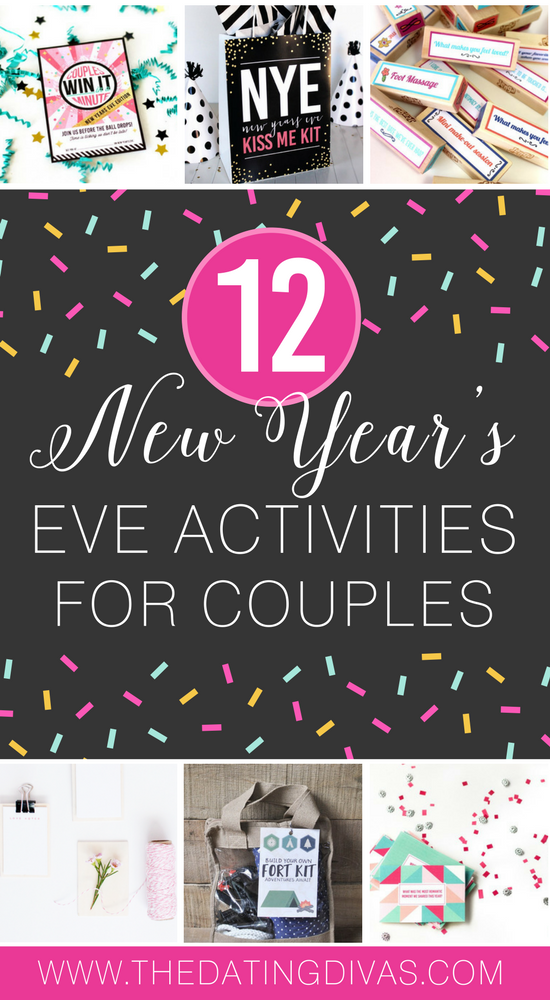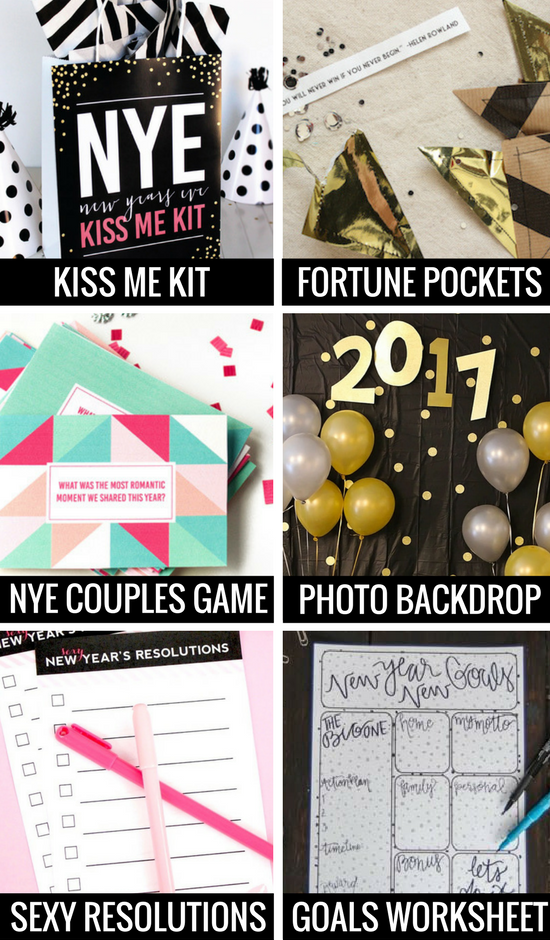 67. Kiss Me Kit (The Dating Divas) – Hold onto your hats because this kit pulls out all the stops!
68. Fortune Pockets (Design Sponge) – Filled with confetti and a whole lotta cute, these DIY fortune pockets are a great way to infuse a little fun into your NYE celebration.
69. NYE Couples Game (The Dating Divas) – Use this fun and revealing game to help the two of you dig a little deeper and emotionally connect.
70. Photo Backdrop (Somewhat Simple) – Snap a few shots of you and your sweetie against this clever backdrop for a memory that's as pretty as it is fun! Try out this tripod and give that arm a break!
71. Sexy Resolutions (The Dating Divas) – Take your goal-making to a whole new level with these printable Sexy Resolution sheets that are guaranteed to please.
72. Goals Worksheet (Dawn Nicole Designs) – Take a couple moments to refresh, reflect and plan for the New Year with these printable worksheets.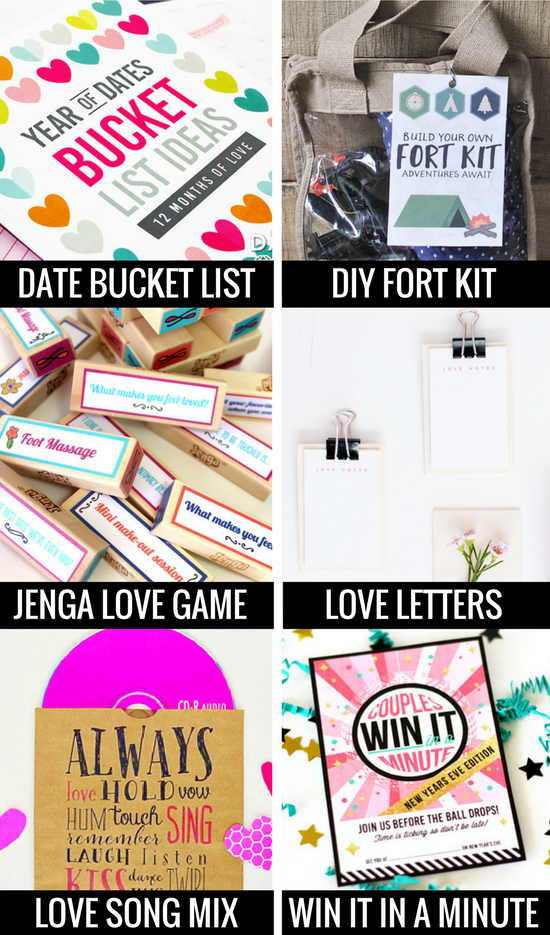 73. Date Bucket List (The Dating Divas) – Stay ahead of the curve and plan for all the spicy dates you two will do with this bucket list kit that guides you from start to finish.
74. DIY Fort Kit (Wit & Wander) – Your all-night partying is about to get a total makeover with this DIY Fort Kit that will help set the stage for you and your sweetheart!
75. Jenga Love Game (The Dating Divas) – Things are about to get a little hot and steamy with this clever game for two!
76. Love Letters (Oh So Pretty) – Take a few minutes to unleash your inner author and write some sweet nothing's to each other. Open at midnight!
77. Love Song Mix (The Dating Divas) – Slow things down and get your sway on with this clever mix created by US just for YOU!
78. Couples Win It in a Minute (The Dating Divas) – NYE will never be the same after playing these wild and wacky couple-themed games! 
Was that a list to remember or WHAT?! Save this list on Pinterest to remember for years to come!Wishing you and yours a magical midnight and a Happy New Year!
For even more great lists like this one, be sure and check out our Christmas Gift Guide for Kids and Christmas Gift Guide for Him.
SaveSave
SaveSave