Re-Vamp Your Nightstand To Help Your Marriage!
We are so thrilled to be partnering with Lowe's on today's post all about freshening up a space in your home!
Here at The Dating Divas we TRULY believe it's the little things in a marriage that make it strong! One of those little things is recognizing the importance of a fabulous nightstand space in your bedroom. Aaaaaand, you're probably wondering HOW a nightstand can possibly make a difference in your marriage, right? Well, read on my friends! We've got some super fun tips to help you make your nightstand space a fabulous place for your marriage!

I am SO ashamed to show this picture, but THIS is how sad my nightstand space was before I re-did it!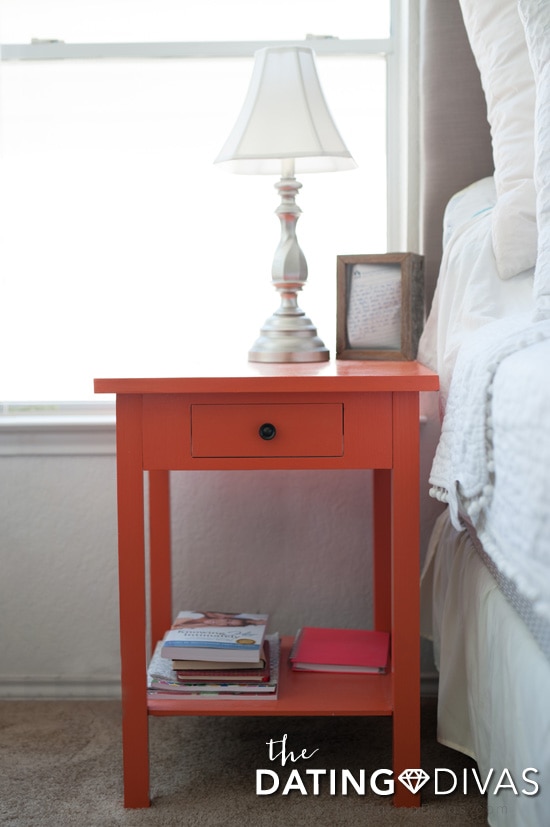 First of all, can we talk about that paint color??! I painted this nightstand myself right after we got married (almost 8 years ago!), back when I loved the color coral. But now that Joanna Gaines has graced our lives with her incredible skill of decorating with neutrals, I have been more than ready to get rid of this pop of color and go back to the basics! Plus, as much as I love that framed love letter from my hubby, it just isn't easy on the eyes. And I desperately need to organize all those books (yep, you're seeing coloring books in there, it's my secret to a good night's sleep after a stressful day!) I also have ONE other trick up my sleeve to spruce this up even more and make this a TRUE space for you and your sweetie, but you'll have to keep reading!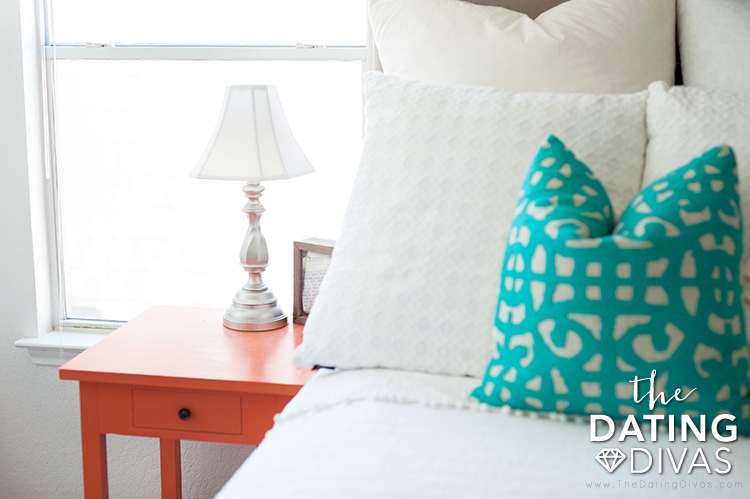 For picking a new paint color and trying to decide how I would decorate this space, I knew I wanted something neutral for the nightstand itself but I also knew I would need to bring in decor that would work better with these pillows on our bed. We recently bought new bedding and for some reason, I completely neglected to tie my nightstand in with the new look. Sooooo, now it's time! Since our walls are white, our bedding is white, and my computer desk is white, I decided to go with black for the nightstand. Basic, clean, simple, and bold! I also really like the look of flat paint on accent pieces like nightstands and dressers, so I decided to go with that!
I headed out to Lowe's to go pick out my paint color!  Here is the exact paint I used, it is Valspar's black paint + primer in flat: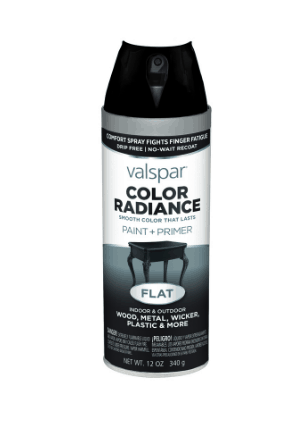 Before I started painting, I took notice of these bad scratches on the top of the nightstand: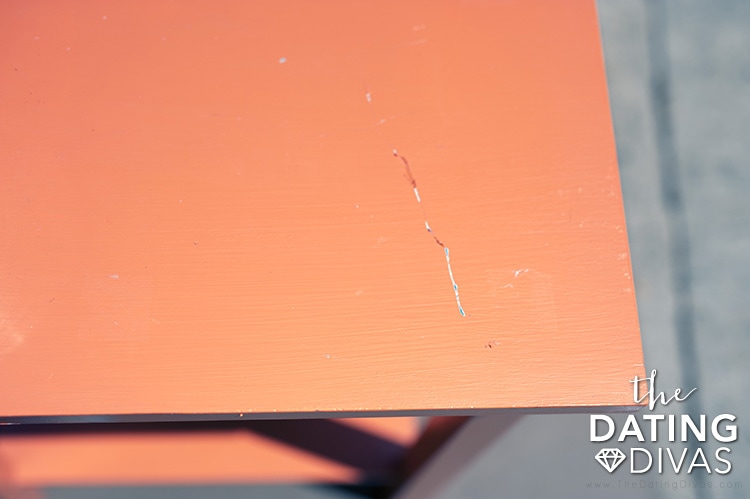 I used my fingernails a little bit to scrape off the paint that had rolled up on top, but other than that I was hoping the paint + primer would take care of the rest… and it did!
Here is the nightstand after the first coat of spray: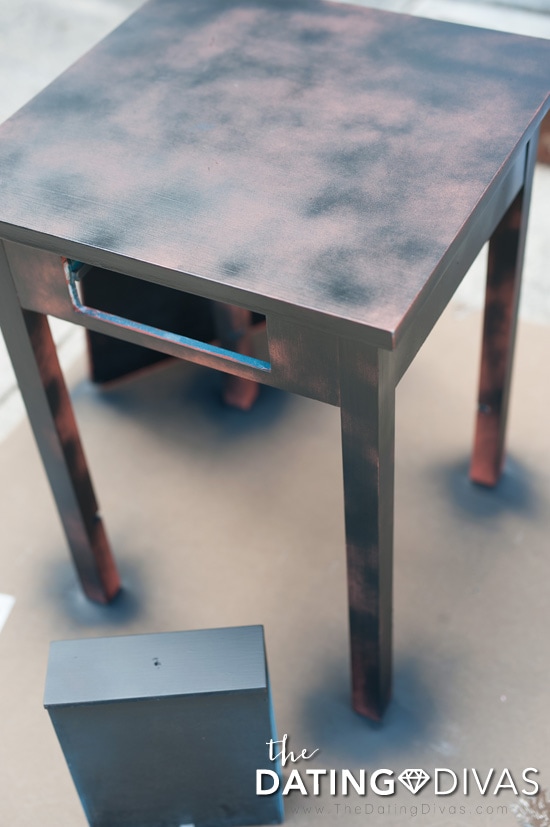 I'll be honest, when I left Lowe's with my paint, I only had 2 cans in hand. I've done enough spray paint projects to know that it almost always takes MORE paint than you think, but I also knew this was paint + primer, so I was hoping two cans would be enough. Looking at the coverage after only ONE coat (this was one whole can), I knew that two cans were going to be perfect! YAY!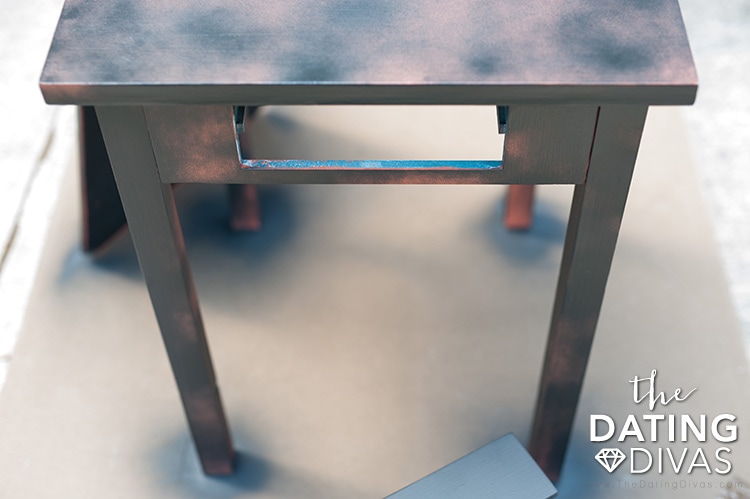 I also knew that if anything went wrong, Lowe's backs ALL of their paint with a guarantee, so I wasn't worried about a thing! Something else I love about this Valspar paint is that it's ready for new coats at any time and dries to the touch within 45 minutes. So this project was COMPLETELY done (touch-ups and all) in less than 2 hours. When I was done I found myself thinking, "WHY did I put this off for so long?!"
So without further adieu, here is the finished product: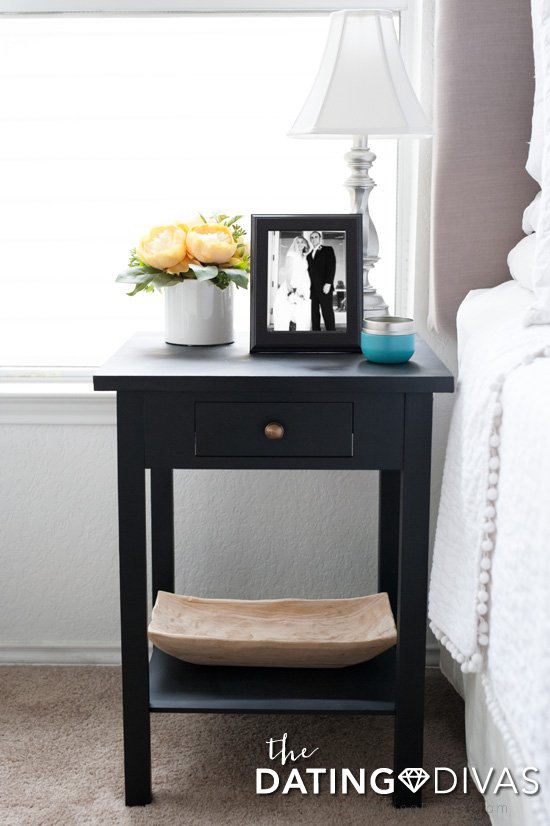 I am SO thrilled with the result! In just a couple of hours, I had a completely revamped space that I now LOVE and that matches my room so much better! I even replaced the old drawer pull with a cute new brass one that I also picked up at Lowe's. It makes such a difference!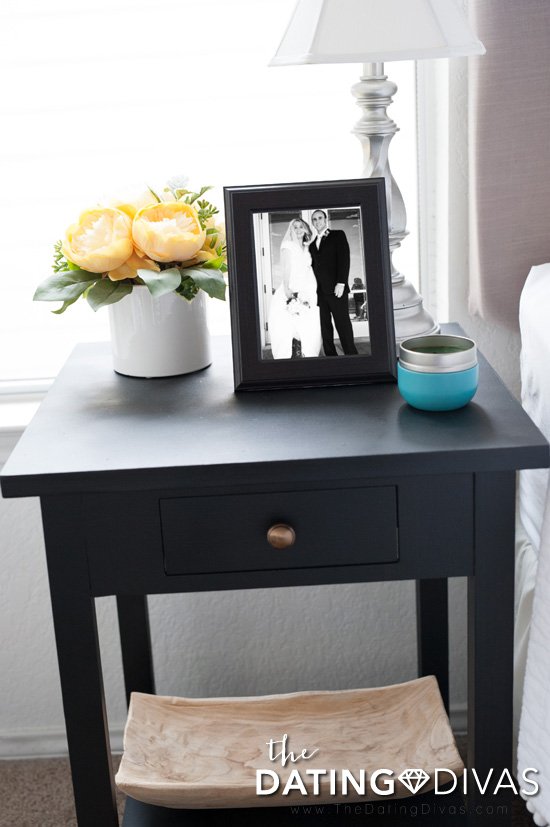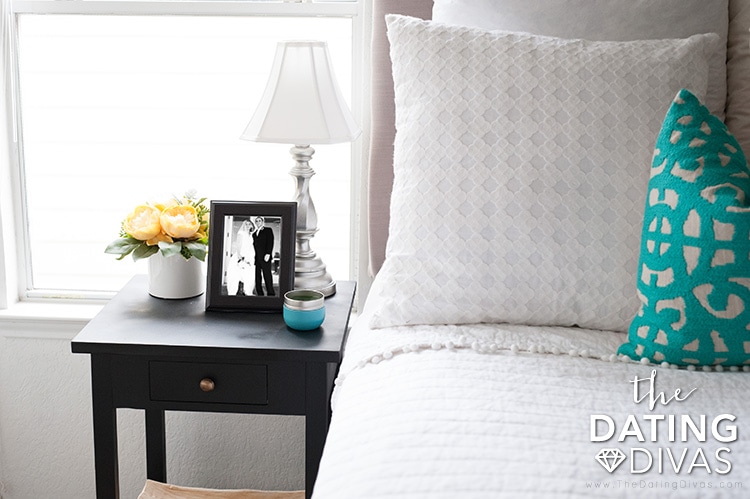 Here's a little before and after side by side, I just love seeing the amazing difference!: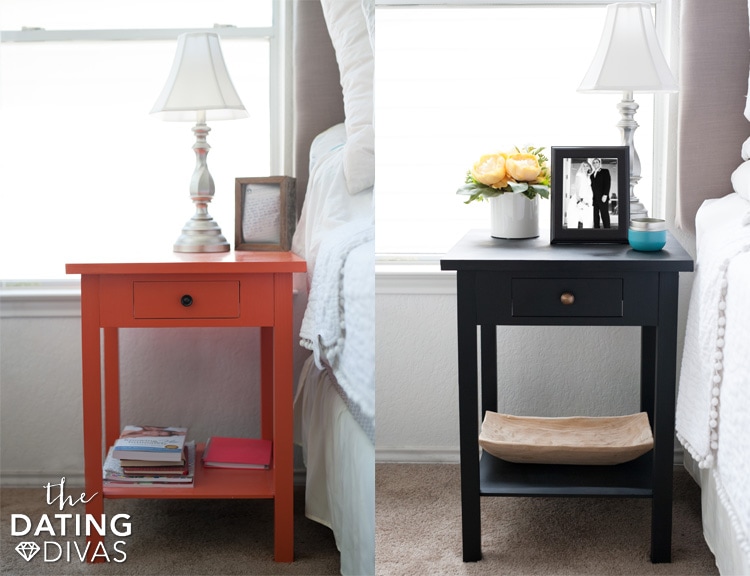 Ok, now that we have the nightstand all painted and looking a MILLION times better, let's talk about how we can make this space work for your MARRIAGE!
We have a couple little tricks up our sleeve that we like to do:
We like to always have a picture or something special that represents our marriage on our nightstand. Before I had the sweet love note from my hubby, which I will for sure keep, but it just won't be right on my nightstand until I can get the shadow box looking a little cleaner. I replaced that with my favorite picture from our wedding day in black and white to keep it neutral. I love having the constant reminder on my side of the bed of how far we've come in our relationship! I also think it's fun to see what picture my husband picks out to put on HIS nightstand.
Our second secret isn't something we keep on TOP of the nightstand, but rather what we keep in the drawer! Here it is!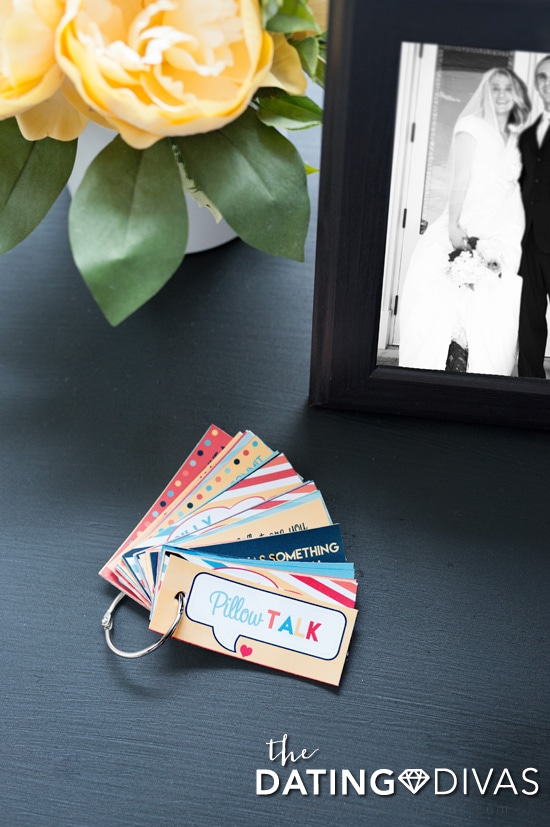 Our site's Pillow Talk Conversation Starters are one of our favorite ways to reconnect after long days without even talking. (If we counted texts as talking, that would be a whole different story, but we both prefer those real conversations at the end of the day.) We also have these other fabulous ways to turn your nightstand into a special place for you and your hubby:
And there ya have it! Your secret to success for making your nightstand a fun space to help you reconnect with your spouse!
Thank you, Lowe's for partnering with us on this fun post!
This is a sponsored post written by The Dating Divas on behalf of Lowe's.