Open When Letters – Ideas To Get You Started
Wouldn't it be great to have a love letter ready to go for your loved one at the moment they need it the most? Open When Letters (also called "Open Me When" Letters) are a unique way to help someone at any moment of need! With these types of letters, you can put pen to paper in advance so that when the time comes, you're ready to be of comfort to someone you love!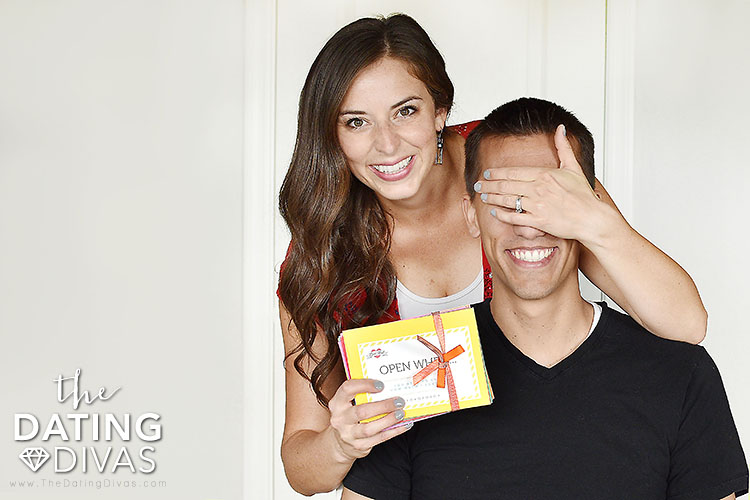 Disclaimer: This post contains affiliate links. To learn more about 'em, click here.
What Are Open When Letters?
Open When Letters are written messages that you can prepare in advance for someone to open during a specific moment. It is an easy way to give a boost of support and love to someone at the exact moment that they need it!
For example, if your loved one is away, you might write them a note of encouragement and label the card "Open When You Miss Me." Then, when they are sad and missing you, they can pull out the card and undoubtedly feel better.
Who Should I Make Open When Letters For?
One of the things that we love about Open When Letters are how versatile they are! Here are a few situations that would be perfect for this type of gift:
Long-distance relationships
Spouse leaving on a trip
Military families separated during deployment
Children away from home for a camp or college
Missionary service or study abroad
What Events Should I Write Open When Letters For?
You could create a set of Open When Letters for anything, really! You could write Open When Cards for big life events such as:
birthdays
anniversaries
graduation
You could also write letters for more general moments such as when:
they might need a pep talk
they need a good laugh
they are going through a hard time
Open When Letter Rules
When you gift a set of Open When Letters, you usually want to establish a few rules. We even suggest that you write them down and include them with your set of envelopes as part of the gift. Sometimes, people will put these rules in an envelope and label it "Open First".
Here are a few Open When Letter rules you might consider:
Open when the letter applies.
Only open one letter at a time.
Open ___ # of letters/week or day.
Don't peek until you really need it!
Save the letters to refer to in the future.
How to Make Open When Letters
Free Open When Letters PDF Printable
You are gonna LOVE our free printable PDF download of Open When Letter envelope labels and card inserts! It makes creating Open When Cards for your loved one SO easy! You can find these FREE envelope labels and inserts if you scroll to the bottom of this post.
Simply download the PDF and print the free envelope covers and card inserts that you most want to use.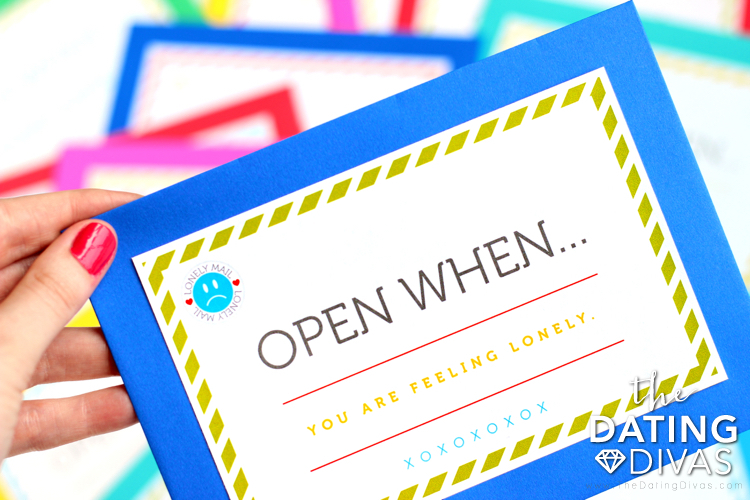 Ready for the ultimate list of Open When Letter topic ideas? We've included over a dozen of the most popular ideas for you below! Check these out!
Open When Letter Topic Ideas
Open When…
You Need to Know How Much I Love You
You're Worried
It's Your Birthday
You Need a Good Laugh
You're Upset or Angry
It's Our Anniversary
You Could Use a Little Pep Talk
You're Feeling Happy
It's Valentine's Day
You Are Feeling Lonely
You Want to Reminisce
It's Christmas Day
You Want Me!
You Can't Fall Asleep
As you can see, we've already done all the work for you. All of the labels are already filled out with fully prepped Open When ideas!
MORE OPEN WHEN TOPICS
In our free printable PDF download, we have also included blank cards so you can completely personalize your Open When cards. The beauty of an Open When Letter is that it can be customized to ANY occasion and to ANY person. If you want to go beyond the Open When Letter ideas we provided, then feel free to make your own using the blank template!
Here's an extended list of other Open When ideas for other occasions you could do in addition to the ones above:
Open When…
You're Excited
You're Ready for An Adventure
You Miss Me
You Feel Tired
You're Overwhelmed
You Feel Sad
You Need Some Cheer
We've Said Goodbye
You Feel Like Giving Up
You're Angry
You're Traveling Alone
You Need Some Cash
You're Afraid
You Need to Make a Big Decision
You're Frustrated with Work
You Have Some Bad Luck
You Are Sick
You're Confused About Life
I'm Driving You Crazy
You Have Financial Stress
You Need Someone to Believe in You
Someone Let You Down
You Are Disappointed
You Are Stressed
Someone Passes Away
You Are Bored
I'm Angry
You Feel Successful
You Need a Break
You're Feeling Scared
You Doubt Yourself
You Need a Hug
You're Having a Bad Day
You Need to Hear a Compliment
You've Made a Mistake
You Need Some Motivation
What Supplies Do I Need To Make Open When Cards?
Making your Open When Cards is so simple. You need very few supplies.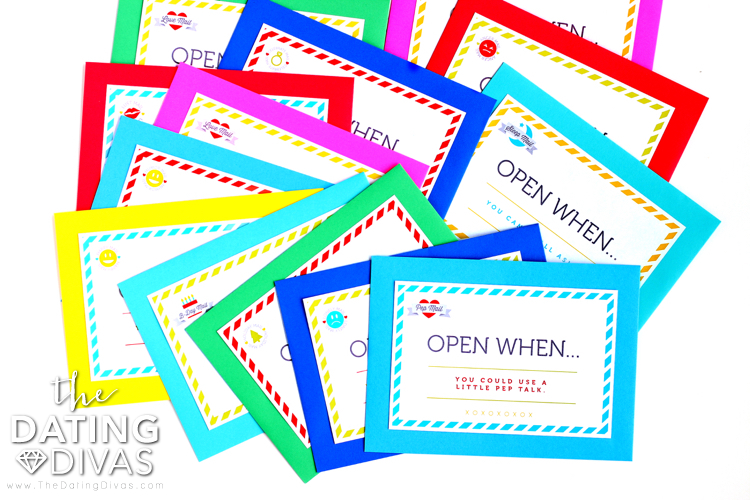 Here a few things we suggest:
Envelopes – We love these ones because they fit perfectly and are so colorful!

Pens

– We love these gel ones. They are so colorful and smooth!

Box

(optional) – We are fans of gifting these in a keepsake box. These letters will be a treasure!
Printable Open When Cards & Labels (download for free below)
What Do You Write in Open When Letters?
You might be wondering, "How do you start an Open When Letter?" and "What do I write in the Open When Letters?" Don't worry, we've got you covered!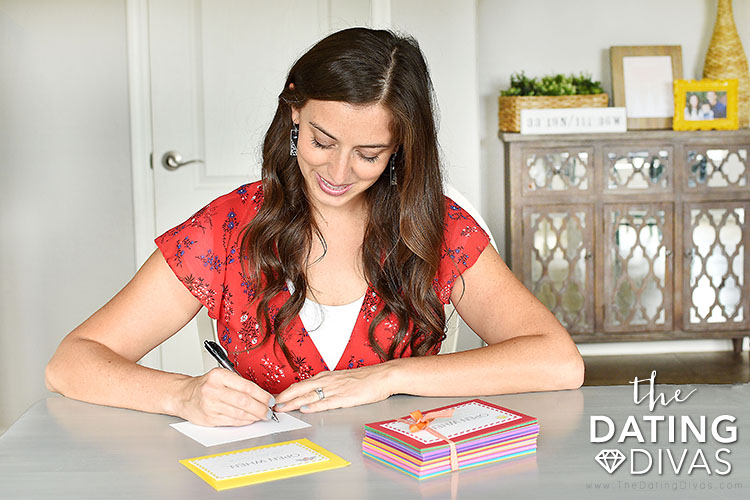 We know it can be hard to figure out what exactly to write for an in-advance letter. But here are a few suggestions to help get you started with what to include:
Share your own experiences! Nothing builds connection and shows love more than a relatable personal experience.
Make them laugh! Laughter really is the BEST medicine… and can be the perfect way to share your love.
Compliment them! Affirming words can go a LONG way in brightening someone's day.
Write a quote. If the words aren't coming to you, maybe start with a quote that expresses what you want to say and then you can expand from there.
Write about a memory together. This can really bring a lot of emotions and make your letter personal.
What to Put Inside an Open When Letter
Besides your letter, you can also get creative with adding in a special item. Always consider the length of time until they might open the letter when making your choices.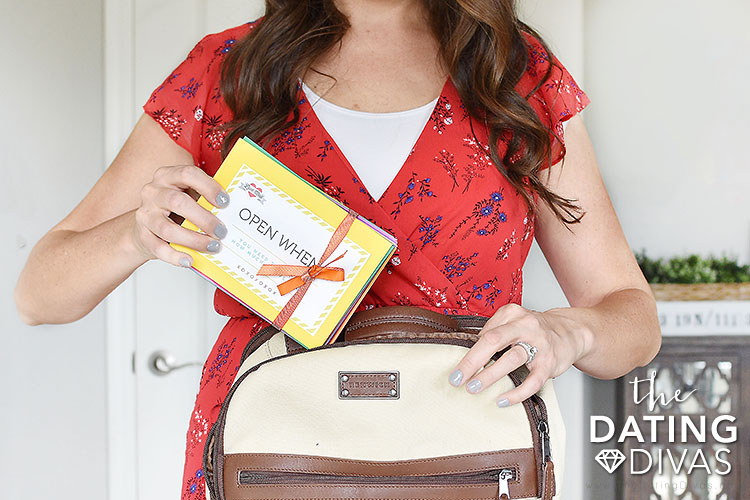 Here are a few items you might consider adding to your envelope:
Gift Card
Balloons
Photograph
Drawing or art
Tickets
Bookmark
Candy
An item sprayed with a familiar scent
Jewelry
Origami
Candles (perfect for a birthday)
Done-For-You Open When Letter Kits
Our readers have LOVED our Open When Letters! They expressed that they loved the idea so much but they wanted MORE printables and MORE help to write their letters. So, we put together two unique Open When Letter printable packs. They help make it easy to put together an unforgettable love letter for the people you love. We have a general version for a loved one and a version specifically with Open When Letter ideas and printables for your kids!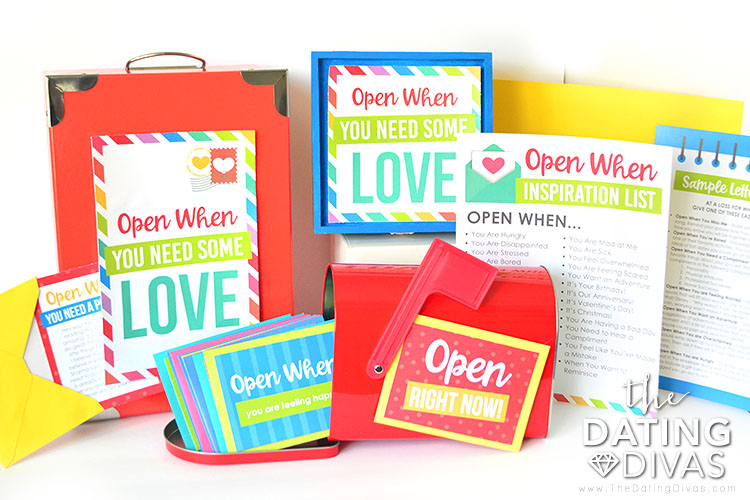 Our Ultimate Open When Letters Kit in our store includes:
Editable "Open When" to customize your envelope covers
Coordinating cards that can be typed on directly before printing
An expansive list of "Open When" topic options
Sample letters
Letter-writing prompts to help get you started
Pre-written cards to keep things easy
Box Cover Keepsake
And more!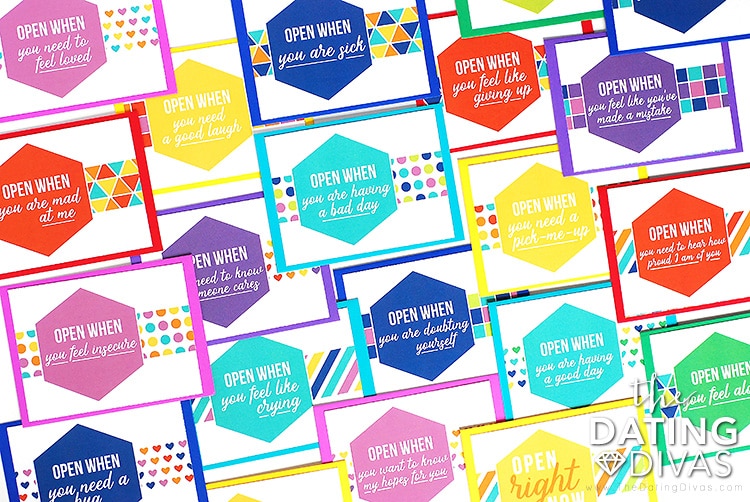 We also have an Open When Letters for Kids Kit that is absolutely amazing for all those special moments in your kid's life! From when they are just learning to read to when they are graduating high school or even going off and getting married, these Open When Cards are a perfect sentiment!
This Open When Letters for Kids Kit includes:
35 coordinating labels and cards (including 10 BIG milestones stationery)
Keepsake box cover to store your letters in
"Open Me Right Now" card explaining the Open When Letter rules
Whatever way you choose to do this project, we've done all the prep work for you to make writing your letters easy peasy. Now you're all set and ready to write a stack of meaningful, heartfelt letters to your loved one!
"Open When" Letters
Printables Designed by Erin @ Strawberry Mommycakes Exclusively for The Dating Divas