The Best Printable Valentine's Day Cards
We're all about showering our spouses and families with a little Valentine's Day love, right? But let's face it, it can be super tough to find time to run to the store and browse for an expensive card. Well, now you don't have to! We've rounded up the very BEST printable Valentine's Day cards to make your life easy-peasy. From fabulous free Valentine's Day cards to budget-friendly notes and gifts, this list of printable valentine cards is one to keep your eye on. So let's take a look!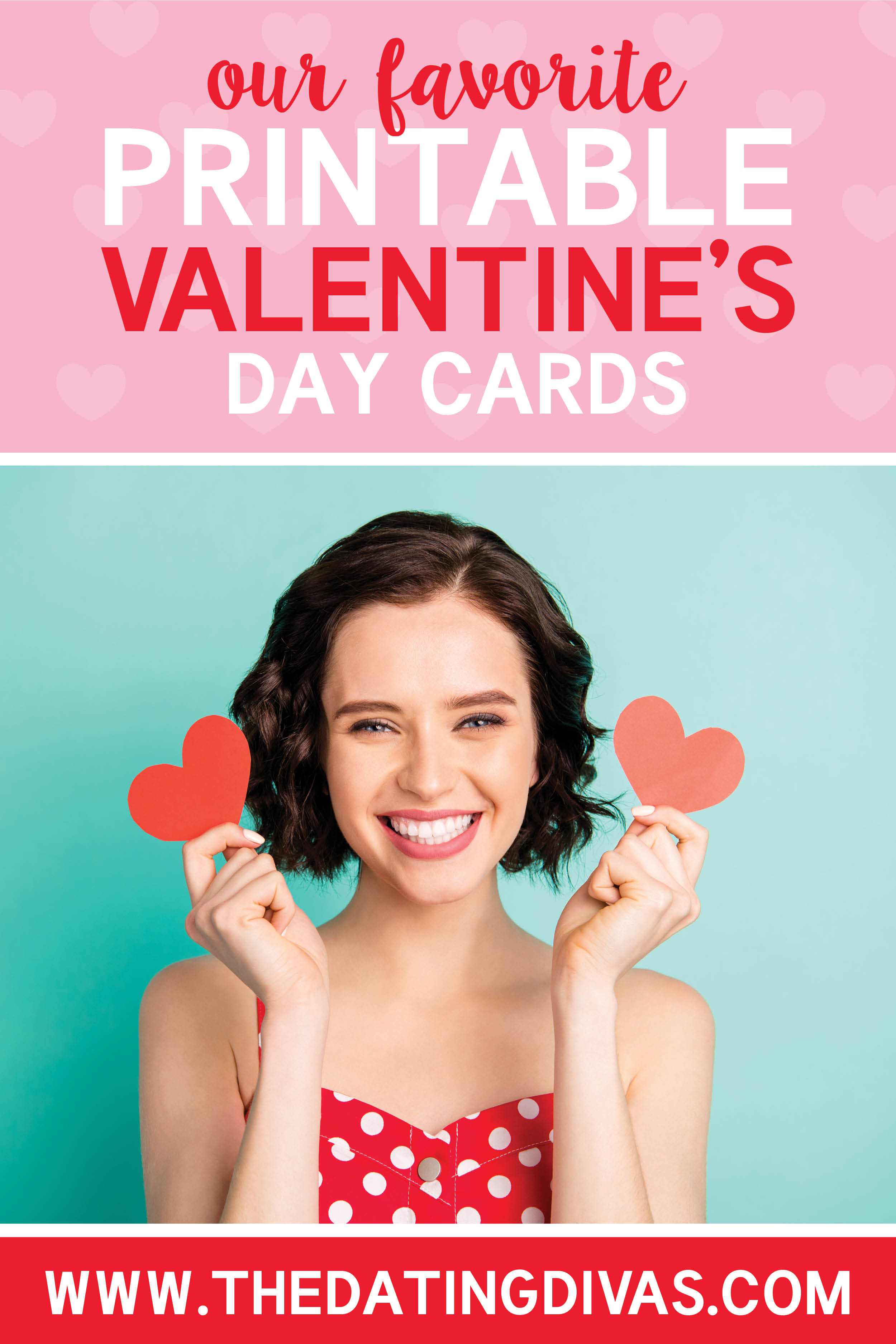 Disclaimer: This post contains affiliate links. To learn more about 'em, click here.
With this many ideas, you're sure to find one that's perfect for you! To make browsing even easier, we've broken up the printable valentines into our easy-to-find categories:
Table of Contents
Keep reading to see all of the goods!
Romantic & Punny Printable Valentine's Day Cards
First up, printable valentines that are heavy on the romance. Additionally, we've included some super punny printable valentine cards for those jokesters in your life. Be sure and save these sweet ideas for your next V-day!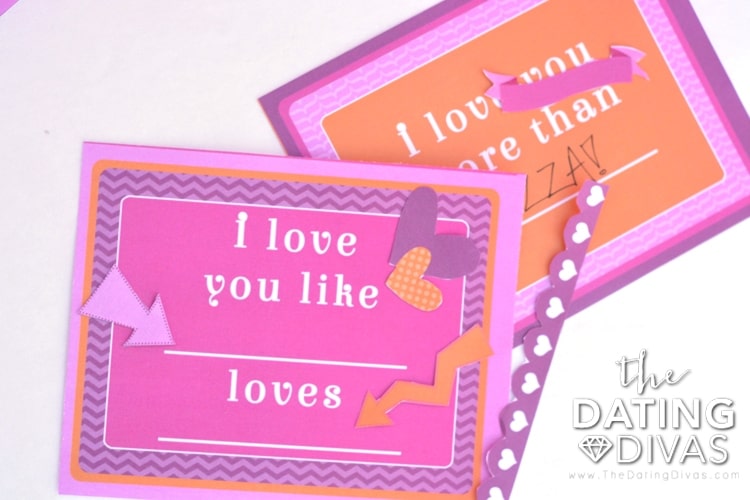 1 . Fill-in-the-Blank V-Day Love Notes – Let these notes guide you as you fill in all the wonderful things about your sweetheart! I like making some of them funny Valentine's cards because laughing is a way we show love.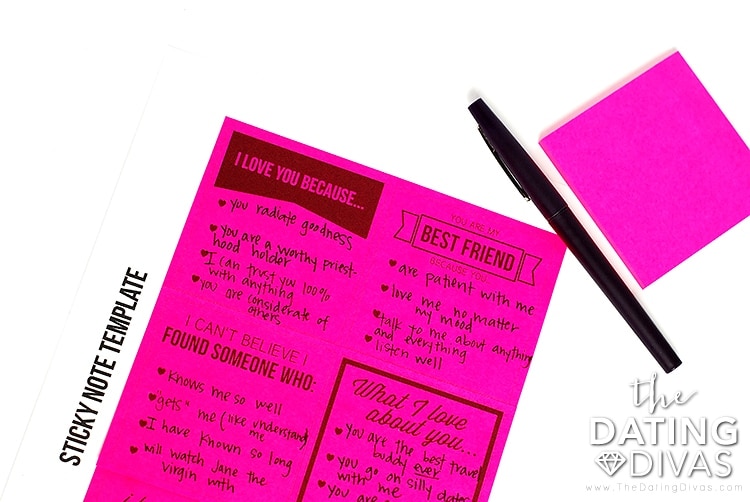 2 . 100 Things I Love About You Notes – This set of printable sticky notes will make for the perfect V-day surprise.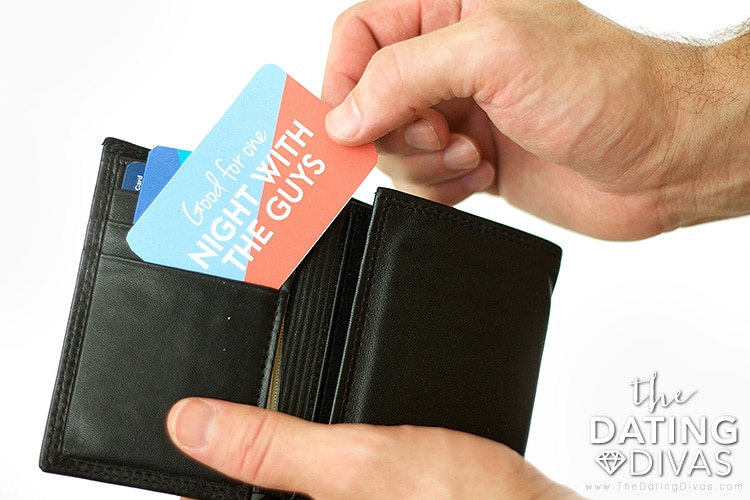 3 . Romantic Wallet Surprise – Slip these notes into your sweetie's wallet. They're sure to love them!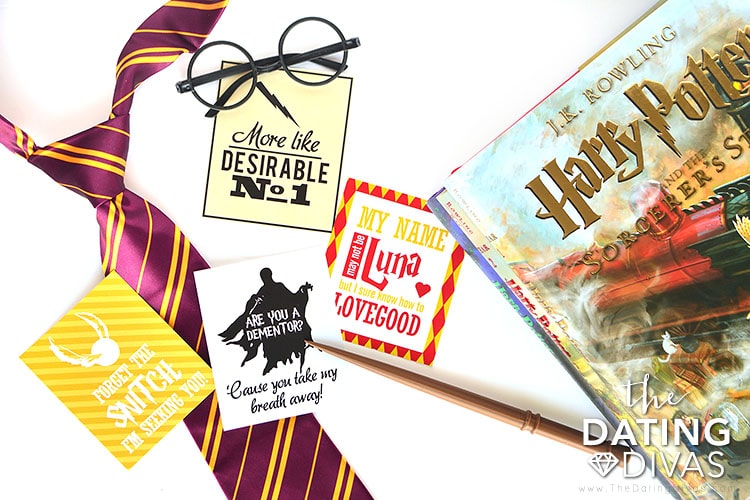 4 . Man Approved Valentines for Him – We promise your guy will LOVE these witty and wonderful cards.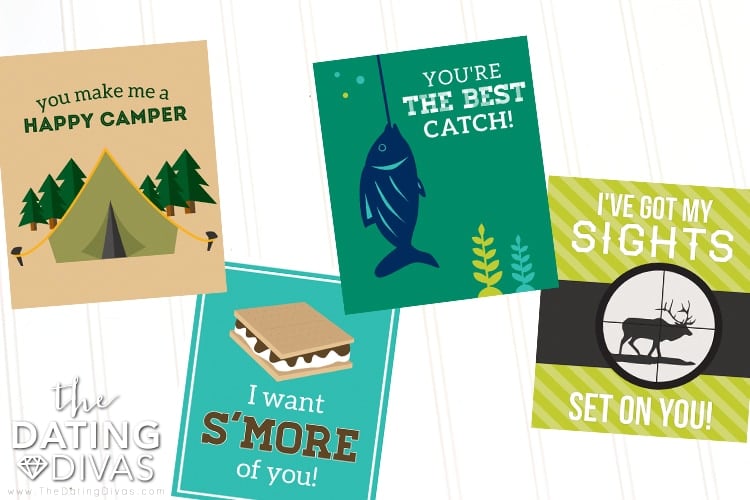 5 . More Man-Approved Valentines – Additionally, here are some more man-friendly printable valentine cards! We love the outdoorsy ones.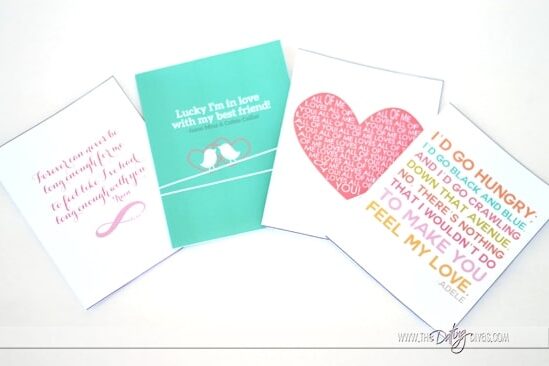 6 . Lyric Love Notes – Let your favorite romantic songs do the talking this Valentine's Day.
7 . Punny Gift Tags – These funny Valentine's cards blend punny and romantic in the best possible way!
Printable Valentine Cards for Food & Treats
Who's hungry? These printable valentines are perfect when used in conjunction with some tasty treats. Practically all of these are free printable valentines, and we think you'll love them!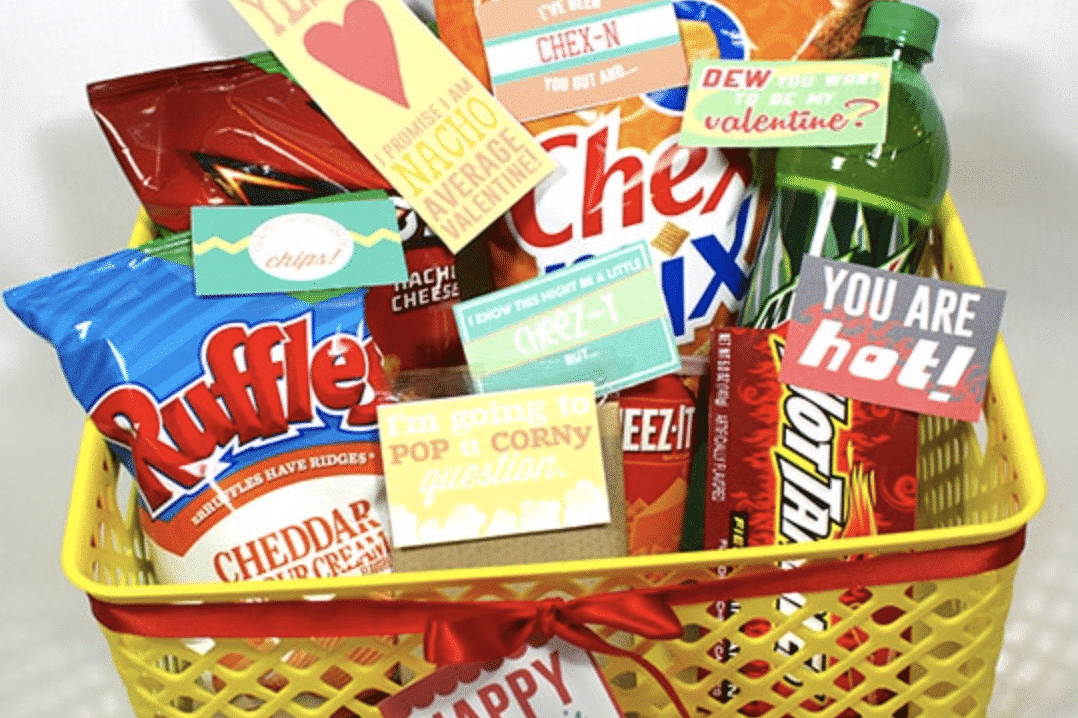 8 . Snack Love Notes – They say the way to a man's heart is through his stomach. In other words, these snack love notes are perfect!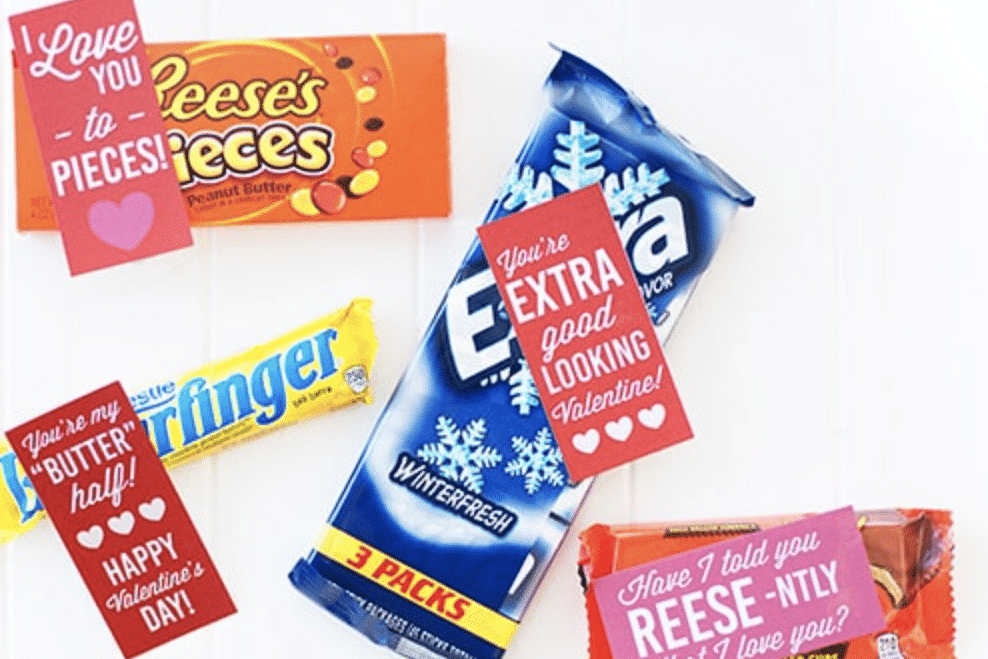 9 . Candy Bar Gift Tags – Just print and attach these to something sweet!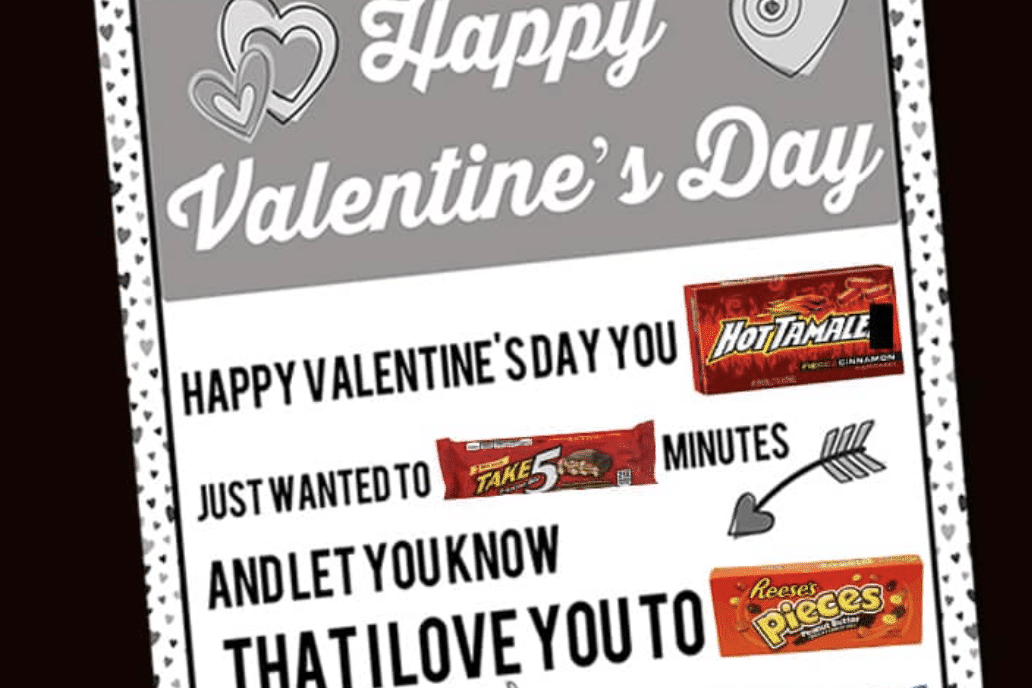 10 . Candy Gram Poster – This larger-than-life Valentine candy gram poster is sure to put a smile on your sweetheart's face.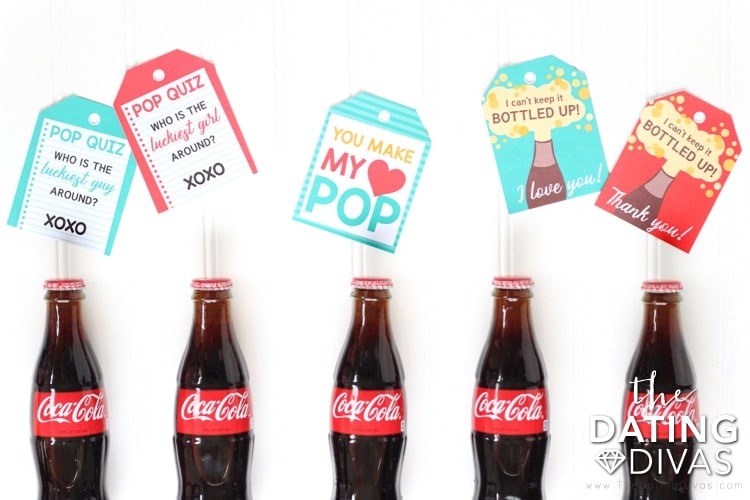 11 . Soda Pop Gift Tags – It doesn't get much easier than this! Just grab your babe's favorite fizzy treat and 'pop' one of these free printable valentine cards on the bottle.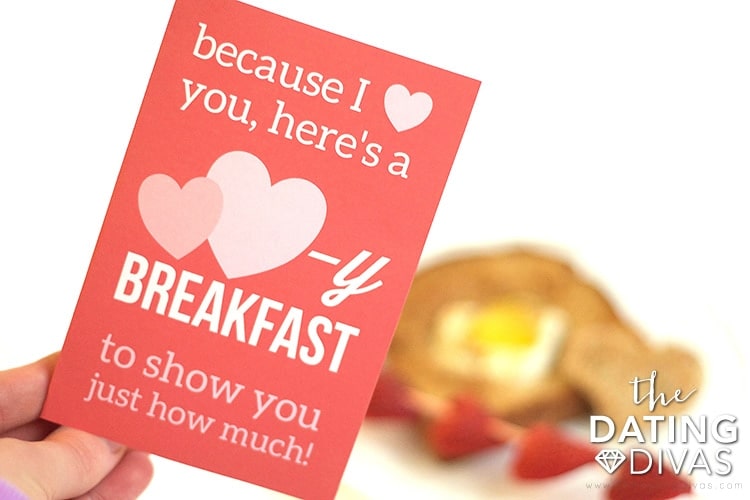 12 . A 'Hearty' Breakfast – Serve your sweetheart breakfast in bed accompanied by these darling free printable valentines and tags!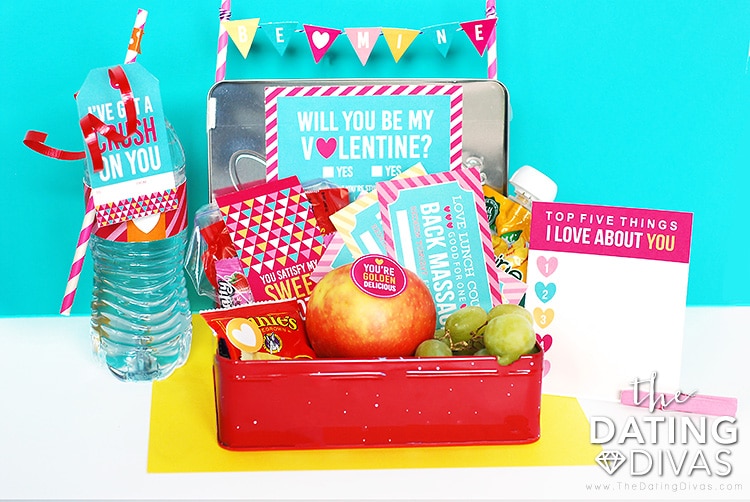 13 . Valentine's Day Love Lunch for Spouses – Use these printables to give your sweetheart a mid-day Valentine treat. You can also find the kid's version down below.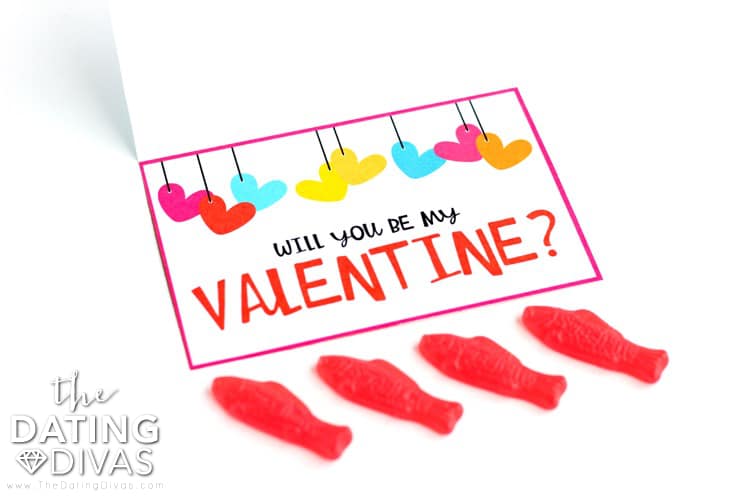 14 . Valentine Love Notes – Both kids and adults will adore these treat tags as they receive a new love note during 14 days of love.
Sexy Printable Card Ideas
Oo la la, you know what this means, time for cards that are heavy on the spice! Indeed, these hot and heavy printable valentines will drive your spouse wild. And the best part? Almost all of these are free Valentine's Day cards, so it's perfect for those on a budget.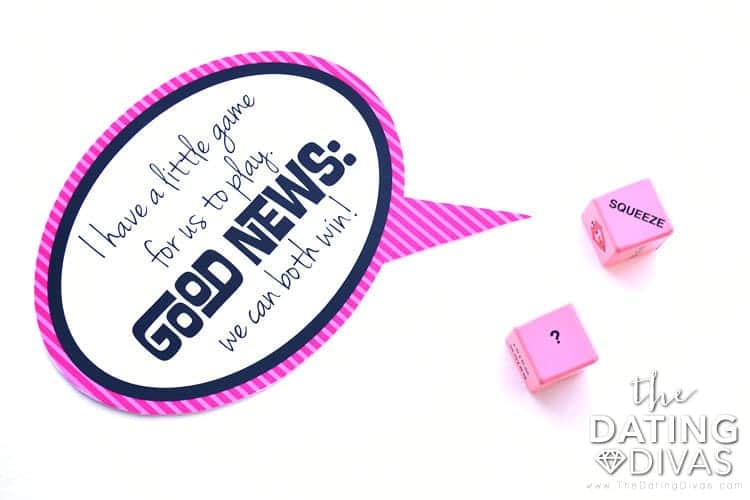 15 . 14 Sexts of Valentine's Day – Print, cut, and drive your sweetheart crazy with these super sultry Valentine 'sexts' all day long.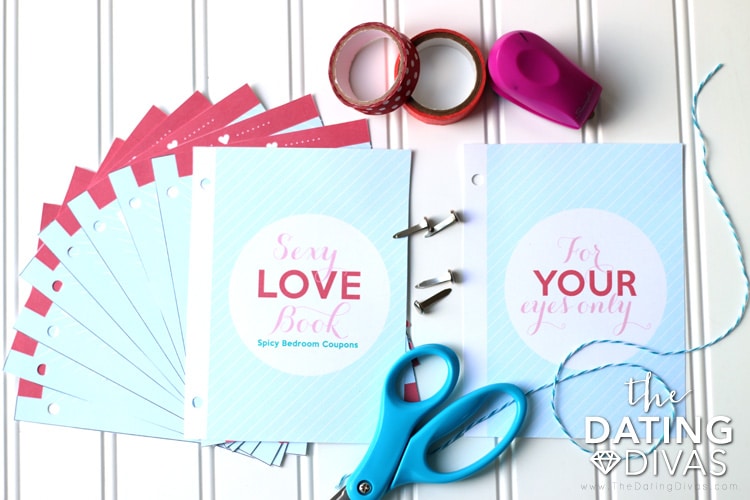 16 . Sexy Book of Love Coupons – This is a love coupon book like never before–it's for HIS or HER eyes only!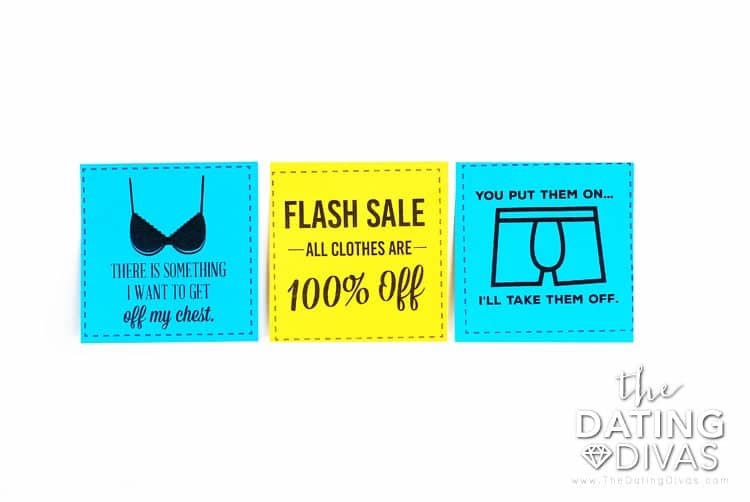 17 . Sexy Printable Sticky Notes – Funny Valentine's cards can always be paired with some spice! These printable sticky note cards are both!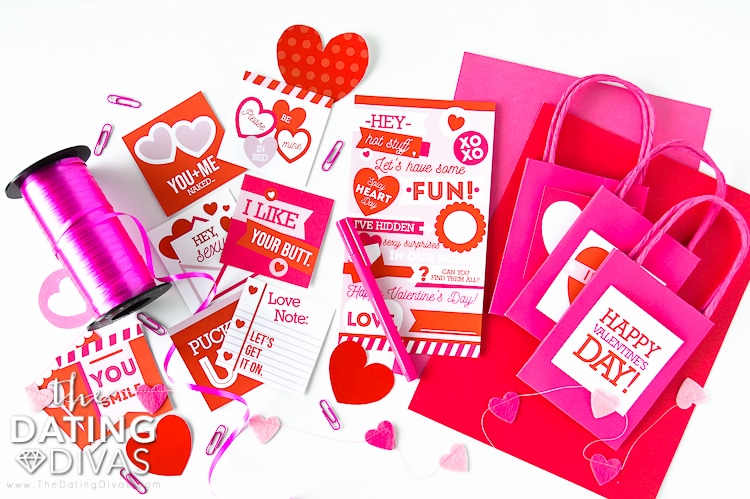 18 . Valentine Search & Find for Spouses – Send your sweetheart on the ultimate sexy love note hunt. Plus, you can find a kid-friendly version below!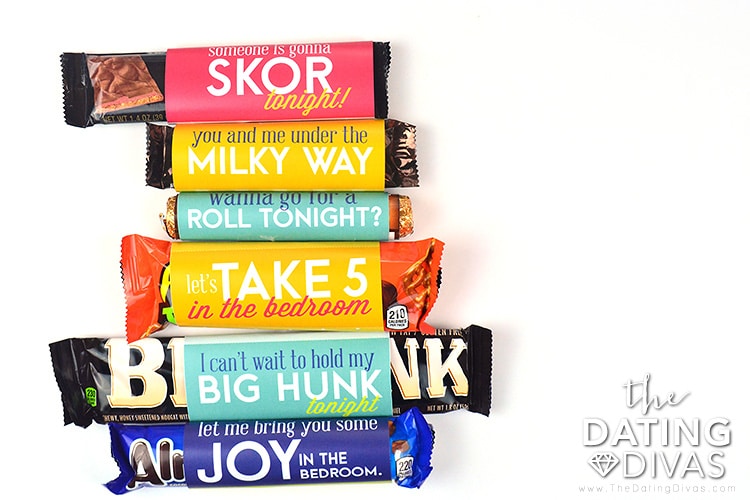 19 . Sexy Candy Bar Love Notes – Nothing is better than sweet words paired with sweet treats.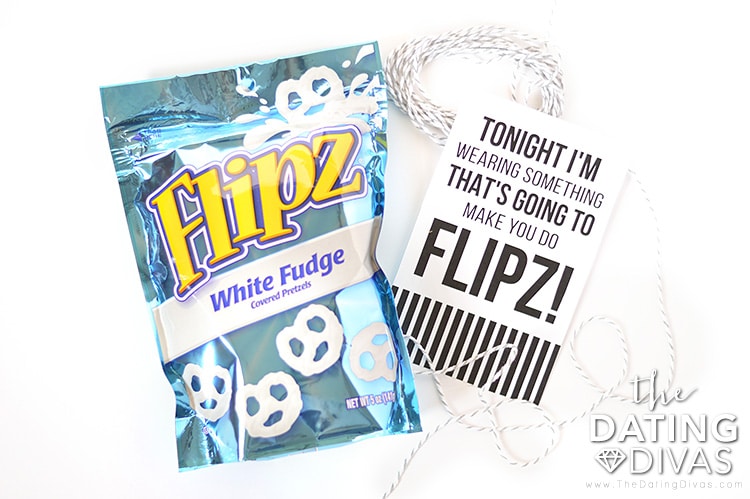 20 . Sexy Printable Tags – Get your spouse in the mood for some loving with these sexy printable tags.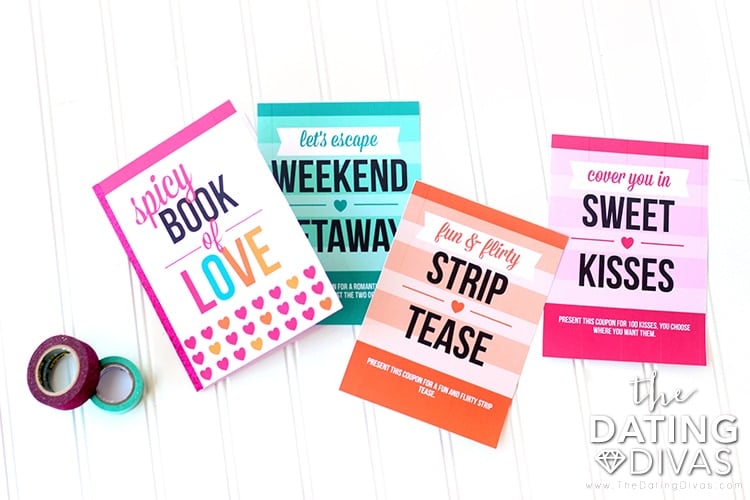 21 . Spicy Book of Love – This DARLING idea will turn ordinary coupon books on their head!
Valentine Options for Kids
Show your kiddos just how much you love them with this list of budget-friendly, free valentine cards! All of these printables are kid-approved and super darling. Yes indeed, your little ones will love these unique printable valentines. Take a look below!
22 . Valentine's Day Countdown for Kids – This one-of-a-kind product is PACKED with printables and packed with fun for kids.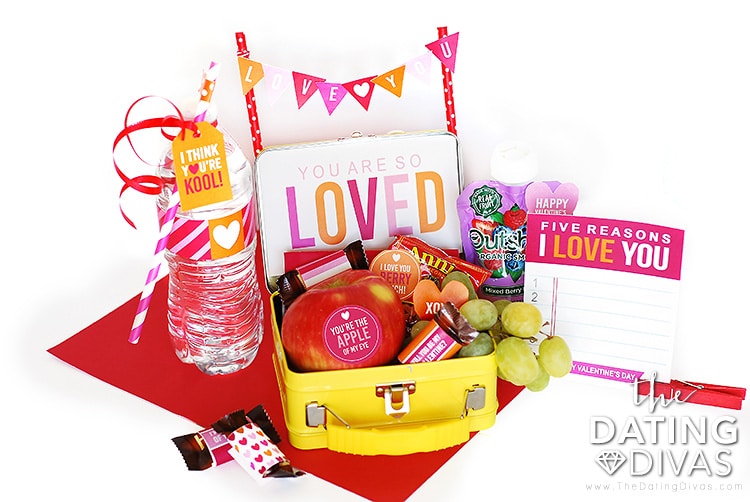 23 . Valentine's Day Love Lunch for Kids – Feed your kiddos something super sweet with this Valentine's Day lunch – just for kids!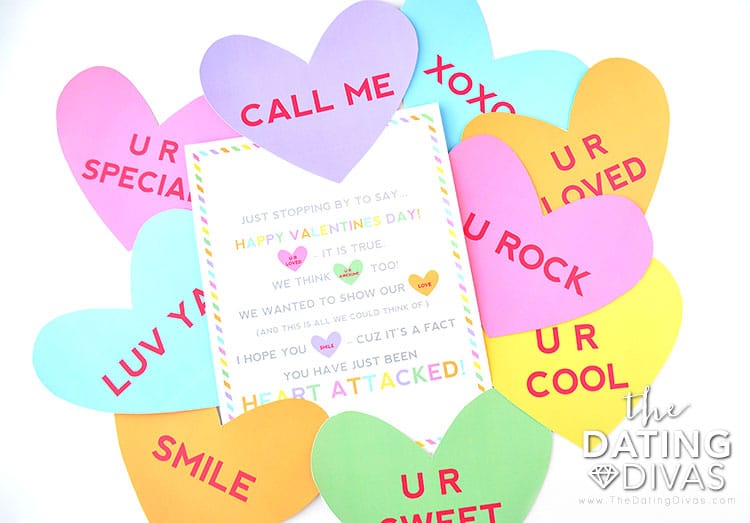 24 . Heart Attack Lawn Signs – Imagine the surprise on your little one's face when he or she sees the heart-attacked front lawn! This would make a great spouse or neighbor idea.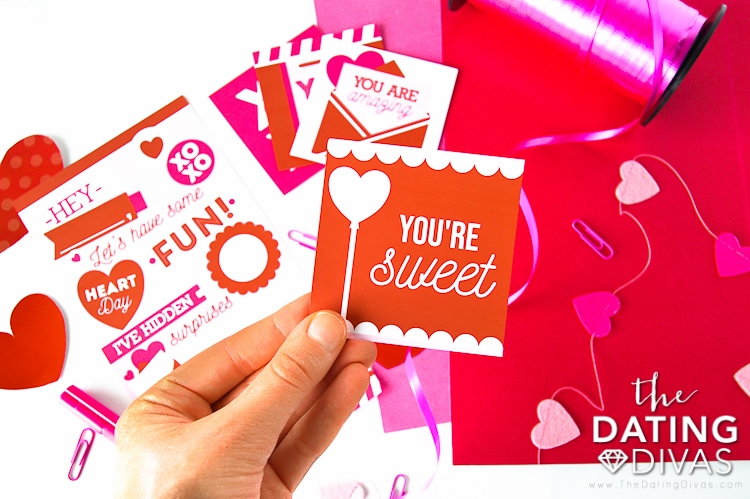 25 . Search & Find for Kids – Send your littles on a hunt for the cutest printable Valentine's Day cards around! Plus, there's a spouse version up above.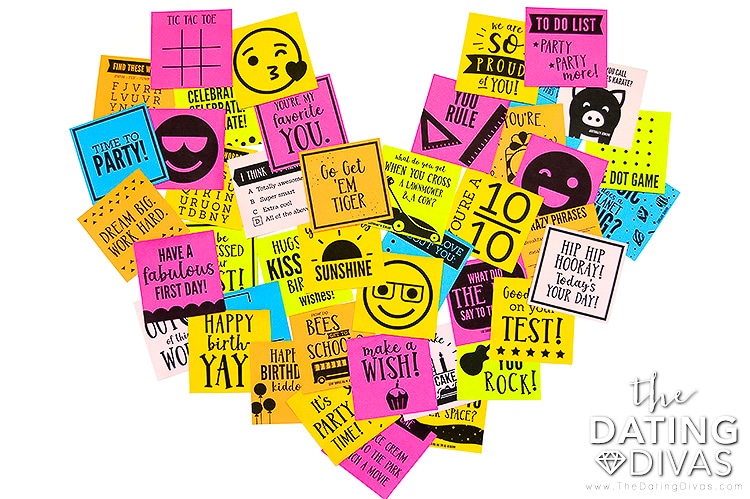 26 . Kids Printable Sticky Notes – Download these printable sticky notes for kids, and go crazy hanging them on Valentine's Day! Grab some brightly colored sticky notes for even more fun.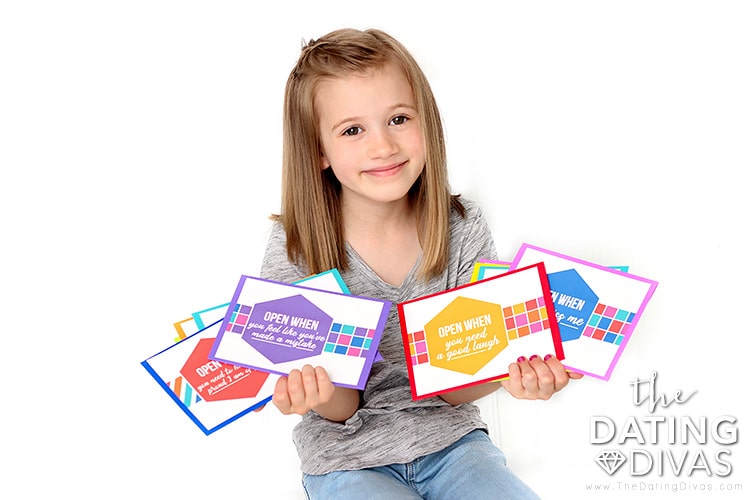 27 . Open When Letters for Kids – There are so many reasons to tell your children you love them. This Open When Letters kit will help you say it in so many ways.
Such fabulous Valentine's Day cards, right?! For even more Valentine's Day goodness, be sure and check out our 7 Days of Spoiling Kit and our Operation Valentine Kit!