Reliving Memories With Music- DIY Love CD
Hey, everyone! I'm Michelle and I'm visiting The Dating Divas today to share a fun and romantic DIY gift for your sweetheart. First, a little about me: I'm married to a fantastic husband who is the inspiration for all of my romantic ideas! In the mornings, I run a preschool in my home, in the afternoons, I home-school my older kids, and in the evenings, well… that time is for my hubby and I'll leave it at that-wink, wink. I'm very passionate about health, education, my faith, and most of all, having a happy marriage. I'm so excited to be able to pop in every now and then and share some ideas with you; I hope they help spark a little fun in your love life!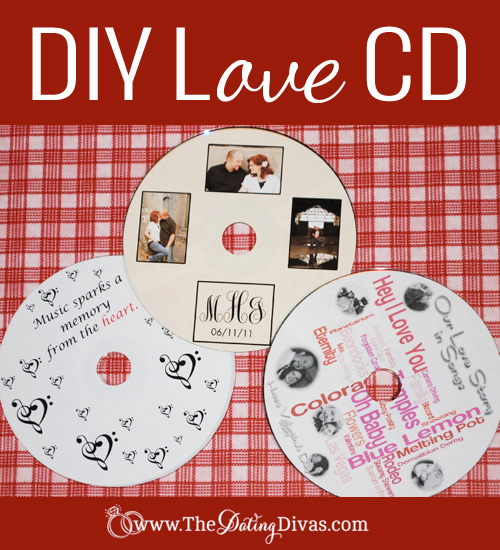 What is it about music that makes time stand still, that instantly brings us back to a memory, that can effortlessly magnify emotion? I'm not a huge music buff but there are a few certain songs that give me a chance to relive moments from the past. To chronicle the timeline of our relationship, I made a "Playlist of Our Life" for my husband and snuck into his car CD player. Some of the songs explained ways I felt about him at certain points while others were songs that were actually on while a memory was being made. Every time I listen to this CD it makes me feel so grateful and blessed to have such a beautiful love story. I'll give you a few examples from our CD to get your creative juices flowing! (Don't hate me if you aren't a country fan!)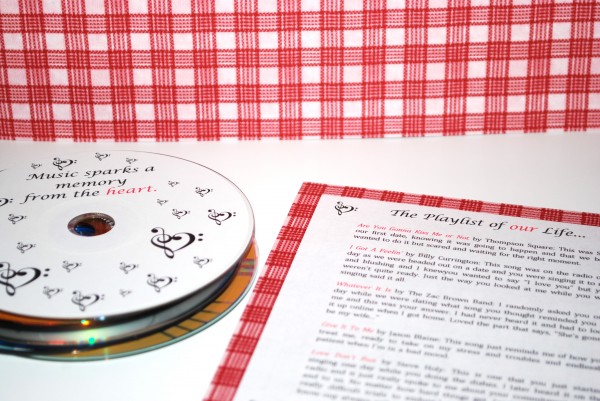 Are You Gonna Kiss Me or Not by Thompson Square: This was SOO our first date, knowing it was going to happen and that we both wanted to do it but nervous and waiting for the right moment. 
I Got A Feelin' by Billy Currington: This song was on the radio one day as we were headed out on a date and he was singing it to me and blushing and I knew he wanted to say "I love you" but wasn't quite ready. Just the way he looked at me while he was singing said it all. 
Whatever It Is by The Zac Brown Band: I randomly asked him one day while we were dating what song he thought reminded him of me and this was his answer. I had never heard it and had to look it up online when I got home. Loved the part that says, "She's gonna be my wife…" 
Give It To Me by Jason Blaine: This song just reminds me of how he treats me, ready to take on my stress and troubles, and how he is endlessly patient when I'm in a bad mood. 
Love Don't Run by Steve Holy: This is one that he just started singing one day while he was doing the dishes. I later heard it on the radio and it just really spoke to me about his commitment to love and to us. No matter how hard things get, (and we have had some really difficult trials to endure) he's still here loving me and I know he always will be.
Remember When by Alan Jackson: The music of this song is just so sweet and calming, and the words make me think about us in the future, looking back on the life we've lived and the love we've had.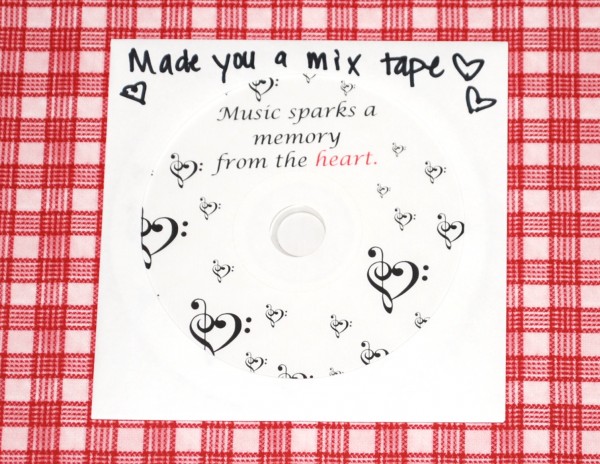 What songs tell the story of your life? I'd love to hear about the tunes that spark memories for you and I'll bet your spouse would love to be surprised with a playlist of your life and love together! Make it cute by creating a CD label with your pictures or romantic words and include a note that explains what the inspiration was for each of your song choices. Stumped for ideas? Make a date out of it by sitting down with a pile of CDs (or in front of your iTunes account if you're all about digital) and spend the evening reliving the memories together while you choose the songs that remind you of special times in your life. If you still need some inspiration, look up the number one hit on a certain date in history and make a playlist out of the hit from your first date, first kiss, wedding night, kids birthdays or any other significant days from your relationship. 
Don't have the software or know-how to make a CD label? I'd love to help out 2 lucky readers that would like a custom CD label made for their playlist. I can add your pictures, a monogram and date, a love quote, or whatever you'd like, and shipping is on me! 
*   *   *   *   *   *   *   *   *
WANNA WIN???
Two lucky readers will win a custom CD label for your very own "Playlist of Our Life" CD! Good luck to you!!