I just want to start this post with a little "background story".  For as long as I can remember I have LOVED Rock'n' Roll music. Stone Temple Pilots, Pearl Jam, and AC/DC are just a few of my faves. I love it so much that I decided the guy I would marry would have to LOVE it too. Don't worry…that wasn't my only criteria. 🙂 I just always knew that if we had the same taste in music that we would probably have lots to talk about as well as a lot of other things in common, too.
Then I met Justin and not only did he love all the same bands I did, he introduced me to sooooo many more. He also played the guitar (WHOA, SUPER HOT!) And so began our Rock'n' Roll Romance.
There were a couple of concerts that we wanted to go to this Fall, BUT……because we have two beautiful baby girls, it just didn't happen. Then I thought…why not bring the concert to us??  SO I DID!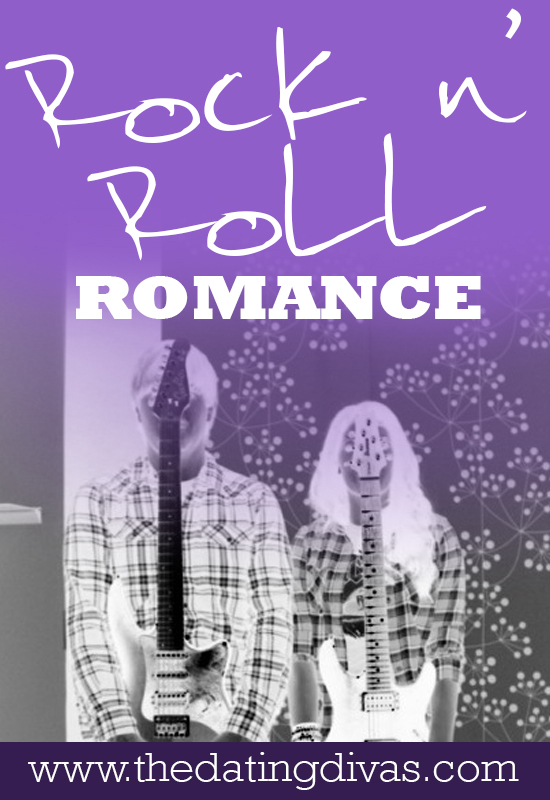 I love asking Justin on our dates in the morning, it gives him something to look forward to all day, and makes his morning a little brighter. I left this AMAZING, FABULOUS, PERFECT printout on his bathroom mirror,  so it would be the first thing he saw in the morning.  We have recently teamed up with a very talented digital scrapbooking designer, Colette from "My Computer Is My Canvas".  You will defintely be seeing more of her work in the future!  I cannot praise Colette enough. She did such a great job, my husband loved it, and so did I!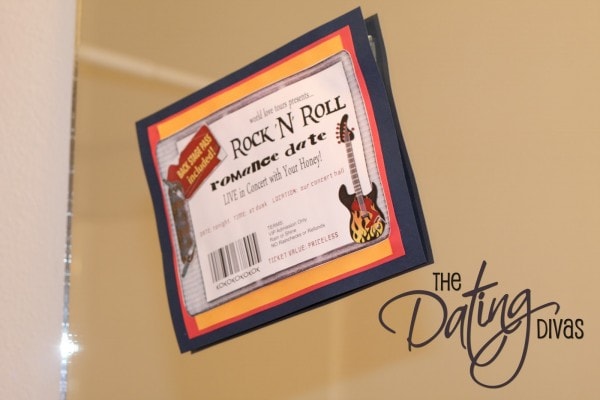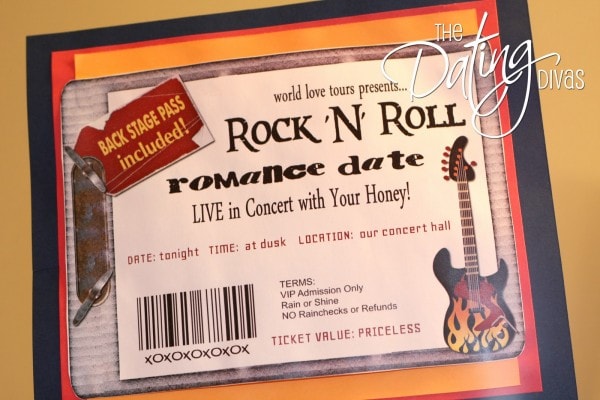 I knew my hubby would be excited for our date, but I thought why not make it even more exciting throughout the day. So I sent him some LOVEY….and some RACY lyrics from songs we both like. Then the fun started when he sent some back! We had a little competition to see who could come up with better lyrics. It was so much fun for both of us! You can find lyrics on the Internet, make up your own lyrics, or grab your CD's and find something fun to send your hubby's way. Either way, he will love it! A song is such a poetic expression of LOVE.
Dressing the part is always the most fun part of the date for me. It helps me get excited! So I grabbed my flannel shirt ( a little Kurt Cobain-esque), my AC/DC t-shirt, some ripped jeans, and some rockin' boots, and I was ready to ROCK OUT! Black nail polish is kind of a must for this date. So make sure to paint your nails something dark. You will be MORE than concert ready with an outfit like this!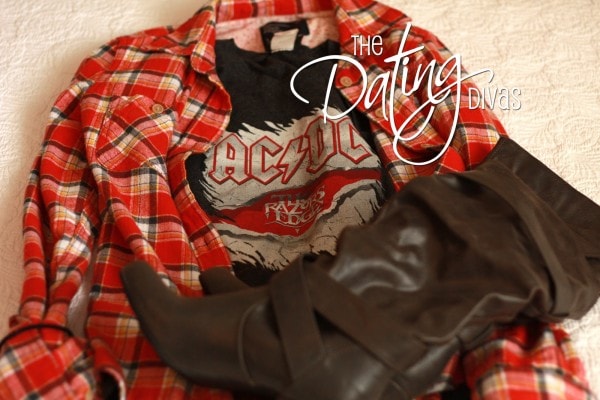 I wanted to make sure the stage was set so I took out our CD's ( you know those things you used to use before you had an I-Pod). I took the covers out of the cases and made a fun wall decoration. Then I used other CD's and cases as display pieces all over the house.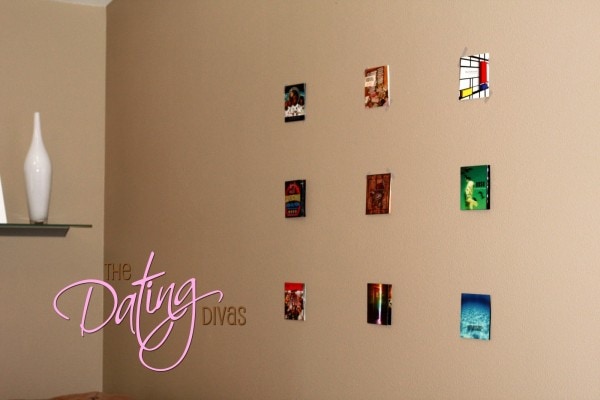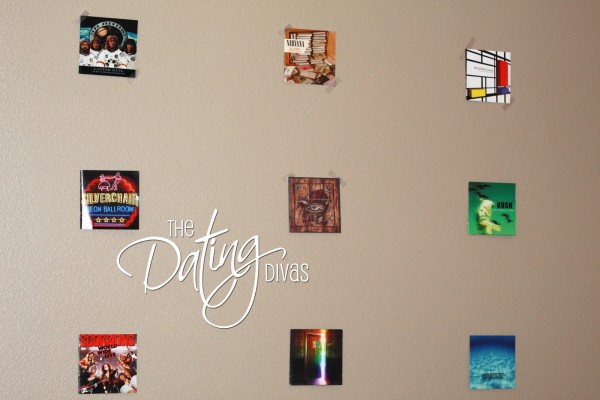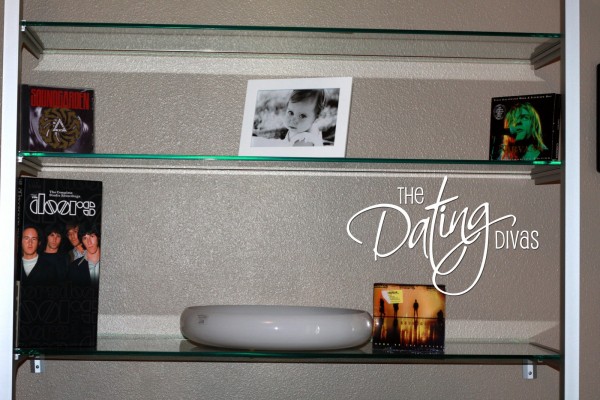 As soon as Justin got home I asked him put on his flannel shirt and ripped jeans, and he was more than happy to do so.
I have been asking Justin to give me a guitar lesson forever, but LIFE always gets in the way. So we FINALLY sat down and had a lesson. He showed me how to hold my hands and taught me quite a few cords. My next lesson will be to learn to play "Smells Like Teen Spirit" by Nirvana. I am not the instant guitar PRO I was hoping I would be, but I am going to keep practicing because it is so much fun.
I know not everyone has a free guitar lesson at their disposal, but you can always play a friendly VS game of Guitar Hero or break out the mike and sing Karaoke. Maybe a neighbor or friend would give a free instrument lesson. It is always fun to learn something new, ESPECIALLY TOGETHER!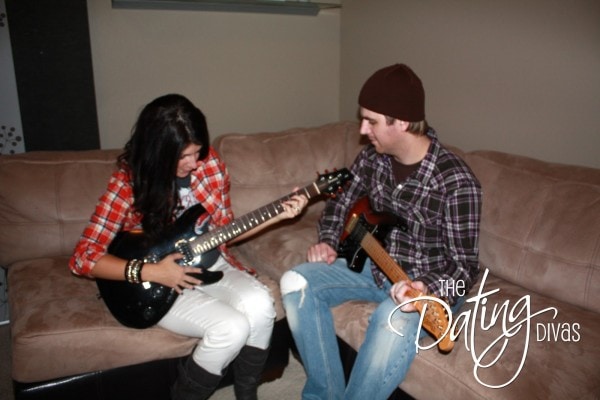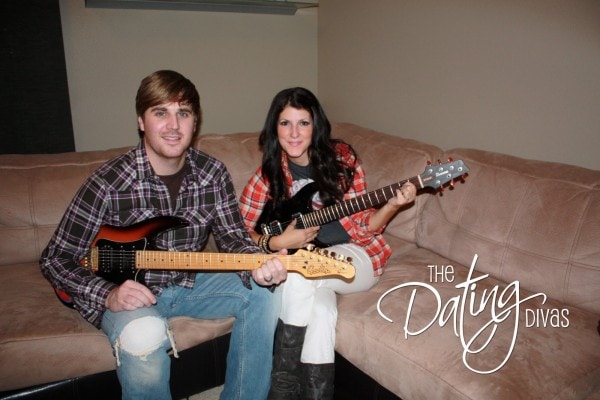 After the guitar lesson…because I am so amazing at it… HA, HA. We decided to have a little photo shoot for our ROCKIN' ALBUM COVER! Justin decided on the pose. It's a little too crazy for my taste, but pretty funny. The first pic is the original, the second is Justin's edit, and the last one is mine. I think I win! HMMMM, I wonder what our band name should be? Any ideas?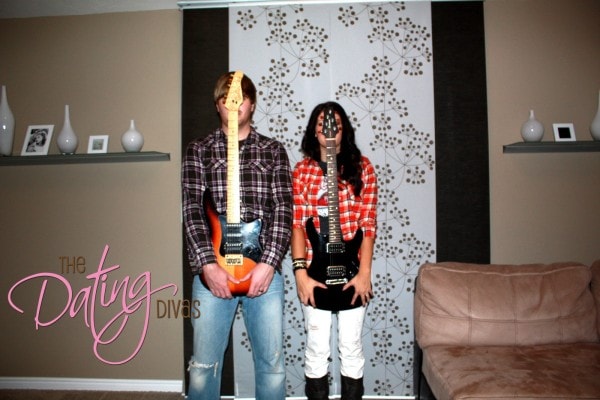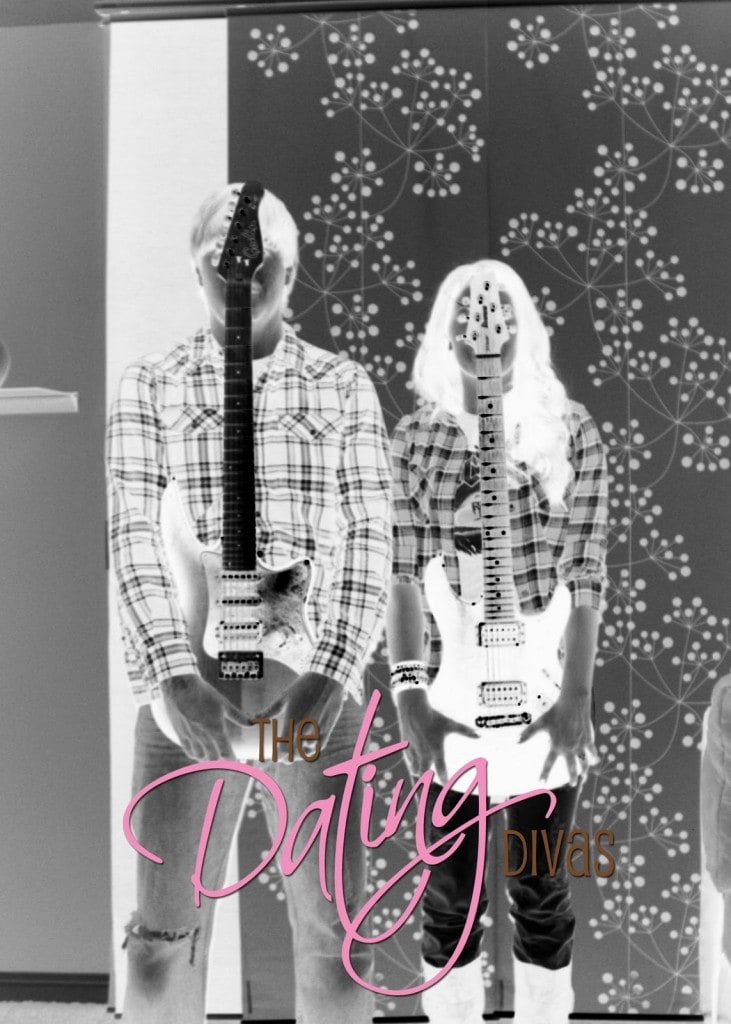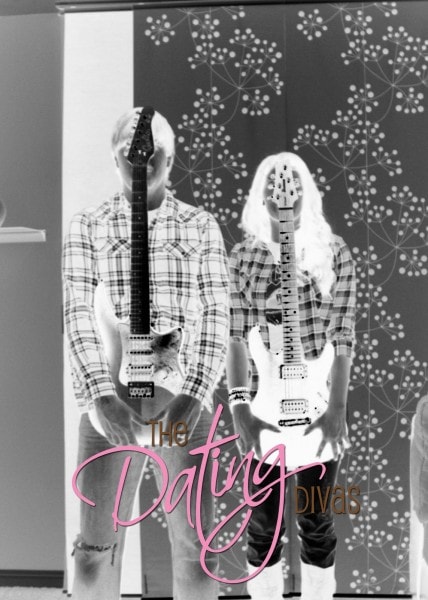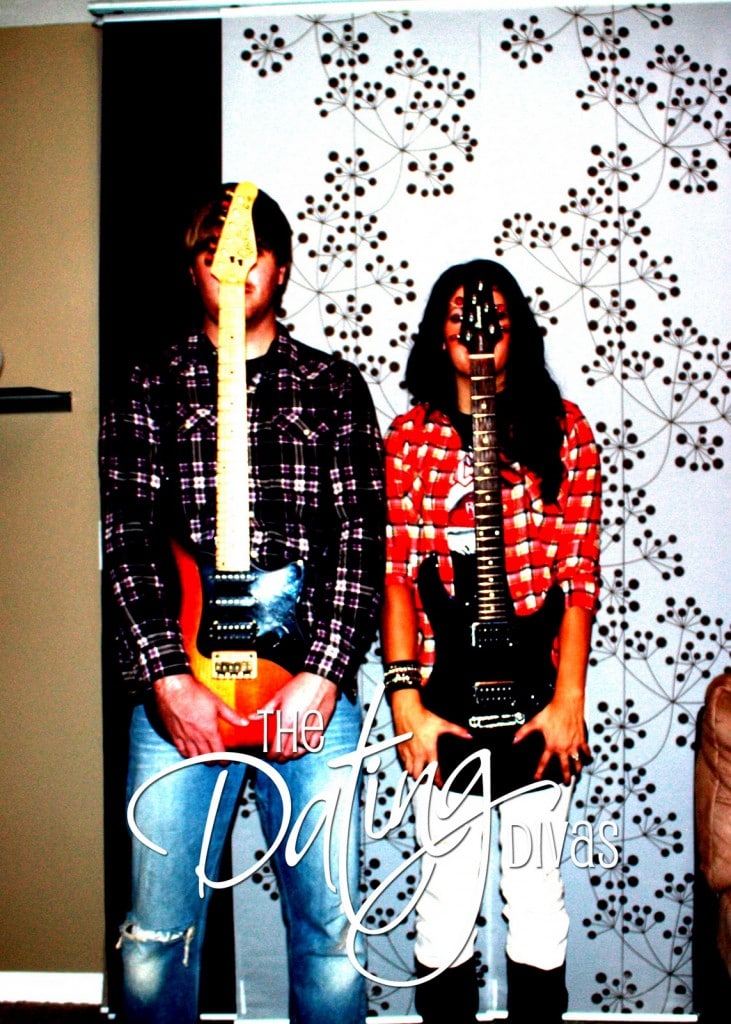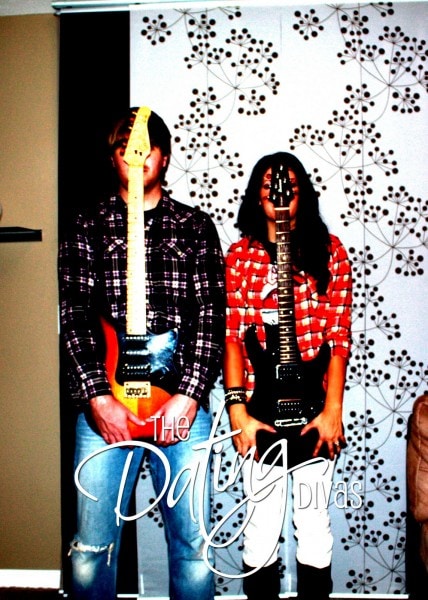 We thought is would be fun to make a ROCK 'n' ROLL ROMANCE PLAY-LIST, so that we could both have some of our favorite songs all in one place, and be reminded of our fun date. So we both picked a bunch of our favorites and made a really fun play-list of songs we both like.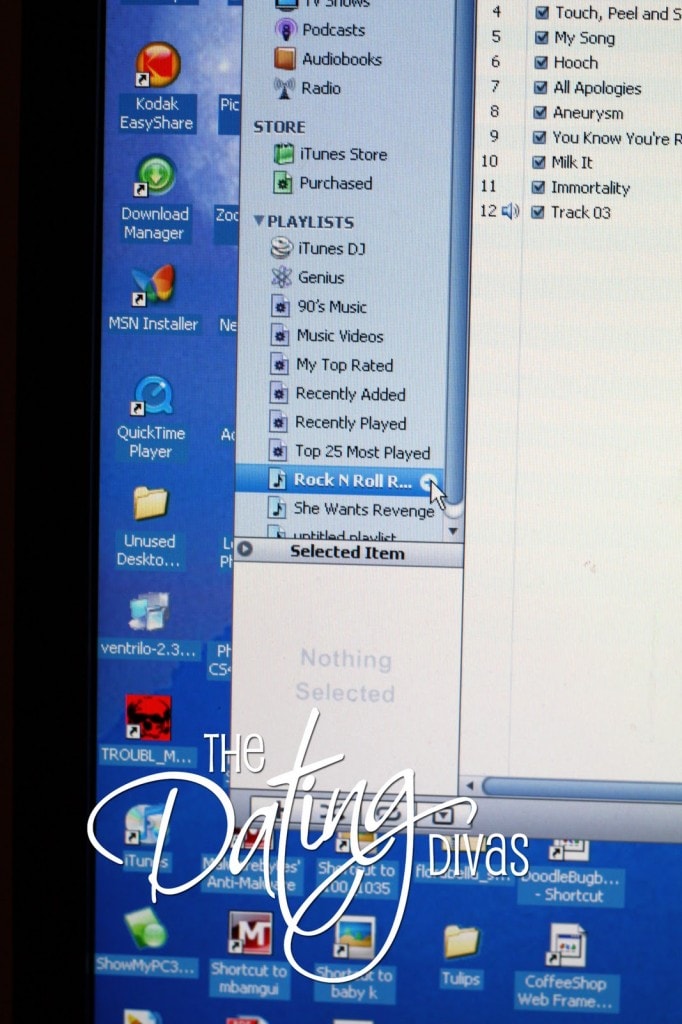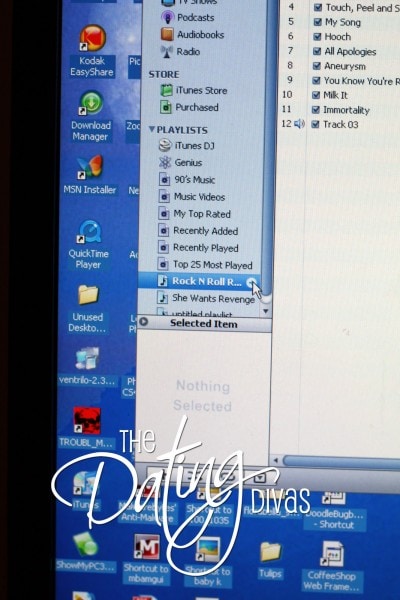 Finally it was time to actually make it to the concert. I laid out our "grass seats" (green blanket), grabbed some lighters, turned off the lights, and put in Alice in Chains Unplugged for our own little personal "At- Home" concert.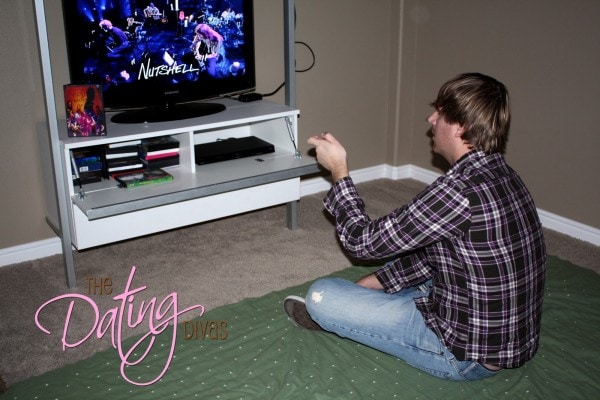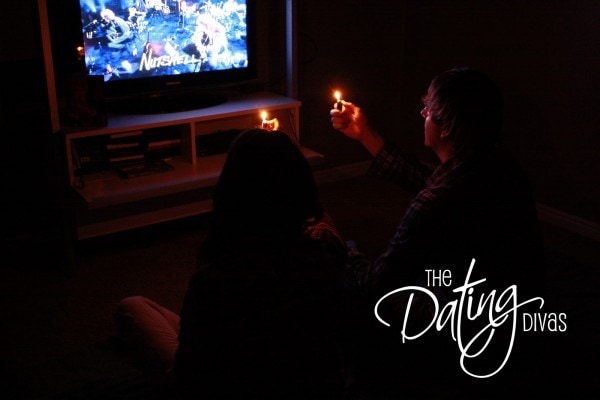 I hope you have as much fun ROCKIN' out with your hubby as I did. The printout also has a backstage pass included….I think we all know what this means. 🙂  I bet your husband won't forget about HIS backstage pass!
Rock-N-Roll Romance Date
Printables Designed by Bridget Exclusively for The Dating Divas