How to Host a Soup Swap Party
There is just something indescribably wonderful about warm, homemade soup on a cold winter's day. I don't love the cold weather, but sipping hot soup while looking at the wintery wonderland outside somehow just makes everything bearable and, yes, even enjoyable. If you love soup too, consider your next group date night or gathering with friends to include a soup swap. A soup swap party is easy to organize (especially with these gorgeous printables we have for you), it is soup–er fun (see what I did there?), and it includes delicious food – what is not to love?

Disclaimer: This post contains affiliate links. To learn more about 'em, click here.

The idea of a soup swap is to invite a few other soup-loving couples to your home (or you can do what I did and make it a girls night out!) and have each of them bring a soup to share – potluck style. You not only get to sample several delicious kinds of soup but in the end, you can swap recipes and everyone goes home with some more soup! This is my kind of party!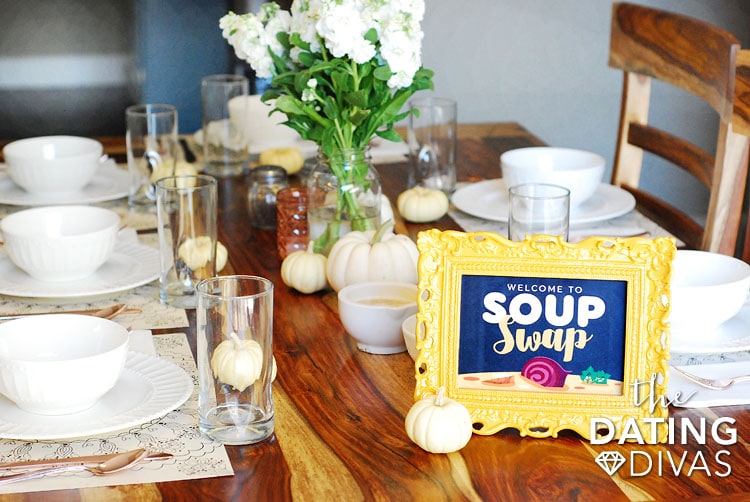 Hosting your own soup swap is super easy, and with these clever printable designs created by the talented Joanna from Cutify Creative, it just got easier. When you see these printables she created you can't help but be giddy. From our invites to recipe cards, decor and more – your soup swap is sure to be fabulous – just add soup!
INVITATIONS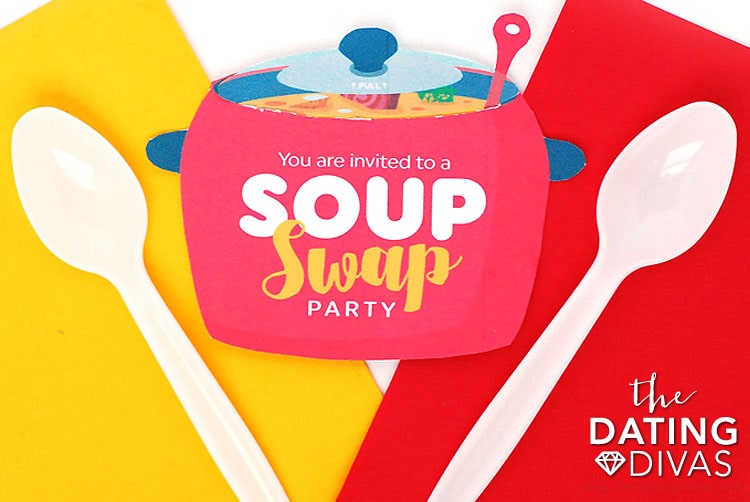 I think the thing about this soup swap that I am most excited about are the invitations. How cool is this? Your guest pulls open the soup pot lid to reveal the information about the party.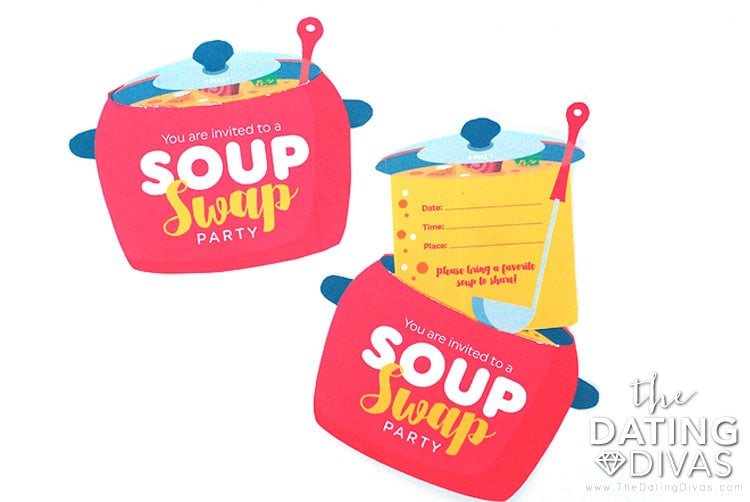 I mean, really. Start making your invite list now – just for these invitations alone. . .
TASTE TEST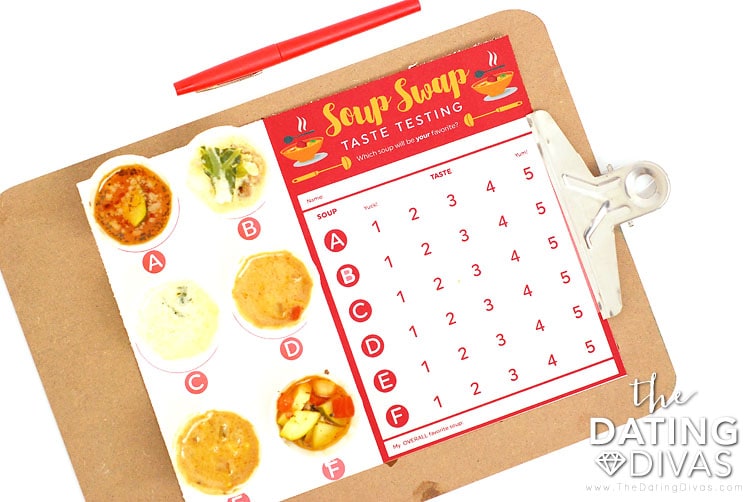 If you want a fun activity, you can add a taste-test contest to the mix. Similar to a Chili Cook-off, everyone can add a little soup to these portion cups, and try each recipe for themselves.  The printable ballot makes it easy to taste, score and vote on your favorite!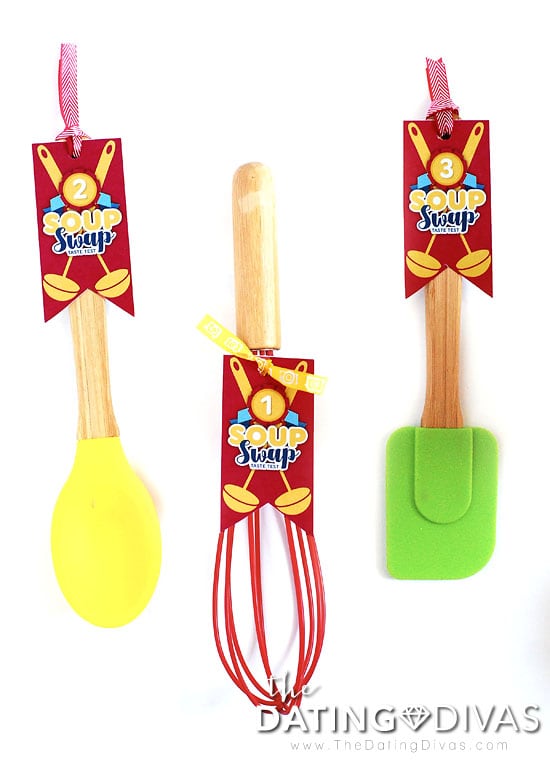 And if there is going to be a little friendly competition, there needs to be some prizes! Maybe you could attach these awards to some colorful kitchen utensils, or I think these Loch Ness Monster Ladles would be a hilarious prize.
SOUP SWAP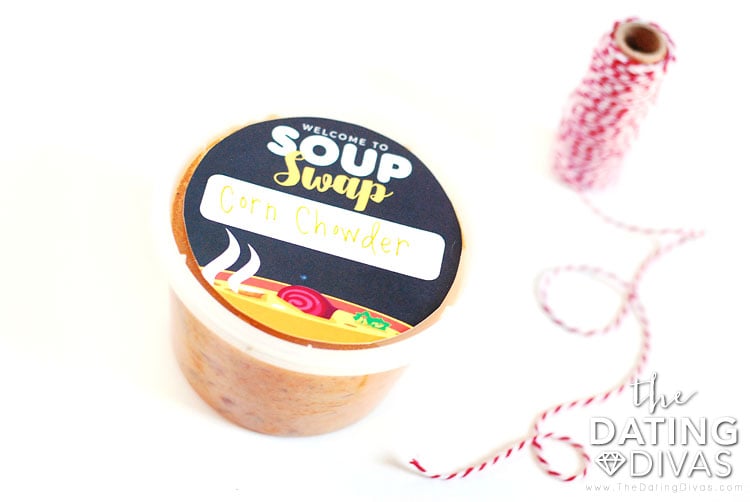 Now, my favorite part and the whole purpose of the night – it is time to swap soup and soup recipes! At the end of the night, if there are leftovers, guests can take home their favorite soups in take-home containers labeled with these adorable printables.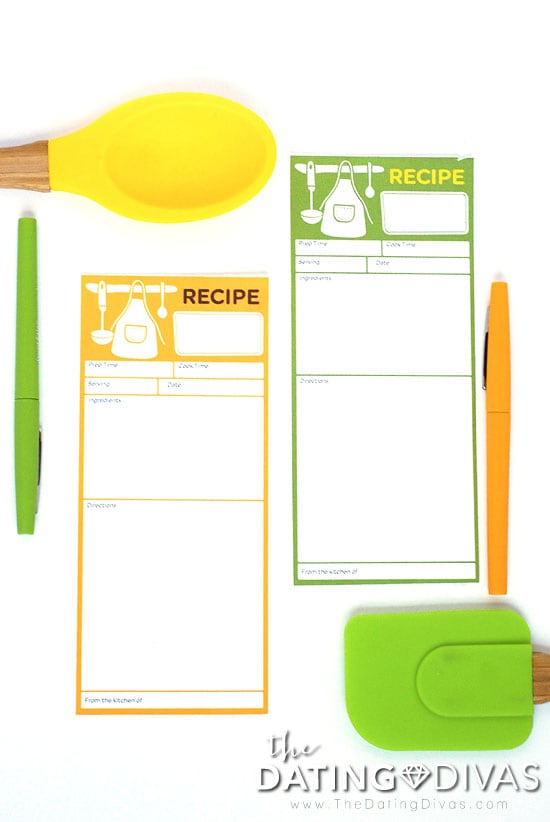 And, of course, everyone needs to go home with an entirely new set of delicious soup recipes to try!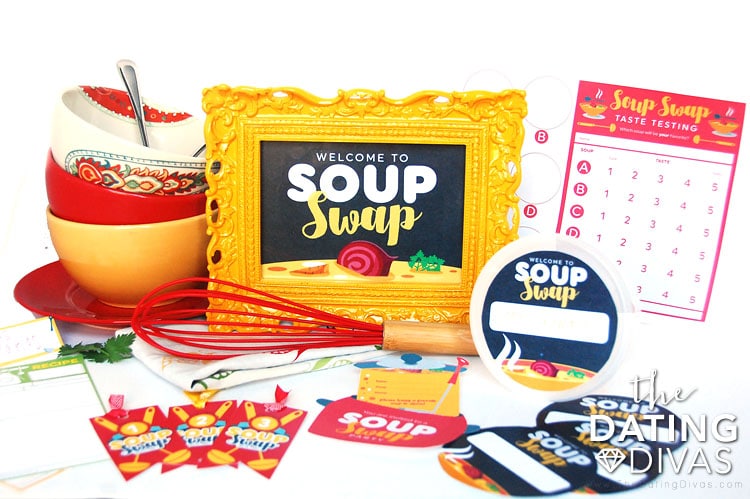 And that is just a taste (pun totally intended) of everything included in the download. We also have food tents, some decor for your party and even an entirely second version customized for a unique twist on a Super Bowl Party! 
SOUP-ER BOWL SOUP SWAP 

Now, here is an idea – why don't you host your own soup swap for the Super Bowl and call it a Soup-er Bowl Party?! Fun, right? Invite all of your sports-loving, soup-eating friends and for the main dish have everyone bring soup to share!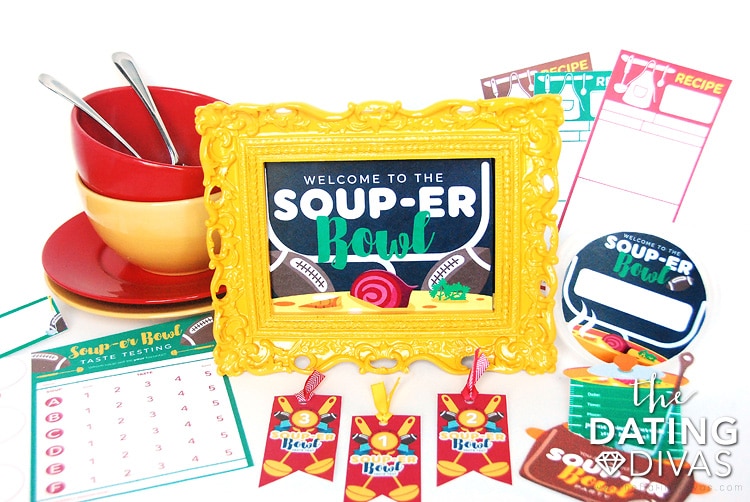 And all those amazing printables Joanna created for a Soup Swap Party? She totally created all those same amazing printables with a customized Super Bowl football twist. How fun is that?
Check these out: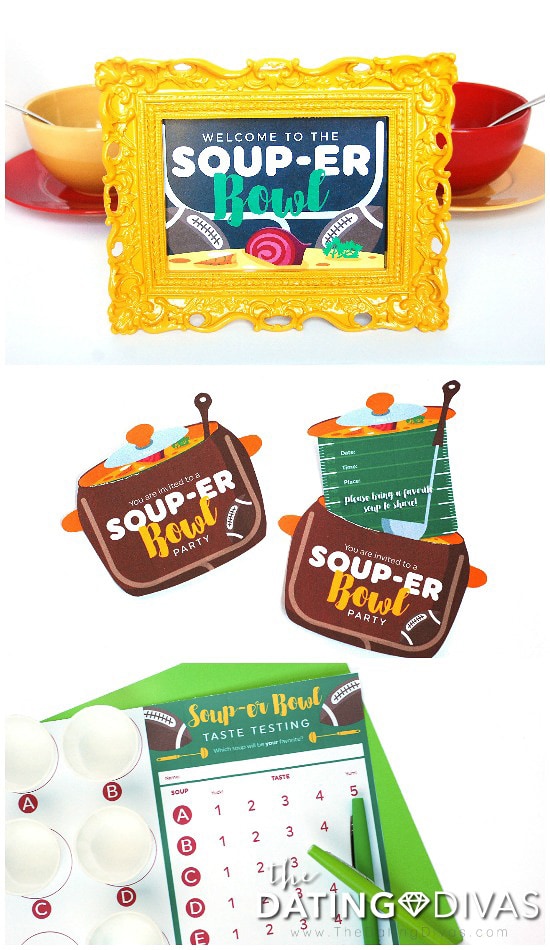 Soup Swap Soup-er Bowl decor, invites, ballots, awards, recipe cards and take home labels are all included in this printable Super Bowl version. Seriously so cool!
This Soup-er Bowl set could also pair nicely with the Super Bowl printables in our Super Bowl Party Pack or many of these 101 Super Bowl Party Ideas!
Soup Swap Party
Printables Designed by Joanna @ Cutify Creative Exclusively for The Dating Divas
Soup-er Bowl Party
Printables Designed by Joanna @ Cutify Creative Exclusively for The Dating Divas