A Rainbow of 

Balloons
filled with St. Patrick's Day notes and treats!
St. Patrick's Day is a silly, fun holiday to celebrate with your family! It's a fun way to share excitement with your kids, and a little lovin' with your spouse. The rainbow is one of the colorful, fun symbols of St. Patty's Day and perfect for BALLOONS! Balloons are just the BEST, they make every celebration more fun and festive! Let your loved ones know they are your "treasure at the end of the rainbow" with this fun little St. Patrick's Day Balloon Surprise!


Disclaimer: This post contains affiliate links. To learn more about 'em, click here.
One of our favorite designers, Courtney of Paperelli, created 3 sets of notes to attach to balloons! The notes are bright, fun and all the colors of the rainbow! Thanks, Courtney!!
Balloon Surprise Candy Notes 
For the kids (or your spouse!)
We thought of 6 St. Patty's candy gram puns (we love puns!) to go along with candy treats. Just tie to the end of your balloons and wait for the happy faces (I'm ALWAYS happy when I get candy!).
You are my RAINBOW on a cloudy day – Skittles or rainbow Twizzlers

A little EXTRA luck for you today 

– Extra Gum
You are a TREASURE at the end of the rainbow – Treasures or any gold chocolates
I hope your day sham-ROCKS – Pop Rocks
YORK my lucky charm – York Peppermint Patty
Don't be an AIRHEAD, wear green today! – Green or rainbow Airheads
Little celebrations and traditions for holidays grow your family closer together, and this St. Patrick's Day balloon surprise is a quick and easy way to surprise your kiddos! They would all be thrilled to find rainbow balloons and candy!

Balloon Surprise Sweet Notes
Romantic notes for your sweetie!
Let your spouse know how LUCKY you are to have them, with sweet romantic notes to tie to balloons, or stick inside the balloons!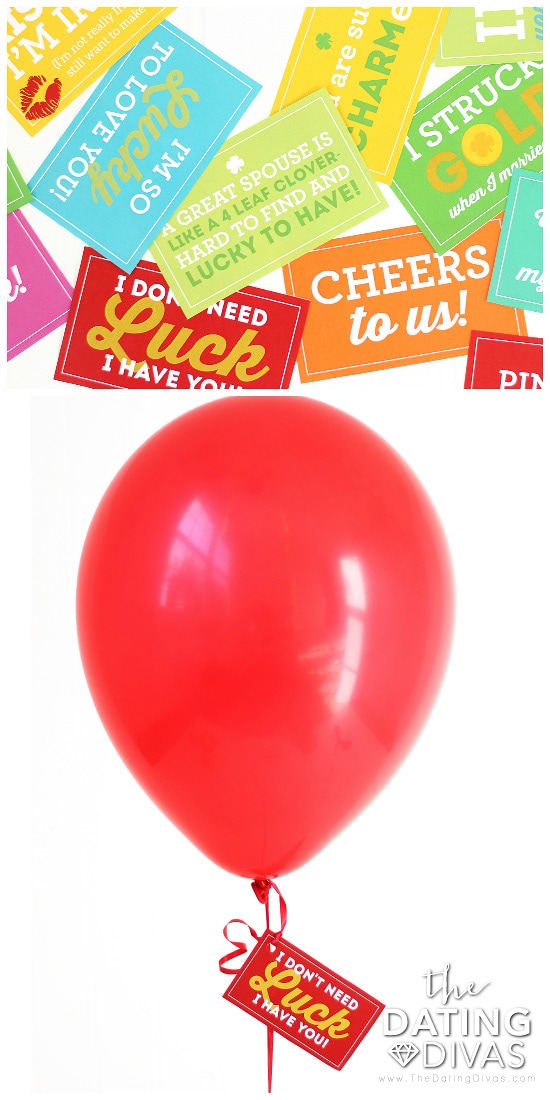 Sassy Balloon Surprise Notes
Sexy messages for your honey!
Looking to turn up the heat a little this St. Patrick's Day? These notes are a little more suggestive… leave them balloons somewhere ONLY your spouse will see them!

Some more ideas on pulling off this balloon surprise for your spouse and/or family:
Leave the balloons on the bed for your sweetie!
Fill your spouse's car with rainbow balloons and notes!
Tape the rainbow to the bathroom mirror.
Set up the balloon rainbow at the end of your kid's bed!
Attach the balloon surprise to a bedroom door.
Set up the balloons on the kitchen table!
Roll up the notes and put them inside the balloons!
If you don't want to buy helium balloons, hang the balloon rainbow from the ceiling!
Attach the treat notes to the bottom of the string with candy.
Although big candy bars won't fit inside the balloons, little treats like Hershey's kisses or fun size treats will! Check out this cool hack for filling balloons!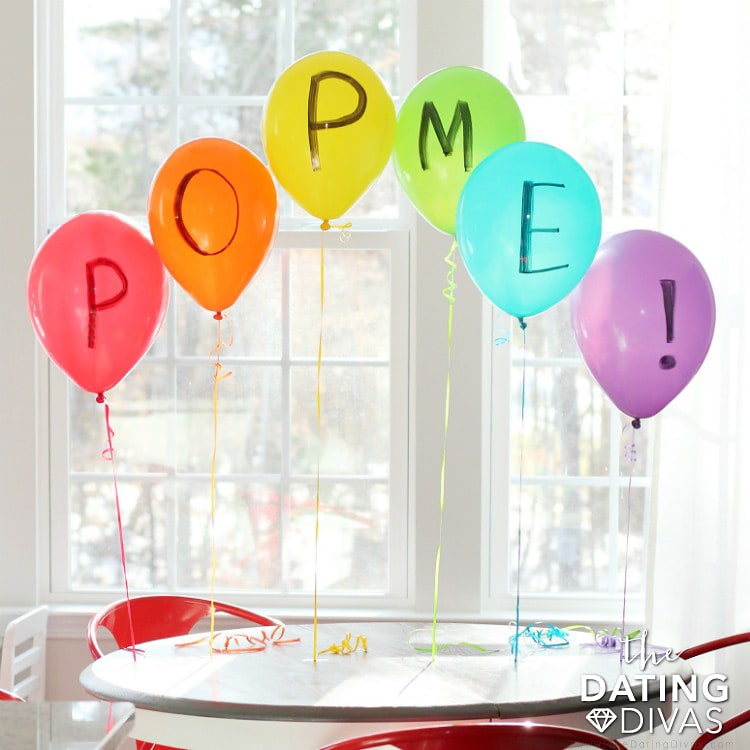 Grab some balloons, print off our quick and easy printables and you're ready for a fun St. Patrick's Day balloon surprise!
St. Patrick's Day Balloon Surprise Notes
Printables Designed by Courtney @ Paperelli Exclusively for The Dating Divas