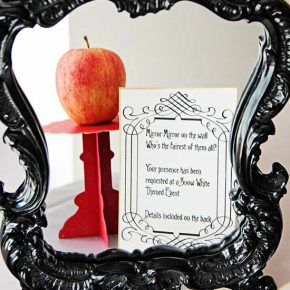 "Mirror Mirror on the wall, who's the fairest of them all?"
This week we are presenting a SNOW WHITE themed date for our "Dinner and a Movie" collaboration with Six Sisters' Stuff!
First we have a fabulous invite to give your spouse, it is a message that you have to use a mirror to read! One of my great diva friends, Candice, took a picture of the announcement in a mirror so that you can see what your spouse will see when they hold it up to the mirror. FUN, HUH?!...
Continue Reading