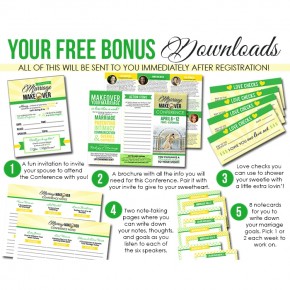 OUR MARRIAGE MAKEOVER ONLINE CONFERENCE STARTS TODAY!!
LAST CHANCE to register at this KILLER price!!!
This is the last chance to register for our amazing Marriage Makeover Online Conference at these GREAT prices!!
You DO NOT want to miss this!!!!!
PRICES WILL BE RAISED AT THE END OF THE WEEK! DON'T MISS OUT!
Hear from all 6 of our amazing speakers:
And we've made it SO affordable!
 Only $7.97 per session
or just
$37 for an ALL ACCESS pass...
Continue Reading