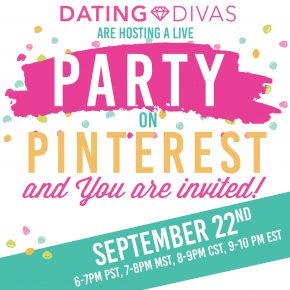 Mark your calendars and SAVE THE DATE 
for September 22nd!
Get comfy, grab a treat or two, and get ready to PARTY with us!! Party? What party you may ask? Well boy-oh-boy do we have an amazing announcement coming your way!! Because we are over-the-top-excited to bring you the one and only......
Fall Party ON Pinterest...
with The Dating Divas!
You might have partied with us in the past on Pinterest. Well... we miss you guys! And we're ready to throw you another...
Continue Reading