Thanksgiving Scavenger Hunt Activity
The Thanksgiving holiday is the perfect time to bring your family together not just for food, but also some fun! A Thanksgiving scavenger hunt would be a great activity to keep the kiddos busy while you are cooking Thanksgiving dinner, or it could be a great post-meal activity to burn off some of those calories! What is unique about this scavenger hunt is that each clue leads you to locations throughout the house and includes a Thanksgiving-themed task to complete as a family. With Thanksgiving riddles for adults and kids alike, all of our scavenger hunt ideas are the perfect activity for making some fun holiday memories and, as usual, we have it all ready for you in an easy printable download!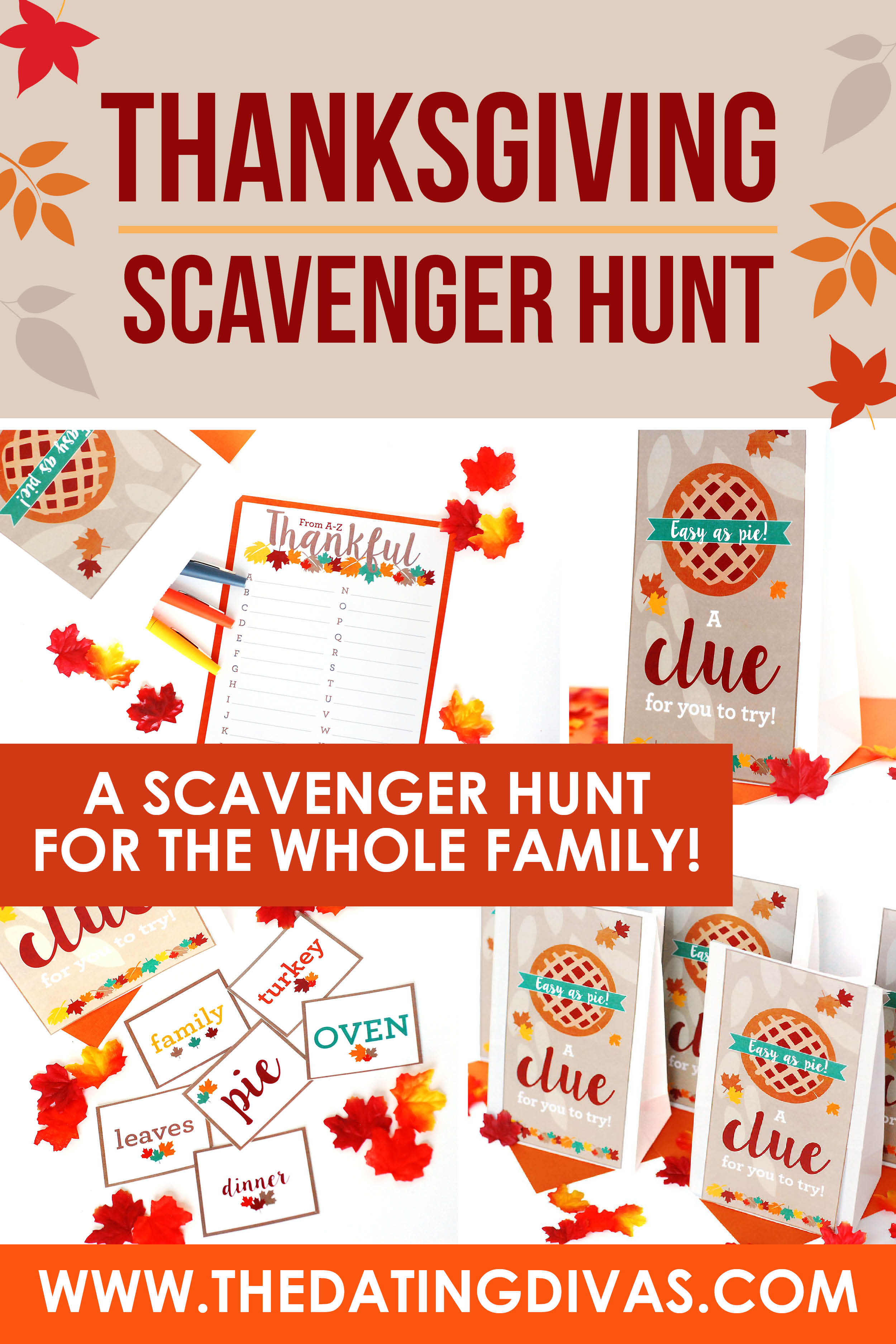 Disclaimer: This post contains affiliate links. To learn more about 'em, click here.

How Your Thanksgiving Scavenger Hunt Works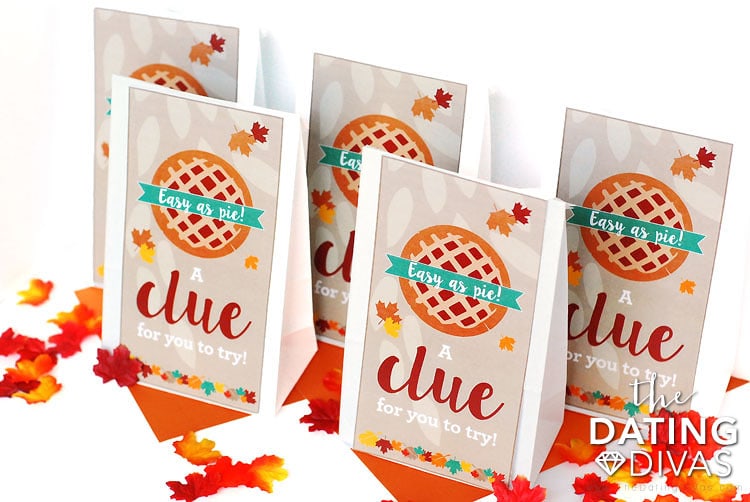 This unique scavenger hunt will have your family searching throughout your home for clue bags that contain a special task or challenge- it really is the perfect Thanksgiving treasure hunt. Once the scavenger hunt clue bag is found, families must work together to complete the task before they can move on to the next clue. Fun, right? Start by adding these colorful bag covers to a total of five lunch bags. I used white lunch bags, but the traditional brown ones will totally work with the fall theme as well! You can print the bag covers onto cardstock and adhere them to the front of the bags, or you could print the design directly onto the lunch bags.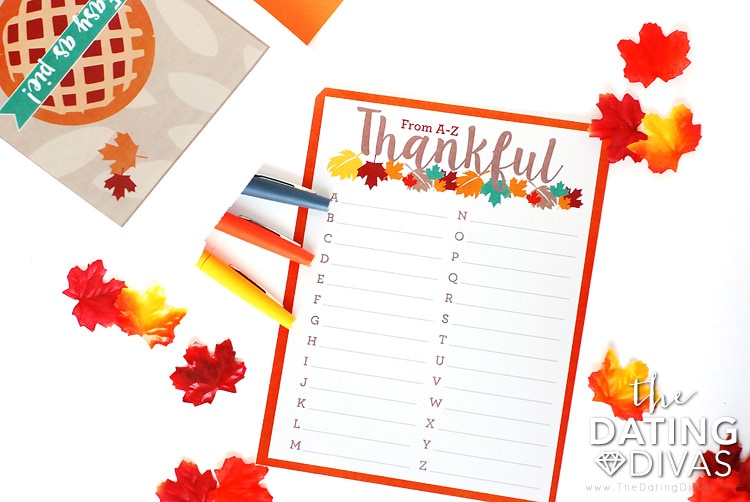 Next, fill each of the bags with the five scavenger hunt ideas included. You will want to include the corresponding scavenger hunt printables and/or any supplies needed for each game. These are the activities that the family will complete before moving on to their next clue.
Thanksgiving Scavenger Hunt Ideas & Activities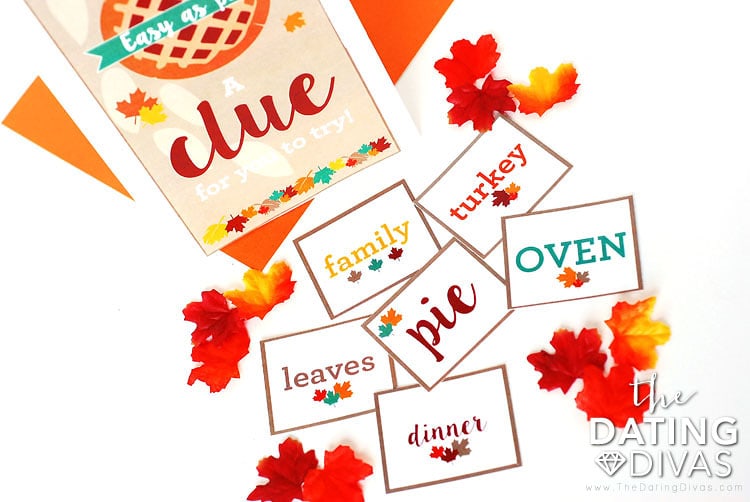 To help you prep, here is the Thanksgiving scavenger hunt list of five fun activities! The activities (and supplies needed to place in the bag) include:
Thanksgiving Scavenger Hunt Thank You Cards – Pause your hunting to write a thank you note to someone in need.

Printables: Thank you notes
Additional items needed: pen/pencil

Pin the Feather on the Turkey – Test your abilities with this fun activity. Try to stick the turkey feather on the turkey's body while being blindfolded!

Printables: Turkey body and feathers
Additional items needed: tape and a blindfold (You can use a bandana or neck tie!)

Thanksgiving Scavenger Hunt List of Thanks From A-Z Activity – For each letter in the alphabet come up with something you are grateful for that begins with that letter!

Printables: A-Z outline
Additional items needed: pen/pencil

Thanksgiving Scavenger Hunt Pictionary – Guess the Thanksgiving word as someone attempts to draw the item.

Printables: Pictionary cards
Additional items needed: pen/pencil and blank paper

Thanksgiving Scavenger Hunt Would You Rather – Share your Thanksgiving-themed thoughts by choosing one of two silly options and defend your answer!

Printables: Would You Rather question cards
No additional items needed
Clue Cards & Locations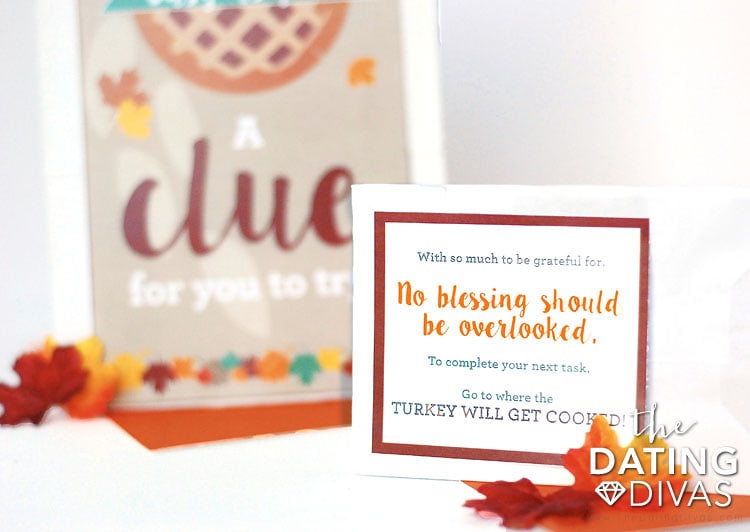 Finally, add clues to the bottom of each bag. These clever cards make for the perfect Thanksgiving riddles for adults and kids alike! Take the five location clue cards and add one to the bottom of each bag. The only Thanksgiving scavenger hunt clue that will not be placed on a bag is the first note that explains the game and offers the first clue. It starts with:
"Thanksgiving is a day of thanks, – a time to celebrate and eat,
So today we share our gratitude through some tasks you must complete!"
The Thanksgiving scavenger hunt list of ideas & clues are written to send your family to places you would find in a typical home including:
The Pantry
A Mirror
The Oven
A Closet
The Mailbox
Mud Room (or wherever you keep your shoes!)
Place all of the clue bags in the various locations around the home as indicated by the clues. With the exception of the first clue, which explains the game, the order of the following clues does not matter. The only thing that does matter is that everyone has a crazy good time!
Perfect Ending to Thanksgiving Day

To finish it all off, place a special Thanksgiving gift or treat at the very last location of your scavenger hunt. You can use our printable gift tag to attach to the final prize. If you were to do the Thanksgiving scavenger hunt after Thanksgiving dinner, the final destination could lead to dessert (pie!) or on any other day a fun treat would work well. I did Hershey's Nugget Chocolates but these adorable Thanksgiving Turkey Cupcakes would be so fun, too!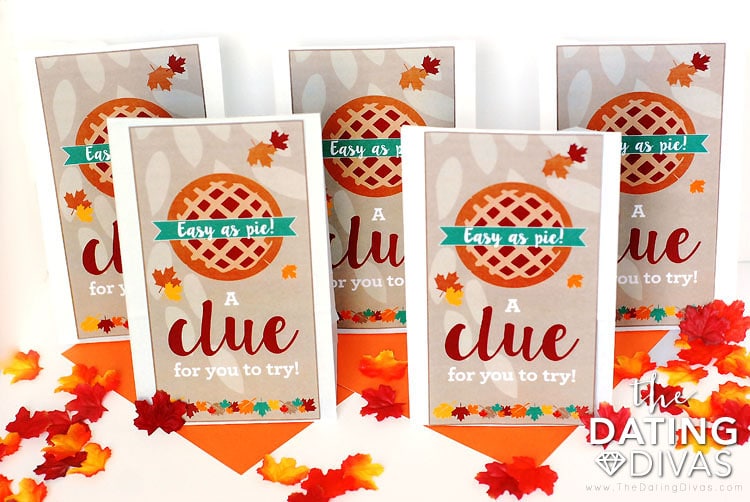 These scavenger hunt ideas are so fun and SO simple! Once your family is ready to play, give them the first clue. When they find the clue bag – have them open the clue bag to reveal the activity. After completing the challenge, they can then peek at the bottom of the bag to read their next clue. And so it continues!
Packed with Thanksgiving riddles for adults and kids, special Thanksgiving treasure hunt activities and clue cards, this Thanksgiving scavenger hunt is one you'll want to do again and again!
For more Thanksgiving-themed family fun, check out our You've Been Gobbled Thanksgiving service idea, our Thanksgiving Photobooth Props, and our Turkey Bowling Game for the whole family.
Thanksgiving Scavenger Hunt
Printables Designed by Leah @ January and May Exclusively for The Dating Divas