Bucket List Date
A planned for you, goal setting date night!
Believe it or not, talking about our future is one of my FAVORITE things to do with my husband! I know, it sounds a little bit dorky for date night BUT done the right way this can be fun, fun, FUN!!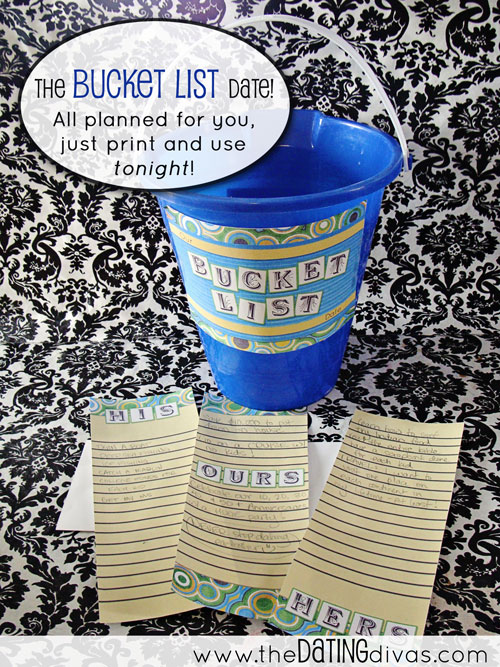 You start by getting our super cute and super free printables!  
This date is especially cute if you can find an actual bucket. I got mine at the dollar store! This bucket will hold your date night goodies, yum! The recipe for the most AMAZING treats are included in the printable. Here's a sneak peek. I'm telling you, they are to die for!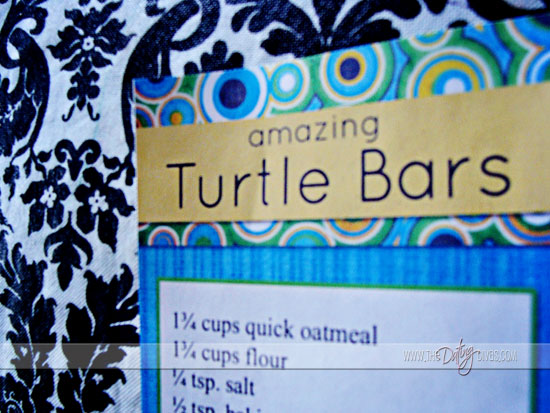 Cut out the first printable and tape it to the bucket. Then, you need the 'His,' 'Hers,' and 'Ours' Lists. We spent the first 10 minutes filling out our list. You each write down the things that you want to do in this lifetime. It actually came to us pretty quick. It's funny, once you start you realize there IS an entire list of these things in your head. We just never really write them down!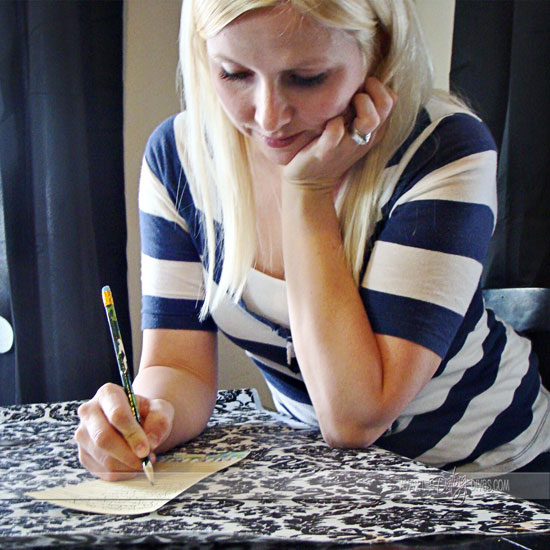 Next, we each tried to guess some things from the other person's list. For example, I know that it is my husband's DREAM to go on a deep-sea fishing trip and catch a marlin (got that one right, BOO-YA!).
Then, we talked about our lists! He learned that I am DYING to learn how to surf. He knew that I've said it would be fun, but didn't know it was a "Bucket List" item. This led into a conversation about how we could make it happen, i.e: what to do with the kids, when we could actually go, would he do it with me, etc… It was fun! You can put ANYTHING on your bucket list! From the easy-to-accomplish to the extreme. It is fun to talk it over with your spouse. And, you might be surprised! Some of the things you would love to do but think could NEVER happen might just end up finding a way!
Next, you get to work on the 'Ours' list. This one is great. What do you two want to accomplish as a couple? What would you like to do for fun? Here is a few from our list to get your wheels-a-turnin'!
Save X amount of money to put down on our dream home

TRAVEL! We both want to see the world. This will have to be once our kids are grown, but we'd like to visit at LEAST one place on each continent. Neither of us have even been out of the country!

We take PRIDE in our marriage and want to party BIG when we reach milestones. We would like to celebrate our 10, 20, 30, 40, 50+ anniversaries with big blow-outs involving all of our family and friends.

Last, but definitely not least, on our list is something we are both super committed to: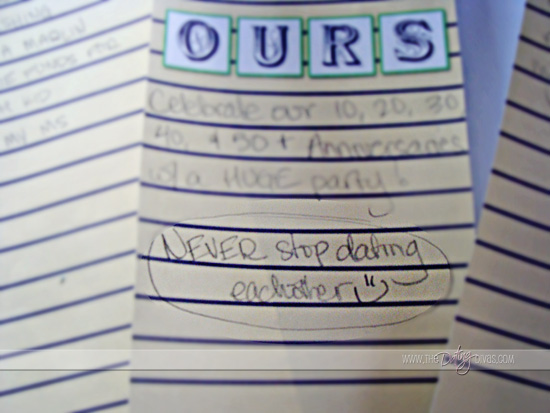 Never stop dating each other! And I hope that NO married couple ever stops. Wouldn't the world be a wonderful place?!
That's it, super simple but super fun! I love to hang out with my husband and during this date we got to laugh over, talk about, and seriously discuss our wishes, hopes, and dreams for ourselves and each other. If you haven't ever done something like this, step out of your comfort zone and do it! This is much better than dinner and a movie! 🙂
If you'd like to try more dates like this (easy, free, and MEANINGFUL), click the following links:
Sunrise and Sunset by Paige
Family History Date by a Guest Blogger
Bucket List Printables
Printables Designed by Robin @ The Dating Divas Exclusively for The Dating Divas