A FUNKY Date Night Like No Other
If you have a sense of humor and LOVE to laugh…then THIS is the date for you!!
We recently moved to good 'ole Vegas and were worried we wouldn't find friends as COOL as the ones we left back home in Utah…
LUCKILY we had nothing to worry about! We have made some AWESOME friends who are laid back, tonz of fun, and CrAzY enough to hang out with US!!!
…..and we convinced a few of them to go on this "FUNKY TOWN" date with us….

Disclaimer: This post contains affiliate links. To learn more about 'em, click here.
The most AMAZING Joanna of Cutify Creative whipped these pretty printables up for our crazy Funky Town Date Night! We are in LOVE with them!!
We presented the guys with the below invites and told them to prepare to have a LOTTA fun… and kept everything a surprise.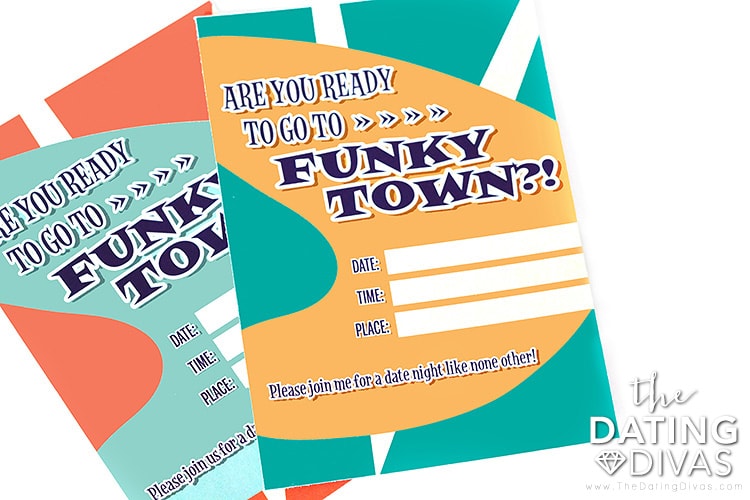 We (the girls) planned a potluck meal and everyone brought their assigned food items so we could have a nice meal together BUT there was a twist…
…instead of silverware, we had to use CRAZY kitchen utensils!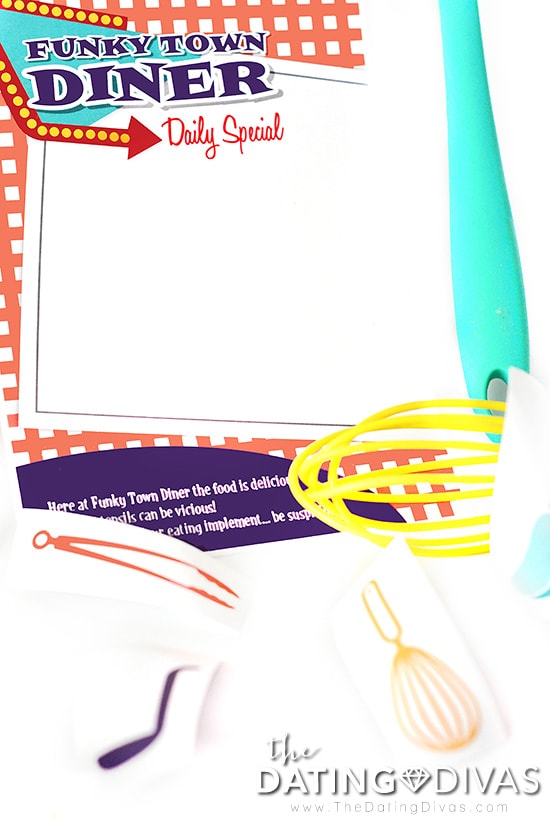 We put everything in a bag and everyone had to stick their hand in (without looking) and choose a utensil to eat with.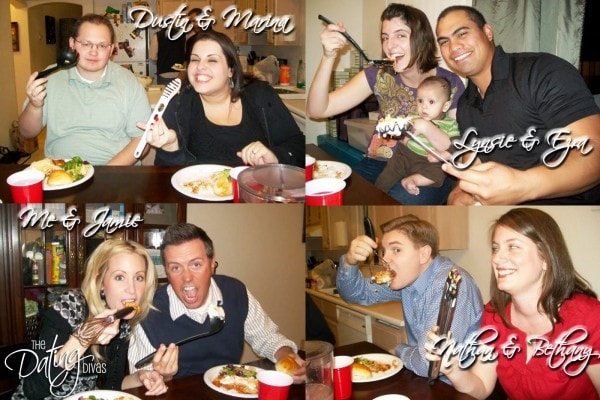 (I had to get creative and I ate with the OTHER end!  The whisk is TRICKY!!)
You could make the dinner even more creative and come up with a quirky menu to hand out.  I was going to create a cute menu, but I ran outta time.  If any of YOU make one, I would love to see what it looks like!  We had a delicious crockpot chicken dish and if I would've made a menu, the chicken would've been: "The Chicken That Didn't Quite Cross The Road." Ha!
THEN – after our yummy dinner, we piled into cars and took our men to the next location: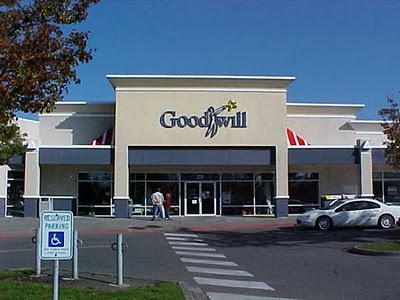 YEP – a thrift store!!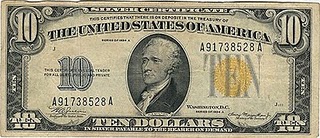 We each handed our spouse a ten-dollar bill and informed them that they needed to go pick out an outfit for their wife and we (each armed with a ten-dollar bill) would then pick out an outfit for our husband.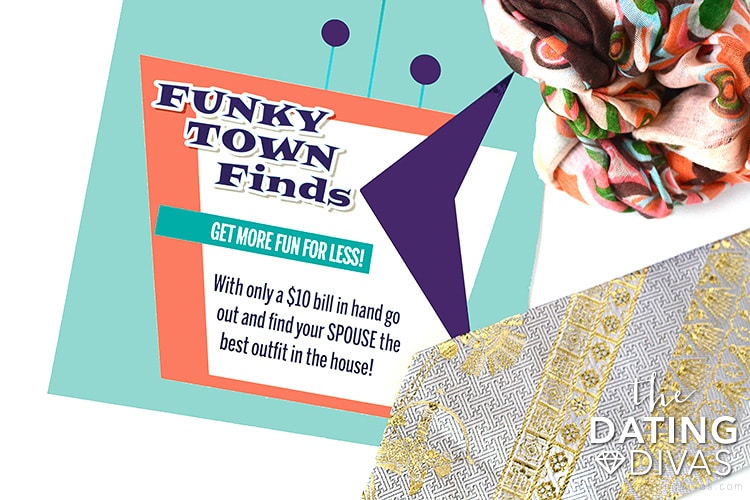 We could NOT stop laughing!  It was SOOOO much fun and SOOO dang funny!  We were probably the LOUDEST ones in the whole store and I am sure a few of the customers were probably annoyed but the employees liked us!  🙂
We met up at the front after about a half hour and the clerk was DYING when he saw what we had picked out for each other!  We then went back to one of the couple's houses and changed into our "new" outfits….
…and HERE is yours truly with my husband, Jamie.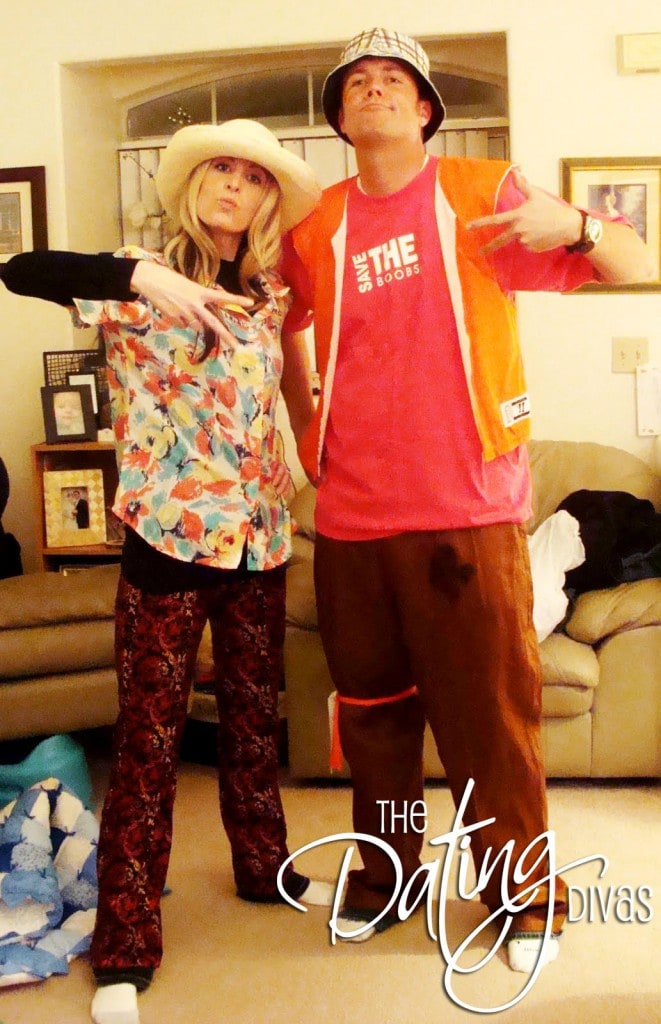 Oh, wait, you HAVE to see a close-up of the shirt I got for him: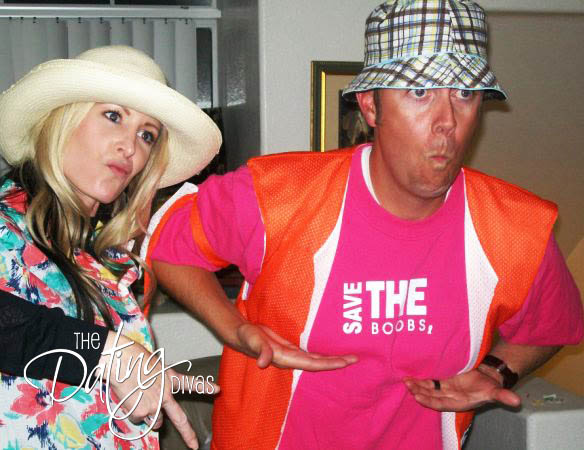 It's a breast cancer awareness shirt!
AND – here is the whole group, including adorable baby Cyrus!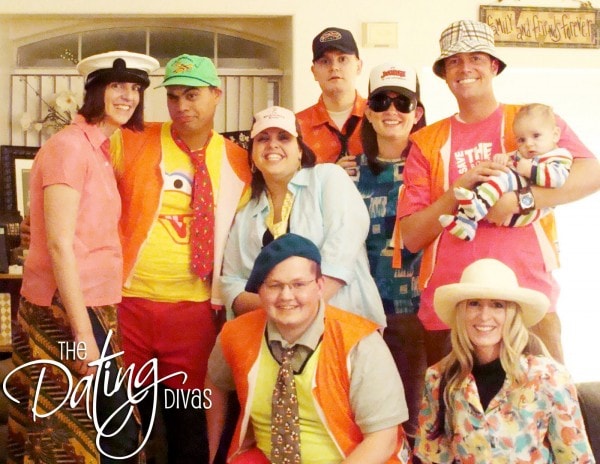 "Save The Boobs" Shirt
"Jesus is my Homeboy" Hat
Shorts made out of TOWELS
Turquoise Beret
We THEN told the men that we were going to go out in PUBLIC dressed like that!  This is WHY I would recommend doing this as a group date – safety in numbers! LOL
We headed to the bowling alley, and of course, caused a little bit of a scene! We were laughing so hard at everyone's reactions. HI-LA-RI-OUS!!
We got our shoes and bowling balls and then picked out FUNKY names.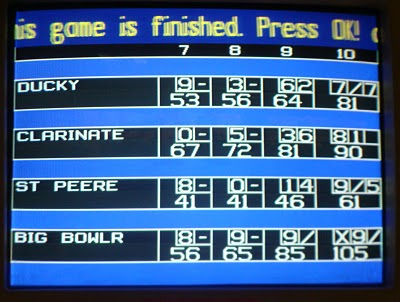 We then told the men that we had a few MORE tricks up our sleeves.
I handed out "Romantic Score Cards" which I found
here
 on Love, Actually's blog.  We each wrote down what we thought our final score would be.  There was a spot to put our actual score and then a spot to write the difference.  THEN – on the back of the card we wrote the "reward" our spouse would get if he was closer to his actual score than we were and vice versus.  Basically, you were bowling against just your spouse but really trying to get as close to the score you wrote down as you possibly could.
I also found another cute idea in that same post on Love, Actually's blog and I created a mini-poster to display the "FUNKY" rules we would be playing by.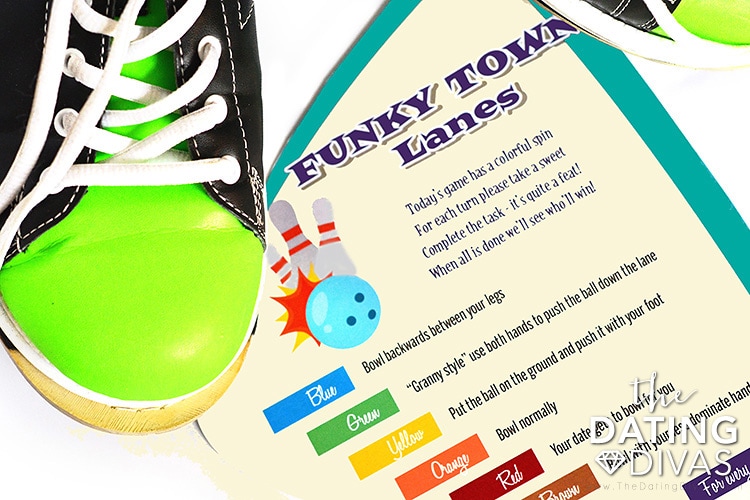 Before each turn, we would (without looking) chose an M&M and then look at the little chart to see how we were supposed to bowl.
Blue = Bowl backwards between your legs.
Here is my HOT husband demonstrating that one….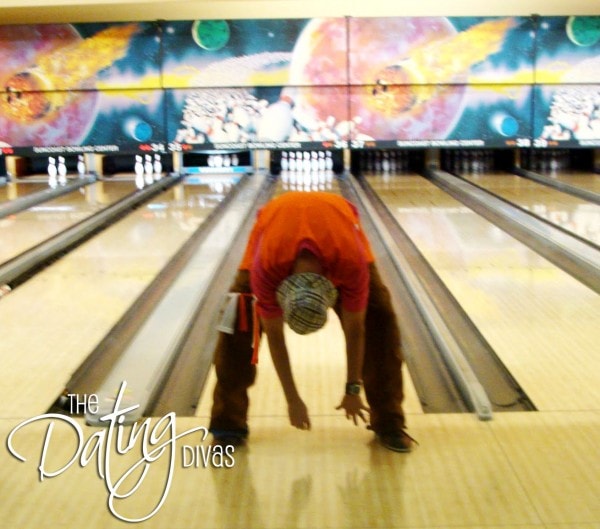 …dontcha just LOVE his Gilligan's Island hat!?!
(As you can see from our FINAL scores posted above…you will NOT be hitting any big numbers if you play this way!!)
One last shot of the GIRLZ: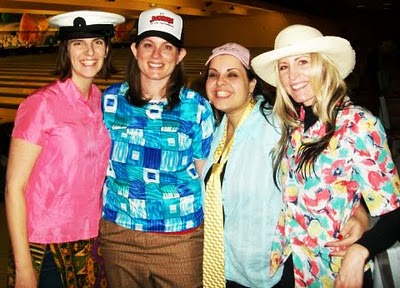 We then ended the night with YUMMY ice cream sundaes, and the option of continuing date night at home with JUST your sweetie (after everyone leaves…) 😉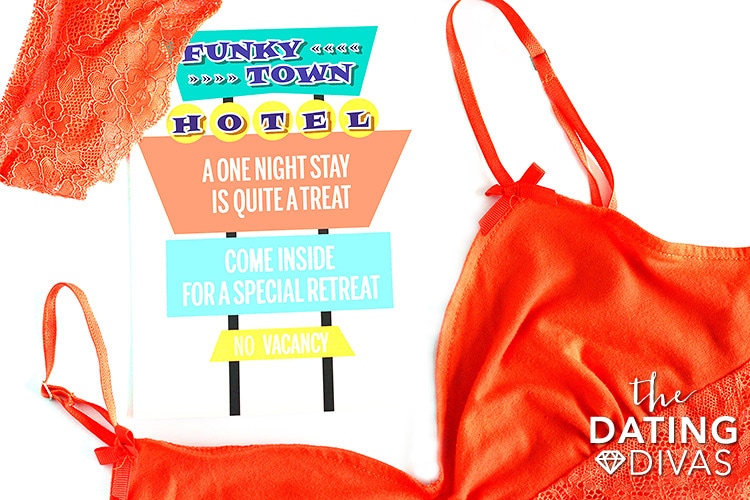 Have fun planning YOUR "Funky Town" date!!
Funky Town Date Night
Printables Designed by Joanna @ Cutify Creative Exclusively for The Dating Divas