Ugly Sweater Party
It is time to pull out your worst winter wardrobe and get ready to rock a holiday season favorite: The Ugly Sweater Party! I am not sure where this idea originated from but it is brilliant. Get your craziest friends together, raid your grandma's closet and celebrate the holidays – what could be better? Look no further for your ugly Christmas sweater party ideas. We've got you covered!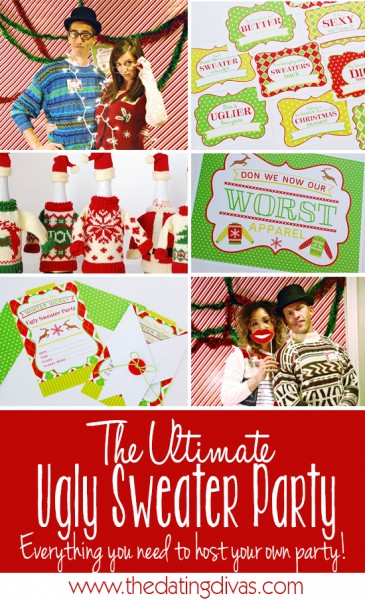 Disclaimer: This post contains affiliate links. To learn more about 'em, click here.
Well, leave it to the Divas to throw our OWN ugly sweater date night and go ALL OUT! When I wanted to host this party and had to think of my wackiest friends that would rock their knitted looks of course I turned to my girls: The Divas! We had such a blast and I am SO excited to share with you how you can host your very own ugly sweater party!
Not only do we have tons of ideas to get your party rockin', but our fabulous Diva Designer Erin at Strawberry Mommycakes has created all the printables that you could ever need to make your party a success! She did a fabulous job of making my vision into reality. Some of my requests were quite complicated and she nailed it. If you ever need anything designed – she is the girl to go to! Just check out everything she made in our Ugly Sweater Party Kit:
Ugly Sweater Party Invitation
Aren't these fun? The invitations are designed so you can fold the sleeves over to cover up the information. Your guests can open their invitation to reveal an inspirational tacky sweater and all the details of the event. I added a cute button to mine to embellish the invite even more and held it down with double stick tape. Depending on your choice or activities, don't forget to include what you will want your guests to bring for the night: a white elephant gift, food contributions etc.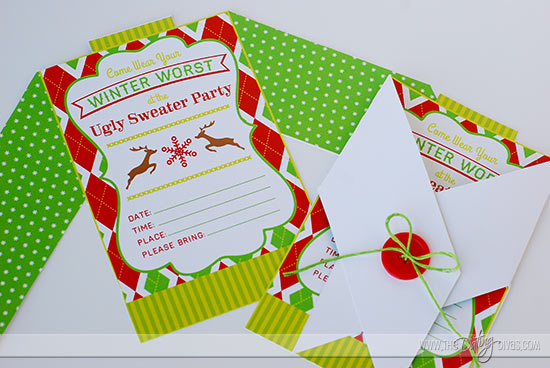 Ugly Sweater Party Name Cards
Our printables come with 12 name tags each with a unique saying and a place for your guest's name. I printed mine onto sticker paper so they were instant stickers and easy to attach to their sweaters.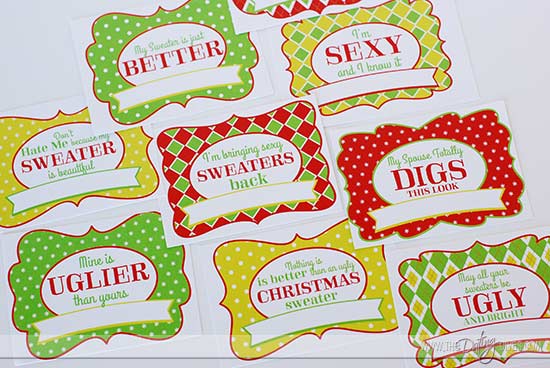 More Ugly Sweater Party Ideas
Don we now our worst apparel fa la la la la la la la la. You can use this in several ways. It can used as decor at the table, a sign for your door or decoration on the Photo Booth (details below).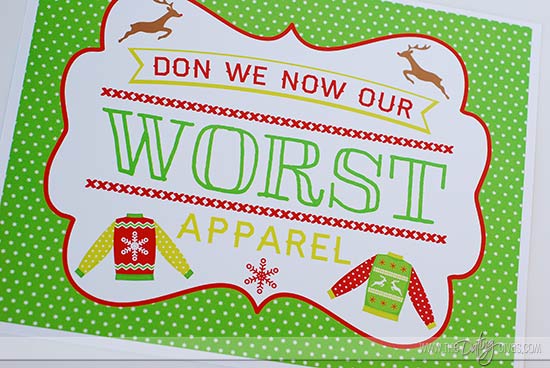 These wraps are designed to fit around a water bottle. Just remove the original label and attach these babies around some water bottles OR if you do hot chocolate you could even wrap these around a mug or styrofoam cup for instant sweater-theme to even your beverage!
What is a party without food? These labels are the perfect addition to your table. Just cut and fold! I DO recommend cutting the bottom at a slight angle to help them stand up better.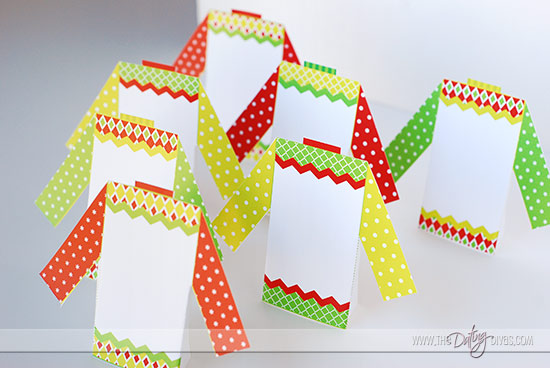 A variety of ugly sweater style cards that are PERFECT for a little cookie decorating contest. Your guests can try to replicate the sweater on the card using icing on a sugar cookie.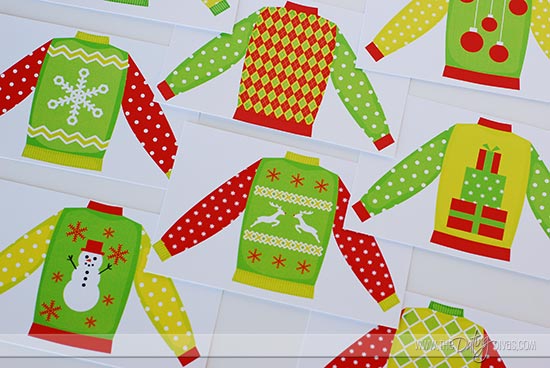 Antlers and a nose that even Rudolf would be jealous of. This reindeer attire is include so you can play the Santa's Kisses game (details below) and look even MORE ridiculous that you already did! You can attach these to a head band, make a paper band or use elastic.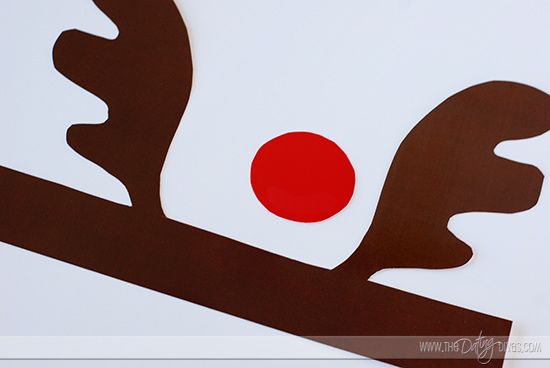 Ugly Sweater Contest Ideas
Someone has to decide WHO can claim the victory of the ultimate ugly sweater! With these adorable voting papers you can have each of your guests take a vote. We even included a tally sheet for you to keep track of the votes!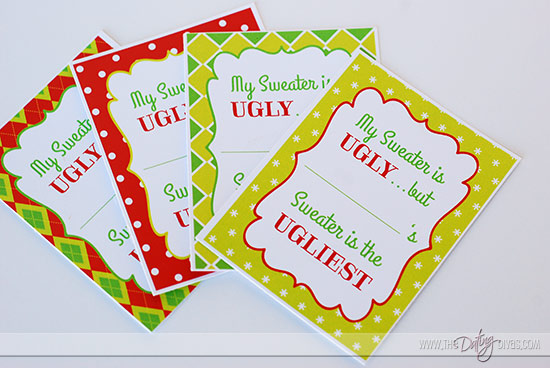 Anyone willing to wear something so hideous that it is voted to be the UGLIEST – deserves a prize. Our packet includes winning medallions for the UGLY, UGLIER and UGLIEST sweaters of the night. May they wear it as proud as they do their grandma's sweater!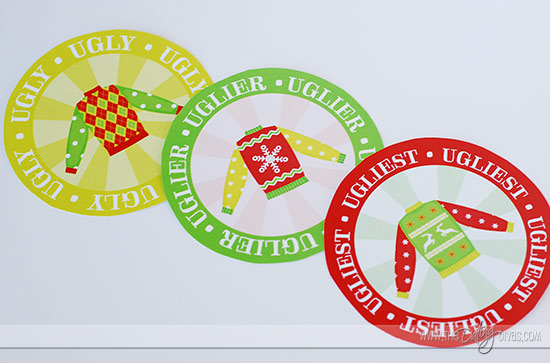 I wasn't kidding when I said that we had everything for you! Seriously – isn't Erin's work AMAZING! She knows how to design a party! Now let's put it all together with some additional diva-fied ideas for hosting the
ULTIMATE UGLY SWEATER PARTY!
Here we go . . .
Ugly Sweater Party Decor
Let's start with decor. As soon as your guests enter the party they can feel surrounded by holiday cheer. And guess what? The cheesier the better! Tacky? Yes Please! Pull out the tinsel, the tree and stockings, but don't feel like it has to be pretty or elegant. That is MY kind of party!
To really set the tone for your party, make sure you have some cheesy holiday music playing. Music can really add a great effect to the mood and feel of your party!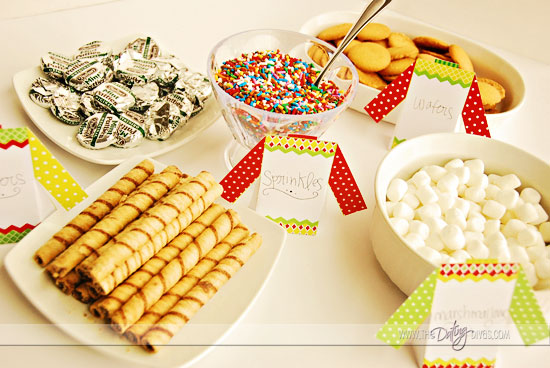 What could be more perfect than hot chocolate for a date night like this? I asked my guests to each bring a different topping to add to our hot chocolate bar. We had marshmallows, candy canes, mints, whip creme, wafers and sprinkles. SUPER yummy and simple too!
Ugly Sweater Party Activities
Of COURSE you have to document the ugliness as your guests enter – say "cheese!" when you stop by the Photo Booth! For my party I used a roll of wrapping paper & tinsel to create a tacky backdrop for our photo booth. I also gathered up  random props for my guests to use. Remember – the cheesier the better!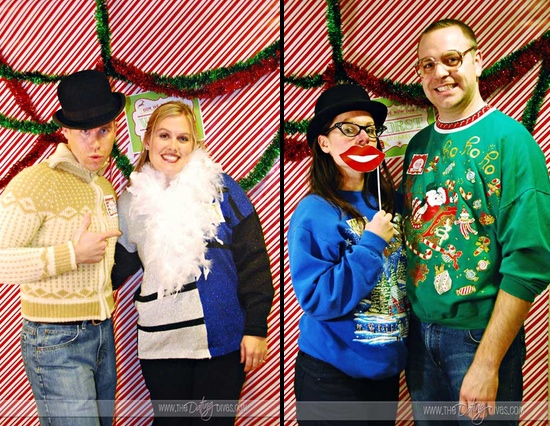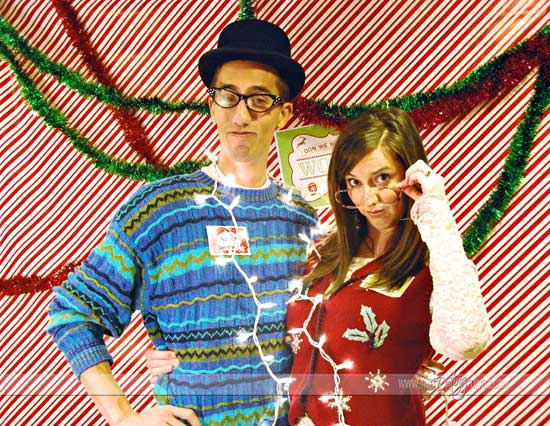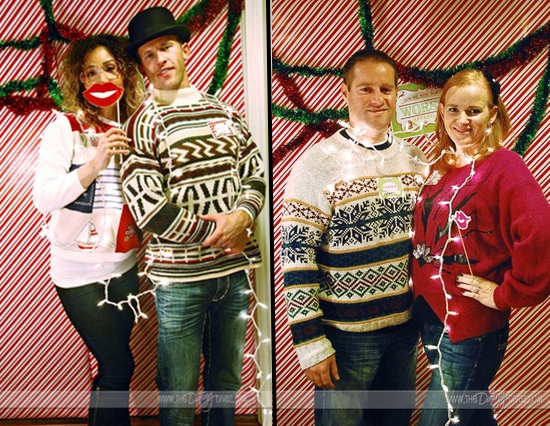 Encourage a little friendly competition with a social media contest! While you are at the Photo Booth – don't forget to take a picture with your guest's phone so they can add it to their Facebook page. You can have a contest amongst your guest to see who can get the most "Likes" on Facebook by the end of the night. If it wasn't embarrassing enough to wear the sweater now you have to show it to the world wide web? Yep.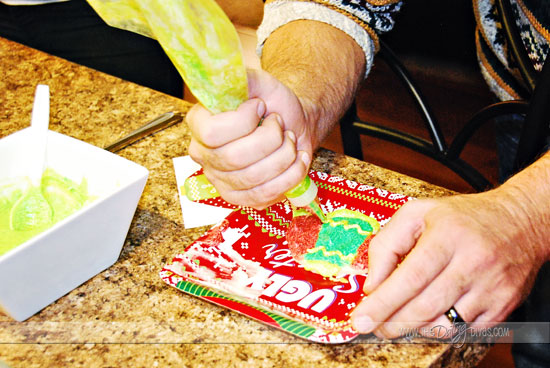 How cute is this? Have an Ugly Sweater Cookie Contest I actually found a cookie cutter in the shape of a sweater! I made sugar cookies in these shape and prepared icing. As one of the activities during the date, the couples try to replicate a specific ugly sweater using their icing decorating skills. We used the cookie contest cards as inspiration and  I was SUPER impressed by the artistic skills of the group – ESPECIALLY the husbands!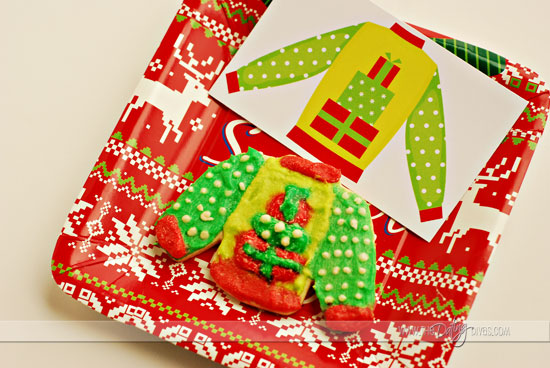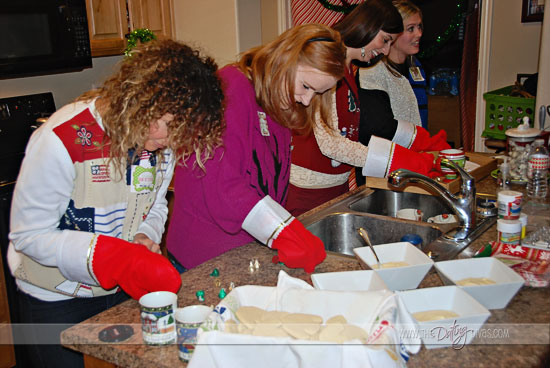 Every party needs some fun games for entertainment… This Santa's Kisses Game was my favorite game of the night! The wives all lined up on one side of the counter to play the part of "Santa" while the husbands, red noses and all, lined up as the reindeer. With their hands in a Christmas stocking, the "Santas" had to unwrap Hershey Kisses and toss them into their Reindeer's mouth. It is harder than you think but VERY entertaining!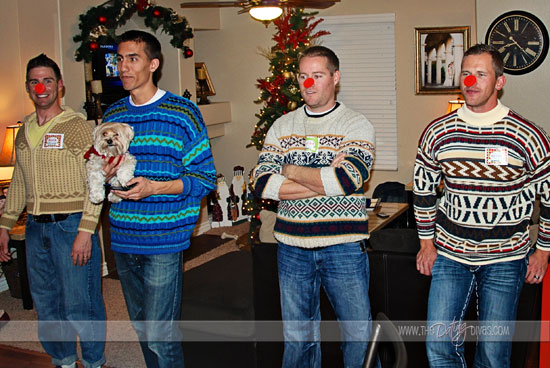 You can always include the classic white elephant gift exchange. There is no better idea than to swap and steal comical gifts that no one really wants. It is always good for a laugh! For all the details on leading an unforgettable white elephant gift exchange check out this post: White Elephant Party. Not only does it explain the game, but there are LOTS of links to some hideous gift ideas.
Ugly Sweater Contest
Don't forget to award the Ugly Sweater Contest prize! Claim to the title of Ugliest Sweater can be given by having your guests vote using the voting ballots. Tally up the scores and determine the top three winners in the categories of Ugly, Uglier and Ugliest Sweater of the night!
Those with the ugliest sweaters of the night were deserving of a "medal". Using the award printable in the package, I added some colorful garland to make a necklace for the proud winners to place around their neck.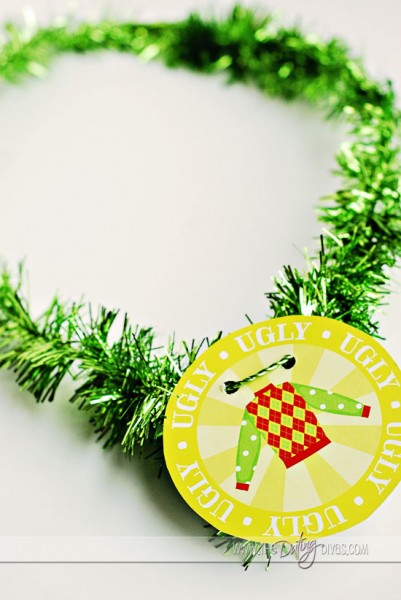 For the winners of the social media, santa's kisses and the cookie decorating contest I gave the winners mistletoe – a holiday excuse for a smooch!
Finally, I love to leave my guests with a little party favor as they leave and these were more than perfect! SWEATERS for a bottled drink! I couldn't believe it how perfectly they went with the theme. I found them at a local grocery store – but you can also find these Sweater Bottle Covers on Amazon.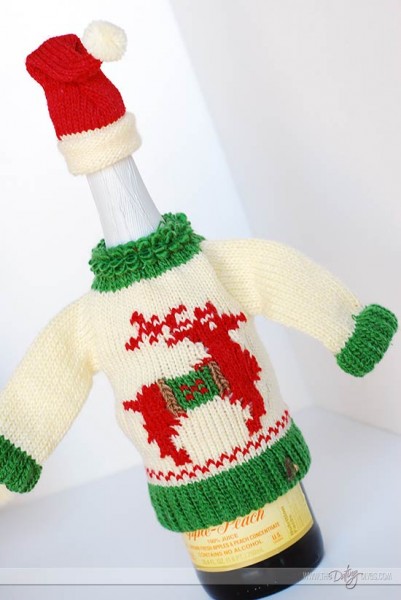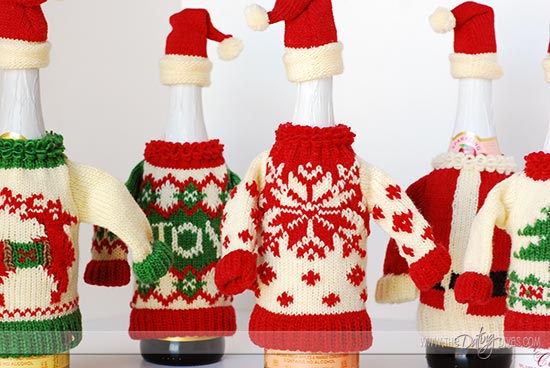 I TOLD you we had everything you were need! The good, the bad and the UGLY!
This date night would not have been the same without the amazing designs by Strawberry Mommycakes. I mean, seriously, it brought the whole date night come together! If you have a party that needs a specialty design – she is amazing to work with!