Ugly Sweater Party Ideas
Don we now our worst apparel fa la la la la la la la la. It is time to pull out your worst winter wardrobe and get ready to rock a holiday season favorite: The Ugly Sweater Party! Leave it to the Divas to create our OWN Ugly Christmas Sweater Party and go ALL OUT! We had such a blast and we're SO excited to share with you how you can host your very own Ugly Sweater Party! These ugly sweater ideas are not only fun, but brilliant. Just get your craziest friends together, raid your grandma's closet and celebrate the holidays. We promise you won't need to look any further for the perfect Ugly Christmas Sweater party because we've got you covered!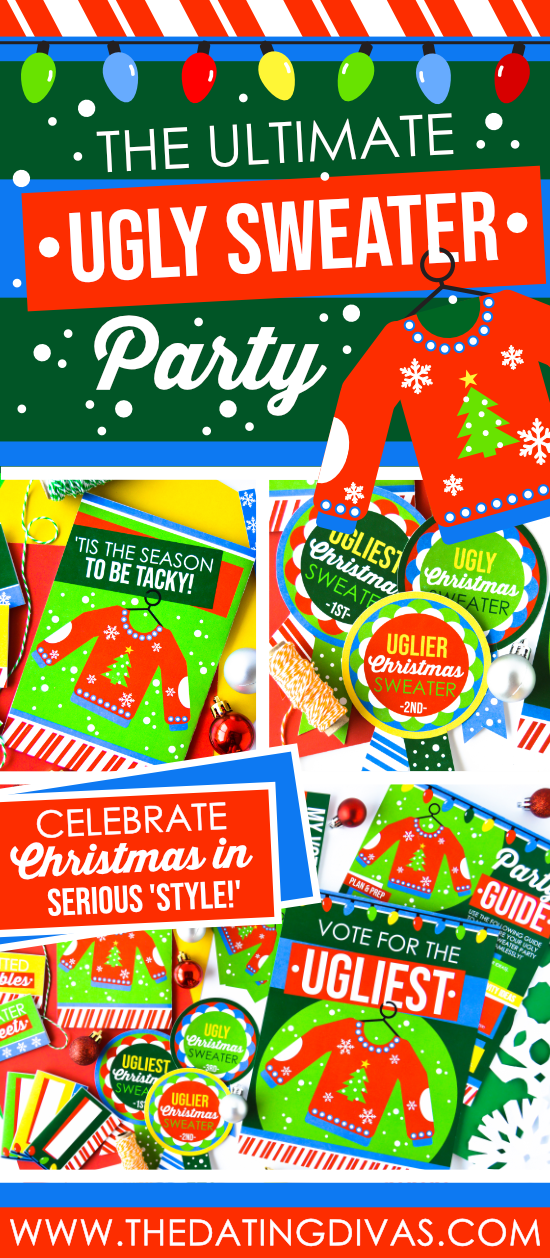 Disclaimer: This post contains affiliate links. To learn more about 'em, click here.
Not only do we have tons of ideas to get your party rockin', but our fabulous Diva Designer Elizabeth has created all the printables that you could ever need to make your Ugly Sweater Party a success! She did a fabulous job of making our vision into reality. If you ever need anything designed – she is the girl to go to! Just check out everything she made in our Ugly Sweater Party Kit:
Ugly Sweater Party Guide
First up in your Ugly Sweater Party kit, a FABULOUS party guide that will help you party go 'seamlessly!' Packed with ugly Christmas sweater party ideas, planning tips tricks, this guide will be your very best friend. It'll walk you through everything you need to make your Ugly Christmas Sweater party a total success. Take a peek below at some of the fun activity ideas below, but be sure to take a full look at the guide before planning all of your Ugly Sweater Party goodness.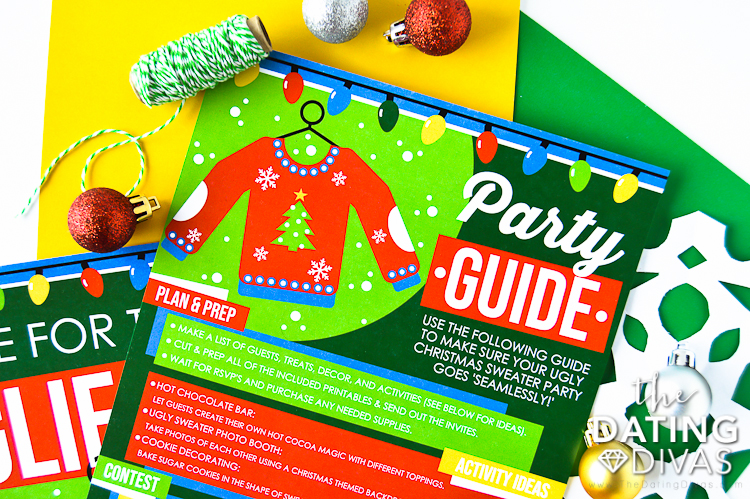 Ugly Christmas Sweater Party Ideas & Activities
One of the BEST parts of an Ugly Christmas Sweater Party is that there aren't any rules! You can do whatever ugly sweater ideas you wish and as long as everyone's shown up looking truly tacky, it'll be a blast! Take a look at some of the activity ideas we included on your printable Ugly Sweater Party guide (plus a few extras!) for some of our favorite ideas:
Hot Chocolate Bar –

Let guests create their own cocoa magic with different toppings like marshmallows, mints, or whipped cream. You could use some pretty party mugs like these to jazz things up, or you can stick with disposable styrofoam cups.

Ugly Sweater Party Photo Booth –

Take photos of each other using a Christmas themed backdrop. Consider over-the-top items such as Christmas garlands, mistletoe, or an artificial tree. You can even don red Rudolph noses, or have a contest amongst your guest to see who can get the most social media "Likes" by the end of the night.

Cookie Decorating –

Bake sugar cookies in the shape of sweaters and decorate them- the tackier the better! Your guests can even try replicating their own sweaters onto their cookies.

White Elephant Gift Exchange –

 This idea is always good for a laugh! It not only explains how to play the game but also includes LOTS of links to some truly hideous gift ideas.

Christmas Musical Chairs –

Sprinkle a healthy dose of Christmas magic onto this classic game with some holiday tunes!
Are those full of mistletoe magic or what?! Keep reading to discover even more of your Ugly Sweater Party printable goodness.
Ugly Sweater Party Invitation
How fun are these sweater-themed bad boys?! Your Ugly Sweater Party invitations are designed to be two-sided so you can fold it and have a super fun front/back. The front of the ugly Christmas sweater party invite contains a fun saying and a cute sweater, while the back has the all the party information your guests will need. These invites would fit nicely in an envelope- your guests can then open their invitation to reveal an inspirational tacky sweater and all the details of the event. However, they're also great sans envelope- the choice is yours!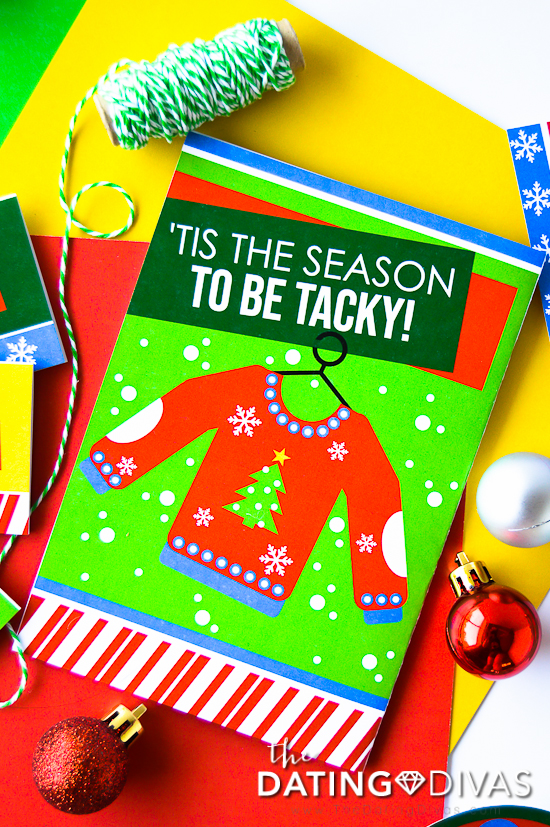 You might want to add a cute button to embellish the Ugly Sweater Party invite even more and you can hold the two sides down and together with double stick tape. Depending on your choice or activities, don't forget to include what you will want your guests to bring for the night: a white elephant gift, food contributions etc. Included on the ugly sweater invite is a special reminder to "Wear Your Winter Worst!" How adorable is that?!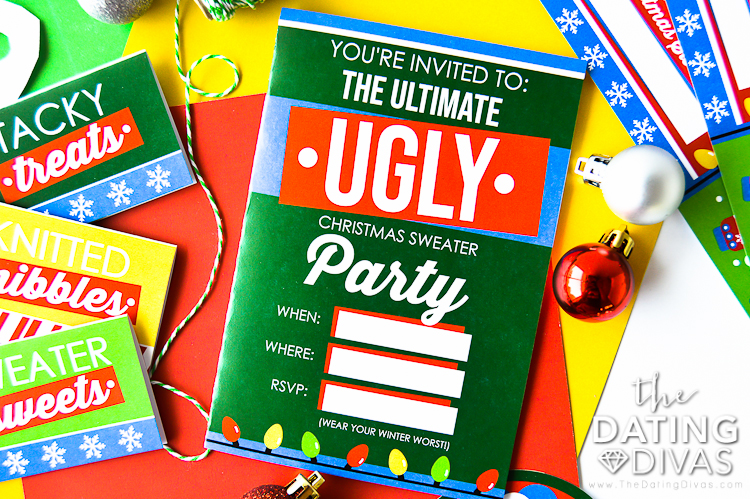 Ugly Sweater Party Food Cards
What is a party without food?! Luckily, we've got you covered. Your ugly sweater printables come with 6 printable treat tags, each with a unique saying and super fun design! These labels are the perfect addition to your table. Just cut and fold! We printed ours onto cardstock so, when folded, they're instant standing cards and super easy to place on our treat table.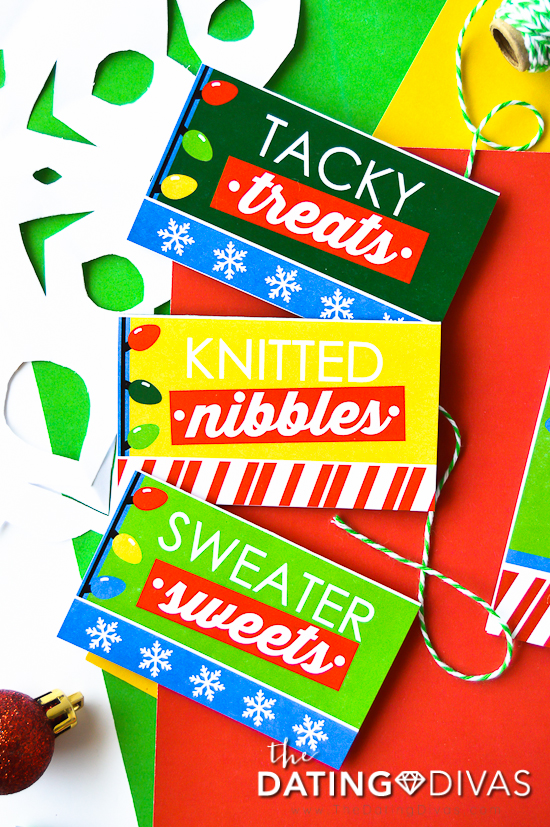 With sayings like "Tacky Treats," "Knitted Nibbles," and "Sweater Sweets," we guarantee your guests will go CRAZY over how fun these are. Plus we've included three ADDITIONAL treat tags. These are completely blank so you can write in whatever Ugly Sweater Party treats you wish!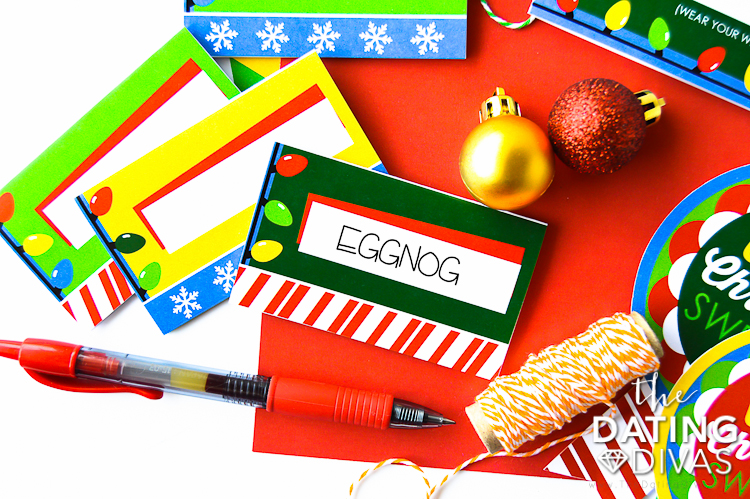 Ugly Sweater Party Contest
One of our must-have, extra-necessary, totally great Ugly Sweater Party ideas is the contest. Gather your friends and get ready to decide who has taken their ugly sweater ideas to the next level. To make the voting magic extra-special, we've included a printable voting sign as well as custom-made voting slips!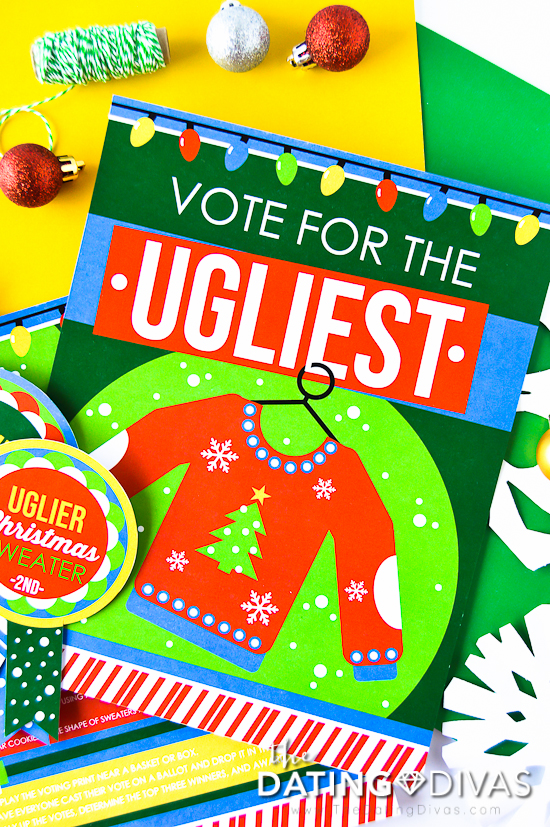 Someone has to decide WHO can claim the victory of the ultimate ugly sweater and with these adorable voting slips, you can have each of your guests take a vote. The rules of the voting are super easy. Simply display your voting sign by a basket or box and ask everyone to fill out a voting slip with their choice for ugliest sweater. Everyone drops their ballot in, the votes are tallied, and the winners determined!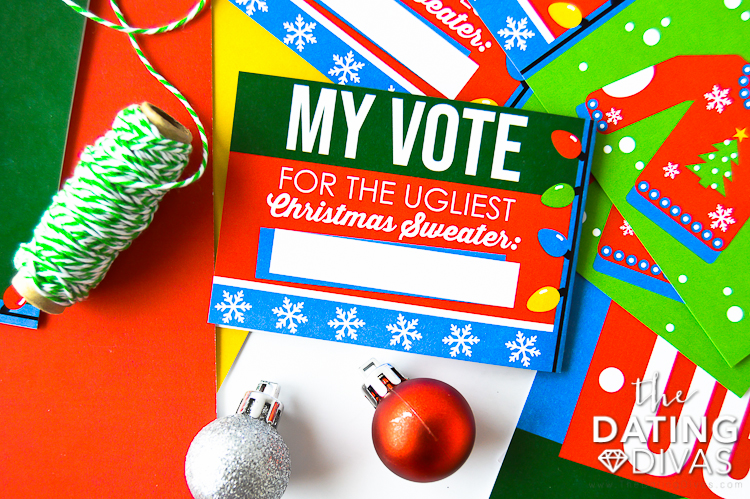 Ugly Christmas Sweater Party Award Badges
Don't forget to award the Ugly Sweater Contest prizes! Anyone willing to wear something so hideous that it is voted to be the UGLIEST – deserves a prize. Our packet includes winning medallions for the UGLY, UGLIER and UGLIEST sweaters of the night.  Claim to these titles can be given by having your guests vote using the voting ballots. Tally up the scores and determine the top three winners in the categories of Ugly, Uglier and Ugliest Sweater of the night ie. 1st, 2nd, and 3rd places.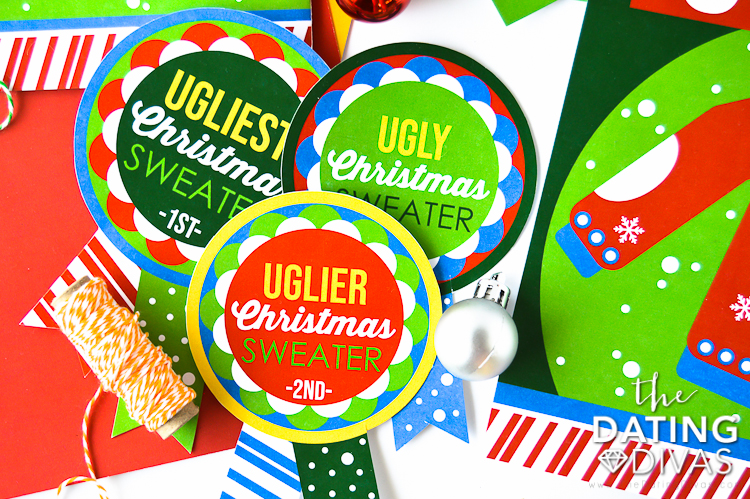 Simply attach the badges to the sweater of the Ugly Sweater Party contest winners with double-sided tape or safety pins. May they wear them as proud as they do their grandma's sweater! As if these badges aren't good enough, you might consider gifting the winners a special sweater-themed favor or gift. It's up to you!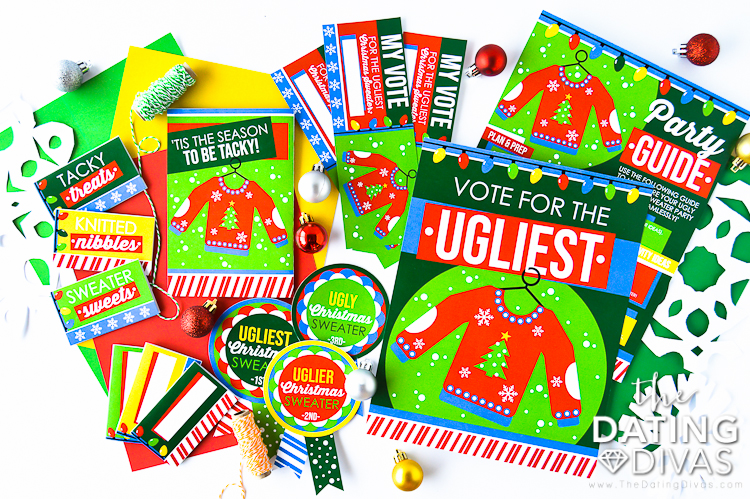 I TOLD you we had everything you would need to throw the perfect Ugly Christmas Sweater Party! The good, the bad and the UGLY- plus a whole lot more ugly sweater ideas. Hoping your holiday season is bright, wacky, and totally tacky.