Ugly Sweater Ideas for Your Holiday Parties
Don we now our worst apparel, fa la la la la la la la la! It is time to pull out your worst winter wardrobe and get ready to rock a holiday season favorite: The Ugly Sweater Party! Today we present 20 ugly sweater ideas that are not only fun, but totally brilliant. PLUS as an extra bonus, we created the cutest FREE printables for you to host your very own Ugly Christmas Sweater Party! The free download comes with ugly sweater ideas for your party, ugly sweater party invitations, treat tags, voting slips, and the most adorable ugly Christmas sweater contest winner badges! Just get your craziest friends together, raid your grandma's closet, and celebrate the holidays.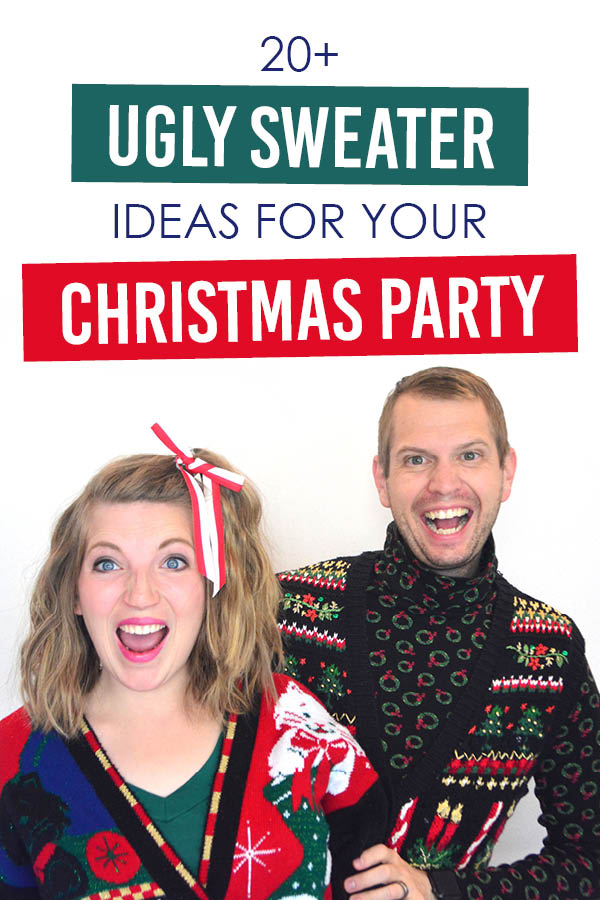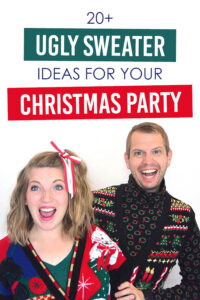 Disclaimer: This post contains affiliate links. To learn more about 'em, click here.
20 DIY Ugly Sweater Ideas
One of the best things about an ugly sweater party is seeing all of the hilarious tops that people have found. Unfortunately, with the increase in popularity, it can be tough to find a classic, vintage ugly Christmas sweater. But don't let that discourage you! Just bust out your glue gun and DIY your very own based on these fantastic ugly sweater ideas below!
1 . DIY Crocheted Christmas Light Sweater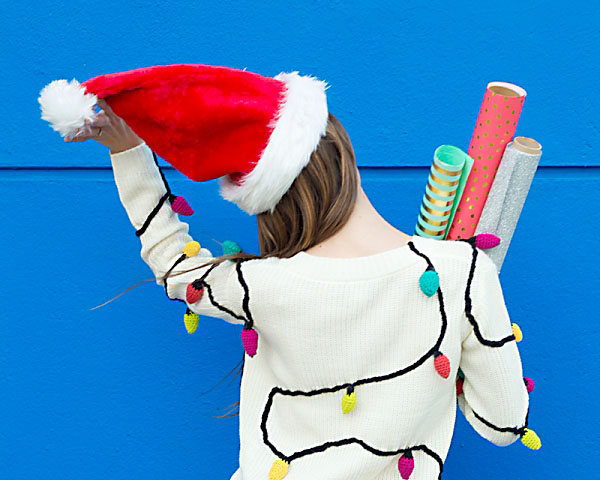 If you can crochet, this is the CUTEST of all the ugly sweaters. Studio DIY knows what's up!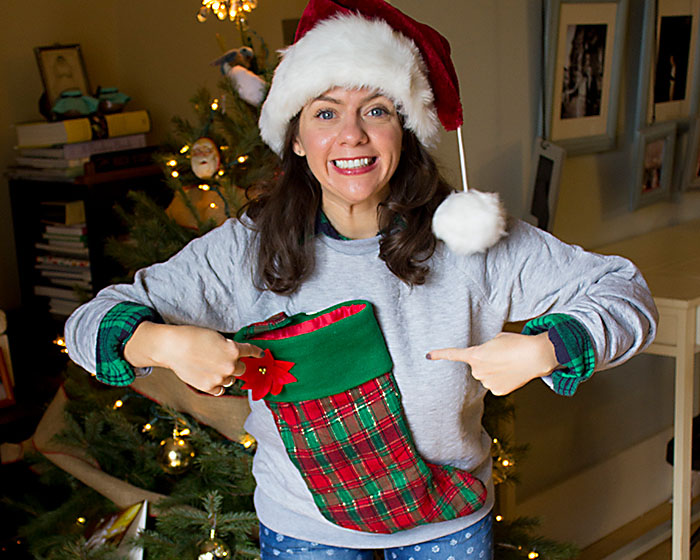 Choose any of your sweaters and slap a stocking on it! You can make this as permanent or temporary as you need with glue, safety pins, or a sewing machine!
3 . Yetis and Boas and Flowers, Oh My!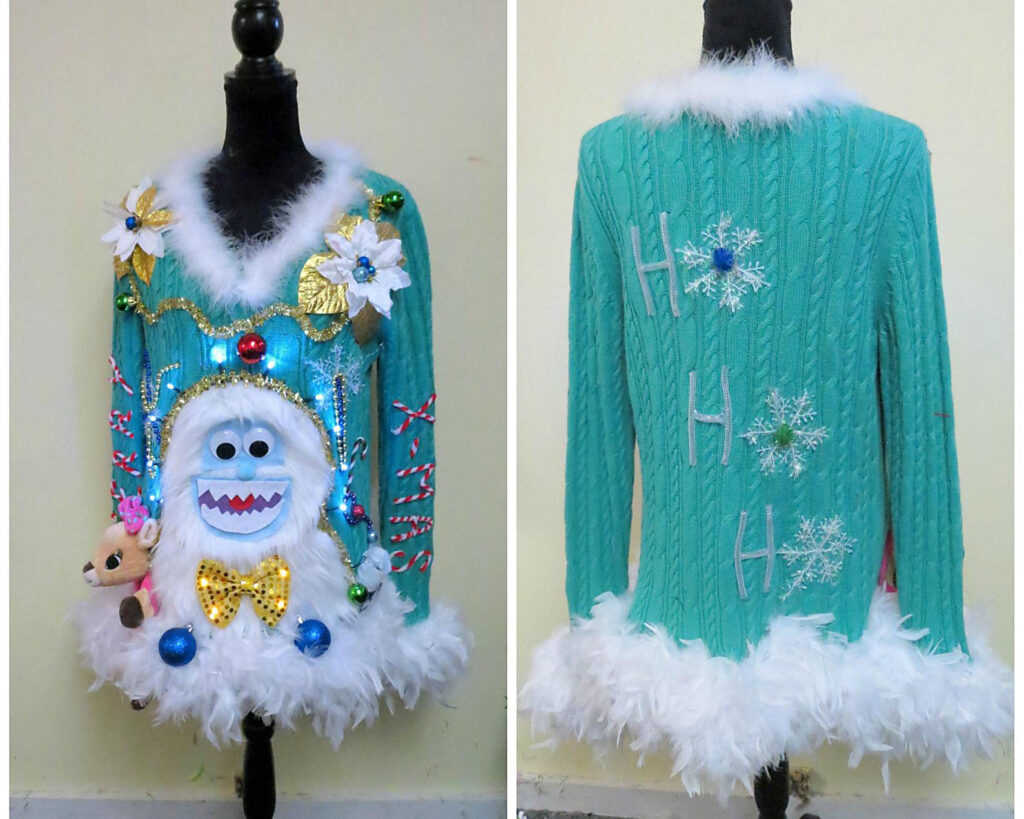 Okay, how hilarious is this? This idea in particular is from Etsy, so if you don't have time to make your own version, buy it from someone who does! But seriously, the boa is so much fun!
4 . A Nod to the Nutcracker Christmas Sweater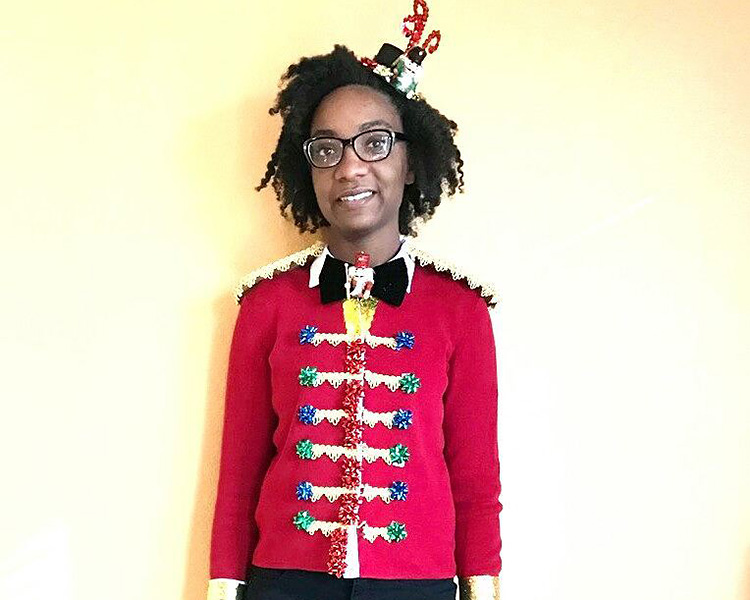 The Nutcracker is a Christmas classic. This cute revamp of a red sweater pays homage to the ballet of the season. This is one of a few ugly sweater ideas that would be great for him OR her.
5 . Mounted Trophy Deer Ugly Sweater Ideas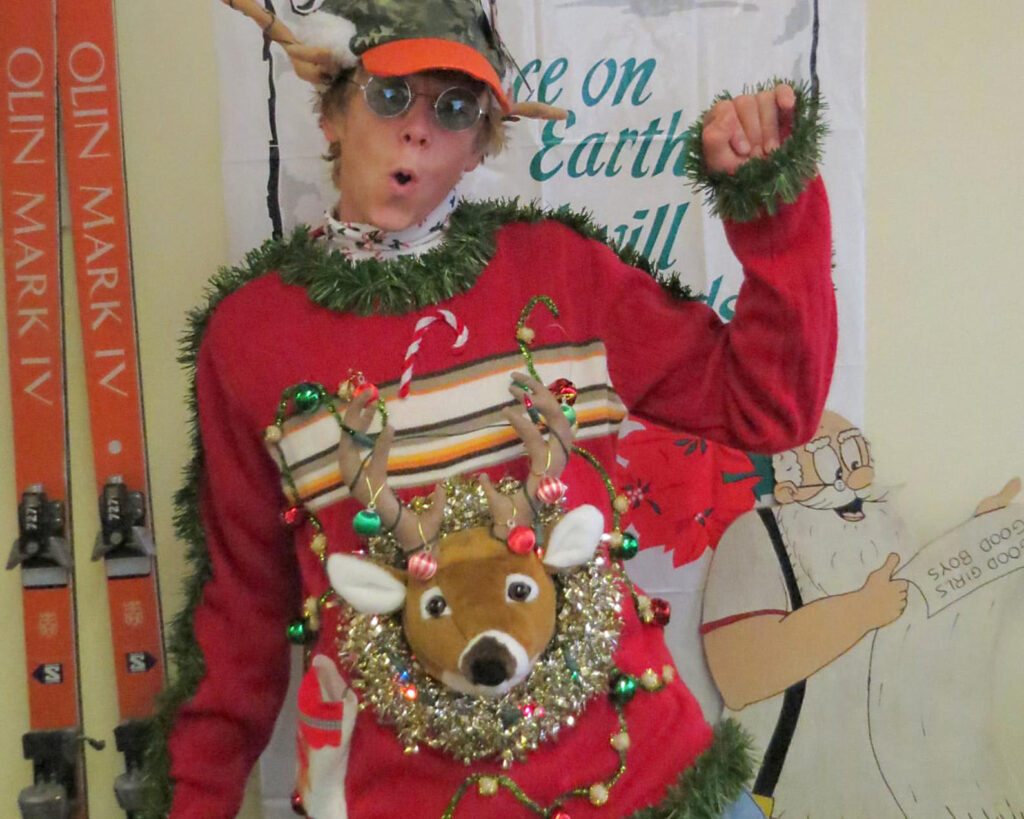 This one made me LOL! Find any stuffed animal (the deer is a fun choice!) and mount it on a sweater. Everyone is going to want an ugly Christmas sweater pic with you!
6 . Advent Calendar Sweater Idea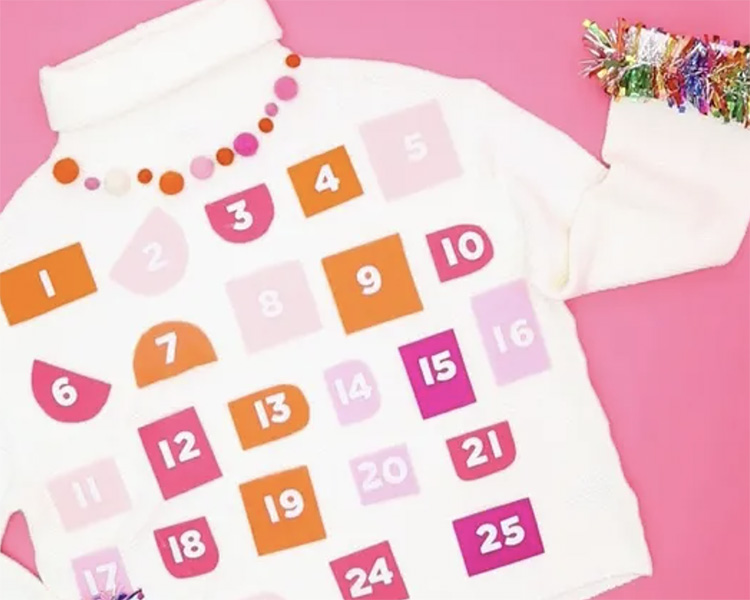 25 mini pockets?! I'm going to need 25 mini treats to fit in this adorable advent calendar ugly sweater!
7 . Grandma Got Ran Over By a Reindeer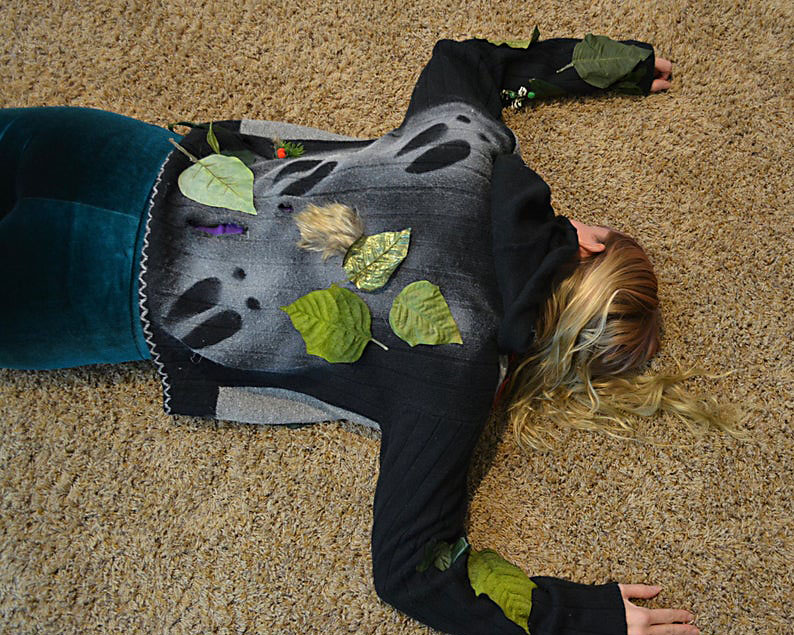 You may not love the song, but it's hard to not LOVE this hilarious DIY ugly sweater idea! The link on this one takes you to an Etsy store, but you could use items around the house to recreate the same look.
8 . Elf in a Mirror Ugly Christmas Sweater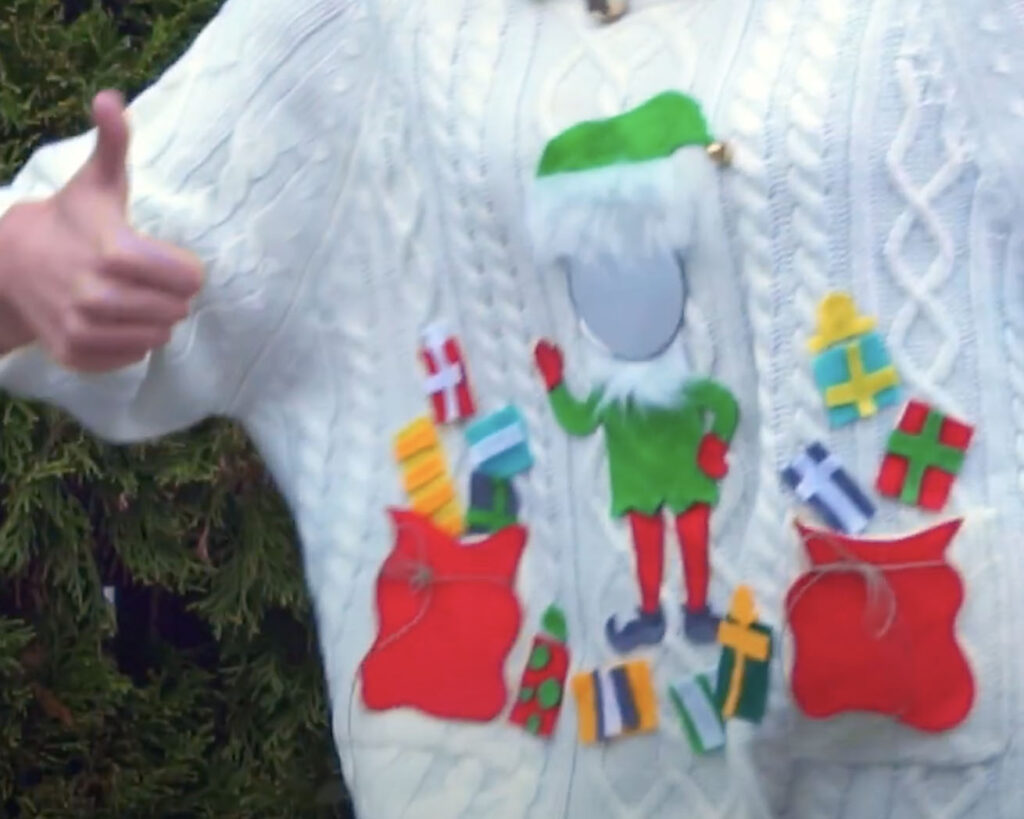 Watch the linked video to see how to make a funny elf sweater. The elf's face is a mirror so your friends can become the face of the elf. I haven't seen an ugly sweater idea like this before. I love how original it is!
9 . Tinsel Ugly Christmas Sweater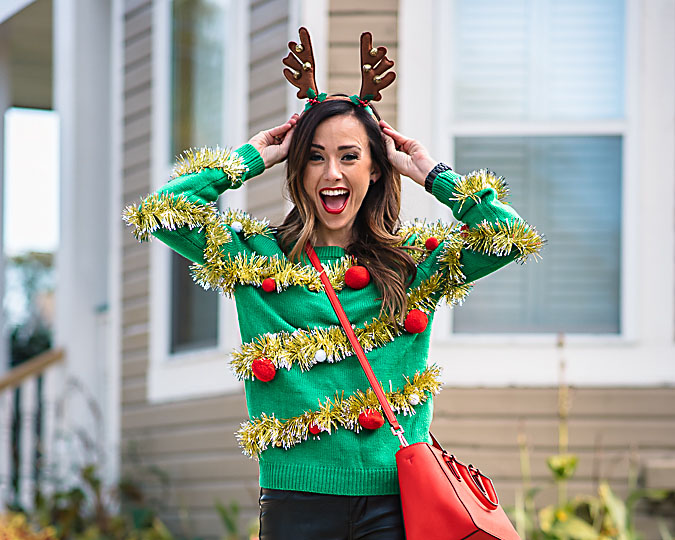 Is it just me or would you also wear this somehow-adorable ugly sweater just because?
10 . DIY Elf Shirt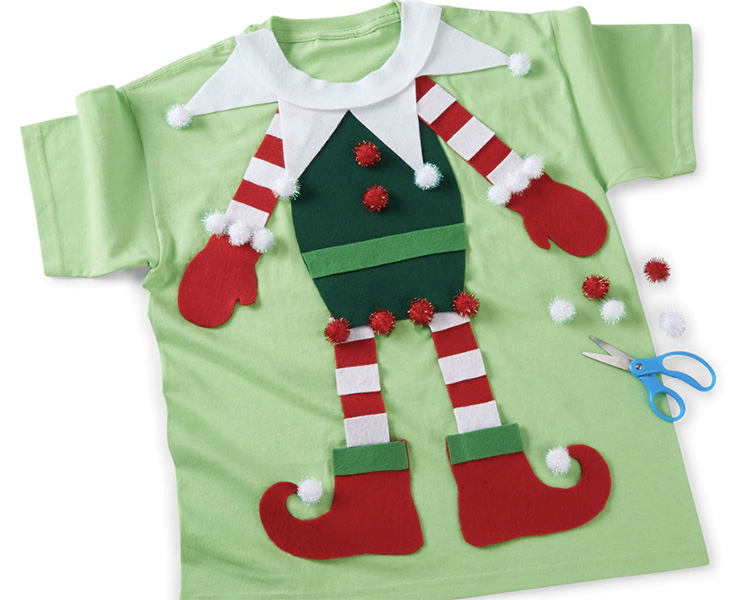 Originally a tutorial for a child's shirt, this would also be amazing on an adult! Make yourself a little elf!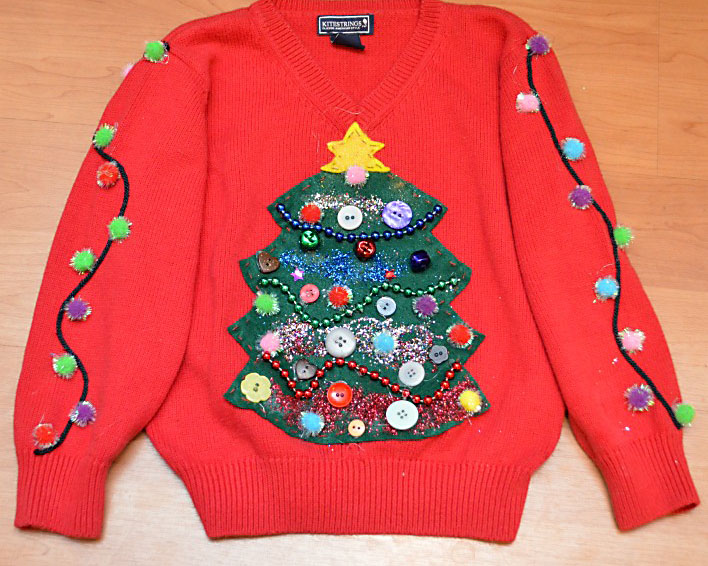 While it may look like a kindergartener made this, that's kind of the point, right? Utilize a kid in your life and have them help you make this hilarious ugly sweater idea!
12 . Pom–Pom Parade Christmas Sweater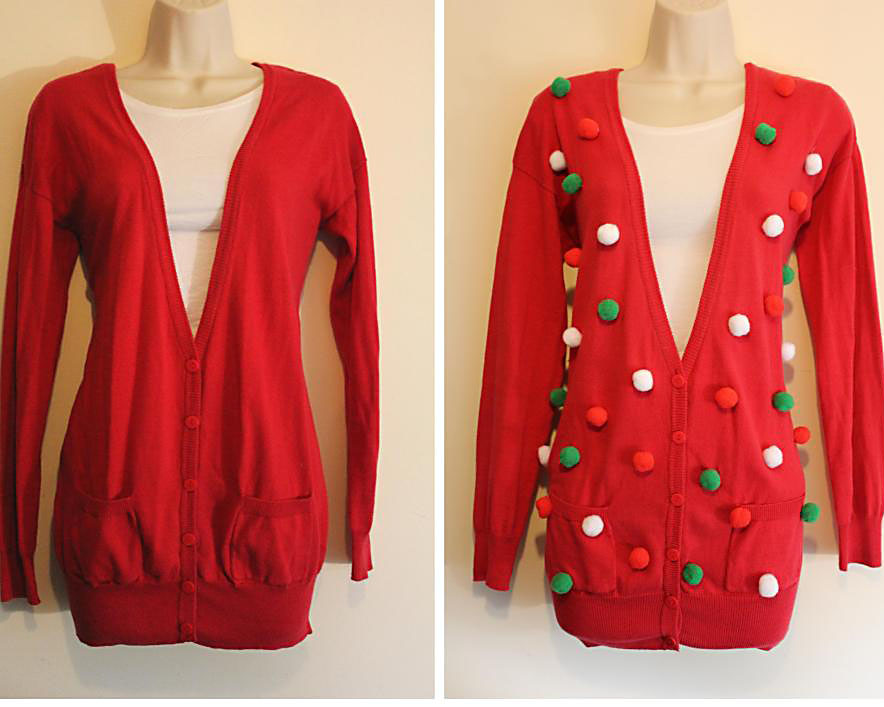 Would it be weird to wear an "ugly sweater" every day during the holiday season? I love these cute pom-poms on a comfy cardigan!
13 . Giant Rudolf Sweater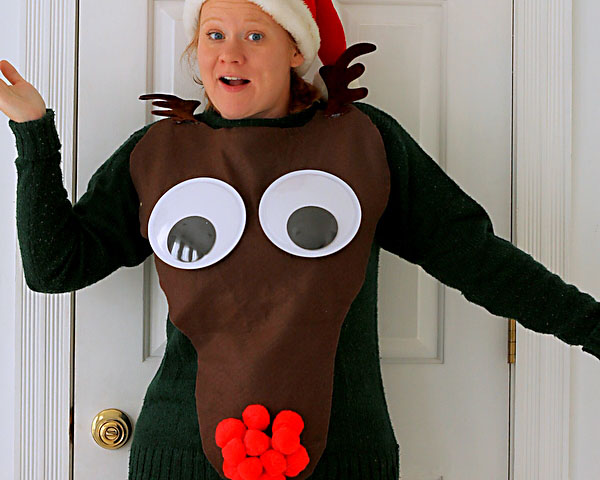 Show how BIG your Christmas spirit really is with this giant Rudolf sweater!
14 . Cotton Ball Snowman Sweater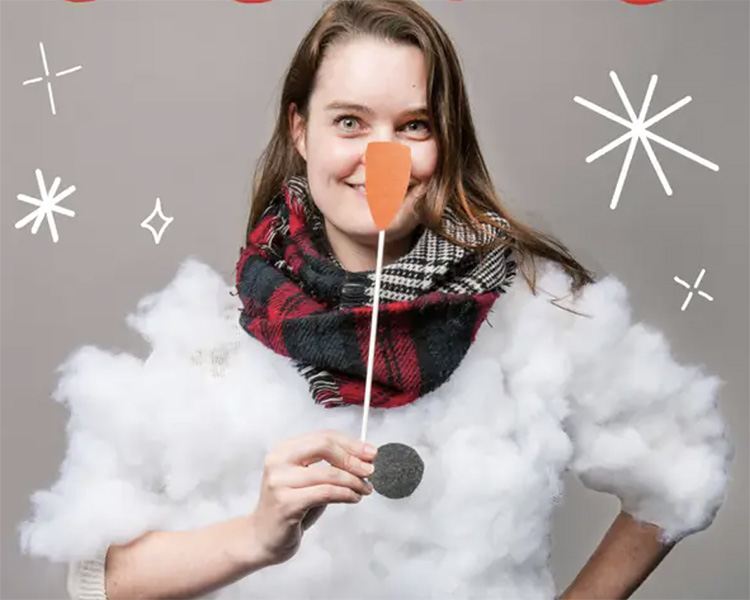 Fluffy and fun! Those are the first two words that come to mind with this inventive Christmas sweater.
15. Mantel and Fireplace with Stockings Ugly Sweater Dress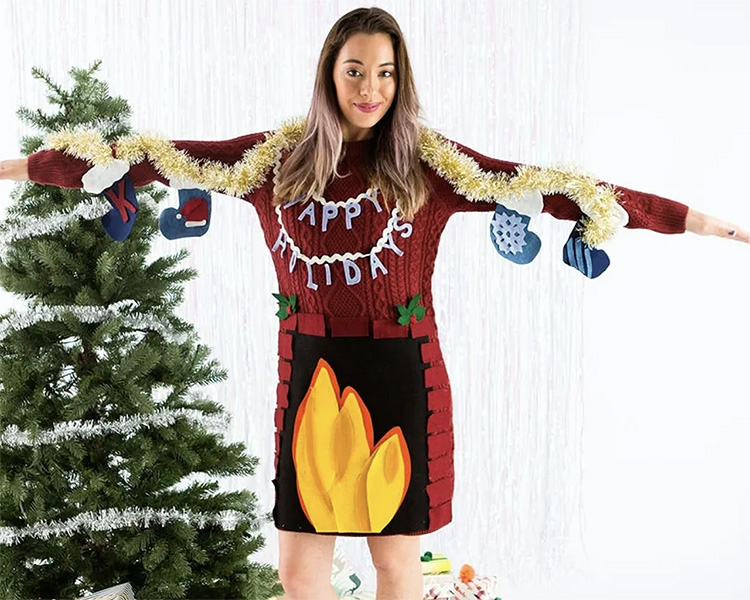 Switch up the sweater look with a sweater dress! This could also be done with a regular-length sweater. I love the detail of stockings on the arms!
16 . Santa Tipping the Tree Ugly Christmas Sweater Contest Winner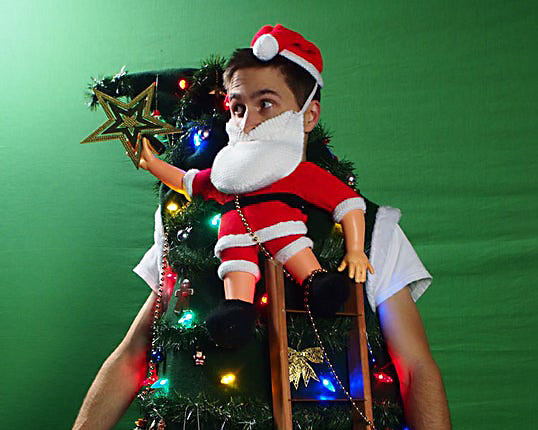 This DIY ugly sweater idea really did win an ugly Christmas sweater contest! Remake it and see if you win as well!
17 . Ugly Christmas Tie Tree Sweater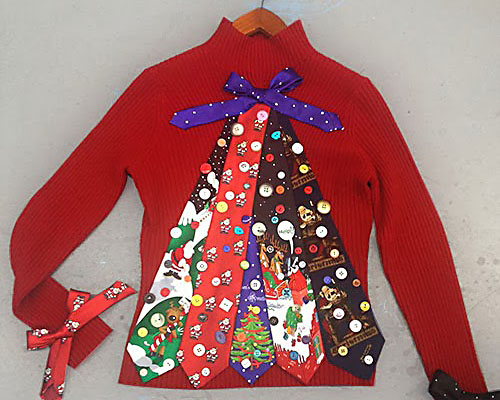 Does your man have a few ridiculous Christmas ties hanging around? Repurpose them for an ugly Christmas sweater contest!
18 . Bow-utiful Christmas Sweaters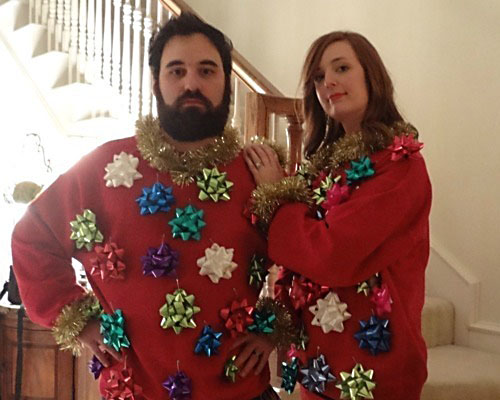 I think this is the perfect, quick, DIY ugly sweater idea. If you are in a rush, pull out that bag of bows (we know you've been saving them up!) and start sticking them on a sweater!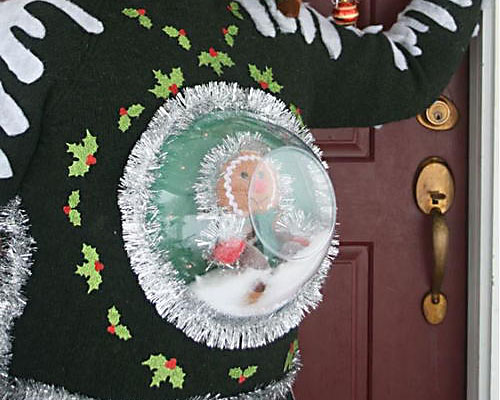 I had never seen this one before! Find a clear bowl at the dollar store and make your own snow globe. Cute!
20 . Christmas Tree Skirt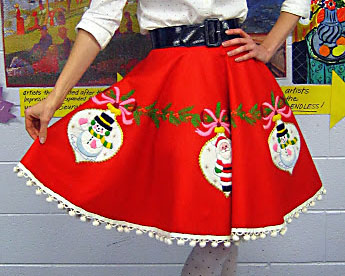 Instead of an ugly sweater, dress it up this holiday season by turning a Christmas tree skirt into an actual skirt!
Plan Your Own Ugly Christmas Sweater Party
Leave it to the Divas to create our OWN Ugly Christmas Sweater Party and go ALL OUT! We had such a blast and we're SO excited to share with you how you can host your very own Ugly Sweater Party!
Not only do we have tons of ideas to get your party rockin', but our fabulous Diva Designer Elizabeth has created all the printables that you could ever need to make your Ugly Christmas Sweater Party a success! Just keep scrolling to check out everything that comes in this adorable Ugly Christmas Sweater Party Kit!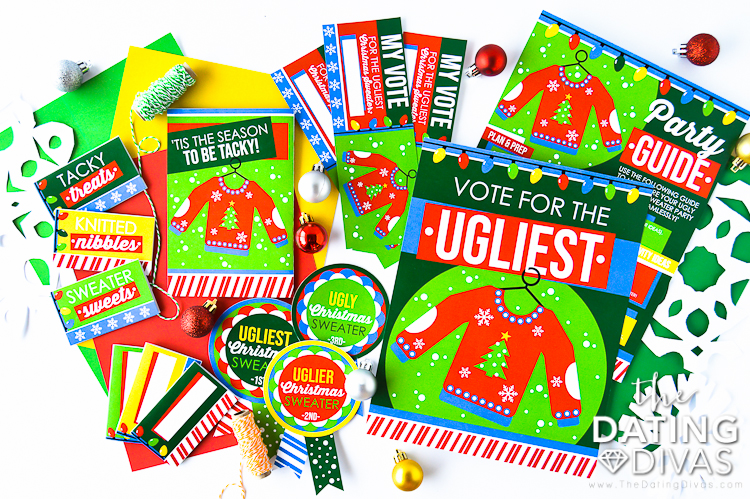 First up in your Ugly Sweater Party kit, a FABULOUS party guide that will help your party go seamlessly! Packed with ugly Christmas sweater party ideas, planning tips and tricks, this guide will be your very best friend. In addition to the guide, there are 6 printable treat tags, each with a unique saying and super fun design!
Your Ugly Sweater Party invitations are designed to be two-sided so you can fold it and have a super fun front and back. The front of the Ugly Christmas Sweater Party invite contains a fun saying and a cute sweater, while the back has all the party information your guests will need, including a special reminder to "Wear Your Winter Worst!"
One of our must-have, extra necessary, totally great Ugly Sweater Party ideas is the actual contest. Gather your friends and get ready to decide who has the ultimate ugly Christmas sweater. To make the voting magic extra special, we've included a printable voting sign as well as custom-made voting slips and winning medallions for the UGLY, UGLIER, and UGLIEST sweaters of the night.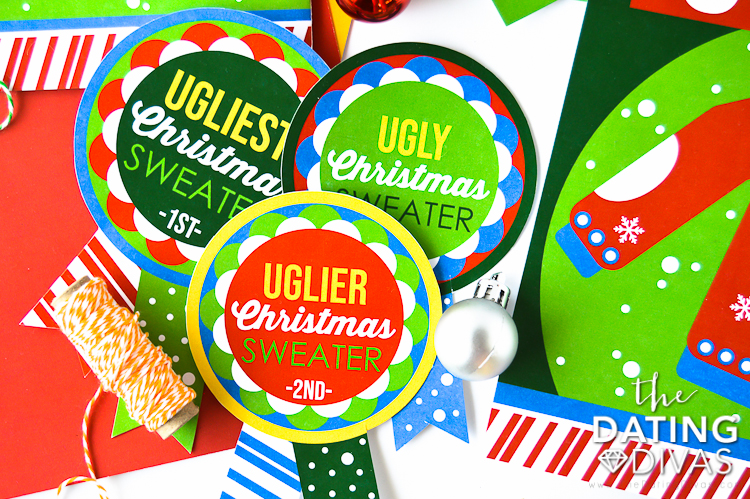 May the winners wear them as proud as they do their grandma's sweater! As if these badges aren't good enough, you might consider gifting the winners a special sweater-themed favor or gift as well!
I TOLD you we had everything you would need to throw the perfect Ugly Christmas Sweater Party! The good, the bad, and the UGLY! 😉
And if you yourself still need to find what YOU are going to wear to the party, we've got you covered there too! We get that not everyone has time for DIY, so head to this list of hilarious Ugly Christmas Sweaters for some of our favorites that you can grab!
Enjoy your ugly Christmas sweater party! Don't forget to take those fabulous ugly Christmas sweater pics and tag us on Instagram!
Hoping these ugly sweater ideas will make your holiday season bright, wacky, and totally tacky. Now go check out these other fun pages:
Ugly Sweater Party
Printables Designed By Elizabeth Edwards Exclusively For The Dating Divas