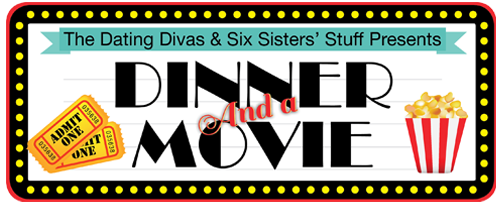 Have you seen the movie "The Vow"? It is a beautiful movie, which is why we chose it for our date this week!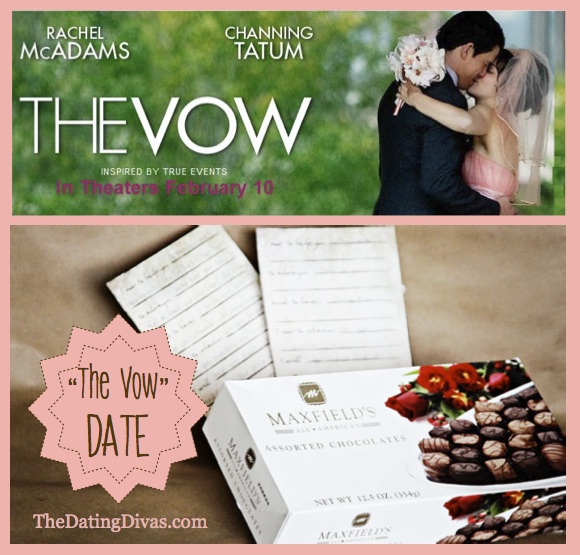 IN THE MOVIE at the very beginning they get married and give their vows to each other.
I just loved the vows scripted in this movie….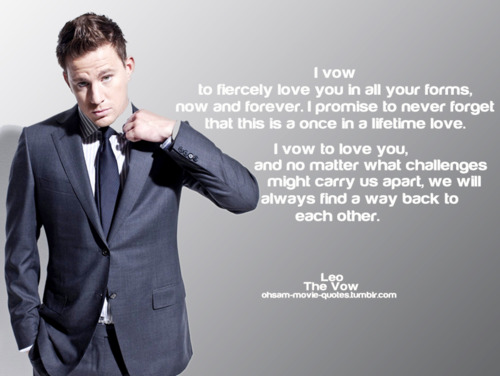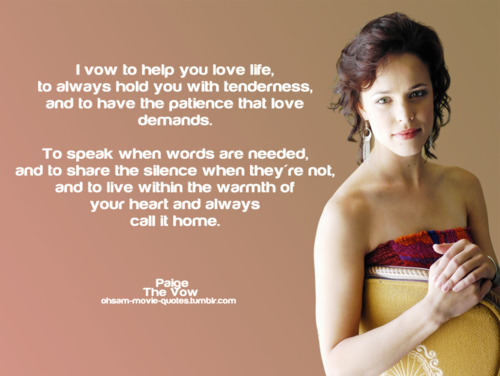 I don't know if you wrote your own vows for your wedding, but we didn't. I thought to myself… what a great date for my husband & I! So I took THE VOWS from the movie and saved the first half of each line, and left the second part blank for my husband and I to fill in. It turned out so fun! Both of us were silly, yet sentimental, and we laughed and aww-ed as we shared OUR VOWS with each other.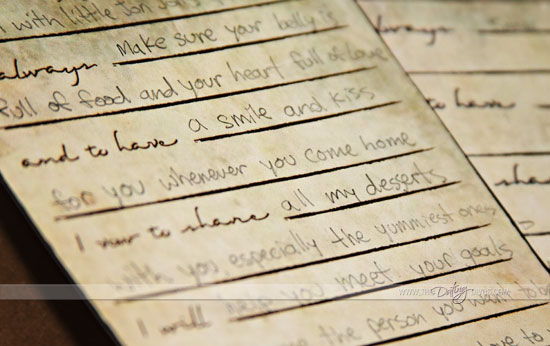 I've included THE VOWS below, so that you can print them off. Get creative and have fun sharing them with each other.
Next in the movie, the couple gets in a wreck, and the wife loses her memory – including all memories with her husband. The husband spends the rest of the movie courting his wife. On one date, they play a game he calls, "Chocolate Russian Roulette." This game is so simple and delicious! 1) get a box of chocolates 2) take turns feeding them to each other and see if you like them or not 😉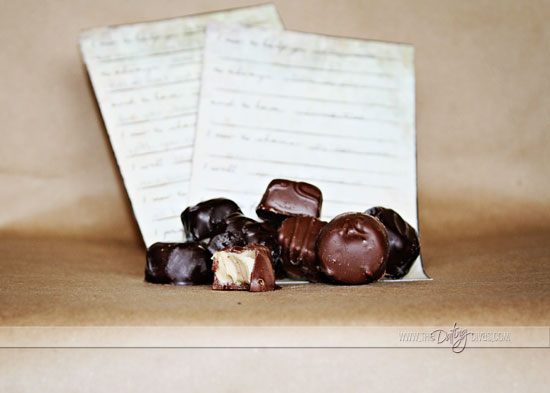 Next up we have Six Sisters' Stuff with some great romantic food ideas, to go along with this romantic movie…
*     *     *     *     *     *     *     *
Sometimes preparing dinner can be an overwhelming task, which is why I love my slow cooker. You can quickly prepare this meal in the morning, forget about it all day (get it? Forget about it?! Ha ha! 🙂 Okay, so that is a terrible memory loss joke . . . moving on . . .), and by the time you are ready to sit down and enjoy your movie, dinner is done! Here is our romantic dinner: Slow Cooker Lasagna. It's absolutely delicious and is so simple to throw together.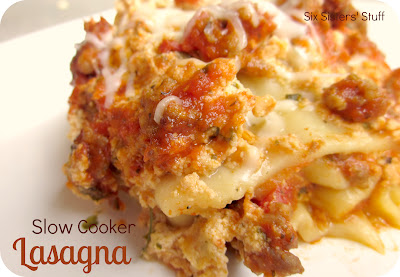 Slow Cooker Lasagna Recipe:
Ingredients:
1 lb. lean ground beef (you could also use Italian sausage)
1 (24 oz) jar spaghetti sauce
1 cup water
1 (15 oz) container of ricotta cheese (can use skim ricotta or even cottage cheese)
1 pkg. shredded Italian Cheese (approx. 2 cups)
¼ cup grated Parmesan cheese
1 egg
2 tablespoons dried parsley
6 regular lasagna noodles, uncooked
Directions:
Brown meat in large skillet; drain.  Stir in spaghetti sauce and water.  Mix ricotta (or cottage cheese), 1-½ cups Italian cheese, 2 tablespoons Parmesan, egg and parsley.
Spoon 1 cup meat sauce into slow cooker; top with 3 lasagna noodles, broken to fit; and half of cheese mixture.  Cover with 2 cups meat sauce.  Top with remaining noodles, broken to fit; cheese mixture and meat sauce.  Cover with lid.
Cook on low 4-6 hours or until liquid is absorbed.  Sprinkle with remaining cheese; let stand, covered, 10 min. or until melted. Serve with garlic bread and a green salad for a delicious meal.
. . . . . . . . . . . . . . . . . . . . . . . . . . . . . . . . . . . .
Of course no date would be complete without dessert, so I wanted to share with you one of my favorites: Slow Cooker Rocky Road Fondue. I love to make this for special occasions (my kids think that it's the coolest treat!) and it's fun to find yummy things to dip in it.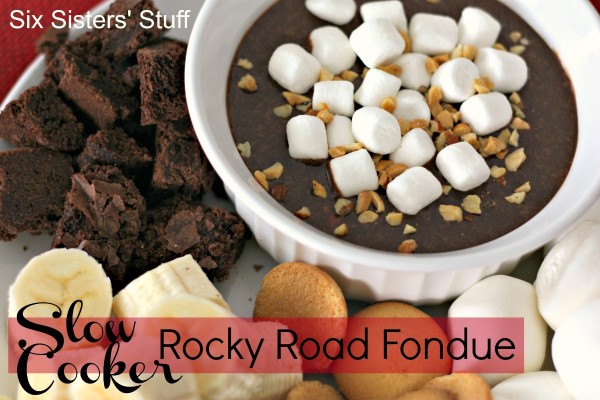 Slow Cooker Rocky Road Fondue
Ingredients:
1 ½ tablespoons butter
2 (4.25 oz) large Hershey's Chocolate with Almonds candy bars
1 ½ cups miniature marshmallows
3 tablespoons milk
½ cup heavy whipping cream
Directions:
Place butter, chocolate, marshmallows, and milk in a 1-2 quart slow cooker that has been sprayed with non-stick cooking spray. Cover and cook on low heat for 1 ½ hours, stirring every 30 minutes until melted and smooth. Gradually stir in whipping cream. Cover and keep warm for serving up to 2 hours. Makes 6-8 servings.
Serve with bite-size brownie pieces, bananas, apples, marshmallows, graham crackers, strawberries, cinnamon bears, cookies, mandarin oranges, or anything else you like. I like to use wooden skewers or large toothpicks to pick up the bite-sized food and dip it into the chocolate.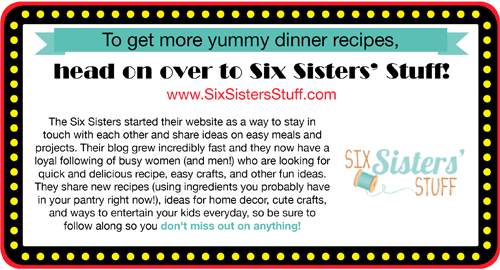 For amazing delicious recipes that OUR husband's love, check out our Dating Divas Recipes Revealed Cookbook!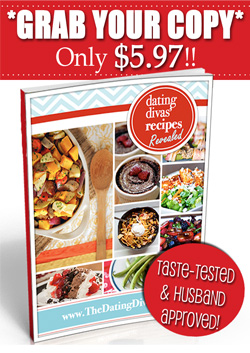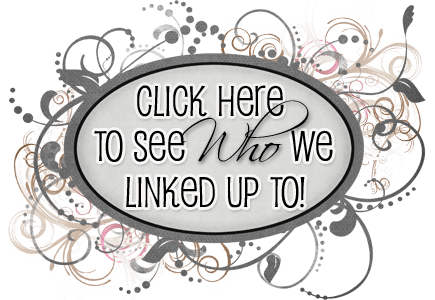 The Vow Movie Date Printable