Vacation Planning Date Night

This post contains affiliate links. To learn more about 'em, click here.
Traveling is such a fun way to experience new things, see amazing places, spend time with family and friends, and just get away from it all! Now that summer is here it seems like everyone is ready to head out of town for the holidays. Make your next trip is better than ever by having a Vacation Planning Date before you head out! This is an easy and fun date idea at home PLUS it is totally productive!!
Here is what you will need for this event:
1. Simple snacks and drinks… you gotta keep your energy up!! We kept this date easy and inexpensive by popping popcorn and sipping on sodas, but whatever you want to do is great. You could get really into it and make a theme for your trip with some regional fare. Going to Hawaii- sip on pineapple juice or eat coconut ice cream. Heading out to the mountains- try out some of the snacks Kari used for her Wild West Date. Going for a family reunion- whip up your mom's best dessert. Lucky enough to be going somewhere foreign- check out Passport to Love which is full of fun ideas for a list of different countries. Your imagination is the limit on this one. 🙂
2. Print up the handy and gorgeous printables that Tasha from Whimsicle Design Studio created exclusively for us. She does AMAZING customized work that we just LOVE!! You will need one copy of the master schedule, then for the second page you will need to print up as many copies as days you will be traveling. (4 day trip = 4 of the second page)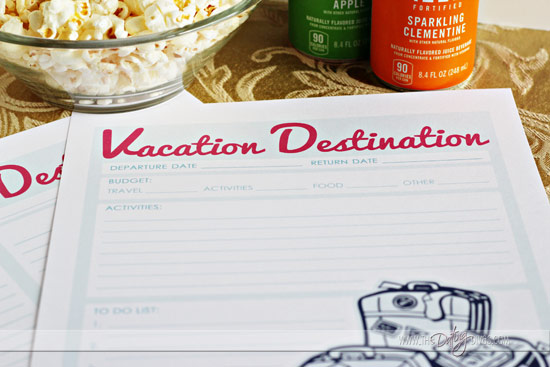 3. Have your computer up and ready for some good searching, you are gonna be using it a TON! This is one of the few times the Divas give the okay to using your computer while you are on a date at home!!
4. A calendar, brochures, or magazines from the areas you are planning to visit.  We have a AAA membership so we always get free guidebooks and maps before we head out anywhere. (Plus, they unlock your rental car when you accidentally lock your keys in the trunk right before you are supposed to leave for the airport… not that that would happen to any of you! 🙂  For around $50 a year for two people, I LOVE my AAA (and no they are not paying me to say so).
5. A couple pencils to jot everything down… and erase changes… 🙂
6. A relaxed and positive attitude – this is gonna be a fun date, promise!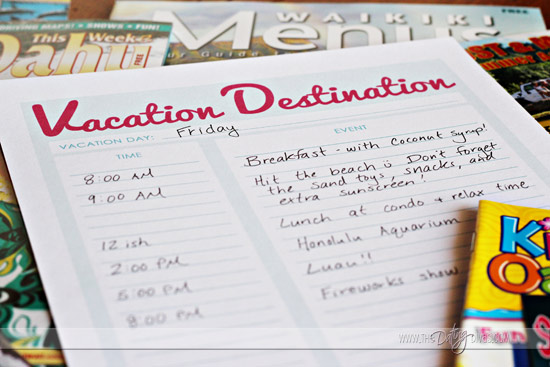 Once you've got everything together, then it's time for you and your man to make a plan using the free planner to guide you through your trip planning. Add your dates in, talk with your spouse about your budget for the trip and allocate it between the different areas you are going to be spending it on. It is always a good idea to figure out a budget BEFORE you leave so you are both on the same page about the cost of the trip.
If you are heading out on a road trip you will love the Road Trip Date ideas  that Tara used to make her car ride go a little bit faster.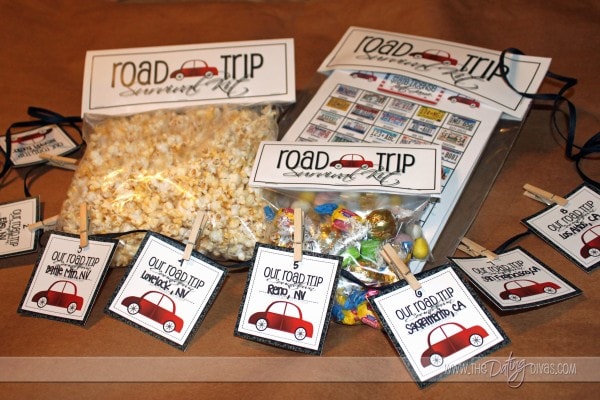 The Divas also really love the Ultimate Road Trip Game Book too and it is filled with SO MANY great games to keep you, your spouse and any kids you have along entertained for a long time:) And we all know that on a L…O…N…G… drive we WANT them entertained for a VERY long time!!!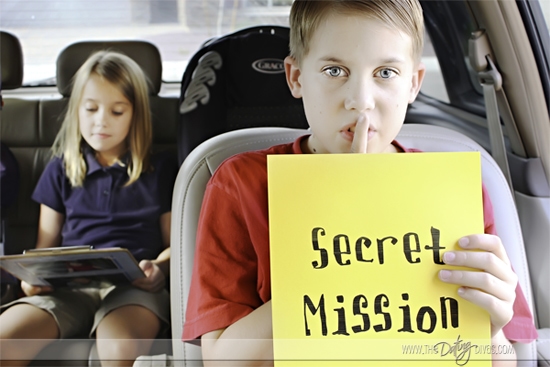 If you have to purchase airplane tickets, competing airlines usually list sales on Tuesdays. Kayak.com is where I usually go first when I am price checking tickets.  If you need to rent a car you may want to bid on them through priceline.com or hotwire.com since they use major car rental companies – I used my AAA membership and saved $100 the last time we rented a car at Hertz. Check prices through Costco too if you have a membership. Tingo.com will refund you money if the hotel room you book through them goes down in price, how awesome is that?! There are apps you can use that will help you find the cheapest gas in the city while you are driving through, as well as restaurants and entertainment.  Do you have any 'must-use' sites, apps, or ideas that you just love for traveling? We would LOVE to have you share what they are in our comments section!
One of my favorite parts about the Free Printables that Tasha made is that you can also use the second page as a simple journal to write what you have done each day. This can be put in a binder after you return from your trip, or you can easily use it to help you remember what you did each day of your vacation when you are making photo books later on.
If staying home is more your scene, you will love our Perfect Staycation Kit!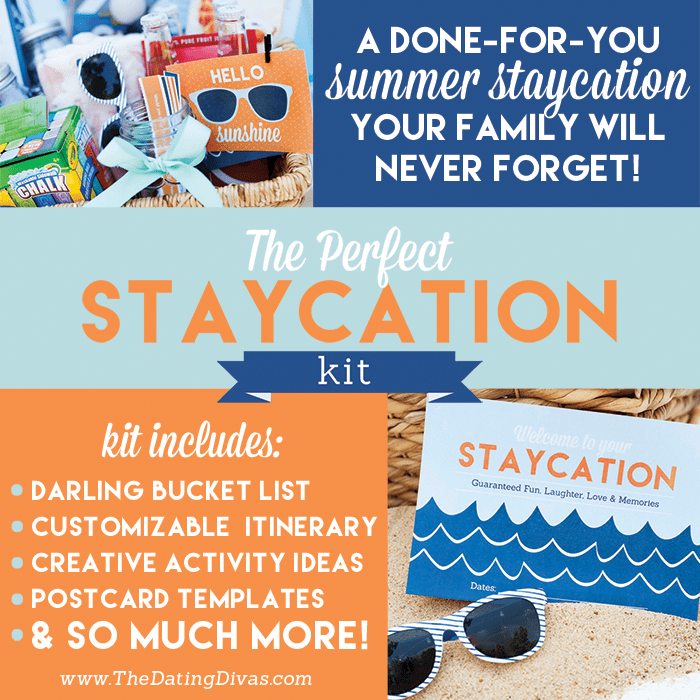 Wherever you may travel, we hope you have a wonderful, safe, and memorable trip!
Vacation Planning Date
Printables Designed by Tasha @ Whimsicle Design Studio Exclusively for The Dating Divas