The Dating Divas' "Year of Dates," "A to Z Guide" and "Ultimate Date Night" Books are still available!


SINCE VALENTINE'S DAY IS OUR FAVORITE TIME OF YEAR… WE HAD TO CELEBRATE!
We grabbed three of our most popular digital items, bundled them together, and discounted them MORE then we ever have before!! 
We're calling it the "Sweetheart Set!"
I know, you are thinking, what? I better get in on this action NOW!!! Why?
Because this sale only last 24 hours… and it is cheapest right now! The price slowly goes up over the next 24 hours so HOP ON THIS RIGHT NOW!!
From 7PM – midnight MST you can SCORE this set for $20!!! Can't make it??
No worries, from Midnight-Noon MST on Valentine's Day you can SNAG it for $24!
Still missed out??? We've got you covered, from Noon – 7PM MST on February 14th you can get this awesome set for $27!
That is STILL more than 50% off!!
So what exactly is the "Sweetheart set???"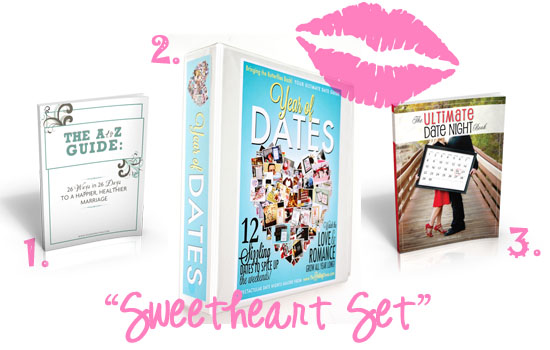 1. The A to Z Guide: 26 ways in 26 Days to a Happier, Healthier Marriage contains some of our very best marriage advice and real stories from our marriages. We poured our hearts and souls in this ebook and our readers feel it. Their marriages are transforming because of this book. You will laugh, you will cry, and you will be inspired to make your own relationship stronger then ever. Even if things are going well, this ebook will take your marriage from good to GREAT!
2. The "Year of Dates" Binder Complete Set contains gorgeous printables to fit in a 2-inch binder to keep you dating the whole year! In this set, you get your binder cover, spine, and back cover. You also get beautiful dividers for all 12 months of the year AND a cute poem to put in the front letting your sweetie know exactly what this is. We also include instructions & printables for 12 dates – one for each month – already pre-planned FOR you!
3. The Ultimate Date Night eBook contains the cream of the crop date ideas from our site PLUS, many dates exclusive to this book that have NEVER been published on our site!! All printables are included.  This is the perfect addition to the "Year of Dates" Binder! Get ready to uplevel date night!
IT is easy as 1,2,3!!! And your life will change with these amazing digital products!!!
The Valentine Sweetheart Set is no longer available, but these products may still be purchased in the Diva Store!
 **IMPORTANT – These are digital products that are delivered straight to your email as soon as you purchase them. They will be delivered immediately to the paypal email address you use when purchasing the "Sweetheart Set". If you have any questions regarding your purchase, please email Ferren@thedatingdivas.com ENJOY!!