Everyone asks me what is is like to be married to Superman. I simply tell them imagine a world where the garbage disappears, where your husband is so fast and so focused its like he is in two places at once and you never have to worry about simple things like putting gas in your car.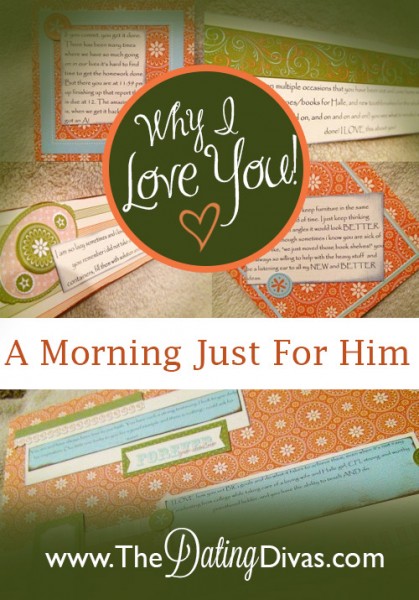 Disclaimer: This post contains affiliate links. To learn more about 'em,
click here
.
This post was contributed by our honorary diva, Charlene. Here she is:
Nathan babe, this post is for YOU! A chance for me to show off how amazing you are and for other woman to show their man what they mean to THEM!
The Simple Steps for "A Morning Just for him!"
* Wake him up early, in any way he would like.
Earlier than normal so there is plenty of time to read all the love cards and enjoy a big breakfast!
* Why I LOVE You cards
Just put on these cards, what is going on in your lives RIGHT NOW and of course why you LOVE him! It will surprise you in a year from now how much of this has changed and how somethings are consistent (like your LOVE). Examples; games he plays with the kids, nicknames, thoughtful things he does just for you. A couple of lines of "your song" or a song that has a special meaning to the both of you. For example when Nate and I were dating he sent me a text asking what I was up to, hinting that he would like to see me. I responded, "Come on over, come on over baby!" and that was something I put on one of our cards.
Put these cards all over the house in places he normally visits to get ready in the morning.
Door knobs, by tooth paste, his closet, his shoes, sock drawer, in his car by his gas mileage and one LONG one in his lunch box or briefcase to read during his long hard day at work! (In this one I repeated some of the things I already said just so he REALLY knows how much it means to me)
Hints for cards; put some out like decorations easy to find. some in drawers and cabinets and this will put a surprised smile on his face!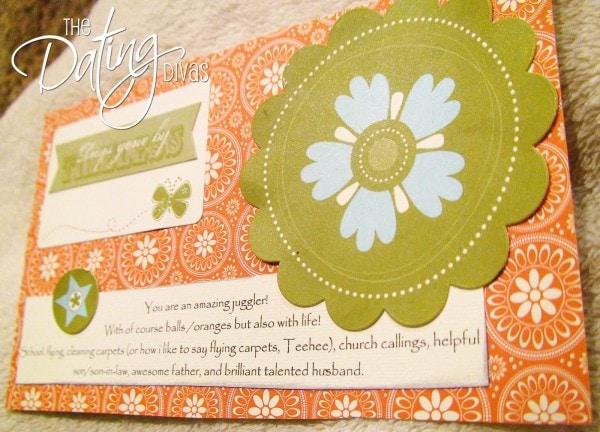 Nate may dislike that I am posting this… but here we go ANYWAY!!! When I did this for him the first time he cried sincere tears of joy. I truly felt he knew how much he means to me and that my world would be nothing without him.
These cards will be something you keep FOREVER! So, there will be NO pretty paper to print off today! Girls go open up your scrap booking stuff, and if you don't have any come on over and I will send you home with some of mine! I have done this twice for Nathan. The first time was for our first wedding anniversary and we LOVE to go back and reread some of the things I wrote about him and our lives at the time.(kind of like a journal!)