THE PERKS OF GOOGLE PLUS!   
Although most people use Google as their main search engine, for some reason they're not using it for their Social Media! (Did you know that if you have a gmail account, you have a Google+ profile?? Yeah. You totally do.)
Well, friends, I have a few BIG reasons for why YOU should use Google+!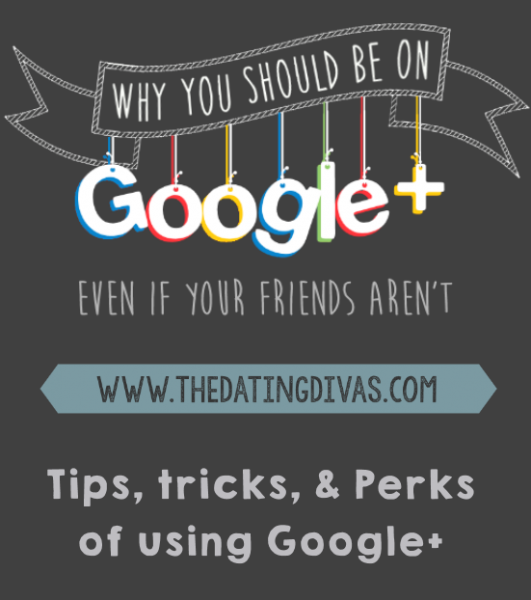 Here are three BIG reasons why YOU should be on Google+…
1. Customize Your Feed & Post Privacy
I don't know about you, but I have gotten tired of Facebook controlling my home feed. I am constantly getting updates on people I don't remember adding, but then missing out on photos of my cute nieces and nephews! And what's the point of following a brand on Facebook if you don't get the posts they send out? Then there's all the ads they mix in! (No, Facebook. I do not want to sign up for a new credit card, or meet up with local singles.)
Here's the best part of Google+. YOU control what's in your feed. You can organize the content you receive based on who posted it.
So let's say I have a few minutes to spare and I want to see if my sister posted any new pictures of my cute nieces and nephews. I can go to my home feed and narrow it down to people in my "Close Family" Google+ circle. Bam.  A pregnancy update from my big sis, shots of my nephew's preschool graduation, and a link to my brother's latest piano medley.   No cat pics from Aunt Muriel, no gratuitous selfies from a  Jr. High acquaintance.
(Below is a screenshot of my circle just for the other Divas who have Google+ profiles!)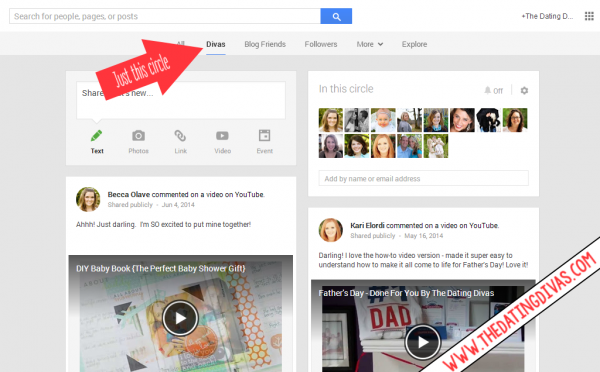 But say I do want to know what Suzy from 3rd grade is up to these days. Well then, I would choose my "Old friends" circle. Do the Dating Divas have more free printables today? "Blogs I love" circle.  Or if you're just in a cruising mood you can see updates from all your Google+ circles  (this is the default setting when you sign in).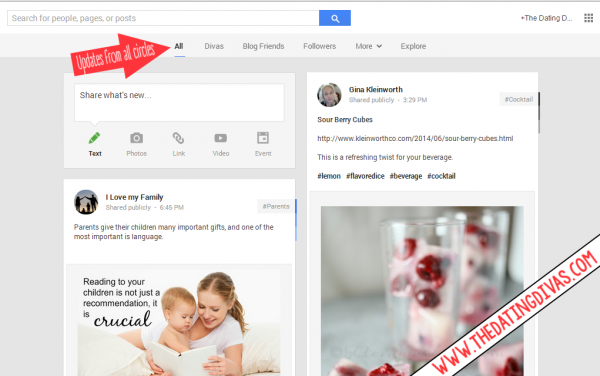 Point is, YOU decide what you see!  Nobody else knows what Google + circle you've put them in, AND they don't get access to all your posts just because they're in your circle. You can filter which circles will be able to see your post before you hit send. See what I mean: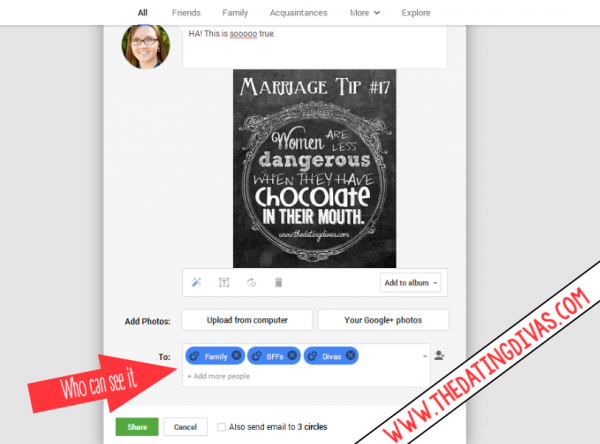 Personally, I think this kind of filter is exactly what Facebook/social media is lacking. What if your boss sees the comment about your new job interview? Does your best friend's husband really want updates about your breastfeeding difficulties? Are you sure you want EVERY one to see where your child is going to school?
Probably not. Eliminate drama and strategically organize your Google+ circles.
2. Connect
Have you tried Google+ Hangouts? You don't know what you're missing!! Not only can you use  Google Hangouts to video chat with your friends and family (up to 10 participants!), but you can hold live meetings or conferences and archive them on your YouTube channel. AND the "live" feature allows you to view your favorite blogs and businesses' live broadcasts, without being on-camera, while you interact via chat!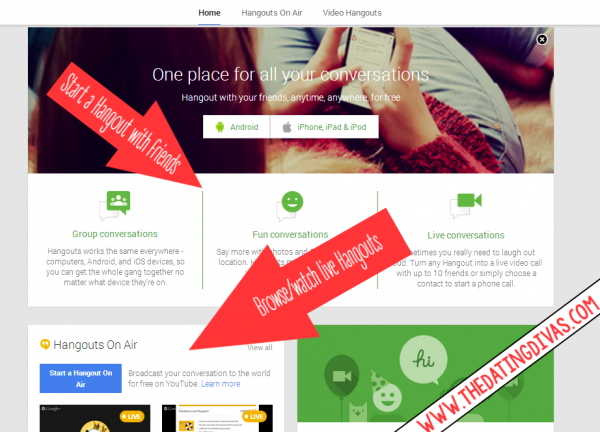 We used Google Hangouts to get the whole family on video chat for my sister's gender reveal. It was SO much fun!
Another bonus? Because there is generally less chatter on Google+ than Facebook, you actually have better access to blogs, teams, and businesses you follow.  If you leave a comment  on their posts, or mention them in yours, chances are they will respond!
Google+ also offers Communities, which basically serve the same purpose as Facebook Groups.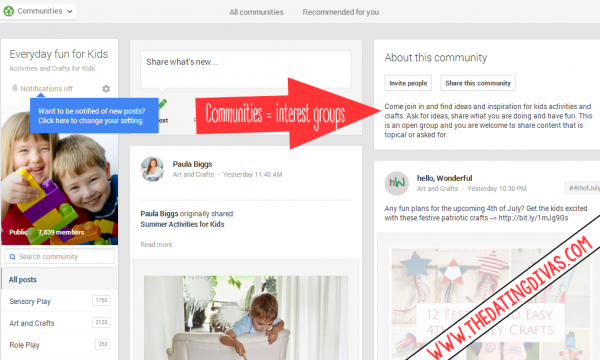 You can join a community based on one of your interests and you are suddenly in contact with several like-minded individuals who fuel discussion, creativity, and share advice!  (Here's The Dating Diva's marriage community)
3. Customize Your Google Search Results
Now here's the thing. You're probably thinking, "That all does sound great, but none of my friends or family are on Google+, so it's not very relevant to me."  Well then, I have one more fun fact for you!
If you add someone to a circle on your Google+ profile, their ranking in your Google search results goes up.
WHAT?
That's right, you didn't misread it! YOU can tell GOOGLE how to search!!
Let's work this out with an example.
You are a HUGE fan of The Dating Divas (of course), so you follow them in one of your Google+ circles. Then a few weeks later your anniversary rolls around and you remember seeing a really cute DIY card somewhere online! A quick Google search later, and voila.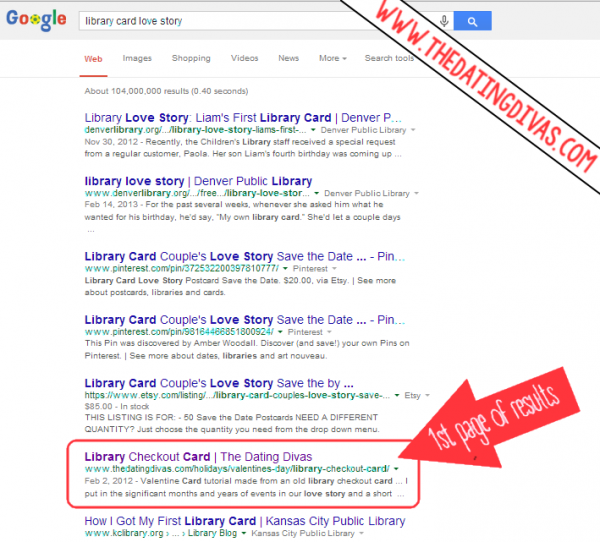 The post you were looking for is on page 1 instead of being  buried in millions of other links.  And this will happen with all your favorite sites, brands, businesses, etc. Google bumps up the people in your Circles who have content matching your search terms.
Another example: you need a great cheesecake recipe. (Don't we all??) Well when you head to Google, your search results will be more likely to have links to the cooking blogs you already love, because you follow them on Google+!  (It's a bit like giving an artist a thumbs up on Pandora; Google knows you like them and lets you see more from them.)
NOW do you see why Google+ is so exciting?
GO NOW and make sure you've got yours all set up!!
Even if you're pleased with your social media interactions on other websites, and don't think you'll spend much time on Google+, you should at least follow your favorite blogs, brands, and businesses on Google+ to get the benefits of a more intuitive Google search!!!
If you want some help learning your way around Google+, check out Julie's great tutorial!
Follow The Dating Divas on Google+, and join our Google+ Community!