Creative Bedroom Games for Couples: Win It in a Minute
Our Win It in a Minute Bedroom Games will spice up your sex life and give you an unforgettable date night! Put away the candles and scoop up those rose petals, this sexy date is a DIFFERENT kind of bedroom romance than you might be used to (but don't put away that lingerie)! Sometimes you have to loosen up to really feel comfortable being intimate with your spouse and we think romance games in the bedroom are the perfect solution. Did you ever think laughing hysterically AND turning up the heat in the bedroom could go together in the same sentence? They CAN! Get ready for a night of hilarious & steamy competition with our Win It in a Minute: Bedroom Edition. These Win It In A Minute Sex Games for couples are the perfect, fun, silly way to put you both at ease while getting those sparks burning!

Disclaimer: This post contains affiliate links. To learn more about 'em,
click here

Our girl Cassia knocked it OUT of the park on these printables! They are so bright and fun, with a hint of sexy for these sex games! Cassia is one of our talented designers who make our darling printables possible. I seriously ADORE this woman! Give her some love and check out her custom work on her Etsy Shop.

Win It In A Minute Sexy Games
Maybe this is TMI, but when my husband and I tried these sex games for couples, we were laughing so hard we cried. I made such a fool of myself that the hubby fell to the ground laughing (literally ROFLing) as we're trying romance games in the bedroom! But in the goofiness of it all, we felt really connected. It has definitely been one of my favorite bedroom activities so far! Invite your honey to a Sexy Spouse Showdown with this darling invitation! Don't forget to grab a stopwatch (or use the one on your phone).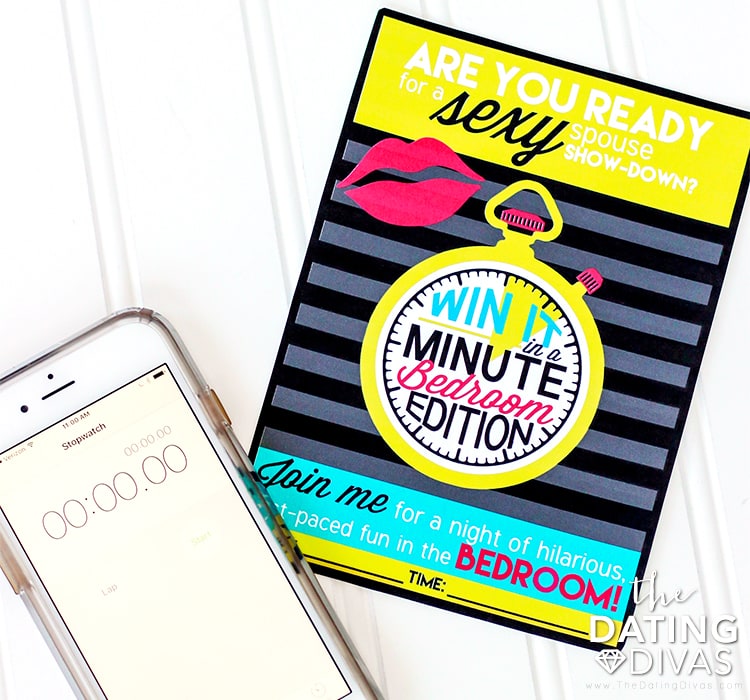 >While you are prepping for this bedroom date night, you'll probably need to go shopping to pick up a few of the items for each game task. Pick and choose which sexy games look the most fun to you, and use our materials list to help you gather everything needed!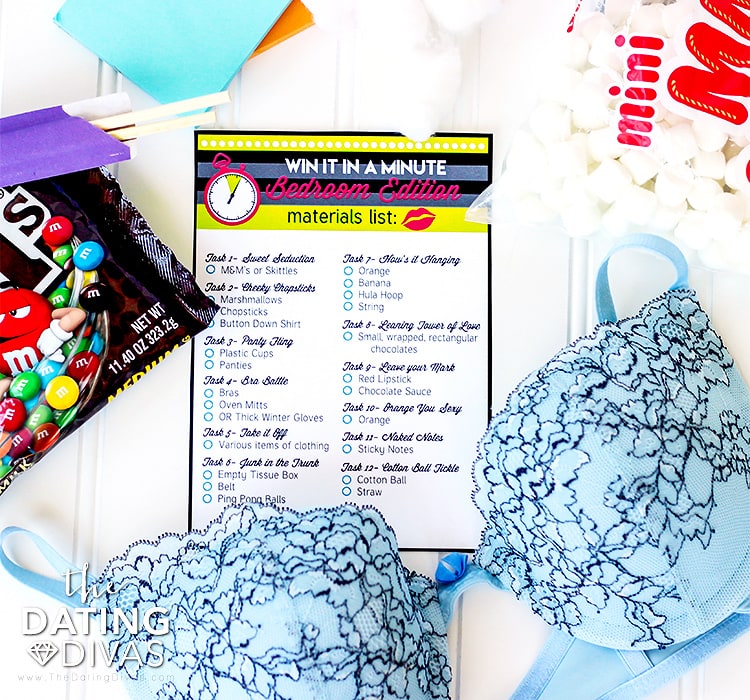 Now, of course, you and your spouse are on the same team when it comes to LIFE, but tonight, these sexy games are a competition! If you want to keep score, tally up victory after each round on this cute scorecard, and at the end, the winner gets a prize (maybe a sexy reward afterward! WINK!).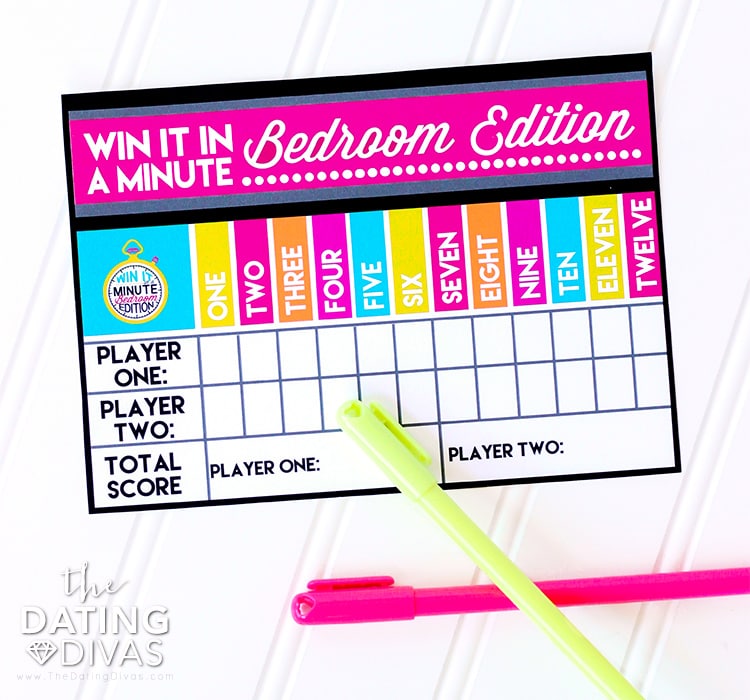 Let the sex games begin!
We've come up with 12 romantic bedroom ideas for married couples and turned them into sex games and tasks that you and your sweetie will love! You may not have time to play all 12, so pick and choose which ones look most appealing for your relationship! Each of the Win It In A Minute Sex Games card lists the materials you will need for your task, so gather all of that beforehand.
Spice Levels for Sex Games
Each card will indicate a dress code and a spice level, either 1, 2, or 3 flames to give you a hint about when during your night to try out those romance games in the bedroom!
One Flame:

 The first level of games are pretty tame, and are a great way to warm up! Those tasks will have one flame, and you'll do all of these fully clothed.
Two Flames: You'll be turning up the heat a little here! Grab a sexy lingerie outfit (or boxers for him!) for these games. The sparks will start flying as you get a little spicier.
Three Flames: HOT HOT HOT!! These sexy games are much more up close and personal, and you might even strip down to wearing NOTHING on a few of them. Ooo la la!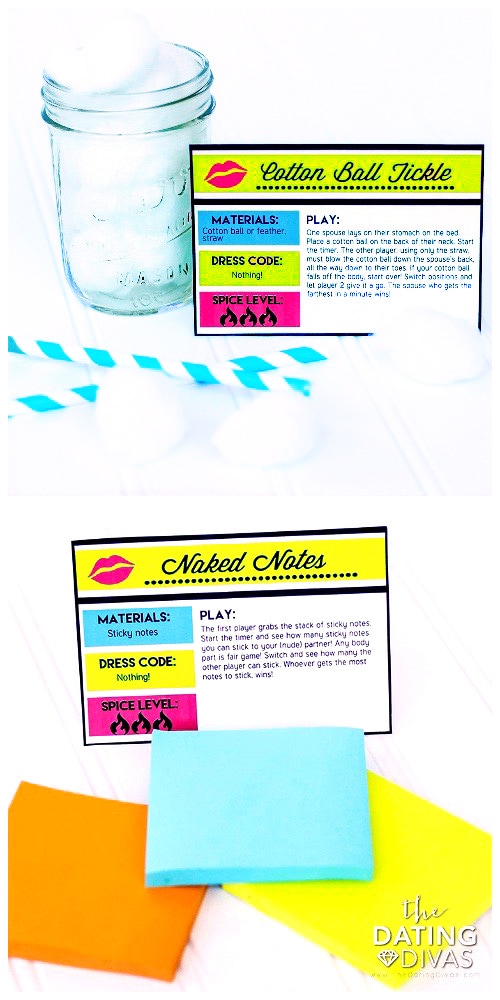 The
Naked Notes
task is SO hilarious! It's a definite winner for these Win It In A Minute Sex Games. And wouldn't it just be the cherry on top if your sticky notes had suggestive messages on them? You can totally PRINT directly onto sticky notes… and we have a bunch of
sexy love notes
already designed for you! Just look how adorable (and flirty) these are—PERFECT for some romance games in the bedroom.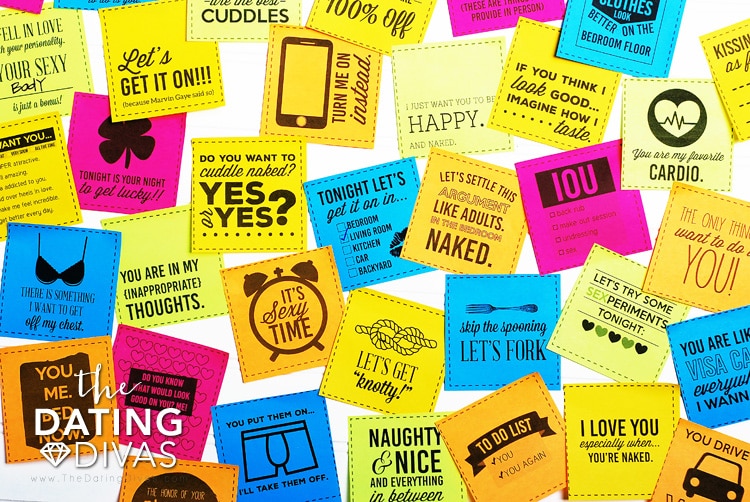 For these Win It in a Minute sex games, you have to remember not to take yourself too seriously! This is all about having FUN during intimacy. Get ready to have a blast competing, connecting and laughing with your sweetie while playing these romance games in the bedroom!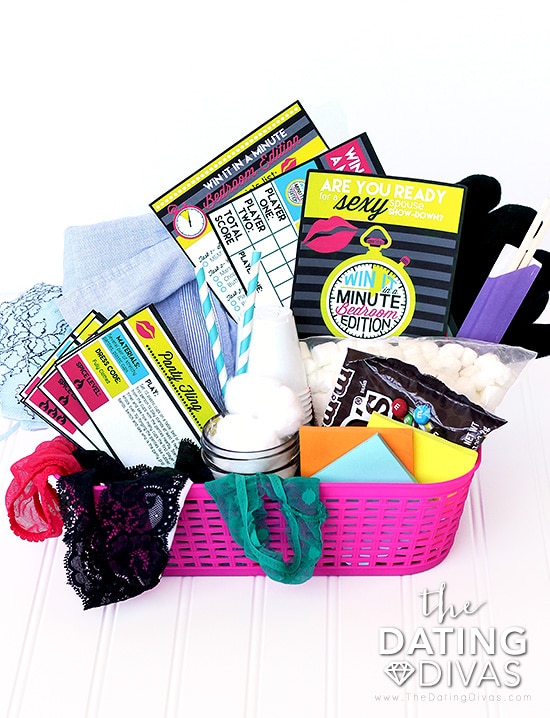 If you're looking to spice up your love life even more, check out our Spicy Gift Guide. Tons of products to keep things exciting in the bedroom! We also can't get enough of The Game of Love – it is SO fun and a totally different game every time you play! Honestly, we could rave about it all day! We bought it instead of an expensive dinner out for our last anniversary, and we have been singing the praises ever since!
Win It in a Minute Sex Games: Bedroom Edition Printables
Printables Designed by Cassia @ Cassia Leigh Designs Exclusively for The Dating Divas