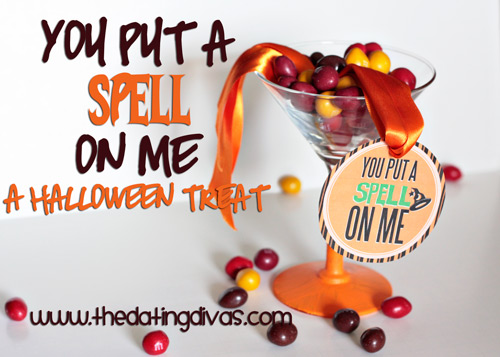 Have you seen this new trend that's around of dipped things?! Furniture legs, lamps, candlesticks, silverware…I've seen it all! I think it is such a fun idea and late one night it occurred to me it would be fun to dip a goblet/wine glass in some Halloween-ey colors. This would be the perfect addition to a Halloween Party or Dinner. Or you can add a quick note, some candy and make it a fun way to show someone you love them. So let's get started.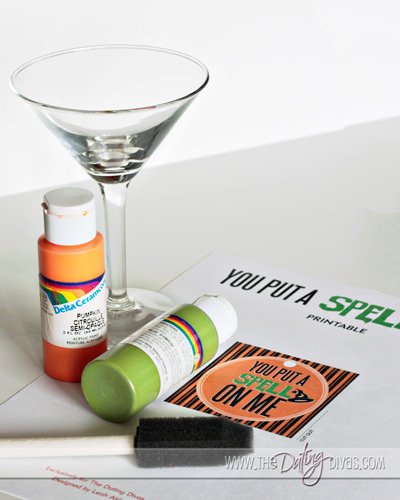 Supplies Needed:
Paint (acrylic, latex, or spray) in color of your choice

Brush (optional)

Glass

"You Put a Spell on Me" Tag

Coordinating ribbon

Treats
Begin by gathering your supplies. Now this would work best if you had a big can of paint in your color of choice. I wanted an orange stem, but didn't want to buy a whole can of orange paint so I just painted it on with acrylic paint. (SHhhhhh….I KNOW it's not actually DIPPED but no one has to know, right?!)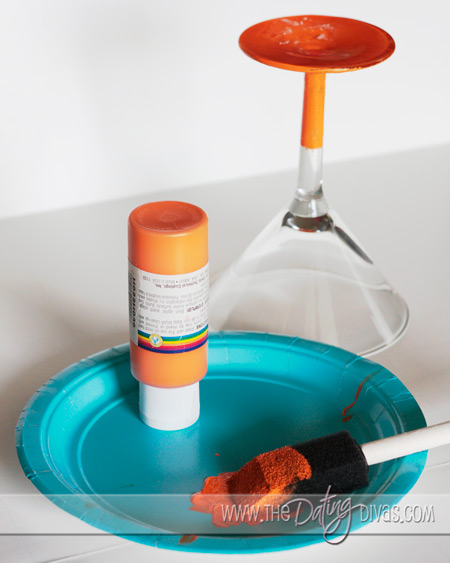 If you have a can of paint just dunk that bad boy in there. If using acrylic paint use a brush and do two coats with it drying in between. Or you could tape the glass off and use spray paint if you want. I bought my glass at the Dollar Store. That way if it gets broken or doesn't look exactly like you want…only out a dollar!
Once it dries, fill it up with treats and tie on a cute tag! (And when did M&M's stop carrying their Halloween colors?! No stores by me had the brown, orange, green and purple bag… that was what I was looking for. Oh well, the 'autumn' colors work ok.)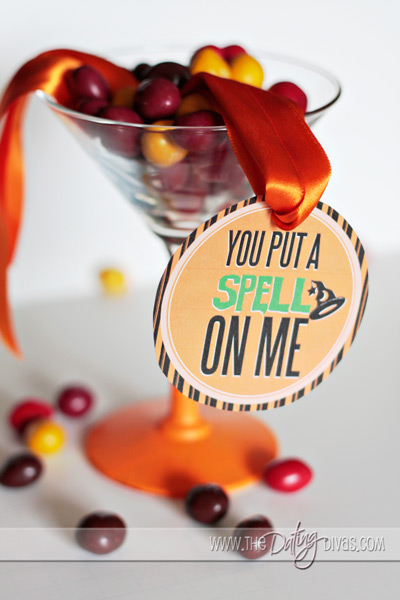 Special thanks to Leah Aldous who designed this adorable printable! You can use her amazing handiwork by downloading the You Put a Spell on Me tag.
Think of all the possibilities?! It would be so cute with silver or black dipped stems for a sophisticated spooky party! And I haven't washed mine so I can't tell you how it holds up. I just plan to wipe mine out and use it for candy. But I'm assuming hand wash? And never paint the part you would drink from. 🙂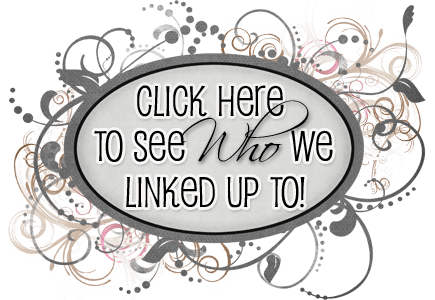 You Put a Spell on Me Tag
Printables Designed by Leah Aldous Exclusively for The Dating Divas