Build Your Own Pizza Competition
Think of the best pizza you have ever had. You can probably picture it; The crust, the perfect amount of sauce, the melted cheese, the flavorful toppings. Can you smell it?! Here at The Dating Divas, we created the CUTEST Build Your Own Pizza Competition with the help of our talented Elizabeth who designed these free printables just for you! We included the best recipe for homemade pizza, and ingredients for the original, bbq chicken, and Hawaiian pizza! Gather pizza supplies for the entire family and get ready to have the best taste-testing competition of your lives! YUM!!!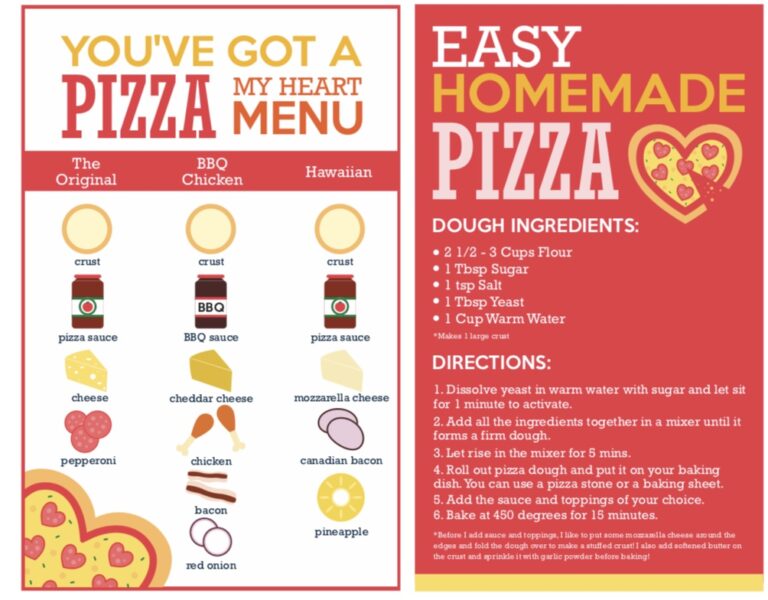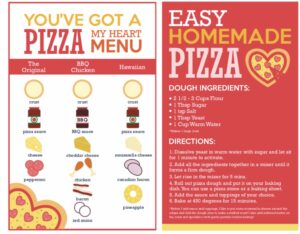 Pizza Tasting Score Card
This date will give you the opportunity to evaluate each "master-pizza!" As you take a sample of each and every individual pizza, think about how you stack up against the others! The appearance, the feel of the crust's crispiness, the smell of the fresh cheese, the combination of ingredients, and the overall experience you had biting into each delicious slice. Whoever's pizza gets the best score – WINS! Now, if making pizza yourself isn't your thing, take a trip to the store and buy a couple of different frozen pizzas and see which one you and your family like best by using these adorable pizza tasting scorecards! Either way, you will have so much fun stuffing your face with some delicious pizza!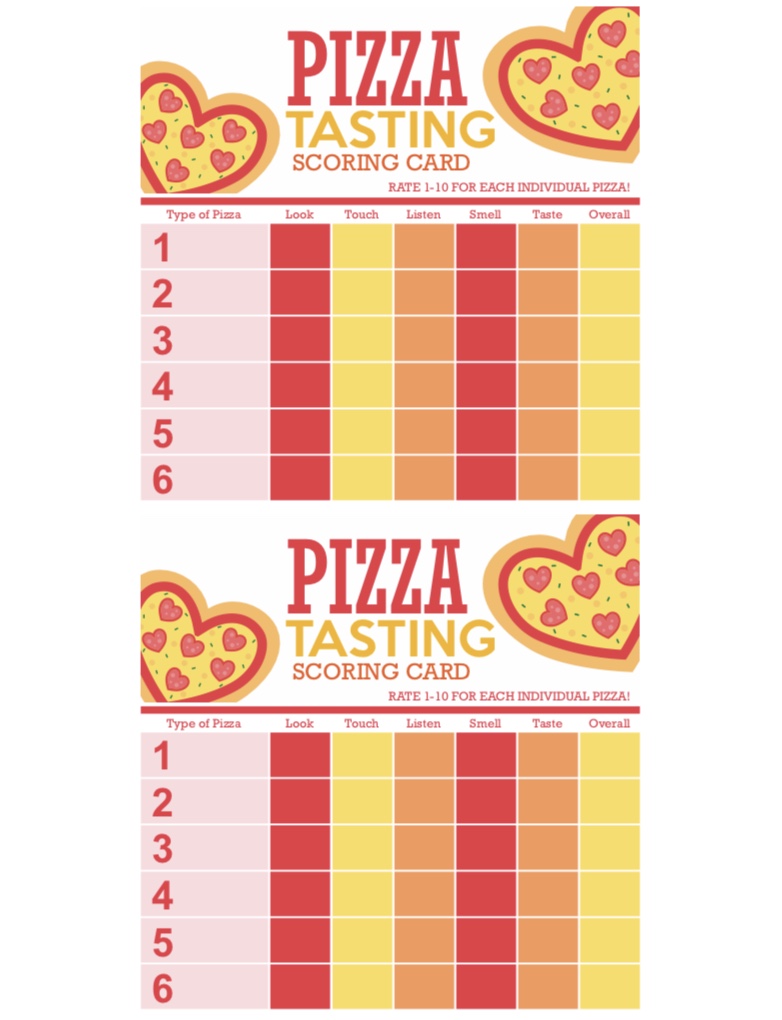 * * * * * *
Relaxation Night
There's no need to watch another news report talking about how stressful modern life is! Turn off the TV, grab your yoga mats/blankets, and enjoy a family Relaxation Night to help de-stress during these crazy times! Why? Because relaxation is a critical part of stress management. Relaxation can release tension in your body, improve digestion, reduce fatigue, AND boost confidence! So, what are you waiting for? Let's start on relaxing TONIGHT!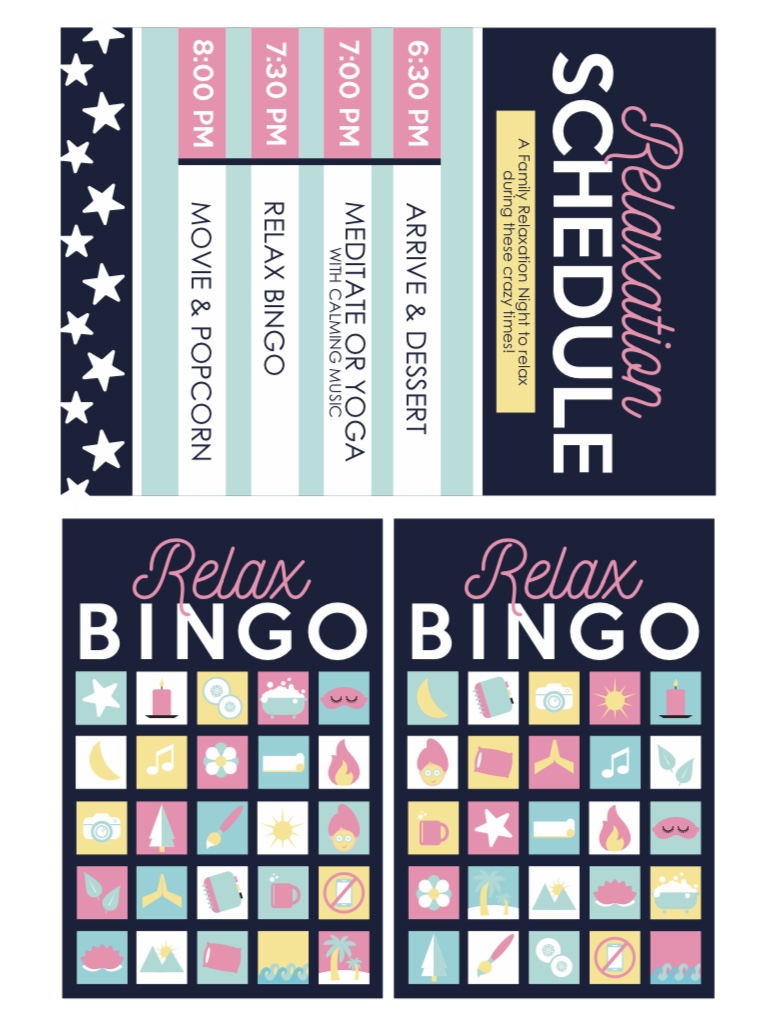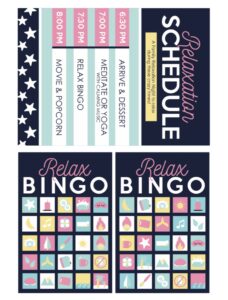 We couldn't have created this adorable Relaxation Night printables without the amazing and talented Elizabeth from The Dating Divas!
Relax Bingo
So, let's set the scene. Place the relaxation schedule card somewhere the whole family can see it. Then as time gets closer, turn on relaxing music, light some candles, prepare dessert, and set out the yoga mats/blankets! Put these free Relax Bingo cards to good use! Now use the relax bingo symbol cards below to call out each picture. Whoever gets bingo first, wins a prize of your choosing! 😉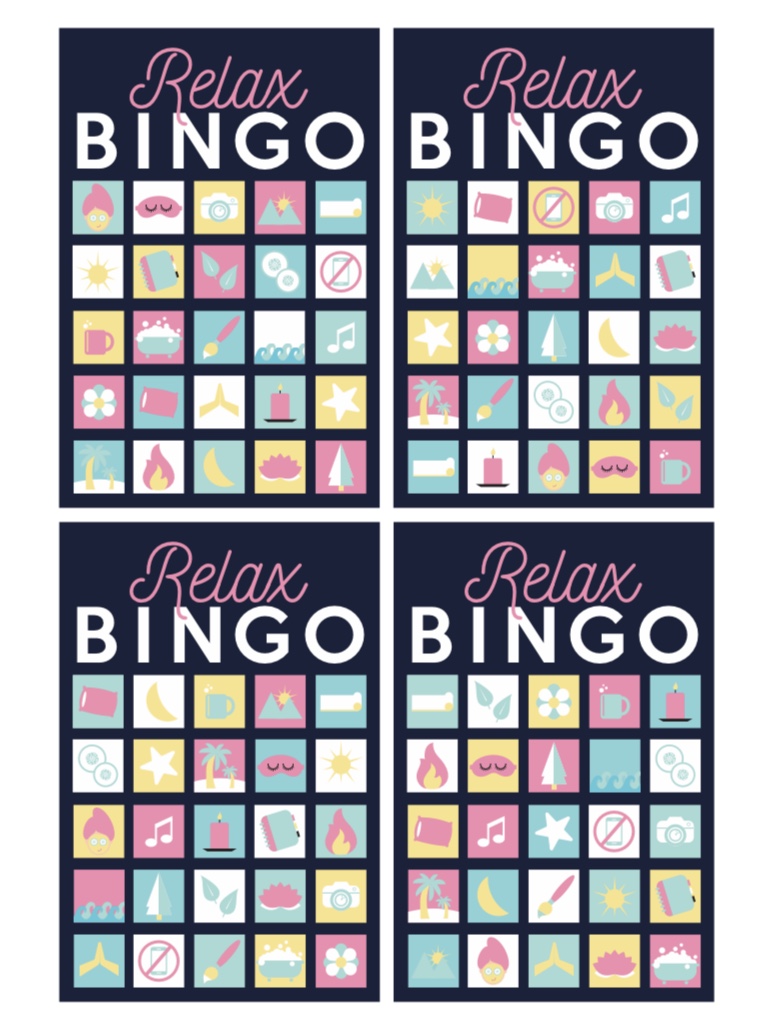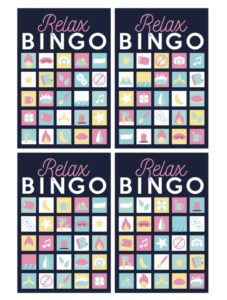 Family Relaxation Night
Now don't forget to grab your calendar, and mark out a family Relaxation Night! You won't regret having an at-home Relaxation Night to help melt away tension and stress. We know between work and social life, it's hard to find time to just sit still and do something relaxing as a family! But look no further, this Family Relaxation Night is the answer to your prayers!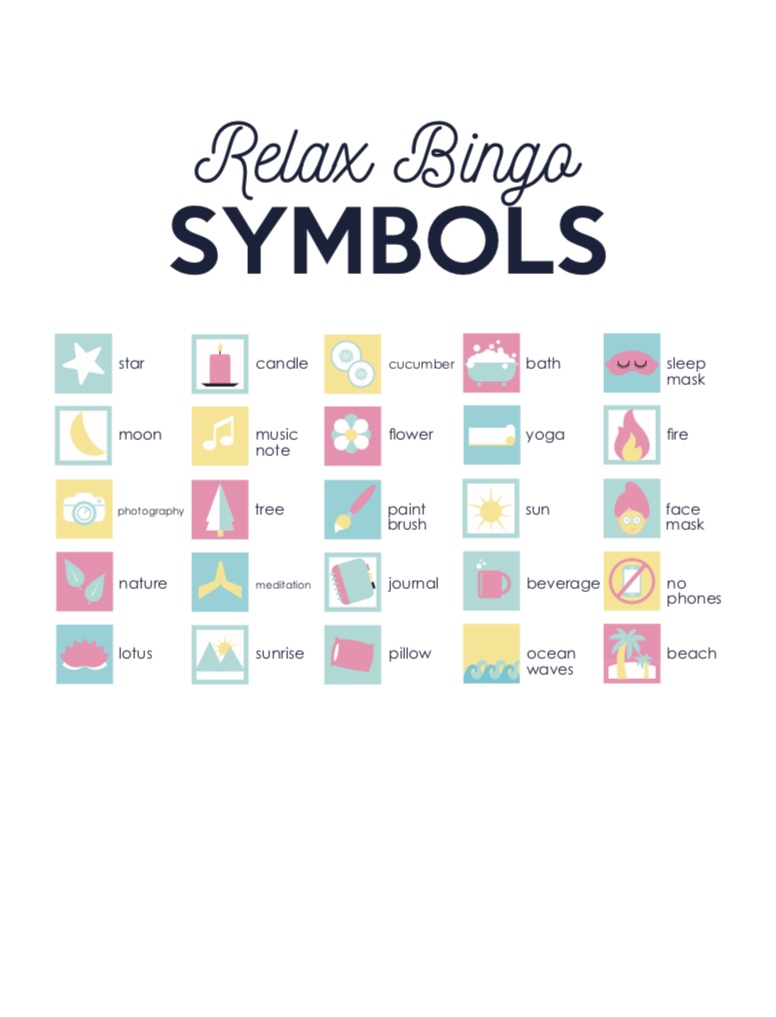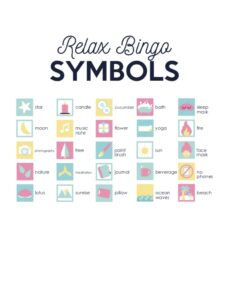 * * * * * *
Indoor Family Picnic
Here's a little secret we want to share with you all… picnics create the BEST memories! So change things up from your typical lunch or dinner routine and surprise your family with this fun indoor picnic! So how do you get started? Well, first scroll down below and click the link to download these free printables! Then, start off the fun by sending this adorable invite created by Elizabeth from The Dating Divas! Trust me, your family will be SO excited for this Indoor Family Picnic!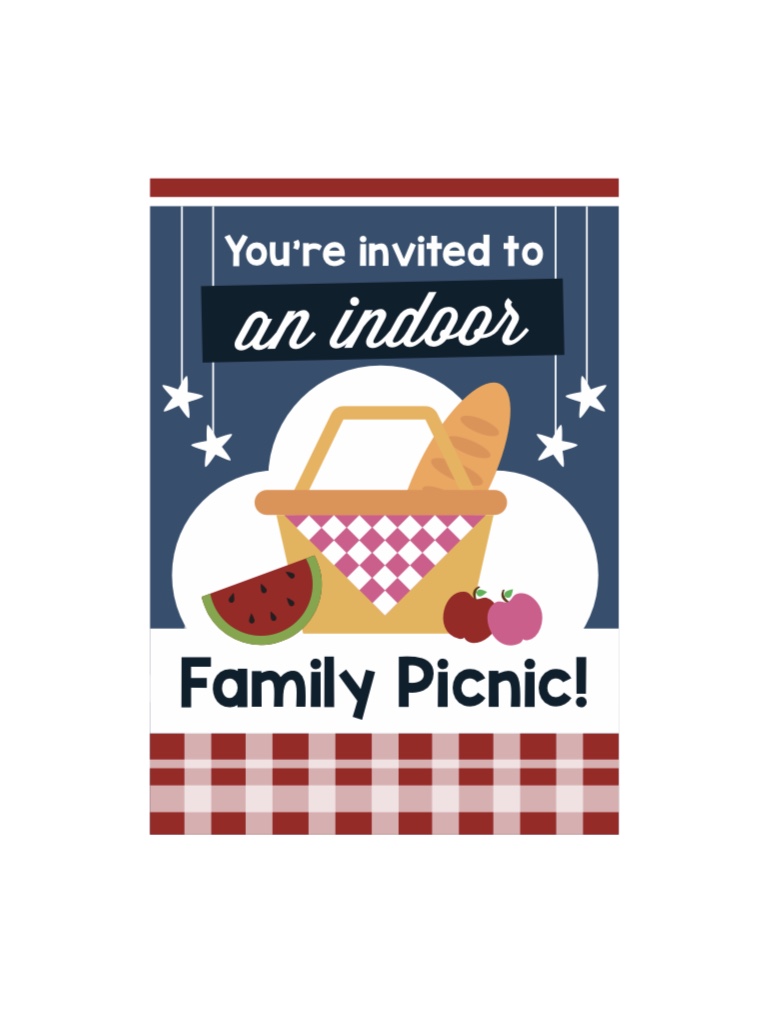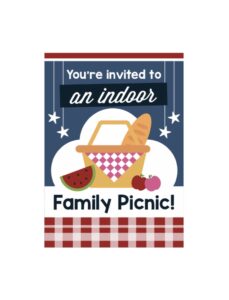 Picnic Conversation Cards
Set up your indoor picnic on your living room floor and get ready to create some amazing memories with your family. Prepare your picnic foods such as cheese, crackers, grapes, any type of finger foods, sandwiches, and drinks! Get out your picnic conversation cards and take turns answering a question! Your family will love learning new things about each other and have many laughs along the way!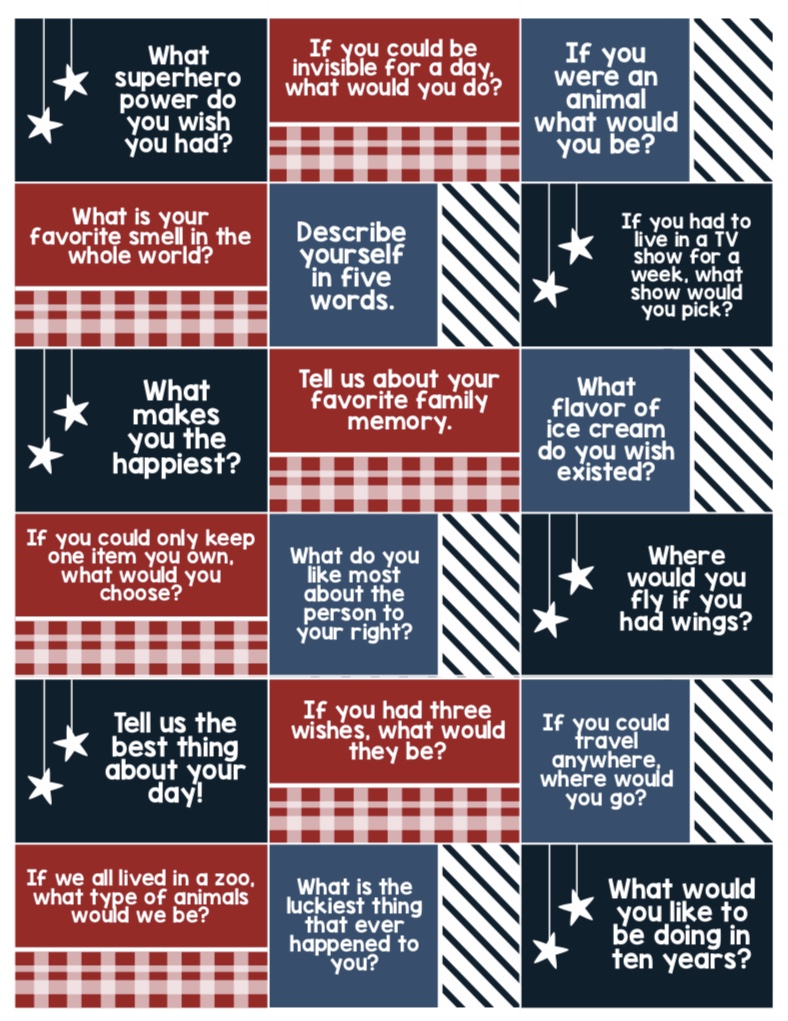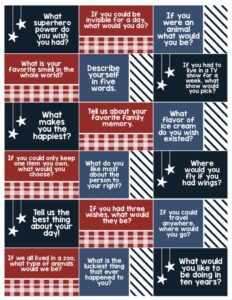 * * * * * *
Empathy Cards to Color
When someone is struggling through loneliness or even illness, sometimes it's hard to come up with the right words to say. However, with our empathy cards to color, it is the perfect way to cheer someone up! But first, what is empathy? Well, it is the ability to step into someone else's shoes, aiming to understand their feelings and perspective. Striving to be aware of other people's feelings, needs, and concerns will help build your connections with others as well as increase your desire to serve others! So how do you get started? Scroll down to find out!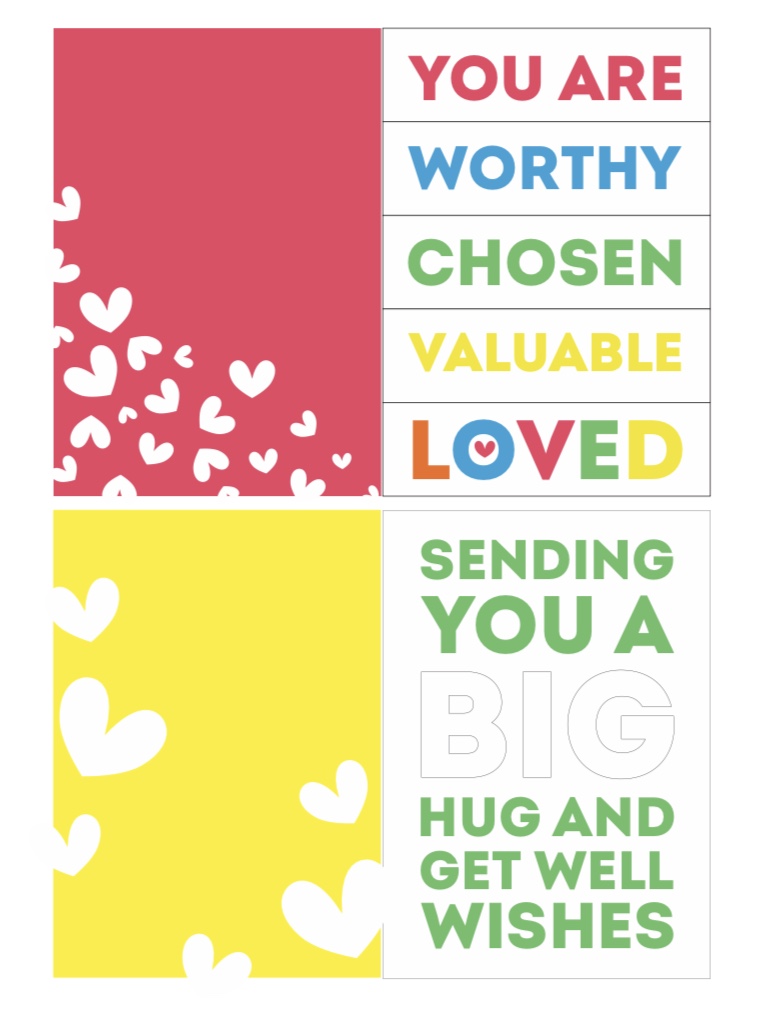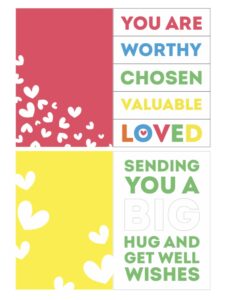 Getting Started!
First, click and download the link below titled "Empathy Cards to Color." Then print and cut out! The first page will have TWO cards on one, while the other two pages will have ONE card on each page. For the "4-square" cards – Fold into a card so your cover page is on the front while the second graphic is on the inside of the card! And voila! You are ready to write and color! Now what we really love about the Empathy Cards is you can even have your kids color! This makes it personalized and more meaningful to those you share the love with!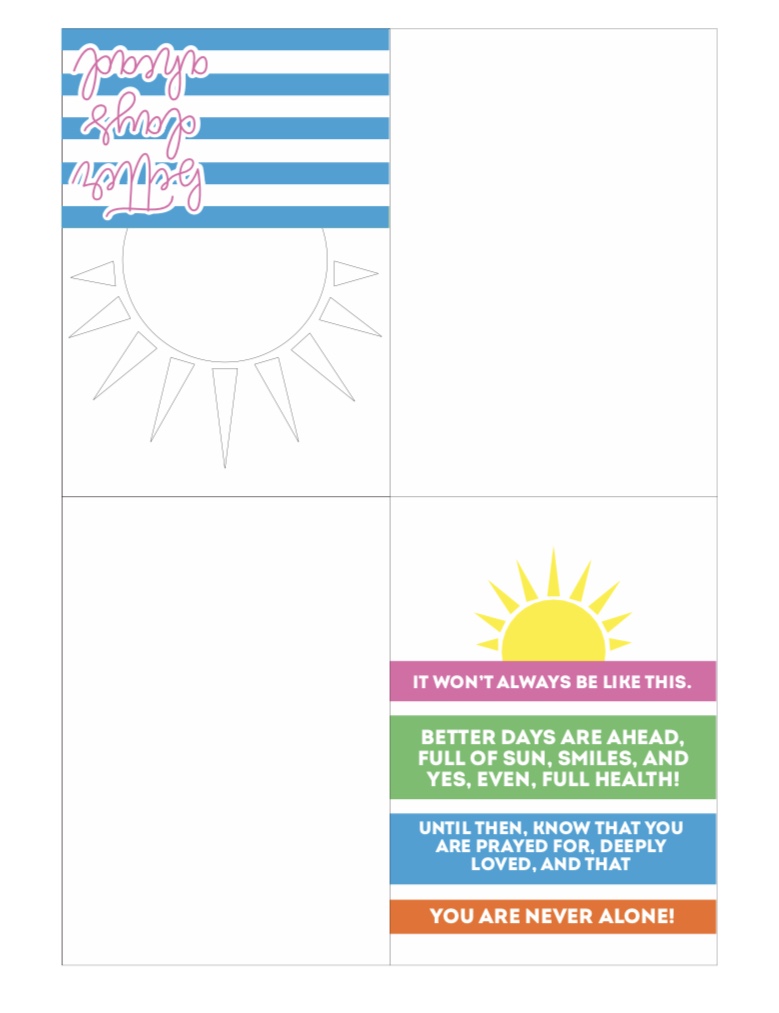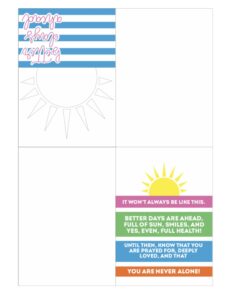 We couldn't have done this without the amazing and talented Elizabeth from The Dating Divas who brought these Empathy Cards to Color printables to LIFE!
Empathy
The ability to see things from other people's perspective is truly life-changing! Empathy helps us to understand others, which ultimately makes us better people. By being empathic towards others, you will be compelled to serve more often and not be quick to judge. Sounds like a win/win right? Strive to pay attention to those around you and connect with them on a deeper level! By doing so, we can all help to make this world a better place. So let's get this motion going by downloading these FREE Empathy Cards to brighten that special person/person's day!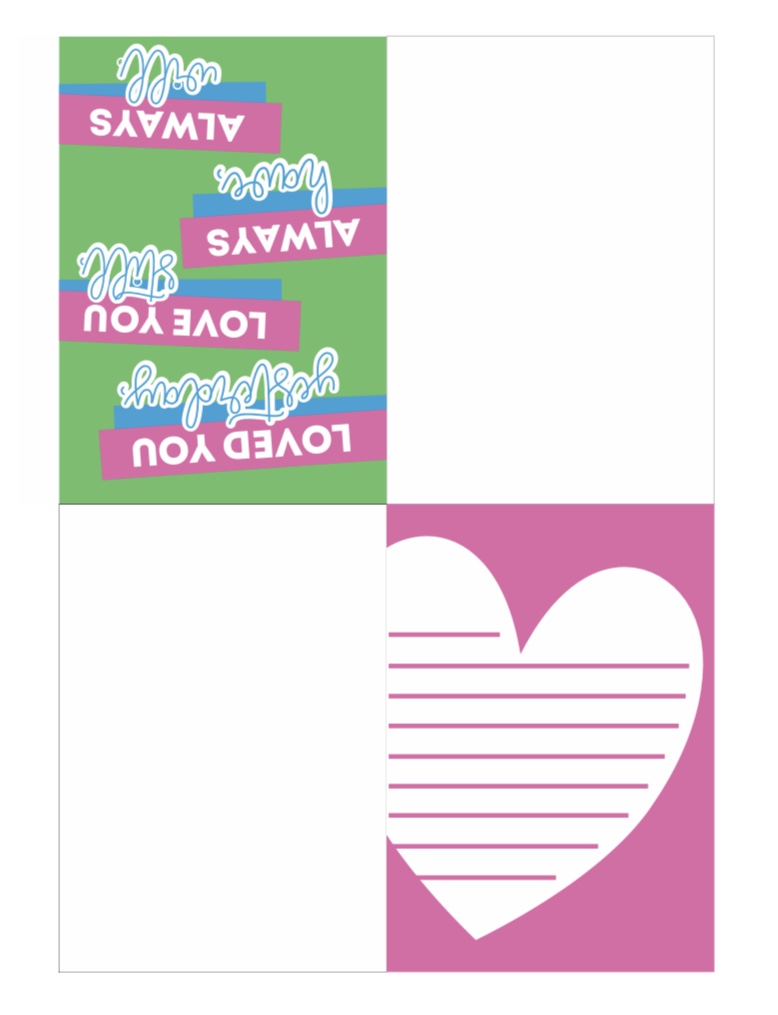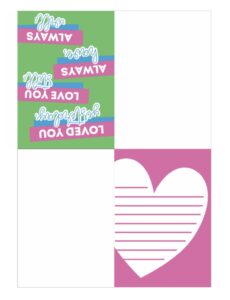 * * * * * *
Random Acts of Kindness Bingo
Although currently, we are distancing ourselves, that doesn't mean we can't strive to be the sunshine in someone else's life! During difficult times, we often see and appreciate the kindness of others more often. While you are at home and trying to keep you and your family busy, try out these FREE Random Acts of Kindness Bingo boards (6 total). Race to get bingo by doing 5 acts of service in a row! These RAOK bingo cards are the perfect family activity because when we take care of ourselves and others (without risking contamination) we will get through this sooner. Kindness is a gift that everyone can afford!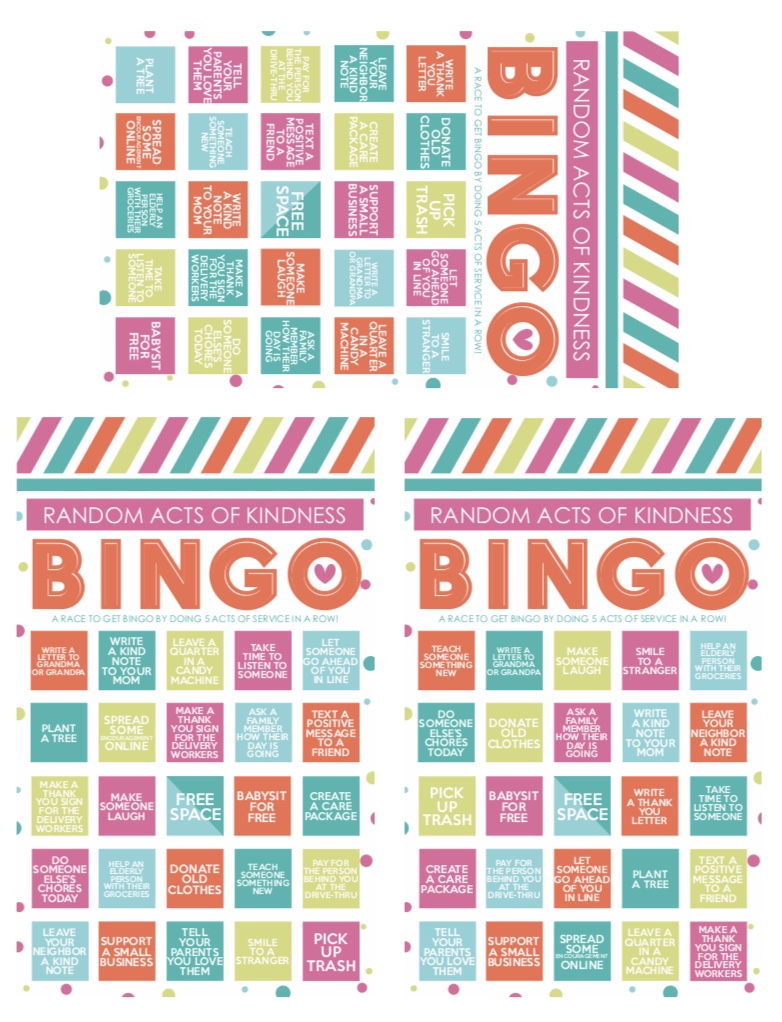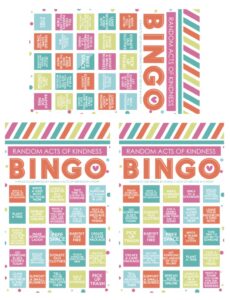 * * * * * *
Scavenger Hunt for Little Kids
Although Scavenger Hunts can feel like a throw-back activity, the content of this Scavenger Hunt is anything but old fashioned! This is not just any ordinary hunt, these free printables designed for you and your family have an indoor and outdoor design specifically for kids of any age! We have provided a version for younger kids and for older kids! To play, have your children collect all of the following items listed in a bag or basket. Next, check the boxes as they find each one! The best part is, this activity is easy, inexpensive, and can often be done using things you already have at home. Now that sounds like a win/win to me!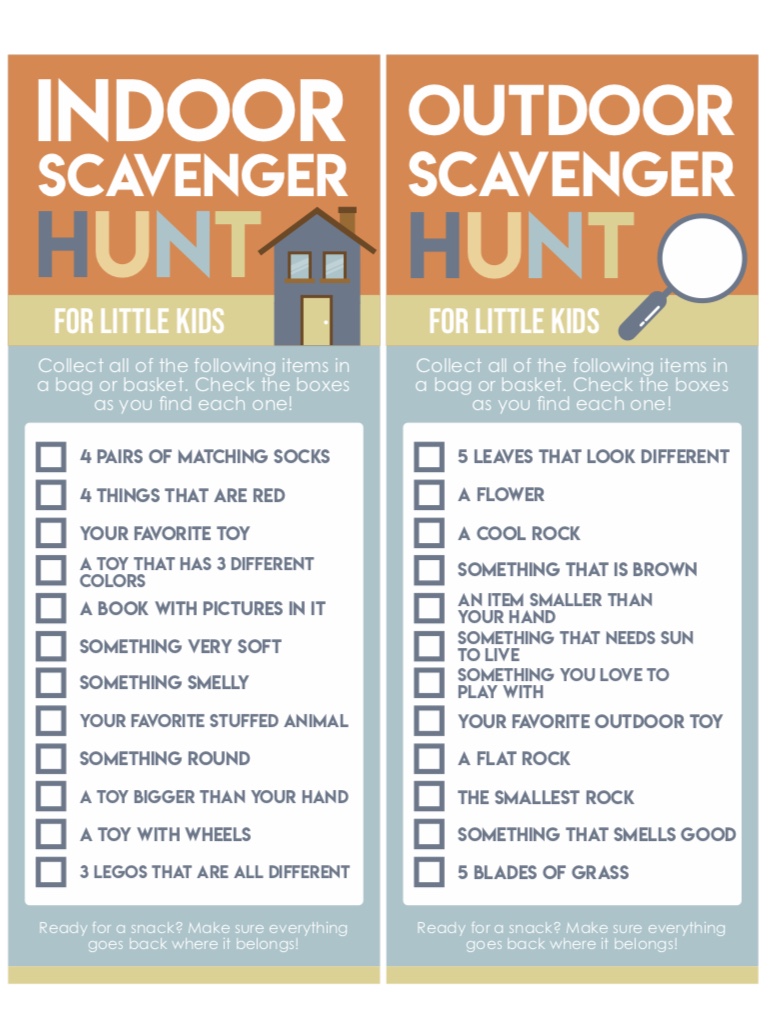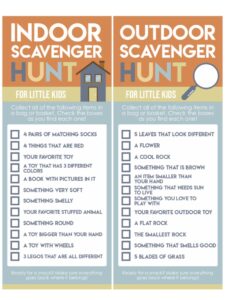 A big thank you to our incredible Elizabeth from The Dating Divas who created the CUTEST Scavenger Hunt printables ever!!!
Scavenger Hunt for Older Kids
Add some fun to your children's lives with these FREE Scavenger Hunt printables! Here's how to get started – click the link below and download these free Scavenger Hunt printables! Simply print, cut, and hand to your children to get the fun Scavenger Hunt started! At the end of your Hunt, the printable will say "Ready for a snack? Make sure everything goes back where it belongs!" This is a fun activity that keeps your kids entertained, creates memories, AND doesn't leave you cleaning up a mess! I'd snatch this up quick and download this Scavenger Hunt for younger and older kids NOW!!!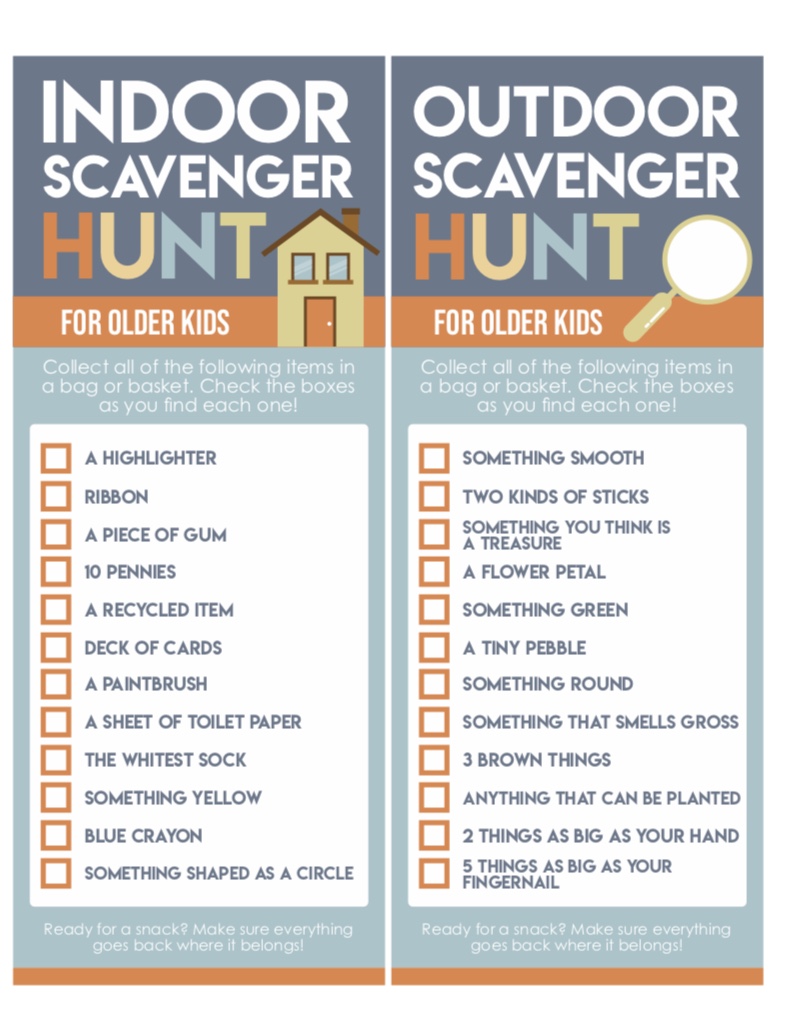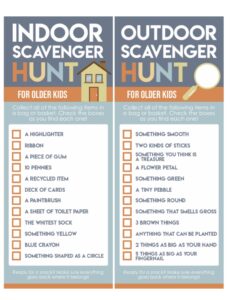 * * * * * *
You've Been Egged!
Surprise! You've been egged at your home, but there is no need to fear, this un-egg-spected act is simply to bring you Easter cheer! Here at The Dating Divas, we created a FREE Easter Egg Hunt to deliver to your friends and family. After you have downloaded, simply print and cut – and viola! You are ready to deliver the best Easter Egg Hunt to that special someone! This is the perfect way to spread some positivity and joy to the ones you love! So what are you waiting for? Download these egg-stra cute Easter egg printables today!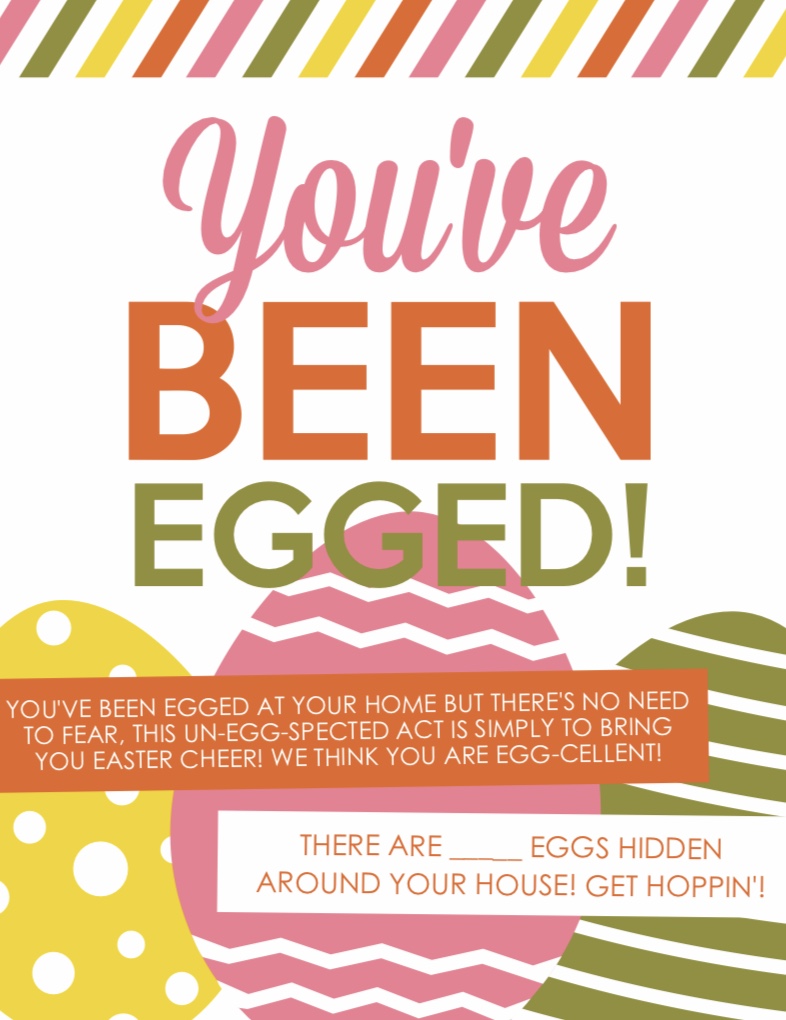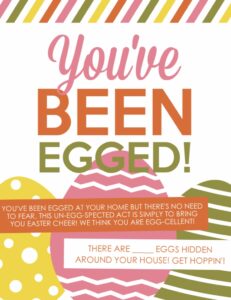 We couldn't have done this without the amazing and talented Elizabeth from The Dating Divas who brought these Easter themed printables to LIFE!
Easter Egg Notes
Now let's get hoppin'! Once you cut out these darling Easter egg notes, fold them in half and place one inside each individual Easter egg! When you have chosen who you want to deliver this fun Easter Egg surprise to, hide the eggs all over their front yard and place the "You've Been Egged" sign on their front door! Your favorite peeps will have so much fun finding each egg and seeing what cute note comes inside! If you want to add more to the eggs, consider placing candy or confetti inside with the note! Show them that some-bunny loves them this Easter season by using this "You've Been Egged" surprise!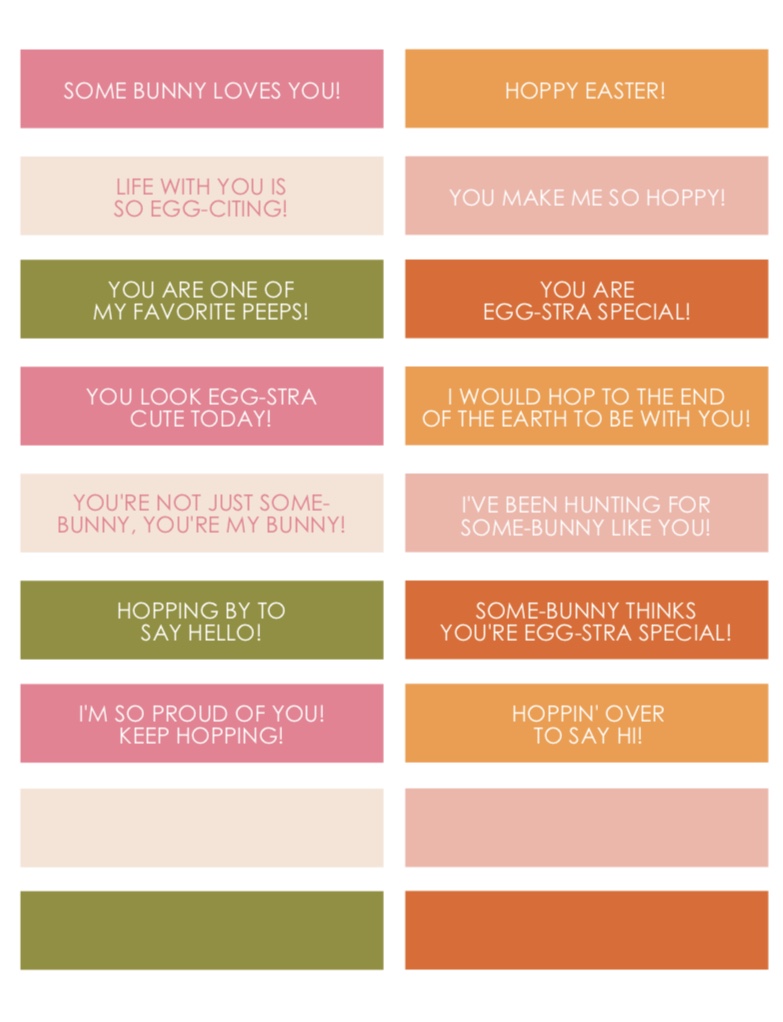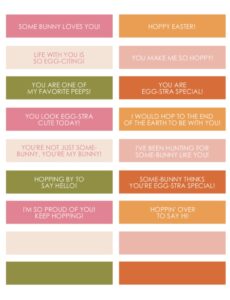 Build Your Own Pizza Competition
Printables Designed by Elizabeth Exclusively for The Dating Divas
Relaxation Night
Printables Designed by Elizabeth Exclusively for The Dating Divas
Indoor Family Picnic
Printables Designed by Elizabeth Exclusively for The Dating Divas