Wow!  Can I just say we truly have the BEST readers out there? We would like to thank everyone who helped "spread the word" about The Dating Divas' new website! We soooo appreciate everyone who participated in this contest…we received great entries! It was hard to pick just one winner!
Our BIG GIVEAWAY winner is Kristi!
"To promote The Dating Divas my husband and I stood on the corner of Thanksgiving Way, across from the I-15  Alpine/Highland Exit in Utah. We were holding a  sign that read, "The Dating Divas" while wearing… a banana suit and a gorilla suit. (I know, I have the best husband ever, right!?) Needless to say we received many honks, waves and um… weird looks. 🙂 It was actually a fun thing to do together, and we were happy to support the Dating Divas!"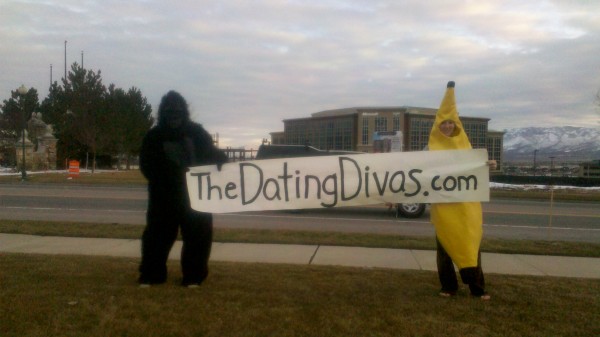 We LOVE that Kristi thought outside the box with her idea and that she also included her husband in the contest!  Again, a BIG thanks to all who participated!  Don't forget to check back next week!  We have great ideas you are sure to love!