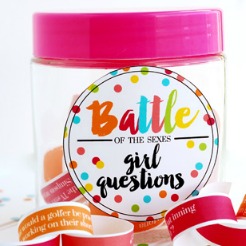 Keep up to date with our latest and greatest posts. We are always adding new content to make sure you never run out of fun and fresh ideas for your marriage!
See more!
Testimonials
"I was just poking around on the internet, trying to find fun and exciting ways for my husband and I to spend some time together when I found your wonderful website! Wow! I printed off so many great ideas and I just can't wait to try them. Thanks so much for making these items free and easy to access."

"I love your calendars! I could spend forever browsing for date ideas but I love that this gives you a whole month's worth of suggestions. I also really like the mix of dates, only one out on the town, as well as an intimate one. Thank you so much for all that you do, I wish more people placed such a high value on marriage."

"I just wanted to say that I have LOVED your 7 Days of Love program. I have been dating my boyfriend for a few years now and actually modified your program a little to have it lead up to our weekend getaway! I really love when people are willing to share wonderful things like this for free. You guys are amazing!"

"Today has been a really rough day for both me and my hubby. I decided to look on your site to find some cute date ideas for our date night and I came across Sarina's video idea for your hubby and I had so much fun making it and reflecting on our marriage!! I am excited to see my husband's reaction to it! Thanks, ladies, for helping me!"

"Thank you so much! My boyfriend is in the military and I end up making him packages with the ideas you have and then planning a weekend of cute romance when he comes home! I LOVE everything you put up here! It has helped us keep our relationship strong through all the separations! Thank you so, SO much for everything!"

"I just want to sincerely thank you for your website! I was recently married a few months ago and I just stumbled upon the "Free Love Calendar." I have been following it to a 'T' and it has been SO much fun! Both my hubby and I love it, really keeps things fresh and changes things up. LOVE THEM! Thanks so much."

"I appreciate the exceptional customer service! I don't think I've ever had a company follow-up on a purchase, let alone do it personally. I am a stickler on customer service and I wanted to let you know how happy I am! Thanks again! What you guys provide is so wonderful! It's really an ingenious idea!"

"Thanks so much for all the wonderful products and ideas Dating Divas! I purchased and printed Year of Dates Binders for my three grown kids for Christmas and they all loved them. They all now visit your site continuously!!! My husband and I are also starting a monthly group date with some of our friends! Thanks again!"

"Y'all are AMAZING!!!! I'm going into my second marriage and I'm committed to working at this marriage more actively! I'm SO grateful for the fun blog posts and products on your site! Your date night and intimacy ideas are going to help with our marriage so much. Thank you, thank you, thank you!!!"

I originally found Dating Divas on Pinterest, and now I receive emails from y'all. I have been married for 37 years to a great guy I only dated for 7 months!! Not always easy, but well worth the effort. Fresh ideas are much appreciated especially when you're older; keeps that little spark going! Thank you!!

My husband and I have been married almost 14 years and after adding 2 kids and a full time job to the mix, I have struggled in finding ways to make sure he knows that he is still my top priority. I did the 7 Days of Love the week of Valentines and he LOVED it! Thank you for putting that excitement back in the mix!!!
check out
People We Lve
No seriously! We love these guys! Check em' out!