Maskcara Beauty…
Our NEW favorite makeup!
Have you ever heard that catchy little phrase, "Sharing is Caring"? I think it's safe to say that your answer is YES! Well… We have found The.Best.Makeup.EVER and we cannot contain ourselves! Let us introduce you to our favorite makeup… Maskcara Beauty!!

Now, what's the correlation between makeup and marriage? We are glad you asked! I am extremely passionate about helping others through our website… and seriously, our team is comprised of a group of outrageously fun and outgoing women who LOVE being married and want their excitement to spread to couples everywhere. I'm SUCH a girly-girl and I'm a huge advocate for putting your best "self" out there to the world! I DO love rocking the top-knot and yoga pants, but there's just something about getting dolled up and looking good for my man. It's a HUGE confidence booster as well. Just one reason why I'm obsessed with the fabulous Maskcara makeup! I can look good in a matter of minutes! Anything that saves me time AND makes me look good… I can totally get behind! Ha!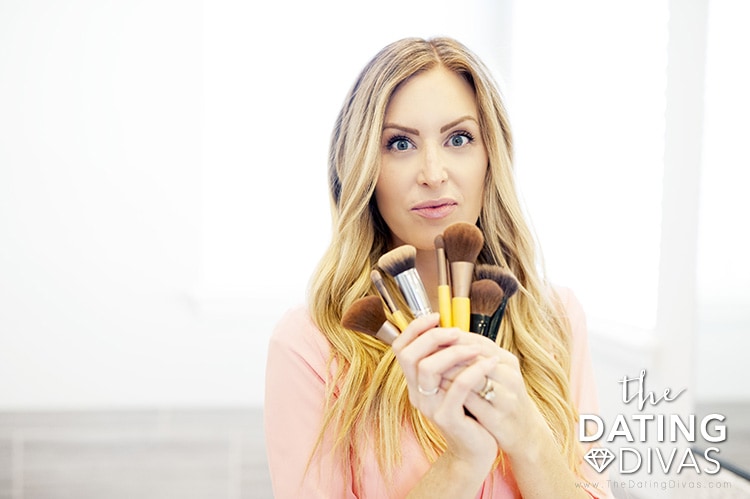 I think that it is safe to say that our husbands are more attracted to us when we girls feel confident about ourselves. And I think it's safe to say that, as women, we feel more confident when we have a positive sense of self-image. Aaaand I think it's safe to say that most women don't want to spend a HUGE chunk of time every day layering on makeup to help boost our self-image (so we either skip it completely or sacrifice our precious time). Let's be real here, we are BUSY!! If we are going to take the time to get dolled up, it's going to be robbing time from something else – family time, eating time, sleeping time, cleaning time, work, I can go on and on! The point is that we all need a solution! Cue… MASKCARA MAKEUP!
With Maskcara you are getting full coverage, makeup that can all fit into one customizable compact! And, seriously, this compact is GORGEOUS! No more concealer, no more digging through a makeup drawer, no more of layers of makeup! Even the Maskcara brushes are multi-purpose!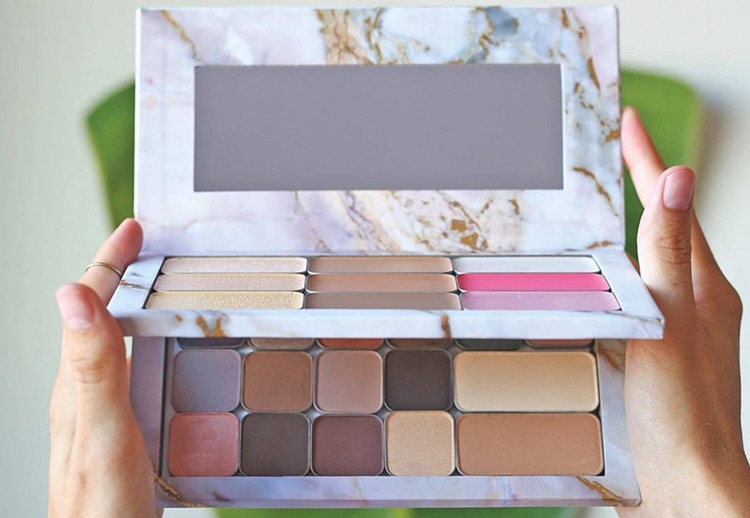 Now, I'm tellin ya – these products are high end! Not only will you save a ton of time, you are going to look FLAWLESS! Cara, the founder of Maskcara, and one of our dear friends is a makeup genius who designed these contouring and highlighting foundations to bring out our best features! Basically, it makes you look like you always have perfect lighting right on your face! The blush colors bring in some color and the illuminator makes you glow! Apply your setting powder and you are good to go!
Just look at the transformation!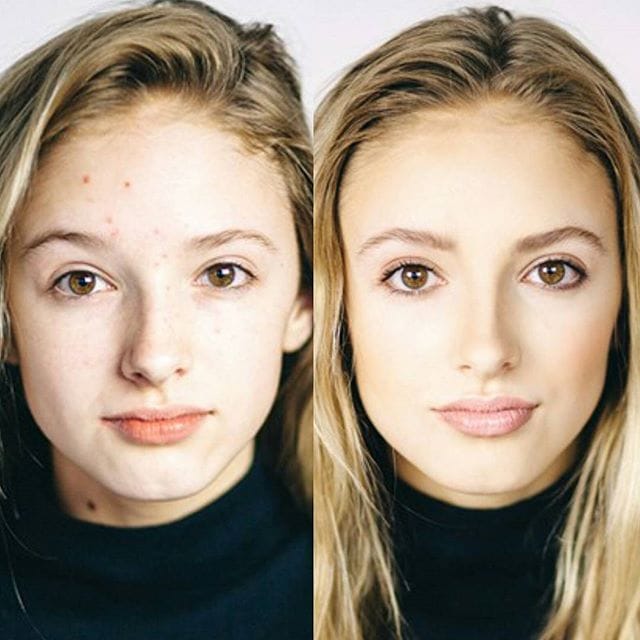 Want to hear some really exciting news? Getting this makeup is totally affordable! Your own customized foundation pallet includes Contour, Highlight, Blush and Illuminator for only $48! What?!?!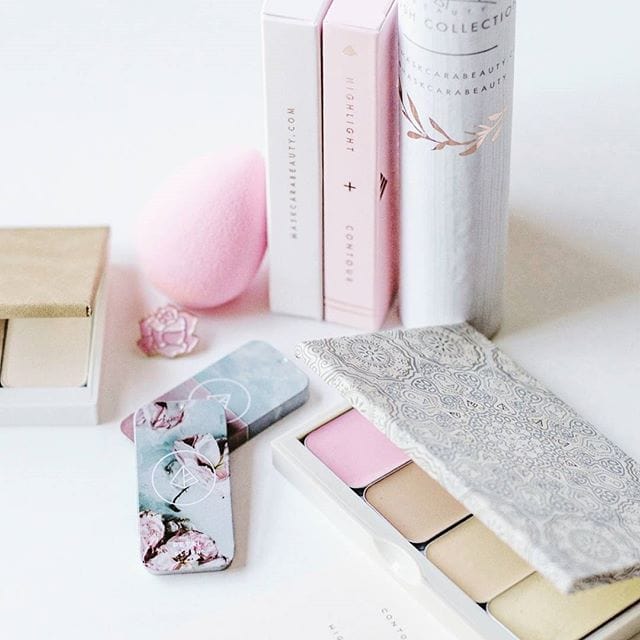 We only promote things we love and we believe that feeling your best is part of being in a relationship. Having positive self-esteem is a HUGE part of healthy marriages and if women feel their best when wearing makeup, we are all for that! 😉
If you are ready to get your hands on Maskcara, then check out our exclusive website! AND then make sure to use the party code #:1297 at checkout to be entered into our exclusive giveaway for our peeps who purchase! 
If you'd like to get color matched, please send us a makeup-less photo of yourself!! All you have to do is shoot an email to datingdivasmaskcara@gmail.com with the subject line: "Color Match-Your Name." Go ahead and attach a picture of yourself without any makeup on and our expert will take a look and get right back to you!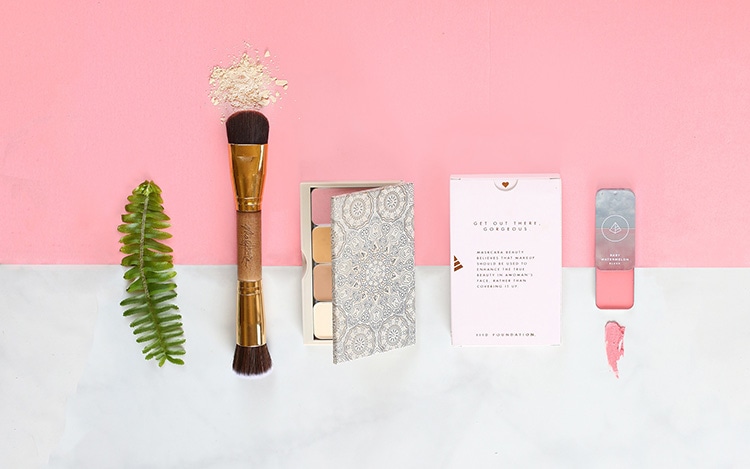 P.S. If you are curious, but not sold on the makeup yet… believe me when I say that I am PICKY about the products I promote!  But, don't just take my word for it! Here is what Chrissy, our Site Director and Becca, our Marketing Director, have to say about the products: … "
"Okay, so here's my deal… I am in my "mid-thirties" (I know, I know… you would have NEVER guessed, right? 😉 ha!) and I really just need quality makeup… I just can't handle the cheap stuff anymore like I could when I was younger. So coverage, pigmentation, longevity, ALL of that really matters to me! As you can guess, Maskcara's stuff totally stacks up against all of the "designer" makeup that I've been stockpiling the last few years. But honestly, probably the BEST part about the makeup took me by surprise, and it's the fact that the makeup is like a "one-stop-shop" for everything you need, which means it saves you TIME (and money, but again, I'm willing to pay for quality makeup, but I'm NOT willing to sacrifice my time to get ready. I'm a full-time working Mom!) The highlight and contour stuff is full coverage and you don't need ANY concealer or foundation under it, which saves a TON of time. The eyeshadow is so pigmented that I could use the black tint as an eyeliner (and there's this awesome tiny stiff brush that makes application for eyeliner SUPER easy), then quick blush, highlighter, some mascara and I was DONE. To me, if the makeup can save me that much time (and look amazing) then that is EVERYTHING!!"  -CHRISSY
"You guys! She's not kidding – we were all in the bathroom together doing our makeup and FREAKING out about how gorgeous we all looked! We totally fell in love! It has great coverage but isn't cakey. It blends SO well. And I just LOVE that you can build your own compact with your choice of contour, highlighter, and blush colors. And the brushes were ah-mazing!!! Basically, I'm just sitting here trying to figure out how to convince my husband to let me buy it ALL!"  -BECCA
Now it's time to get your own customized Maskcara Makeup and get out there gorgeous!