WE CHOSE A WINNER!!! READ THE HILARIOUS CAPTION BELOW… we also included a BUNCH of our favorites! You guys are SOOOO clever! We loved reading thru all 450+ entries!!
CHRISTMAS CAPTION CONTEST
Check out our darling picture below. The reader who is able to come up with the BEST caption for this picture… as in the most witty OR the one that makes us laugh the most, will be the WINNER!!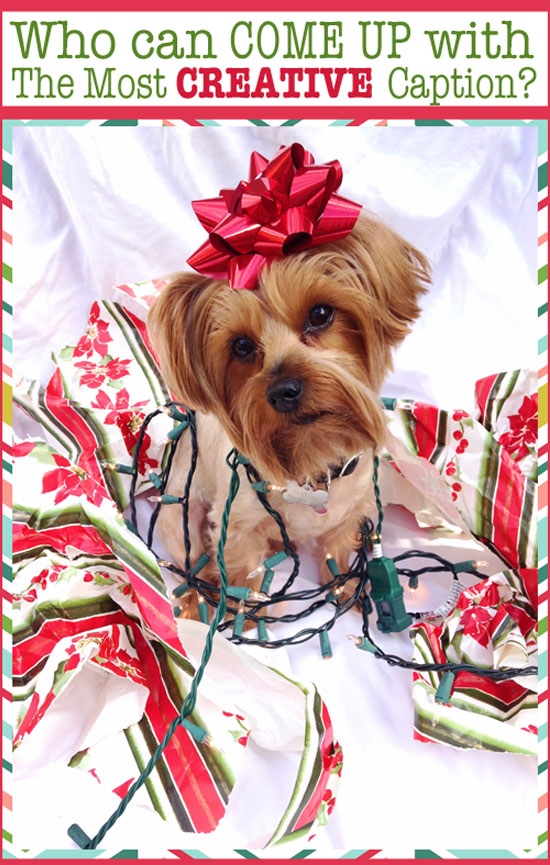 Just leave your best caption for this photo in the comments below. Contest is open through Wednesday, December 4th 9:00PM MST.
 The WINNING caption will be posted for all to see! Winner will be sent their choice of a $25 Amazon, Target, or Visa gift card.
And the winner is...
Amanda F. who wrote:
"I swear I didn't move when you left the room! The decorations attacked ME…
CONGRATS!!!
We had SUCH a great time reading thru all of the comments!! We wanted to share some of our other favorites! Enjoy!!
Lacey S. – See what had happened was….you left me here and everything was so sparkly and shiny…I just SNAPPED…I so sorry!
Shanny G. – It moved! I had to attack!!
Taylor V. – The holidays are ruff.
Christa S. – Could you please explain that "Naughty" and "Nice" list again?
Amy – uhhh…that "DIY how to wrap a puppy for Christmas" video didn't really work….
Brittany B. – Seriously y'all. Toy. Yorkie. Not just toy. Ugh.
Julie – You really think you could keep me wrapped up til Christmas?!!
Connie G. – I'm going to shine for the whole world to see!
Jennifer – Remember when you said you'd love me forever even when I outgrew being a puppy….well, I am really banking on that now.!!
Marlena – The Elf did it!
Jesse – Yup! The lights work just fine!
Mona – Well, you see, there was this gang of cats…
Rachel – I was supposed to wait HOW long?
Karey – Seriously, Mom?! Okaaaay, but you CANNOT post this on Facebook!
Megan – YorKi-dding me with this outfit right?
Thank you to ALL for entering! We were completely entertained reading thru them all!! We have the best readers ever!!