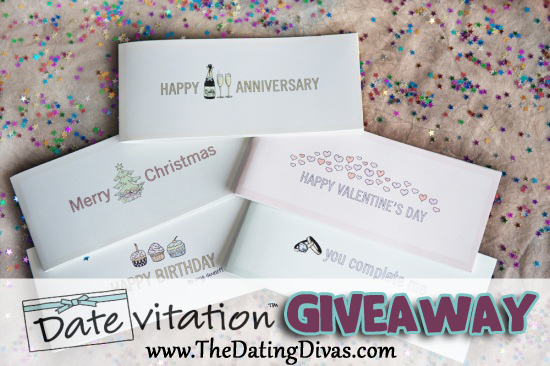 This post contains affiliate links. To learn more about 'em, click here.
If you are a Dating Divas Newsletter subscriber (top right-hand corner of our website), then you probably remember being introduced to the fantastic Datevitation coupon books recently. These custom coupon books make great gifts, and are just the thing to show some extra love to your spouse! Keep reading for more about Datevitation, and the chance to win one of their personalized coupon books! This would be the PERFECT stocking stuffer for Christmas!
*   *   *   *   *   *   *   *   *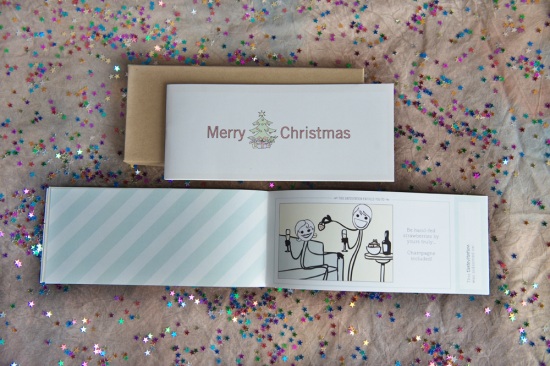 Datevitation is the web's first custom love coupon book platform. Instead of the silly pre-packaged books you may have received as a gag gift in the past, a Datevitation book is one of the most thoughtful gifts you could ever give your special someone. You pick the book cover that suits the occasion (including great options for Christmas and Valentine's Day), and then choose up to 20 love coupon pages from Datevitation's library of over 200 date ideas. Date options range from simple gestures of love (think stargazing or cuddling) to adventurous and exotic ideas for memorable dates (think skydiving or scuba-diving) and even steamy adult-only options. Once you are done customizing the text in your book, Datevitation will print it out and ship it to you in a ready-to-gift box (which would fit perfectly in your sweetie's Christmas stocking!). What better gift could you give your sweetie this season than the gift of spending time together!
You can see exactly how the platform works in this demo video:
Datevitation's founders Alex and Olga Karpman also offer step-by-step video guides to romantic tips and date ideas on the Datevitation Blog, like this fun tutorial on how to put a custom fortune in a fortune cookie. You can even watch Alex's marriage proposal to Olga on YouTube, which he created as a Save The Date but has gone viral with over 750,000 views.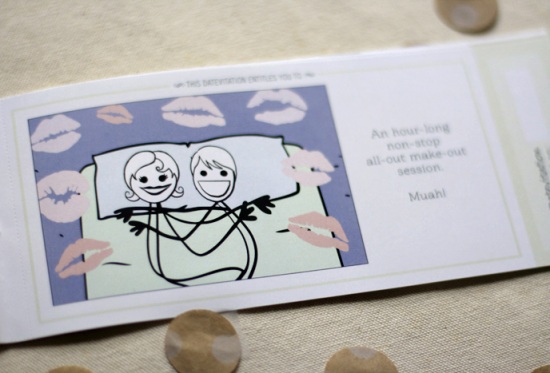 Special Promo Code:
Datevitation is offering a special promo code exclusively for The Dating Divas readers! Through the end of December, enter the code 'diva' at checkout for $5 off your purchase (books start at just $20) and free general shipping (normally $3.50). If you purchased a Datevitation book after reading our newsletter feature a few weeks ago, please email Datevitation at support@datevitation.com with your Order No. and Datevitation will happily refund you $8.50 from your order. Note that the order cut-off date for guaranteed delivery by Christmas with general shipping is Dec 15.
*   *   *   *   *   *   *   *   *
WANNA WIN??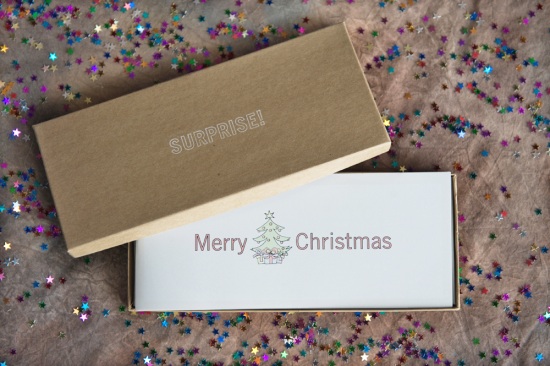 THREE lucky readers will each win a FREE Datevitation gift book! Winners will receive a promo code for a free Datevitation gift book with 5 custom pages, including free general shipping. Additional pages are $1 each. Books ships to U.S. only. Taxes will be applied to orders shipped to California.