Ahhh- we are getting SO excited!  
Can you believe our LIVE Christmas Party is
NEXT WEEK!!!  
Yep, it will be here before you know it!  And we just KNOW you are going to be JUMPING FOR JOY when you see all of the fun things we have up our sleeves for you on!!!!
So DON'T FORGET to mark your calendars for
December 3rd!!
…and join us on Pinterest for tons of Christmas fun and inspiration!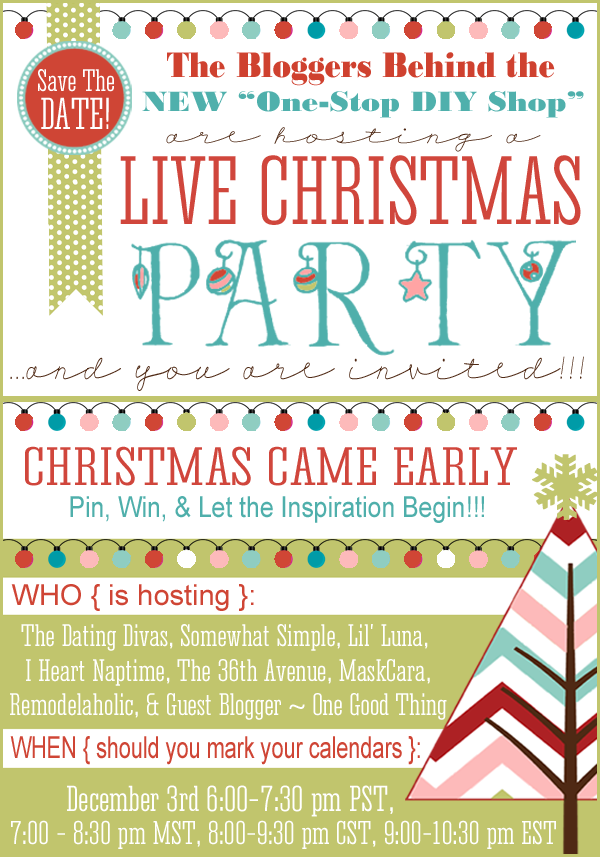 A FUN Party that everyone can attend from the comfort of their own homes!!  We hope to *see* you all there!
Get More Information…
If you missed our original announcement, check out our post here for more details.
**If you want even more details on how this fun Live Christmas Party on Pinterest will work  AND would like a couple reminder emails to make sure you don't forget, please fill this out below & we'll get you that information!
Oh, and DON'T FORGET to enter our
FABulous Giveaway…
 Yep, to kick it all off, we wanted to help 3 of our ah-mazing readers out with their Christmas shopping!! We are going to be running this giveaway from now until the Party starts… and then, oh boy! We have even MORE fun things for you!

BEST. GIVEAWAY. EVER!!
 Well, what are you waiting for?! 
Click HERE to get all of the details and ENTER TO WIN!