Valentine's Day in a Box!

Valentine's Day is pretty much our favorite holiday here- every year we work hard to come up with fresh, creative and romantic ways for you to woo your sweetie on the most romantic day of the year! But this year, we have our biggest surprise YET!
Our first ever… DATE BOX!!! (Can you hear us screaming and jumping up & down in the background!?!?!)
This box is a DATE NIGHT and GIFT all in one, and plans your ENTIRE Valentine's Day! Open up the box and you'll find all the printables pre-printed and cut, along with all the gifts, materials, and treats (ahem, chocolate!) needed to pull off a meaningful, creative day for you and your honey together. Just plan dinner and we've done the rest! Get ready to have a completely stress-free Valentine's Day!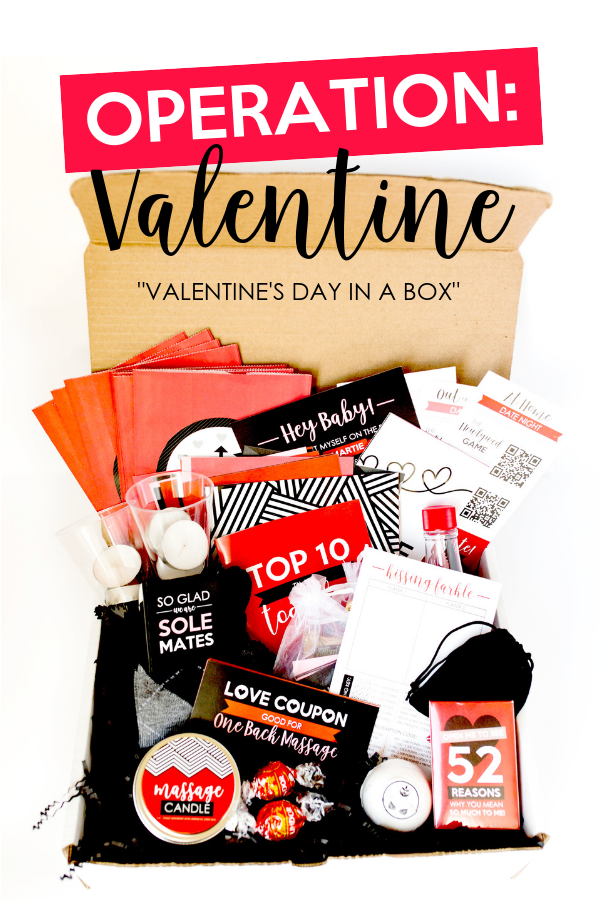 Valentine's Day- DONE!
We know you lovvveeee your sweetie, and want to show it on V-Day with something heartfelt, fun, and romantic. We also know you are BUSY. We've got your back! The Operation: Valentine Box requires minimal prep and includes goodies, activities, and games to make your Valentine's Day AWESOME! It's all delivered right to your doorstep!!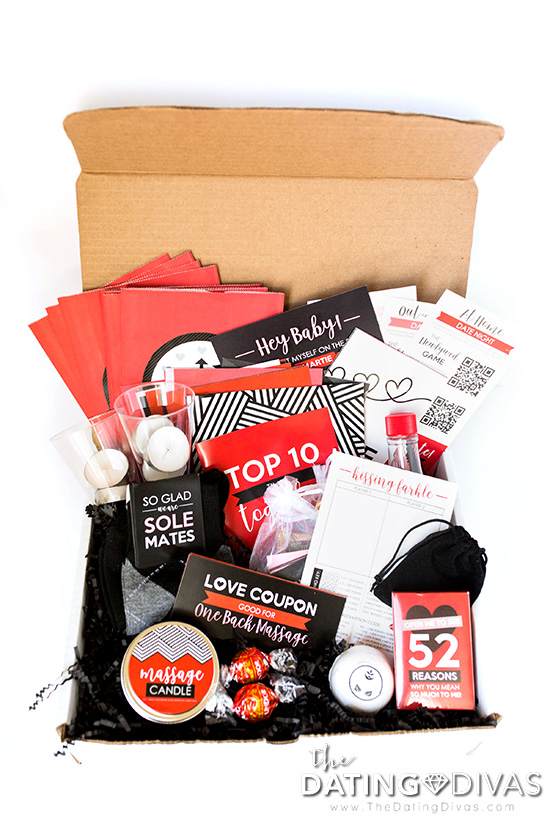 Valentine's Gifts on the Hour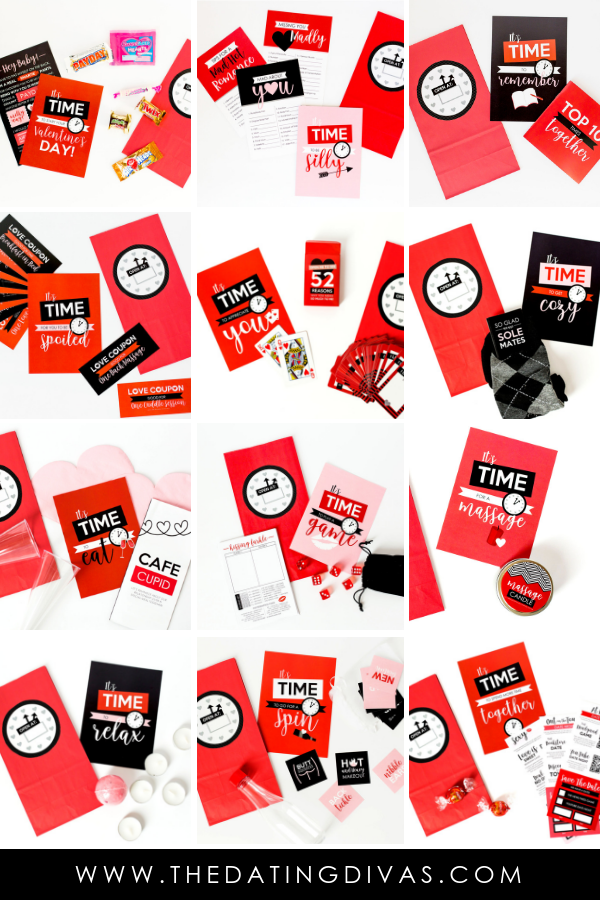 The format of the gift is set up so each hour, for 12 hours, your spouse will receive a gift that is meaningful, silly, or sensual. The best part is that it's totally customizable! You can give these gifts in any order or fashion you like to work with your schedule. Your sweetie will be counting down the minutes to each hour when they get to open their next surprise!
The 12 activities and gifts included for each hour include:
Candy Gram Card
Valentine's Mad Libs
Love Coupon Book
Mini Memory Book
52 Reasons I Love You Deck of Cards
Soul-Mates Sock Gift
Dinner Table Settings & Conversation Cards
Kissing Farkle Game
Massage Chart and Massage Oil Candle
Bath Bomb and Tea Lights 
Spin the Bottle Sexy Game
Future Time Together Date Cards
Are you ready to get your hands on this box? This is the first time we've tried something like this, and we have limited quantities, so snag this baby ASAP!
JUST $75
+ S&H

Only available in the United States and all sales are final.
Want to see more?? Here's a closer look at some of the fun hourly surprises!
52 Reason I Love You Deck of Cards
Let your spouse know how much they are loved by filling out a personalized deck of cards! There are even prompts to take out some of the brain work for you as you come up with your reasons to write on each card.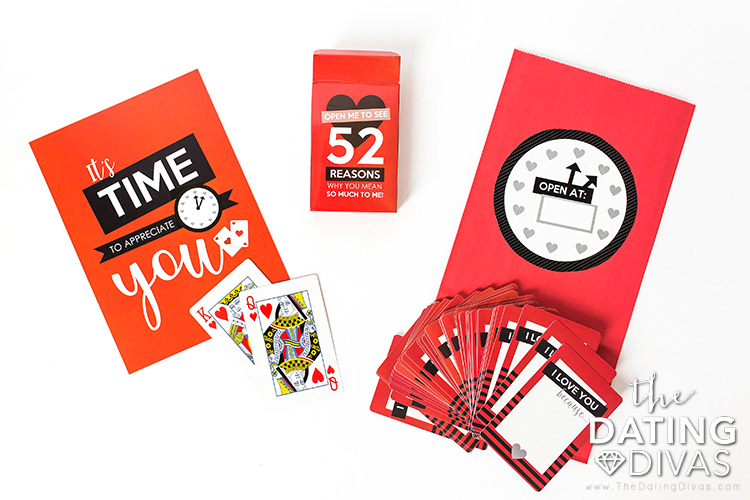 Kissing Farkle Game
One of the fun games we made exclusively for this box is our own romantic twist on the dice game Farkle! Dice, scorecards, and instructions are included so you just pull it out and play!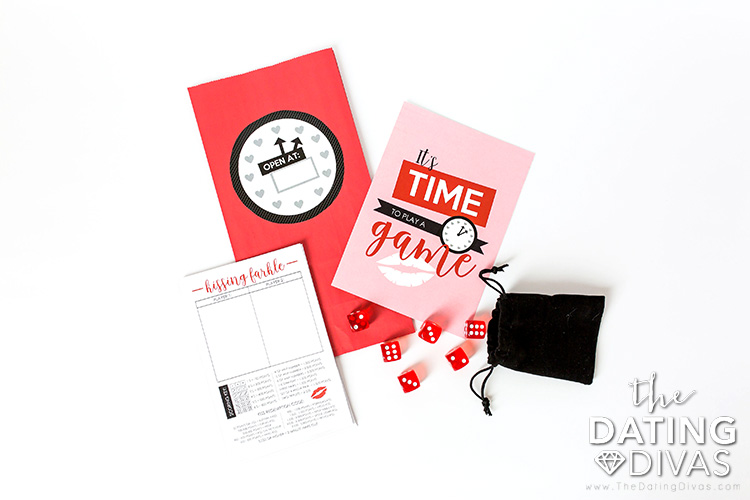 Valentine's Day Dinner at Cupid's Cafe
The day may be winding down, but the romance is just getting started! Enjoy a fancy dinner at home with your sweetheart while dining at Cupid's Cafe! With our swanky invitation that is customizable for whichever meals you choose, and our "conversation starters" menu is designed to get you reminiscing about your relationship… you'll be lost in each other's eyes and forgetting you're at home in no time!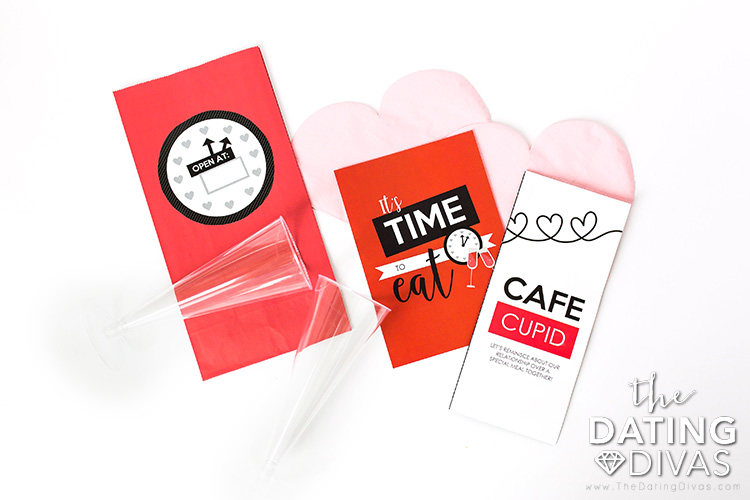 Easiest Valentine's Day Ever!
We are all pretty excited to use these boxes for OUR spouses this February, and we're pretty sure you need one too!! For about the same cost as dinner and a movie, plus your babysitter, you can get a unique, awesome Valentine's kit that will make an unforgettable Valentine's Day for the both of you!
JUST $75
+ S&H

Only available in the United States and all sales are final.
A big thanks to Nichelle of Nichelle Lora Designs for creating the designs for this product!!