* CONTEST IS OVER! SCROLL DOWN TO SEE WHO THE WINNER IS *
Valentine's Party on Pinterest
Caption Contest#3!
($25 gift card for the WINNER)
Who doesn't love a fun caption contest?! See that cute picture below? The reader who is able to come up with the BEST caption for this picture… as in the most witty OR the one that makes us laugh the most, will be the WINNER!!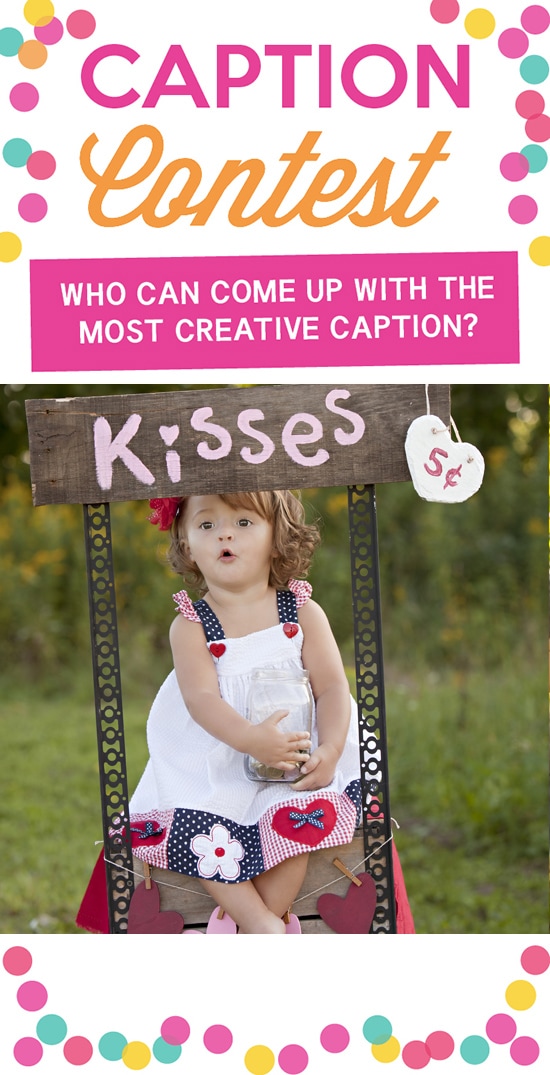 Just leave your best caption for this photo in the comments below. Contest closes January 13th at midnight MST. 
 The WINNING caption will be posted for all to see in this post on January 14th. Winner will be sent their choice of a $25 gift card.
Winner can choose a $25 gift card to any of the following shopping locations: Amazon, AMC Theatres, American Eagle, Applebee's, Barnes & Noble, Bass Pro Shops, Best Buy, Chili's, Chipotle, Crutchfield, CVS Pharmacy, Delta Air Lines, DUFL, Facebook, Fandango, Foot Locker, GameStop, Gap, Gilt.com, Goldsmith, Google Play, Great American Days, Groupon, The Home Depot, Hotels.com, IHOP, iTunes, JCPenney, Jiffy Lube, Kohl's, Landry's, L.L.Bean, Logan's Roadhouse, Macy's, Maggiano's, NFL Shop, Nike, Nordstrom, Nordstrom Rack, Overstock.com, Panera Bread, Petco, PlayStation Store, Pottery Barn, Regal Entertainment Group, REI, Rixty, SpaFinder Wellness 365, Staples, Starbucks, Steam, Target, TaskRabbit, TJX, Toys R Us, Whole Foods Market, Xbox Live, Zappos.com, or 1-800-FLOWERS.com
Good Luck!
AND THE WINNER IS… APRIL M! With the caption, "Wow! That line is long! I should have charged more!" Congrats April- we sent you an email to pick your gift card.