All the Best Ideas for Father's Day
Father's Day is about a whole lot more than gifts! I have always loved the idea of making Father's Day a memorable day where we can show Dad how much we love him, care for him and want to spend time with him!  Everyone can pitch in to make Father's Day great. Even the littles can participate! Sometimes the simple things are best. Dad's don't need every detail to be worked out, they just need to know that we love and appreciate them! That's why we've rounded up some great ideas to help you make HIS day special!

Disclaimer: This post contains affiliate links. To learn more about 'em,
click here
.
In our home, each year we decide on a theme and run with it! The whole day including activities, food, gifts, etc. all revolve around the theme. I might go a little overboard… but this is one way I love to make Father's Day special. And my hubby loves the surprise! Some of Scott's favorites were the Aladdin themed and the Lego-themed days and I'm sure he'll remember them for a long time (the kids sure do).
We've rounded up some Father's Day ideas to help you get started and come up with the best agenda for your Dad!
To help you find what you're looking for, this round-up includes:
Ready for some Father's Day fun? This first section is going to blow your mind… and Dad's too!
Father's Day Breakfast Ideas
Fun breakfast ideas for the kids and oh so many ideas with bacon… Dad will love pretty much any idea on this list!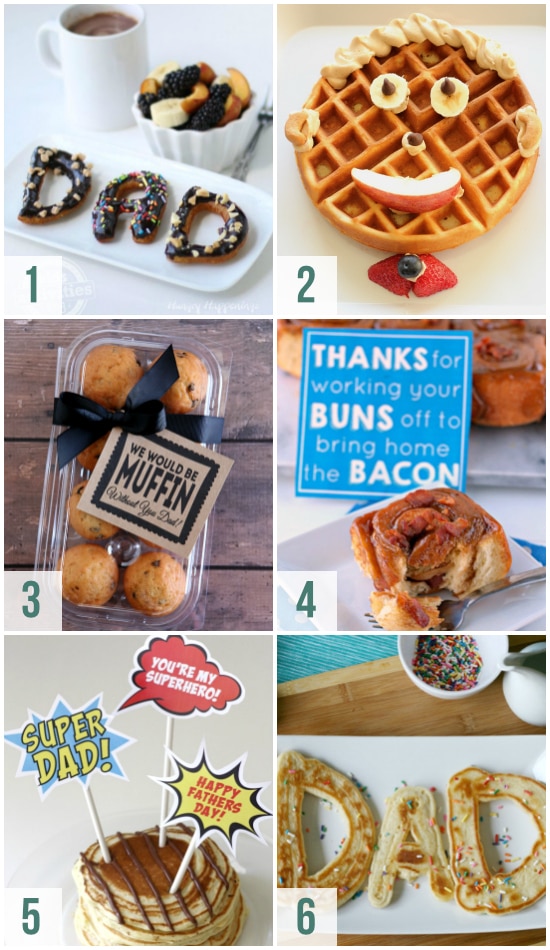 1. Dad Doughnuts – Have everyone help decorate these cool Dad doughnuts with their favorite toppings!

2. Daddy Food Art – Get your kids involved in surprising Dad with this fun food art ideas! We love waffles!

3. Father's Day Muffins – How cute and simple is this?? We would be Muffin without you!

4. Cinnamon Rolls with Bacon – There is a clever little note that comes with these amazing buns… Thank Daddy for working HIS buns off while he eats some delicious sticky buns!

5. Super Dad Breakfast – If you think your dad is a superhero this is a great way to dress up your breakfast.

6. DAD Pancakes – Let the kids help with Daddy's breakfast. Everyone can lend a hand with these special pancakes! These make pancake art super easy!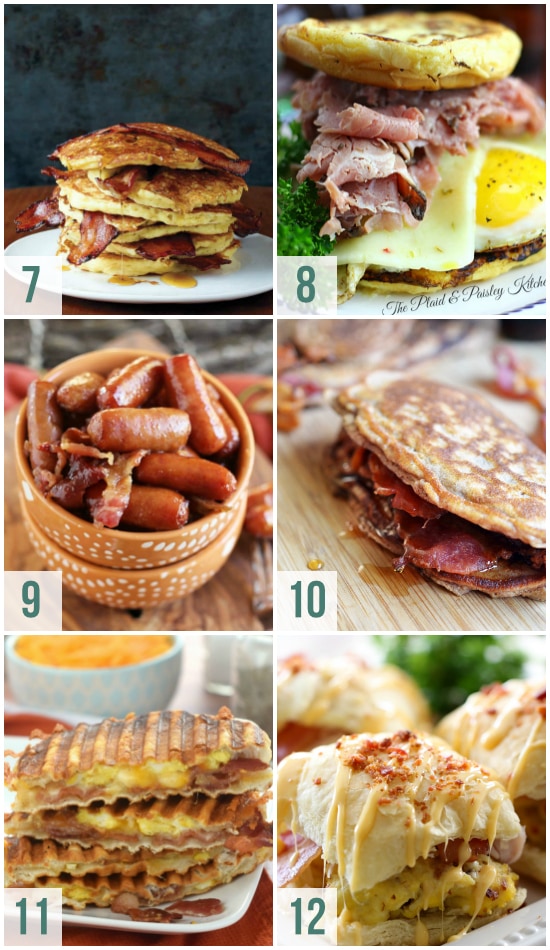 7. Bacon Pancakes – Who doesn't love bacon? These bacon pancakes satisfy both the sweet and savory senses. Get ready to say surprise!

8. Manly Breakfast Sandwich – Start the day out right with a very MANLY breakfast sandwich! Perfect for breakfast in bed!

9. Bacon and Sausage – These would make for a great side for any Father's Day brunch.

10. Bacon and Pancake Sandwich – A twist on normal pancakes with bacon, these are the perfect breakfast for the dad on the go!

11. Bacon Egg Breakfast Panini – A quick and easy breakfast panini if you are in a rush but still want to do something thoughtful!

12. Breakfast Puffins – Your favorite breakfast flavors packed in a Puffin… I don't even know what that is, but I want one now!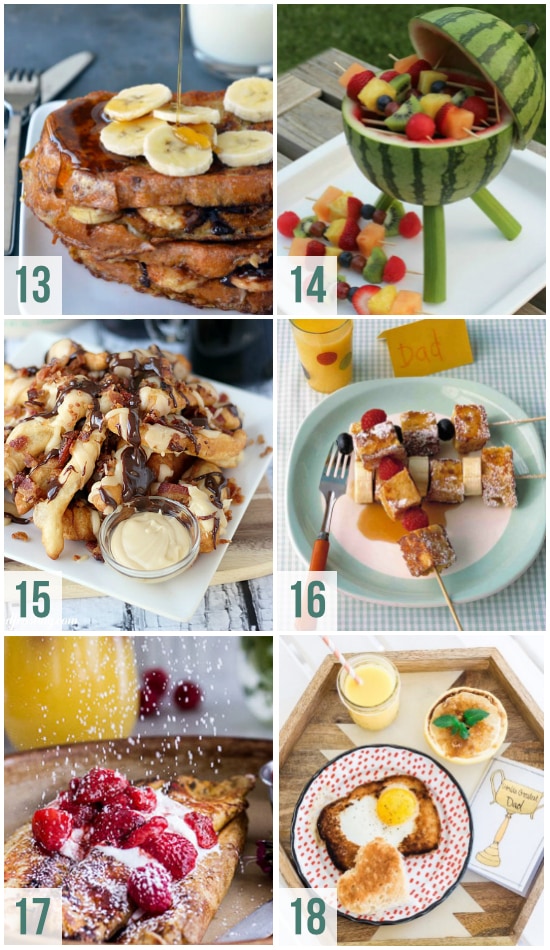 13. Banana and Nutella Stuffed French Toast – If my husband even hears the word nutella he starts salivating. Pretty sure this would be a winner in our house!

14. "BBQ" Fruit Kabobs – For the grill lovin' dad… check out how to turn a watermelon into a grill… so cute!

15. Loaded Maple Bacon Doughnuts – Um. Yum! What dad wouldn't be thrilled about these? Are they even legal?? Fried dough plus brown butter maple glaze, bacon and chocolate sauce.

16. French Toast Kabob – A creative spin on a delicious classic. Grab some skewers and get everyone involved in making breakfast special for dad!

17. French Toast and Strawberries – The coconut whipped cream melts over the warm crepes, and combined with the strawberries it makes for one amazing bite. This flour sifter works perfectly to put the icing sugar on top!

18. World's Greatest Dad – Using a cookie cutter, make heart shaped dippy eggs. What a great way to start of his day!

Father's Day Activities
Take advantage of Father's Day to get out and do something fun with your Dad! You'll be so happy you did!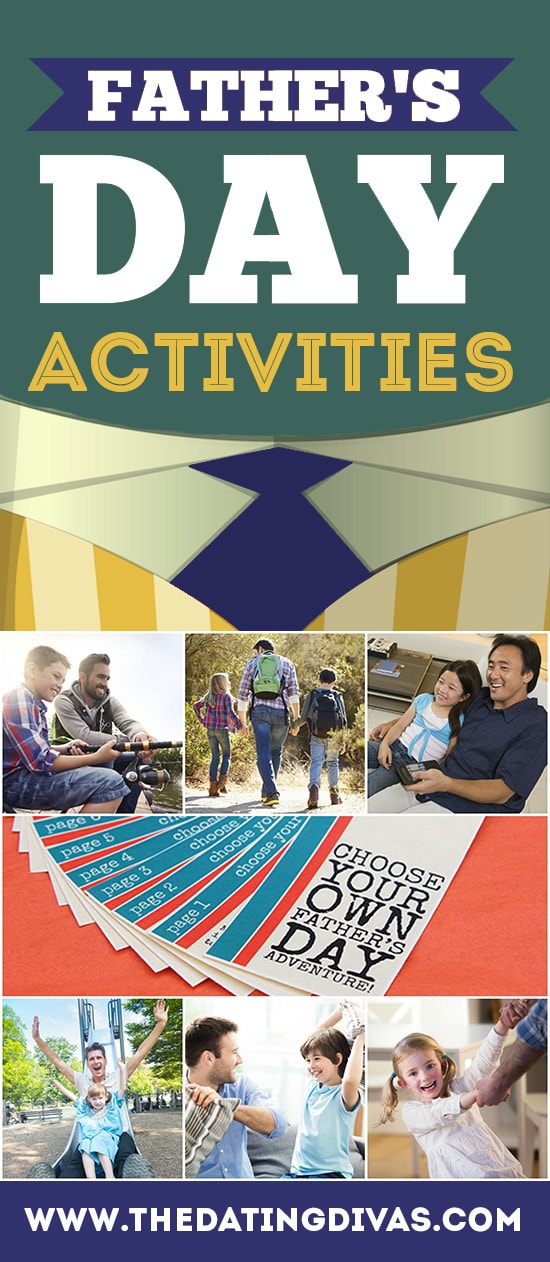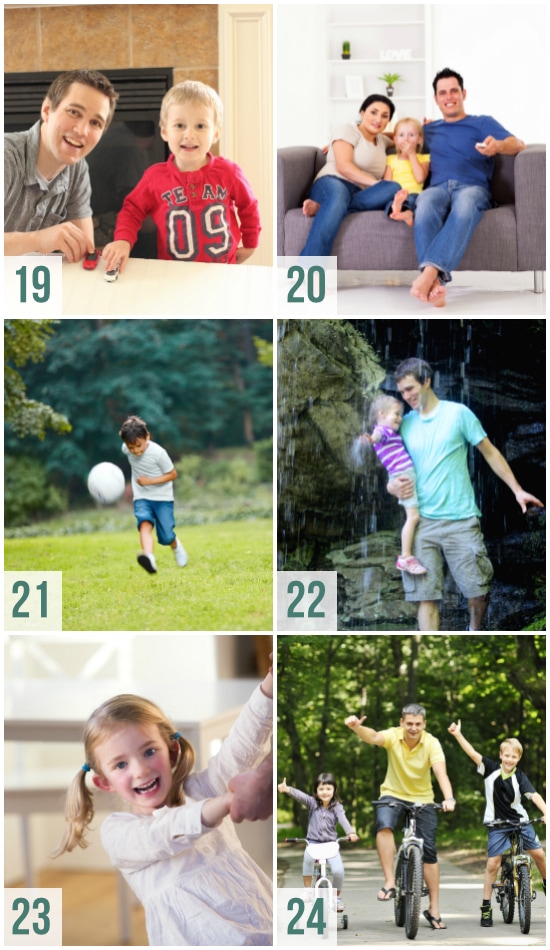 19. Racing with Daddy – Get everyone together for some car-racing! If you have any car lovers this activity will be a hit!

20. Movie Marathon – Pick out a fun movie to watch together.
21. Make it a Sporty Day – These are all cute and simple ideas! You could just summarize some and use stock photos to fill in if you need to.

22. Hiking – Another great way to escape everyday life for some quality time out in nature!

23. Minute to Win It-Daddy Style – Maybe try out some fun challenges and see how well you match up against your dad!

24. Head out on an Adventure – Grab your bikes, scooters, stroller or whatever you have and go find your own adventure in nature.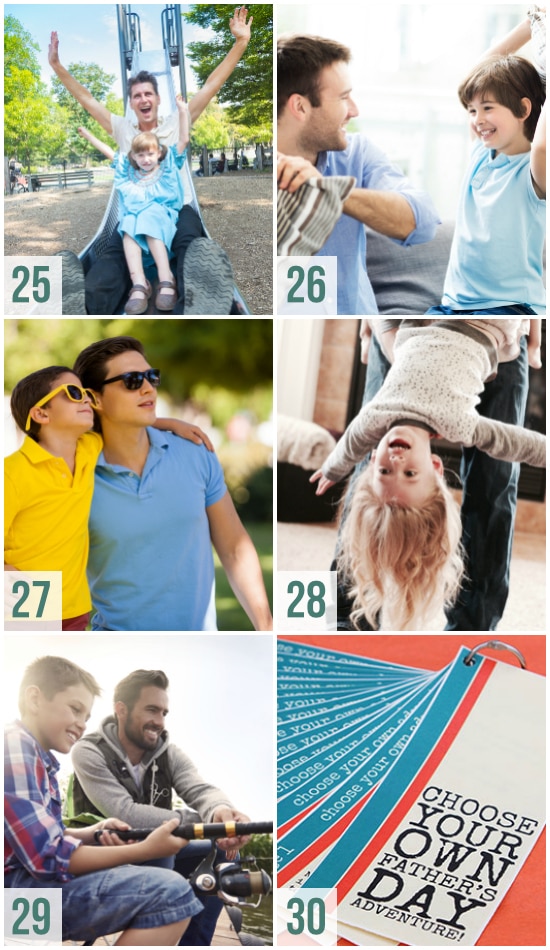 25. Park Day – Head out to the park to enjoy the sun. Dads don't often get to spend time at the park. I know my husband always cherishes those times.

26. Pillow Fight – Bring it on! The kids will go crazy with some pillow fight fun! This will be the most memorable Father's Day yet.

27. Dress Up with Daddy – Find some matching outfits and head out on the town! Everyone will know your buds!

28. Dance Party with Daddy – When asked what they want to do for fun, my kids often ask for a dance party! A dance party with daddy will definitely make for some memorable moments.

29. Go Fishing – Fishing is a great way to catch some quality time.

30. Choose Your Own Father's Day Adventure – It doesn't get any easier than this, peeps!! Print, cut, hole punch, bind with a ring and give the gift of love and excitement!!!

Father's Day Crafts and Cards
Sometimes it can be tricky to find the best way to say "I Love You!" Especially for the kids, these ideas will make it both easy and fun!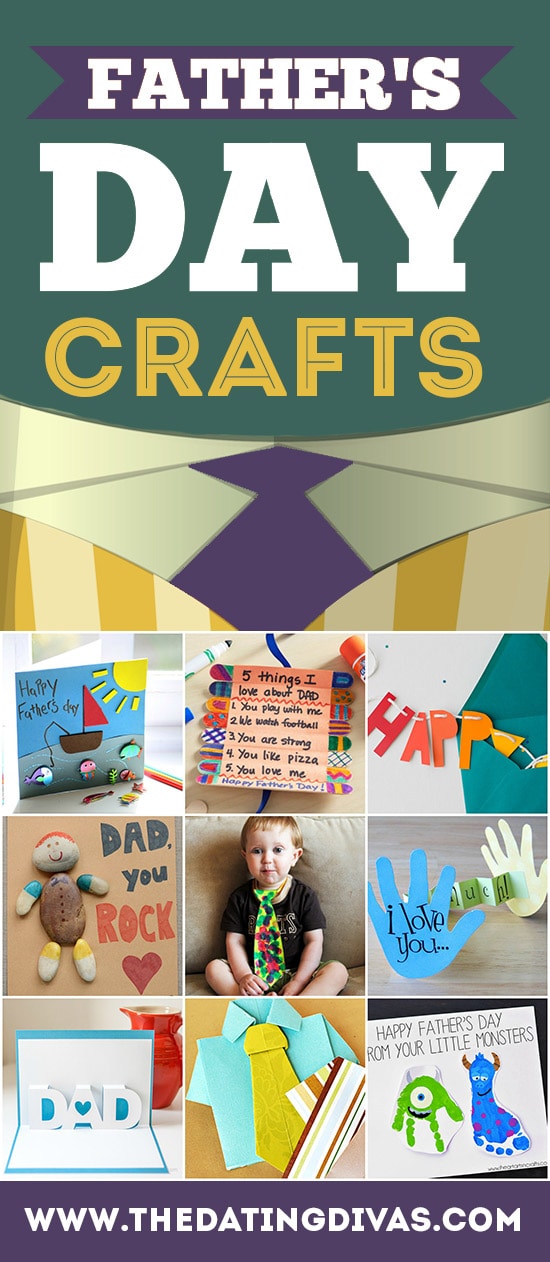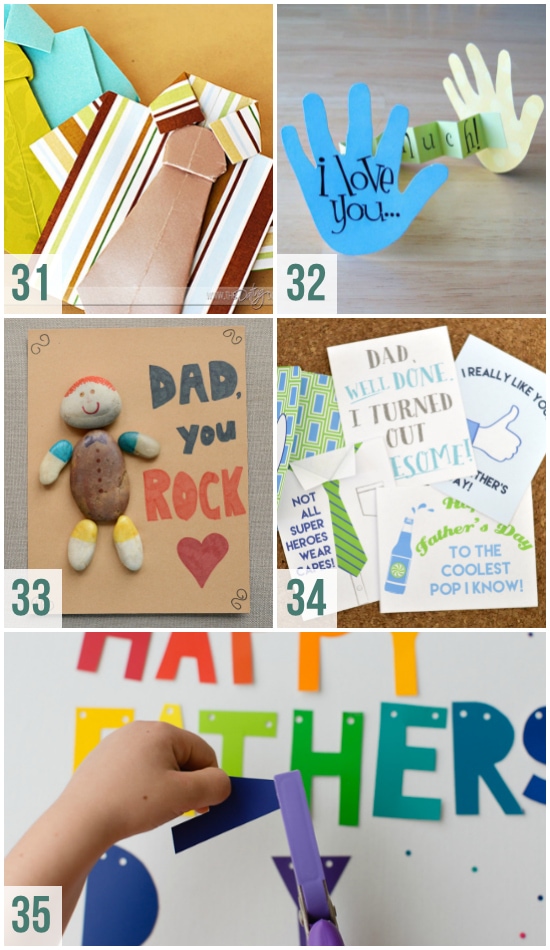 31. Origami Shirt and Tie – Put the kids in charge of this fun craft that they can personalize for Dad!

32. I Love You This Much – A clever card! I remember saying this to my dad! I'm sure every dad's heart would melt if he got one of these!

33. Dad You Rock – What's not to love about this? Pretty sure my hubby's heart would melt if my kids made him this sweet card.

34. Father's Day Cards – These silly cards would be great to pair with a fun kid's craft.

35. Father's Day Card Banner – This is a cool, modern craft! Dad will be surprised when he pulls out his own bright and colorful banner!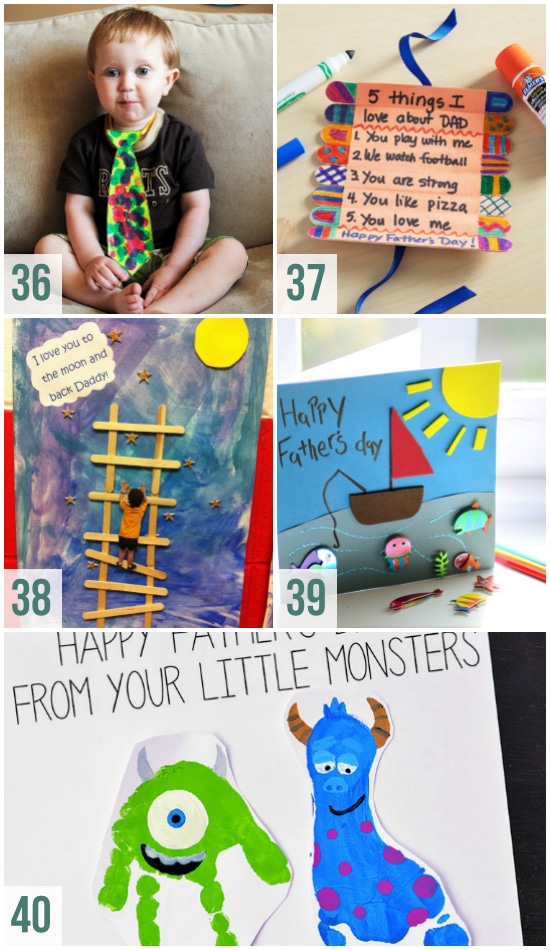 36. DIY Ties – Make some ties together and dress up for a fun picture moment!

37. Roll-Up Card – This neat craft uses craft sticks to make a unique card. Show them how and kids can execute all on their own! LOVE this!

38. To the Moon and Back – This is such a popular saying and would be a neat project to frame for dad.

39. Fishing Card Craft – You could make this for the dad who loves fishing or use the same idea to make a card that fits your dad's favorite hobby!

40. Footprint/Handprint Paint Art – This would make the cutest keepsake for Mother's Day or Father's day!
Themed Gift Baskets for Father's Day
Want to surprise Dad? Themed gift baskets are the way to go! They are fun to put together and even more exciting to open!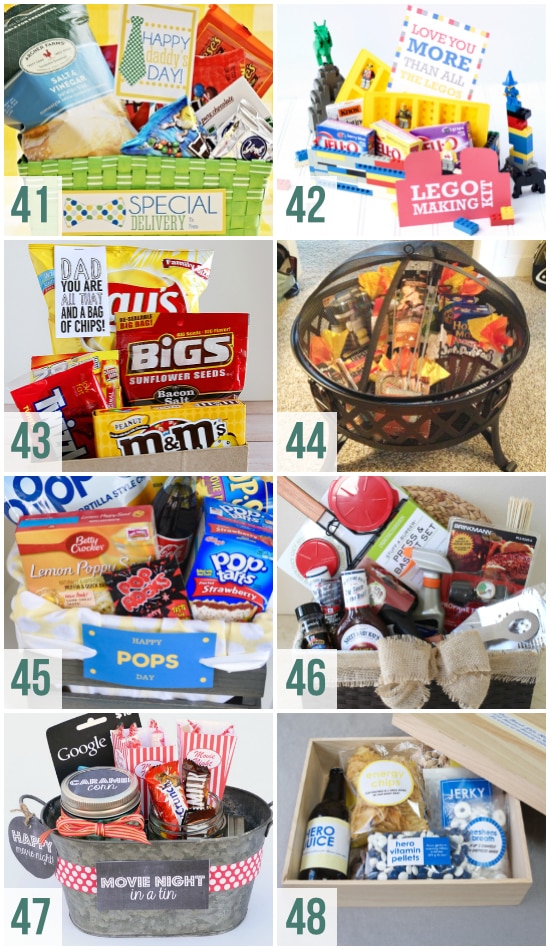 41. Father's Day Gift Basket – Special delivery for someone special!

42. Lego Themed Gift Basket – This was probably my husband's favorite Father's Day gift ever and it resulted in some wonderful quality time with daddy! Grab some jello and silicone lego molds and place them in a lego basket!

43. You Are All That and a Bag of Chips – All of Dad's favorites in one gift basket!

44. S'mores Kit – We all know that most men love the outdoors! Give a gift that he'll enjoy using around the fire pit! (The original idea we had here no longer exists, so we found another option for you!)

45. Happy Pops Day – Fill a gift basket with items that have the word "POP" in them. This is a fun and creative gift.

46. Grill Gift Basket – I'll be using this as a guide to make my hubby his own grill basket this year. I think its about time we got him all the tools he needs!

47. Movie Night Gift Basket – I love this idea because it's a gift basket that promotes quality time with the family! Choose a movie that you'd love to watch with dad and fill it with all the favorite treats!

48. Superhero Gift – Make sure dad knows he is your superhero!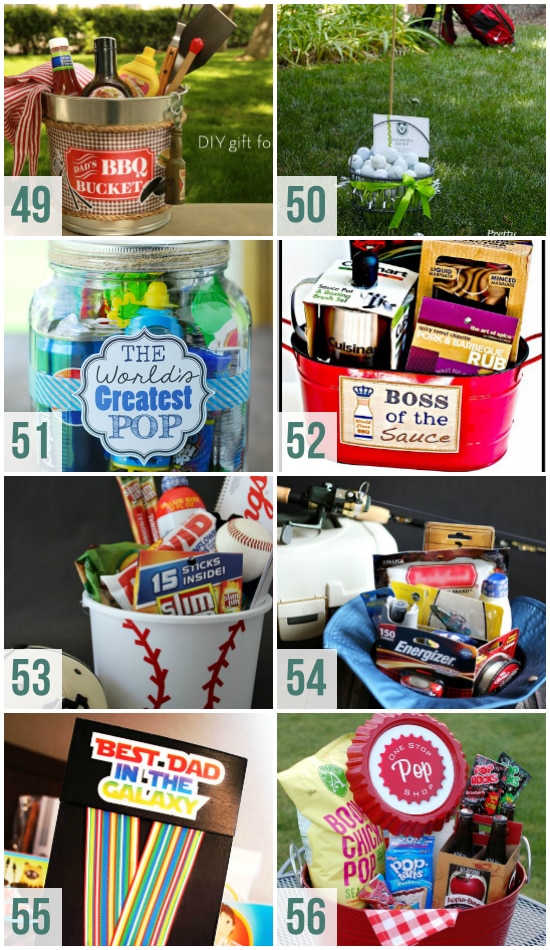 49. BBQ Bucket – Design a personalized BBQ bucket for dad and fill it with all his favorite things to rule the open flame.

50. Golf Gift Basket – This is an above par gift basket that your golf-loving hubby will love! You can never have enough golf balls!

51. Worlds Greatest Pop – This is such a fun idea! Fill a jar with treats for your POP.

52. "Boss of the Sauce" Basket – Every dad wants to be the boss! Make him the Boss of the Sauce.

53. Sports Themed Gift Basket – This gift basket is a home run for all the sports-loving fathers out there!

54. Fisherman's Gift Basket – A gift basket in a fishing hat! This would be the perfect gift to precede a fishing trip with dad!

55. Star Wars Kit – Give a great gift to the best dad in the galaxy!

56. One Stop Pop Shop – Some more great ideas for POP! I love how simple and fun this basket is!

DIY Father's Day Gift Ideas
If you want to keep Father's Day meaningful you might want to check out some of these DIY gift ideas!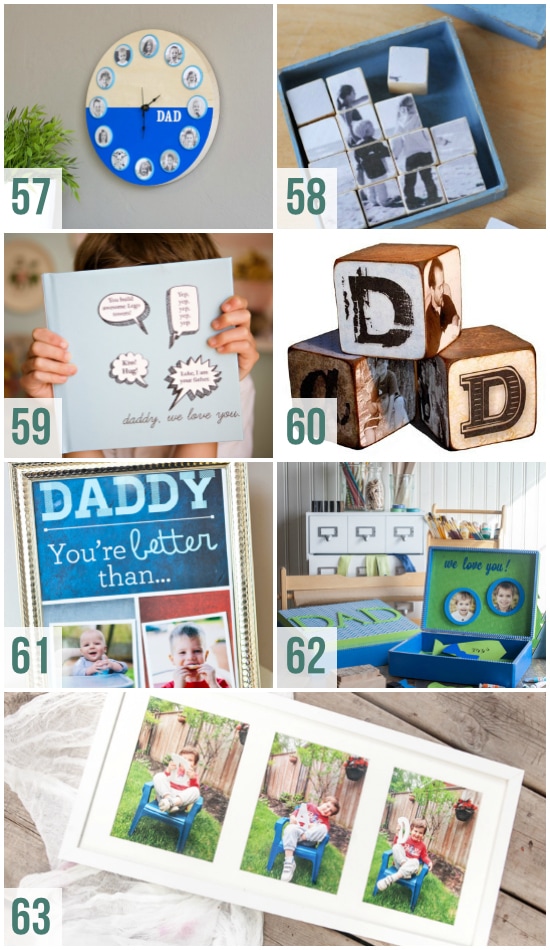 57. Father's Day Portrait Clock – Wow! This clock is amazing. Wouldn't it look great in dad's office?

58. Photo Puzzle – Here is a tricky spin on a photo gift idea!

59. Photo Book – Oh this book is just the cutest! Any dad would love getting a meaningful interactive book like this from his kids! A custom photo book from Shutterfly would work great for a project like this!

60. Letter Blocks – Want a meaningful gift, these letter blocks can tell a story that you can cherish for years!

61. Father's Day Gift – This is a cute and memorable gift idea for dads… it could also be a humorous gift to make daddy smile!

62. Father's Day Treasure Box – A perfect gift! This gift will last for years and you can just keep on adding to it over time!

63. Photo Frame – Take your photo gift up a notch with this sweet photo frame idea!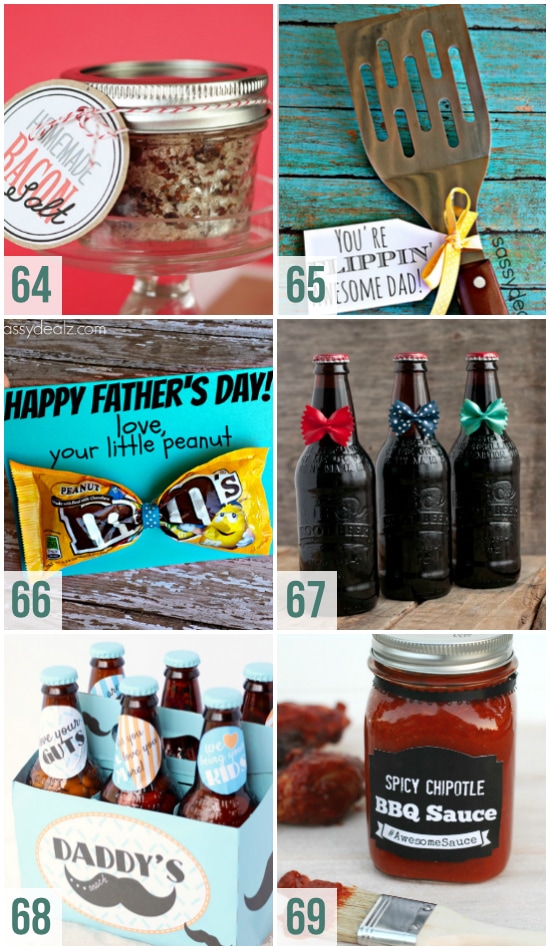 64. Bacon Salt – LOL! Just bacon. That's all!

65. Grill Spatula Father's Day Gift – Add this to Dad's new grill gift basket!

66. Love Your Peanut – A cute simple gift that even the littlest child can make for Dad.

67. Bowtie Rootbeer – Super cute. Super simple. This is a great idea!

68. 6 Pack of Treats – Such a fun way to send some treats to work with your dad! All the other dads will be envious of Dad's stache!

69. Awesome Sauce – The gift of food that Dad will love!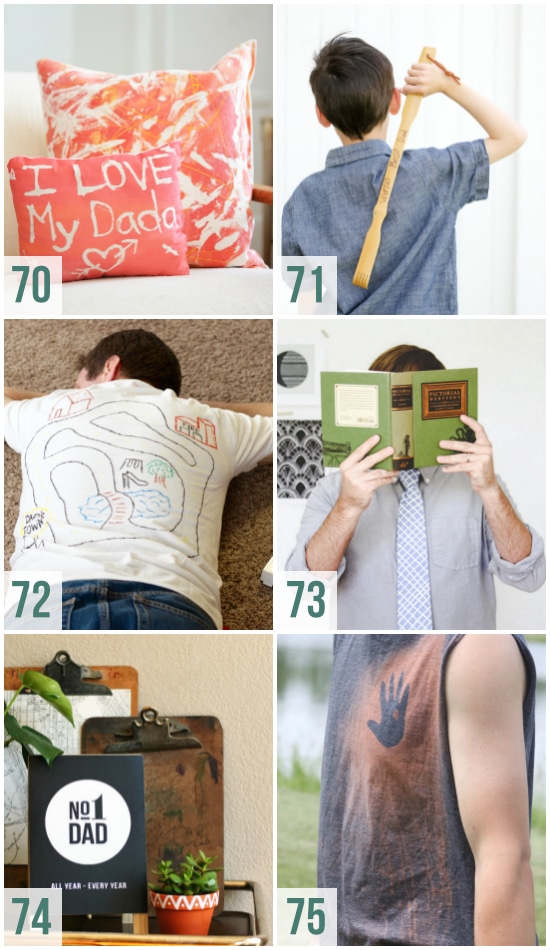 70. Fabric Resist Art Pillows – Let the kids help make some fun pillow art for Dad! These turn out amazing!

71. Back Scratcher – I had to include this cheesy Father's Day gift! If your dad likes a good joke, a back scratcher could be the perfect gift!

72. Hotwheels Massage Shirt – Dad will be thanking you every time he dons this sweet t-shirt gift!

73. Handpainted Tie – Want to put a unique spin on a common Father's Day gift? Try painting the tie yourself.

74. Father's Day Easel – Now Dad will have a great reminder to look at every day on his desk or bookshelf.

75. Handprint Shirt – These handprint shirts look so cool!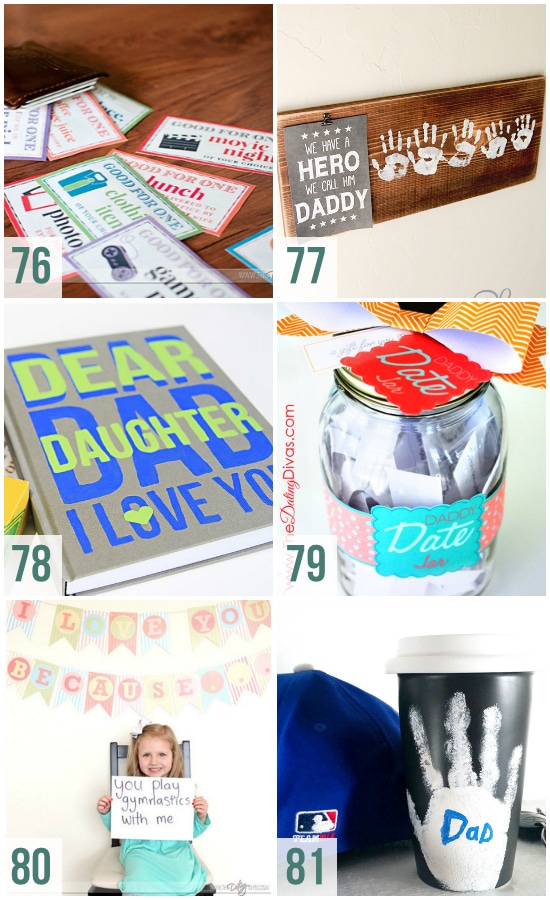 76. Wallet Surprise – Take an old wallet and make this fun gift idea that Dad can use again and again.

77. Handprint Board – A gift that Dad will be able to hang up as a beautiful reminder!

78. Dear Daddy Journal – This is such a sweet tradition to start! I definitely want to help my kids put one of these together someday!

79. Daddy Date Jar – Start a new tradition this Father's day with a daddy date jar!

80. Father's Day Video Gift – Take your card to the next level- record a cute video with this banner!

81. Father's Day Handprint Mug – An easy DIY gift for dad that the kids can help pull off using a chalkboard travel mug and oil-based paint markers.

Father's Day Printables
Printables make the holidays easier! You'll love the variety of options for Father's Day below!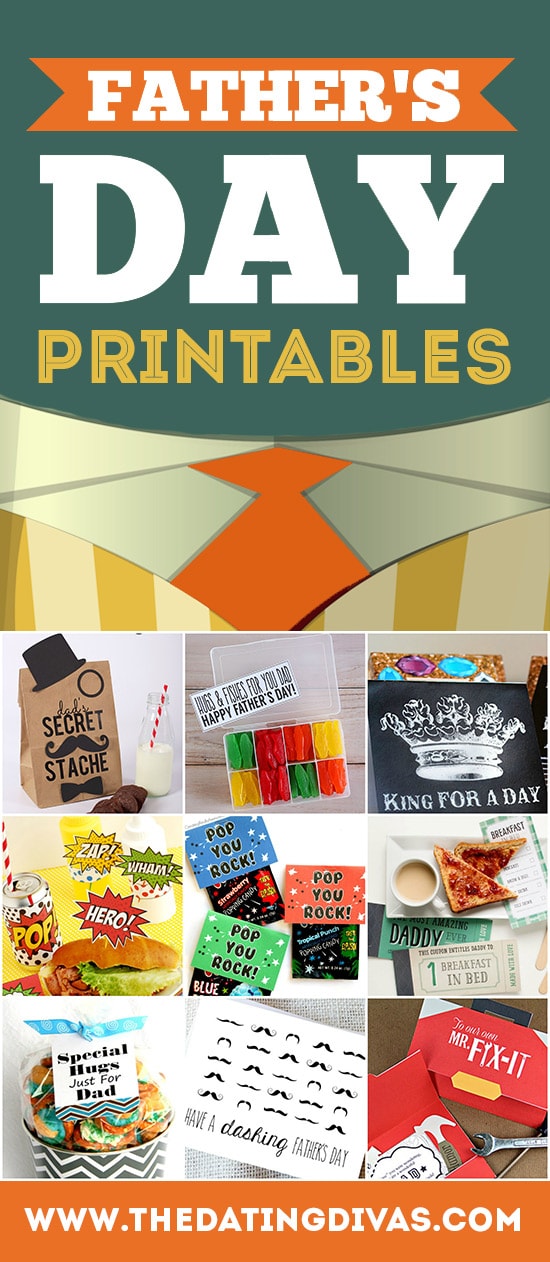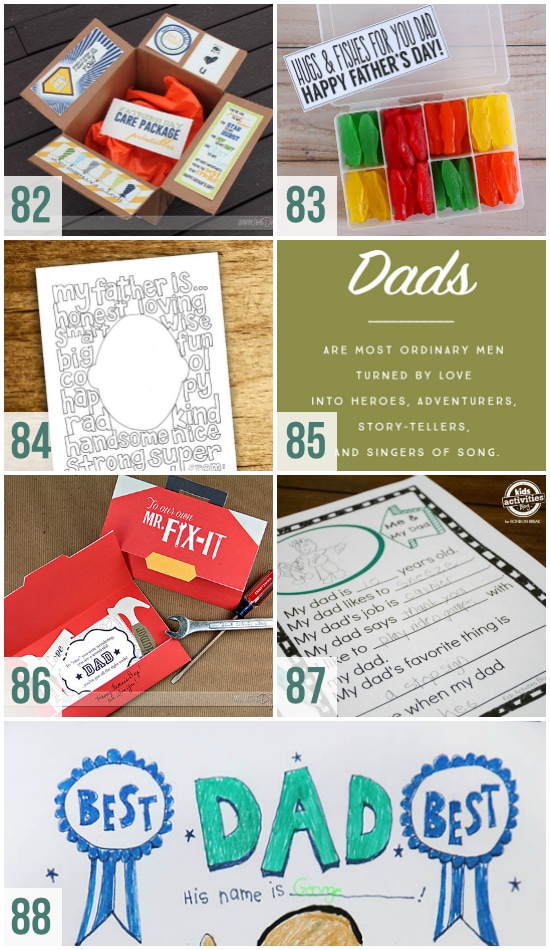 82. Father's Day Care Package Printables – If Dad can't be home for Father's Day send him a sweet little care package!

83. Hugs and Fishes – A simple and sweet gift with an adorable printable… Grab some Swedish Fish and slip this into Dad's bag for a sweet surprise!

84. Father's Coloring Page – This coloring page is adorable! Even young children could make cute pictures on this one!

85. Father's Day Quotes – 5 inspirational quotes about dad that you can frame.

86. Mr. Fix-It Card – The cutest card to say thank you to the man who can fix anything!

87. My Dad Is… Printable – Fill one of these out every year to see how the kid's perception of dad changes.

88. Father's Day coloring Sheet – This is the sweetest little coloring sheet for kids to fill out for their daddy!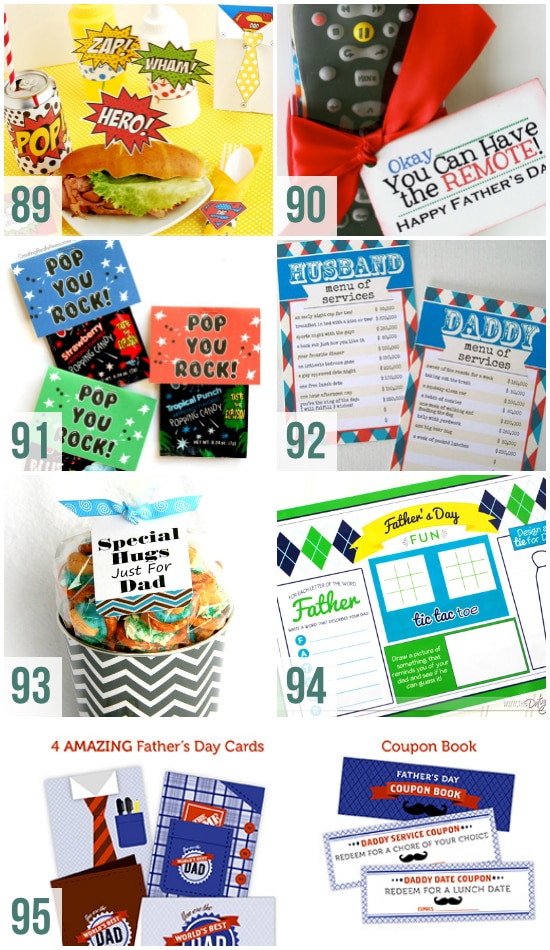 89. Superhero Lunch – Make lunch special for your superhero!

90. Remote Control – Give your Dad the remote for a day!

91. Pop You Rock – Surprise dad with some POP rocks!

92. Daddy Money – Give Dad his own money and then let him cash in on the menu of services! He'll feel like a million bucks!

93. Special Hugs – Print of this printable tag and make a fun treat for dad! The sky is the limit!

94. Father's Day Placemat – Start the day off right with these personalized Father's Day placemats.

95. Father's Day Printable Mega Pack – Everything you need for Father's Day.. make T-shirts, have breakfast in bed, a cute card and banners! PLUS a cute All About Dad book.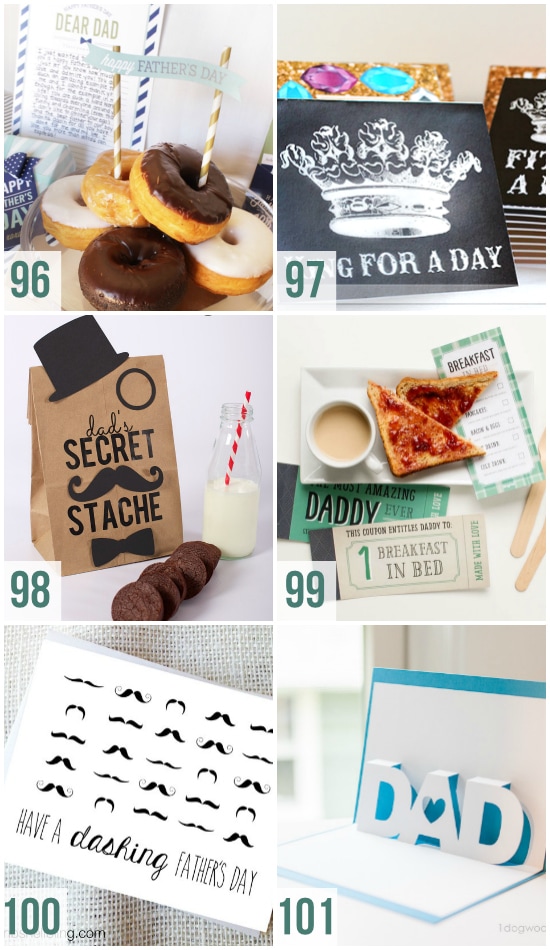 96. Father's Day Breakfast Kit – A whole breakfast kit with EVERYTHING in it to make dad's morning perfect! Stationary, frameable art and fun breakfast notes to tell Dad how much you love him!

97. King for a Day – Father's Day is a great excuse to treat your husband like the king he is! These printables will set you up for a fun day with Dad!

98. Father's Day Gift Bag – This little bag is easy to put together and you can fill it with whatever goodies you think he'll like best!

99. Fathers Day Coupons – These coupons are adorable and Dad will love them! Coupons from the kids are the best!

100. Dashing Father's Day – What a cute printable card! This could pair well with so many fun gift ideas!

101. Pop-Up Card – This printable makes it easy to make your own pop-up card for dad.
We're not done yet! We've got 105 more fabulous Father's Day Gift Ideas. Plus you have to check out our newest Father's Day posts:
Cards for Every Father's Personality
and Father's Day Candy Bar Wrappers
Good luck planning a sweet Father's Day for your man!