Endless Options for
Outdoor Summer Gaming!
Get outside and take advantage of sunshine and friends this summer, with one or MANY of our 65 Outdoor Party Games! From classics to DIY, we've got plenty to keep you busy all summer long!
Grab the kids or your neighbors and get this party started!   

Disclaimer: This post contains affiliate links. To learn more about 'em, click here.
Whether you're in charge of hosting summer play dates, the 4th of July BBQ or the long-over-due family reunion, we've gathered 65 entertaining games to ensure your party is the hit of the summer! Choose among:
– 13 Classic Outdoor Games
– 13 DIY Outdoor Games
– 13 Outdoor Games Just for Kids
– 13 Outdoor Board Games
– 13 Outdoor Water Games
Are you ready to start planning your summer fun?! Well, here we go!
13 Classic Outdoor Games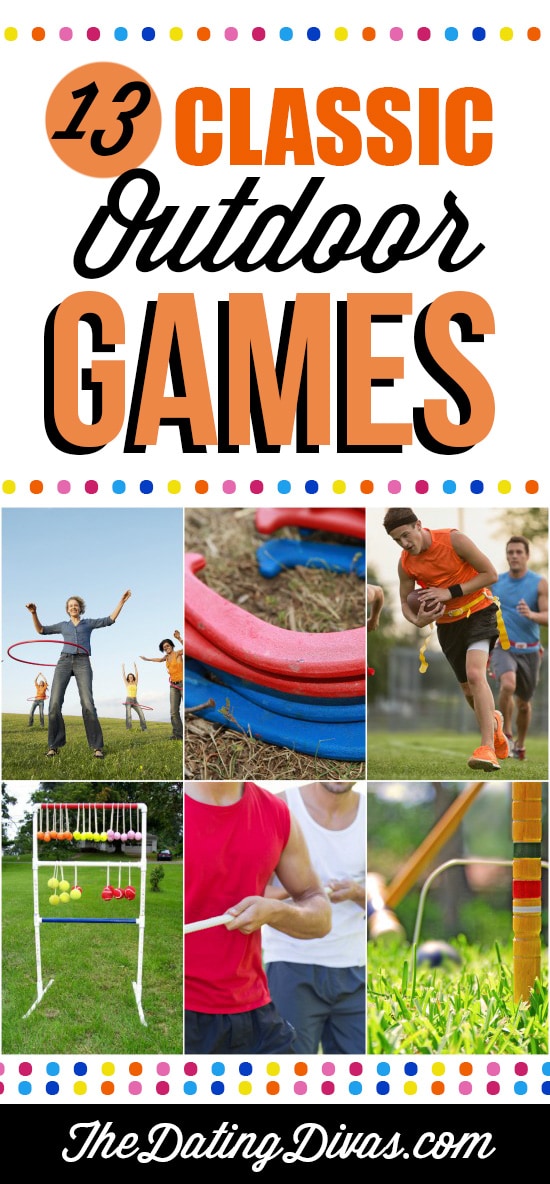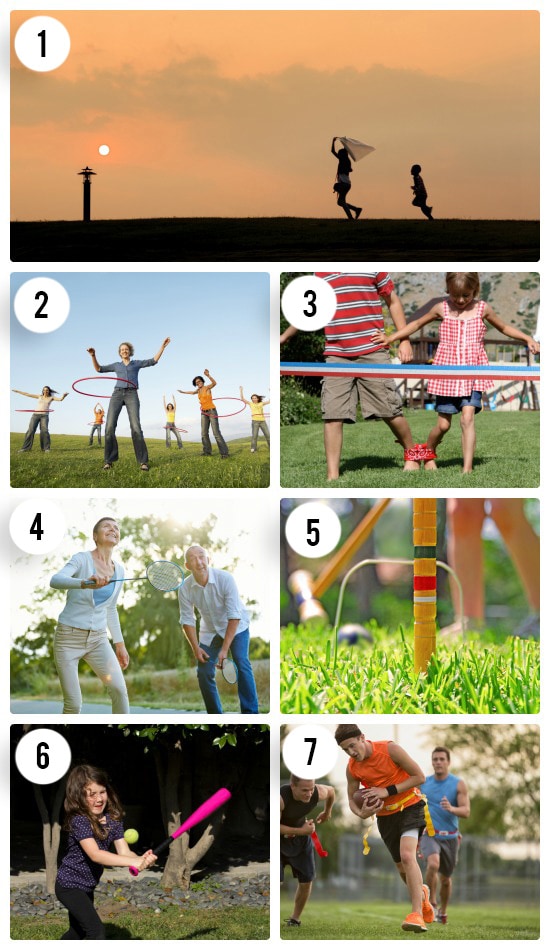 1. Capture the Flag –
What fond memories you must have, running through the neighborhood playing Capture the Flag with your friends.  You're never too old for this classic game OR maybe it's time to share the tradition with your kids! To play, you could grab these, or two bandanas, or even some old cloths.
2. Hula Hoop Competition – Let's see just how well you can move those hips!  Gather your close friends and some inexpensive hula hoops and see who can hula hoop the longest.  You'd be surprised just how much of a work out it really is. 

3. Three-Legged Race – Choose your partner wisely for a three-legged race! We suggest grabbing your spouse. You two should be well in sync with each other already…don't you think?!
4. Badminton – Set up a backyard net and host a friendly badminton tournament with neighbors, family and/or friends!
5. Croquet –  This old time classic is still sure to be a hit!  Another great game to teach the kiddos!
6. Backyard Baseball – Whether you're setting up t-ball for the kids (this set is great for 3 and under) or throwing up some balls for you to hit out to friends, backyard baseball is a true American classic.

7. Flag Football – Be sure not to leave the ladies out of this one!  In fact, a little flag football might be the perfect way to flirt a little with your spouse while enjoying the nice outdoor weather. To make things easy, you can grab this Capture the Flag set from Amazon.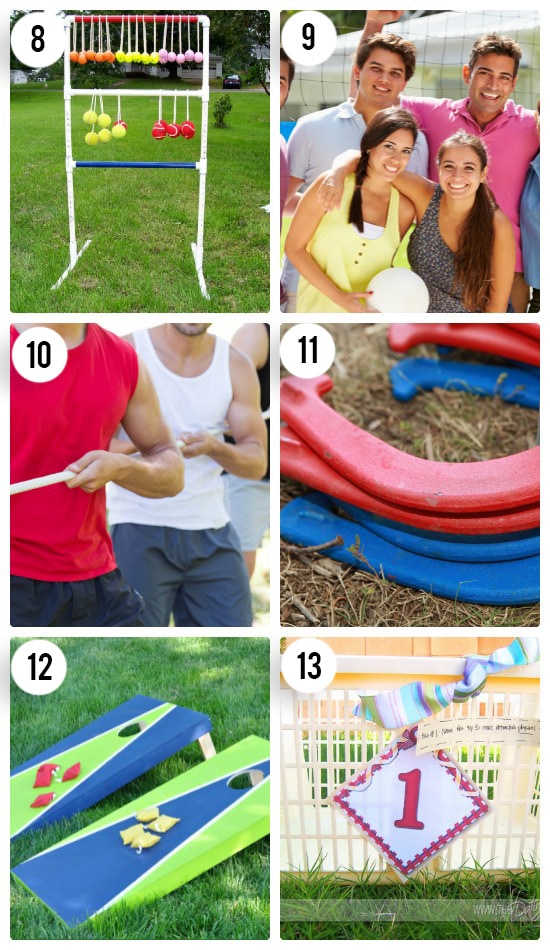 8. Ladder Golf – Opposing teams take turns throwing 3 bolas on the varying rungs of the ladder.  The first team to 21 wins! You can grab the game here.
9. Volleyball – With or without a net, you can volley a ball in the backyard with your family or friends.  But to add a little friendly competition, set up a net and create a two-team tournament!
10. Tug of War – Flex those muscles!  Grab a rope out of the garage and see just how strong you really are!  Make sure to create balanced teams…it's only fair!
11. Horse Shoes – RINGER!  Take turns tossing your horse shoes to the stake.  First to 15 wins!
12. Corn Hole – The new backyard FAVORITE, corn hole is hit well into tail-gating season! You can make your own, or buy a set here. If you haven't gotten on board with this game yet, you're missing out on some competitive fun!
13. Frisbee Golf – This is an at-home way to set up Frisbee Golf! It even includes printables and a fun twist if you want to play with just your spouse! I actually have this frisbee golf disc set, and it's great for beginners!

13 DIY Outdoor Games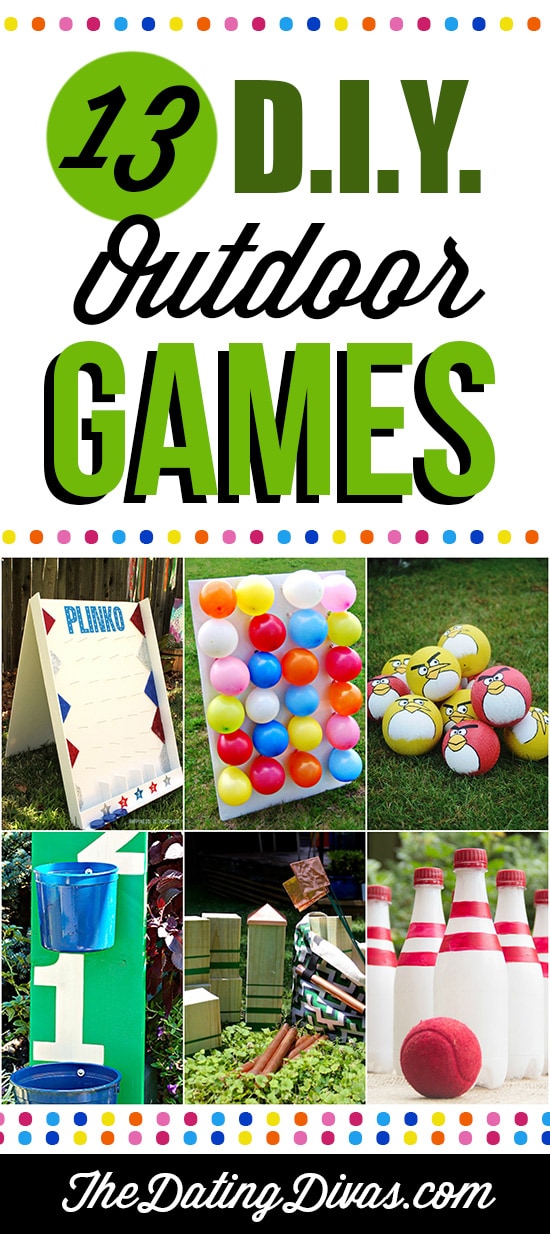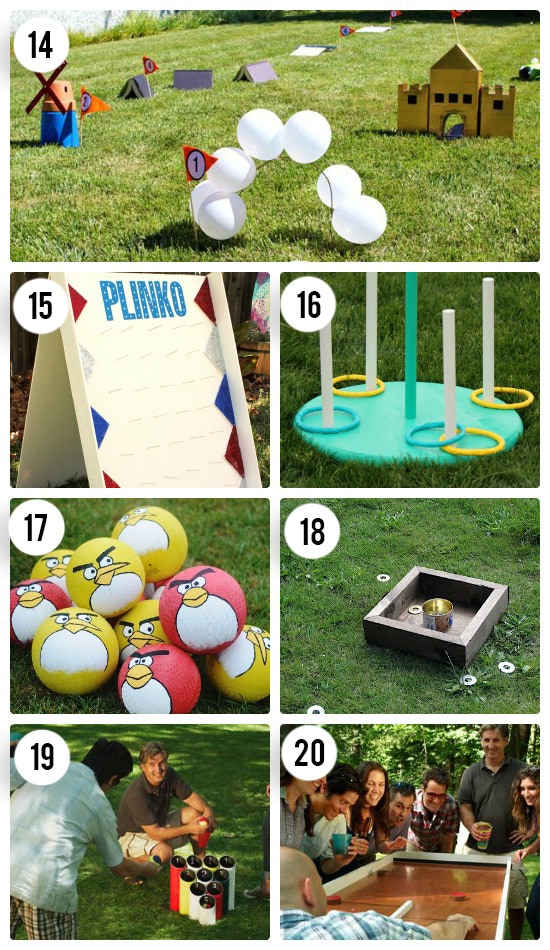 14. Mini Golf Course –

Who doesn't love a round of mini golf?! Creating your very own course will have your house the hit of the neighborhood.



15. Plinko – Create your own Plinko board for a unique game to have on hand for your next BBQ! Take turns dropping chips, aiming for the higher valued points along the bottom.  The first player to 21 WINS!

16. Ring Toss – As simple as this game is to play, it's equally as simple to make. This can be "tossed" together quickly for a last minute party! You can also buy one here if you find yourself short on time and creativity!

17. Angry Birds Backyard Edition – No way! Real, live Angry Birds!  This game is beyond creative and fun!  With some four square balls, DIY launcher and cardboard boxes, you'll be making your own Angry Bird game right in your back yard.

18. Washers – With items you surely have kicking around in your garage, you can easily whip up the pieces necessary for a game of washers.  Just toss the washers, aiming for the cup, until the first person scores 11 points!

19. Pipe Ball Toss – Cut piping into varying heights, adhere together and grab a ball! Take turns tossing the ball into the tubing!

20. Ricochet Table – A twist on the classic shuffleboard, turn a door into a ricochet table for the backyard!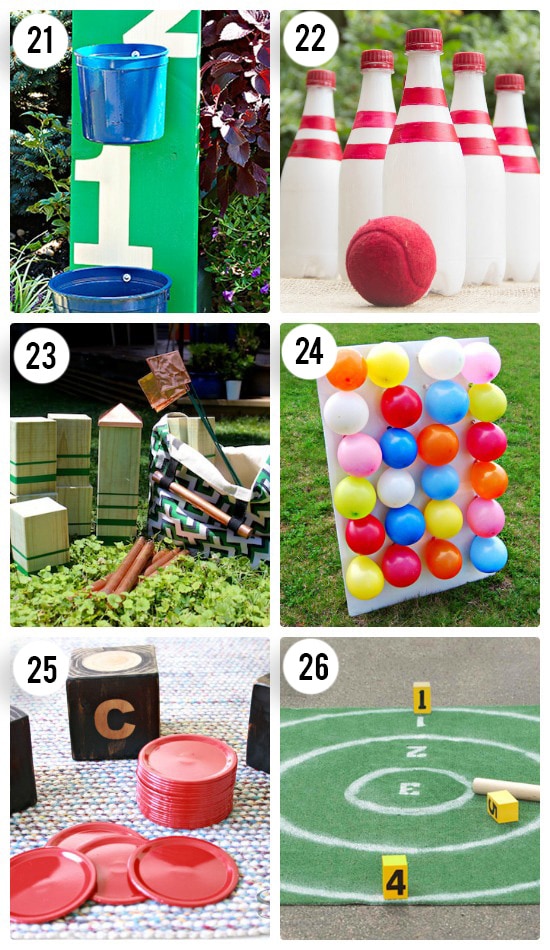 21. Vertical Ring Toss – To avoid getting bored with the standard ring toss, switch it to vertical board! With few materials, this game can be "tossed" together quickly!
22. Backyard Bowling – Grab your recyclables and up-cycle them into a backyard bowling game.  All you'll need is a tennis ball!

23. Kubb Game Set – Have you heard of this game?!  It's described as a cross between bowling and chess…interesting huh?!  Introduce it to friends and family and start a new tradition! You can also take a whack at making your own!

24. Balloon Dart Board – Another simple game to put together!  Adhere balloons to a board and shoot darts at them.  Make it interesting by giving point values to different color balloons!

25. LCR Dice Game – What's that you ask?  Roll the dice and pass your chips according to the letter you land on! The idea is to be the last one with all the chips! 

26. Irish Bowling – Take turns knocking blocks out of the rings using round pieces, called pelters.  If you knock a block down, you score the number of the ring in which the block lands. Person with the highest score after a set number of rounds WINS!  Another great game to continue into tail-gating season!

13 Outdoor Games Just for Kids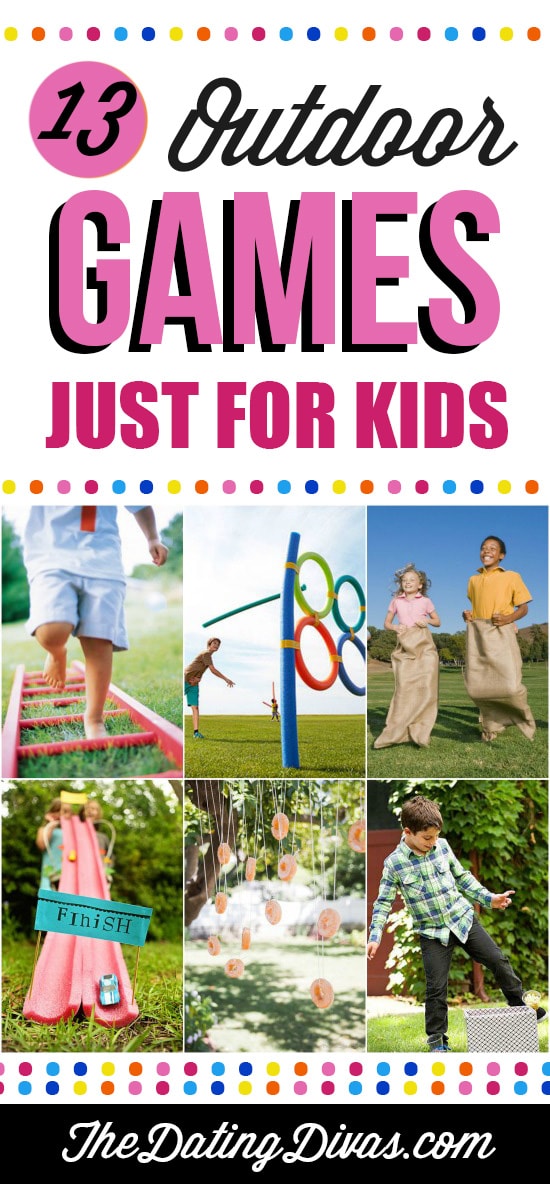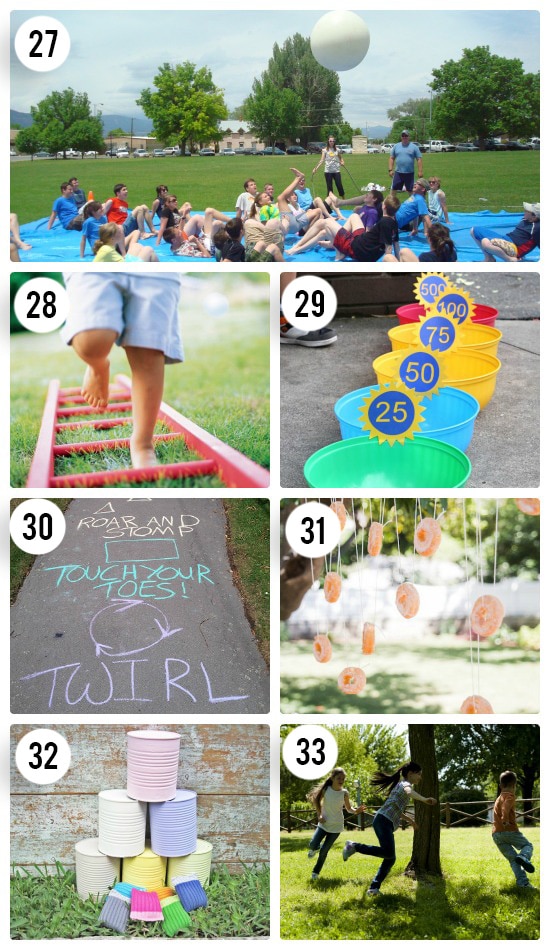 27. Crab Soccer –
How fun does this look!?  In the crab walk position, use an over-sized ball to score against your opposing team.
28. Backyard Obstacle Course – This is great because you can use any items you have laying around the house to create the ULTIMATE obstacle course for your kiddos.  When they get bored, switch up the course and it will keep them busy for HOURS!
29. Bucket Toss – Another simple game to put together that will entertain a group of kids at a birthday party or BBQ.  Grab some cheap party goodies as prizes and you'll be even a bigger hit!
30. Chalk Obstacle Course – Kids LOVE chalk.  Have them help you create an obstacle course on the sidewalk.  Heck, join them for a round or two! I really love egg-shaped sidewalk chalk – easy for little hands to hold!
31. Bobbing for Donuts – Um, DELICIOUS!  This idea is to die for, you might just have to take a turn! Hang tasty donuts from strings and have the kids go to town!
32. Bean Bag Can Toss – Another great use for recyclables! Have the kids assist you in decorating the cans and then set them up to knock right back down with bean bags!
33. Freeze Tag – This oldie but goodie is a great way to get the kids some exercise!  Let them burn steam while playing a round or TEN of freeze tag!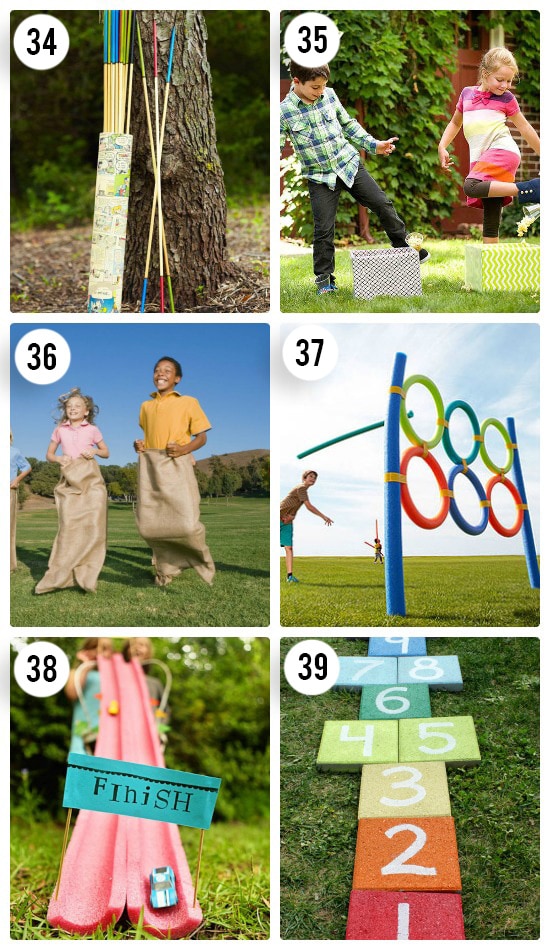 34. Extra-Large Pick Up Sticks – Dump the sticks into a big, messy pile. Let kids take turns picking up a stick.  If the stick they choose wiggles/moves another stick, they must put the stick back and pass on their turn. The kids with the most sticks at the end WINS!

35. Popcorn Dump Race – Secure a cup to a rubber band for each team.  The kids on each team will take turns strapping the cup to their shoe, scooping popcorn into it and walking it over to a box to dump.  The team with the most popcorn at the end of the allotted time WINS!

36. Potato Sack Races – This classic is easy to organize.  Even if you don't have a potato sack, a pillow case will do the trick! 

37. Noodle Olympics – Use your noodles for more than just the pool.  Duct tape them to create various events and set up the Noodle Olympics right in your back yard!

38. Noodle Car Race – Cut a noodle in half and let the kiddos race cars or marbles! Another easy idea!

39. Hopscotch – This classic can be recreated on pavers or by simply using chalk on the sidewalk. A great activity to set up during your next BBQ.

13 Outdoor Board Games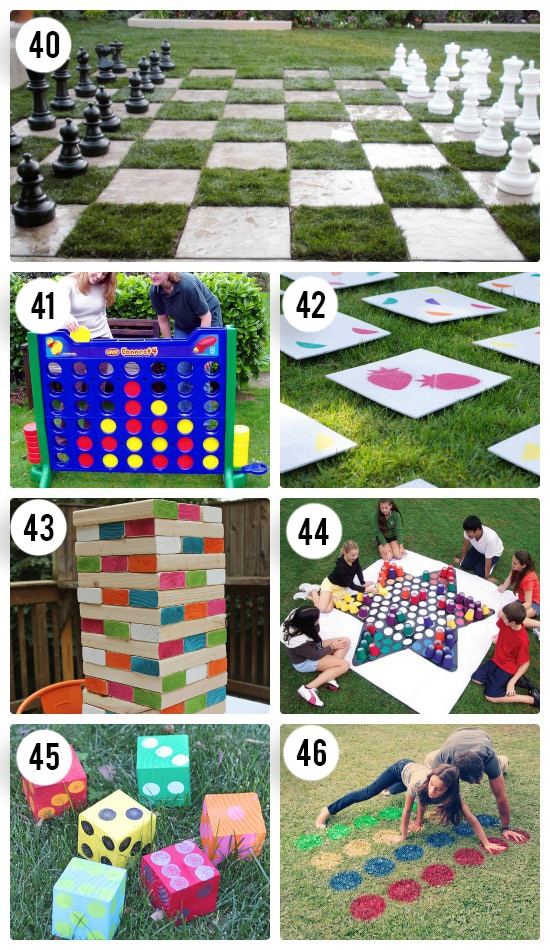 40. Chess –
How cool is that?!  Turn a section of your backyard into a large chess board.  This example is so beautifully done! 
41. Connect 4 – This life size version of Connect 4 is not only great for outdoor parties but weddings as well!
42. Memory – How good is your memory?!  Will the fresh air help it any?!  Grab some cork tiles and some stencils and see with a game of yard memory!
43. Jenga – Another great classic, this game can be played as stated by the rules or you can add your own fun twists as you go.  That is the beauty of the game Jenga!
44. Chinese Checkers – Can you imagine sitting on your board game?!  With this yard size Chinese Checkers you can do just that and STILL play!
45. Yard Yahtzee – LOVE Yahtzee!  An extra-large yard size sounds even more fun!
46. Twister – Spray paint your very own Twister board on the grass for a fun and flirty activity for just you and your spouse or a fun group date!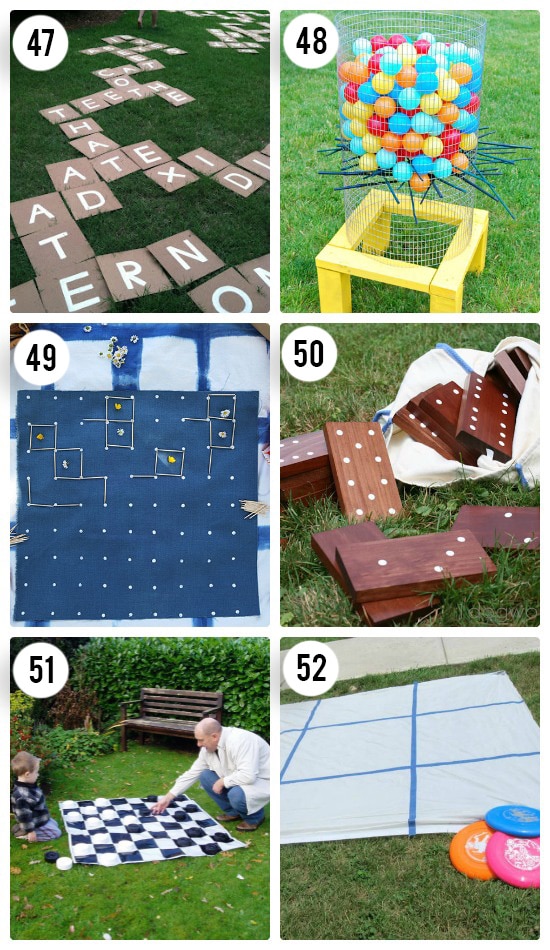 47. Bananagrams – This new classic is another great game to bring to the outdoors. You'll need a large yard to be able to expand upon all of your words but it sure looks fun!

48. Ker-plunk – Such a creative idea, an extra-large Ker-plunk game! Grab some ball pit balls or maybe fill it with water balloons for an added twist!

49. Squares Game – This game is great for keeping the kids busy at restaurants but why not in the backyard as well?  It's also a great one to pack up for a picnic at the park!

50. Dominoes – It seems that any game can be made into an outdoor version these days.  Try dominoes outdoors!

51. Checkers – Teach your kids how to play checkers for the first time this summer with an outdoor rug board.  It's also a great piece to pull out during BBQs for guests to take turns playing while they visit with others.

52. Frisbee Tic-Tac-Toe – A twist on the pen-to-paper Tic-Tac-Toe! Grab a frisbee and aim for a spot, hoping you can get three in a row before your opponent fills in your needed spot!

13 Outdoor Water Games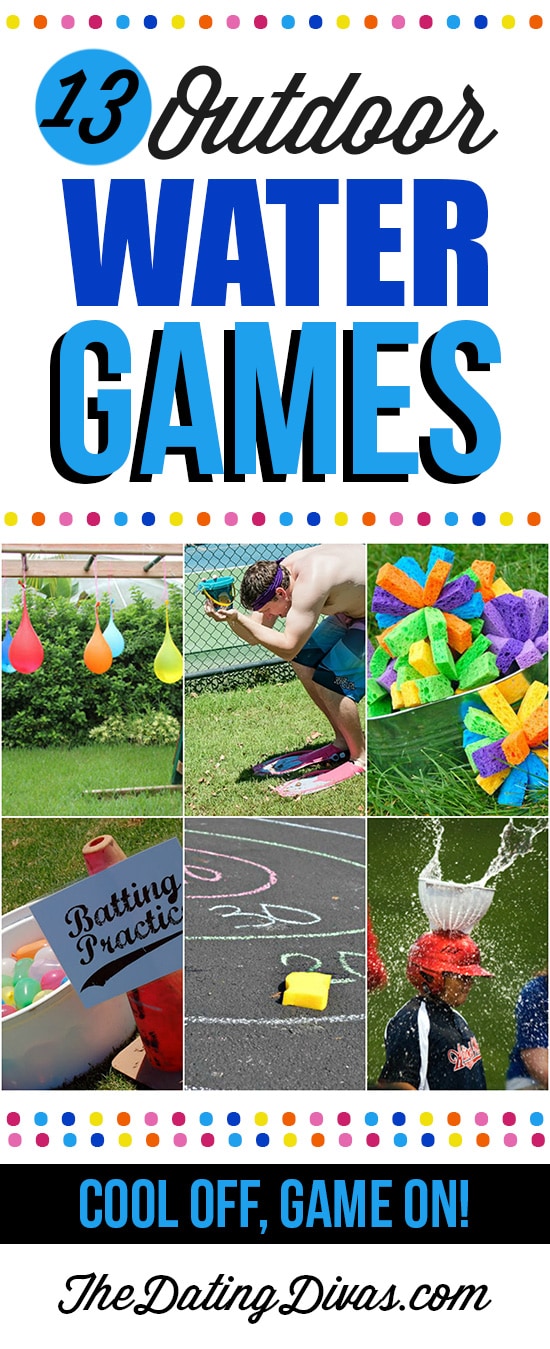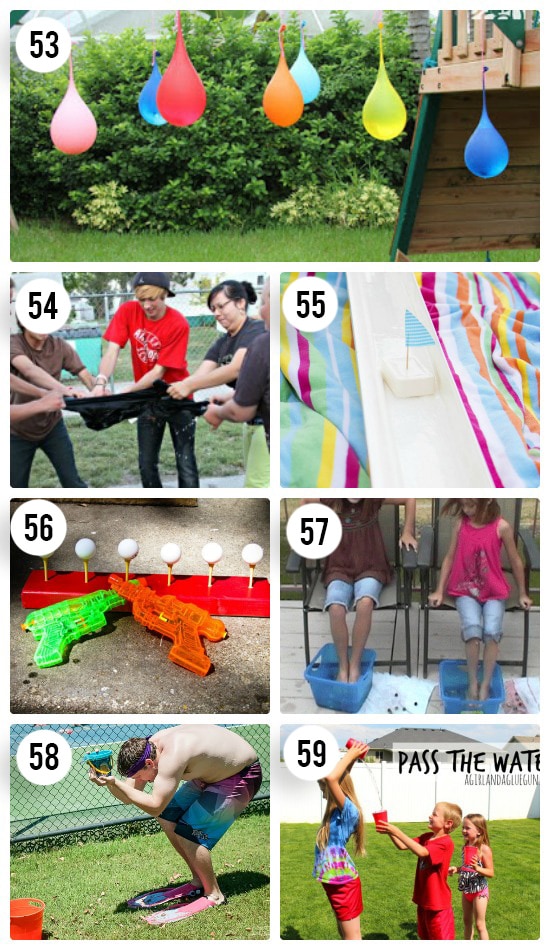 53. Water Balloon Piñata –
Hang
water balloons
from a suspended area and take turns hitting them until they burst.
54. Melt the Frozen T-shirt Race – Using frozen t-shirts, two teams will race to see who can get theirs to defrost the fastest.  The team must be able to get one member of their team to put on the shirt to WIN!
55. Soap Boat Races – This is true, CLEAN fun! Two teams race soap bars down a stream of running water!
56. Squirt Gun Shooting Practice – Set up two rows of golf balls on tees and have two people race to see who can shoot all of the golf balls off first.
57. Foot Fishing for Marbles – Who needs fishing poles when you have feet?! Two people will race to see who can remove the most marbles out of a bucket of water using only their feet.
58. Flipper Fill Up – Two teams will race to see who can walk across the yard with a bucket of water on their head to fill up another bucket!  The catch….you must be wearing flippers as you do this!
59. Pass the Water Race – Two teams will line up next to each other and pass water over their heads into the person's cup behind them.  The last person will be filling up a bucket.  The team with the most water in their bucket at the end WINS!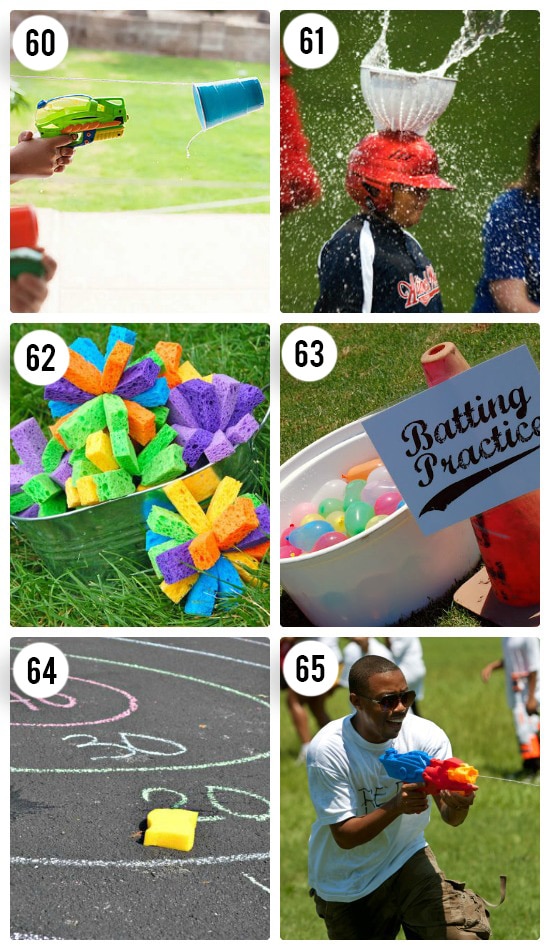 60. Water Cup Races – Hang cups on a string and race to see who can squirt their cup across the string to the other side first!

61. Catch the Water Bombs – SPLAT! Place a bucket on a helmet and have one member of the team wear the helmet.  See how many water balloons they can catch in the bucket on their head.

62. Sponge Bombs Bucket Toss – Creating your very own sponge bombs, use them for a twist on the classic bucket toss.

63. Water Balloon Batting Practice – Set up a tee and use water balloons as a fun twist on batting practice.

64. Sponge Bullseye – Using chalk, draw a bullseye on your driveway.  Then use sponges to see how many points you can score by tossing them into the bullseye.

65. Water Gun Fight – This is another oldie but goodie.  Equip everyone with a filled water gun and let the games begin!  Have a water gun fight!  If you're hit, you're out.  The team who eliminates all the members of the other team first WINS!

Feeling a little overwhelmed with options!?  Good thing you have 3 months of summer to try as many as you want! Plus, we've made things even easier by creating this awesome guide to help with everything from planning to buying for your next outdoor party!
Try one of our 30 Block Party Ideas with some of the above listed games and have yourself the ULTIMATE summer!
And for the kids, try one and MANY of our 101 Summer Boredom Busters!
This summer will be anything BUT boring!