Outdoor Games For The Whole Family
Summer is SO close that we can practically taste it! And with it comes warm weather, pool parties, play dates, and you guessed it… fun outdoor games! Soak up every second of this summer with some of our fun outdoor games for kids! We've even got the grown-ups covered as well with a giant list of fun outdoor games for adults! Clearly, we take summer fun very seriously around here. So when it comes to fun games for kids to play outside, you've come to the right place. From classic party games to backyard games, from DIY to kid games, we've got plenty of fun ideas to keep you busy all summer long! Grab the kids, your neighbors, and anyone else you can think of, and get your summer party started with the best list of outdoor games for kids!

Whether you're in charge of hosting summer playdates, the 4th of July BBQ, or the long-overdue family reunion, we've gathered 65 entertaining and fun outdoor games to ensure your party is the hit of the summer! And don't worry! We even have fun games for adults here, too! Simply choose among the following 5 categories, then click on the link to be taken straight to them!
Are you ready to start planning your summer fun?! Well, here we go!
Classic, Fun Outdoor Games
If you're looking for outdoor games that have stood the test of time, congrats! You've found them! These fun outdoor games are super easy to set up and to play. Not to mention, they work perfectly for parties! Throwing a birthday party or celebration this summer? This list includes party games for kids, too! Additionally, they are all total crowd-pleasers. Without a doubt, you'll have everyone at your party begging to play more! Keep reading for some of the best, most classic backyard games you can play outside.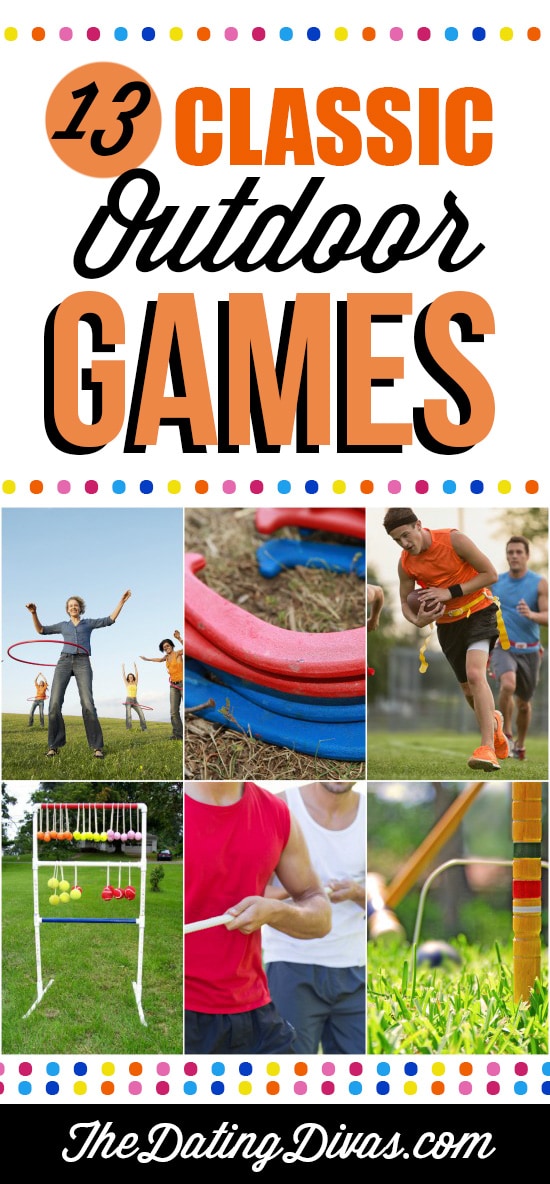 Capture the Flag – This is definitely one of THE most fun games to play outside ever! What fond memories you must have, running through the neighborhood playing Capture the Flag with your friends, right? However, you're never too old for this classic game OR maybe it's time to share the tradition with your kids! First, you'll need to grab some flags, or two bandanas, or even some old cloths. After that, the fun really starts!
Hula Hoop Competition – Let's see just how well you can move those hips! For this game, gather your close friends and some inexpensive hula hoops, and see who can hula hoop the longest. You'd be surprised just how much of a work out it really is!
Three-Legged Race – Choose your partner wisely for a three-legged race! We suggest grabbing your spouse. You two should be well in sync with each other already…don't you think? 😉
Badminton – Badminton is one of our favorite, fun outdoor games! Therefore, we strongly encourage you to set up a backyard net and host a friendly badminton tournament with neighbors, family and/or friends!
Croquet – This old-time classic is still sure to be a hit! Not to mention, it's another great game to teach the kiddos!
Backyard Baseball – Whether you're setting up t-ball for the kids (this set is great for 3 and under) or throwing up some balls for you to hit out to friends, backyard baseball is a true American classic. This is one of the easiest and most fun games for kids ever!
Flag Football – Be sure not to leave the ladies out of this one! In fact, a little flag football might be the perfect way to flirt a little with your spouse while enjoying the nice outdoor weather.
Ladder Golf – Opposing teams take turns throwing 3 bolas on the varying rungs of the ladder. The first team to 21 wins! You'll love this one if you're looking for something simple and unique!
Volleyball – With or without a net, you can volley a ball in the backyard with your family or friends. However, to add a little friendly competition, set up a net and create a two-team tournament! This is definitely one of our most fun outdoor games!
Tug of War – Flex those muscles! Grab a rope out of the garage and see just how strong you really are! On that note, make sure to create balanced teams…it's only fair!
Horse Shoes – This is one of the more classic and fun outdoor games on our list… RINGER! Take turns tossing your horseshoes to the stake. First to 15 wins!
Corn Hole – The new backyard FAVORITE, corn hole, is hit as we move into the tail-gating season! You can make your own, or buy a set here. If you haven't gotten on board with this game yet, you're missing out on some competitive fun!
Frisbee Golf – Need an at-home date night activity that's outdoors? Here's one for you that involves setting up a Frisbee Golf course! It even includes printables and a fun twist as you play with just your spouse! Fun outdoor date night, here you come!

DIY Outdoor Games
Ever made your own outdoor game before? We think these DIY Outdoor Games are total crowd-pleasers. In other words, there's something for everyone! From your very own mini-golf course to Pipe Ball Toss, you're sure to find something that will fit your "fun outdoor game" needs. In addition, they're so easy and inexpensive to put together! The good news with these ideas is that they work as fun party games, too. If you're throwing a summer party, why not make one of these to play during your event? Chances are, it will be a huge success!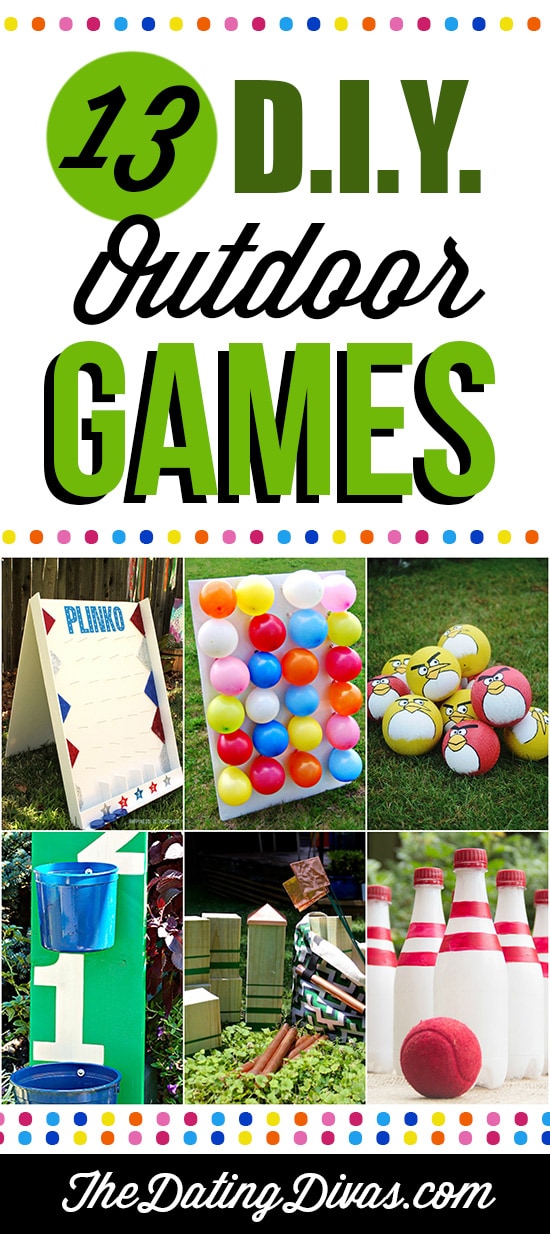 Fun Outdoor Games Just for Kids
We all know how important it is to keep your little ones entertained during the summer months. Well, you're in luck! This list of fun outdoor games for kids is geared specifically towards a younger audience. However, we'd be lying if we said they weren't fun games for adults as well! Test out these fun games for kids first, then test them out amongst your adult friends! We can guarantee that fun will be had by all. And don't forget to come here for fun party games for kids! A party wouldn't be a true party without games!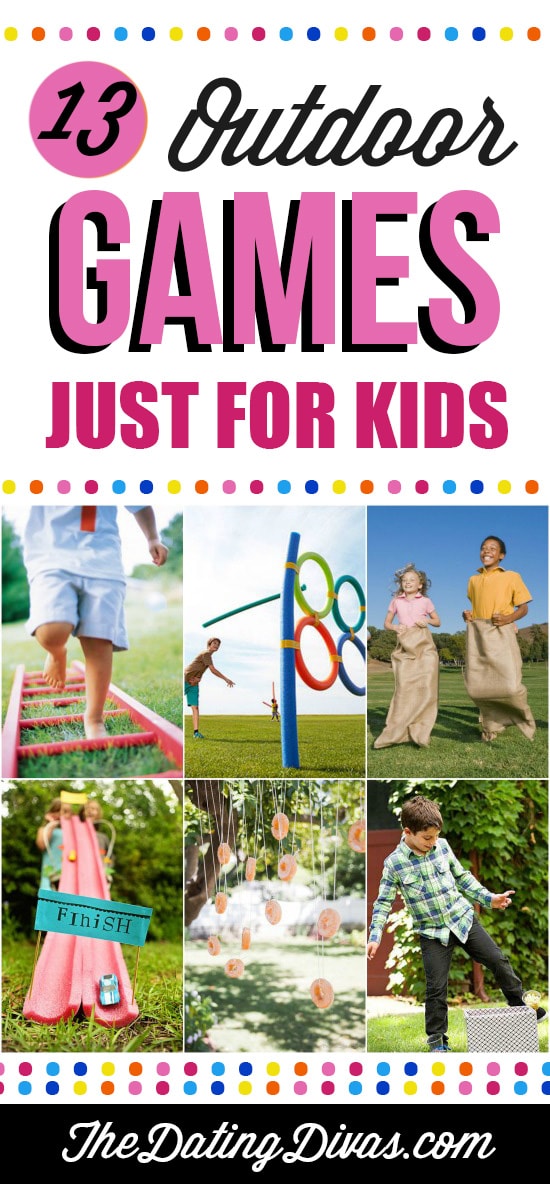 Boardgames for the Outdoors
Did you know that you can play board games in your backyard? It's true! This list of outdoor board games brings "backyard games" to a whole new level! That being said, try mixing things up during your next game night with these super clever outdoor board games! After all, who wants to stay indoors when you can play some fun outdoor games instead? Not to mention, these board games are supersized, which makes them fun games for adults AND fun games for kids. Keep on reading to check them all out!

Outside Water Activities
Beat the heat and make a splash with this awesome list of water games to play outside! Not only do these water games work for a variety of purposes, but they're also perfect for a hot, sunny day! Included are fun party games for kids using water, water backyard games, AND your everyday outdoor water games, making this list perfect for summer! Without question, they all make perfect outdoor activities for the youngin's, and are even water activities that make fun games for adults! Lastly, they're a great way to entertain and stay cool during the summer months. Check them out!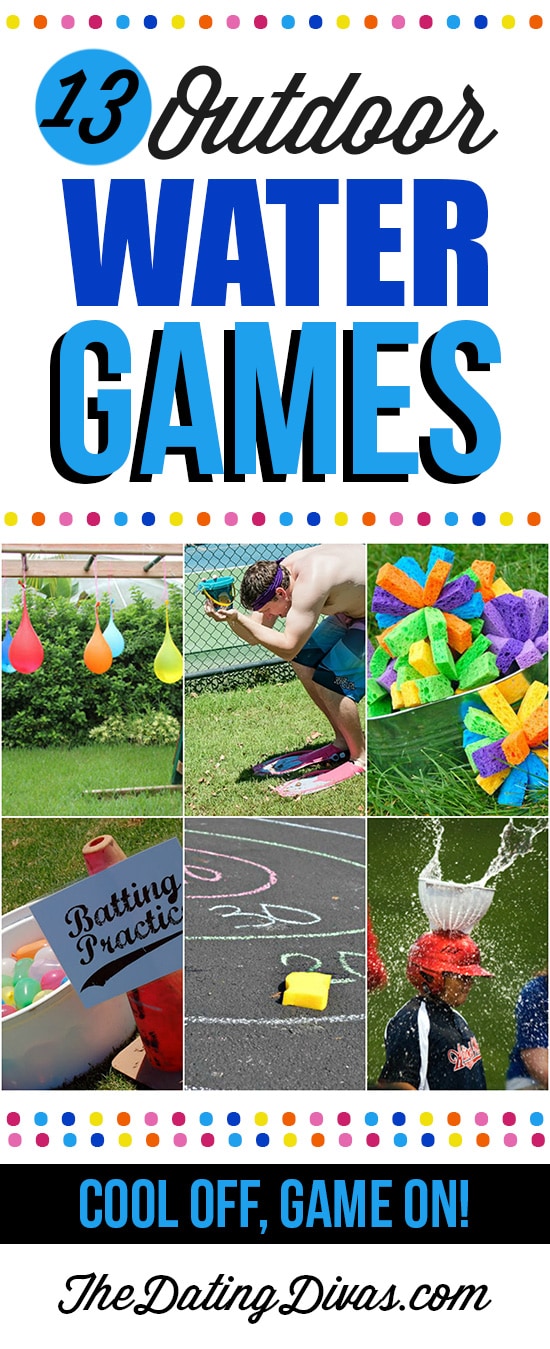 Feeling a little overwhelmed with options? Good thing you have 3 whole months of summer to try as many of these awesome outdoor games as you want! Additionally, you could even pair any of the fun party games for kids above with our other Block Party Ideas for a super enjoyable summer night with your neighbors! And speaking of the kids, don't forget to try one (or ALL) of our Summer Boredom Busters!
Because we are constantly looking for ways to enjoy more time as a family, we also rounded up The Best Family Outdoor Games that we highly recommend you checking out. Basically, this summer will be anything BUT boring!