Flag Football Game Ideas
Have you been searching for the PERFECT family bonding activity? Maybe you've been wanting to get the kiddos off the couch and outside but aren't having any luck. We've totally been there. And while it might be easier to let everyone stay inside glued to their smartphones, it certainly doesn't make for very good memories. That's why we've come up with this completely done-for-you outdoor activity that's easy to prep and so fun to play. Even athletic novices will be over the moon about this idea as we give you all the rules and teach you how to play flag football. Say goodbye to boring afternoons and hello to family fun time. Let's take a look!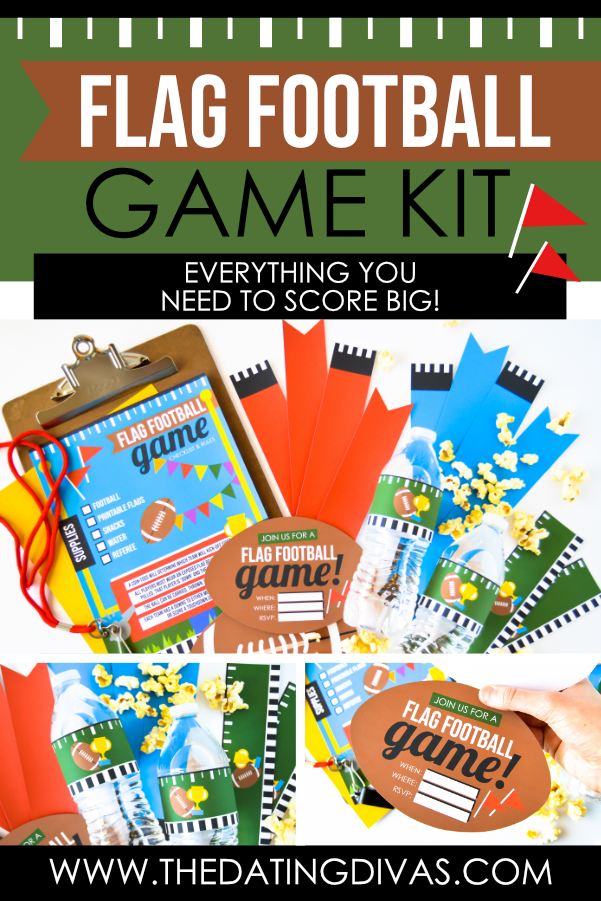 Disclaimer: This post contains affiliate links. To learn more about 'em, click here.
Before we huddle up, we have to a shoutout to Diva Elizabeth for creating these fantastic designs for us! They're a total touchdown!
What is Flag Football?
Let's 'kick-off' the fun with a little look into what flag football really is. Essentially, it's a version of the popular American Football game but differs in the fact that no contact is allowed. Instead of the traditional tackling, players aim to remove flags from a special flag belt. Because of the high safety factor, it's a great alternative for families and children and is a favorite among many. In addition, The American Flag Football league was formed in 2017 and is currently set to begin airing games on the NFL network. Pretty cool, right?
What's Included in your Flag Football Kit
Your Flag Football Game is going to be one to remember! Take a look at the included items below, and keep reading through the post for a more detailed description of how to use each of them.
Flag Football Invitation
How to Play Flag Football Guide & Checklist
Printable Flags
Drink Wraps
How great are those?! Keep reading to take a closer look at each of the items and for tips and tricks on how to assemble them. Don't forget to grab some quality cardstock to help your printable items be the MVP!
Flag Football Invite
Get everyone ready to score big with this AMAZING football shaped invitation. Simply print, cut, and follow the listed instructions for how to assemble your football. After that, you'll want to fill in the date, time, and RSVP info and get them off to your guests!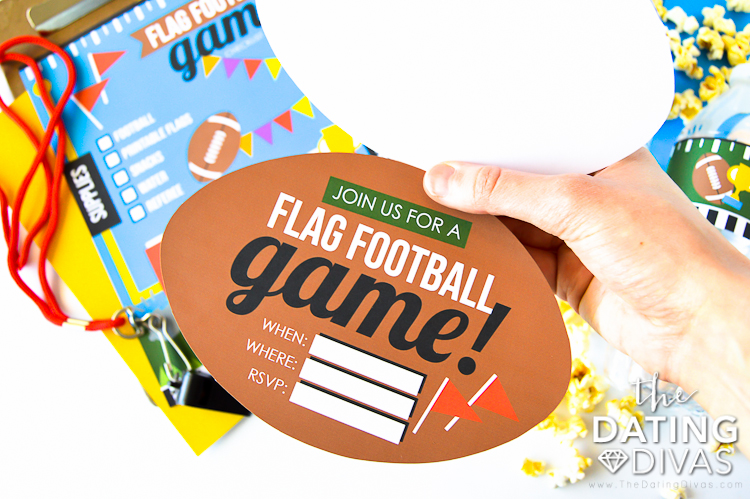 How to Play Flag Football Guide
This date is all about getting everyone outside for some good old fashioned flag football fun, and your printable guide will help you get there. The listed supplies will keep you on track with planning, while the rules section gives all sorts of tips and tricks for having a successful game. Be sure to keep this bad boy handy! For instance, you might consider keeping it on a clipboard like we did for an extra dose of awesomeness.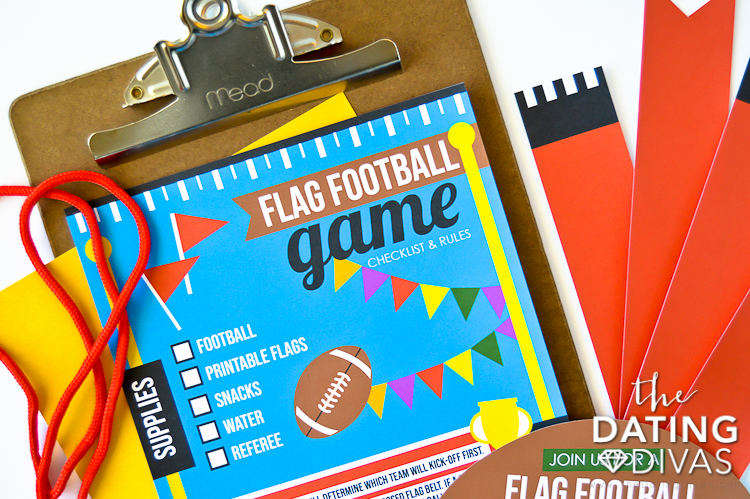 DIY Flag Belts
One of the BEST parts about flag football is tackling is not allowed! In other words, this is a wonderfully safe alternative to the traditional version of the game and lets everyone get in on the fun. The secret is all in the flag belt, and we'll tell you exactly how to make one.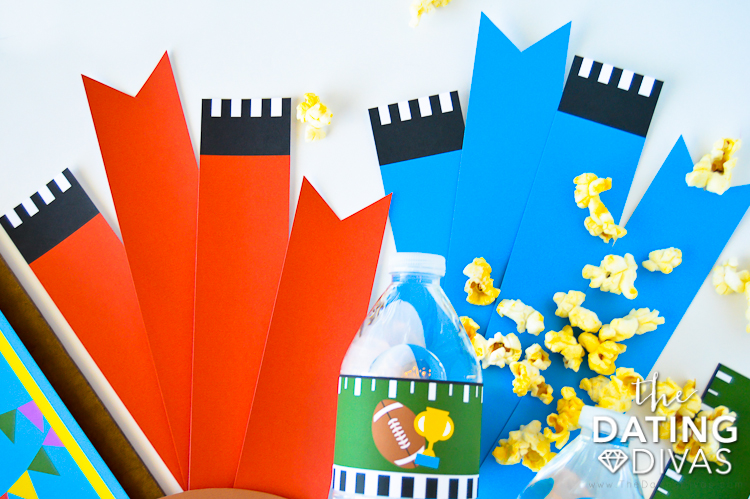 Your printable download includes flags for two different teams, and each player needs two of these flags so be sure and print as many as you need. Cut around the flags and affix them to any type of belt, sash, or string. Or you can simply fold over the top section and tuck it into the waistband. However, this does make it easier to pull, so bear that in mind. Instead of tackling, players can pull on another player's flags and attempt to remove them. If they are successful, that counts as one tackle. So safe and easy, right?! For even more info on how the game works, be sure and check out this site.
Drink Wraps
Keep everyone hydrated and happy with snacks and drinks! Your flag football printables include a set of super snazzy water bottle wraps- to keep everything on-theme and totally fun. Just print, cut, wrap, and affix the ends with tape or another adhesive. They'll be slurping in style!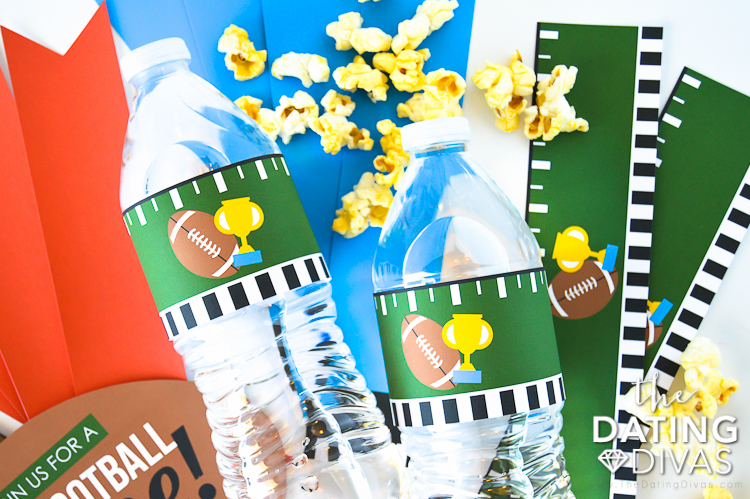 This super fun and easy activity is sure to be your new go-to family or friend idea! You could even make a fun group date night out of it by inviting other couples and making a few adjustments. For example, you could watch a football-themed flick at the end like Remember the Titans or The Blind Side.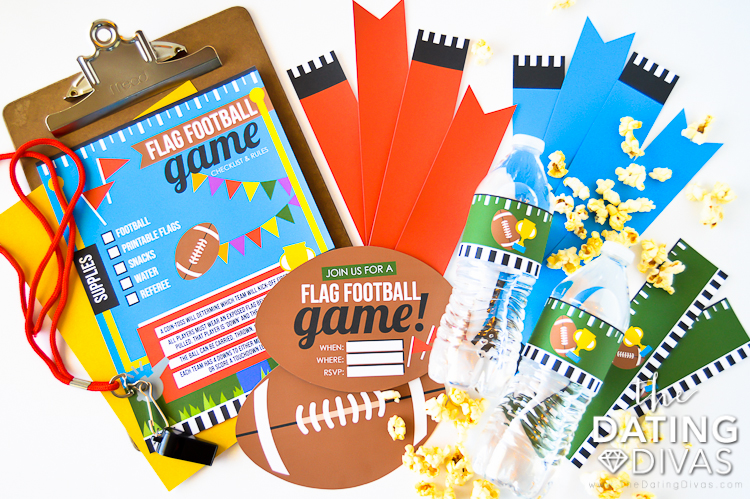 Flag Football Game Kit
Printables Designed by Elizabeth Edwards Exclusively for The Dating Divas