Boys & Girls Night Out For Two
This date weekend is all about a "Boys Night Out" and a "Girls Night Out" with just the two of you.  Who says boys can only do boy things and that girls can only do girl things?  Whoever that was doesn't have a clue, because this weekend we are going to show them that boys and girls can enjoy each other's favorite night out activities.
Start off the weekend by shooting and cooking over the fire with your man enjoying some "BOY TIME" then snuggling up to enjoy a bit of lovey-dovey "GIRL TIME" with a chic flick under the stars.  Prepare for the date by getting a few items together: a tinfoil or dutch oven dinner, blankets, air mattress, targets, pens, a chick flick, movie player, guns, and ammo. Take a drive up to the mountains away from the city, find a nice secluded spot where you can start a fire for your dinners, and get everything set up all cozy like.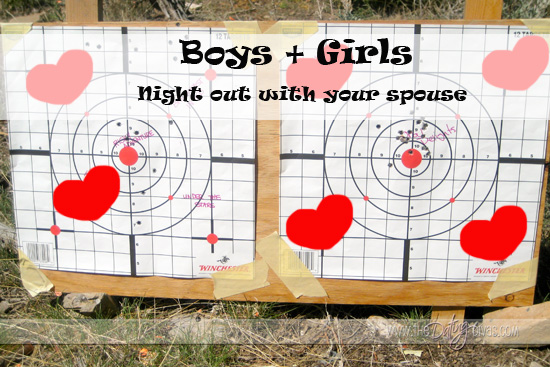 Make the most out of the time you've got by starting your meals before doing anything else.  When you are done playing, your food should be ready just in time for your movie. 
Once you're all settled in grab your guns, ammo, pens, and targets.  Spice up your shooting adventure by creating a sexy challenge. Before setting up your individual targets each of you write 5-10 sexy ideas on different spots all over your target.  Pick ideas that you would love to have fulfilled by your spouse (you can make this as light or as daring as you both feel comfortable with).  Don't show each other what you've written, keep it a secret!  Agree on the rules before the game.  
Rules to follow:
1.  Each player gets 15 shots at their target.  2.  The person who hits closest to an idea wins.  3.  The winner gets to pick 3 things on their target that they want fulfilled by the loser.  4.  The loser has to pay up within the week.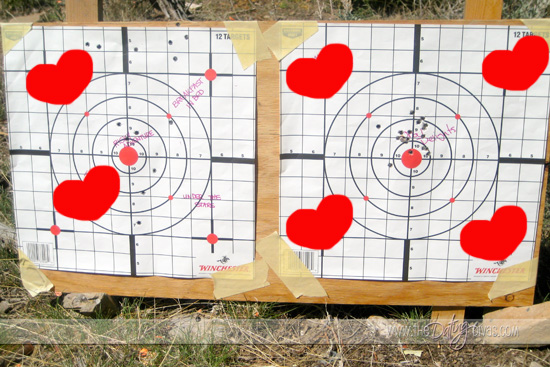 Yes, my hubby got lucky and won.  Don't tell him I said this, but secretly I won because he picked my favorites!  To ensure that there's "no peeking" I've used hearts to cover up our sexy ideas.   This will give you a chance to get creative and think of your own intimate wish list!  Trust me, an intimate competition between the two of you will amp up your game and will leave you both enjoying the rewards!
After the two of you have shot your hearts out, it's time to enjoy a warm and tasty dinner.  There's nothing better than a meal and dessert over the fire!  Once it gets dark and the twinkling stars appear set up your movie, cuddle up, enjoy your chick flick and each other!
Start the next morning off with "GIRL TIME,"  a little bit of pampering with breakfast in bed.  Make breakfast simple so both of you are able to enjoy your lazy morning together.  Serve parfaits, or a bowl of cereal with fruit, and a glass of orange juice.  If you want a few more breakfast ideas check out these yummy and easy recipes from Our Best Bites (I love these ladies!!!)…Mini Puffed Oven Pancake with Berry Sauce, Baked Oatmeal, or Easy Potato and Bacon Breakfast Casserole. 
 Follow breakfast by going on a "BOY TIME" hike.  Find a nice trail for a lazy afternoon walk, a scenic trail along a green avenue lined with wild flowers, or get your blood pumping and put some color in those cheeks with a challenging trail.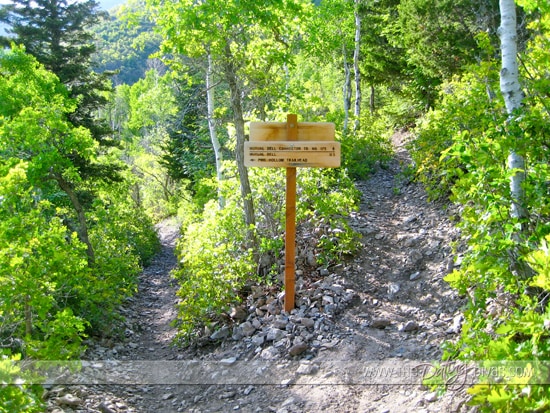 After your long hike this "GIRL TIME" activity will be just what the Dr. ordered, rest and relaxation. Pamper your tired feet and muscles with scrumptious massages and pedicures. Set the mood by warming the room, warming the oils, and lighting lots and lots of candles or the fireplace, and prepare a comfortable space. Have light romantic treats and a sparkling drink close by. Don't forget to dress up in your lingerie!  Take turns being the sensual masseuse for the afternoon. If you would like a few tips and pointers check out Kari's "Sensual Touch Massage" post, she has put together an amazing guide that you can easily follow!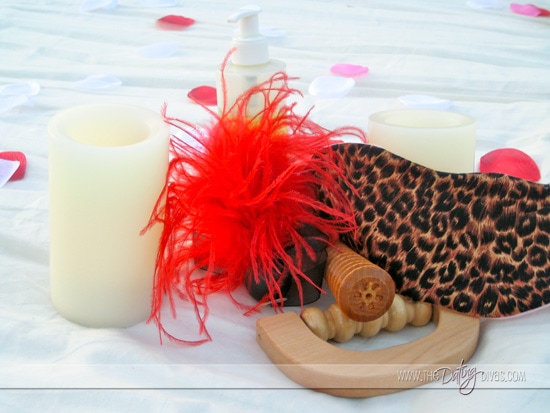 For the pedicures place warm water in a large heatproof bowl.  Slice a few lemons and add a drop of mint to the water.  Take turns soaking, rubbing, scrubbing, and moisturizing each other's feet.  If you want to go all out, pick pretty nail polish colors for each other's toes!  Your massage and pedicures might not be perfect and they might not be longer then 30 minutes, but you will for sure have a happy ending!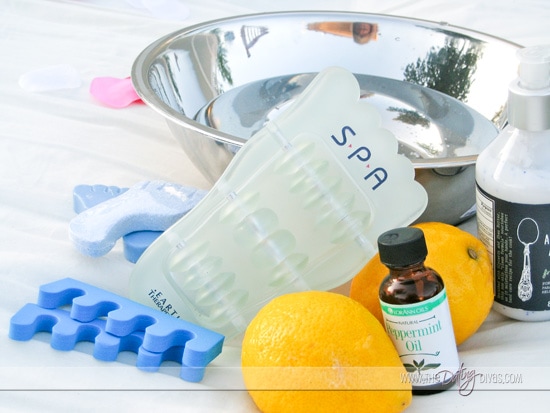 Finish your unforgettable weekend with a "BOY TIME" activity.  Make reservations at your local sports bar for dinner and catch a game while you eat.  A great place to try is Buffalo Wild Wings!  They have a fun atmosphere, good food, and everywhere you turn you can catch a different game.  Don't stuff yourself too much because you are ending your night with a "GIRL TIME" slumber party. 
Collect tantalizing junk food, pillows, and end your night with a wild and flirty pillow fight!  I don't think I need to explain the rest of the night in detail, I'm sure you know exactly where this fight is ending!!!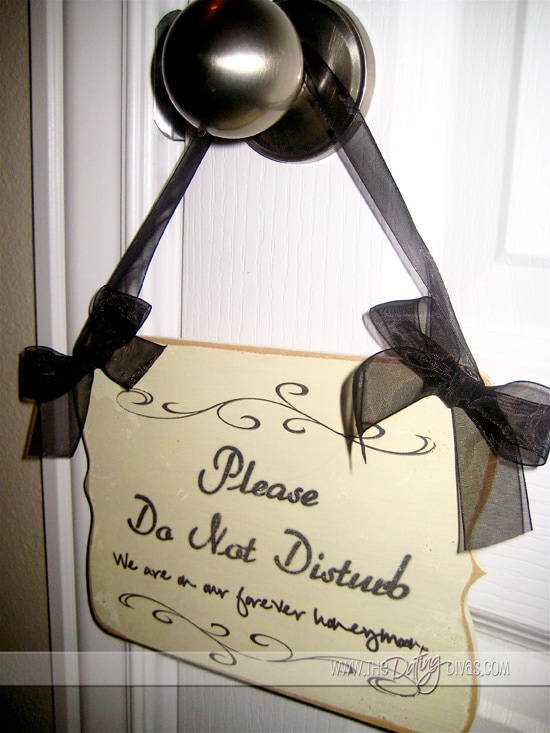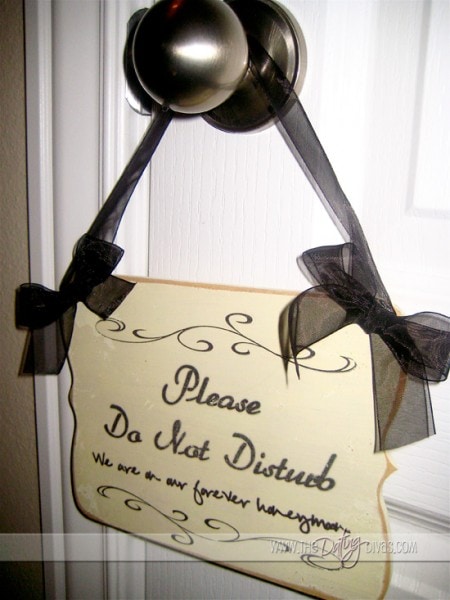 Isn't this door hanger adorable???   You can find one for the two of you in my romantic little shop at Tickled In Love!!!
This might sound like a lot to fit into one weekend.  If needed you can split the date up and spend two or three weekends partying with the "BOYS" and the "GIRLS".   After this magnificent date you will want to include your spouse on all your "Night Outs" no matter what the occasion.   xoxo