Christmas Lingerie Party
Get out those jingle bells and get ready to party–it's Christmas! We know this time of year is non-stop nuts. That's why we're here to help you physically reconnect with your sweetheart with our totally done-for-you printable Christmas lingerie party kit. From printable games, planners, an invitation, and more, this is the perfect excuse to set aside the to-do list and grab your sweetie. Ready for a little holiday one-on-one time? Let's go!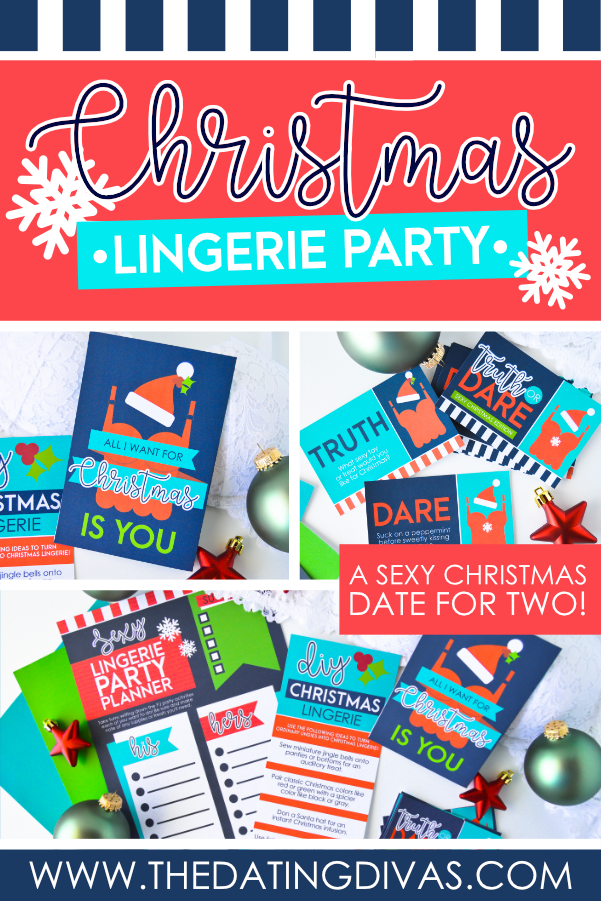 Disclaimer: This post contains affiliate links. To learn more about 'em, click here.
Before we dive into all the sexy Santa-themed goodness, we have to give a shoutout to our own Diva Elizabeth for designing these holly jolly printables for us!
What is a Christmas Lingerie Party for Two?
In short, it's a sexy Christmas date that's unlike ANY you've ever had before. Moreover, it'll help you put an end to the stress of the holiday season where you and your honey hardly even have time to talk. In addition, it's practically done for you (and what could be better than that)! Above all, it'll help you and your sweetheart feel like Christmas has come early! Sounds pretty enticing, right? Keep on reading to take a closer look!
What's Included in Your Christmas Lingerie Kit?
Take a look at your included Christmas Lingerie Party printables below, and keep reading for more details on how to use them.
Christmas Lingerie Party Invite
Lingerie Party Planner
Christmas Lingerie DIY Ideas
Sexy Santa Truth or Dare
How great are those?! Let's take a closer look at each of the items and for tips and tricks on assembly and putting them to use.
Christmas Lingerie Party Invite
First, you'll want to let your spouse know about all the very merry goodness to come with the printable invite. Its spicy Christmas design is sure to grab their attention and make them blush! In addition, its two-sided design makes everything more fun.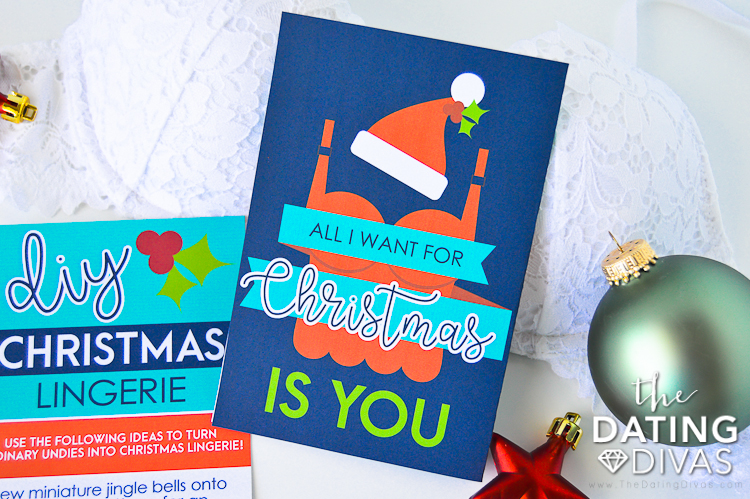 All you need to do is print your design on some good quality cardstock. After that, go ahead and cut it out. Then, fill in the date and time and slip it somewhere your spouse is sure to find it.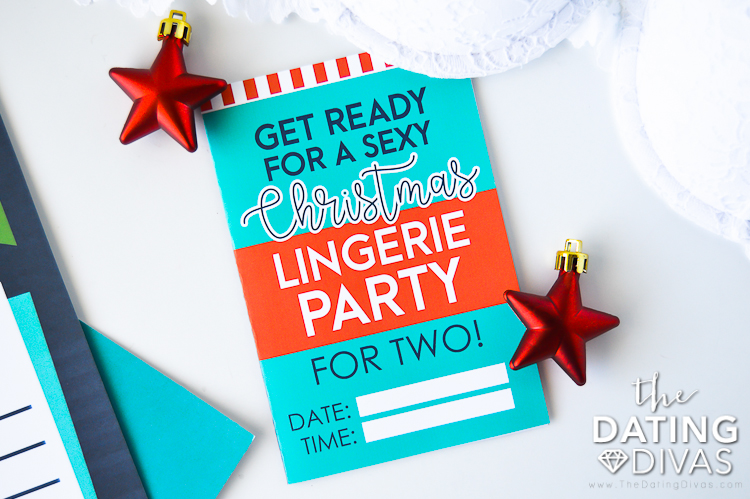 Christmas Lingerie Party Planner
Next, sit down with your honey and plan out your evening. The printable Christmas Lingerie Party planner makes it easy to make all your wildest wishes come true, and it's super easy to use! Furthermore, the special his and her section will keep everything nice and organized. Firstly, take turns jotting down activity ideas, snack requests, and supplies. After that, come back together and discuss how you'll put your plan into action!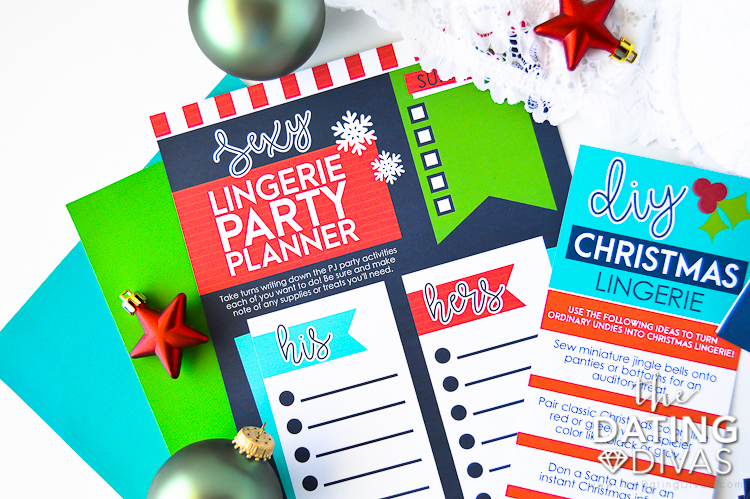 Some things you might consider adding to your list are:
Sexy activities like a Christmas tune striptease
Holiday-themed snacks and beverages
Sexy Toys you'd like to incorporate
Any new games or positions you feel like trying
The spicier, the better!
DIY Christmas Underwear Ideas
Speaking of spicy, there's one aspect to this Christmas lingerie party that will take it over the top. It all involves transforming ordinary lingerie or underwear into a one-of-a-kind sexy Christmas costume your sweetheart will love. It doesn't need to be difficult, though. For example, we've included a list of quick and easy DIY ideas to help you do just that! Look it over and choose one or more ideas and have your sweetheart do the same. Be ready to display your sexy santa costume during date night. Tell your sweetheart that it's mandatory they show up in their holiday-themed underwear! Oo la la, right??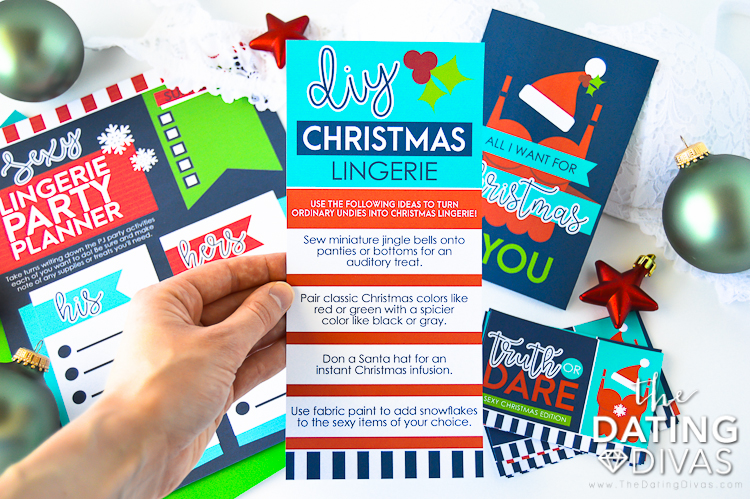 Sexy Santa Truth or Dare
Your lingerie party planner is sure to be packed with all sorts of fun and flirty activities, but we've included one totally done-for-you idea to help get the ball rolling. For instance, your printable Truth or Dare (Sexy Christmas Edition) is jam-packed full of holiday-themed Truths and Dares. We PROMISE it'll have you and your sweetie blushing in no time. In addition, it's a great idea to play right before moving things to the bedroom because it'll definitely get the two of you in the mood…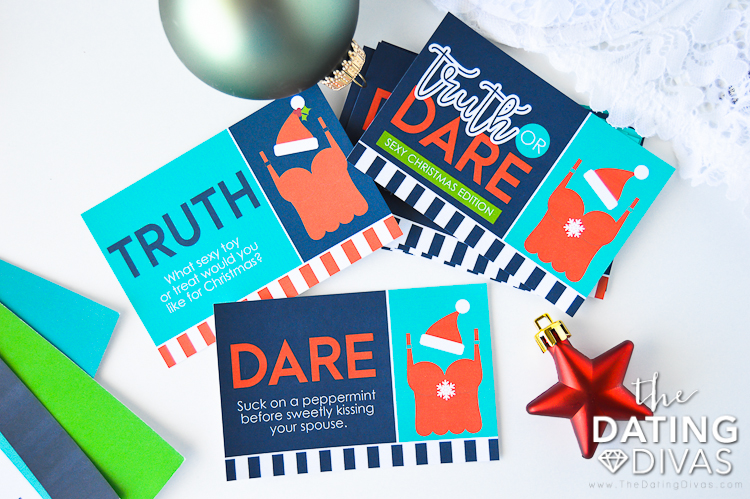 We've included 13 pre-made options, but we know how fun it is to put your own spin on things. That's why we've also added a blank Truth as well as a blank Dare card. Come up with your own spicy ideas and write them down!
Christmas Lingerie Party for Two
Printables Designed by Elizabeth Edwards Exclusively for The Dating Divas