Embark On Adventure While Exploring Your Home Town!
Recreate the thrill of adventure and romance by exploring all the touristy locations in your home town. A SUPER fun & easy date night!!
Today is our lucky day!!!  We have a cute guest blogger giving us a few tips on how to recreate that romantic spark by breaking out of your bubble and becoming a little adventurous while exploring your own home town.
Before getting to her creative tips let's get to know her a bit…
Cara Woodford is a busy woman: when she's not working towards her Master's degree in Urban Development, she loves to play soccer, garden and bake devilishly delicious goodies. She has been married to her best friend, Michael since 2010 and thanks God every day that he is a part of her life. 
*           *           *           *           *           *           *           *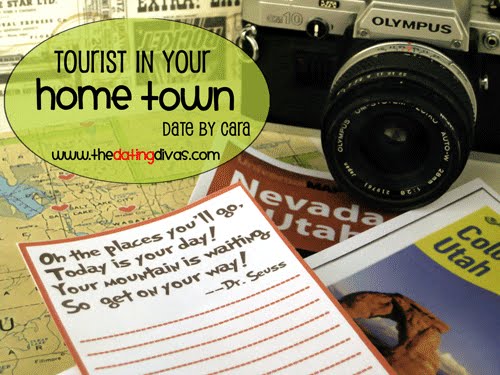 Remember the first time you and your husband took a long weekend together? Or, better yet, remember your honeymoon? There wasn't any household chores or bills to worry about; it was just the two of you were wrapped together in a cocoon of romance, intimacy and adventure. Why not recreate those feelings by setting aside a day to play tourist in your own local? My husband first came up with the idea a year ago and, while it sounded great in theory, we ran across a few challenges. After all, I have lived in Philadelphia my entire life and he moved here six years ago; we felt that we knew every nook and cranny of our city, so how were we going to view through fresh eyes?  Well, with a little bit of thought and creativity, we've definitely overcome this and now we have "make-believe-tourist" dates at least once a month, and you can too!
Just like you did during your actual honeymoon, research and consult travel sites to find adventurous activities within your area. While you might have frequented the well-known tourist attractions, keep an eye out for the local hidden treasures that might have slipped right underneath your nose. Perhaps there is a beautiful, historic mansion half-an-hour away that offers guided tours? Or maybe there is a beautiful, secluded hiking trail? Why not stroll hand-in-hand in that quaint little town just across the river? I guarantee that, if you do the necessary digging, you'll find a wealth of new adventures. And don't forget, locals know best! Consult with your friends and ask if they have any ideas.
Try a cuisine you've never tried before. Instead of indulging in our usual sushi or burritos, we use the day to explore foreign cultures with our taste buds. On our last touristy date, I tried Afghan food and was surprised to discover that I loved it! With the restaurant's exotic décor and flavors, it felt like we were thousands of miles from our Philadelphia home, instead of simply twenty minutes.
What do you do when you travel? You find mementos through which you can remember the special day. My husband is quite the photographer and loves to document our day-trips through pictures; it helps him to appreciate the city's little beauties he routinely rushes by during his daily commute. I love to buy something small during each of our outings. For my birthday my mother-in-law gave me a charm bracelet which I hope to fill with symbols from our escapades. The charms will not only remind me of my love for my husband, but also my love for my city.
Embrace the different and the playful side of your relationship. In August my husband and I roller-skated, an activity I haven't done since the early 90's. Though I fell down a few too many times, it was pleasurable to revisit childhood innocence. I find that childlike activities like this are a great way to temporarily escape the stresses of deadlines.
So I wish each and every one of you readers happy traveling (wink wink) and remember, there is no such thing as a bad idea!
*           *           *           *           *           *           *           *
I can't tell you how much I love these tips by Cara and I can't wait to explore my town a little more!