All the Best Family Vacations in The United States!
Summer is almost here, which means it's almost vacation season!  Woo hoo!  If you are on the search for the best family vacations, look no further. We have all the TOP family vacations in the U.S. including vacations for kids! Fun family vacations like Disneyland (of course!), The Grand Canyon, Knott's Berry farm, Branson Missouri, and SO MUCH MORE! and No matter where you are traveling this summer or who you are traveling with, these must-see vacation spots are all you need to fave the perfect itinerary!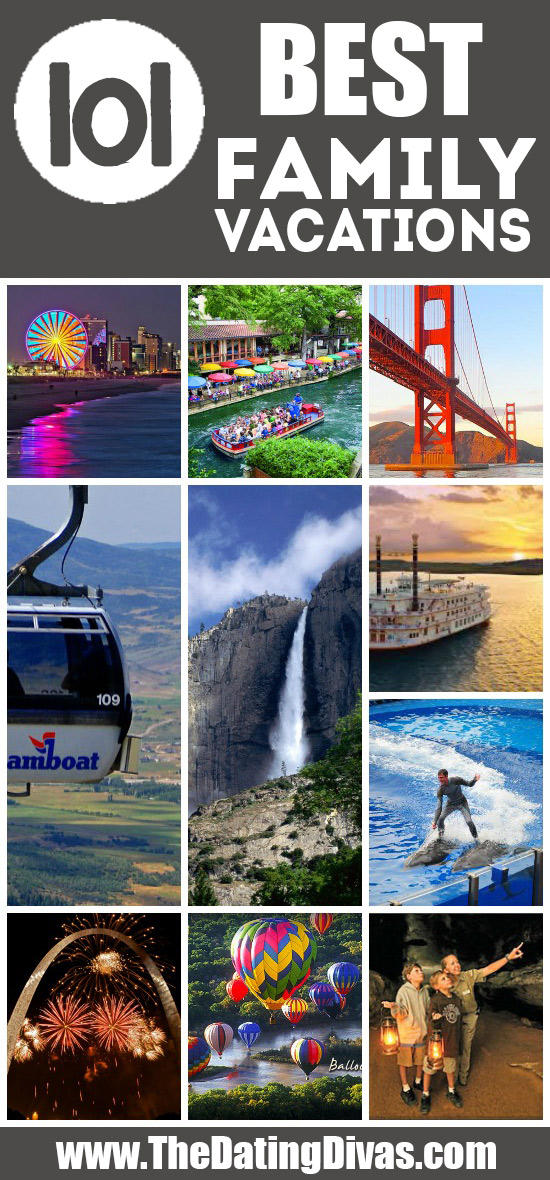 This post contains affiliate links. To learn more about 'em, click here.
That's right, we've got 101 places to take your kids before they grow up! Consider it your family vacation bucket list, chuck full of the best family vacations for kids, best family vacation spots, and TONS of vacation ideas! Instead of going on the same old family vacation each year, why not switch it up and try a new place each year?  (You could even make this fun DIY travel map to mark all the places you've been together AND all the places you plan to visit and dream of going.)
To make things easier, we've even divided all of our best family vacations into these 4 regions of the United States. Just click on each region below to be taken straight to each section!:
So just sit back, relax, and get ready for some serious vacation inspiration.  Then, once you've picked your perfect destination, use our free Vacation Planning Printables to get organized.  Yep, we've got you covered!
Okay, Ready… Set… SCROLL!
Best Family Vacations in the West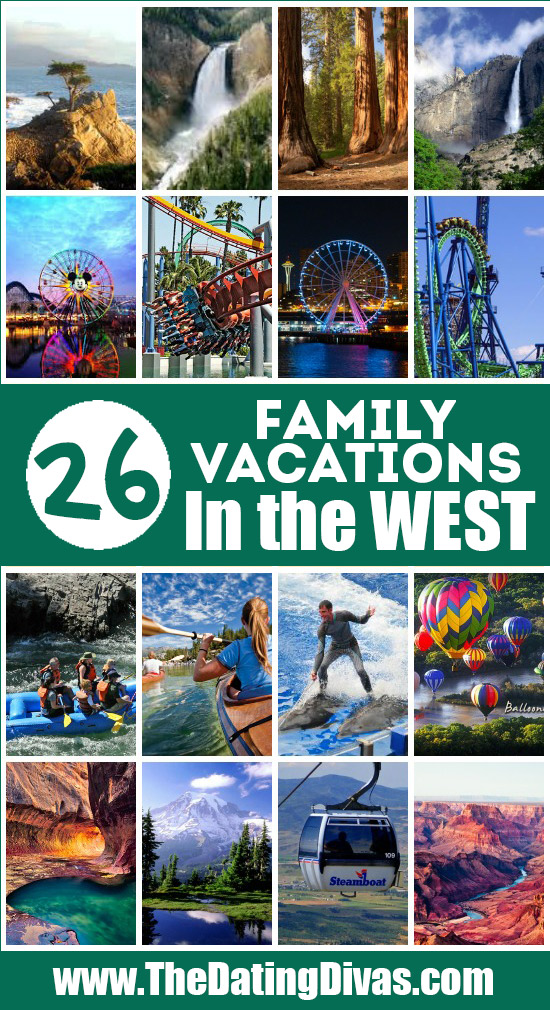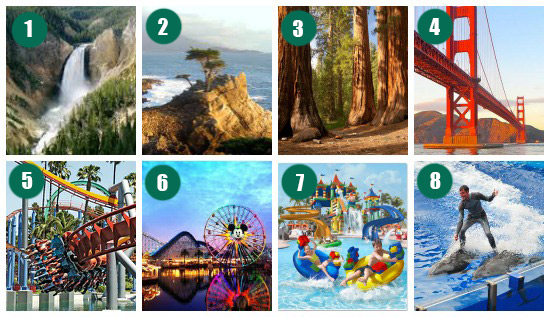 1.  Yellowstone National Park– Yellowstone has the highest concentration of geysers in the world!  See Old Faithful blast water sky-high every 90 minutes, explore mud pots, breath-taking waterfalls, and multicolored hot springs.  Yellowstone is also brimming with wildlife: elk, bears, bison, wolves, and bighorn sheep all live there! 
2.  Monterey, CA– Located on one of the most gorgeous stretches of California coastline, Monterey is home to the world famous Monterey Bay Aquarium.  After exploring the otters, penguins, eels, and sharks- take a stroll down historic, waterfront Cannery Row.  Try some famous clam chowder on Fisherman's Wharf or go on a whale watching tour.  
3.  Redwood National Park– Redwood National Park is home to the tallest, most majestic trees on earth.  Stroll through a jungle of sky-high sequoias, some of them more than 2,000 years old!  Let the kids explore the hollow trees and climb on the massive fallen limbs.  Take a trail to waterfall or have a picnic and roast marshmallows on the grills. 
4.  San Francisco, CA– Hop on cable cars and go for a ride across the city and down to the bay.  Check out the sea lions at Fisherman's Wharf and book a tour boat to Alcatraz island.  And don't forget to experience the famous Golden Gate Bridge!
Fun Vacations For Kids in the West
5.  Knott's Berry Farm– This 160-acre theme park is perfect for thrills, adventure, and family fun! The park has a good variety of roller coasters, family rides, children rides, water rides, historical rides, and live entertainment.  And don't forget to try some of those famous jams and jellies!
6.  Disneyland– Of course we HAD to include the "Happiest Place on Earth!" With 58 different, magical attractions, you'll never run out of things to do!  Shop on Main Street U.S.A.  Explore Tomorrowland, Fantasyland, Frontierland, Adventureland, and Toontown.  Then stay to watch the magical light parade and fireworks with some of the kids favorite Disney character.  And when you book through this link, use our promo code: DIVAS for additional SAVINGS!!
7.  Legoland– With more than 60 thrilling rides, shows, and attractions to choose from, younger kids are sure to be entertained in this Lego fantasy world.  In Miniland USA, you can explore reproductions of seven area of the United States, all constructed with 20 million Lego bricks!  Extend the magic by staying at Legoland Hotel or visit Legoland Water Park while you're there.
8.  SeaWorld San Diego– Interact with dolphins and belugas, and get splashed by Shamu! From sea lions to polar bears, and penguins to sharks- marine life surrounds you! Ride the double-launch roller coaster, watch some amazing live shows, and enjoy special exhibits like the Turtle Reef and Shark Encounters. 
Best Vacations For Kids in the West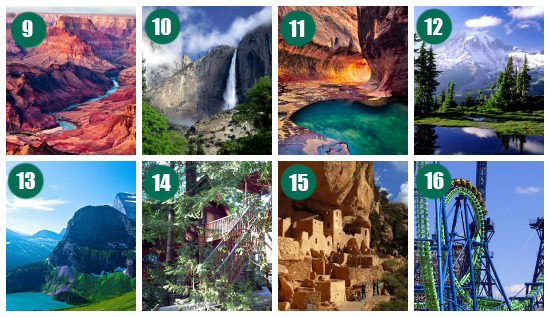 9. Grand Canyon National Park–  Of course we had to include the Grand Canyon, one of the Seven Natural Wonders of the World!  This massive canyon is 277 miles long and 6,000 feet deep in some spots.  Don't just stand and stare, bike along the South Rim or hike into the canyon on a ranger-led tour.  You can even take a 3-hour excursion by mule! For SURE one of the best family vacations there is! 
10.  Yosemite National Park–  The steep granite cliffs and majestic waterfalls make Yosemite National Park a scenic wonder!  You can take the free park shuttle around Yosemite Valley to explore El Capitan, Half Dome, and Yosemite Falls.  Or take a day hike on the Mist Trail to see Vernal Falls.  You can even rent a tube and go floating down the lazy Merced river. (CLICK HERE for your Complete Guide to Yosemite!)
11.  Zion National Park– Famous for its red sandstone formations, Zion National Park in Utah is a nature lover's dream!  Its incredible canyons and spectacular views draw visitors from around the world.  You can take the 2-mile paved Riverside Walk or try hiking The Narrows, Subway, or Angels Landing.  Junior ranger programs are available for kids to learn more about the park.
12.  Mt. Rainier National Park– Located in West Central Washington State, Mt. Rainier is a 14,410 foot high snow-covered peak with 25 major glacier.  The good news is that you don't have to be a mountaineer to scale it!  In the Summer, you can hike on one of the lower family trails past beautiful waterfalls and glacial lakes.  Or drive up to Sunrise for indescribably beautiful views of the Cascade mountains.  
Family Summer Vacation Ideas in the West
13.  Glacier National Park– Located in the rugged Montana Mountain, Glacier National Park has over 700 miles of scenic trails.  The appropriately named Going-to-the-Sun Road is a 52-mile long road that crosses the Continental Divide.  At nearly 7,000 feet, it provides breath-taking views of Glacier's one million acres of turquoise alpine latex, mountain goats, grizzly bears, and other wildlife. Use this guide to pick out the best hikes in Glacier National Park and your kids will for SURE think this is one of the best family vacations there is! 
14.  Treehouse Institute– Have your kids always asked for a treehouse?  Surprise them with a Treehouse getaway in Takilma, Oregon!  Family-friendly cabins are hidden away in the tops of trees for a truly unique experience.  With zip lines, horseback riding, rafting, and more- there's something for everyone to enjoy! 
15.  Mesa Verde– In Southwestern Colorado you can find some of the best-preserved ancient Pueblo dwellings, dating way back to 550 AD!  Park rangers lead you up the sandstone cliffs, up wooden ladders into Cliff Palace with more than 150 rooms.  There the kids can grind corn, check out ancient ovens, and craw through tunnels.  
16.  Silverwood Theme Park– Located in beautiful Northern Idaho, Silverwood Theme Park has over 70 rides, slides, shows and attractions, including four roller coasters, Boulder Beach Water Park, a steam engine train, live entertainment, restaurants, and MUCH more!  And if your kids are Garfield fans- they are sure to love it.  Garfield and Odie are the official mascots of Silverwood Theme Park. 
Best Family Vacation Spots in the West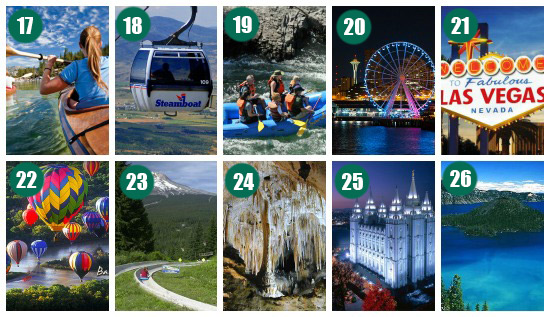 17.  Lake Tahoe– Located right on the California and Nevada border, beautiful blue Lake Tahoe is the perfect year round vacation destination!  With over 300 days of warm sunshine, and gorgeous scenery, it is the perfect vacation getaway.  Rent a cabin and go boating in the Summer or choose from over 18 world-class ski resorts in the Winter. Definitely one of the best family vacations yet!  
18.  Steamboat Springs, CO– In the Summer, Steamboat Springs is the perfect outdoor water wonderland with boating, canoeing, fishing, kayaking, and swimming.  Rent a tube and go for a family float trip, or zipline across the Colorado River!  And don't forget to check out the Coca Cola Adventure Zone.  It has a climbing wall, rope course, and bungee jump.  
19. Jackson Hole, WY– Jackson Hole is a nature lover's paradise!  Go white water rafting, horseback riding, and catch the daily cowboy show.  You can even experience the Wild West with a covered wagon cookout dinner.  In the Winter you can go snowmobiling, dog sledding, snowshoeing, cross-country skiing, ice skating, and even go for a sleigh ride! 
20.  Seattle, Washington– Visit the iconic Space Needle, watch the flying fish at Pike Place Market, ride the waterfront Ferris Wheel, or take a ferry ride to Bainbridge Island.  If it's a rainy day, visit the Seattle Art Museum or stop in at the Museum of History and Industry.  Or stop by Chinatown International District for a taste of the local cultures.
Top Family Vacations in the West
21.  Las Vegas, NV– Viva Las Vegas!  Believe it or not, Sin City actually has a lot of G-rated, family-friendly attractions.  Go indoor skydiving, check out the Adventuredome at Circus Circus, ride The Manhattan Express Rollercoaster, explore the outdoor gardens at Springs Preserve, try some fried Oreos and Twinkies, visit the Shark Reef Aquarium at Mandalay Bay, or enjoy the Bellagio fountain show.  
22.  Albuquerque, NM– The true Southwest awaits you in Albuquerque, New Mexico!  The sun shines 310 days a year- perfect for outdoor activities.  Shop for authentic Native American jewelry, ride the world's longest tram above gorgeous canyons, or attend the International Balloon Fiesta!
23.  Mount Hood Adventure Park– Just 50 miles east of Portland,  is a 11,249-foot volcano named Mt. Hood.  For some serious outdoor fun, head to Mount Hood Adventure Park.  Ride the ½ mile Apline Slide, go zip-lining over Mt. Hoot National Forest, experience a 100′ free fall from Bungee Jump Tower, or ride down the 300 foot Summer Tube Hill.
24.  Carlsbad Caverns National Park– Located in the Guadalupe Mountains in southeastern New Mexico you'll find the beautiful Carlsbad Caverns.  Hike into the cave on your own or take an elevator from the visitor center.  There you'll discover the fifth largest chamber in North America, aptly named, Big Room.  At almost 4,000 feet long, 625 feet wide, and 255 feet high- it is not a sight you'll soon forget. Our kids definitely think this is one of the best family vacations ever. 
Fun Vacations for Kids in the West
25.  Salt Lake City, UT– One thing you'll never do in Salt Lake is run out of things to do!  Visit the famous sites at Temple Square, check out the animals at Hogle Zoo, relive the glory at Olympic venues, or explore the world's largest dinosaur exhibit at Thanksgiving Point.  Let the kids run around 60,000 square feet of interactive fun at Discovery Gateway or cool off at Lagoon Water Park.  
26. Crater Lake National Park– Located in Oregon, Crated Lake has inspired people for thousands of years.  It averages 500,000 visitors per year who come to marvel at the impossibly blue waters and lookout over the surrounding cliffs from the park's Rim Drive.  It is the deepest lake in the United States formed over 7,700 years ago when Mount Mazama erupted and collapsed on itself.   Remaining lava flows seals the bottom and filled with rain and melted snow.
Midwest Vacations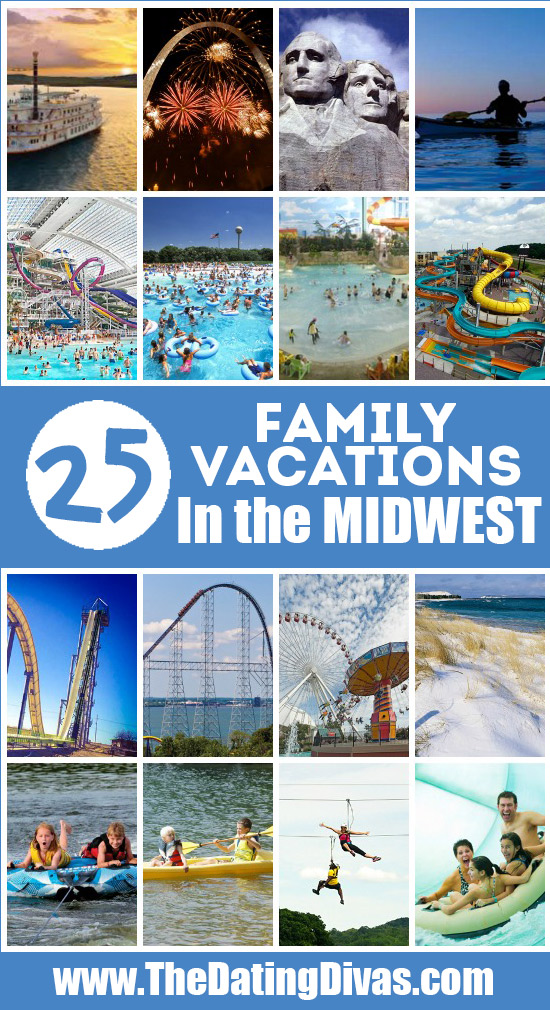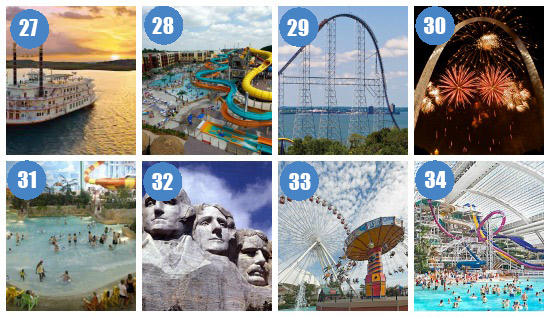 27.  Branson, MO– A vacation mecca, Branson is one of the most family friendly resorts in America.  Nestled in the Ozark Mountains, you'll be blown away with its beauty.  With 53 theaters and 1oo+ family friendly shows, it is known as the live entertainment capital of the world.  Ride the roller coasters at Silver Dollar City, take a dinner cruise across Table Rock Lake on the Showboat Branson Belle, or cool off at White Water Park. Having been here ourselves, we definitely think this is one of the best family vacations ever.  
28.  Wisconsin Dells– In South-Central Wisconsin, you'll find the watermark capital of the world!  With more than 200 slides and 18 indoor/outdoor options, you're sure to find a fun way to cool off!  Get a day pass to America's largest Waterpark, Noah's Ark, or check out one of the many wet and wild resorts.  
29.  Cedar Point– No other amusement park on the planet has as many roller coasters as Cedar Point.  Located in Sandusky, Ohio you can enjoy 17 thrilling rides.  They have everything from wooden coasters to steel screamers and suspension coasters.  You can even flip upside down 4 times while riding standing up! Can you, "BEST family vacations"?!!
30.  St. Louis, MO– There's plenty of fun to be had in the Gateway City!  Take a 630-foot ride to the top of the  famous Arch, cheer on the Cardinals at Busch Stadium, enjoy the rides at Six Flags, explore the animals at the Saint Louis Zoo, let the kids' imaginations loose at The Magic House, or discover your inner child at the uniquely famous City Museum.  
Top Family Vacations in the Midwest
31.  Great Wolf Lodge– Located in Gurnee, IL, This lodge is the perfect kid-friendly waterpark resort!  Their unique kid-friendly hotel has 414 resort-style guest rooms and suites, and watermark admission is included with your room.  If the waterpark isn't enough to keep the kiddos busy, they've got 10,000 square feet of entertainment and activities throughout the hotel.
32. Black Hills, SD– There's a lot of fun waiting to be discovered in the Black Hills of South Dakota. Pet a gator at Reptile Gardens, interact with the animals at Old MacDonald's Farm, go on a wildlife adventure at Bear Country U.S.A., or enjoy a dinner and show at Fort Hays Chuckwagon.  And of course, you have to cross iconic Mount Rushmore off of the bucket list before you leave! 
33.  Chicago, IL– With lakefront beaches and over 500 family-friendly parks to enjoy, Chicago is full of fun and charm!  Visit Museum Row, stop by Navy Pier, or take a quick dip in Lake Michigan.  There really is something for everyone.  Sports fans can head to the ball field while the more artsy types enjoy the opera or a gallery opening. 
34.  Mall of America– You can easily spend the entire day at Bloomington's Mall of America and never even set foot in any of its 520 stores.  This four story mall also houses a seven-acre playground with more than 30 rides and attractions your children are SURE to love!  And that's not all- it's also the nation's largest indoor theme park! 
Best Midwest Vacations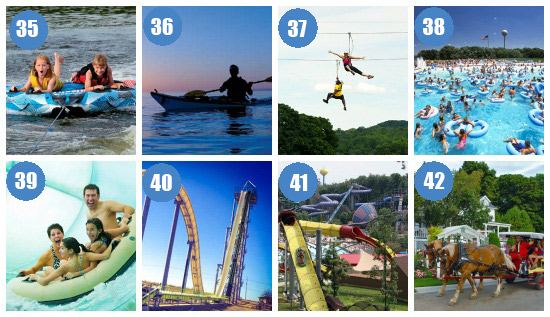 35.  Lake of the Ozarks- Who needs an Ocean when you have 60,000 acres of water and 1,150 miles of shoreline at Missouri's beautiful Lake of the Ozarks?  Yes, it has more miles of shoreline than the coast of California along with two state park and over 1800 campsites! Your kids are sure to think it's one of the best family vacations ever!
36.  Lake Superior- It's no wonder that the shores of Lake Superior are sometimes called "America's Fourth Coast."  It is the world's largest freshwater lake, stretching across three states and nestled between two countries.  Visit one of the many waterfalls, rent a canoe, or go charter fishing! 
37.  Boyne Falls, MI– This popular four-season resort brings outdoor enthusiasts from around the world.  Go swimming, biking, golfing, or zip-lining through the treetops.  Ski lifts transform into scenic rides and your family can enjoy a night of S'mores over the bonfire.  Boyne Mountain Resort offers kids' wake boarding clinics as well as Avalanche Bay, Michigan's largest indoor water park.
38.  Eugene T. Mahoney State Park– Located in Ashland, Nebraska Eugene T. Mahoney State Park is full of family-friendly amenities.  Check out the trail rides, hit the driving range, go miniature golfing, or splash at the water park.   
Best Places for Family Vacations in the Midwest
39. Great Wolf Lodge– With five locations in the Midwest, Great Wolf Lodge has become a favorite vacation destination for families with young children.  Currently located in Cincinnati, Ohio; Kansas City, Kansas; Sandusky, Ohio; Traverse City, Michigan; and Wisconsin Dells, each resort offers varying activities.  But no matter where you go, you can expect plenty of indoor water park fun! We definitely think is one of the best family vacations there is!
40. Kansas City, MO– Kansas City is a lively area filled with a vibrant arts scene, world-class attractions, and an eclectic mix of shops.  Explore the Jazz District, sample some of their famous barbecue, and tour the city's beautiful fountains.  Speed down the tallest and fastest waterside in the world at Schlitterbahn Kansas City Waterpark, then cool off at the Kansas City Zoo's new Penguin Plaza. 
41.  Holiday World– Located in Santa Claus, Indiana this appropriately named theme park is full of top-ranked coasters and a ginormous water park. It's been voted the cleanest park in the world, and bonus- they offer free soft drinks, free sunscreen, and free parking!  
42.  Mackinac Island, MI– Step back in time as you arrive at Michigan's Mackinac Island. Cars are prohibited on the island so take a leisurely three mile tour by bicycle, on foot, or in a horse-drawn taxi.  Explore the historic 18th-century Fort Mackinac, and watch reenactors tell about life for America soldiers and families in the 1880s.  Oh, and don't forget to sample their famous fudge!
Midwest Vacation Spots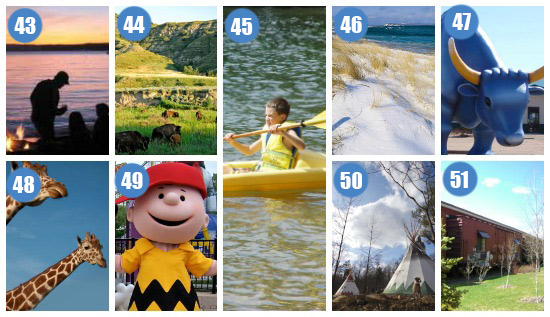 43.  Madeline Island, WI–  Take a ferry ride across Lake Superior to Big Bay State Park, and you'll find a hidden island paradise with a mile and a half of secluded beaches. It's a great place to relax, have a picnic, or take a stroll with the family.
44.  Theodore Roosevelt National Park– Located in west central North Dakota are 70, 446 acres of rugged terrain, beautiful rock formations, and lunar landscape. Collectively known as the "Badlands", they are North Dakota's #1 tourist attraction. Take in a western themed musical, visit Teddy Roosevelt's cabin, or tour the 27 room amnion, Chateau de Mores.  Go on a horseback tour or watch the Wild Buffalo Herds roam free. Definitely one of the coolest and best family vacations that your kids won't soon forget!
45.  Minocqua Area, WI– There are lots of reasons that the Minocqua area is considered "Nature's Original Water Park."  With 4,200 lakes there is tons of water fun to be had.  From canoeing to wake boarding and fishing to kayaking- it's all there.  
46. Sleeping Bear Dunes National Lakeshore– Located in Michigan, Sleeping Bear Dunes National Lakeshore was named "The Most Beautiful Place in America" on ABC's Good Morning America with over 100,000 public votes.  Take a canoe trip on the Crystal and Platte Rivers, explore the biking and hiking trails, or enjoy the scenery from the overlooks at Pyramid Point.  
Best Vacations for Kids in the Midwest
47. Brainerd, MN– Located in the heart of Minnesota, the Brainerd Lakes Area is know for it's fun and attractions including Brainerd International Raceway and Paul Bunyan Land.  From Spring through Fall the International Raceway hosts a range of racing events, and Paul and his Blue Ox, Babe, can be found at Paul Bunyan Land with it's rides and railroad.
48. African Safari Wildlife Park– Located in Ohio, the African Safari Wildlife Park lets you get up close and personal with animals native to the African savannah.  Take a drive through the park as giraffes, zebras, and water buffalo lumber right up and introduce themselves. Definitely one of the best family vacations out there. 
49.  King's Island– With more than 3 million visitors per year, King's Island is one of the most visited theme parks in the US.  Check out all the family-friendly attractions at Snoopy Island, or head on over to Soak City Water Park.
50. Tipi Village at Rawhide Ranch– Tipi Village at Rawhide Ranch is one of the only places that gives you the opportunity to sleep in a real tipi.  Styled after the Souix design, these roomy lodges even have smoke flap extensions.  Now that's a "hotel" experience your kids are not going to forget!
51.  Two Harbors, MN– Two Harbors is an area known for it's fishing, mining, lighthouses, logging, and TRAINS!  For a truly unique experience- book a room at the Northern Rail Traincar Inn and spend the night sleeping in a train boxcar! 
Family Vacation Spots in the South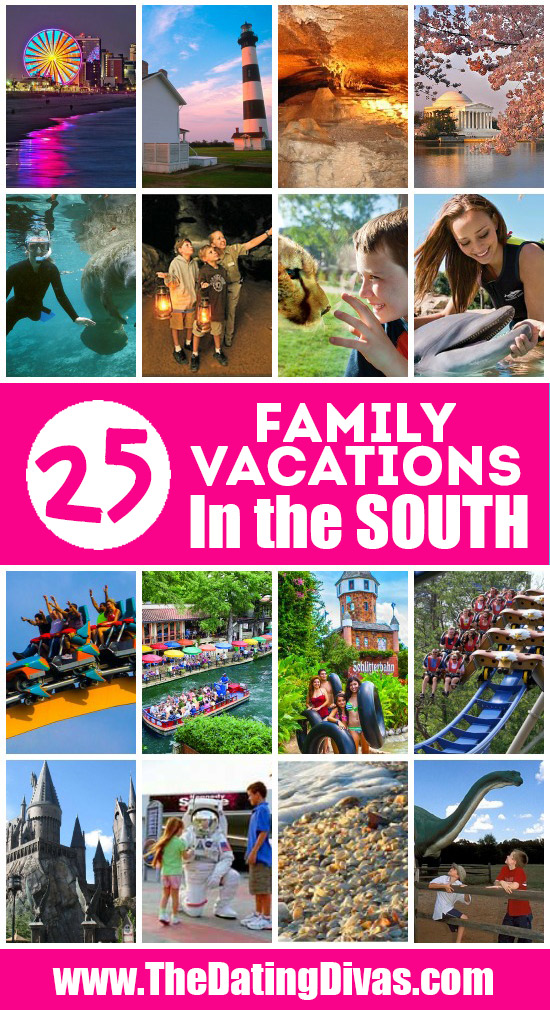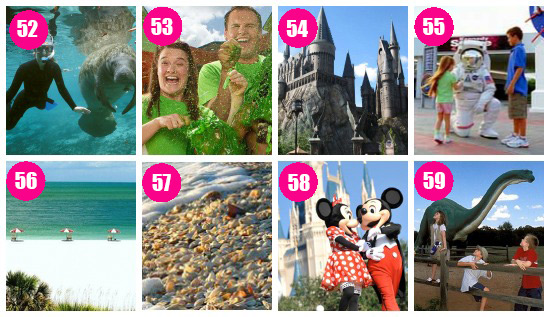 52. Crystal River, FL– Just 90 minutes from Orlando and Tampa you'll find Crystal River- the only place where you can swim with manatees in the wild!  Snorkeling and diving outfitters like American Pro Diving Center take you to the warm spring where the manatees congregate for one of the best family vacations! 
53. Holiday Inn Resort Orlando Suites– (Holiday Inn has since bought the Nick hotel) Just a mile from Disneyworld Parks in Orlando is Nickelodeon Suites Resort.  With two wet and wild water parks, a mall, arcade, food court, kid's spa, and live game show- our kids can run wild, get soaked, and have the time of their life.  
54.  The Wizarding World of Harry Potter– At Universal Orlando Resort, your little Potterphiles can go Hog(warts) wild exploring Hogsmeade and Hogwarts.  Grab a mug of Butterbeer, go wand shopping at Ollivanders, and join a Quidditch match.  
55.  Kennedy Space Center– Located in Cape Canaveral, FL, just an hour from Orlando, the Kennedy Space Center lets you be an astronaut for the day!    Feel what it's like to rocket into the stratosphere on a flight simulator, take mission control tours, and even have lunch with an astronaut! 
Fun Family Vacations in the South
56.  Fort De Soto Park– Located in St. Petersburg, FL is the beautiful Fort De Soto Park.  It's North Beach has a shallow lagoon that's perfect for little swimmers.  Build sand castles, search for sea shells, and let the kids burn off energy in the pirate-ship playground.  
57.  Sanibel & Captiva Islands– In Southwest Florida you will find some of the most beautiful beaches you've ever seen-covered in shells.  Thousands of seashells wash up on the beaches of these islands, so grab a bucket and start collecting.  The water is shallow forever, so it's great for the little ones, and you can sometimes see dolphins right off shore. This is truly one of the best family vacations!  
58.  Walt Disney World– Of course our list would not be complete without Disney World! It truly is a magical experience for young and old alike.  From Epcot to Disney's Animal Kingdom, and Downtown Disney to ESPN Wild World of Sport, there is seriously something for everyone! 
59. Dinosaur Valley State Park– In Glen Rose, TX you can find some of the best-reserved dinosaur tracks in the world!  Take a ranger-guided tour through the Paluxy riverbed in search of giant footprints made by duck-billed dinos and brontosauruses! 
Best Family Vacations in the South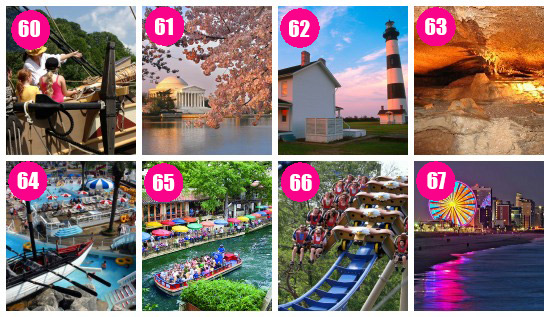 60. Williamsburg, VA– Historic Williamsburg, Virginia is home to amusement parks, water parks, and whole lot of history!  Visit the Jamestown settlement and colonial Williamsburg for a fun lesson in U.S. history.  Or head to Virginia Beach for some water fun.   
61.  Washington DC– The Nation's Capitol is a fun and exciting place to visit.  And even better, many of the monuments and museums are free!  Visit the White House, Capitol Building, Lincoln Memorial, or the National Air and Space Museum at the Smithsonian.  Picnic at one of the many surrounding parks or stop by the National zoo.  
62. The Outer Banks– Along a 200-mile long strip of narrow barrier islands off the coast of North Carolina, you will find some of the most breath-taking beaches in the world.  Relax with the wind and waves or go on a costal adventure.  Go bird watching, biking, fishing, kiteboarding, or hang gliding off sand dunes.  You can even take a tour of historical lighthouses.
63.  Sulphur Springs, AR– In Sulphur Spring, AR you'll find abundant opportunities for outdoor adventure.  Located in the foothills of the Ozark Mountains, you can explore it's many waterfalls, go canoeing down the river, or even uncover hidden treasure at the Old Spanish Treasure Cove where you can pan for gems.
Best Family Vacation Spots in the South
64. Destin, FL– Known for it's gorgeous white sandy beaches, Destin, Florida has been voted one of the best family vacations in the entire U.S.  Go see some alligators at Gatorbeach or check out the water slides and rides at Big Kahuna's Water and Adventure Park.   
65. San Antonio, TX– You won't believe all there is to do in this city!  Take a family stroll down Paseo del Rio along the banks of the San Antonio River and stop at the Brackenridge Park or San Antonio Museum of Art.  And don't forget to cross the Alamo off your bucket list! 
66.  Dollywood– Nestled in the foothills of the Great Smokey Mountains of Tennessee you'll find Dollywood family amusement park. Owned by the famous Dolly Parton herself, the park offers thrilling rides, musical events and concerts, and even a watermark- Dollywood's Splash Country!  
67.  Myrtle Beach– This South Carolina coastal city is known for its beautiful beaches and countless attractions.  Take a ride or two on the SkyWheel, check out Ripley's Aquarium, then stop for supper at Medieval Times Dinner & Tournament or Pirates Voyage.  And don't forget to explore Broadway at the Beach!
Vacations for Kids in the South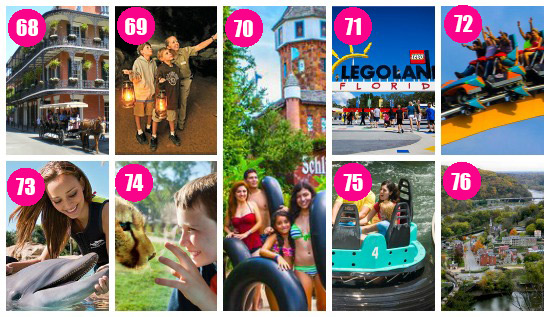 68. The French Quarter– The Mardi Gra spirit lasts all year long at The French Quarter in New Orleans.  And don't worry, there's lots of G-rated fun at this surprisingly family-friendly city.  Check out the magicians, jugglers, mimes, and jazz musicians at Jackson Square.  Try a tasty beignet and stroll along the Mississippi River and enjoy one of the BEST family vacations ever!
69. Mammoth Cave, KY– Located in the rolling Kentucky hills, Mammoth Cave is the world's longest known cave system.  Take a 45-minute tour of the cavern for a truly unique experience exploring the natural wonder.
70. Schlitterbahn Water Park– Located in New Braunfels, TX and spread across 65 acres, Schlitterbahn Water Park has held the Amusement Today title for the last 13 years.  With beaches, surfing, and an uphill water coaster ride, the kids are sure to have a splashing good time.  
71.  Legoland Florida– With more than 60 thrilling rides, shows, and attractions to choose from, younger kids are sure to be entertained in this Lego fantasy world.  In Miniland USA, you can explore reproductions of seven area of the United States, all constructed with 20 million Lego bricks!  Extend the magic by staying at Legoland Hotel or visit Legoland Water Park while you're there.
72.  Six Flags Over Georgia– This Atlanta amusement park has a little bit of something for everyone- serious coasters for the adrenaline seekers, calmer family rides for the whole gang, and kids rides for the littles ones.  Add in some entertaining shows and seasonal events and you've got a recipe for a great time! 
Best Vacations for Kids in the South
73.  SeaWorld Orlando or San Antonio– Interact with dolphins and belugas, and get splashed by Shamu! From sea lions to polar bears, and penguins to sharks- marine life surrounds you! Ride the double-launch roller coaster, watch some amazing live shows, and enjoy special exhibits like the Turtle Reef and Shark Encounters. 
74. Busch Gardens– Popular Busch Gardens theme park is located in both Tampa, Florida and Williamsburg, Virginia.  Busch Gardens Tampa has an African theme and has more than 2,700 animals.  Busch Gardens Williamsburg has a European theme and has the tallest dive coaster in the U.S.- the Griffon. For sure on our best family vacations!
75.  Carowinds– Carowinds is a 398-acre amusement park located on the border between North and South Carolina.  The little kids will love the rides at Planet Snoopy and dare-devils will enjoy thrill rides like Intimidator and Nighthawk.  The whole family will enjoy the Character Carousel and Woodstock's Express.
76.  Harpers Ferry– Located in West Virginia along the scenic Potomac and Shenandoah Rivers, one of our best family vacations is Harpers Ferry! During the Civil War, it was of such strategic importance to the Union and Confederate armies, that it changed hands eight times.  Explore historic downtown which commemorates the war, or take a hike along the Appalachian Trail.
Best Family Vacation Spots in the Northeast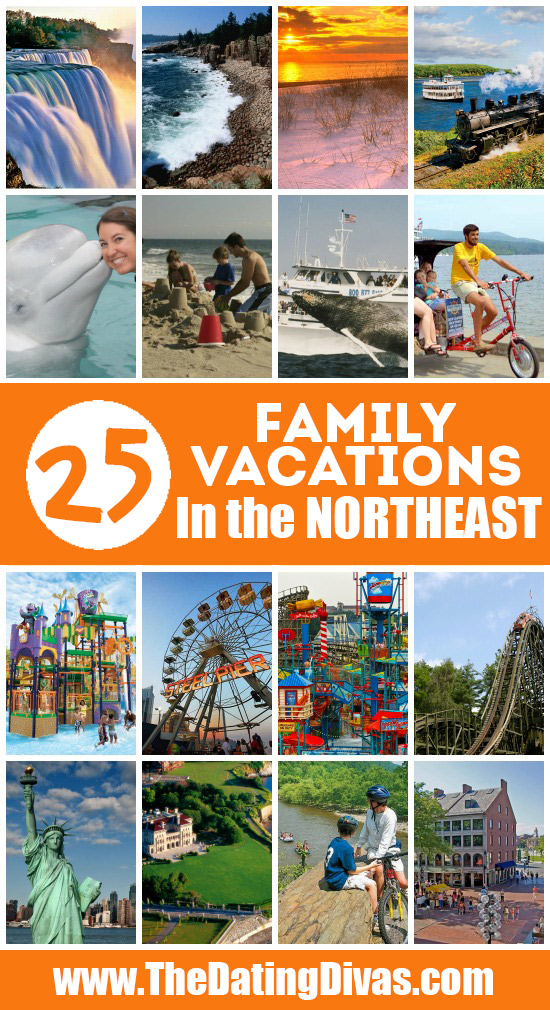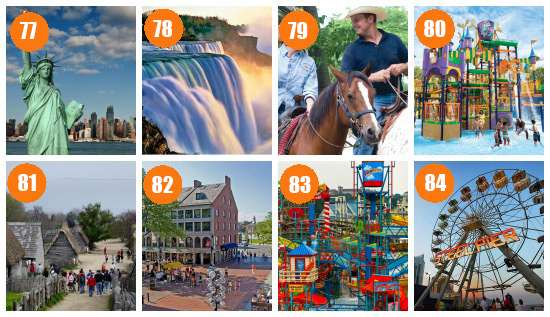 77.  New York City– New York City is a popular vacation destination because it has everything you need within walking distance.  Take a stroll through Central Park, explore the Central Park Zoo, visit the iconic Statue of Liberty, or catch a Broadway Show.  
78.  Niagara Falls–  This breath-taking American landmark should be on everybody's bucket list!  Enjoy the jaw-dropping view as six million cubic feet of water plummet over the massive falls every minute.  If you bring your Passport, you can cross Rainbow Bridge and view it from the Canadian side as well.  Or Board the Maid of Mist boat and get right up close to the pouring falls.  At night there are even fireworks. TRULY one of the BEST family vacations! 
79.  Rocking Horse Ranch– There is so much to do at Rocking Horse Ranch, the kids will never get bored. This all-inclusive family resort in Highland, New York features unlimited horseback riding, an indoor water park, a private lake, entertaining wild west shows, and all-included dining! 
80. Sesame Place– Located in Langhorne, Pennsylvania, Sesame Place is the world's most perfect theme park for toddlers and preschoolers.  If you have a little fan of Elmo and the gang- this is a must!  Check out the water rides and attractions then dry off and explore Sesame Neighborhood to meet the characters.  If you stay late enough you can dance along to the Street Party Parade. 
Fun Vacation Spots in the Northeast
81.  Plymouth, MA– Step back in time to the 1620's at Plimoth Plantation when the pilgrims first arrived on the Mayflower from England.  Actors in costumes recreate what it was like in the early settlement.  Check out Plymouth Rock, where colonists first set foot in America, then board the Mayflower II- a full-size replica of the original boat.  
82.  Boston, MA– Boston is full of New England charm and history.  Walk the famous Freedom Trail, catch a game at Fenway Park, tour Cambridge, or shop at Faneuil Hall Marketplace in the heart of downtown Boston. Definitely one of our truly best family vacations! 
83. Hershey Park– It doesn't get much better than an amusement park AND chocolate, now does it?!   With over 65 rides and attractions and located right next to Hershey's Chocolate World, you really can't go wrong! 
84.  Atlantic City, NJ– Atlantic City is well-known as a top vacation destination.  Relax on the beach, take a stroll or bike ride along the boardwalk, or take a surfing class.  Or maybe you'd rather take a trolley tour around town, learn how to go parasailing, or hit the rides and attractions.  
Best Family Vacations in the Northeast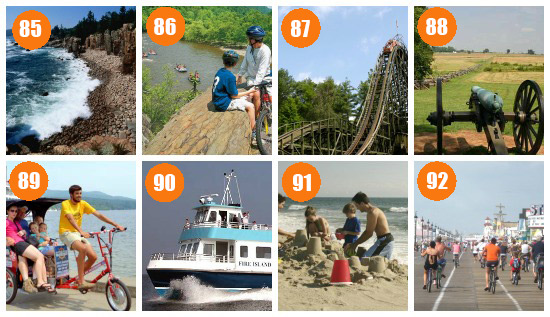 85. Acadia National Park– Located in eastern Main along the sea, you'll find Acadia National Park.  The rocky shorelines provide wonderful tide pools to explore and the panoramic views go on forever.  Hike one of the many trails, take a swim in Echo Lake, or stop in at Jordan's Pond House for some delicious treats.  
86. The Poconos, PA– The Pocono Mountains of Pennsylvania provide an outdoor playground with plenty of hiking, biking, camping, and water park.  Bushkill Falls is known as the Niagara of Pennsylvania and Cambelbeach Mountain Waterpark has over 37 slides, rides, and attractions.  Don't forget to try out the Zip Flyer- the longest and fastest tandem zipline in North America. 
87. Knoebels Amusement Resort– Located in Elysburg, Pennsylvania, Knoebels is an old-fashioned, family-friendly amusement park.  If you're working on a tight budget- this may be the perfect destination for you as admittance and parking are free of charge.  One reader said that "a family of 4 can eat, swim, and ride all day for $100!"  Talk about a bargain!
88.  Gettysburg, PA– There's lots to do in historic Gettysburg.  Visit the new visitors center at national military park to view artifacts and memorabilia, walk the hallowed battlefields, and stop by to watch the famous reenactments. 
Best Places for Family Vacation in the Northeast
89.  Lake George– Located in the Adirondacks of New York, Lake George is a popular family vacation spot.  You can walk within a two-clock radius and go fishing, rent a boat, watch a war reenactment, relax on the beach, take a cruise, play miniature golf, go parasailing, or even ride in a horse-drawn carriage!
90. Fire Island– Located near Long Island, New York between the Great South Bay and the Atlantic Ocean, Fire Island is a haven for beach lovers and water sports enthusiasts.  Free of cars, it seems a world away from the neighboring metropolitan areas.  Enjoy surfing, clamming, biking, hiking, swimming, kayaking, tennis, and much more.  
91.  Long Beach Island, NJ– This narrow 18-mile long island is well-known as a beach lover's paradise.  With long stretches of white sandy beaches, a water park, and amusement park- there's something for everyone in the family.  The town is also a popular shopping spot, especially the stores at Schooner's Wharf.   
92.  Ocean City, NJ– If you're looking to escape the hustle and bustle of city life, Ocean City may be the place for you!  With a population of less than 12,ooo it's the perfect, relaxing getaway.  Enjoy eight miles of sandy beachfront, play a game of miniature golf, or check out the amusement and water parks.  And if you'll be visiting in the Summer- there's a  free "Family Night" event is held on the boardwalk every Thursday night in July and August with face painting, karaoke, and lots of fun.
Best Vacations for Kids in the Northeast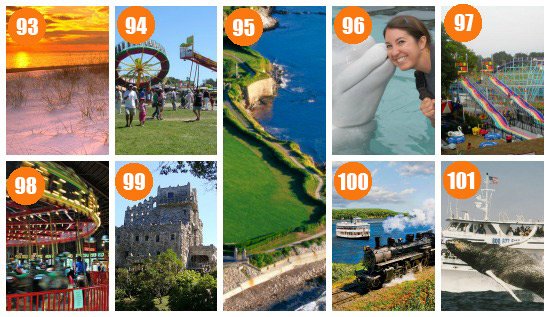 93. Cape Cod– If you're in the Massachusetts area, check out Cape Cod!  There's so much to do- build sand castles with the family, collect sea shells, and try a lobster roll.  You can even work with the National Marine Life Center and help save the turtles. One of our best family vacations yet!
94. Martha's Vineyard– The beautiful summer weather makes Martha's Vineyard a popular vacation location.  It's known for it's street fairs, fireworks, famers markets, art and music festivals, and gorgeous beaches.  You can enjoy a leisurely stroll along the water or go for a canoeing or kayaking adventure- there's something for old and young alike.
95. Newport, RI– Newport is a seaside city on Aquidneck Island in Rhode Island and has a rich history going back to colonial times.  Because of it's gorgeous beaches, the city became a summer home for many of the most wealthy families beginning in the mid-1800s.  Now, it is well known for it's famous Newport Mansions, interesting shops and restaurants, museums, and jazz festivals.
96.  Mystic, CT– Located in Connecticut, Mystic Country is full of fun and New England charm.  Enjoy the shops downtown, check out the beluga whales at Mystic Aquarium, and check out the tall ships at Mystic Seaport.
Family Vacation Spots in the Northeast
97.  Dutch Wonderland– Located in Lancaster, Pennsylvania, Dutch Wonderland is a 48-acre amusement park perfect for families with small children.  Let the kids search for fossil at Dino Dig, take a ride on Choo Choo Charlie, go for a gondola cruise, or ride the monorail.  Then check out Duke's Lagoon for lots of water fun.  
98.  Hartford, CT– For one of our best family vacations, you'll find plenty for the family to do in Hartford, Connecticut.  Ride the carousel at Bushnell Park, visit the Ballet, and stop by the historic Mark Twain House and Harriet Beecher Stowe House. 
99.  Gillette Castle Stake Park– In East Haddam, Connecticut you'll find this unique fieldstone castle.  The 184-acre park is built on a hill overlooking the Connecticut River and was once home to legendary stage actor, William Gillette (best known for his portrayal of Sherlock Holmes).  
100. Essex Steam Train & Riverboat Ride– Instead of experiencing Connecticut with the traffic of Route 95, enjoy the scenic rolling hills by stream train and then connect to a one-hour Riverboat Cruise to take in the panoramic views of the Connecticut River. 
101.  Cape Ann– Cape Ann, Massachusetts is America's oldest working seaport and art colony, and the perfect place to take your family on an exciting whale watching trip!  That's something they won't soon forget!  Then come back to relax on the beach, explore lighthouses, or enjoy a live music festival.
 Last but definitely not least!
Looking for great staycation ideas?
We've done all of the work for you with our Perfect Staycation Kit!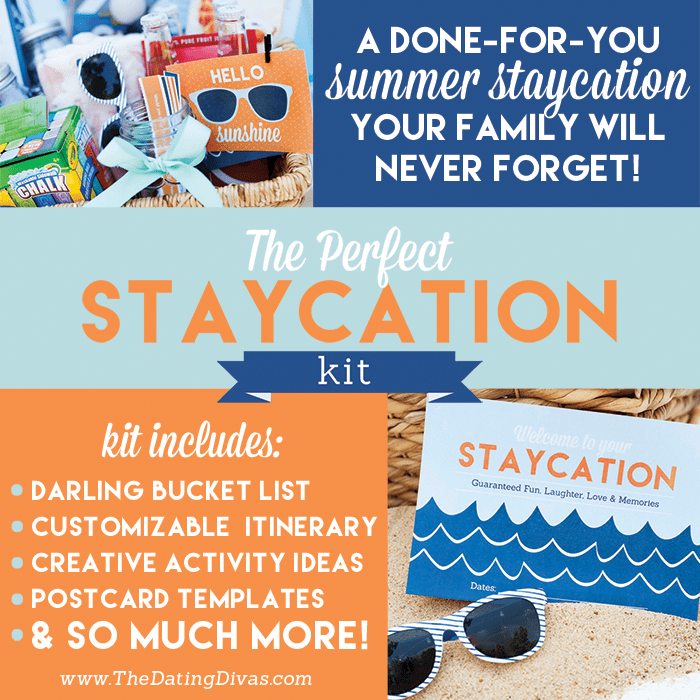 And there you have it, 101 AMAZING family vacations! So… where will YOU be heading this Summer?!  Let us know in the comments.
Oh, and if you'll be traveling by car- don't forget to grab our free Road Trip Printables and check out the Best Kids Road Trip Games!  
And if you're running low on cash for vacations this Summer- no worries!  Have a blast vacationing at home on a budget.  Here are 123 Amazing Staycation Ideas to get the wheels turning.