A Very Sexy Christmas Countdown
Want to recreate the gifts from the classic Christmas carol, The 12 Days of Christmas with a sexy twist? Our revamped and refreshed 12 Sexy Days of Christmas will make NIGHTTIME your favorite holiday tradition! Because who isn't looking for a Christmas countdown that's more naughty than nice? The 12 Sexy Nights of Christmas printable download includes everything needed for you and your holiday honey to have yourselves a very Merry Christmas. From the bold bed backdrop to twelve colorful quilt squares, we're sure our calendar is unlike any you've ever seen. This is one sexy Christmas countdown that should be on everyone's list!

Disclaimer: This post contains affiliate links. To learn more about 'em, click here.

A huge holiday thank you to Courtney at Paperelli for creating such wonderfully whimsical images! We couldn't have done it without her! Be sure to check out her Etsy shop!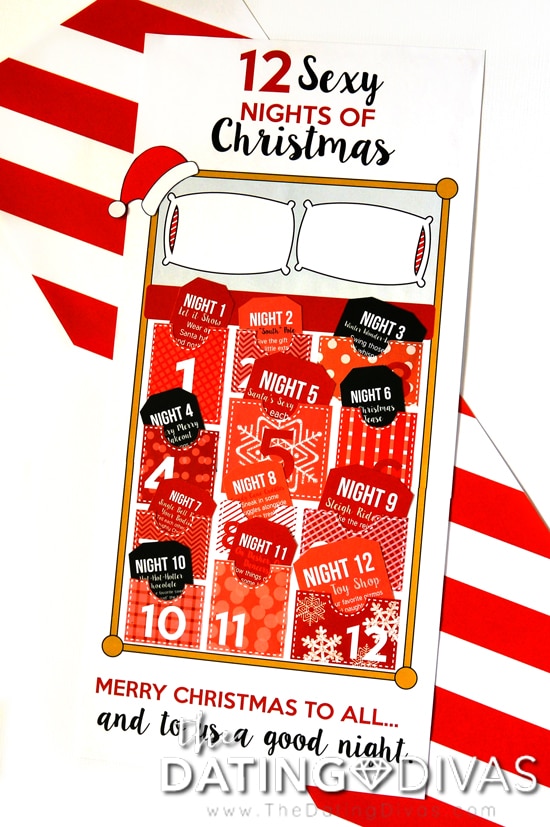 Ready to trade in those cuddles for something a bit more saucy? Our 12 Sexy Nights of Christmas countdown calendar is the perfect printable to do just that! Not only will its festive design serve to spice up the bedroom, but the hands-on component will leave the two of you feeling a little more than inspired…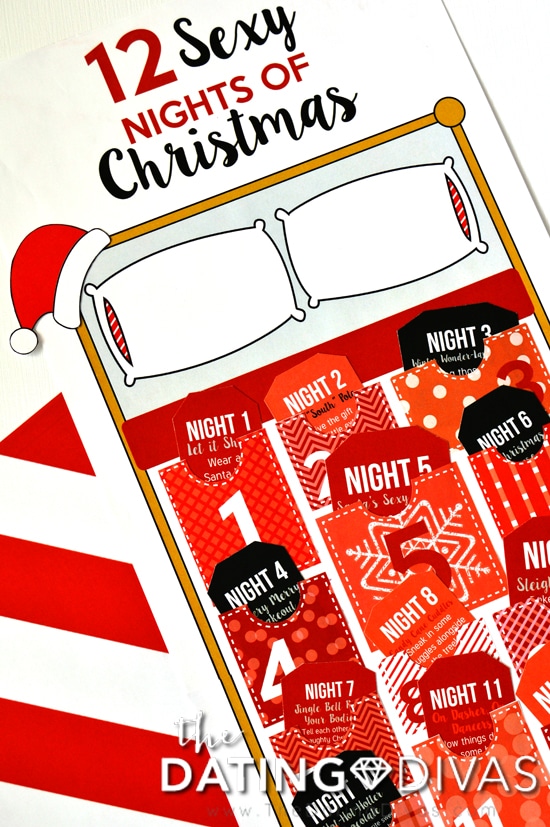 Assembly is easy as pie and we're here to help! Simply attach the top and bottom bed pieces, and slip on that Santa hat for an extra holiday vibe!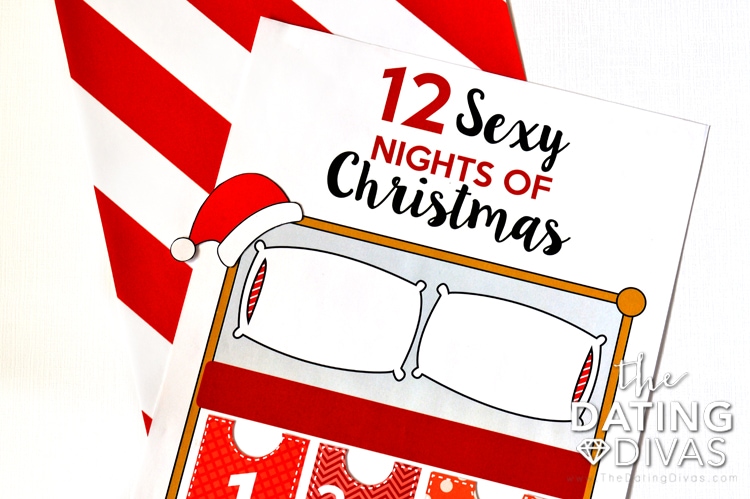 Let the individual Christmas quilt squares take center stage on your beautiful bed backdrop—just the ticket for a ride (or twelve!) to remember! Simply cut, apply a thin strip of adhesive to the bottom, left, and right sides of each square, and affix to its coordinating outline!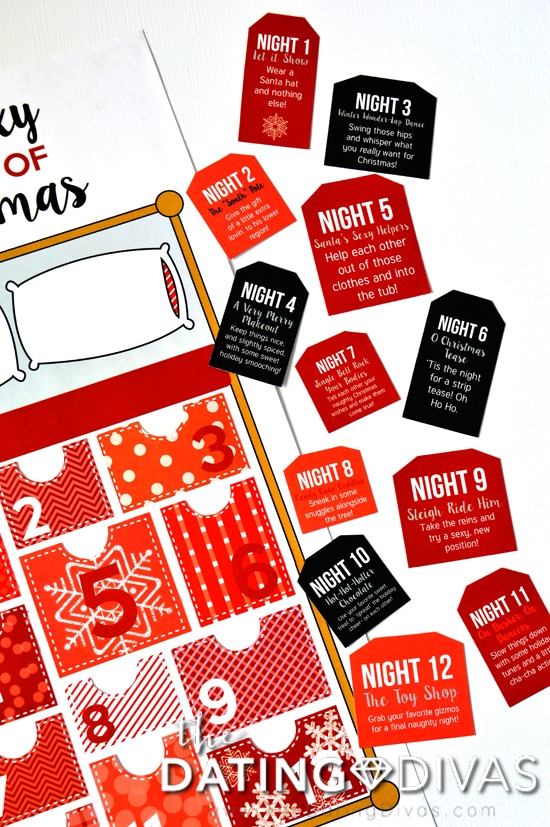 Next, come the inserts – they're as cute as they are clever! Each Christmas themed prompt will have you oh-so-excited for that long winter's nap (no sleeping needed).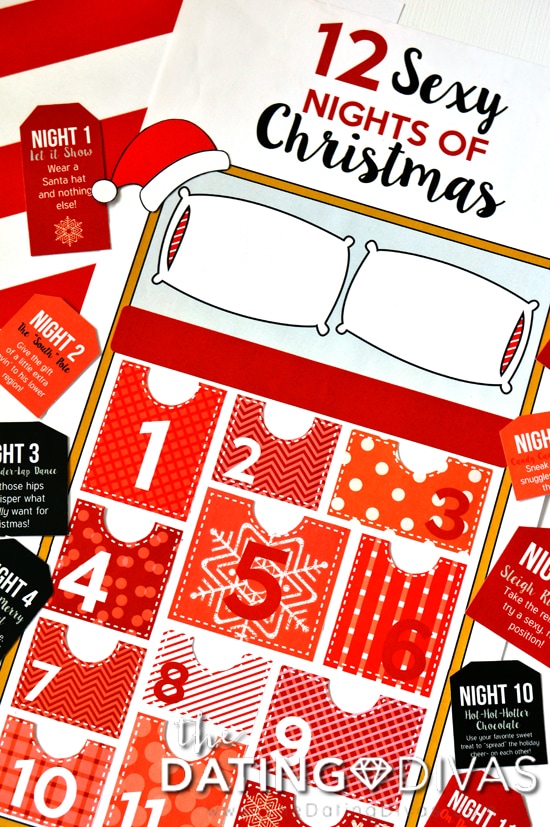 Once your calendar is complete, you're ready to do the deeds! Take turns selecting and reading each evening's task and get ready for 12 hot nights of sexy delights! It's going to be a magical Christmas, in more ways than one…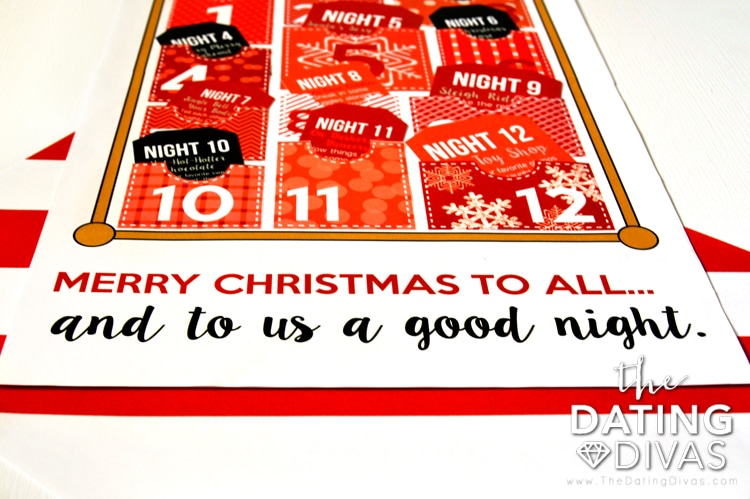 Christmas is my favorite time of the year.  I love the smells, the meaning of the season, the giving hearts, and the love that permeates the air! As a rule I try not to get caught up in the busyness of the Christmas season but busyness always seems to sneak in. I have to remind myself that simple is best and it always is! For those of you who are just like me and tend to get busy, you might put quality time with your spouse to the back burner. This year, with Diva Becca's fabulous idea, we are going to change that.
To get these printables… scroll ALL the way to the bottom of this post for the download link!
*      *      *      *      *
You are going to make plenty of time for your spouse with The 12 Sexy Days of Christmas!
 You will fulfill their wishes, spend plenty of quality time together, and make all their Christmas dreams come true!
 Before we begin Becca is going to tell you a little about how this post came about…
"Three years ago, I was trying to come up with a great Christmas present for my husband on a very small budget.  I asked him what he wanted and he replied, "You KNOW what I want." I just laughed and said, "No really, what do you want?" He looked me straight in the eye and said, "Why can't I want that? I just want YOU."  So I decided that for Christmas, I wanted to give my husband a happy, stress-free wife and a WHOLE lot of lovin'.
 And that is how The 12 Lays of Christmas came about!
 I sat down and wrote up some flirty poems to add a sexy twist to the 12 Days of Christmas.  My friend, Cher, even came up with some fun printables to go with them on her blog, Love Actually.  And I have to say- it was a major HIT!  Hand downs- his favorite Christmas present EVER!  *wink*  And I'm SO excited that Michelle has come up with this NEW and IMPROVED version to share with you!   Take it away, Michelle!"
Without any further ado, allow me to introduce you to the…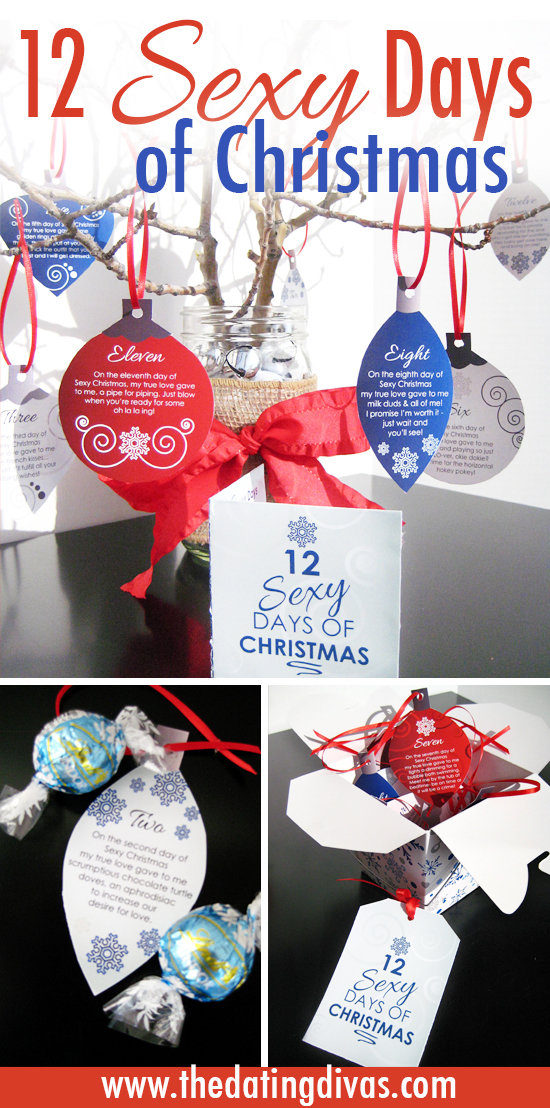 My husband and I have one very important Christmas tradition that was started our first year of marriage. The only gift we are allowed to exchange with each other is a love letter that reflects upon the year, our growing love, and the excitement we have for next year.  Now what does that have to do with this post?! Thanks to Becca's idea and Paige's help I'm adding the 12 Sexy Days of Christmas to our Christmas traditions because I love it THAT much!!! After you read this post you are going to want to add this to your traditions too!!!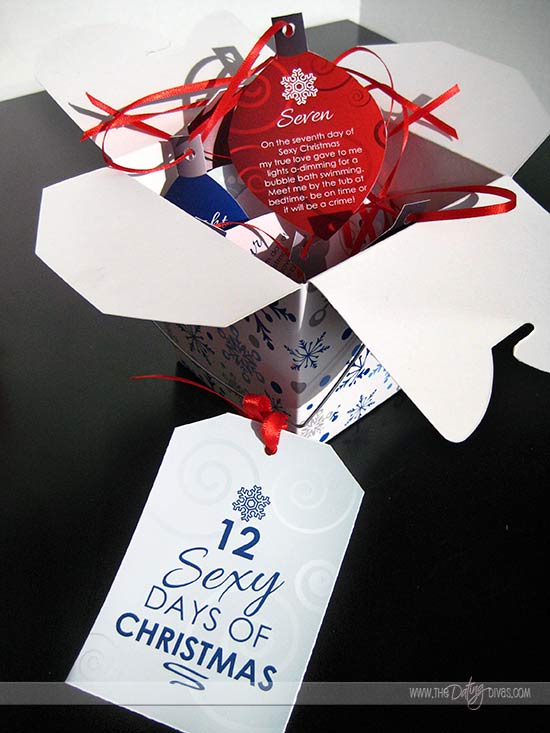 The Gift
Grab a cute little box, I used a snowflake take-out box, to place all of your lovely, sassy, flirty, and teasing ornaments into.  Place the first day of Christmas ornament, any additional items, and the note card into the box. Put on the finishing touches by tying the 12 Days of Sexy Christmas tag to the box with a ribbon. Place the gift next to your tree for your spouse to discover. Upon opening the gift place the ornament on the tree as a reminder of what's in store! Each day you will prepare a sexy rendezvous for the two of you. On each new day place the ornament into the box for your excited spouse to open!

The Ornaments
Aren't these ornaments beautiful?! A big shout out to Sameeha of The Inked Leaf for making these printables.  She is divine to work with and always makes what I've imagined ah-maz-ing.  Head on over and take a peek at her lovely designs, you will see why we love her so much!
To make each ornament or tag into a hanging ornament, punch a hole at the top and tie a ribbon through.
Each ornament has an accompanying little gift to help you fulfill your sexy deeds.
The items needed are:
Day 1: One Pear Sugar Scrub
 or any body scrub will do
Day 2: Two chocolate turtles or Dove chocolates
Day 3: Three hershey kisses
Day 4: One Whistle
Day 5: Five golden rings tied with a ribbon around a several lingerie outfits.
Day 6: Six Rolo's
Day 7: One bottle of Temptations Dreamy Bubble Bath or
 Feeling Smitten Bath Bombs (these were on Oprah's favorite things, they are ah-maz-ing!!!)
 along with Crayons
 and Finger Paints
Day 8: One box of Milk Duds
Day 9: A romantic CD
Day 10: One Mountain Dew
Day 11: One toy pipe/flute Whistle
Day 12: A ticket for a private drumming session and the note finishing the 14 Sexy Days of Christmas (these are found on the last page of the printables)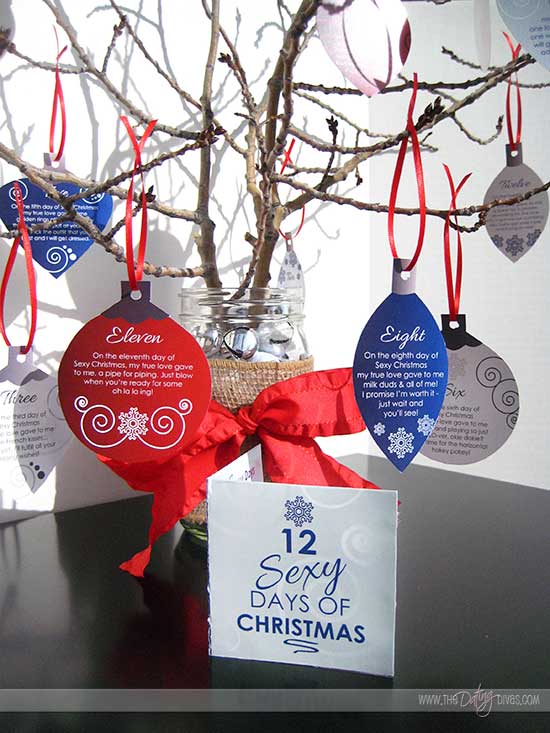 The Tree 
Thanks to my hubbies snipping skills we put together this twig tree. Making your own tree will be simple and easy all you need to do is find a tree with pretty twigs, snip them off at the length you would like, and carefully arrange the twigs to look like a pretty tree! Place your twig tree into a mason jar that you've covered with burlap and ribbon. Place in your room in a cozy place that is easily seen by the two of you.
Some of you might be thinking this is way too much work for just one gift. I completely agree with you! Keep this tree up all year round and create a sexy countdown for different occasions. On Valentines replace the red ribbon with a pink one and make sexy coupons out of  hearts to hang from the tree. In March write reasons they are "lucky" on shamrocks and use a green ribbon. For April, use a pastel ribbon and hang easter eggs with steamy gifts inside them. In July use stars to hang on the tree and tie with a patriotic ribbon. When Halloween arrives hang treats on the tree with little coupon notes wrapped around them and use an orange ribbon. For November hang leaves from the tree and tie with a brown or white ribbon. And we all know what to do in December! See how much fun this twig tree made just for the two of you will become!!!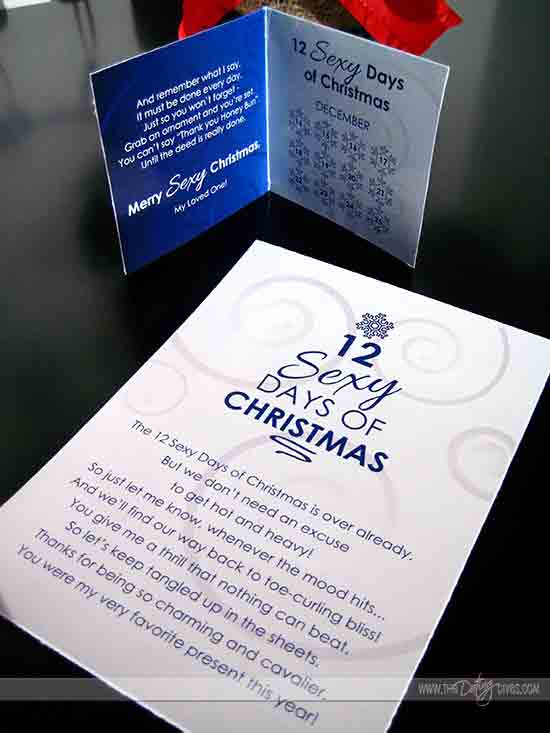 The End
On the last day of the Sexy Days of Christmas, after you have fulfilled your treat, present this little enticing note.
Is it the end? No this is just the beginning!!!  As long as you keep your spouse a priority, the two of you will enjoy countless love making sessions!!!
The Printables
Grab your 12 Sexy Days of Christmas printables. Print onto glossy sheets of cardstock for a very shimmery look! To make the card follow the instructions on the page with the card.
To keep up the sexy fun during Christmas check out Merry Kiss-mas, Santa's Cookies Bedroom Game, and The Sexy Stocking.
No more stalling, gather all your items and fill your Christmas season with lovin', in and out of the bedroom!
12 Sexy Nights of Christmas
Printables Designed by Courtney @ Paperelli Exclusively for The Dating Divas