Geneology Activity for Couples
Ever wondered about your honey's background? What were his great-grandparent's names? Where did her ancestors come from? As always, we've got a date for that! Our cute and colorful Family History Date will help you answer ALL those questions and more- giving you a special peek at your sweetie's past/present/future, and allowing them a look at yours. PLUS, everything in our printable pack is super modern, fun, and easy to use – no dry genealogy for us! Ready to step into the past? Let's go!

A massive thank you to Carisa from Messes to Memories for creating such bright, colorful, and totally captivating designs! She's amazing!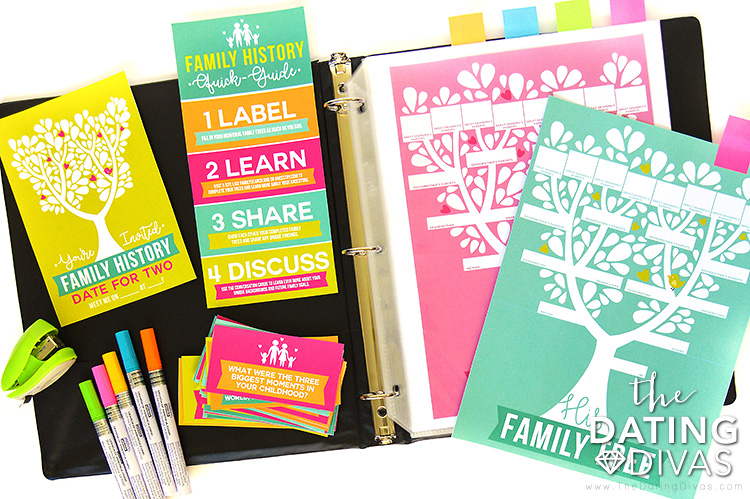 Your Family History Date has EVERYTHING you two will need to delve into your pasts, presents, and futures. How fun is that?! All you need is a computer with internet access and possibly a folder or 3-ring binder to keep everything neat and organized.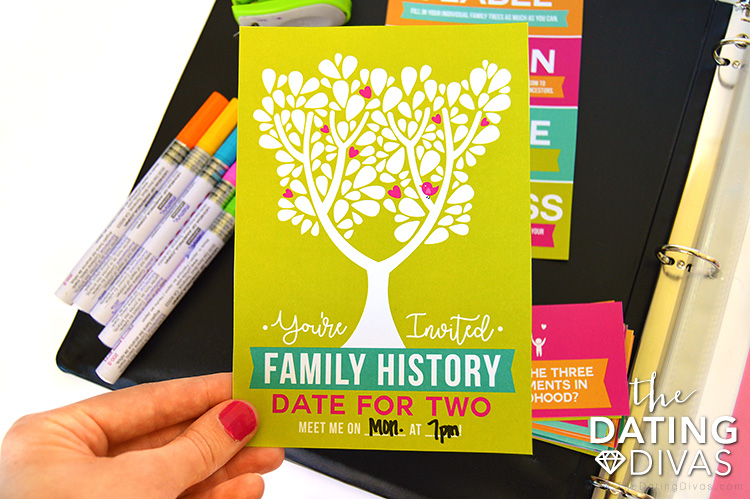 Get your honey-bun ready to do a little discovering with our oh-so-adorable Family Tree Invite! Simply fill in the day and time and you've got yourself a date. Save this date idea on Pinterest!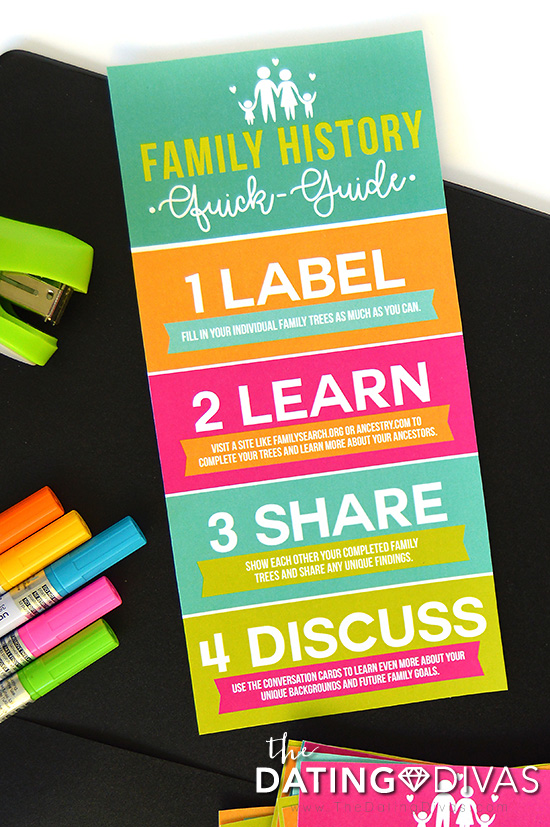 No prior Family History experience? No problemo! Our Family History Quick Guide will lead you through 4 incredibly easy steps and keep the two of you on track! Be sure to keep it handy at all times to help you work your way through the date in the BEST way possible!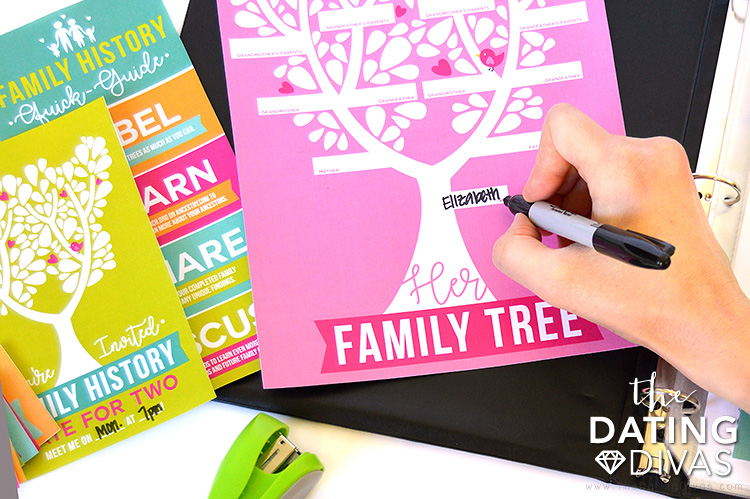 Step #1 is to fill in your individual Family Trees. There's one for Him and one for Her! Begin at the bottom by filling in your name and work your way back as best you can.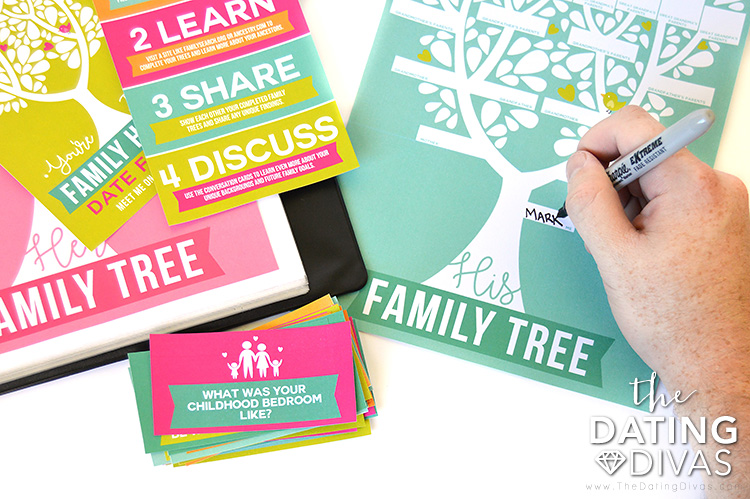 Don't worry if you get stuck! Step #2 will take you to sites like familysearch.org and ancestry.com to help you complete your trees and learn even MORE amazing goodness about your ancestors. Save these steps on Pinterest!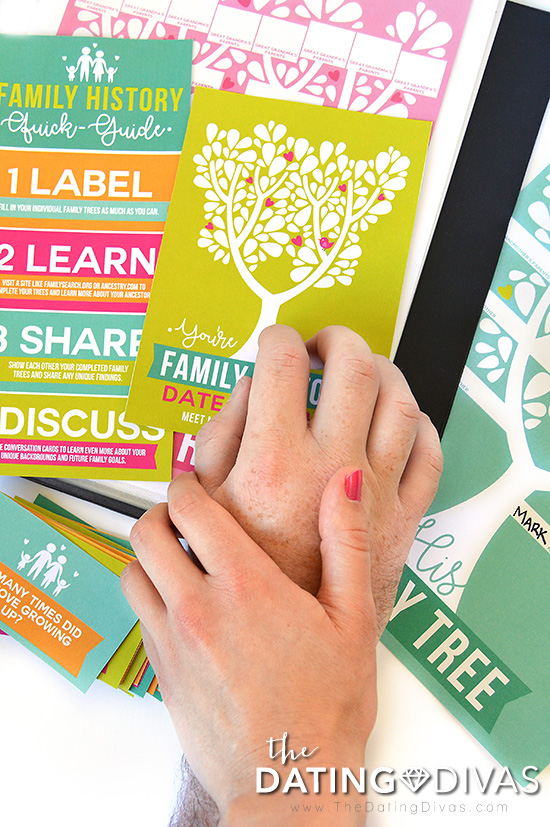 Step #3 means it's time to share! Show each other your completed (or nearly-so!) Family Trees and discuss any interesting findings. For example, did your great-grandmother get married at a young age? Did some of your ancestors come from a Russia? Are you related to royalty? SHARE IT!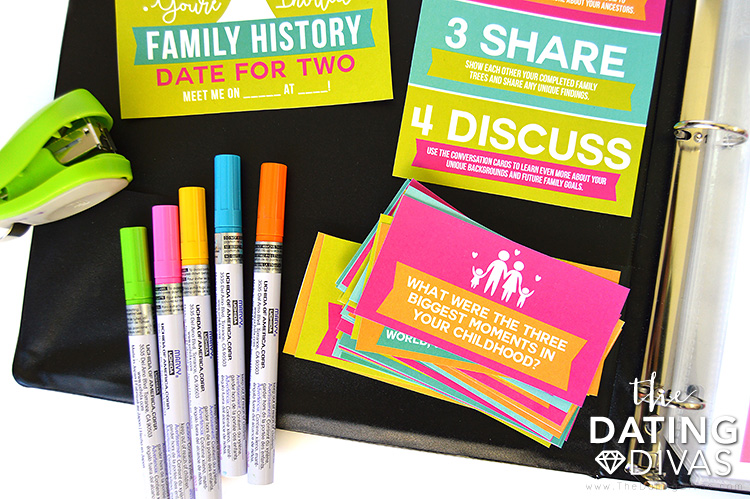 The 4th and final step is our personal favorite! Whip out those Conversation Cards that were included in your pack and take turns asking each other questions. These aren't limited to just your relatives but rather include questions about your own childhoods and futures. Really take time to remember and discuss, asking follow-up questions when necessary. Remember, your goal is to learn AS  MUCH about your sweetheart as possible!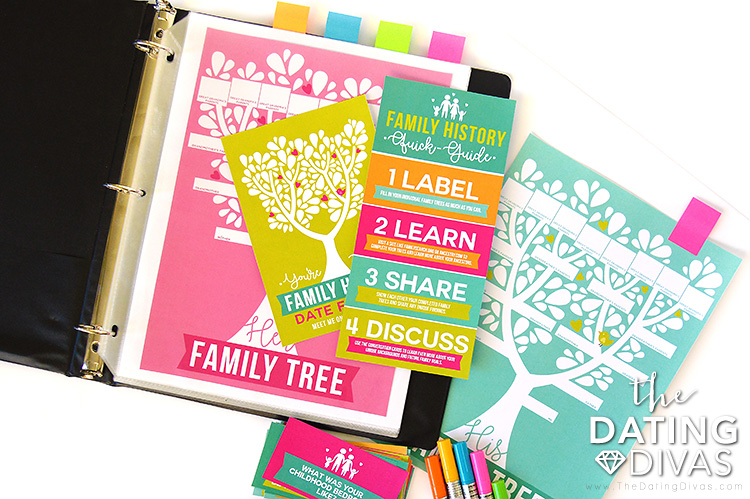 FUN, right?! We told you Family History doesn't have to be boring! Be sure and give this date a go ASAP and happy hunting!
Family History Date
Printables Designed by Carisa @ Messes to Memories Exclusively for The Dating Divas