20 marriage resources bundled together!
It's baaaaaack!! Your absolute FAVORITE bundle of the year is back and better than ever! We've gathered all of the best marriage courses, ebooks, and printables together so that you can create a happier and more connected relationship with your spouse!
We believe that marriage matters.
It can be hard work to focus on making your marriage rock when there are so many other things on your plate. So we want to make it SIMPLE to create the type of marriage you always dreamed of!
If you want a happier, closer, and more passionate relationship with your spouse, this year's Marriage Bundle is your answer!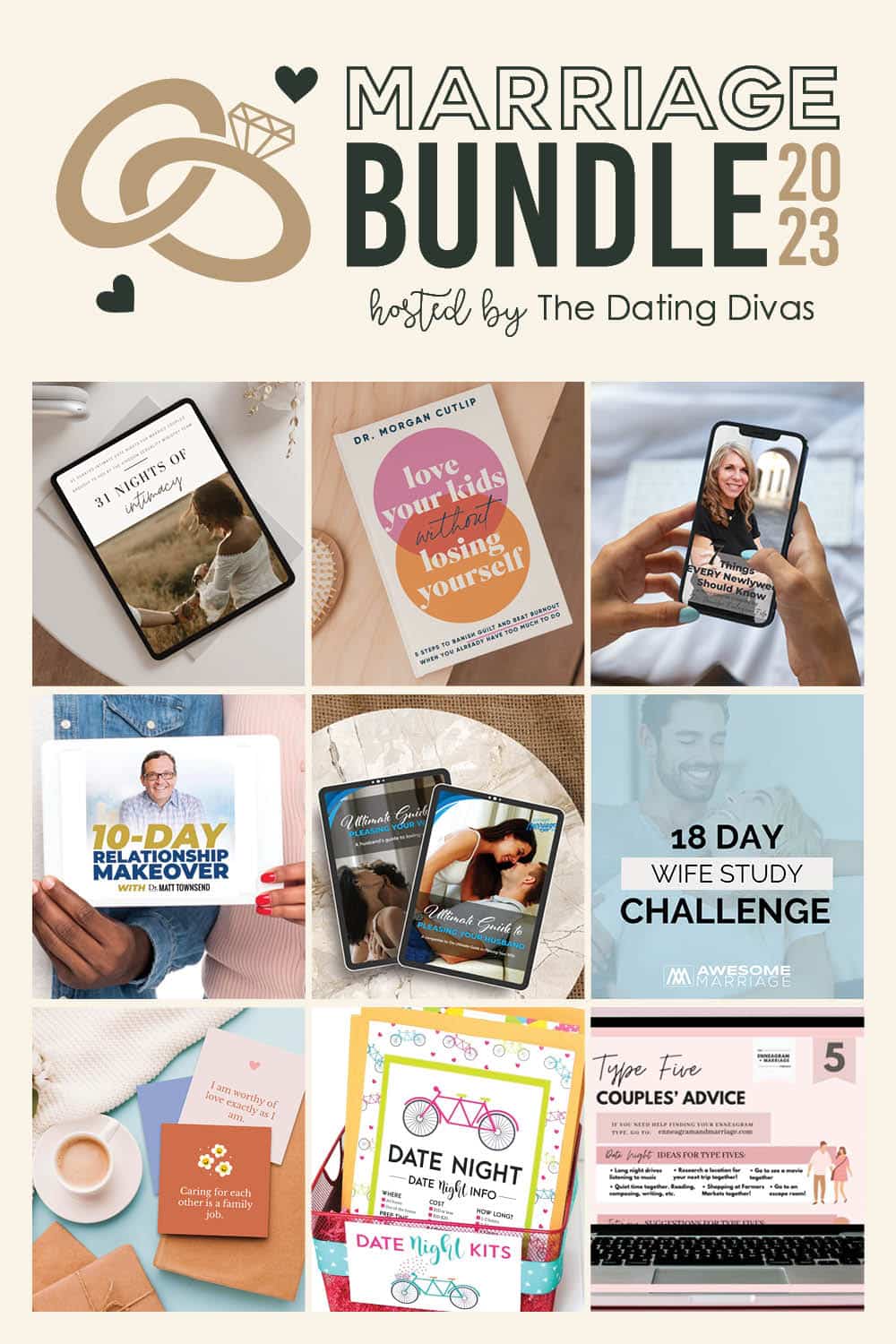 Imagine, with just one click of a button, all of the top marriage courses, ebooks, printables, and date nights will be in your hands! Each resource has been selected to help you have a whole lot more fun, and much fewer issues in your relationship.
We have teamed up with the TOP marriage experts, bloggers, and professionals to create the ULTIMATE Marriage Bundle!
But… this 2023 Marriage Bundle is only available for a limited time!
This crazy bundle deal can't stay around for forever, so you'll need to act fast before this bundle dissolves into thin air!
All of these products in our Marriage Bundle are worth OVER $400 if you purchase them individually. But you can grab it RIGHT NOW for ONLY $35 –> $20 using our link!
Yes, you read that right! $20 for everything that you need to make your marriage stronger, more fun, and more romantic. You are NOT going to want to miss this!
Worth Over $400, NOW only $20 using OUR link!
NORMAL PRICE = Over $400!
Bundled for a limited time only for $35
ONLY $20 USING OUR DISCOUNT! (That's 95% OFF!)
WHEN YOU CLICK THE BUTTON BELOW!
(Extra $15 discount automatically applied at checkout)
How does this Marriage Bundle work?
For just 15 days, you only need to make one purchase to save $380 and create an awesome marriage at the same time. If you wait too long (after midnight MDT on July 31st, 2023), this deal will be gone forever, and you'll have to track down each resource from each expert! No fun. (Plus, waaaaaaay more expensive!)
The normal SALE price on this bundle is $35, but when you click on our link below, our unique discount code will be applied that SLASHES the price to just $20! (Honestly, that is cheaper than just ONE resource in the bundle!)
What is included?
This Marriage Bundle is FILLED with practical tools, tips, workshops, and resources to improve your marriage. One of the best parts of the bundle is that all of the resources cover different aspects of a relationship! You can use each one of them and totally enhance every single part of your marriage, or you can pick and choose the resources that will be most useful to you. (The crazy part is that even if you only use a couple of these resources, you will still be SAVING money!)
Take a look at what is included in this bundle:
A Year of Date Nights
Bedroom Games
18 Day Study Challenge for Husbands AND Wives
31 Nights of Intimacy eBook
Touched Out to Turned On Workshop
10-Day Relationship Makeover
6-Day Intimacy Breakthrough Course
Marriage Affirmations & Journal Prompts
The Seduce Your Spouse Course

AND MORE! (check out all the details below if you want to see everything first!)
NORMAL PRICE = Over $400!
Bundled for a limited time only for $35
ONLY $20 USING OUR DISCOUNT!
WHEN YOU CLICK THE BUTTON BELOW!
(Extra $15 discount automatically applied at checkout)
Want a closer look at what's included?
$20 for 20 products! That's just $1 each!
This bundle is such a STEAL! If you want to get every single detail that you can before purchasing, we've listed out each product and description below. This way, you will feel MORE than confident that paying just $20 to get every single resource mentioned below is exactly what your marriage needs!
1. A Year of Date Nights by The Dating Divas– Tired of dinner & a movie or Netflix & chill? Time for some fun & creative date nights! Create your own date kit for each month of the whole year! These printables will help you create a romantic and meaningful gift for your spouse. They also make the best wedding, bridal shower, or anniversary gift for any couple.
2. 31 Nights of Intimacy eBook by Kingdom Sexuality– Not sure how to get out of the rut of doing the same things every week for date night? Look no further! This is a unique ebook filled with wholesome and sensual 'enticements' for married couples to indulge themselves in together. All 39 pages were prayerfully created to bring closeness and connection between you and your spouse, taking your date nights to the next level.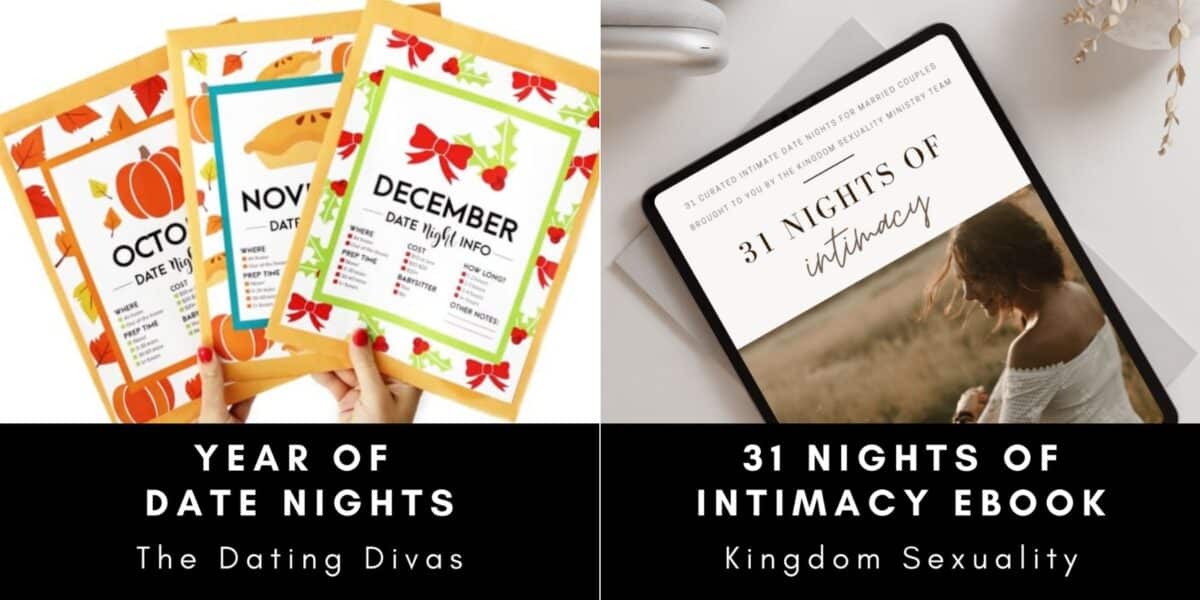 3. Productivity Power Pack by A Purpose Driven Mom– Struggling to find time for your marriage? Life is busy! Our days are constantly changing. Our schedules are affected by other people. Unexpected things pop up. As a result, it can be so tough to figure out what to-do's to tackle, and in what order, to maximize our time. And speaking of time, where do we find more of it? Well, I have good news… I've got a proven 3-step process for you to make sure you can feel on top of your time.
4. 18 Day Wife Study Challenge & 18 Day Husband Study Challenge by Awesome Marriage– This challenge is all about studying and cherishing your spouse. Dr. Kim says that one of the keys to an awesome marriage is being a student of your spouse. When you were first dating I bet you studied your husband or wife intensely. You wanted to know everything about him or her. You couldn't get enough of them. All that studying connected you two. It can connect you again!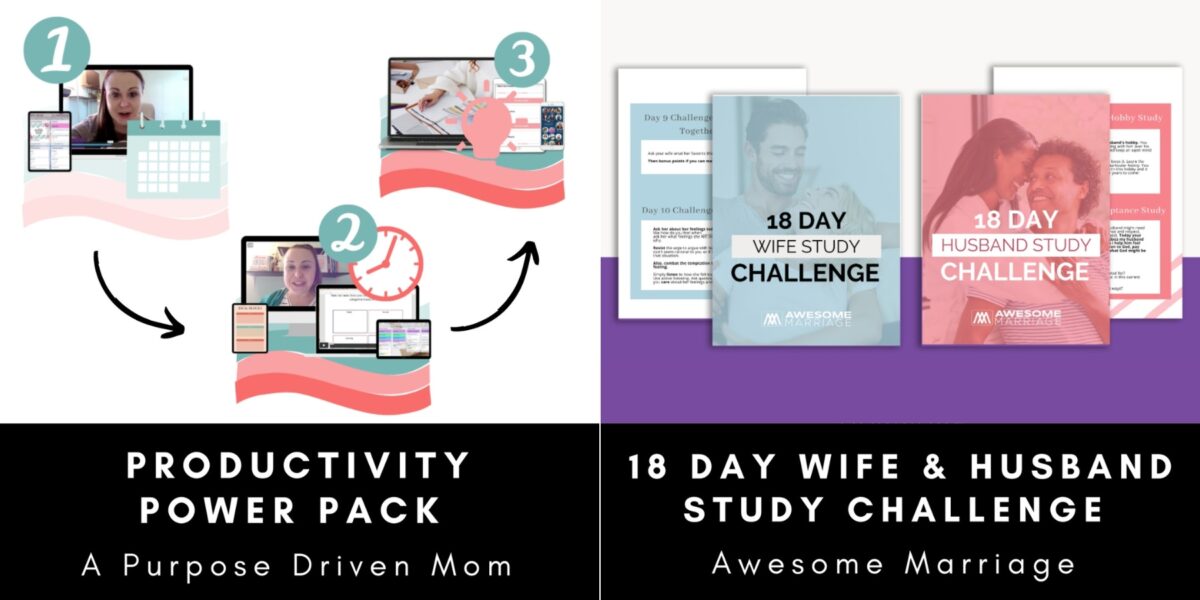 5. Beatitudes in the Bedroom: Embracing the Blessings for Your Marriage Bed by Hot, Holy, & Humorous– What are the Beatitudes? A series of "Blessed are" sayings that some have instead translated to "Happy are." What if they applied to helping you feel more blessed and happier about your sex life? In fact, they do! In this short book, bestselling Christian sex author and speaker, J. Parker, walks you through each separate blessing from Matthew 5:3-10 and shows how Jesus' Beatitudes are relevant to sexuality and marriage.
6. Living Your Relationship Values by Cameron Staley Ph.D.– Are you ready to be the partner you've always wanted to be in your relationship but are unsure where to start? Join Dr. Cameron Staley in this workshop as he shares over 30 relationship values you can begin living now in your relationship! Along with this video workshop, you will receive a digital copy of each relationship value to explore with your partner to begin living your relationship to its fullest!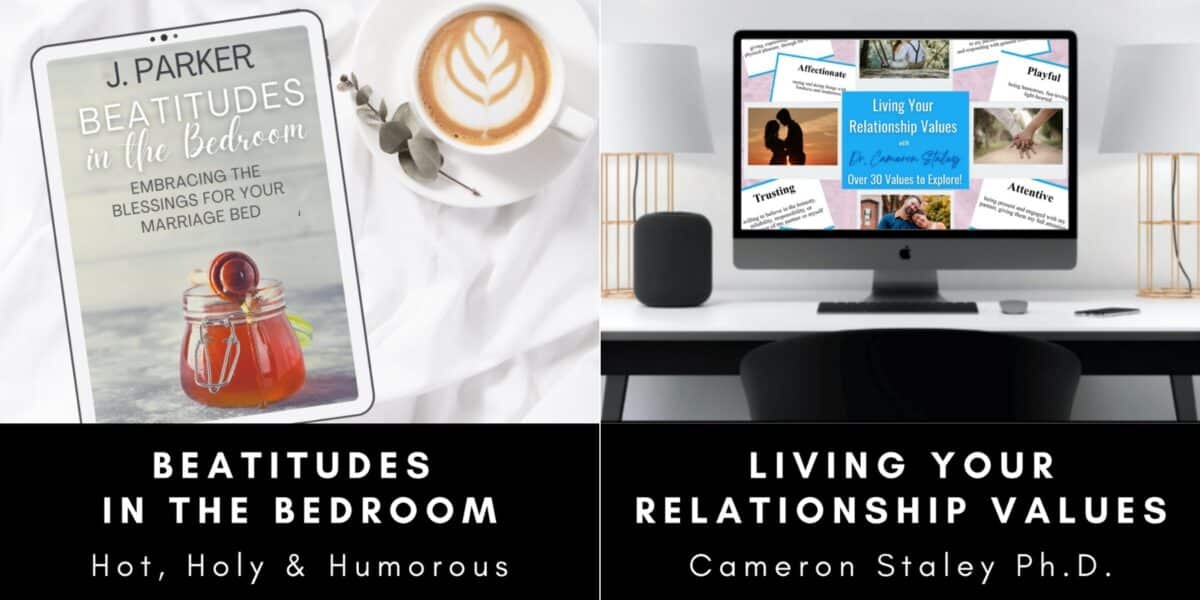 7. Seven Biblical Insights for Healthy, Joyful, Christ-Centered Marriages: And Accompanying Discussion Questions to Apply Them by Pastor Scott LaPierre– Do you want a healthy, joyful, Christ centered relationship? Then you must embrace the principles in God's Word. God intended marriage to be one of the greatest gifts on this side of Heaven. Whether you are preparing for your wedding, newlyweds, or marriage veterans, this book from pastor, author, and speaker, Scott LaPierre, will bless you!
8. Marriage Bundle: Affirmations and Journal Prompts by Dr. Julie Hanks– Embrace your sexuality and strengthen your relationship. Your marriage will thank you for this all-in-one solution for building a strong and passionate partnership. Experience deeper connection through our Partnership Marriage Affirmation Cards, fostering love and understanding, and embrace your authentic self with our Body and Sexuality Affirmation Cards and Journal Prompts.
9. Bedroom Game Pack 3 by Love Hope Adventure– The Bedroom Game Pack 3 features 12 sexy printable bedroom games from Love Hope Adventure and conversation starters for your next date night. This pack is full of sexy and romantic prompts that will help you create a stronger intimate relationship.
10. The Enneagram Bundle for Marriage by Enneagram + Marriage– The Enneagram is a wonderful tool to help you to find the best ways to live with health, but not only personal health- relationship health as well! So many folks can get lost in the weeds of the Enneagram, instead of finding actual practical marriage hacks they can bring home right away. Our Enneagram Bundle for Marriage is exactly that – we shared pointed, fun, and strategic ways for each and every Enneagram type in marriage to thrive together! We walk you through clarifying tips for life, marriage, sexual intimacy, parenting, and more!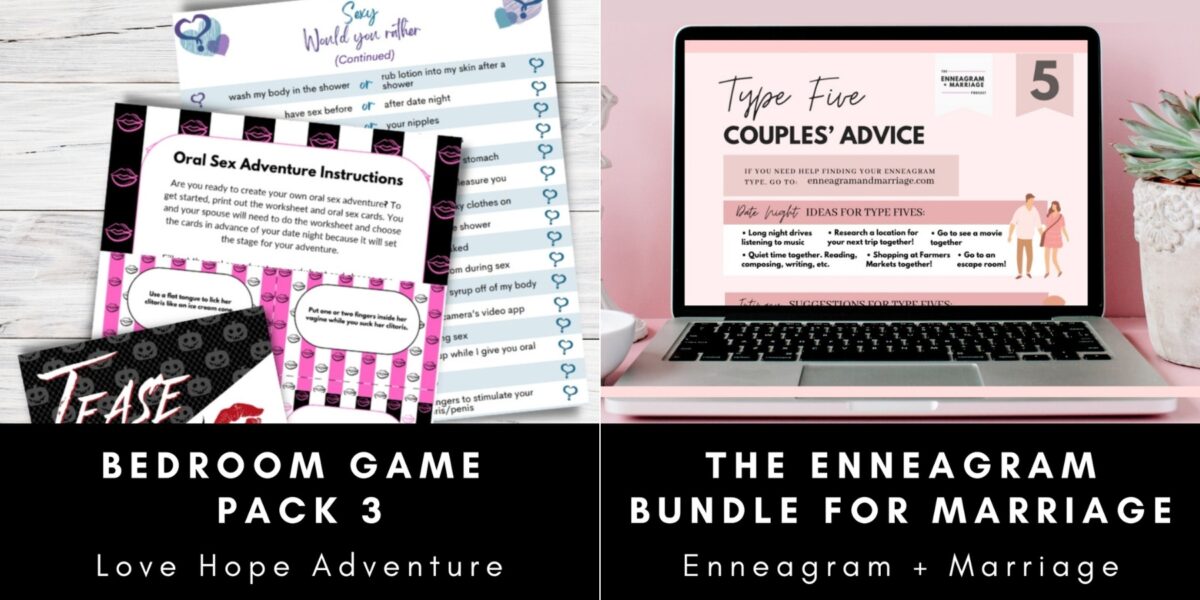 11. Making Your Marriage a Fortress, Chapter 1 by Gary Thomas– It's not a matter of when a storm hits your marriage; it's a matter of when. If you're properly prepared as a couple, such storms can actually increase your marital connection rather than threaten it. We're offering a full chapter from Making Your Marriage a Fortress: Strengthening Your Marriage to Withstand Life's Storm. This chapter focuses on the life of Stacey and Darell. Stacey married an extremely fit and strong athlete who was diagnosed with Multiple Sclerosis just three years into their marriage. How do couples navigate a lifelong challenge when expectations and hopes are dashed? Their story will inspire you and encourage you about the power of faith to overcome disappointment.
12. Touched Out to Turned On Workshop by Love After Baby– Missing the intimacy of your relationship before your baby arrived? Wishing you could get back to wanting intimacy with your partner and feeling as desirable as you did before? This workshop from Love After Baby will help rekindle your physical affection for one another. The workshop includes about an hour of content broken up into small, digestible videos and a digital workbook.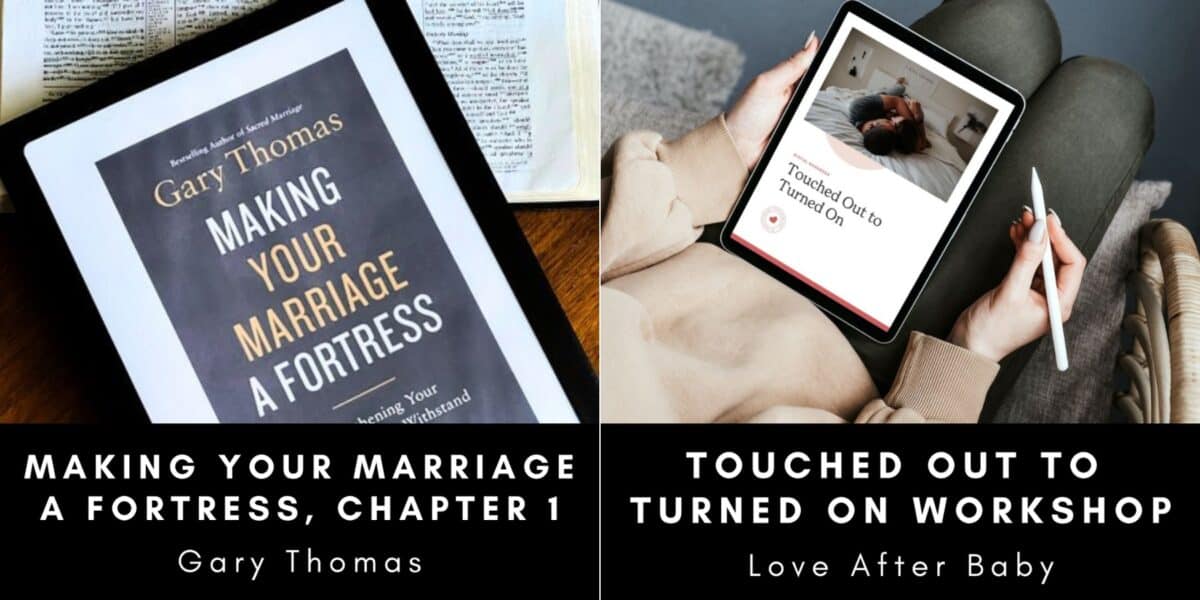 13. 10-Day Relationship Makeover by Dr. Matt Townsend– Have you found yourself saying any of the following statements?
I'm tired of having the same fights with my partner.
I feel so alone in my relationship.
We have little to no chemistry anymore.
I feel like my partner just doesn't understand me.
I'm not able to connect to my partner.
I feel like I can't do anything right in their eyes.
I don't trust my partner anymore.
I'm sick of not feeling like a priority.
I feel like we're strangers.
I get little to no fulfillment in the relationship these days.
I feel like l've fallen out of love with my partner.
If so, this is the program for you! You will get 10 value packed videos, plus a workbook and a marriage assessment!
14. What Does Sex Mean To My Spouse? eCourse by Intimate Covenant– Understanding what motivates your spouse to enjoy or avoid sex is critical to building a meaningful and intimate sexual relationship. In this eCourse, Matt & Jenn Schmidt will discuss the meanings that we attach to sex and how husbands and wives often view sex differently. The five short lessons are supplemented by a printable worksheet to facilitate a transformative conversation with your spouse.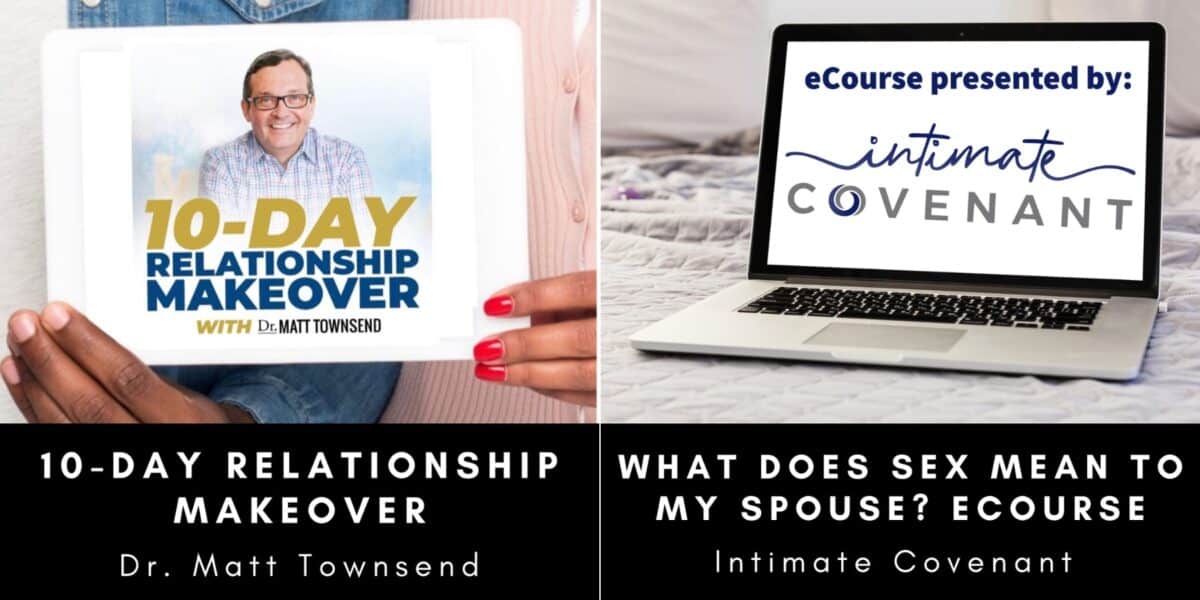 15. 6-Day Intimacy Breakthrough Course by ONE Extraordinary Marriage– Build back the intimacy in your marriage that will help you experience deeper and richer levels of intimacy with your spouse. The 6-Day Intimacy Breakthrough is a digital video course (6 lessons) and interactive worksheets designed to help you and your spouse identify cracks in your marriage paired with simple, yet effective daily exercises to improve your connection.
16. Spark Workshop by Amanda Louder– This 5-part virtual workshop by Amanda Louder will help you learn how to create more space in your life for sex, more passion, more intimacy and more connection and give you specific ideas of HOW to build new patterns and habits to keep it going.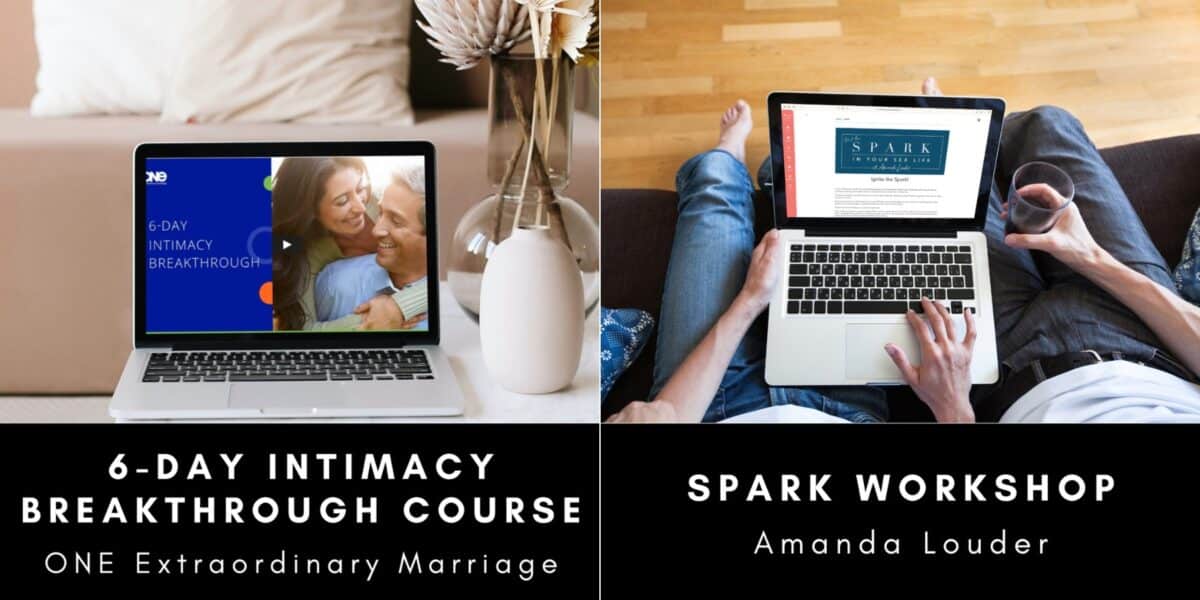 17. Starting Strong: 7 Things Every Newlywed Should Know by Dr. Jennifer Finlayson-Fife– During this 25-minute e-course Dr. Finlayson-Fife walks couples through 7 important principles that will help ensure that their marriage gets started off on the right foot! Whether you've been married for decades or haven't yet tied the knot, this course will give you ideas for both creating and maintaining a strong connection with your partner.
18. Love Your Kids Without Losing Yourself: 5 Steps to Banish Guilt and Beat Burnout When You Already Have Too Much To Do Exclusive Preview by My Love Thinks– You want to be a great mother. You also want to be a great wife, friend, businesswoman, a person with her own thoughts… How do you honor your whole self without ignoring your kids or feeling guilty half the time? Psychotherapist and relationship expert Dr. Morgan Cutlip has helped over 100,000 moms regain their identity and prevent burnout. Learn a proven 5-step plan that you can start today. You don't have to choose between neglecting yourself or neglecting your kids.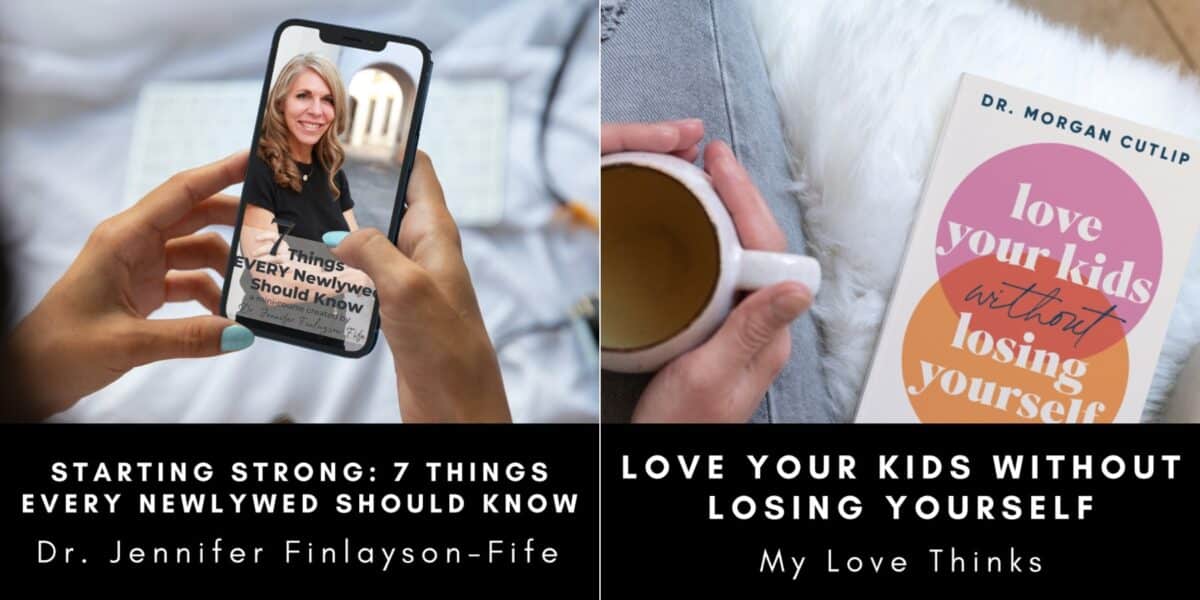 19. The Ultimate Guide to Pleasing Your Husband & The Ultimate Guide to Pleasing Your Wife by Get Your Marriage On!– When you said "I do," your spouse didn't come with a manual. Many of us are puzzled with actually HOW to give intimate pleasure. We've created the ultimate guide for husbands and wives to give each other sexual pleasure in a tastefully written in-depth guide. With this bundle you can choose either the guide written for wives to please their husbands or husbands to please their wives, or upgrade to get both guides.
20. The Seduce Your Spouse Course by Secrets of Happily Ever After- Attention couples who are tired of going through the motions in your marriage! It's time to reignite the passion and start having fun again! The Seduce Your Spouse Course includes 5 modules and a workbook that walks you through how to break out of the roommate rut without spending endless hours talking, reading boring marriage books or trying to change your partner.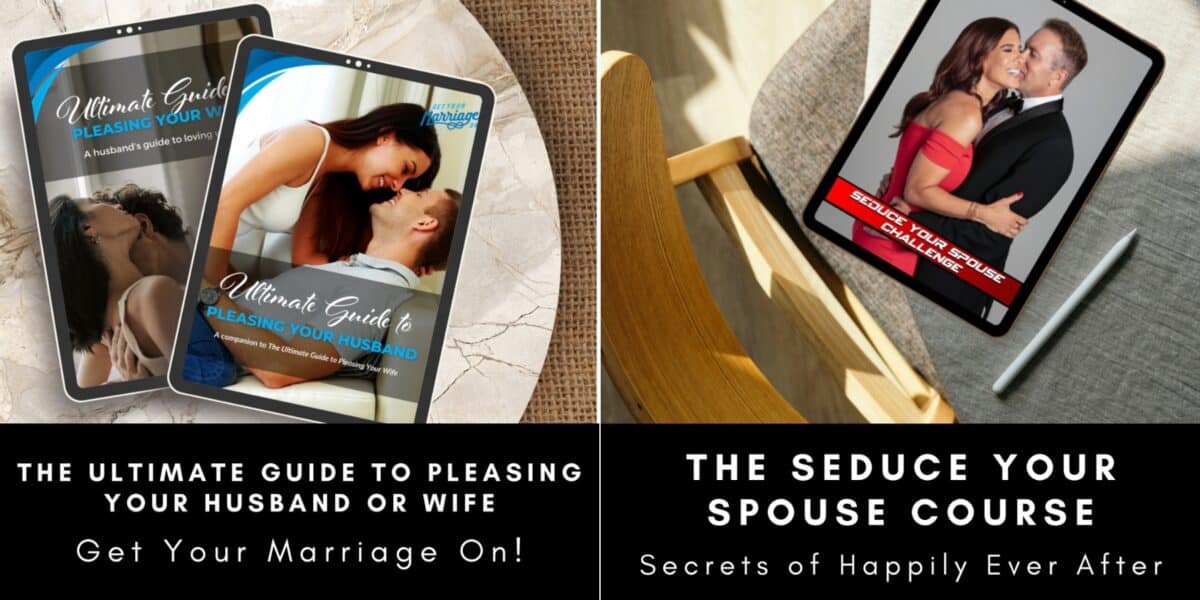 Grab your bundle of all 20 products for just $1 each!
REMEMBER:
#1- It's only available for a LIMITED TIME!
#2- After midnight MDT on July 31st, this deal is gone FOREVER!
What are you waiting for?!
BUY THE MARRIAGE BUNDLE NOW
NORMAL PRICE = Over $400!
Bundled for a limited time only for $35
ONLY $20 USING OUR DISCOUNT (That's 95% OFF!)
WHEN YOU CLICK THE BUTTON BELOW!
(Extra $15 discount automatically applied at checkout)
SaveSave
BONUS ALERT!!!
Not only do we have the discount code for this steal-of-a-deal marriage bundle, we are also throwing in an EARLY BIRD BONUS!
If you purchase this bundle BEFORE midnight MDT on July 24th, you will receive our amazing Love Email Club FOR FREE!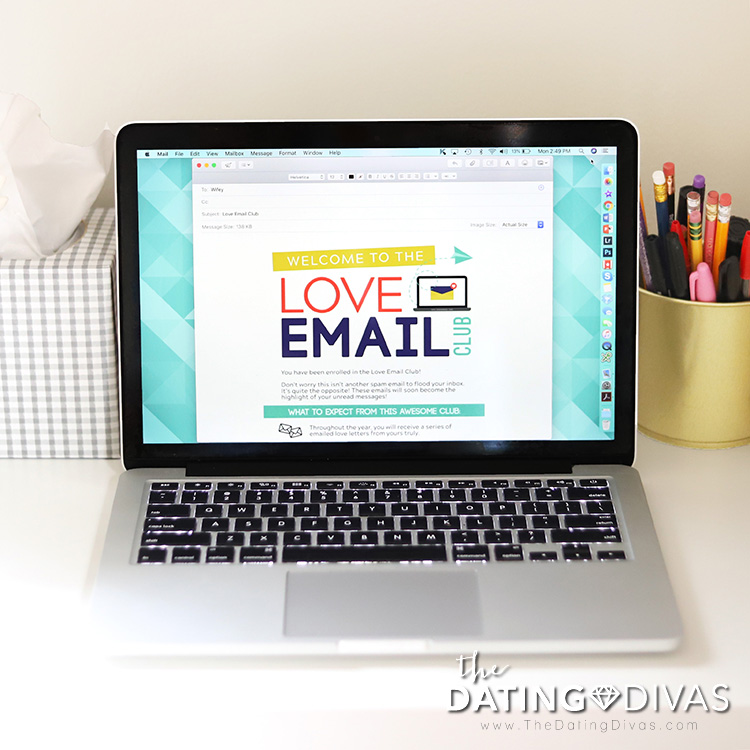 Your spouse will look forward to checking their inbox like they never have before!
THIS DIGITAL KIT INCLUDES:
Tips and Tricks – We'll help you set up your email "club" and give you ideas for writing the best emails!
Enrollment Kick Off Note – The first graphic to email to your spouse explains the email club and what to expect from it!
52 Email Prompts– Funny, silly, heartfelt and romantic prompts to get the wheels turning for your electronic love letter writing.
The Love Email Club is the perfect way to start a fun correspondence with your spouse and send them your words of affirmation.
But you have to act FAST! All purchases made BEFORE midnight MDT on July 24th will receive this pack in their inbox on the 25th!
NORMAL PRICE = Over $400!
Bundled for a limited time only for $35
TODAY ONLY $20 (That's over 95% OFF!)
WHEN YOU CLICK THE BUTTON BELOW!
(Extra $15 discount automatically applied at checkout)
SaveSave