The Ultimate 5 Senses Valentine's Day Gift
Are you looking for a Valentine's Day gift a little more unique than what you can find in those pink and red aisles at the store? Are you ready to ditch the roses and dinner reservations at loud, overcrowded restaurants?
It's time to make new traditions.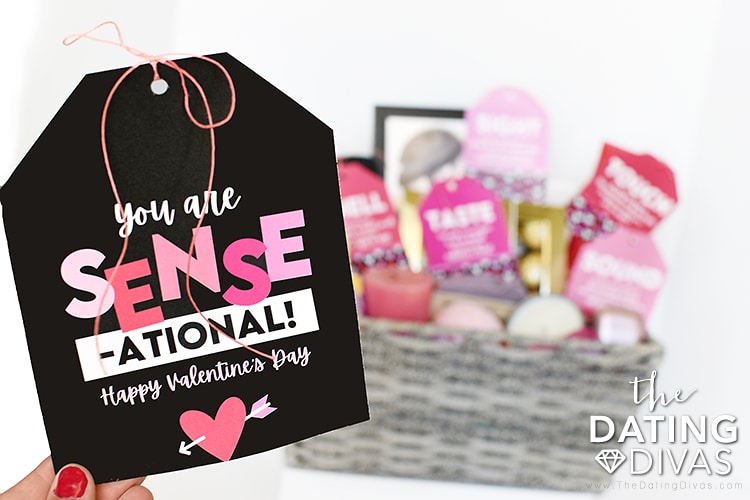 Skip the disappointment this year and shower your Cupid's Day cutie with a gift like never before! Now presenting…
5 Senses Gift Basket
Love your spouse with ALL your senses!
To end your date plans with something extra special this year, we've re-mixed one of our MOST-LOVED gift basket kits with a Valentine-themed twist AND added some amazing bonus items, including an ADORABLE coupon book and pre-designed love notes!
You guys could NOT get enough of our 5 Senses Christmas gift basket so we brought it back, Valentine's-edition!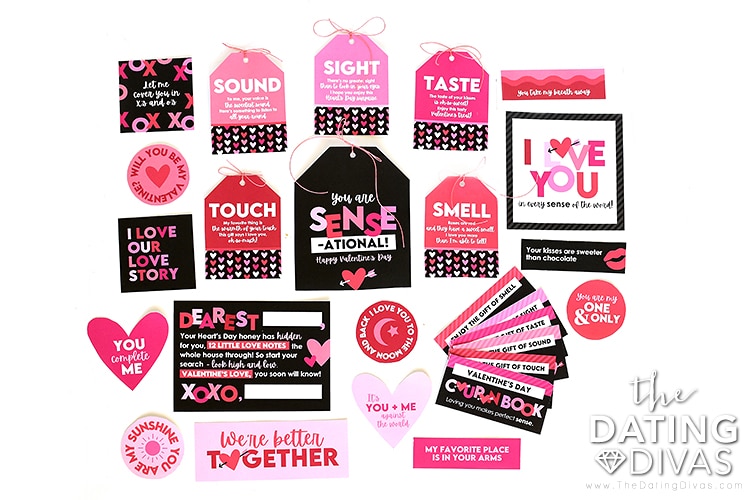 This ADORABLE gift-basket printable set gives you all the ideas you need to pick out the PERFECT gifts for your sweetheart complete with tags for each item!
If your sweetie's love language is receiving gifts – this is totally for you.
If your sweetie is tough to buy gifts FOR – this is totally for you.
Show your spouse how much you care this Lovers Day by giving them a gift for each sense!
Sight
Sound
Taste
Smell
Touch
We have got you covered!
Here's how the 5 Senses Gift Basket works!
Open the email you receive after purchase and download your printables for your 5 Senses Gift Basket!
Print & make a few easy cuts to prepare your gift-tags, coupons, & love notes– You get to arrange them however you'd like to present them to your sweetie along with the gifts you choose for each sense!
In this kit, you'll find everything you need to create an adorable Valentine's Day basket that's filled with customized gifts. Best of all, each gift represents one of the 5 senses, so your spouse will know just how much you love them in 5 different ways!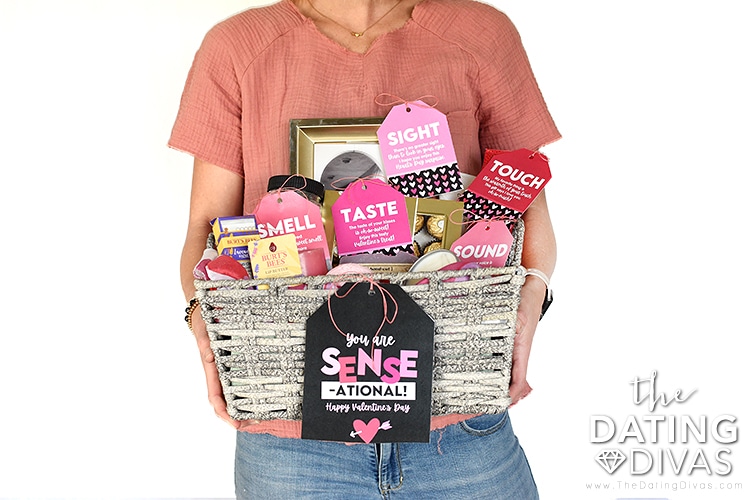 This set includes:
5 easy-to-cut gift-tags for each of your sense gifts

Additionally, a fabulous list of gift ideas to attach these gift tags to in case you find yourself stuck!
16 piece Valentine's Day bonus coupon book

Includes both pre-made and blank coupons!

25 mini love notes for an added cute touch to your Heart's Day!
BONUS ITEMS
Blow your spouse away this year with this unique and customizable gift! You will have SO MUCH packed into this gift basket, your spouse is SURE to feel the love!
AND this unique and romantic 5 Senses Gift Basket can be yours for ONLY $5.
We've made this project so simple! Spoil your sweetie extra special this year by giving them a gift that speaks to all 5 senses.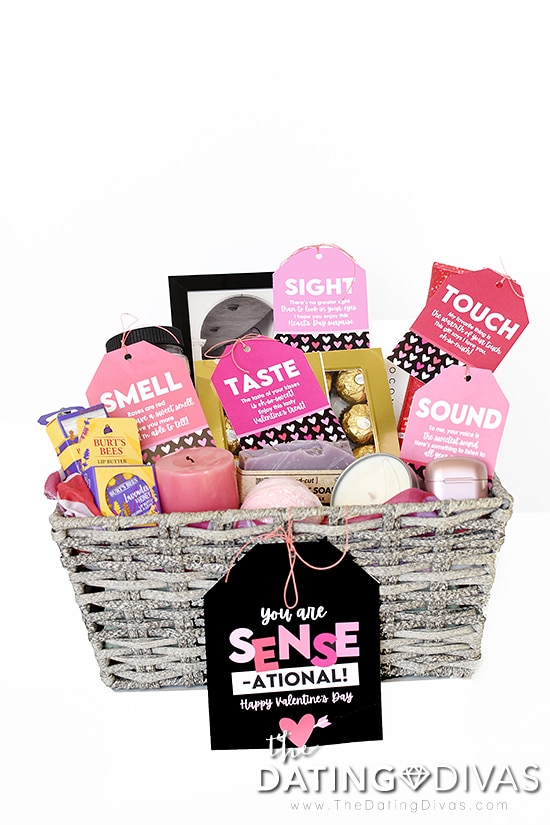 Love You With All My Senses:
5 Senses Gift Basket Gift
In this kit, you'll find everything you need to create the perfect Valentine's basket. Spoil your sweetie extra special this year by giving them a customized gift that speaks to all 5 senses! XOXO
$5.00