Fall Family Photo Ideas
Fall is here and it is time to start thinking about taking those family photos! Fall is such a beautiful time of year – the leaves are changing, the sunsets are gorgeous, and the lighting is perfect for photographers! If you are thinking of getting your family photos or engagements done during the fall season – look no further for inspiration! We have 50 Fall family photo ideas for you and your family, including what to wear, to look great in your next fall photography session!

Disclaimer: This post contains affiliate links. To learn more about 'em, click here.
Are you looking for some beautiful family picture ideas? Getting the perfect photo includes a variety of elements. You have the season picked out now consider these ideas for locations, poses, props and clothing! In this post we have picked out amazing photos from some of the BEST photographers out there! You will find: 
Location Ideas

Pose Ideas for Families

Pose Ideas for Couples 

Prop Ideas 

Ideas for What to Wear

Planning Tips and Tricks
Get your pinning fingers ready because these are some pinterest – worthy ideas! Let's get started! 
Fall Family Picture Locations 
Where you choose to hold your photography session will make a BIG difference in the way that your Fall family pictures turn out! The beautiful fall colors provided the perfect backdrop for any picture! Here are a few specific places to consider that will really make those fall colors pop and bring life to your family photos!

Location is everything… and the rustic beauty of Fall makes for some gorgeous backgrounds for your Fall family pictures.

1. Barn – A rustic and beautiful background! Sources: A Day to Adore Photography & Iliasis Muniz Photography
2. On a Bridge – A bridge acts as a natural frame for your family. Source: Three Peas Photography
3. Corn Field – Nothing is more Fall than a corn field. Sources: Laura Ivanova & L Photographie
4. Grove of Trees – Under the trees = gorgeous! Sources: Christine Naomi Photography & Lisa Holloway Photography

5. Grassy Field – This is a classic fall location and for good reason, the pictures are natural and beautiful. Sources: Christine Naomi Photography & Simplicity Photography
6. In Leaves – Falling leaves, throwing leaves, jumping in leaves! These make for a beautiful background. Sources: Christine Naomi Photography & Michael Kormos Photography
7. Pumpkin Patch – For a fun location, try a pumpkin patch. Sources: Alexandra Hunt Photography, Simple As That & Carolyn Kipper Photography

8. By the Water – This is a beautiful and a unique background. Sources: Christine Naomi Photography
9. In a Boat – Playful and adorable. Sources: Aria Photography & Pinkletoes
10. On a Path – Another beautiful and natural frame. Sources: A Day to Adore Photography & Three Peas Photography
11. Under a Tree – Find a tree with colorful leaves for an unforgettable picture. Sources: Michael Kormos Photography & Carolyn Kipper Photography
Fall Picture Ideas
Posing for photography can be really tricky – especially with a large crowd! While your photographer will be there for guidance, you will want to come prepared with a few key poses that you want for your family. Share these with your photographer and you will be sure to not miss that perfect shot!

These Fall family picture ideas and poses are the cutest!!

12. Holding Hands – It's fun to see the family connected. Sources: Simplicity Photography & Three Peas Photography
13. Sitting – I love the casual sitting around the campfire, as well as a posed setup. Sources: Three Peas Photography & L Photographie

14. On a Bench – A park bench is the perfect location. Sources: A Day to Adore Photography & L Photographie
15. Silhouette – This is stunning! Sources: Simply Light
16. In leaves – It's Fall. You have to get a few pictures with leaves. Sources: Christine Naomi Photography & Stock Photo
Fall Photo Pose Ideas for Couples 
When taking your family photos, don't forget to snap a few shots of you and your spouse! Sometimes we get so involved in taking pictures of the kids we miss out on capturing the journey of our marriage too! AND those looking to take their engagement pictures this fall – we've got you covered! 

Fun Fall pose ideas for couples… ready, set, GO!

17. Kissing – Let's be real, you need a little kissing on the records. Sources: A Day to Adore Photography & L Photographie
18. Hugging – So many ways to give your spouse a sweet hug. Sources: L Photographie, Chard Photographer & A Day to Adore Photography 
19. Swinging – Set up a hammock and get another natural photo. Sources: Joyeuse Photography

20. Dancing – This is a fun and natural pose. Sources: Josh Elliot Studios & Stock Photo
21. Dipping – A classic pose, with so many ways to make it exciting! Sources: Alicia Q Photography, Iliasis Muniz Photography & Rusting Wedding Chic
22. Holding Hands – A cute way to be connected during your photos. Sources: Heidi Ryder & L Photographie
Fall Photography Prop Ideas  
Some of the best photos lie in the details! Adding a small prop to your pictures can really make a picture pop and tell a story! Here are a few of our favorite family picture ideas for props that go perfect with the Fall season!

Prop ideas for Fall family pictures… 

23. Vegetables – Pumpkins, corn, and more. These gorgeous pumpkins are fun props. Sources: Simple As That
24. Wagon – A wagon provides a little extra something to your photography session. Sources: Pinkletoes & Blue Lily Photography
25. Hay Bales – Fall and hay bales go hand in hand. Sources: Kristin LaRue Photography
26. Couch – This is completely out of place, but with the right couch, it's absolutely adorable. Sources: Golightly Images

27. Crate – Crates add a little height and dimension to your picture. Sources: Kristin LaRue Photography & Michael Kormos Photography
28. Blanket – Sit or lay on a blanket to add a pop of color. Sources: A Day to Adore Photography
29. Bikes – Another fun prop idea!! Sources: Munchkins & Mohawks Photography
30. Leaves – More leaves… Love it. Sources: Stock Photo & Laura Ivanova
10

Fall Family Photo Outfits

 
Choosing what to wear for family photos can be a challenge! Selecting a color palette that works for everyone and looks good takes some thought and effort! Here are a few coordinating choices that will look fabulous with fall colors as your backdrop! For the women, we LOVE the daily deals at Jane.com and EleventhAvenue. Shabby Apple and Cents of Style have some must-see pieces, too!

Color schemes and accessories that will make your Fall family pictures pop!

31. Boots – Pull out the boots, it's Fall! Sources: Iliasis Muniz Photography How cute are these ones?
32. Denim – I love denim!! Sources: Christine Naomi Photography
33. Neutral – Stand out against your background with gorgeous neutrals. Sources: Three Peas Photography, Michael Kormos Photography & A Day to Adore Photography 

34. Earth Tones – Dark earth tones scream Fall! Sources: Chard Photographer
35. Plaid – You know Fall is time to break out the plaid. Sources: Alicia Q Photography, Laura Ivanova & Hello Fashion Blog
36. Navy and Yellow – Love this combo… add a pop of yellow – a perfect Fall color. Sources: Simplicity Photography
These are just a TASTE of the many combinations! The key is a color palette and variations within that palette. One of our favorite photographers, Micah Folsom, has a GREAT post with fall-inspired color combinations. 
More Family Photo Ideas
When your final photography session arrives, you will want everything to go just right! From planning to printing – here are 9 planning tips and tricks to help everything run smoothly!

37. Get Organized! Keep yourself ahead of the game with this easy-to-use organizer created by Leah Aldous. This free printable has a place for you to organize your clothing choices, brainstorm your pose & location ideas, gather your photographer information, plan your budget and more! All of your information is in one place!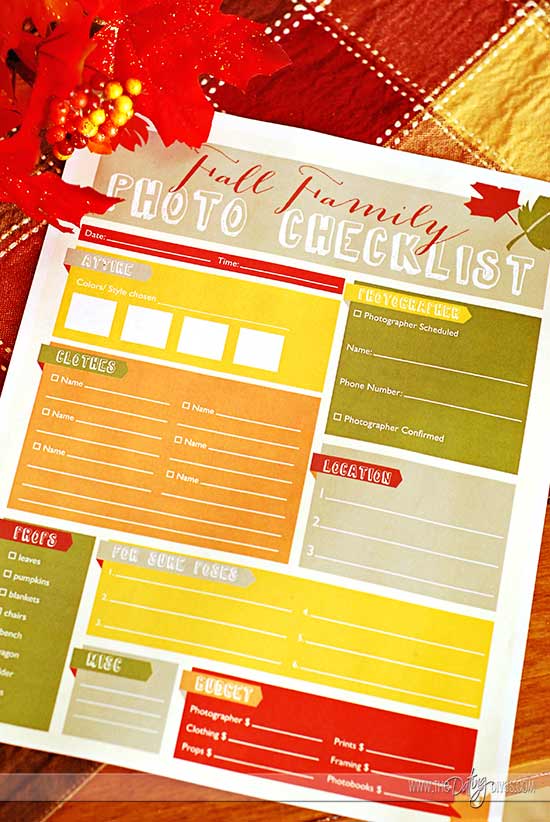 38. Choose Your Photographer Wisely! – You don't have to select the most expensive photographer in town, but remember that you are investing in life time memories. Sometimes "you get what you pay for" isn't a beneficial thing. Investing in a professional photographer who may charge a little more can be well worth it! 
39. Schedule Ahead – The most talented and sought-after photographers will fill up quickly (especially during the fall season!) so schedule in advance! If you have a large extended family included in the photo shoot, make sure to verify with everyone that they will be able to attend. You will want every member of the family to be there! 
40. Plan – Look through the post above and have a clear idea of any specifics you want for your photos. Is there a certain location, pose or prop you want to include? Use your organizer to write these down and communicate these with your photographer. 
41. Working with Kids – Getting the kids prepped for the big day is key to a stress-free photography session. Let them be involved in planning outfits and props so they can be invested and excited. During the photography session, you might want to bring along a helper to stand behind the photographer and get the attention from the little ones. Finally, bringing snacks and supplies is a must with kids! 
42. Lookin' Good – We all want to look our very best in a family photo, so do a little research on how to look the most flattering in pictures! There are some secrets out there that can really make a big difference! We came across an article from "The Trend Spotter" that has AMAZING tips on looking good in photos — we're obsessed! 
43. Timing is Everything – Did you know that there is a certain time that is better than any other for taking amazing pictures? There is a time that photographers call "The Golden Hour" – it is the time right before the sun is going to set. The lighting is just right. As you plan a time with your photographer, make sure you request the golden hour. You will get amazing colors and lighting. You just can't go wrong! 
44. Go with the Flow – Don't plan so much that you can't be flexible when needed. Some of the best pictures are captured in the moment. Remember that you are capturing memories and it doesn't matter if everyone is in the right spot with a picture perfect smile. You want to capture your real family – how they are! Trust your photographer and follow their lead. They are the professional and will lead you to great pictures!
45. Order Prints – This may seem obvious, but many families get those amazing pictures taken only to have them sit on a digital screen. Have a plan for where and when you are going to print your photos. Choose a place on your wall for the new family picture to go. If you are planning to do a collage or any sort, discuss with your photographer. They will likely have input for which style of pictures would look well together. We love using Shutterfly to print off family pictures!

There you have it! Ideas GALORE for your next fall photography session! You can't go wrong with a beautiful fall background and with these additional family photo ideas – you are bound to have a fantastic photography session! 
If you LOVED these tips and ideas you will also want to check out our 101 Family Picture Tips and Tricks (for ANY season!) and our 101 Tips and Ideas for Couples Photography. Both are FULL of ideas! 
Happy Picture Taking!
 **We did our very best to find and link to the original sources of each photo, but if you see a photo that is not linked correctly, please let us know so we can fix it.  We definitely want to give credit where credit is due.  We are so grateful for these wonderfully talented photographers who capture love so beautifully!**