Best 65 Thanksgiving Table Decor Items
Let me guess… you're the lucky household that gets the honor of hosting Thanksgiving this year, right?! Well, if you're stumped on what to do for Thanksgiving table decor, we've got you covered! We've already done most of the shopping for you, and we're rounding up 65 of the best Thanksgiving table decor ideas! Grab your turkeys, and let's get wobbling!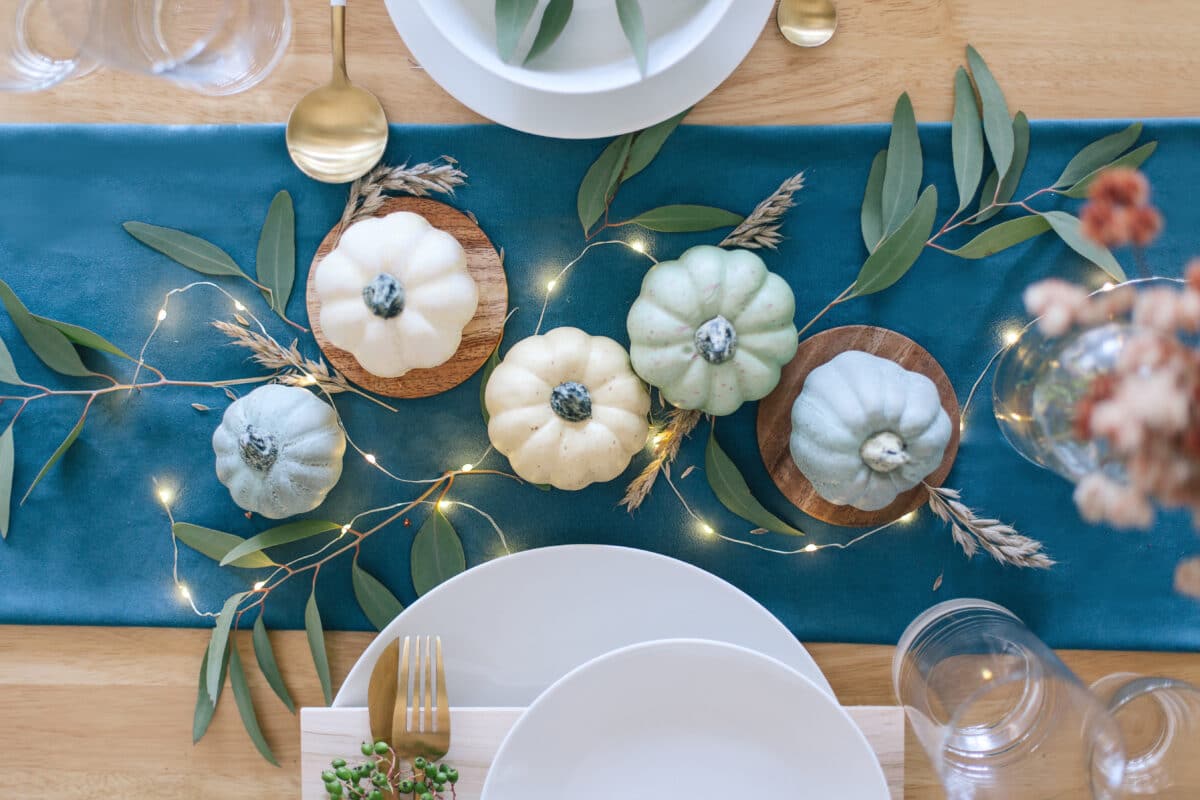 Table of Contents
Disclaimer: This post contains affiliate links. To learn more about 'em, click here.
Thanksgiving Pumpkin Decor
Nothing says Thanksgiving quite like a table full of pumpkins! But, instead of the same ol' traditional orange gourds, try switching things up this year with some fun and unique pumpkin decor!
1. Mackenzie Childs Pumpkins – Okay honestly, how beautiful and unique are these checkered pumpkins?! While these might be a "splurge" when it comes to Thanksgiving table decor ideas, they are definitely some serious statement pieces.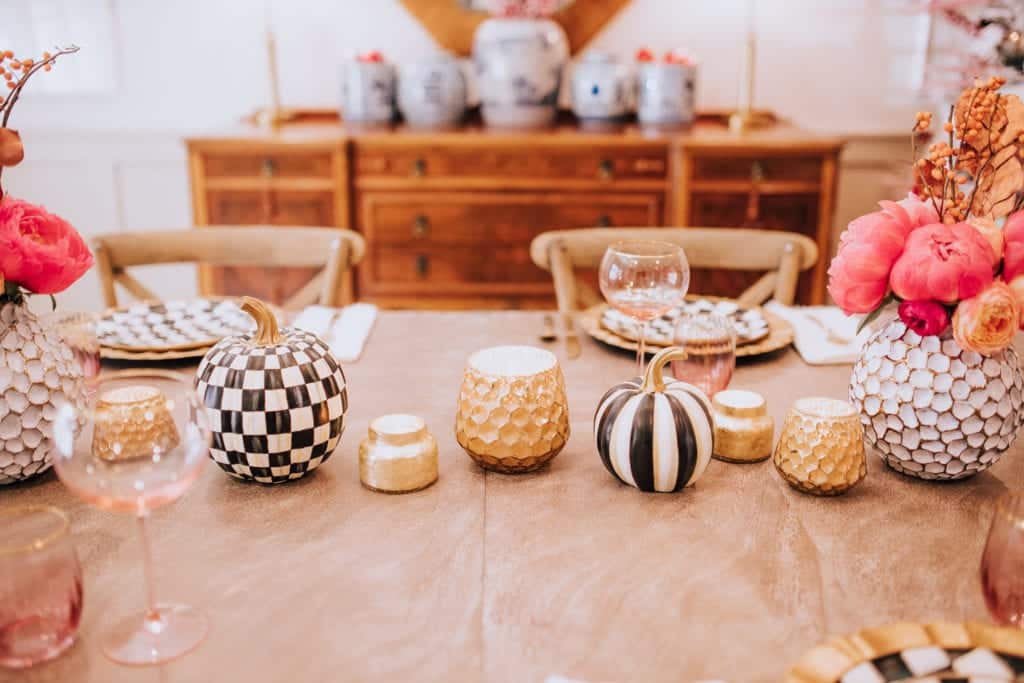 2. Assorted Pumpkins – If you're looking to go the traditional route with your table decor, this assorted pumpkin display is to die for! It's simple and festive yet so elegant!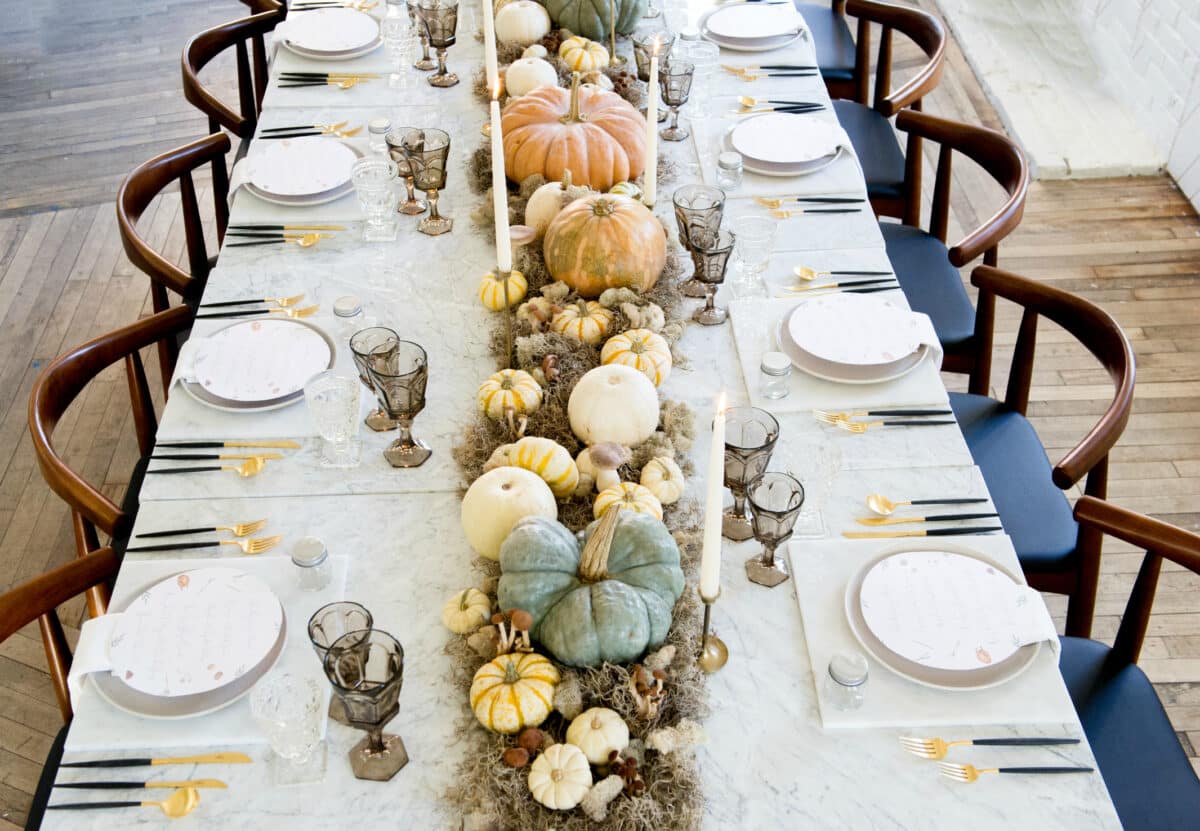 3. Harvest Pumpkins – How cute are these natural and buffalo plaid pumpkins?! These would be so great to display within your centerpiece or even individually on every guest's plate!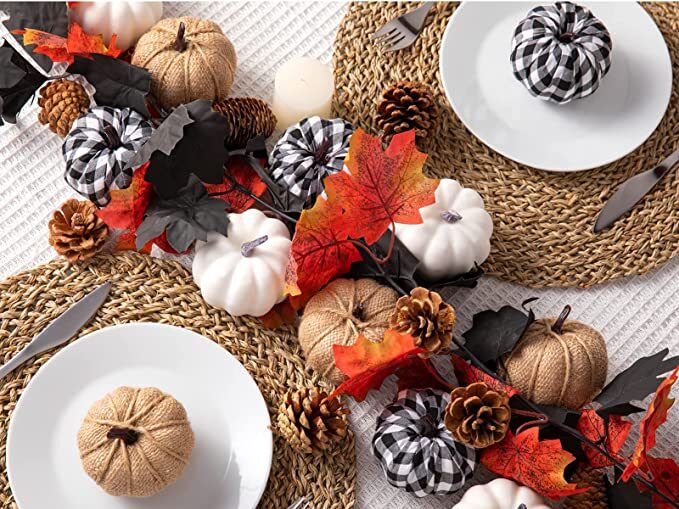 4. White Pumpkins – These all-white pumpkins scream "modern chic!" We think these are SO classy as is, but you could paint them if you are looking to add a bit of customized color. It would even make for a fun DIY kid's craft!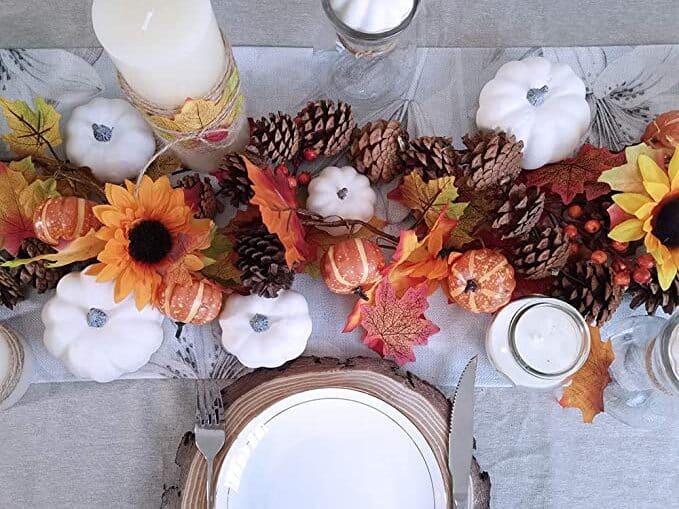 5. Velvet Pumpkins – These velvet pumpkins are STUNNING! We love how unique they are and how they bring a sense of elegance to the realm of pumpkin decor. You could easily leave these showcased on your dining table for the whole Fall season!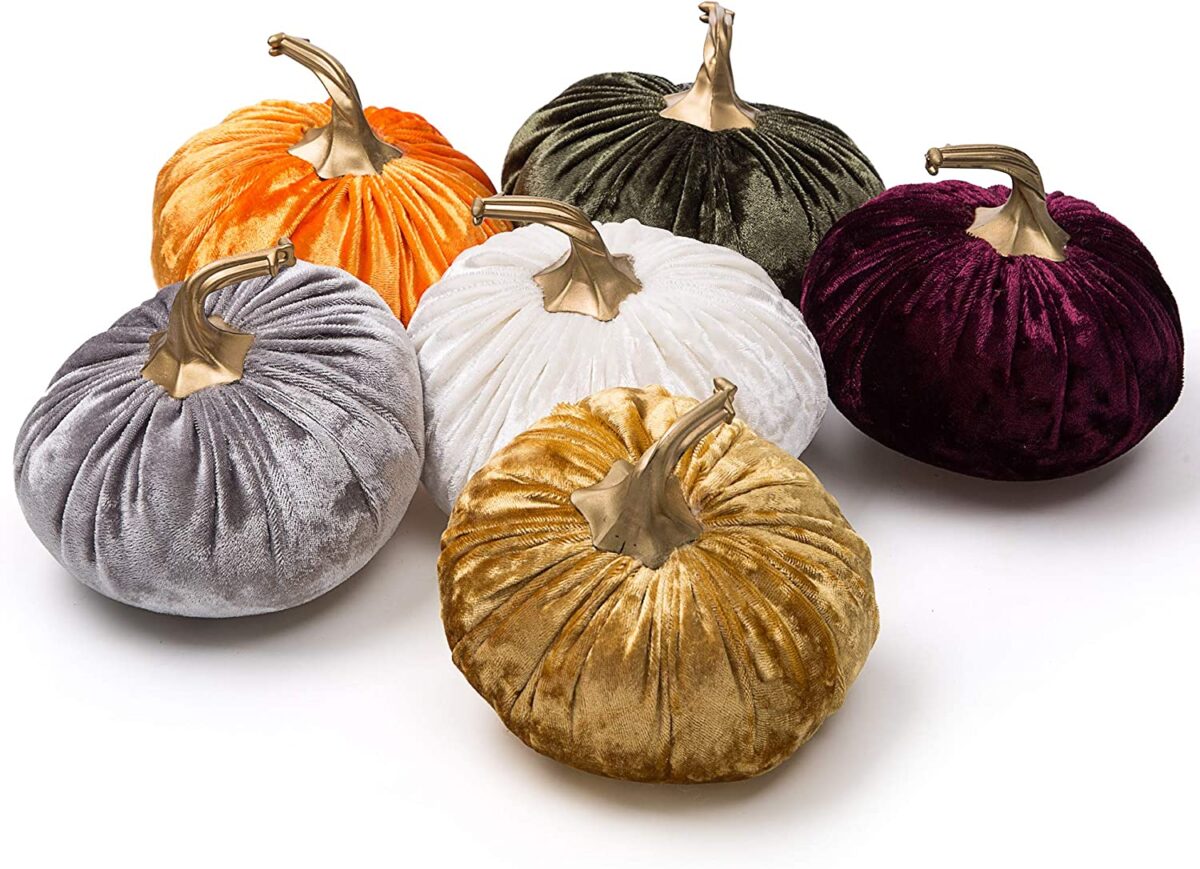 6. LED Light-Up Pumpkins – This large decorative pumpkin features a crackle-look effect on gold-tone glass that's elegantly illuminated with LED lights. SO COOL! Imagine how beautiful a few of these would look coupled together in a dimly-lit dining room!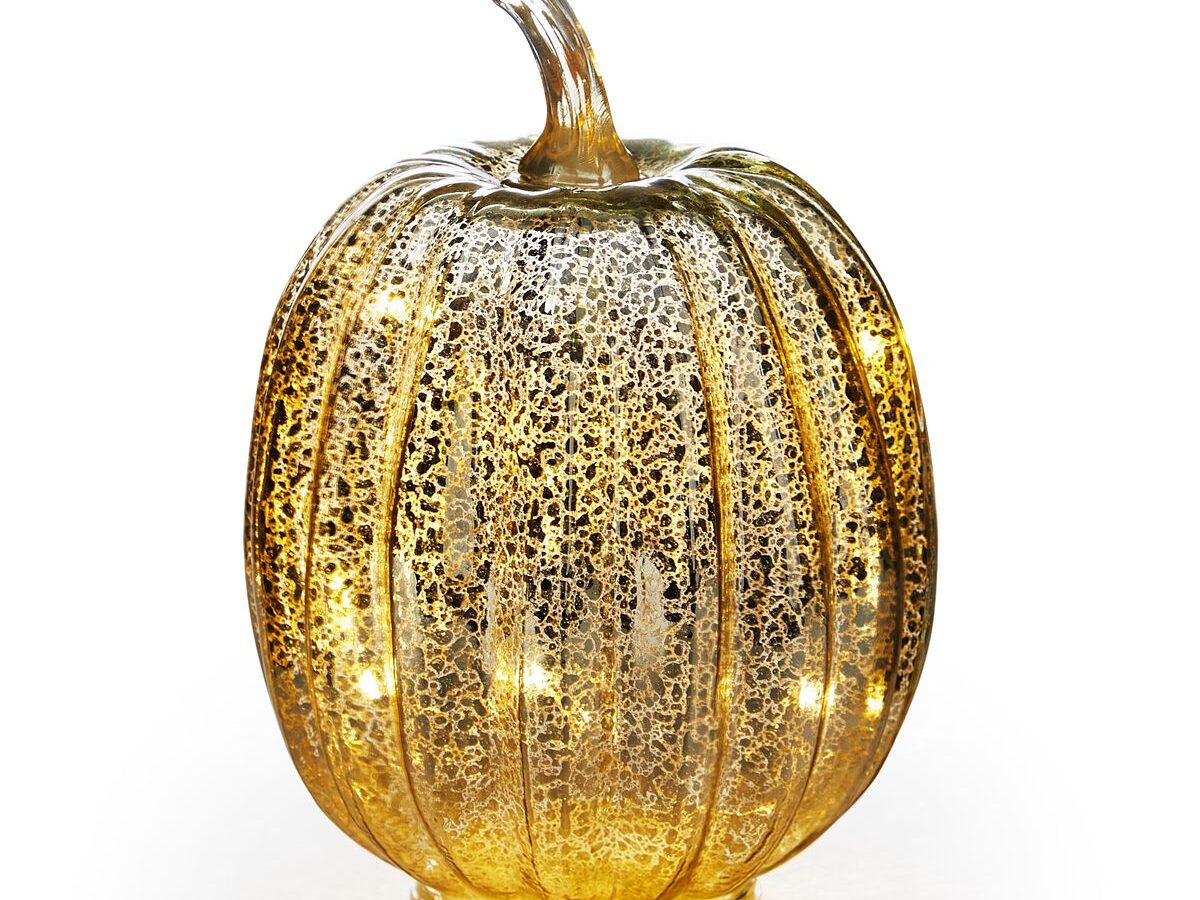 7. Engraved Pumpkin Set – These cute little guys would look darling on your holiday table! You can add them into your main centerpiece for some extra pizazz, or display them on a pretty plate or cake stand!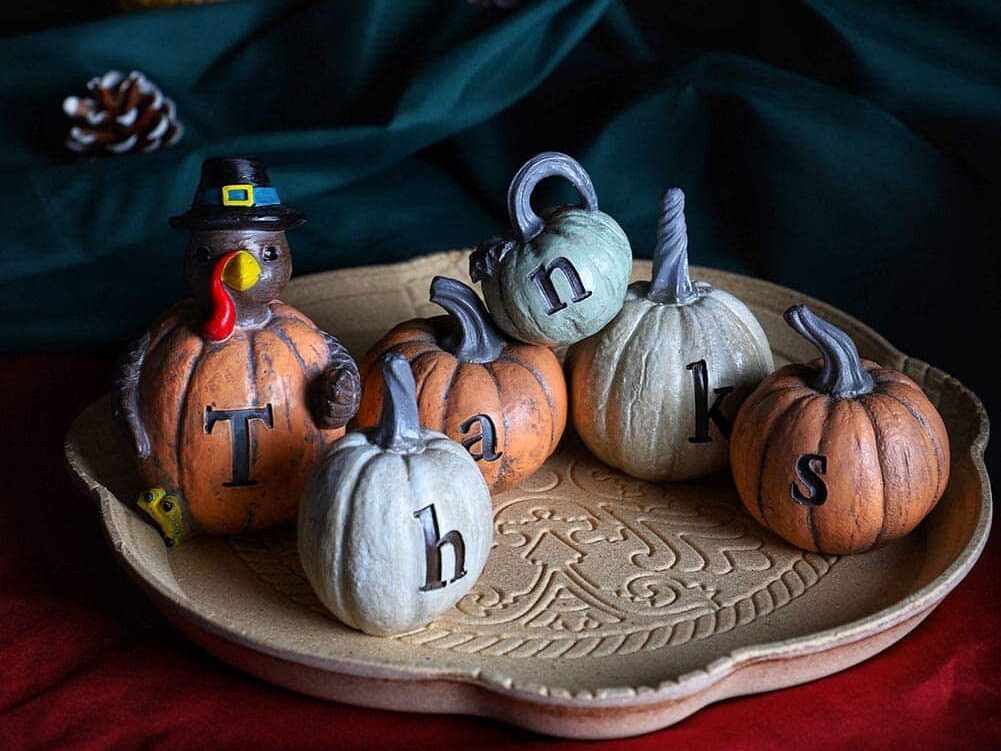 8. Knitted Pumpkins – Have you ever seen something so sweet and unique before?! These cute and soft hand knit chunky yarn pumpkins would be the perfect centerpiece or accent to any great fall table!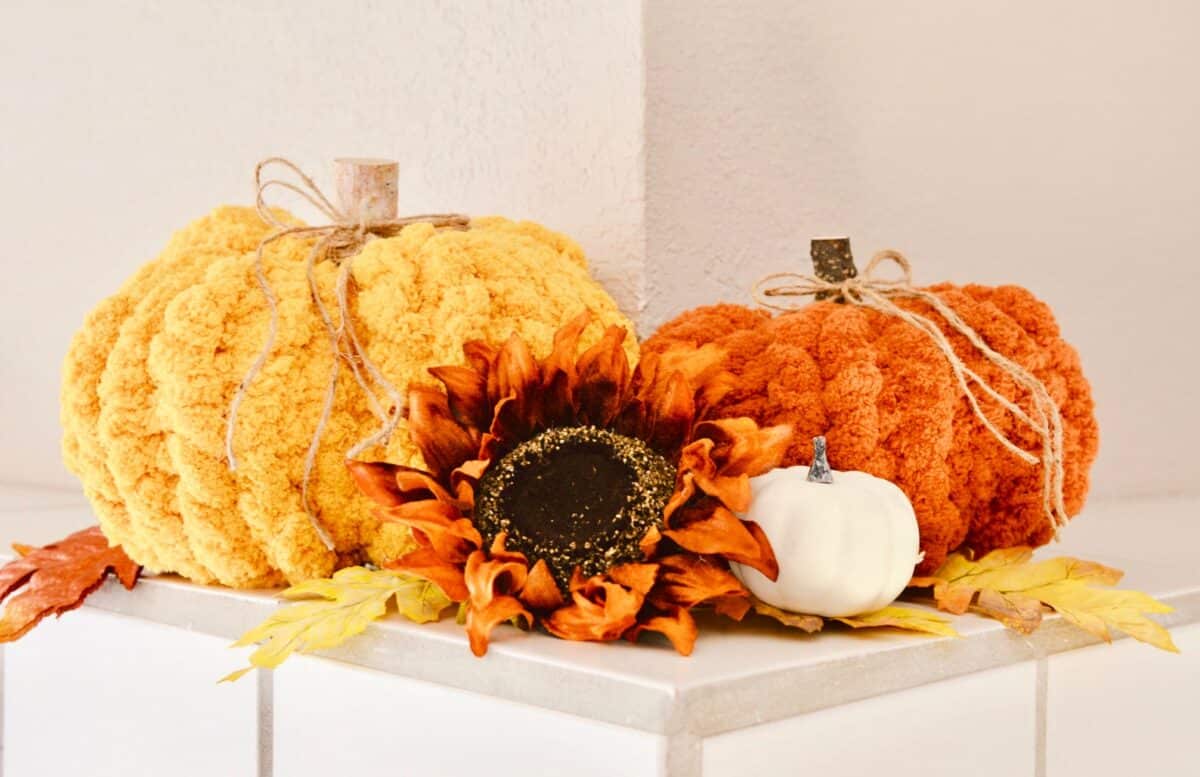 Thanksgiving Tableware & Glassware
You can't have all of your favorite Thanksgiving dishes without some fancy-schmancy tableware, right?! These plates, chargers, and glasses will be sure to get you excited to stuff your face with some turkey, gravy, and, of course, lots of potatoes!
9. Woven Chargers – When it comes to holiday table decor, pretty chargers are always a good idea. These natural woven chargers give off the best "homey" vibes! And because they're not too fancy, you can definitely pull them out again for other occasions!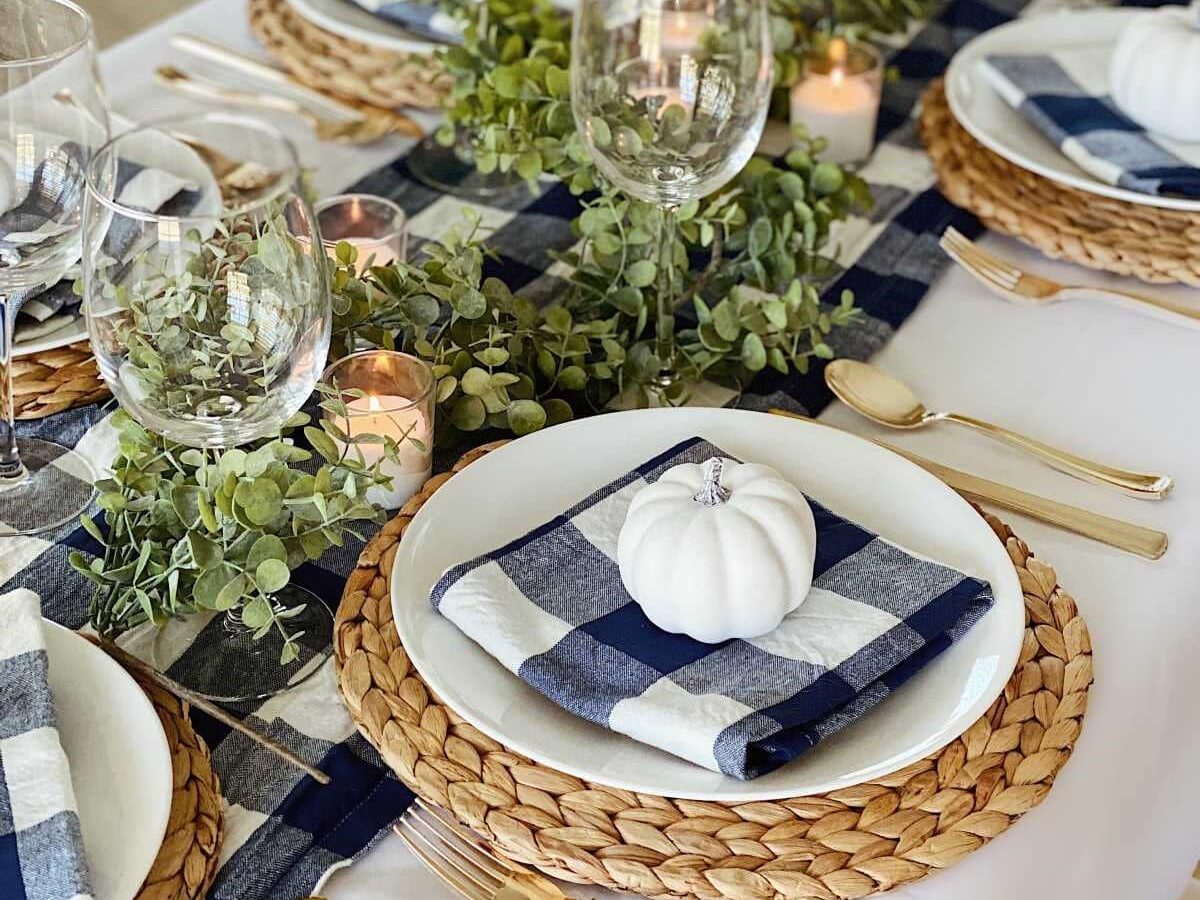 10. Leaf Drinking Glasses – The perfect transitional piece from everyday use to holiday glassware. These fall-themed drinking glasses are so beautiful, all of your guests will be asking where you got them!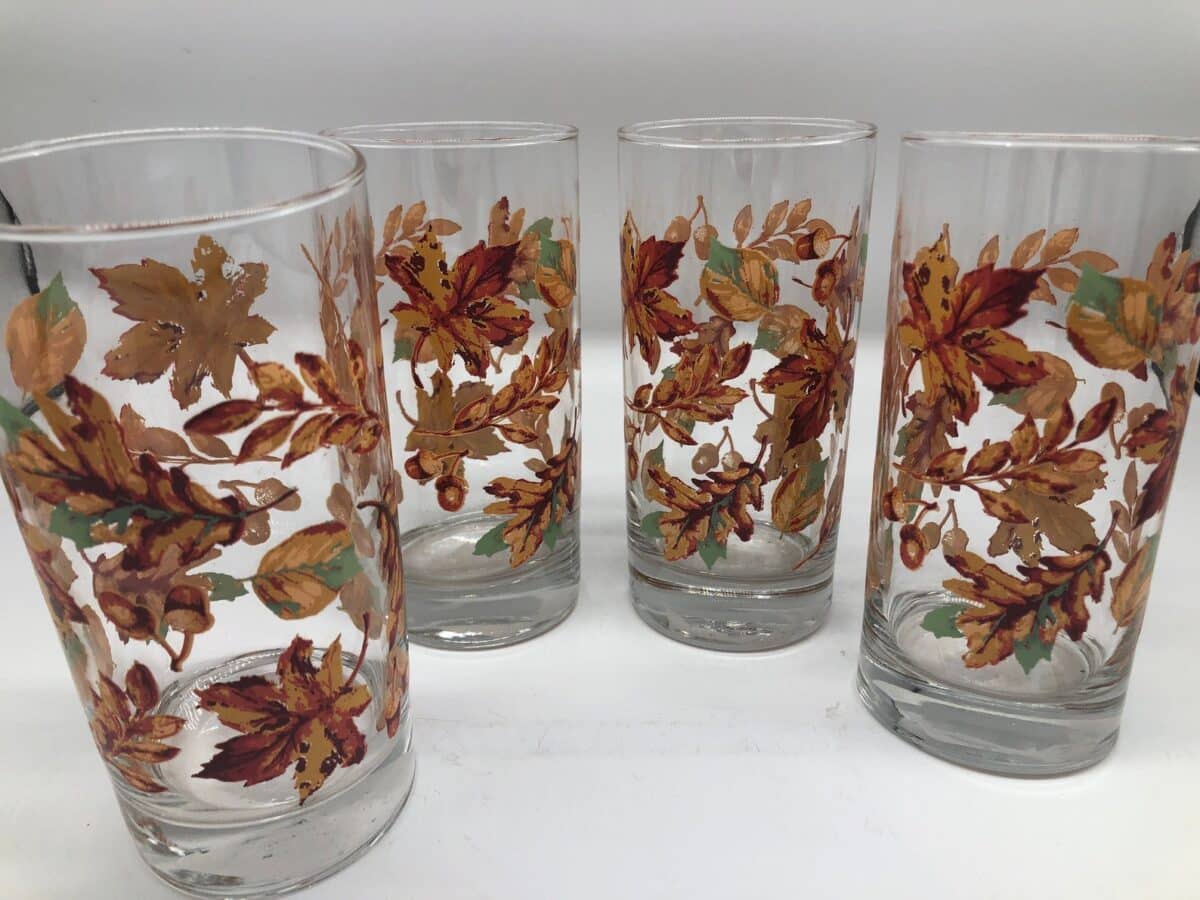 11. Pumpkin Appetizer Plate – These may or may not be the most beautiful holiday plates we have ever seen! They look as if they fell straight out of your favorite fairy tale! Because of the smaller size of these particular plates, we think they would work perfectly for appetizers or desserts!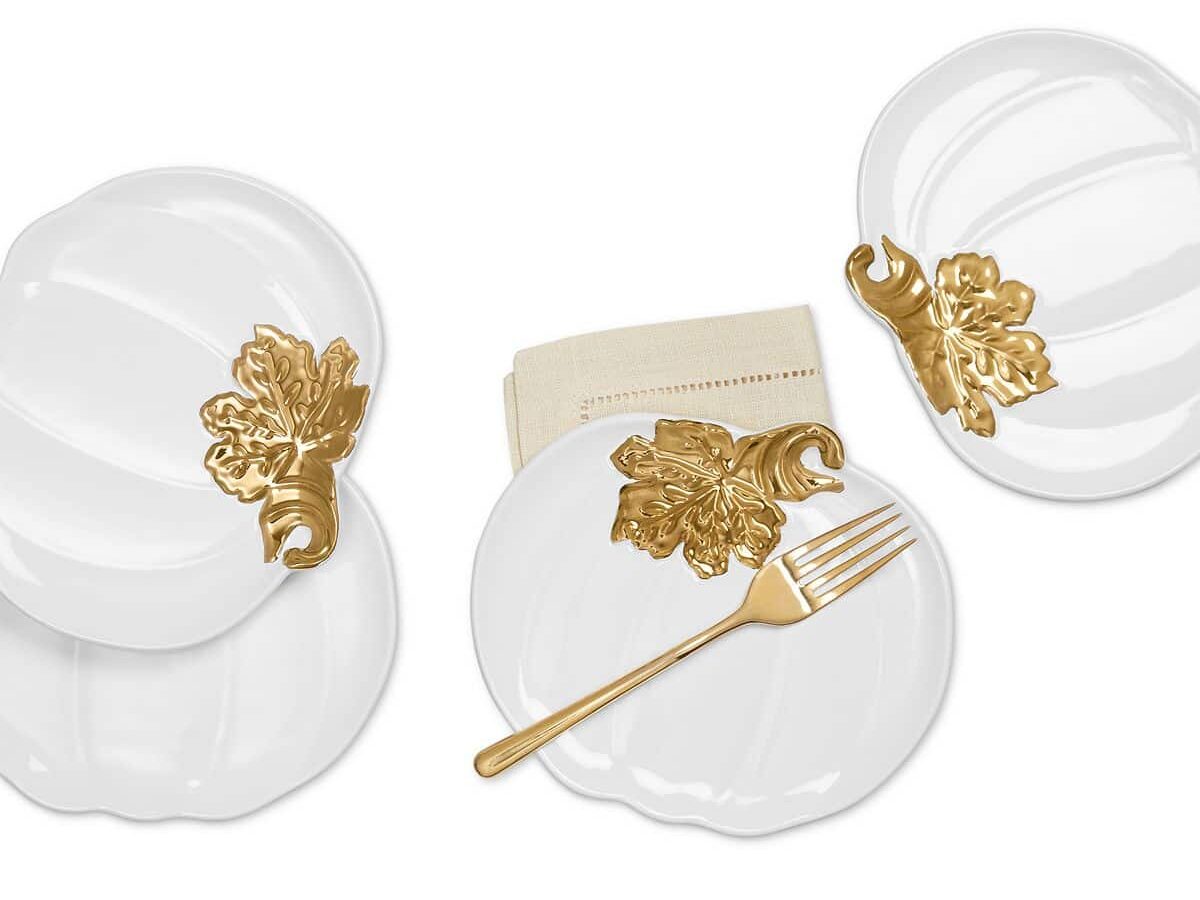 12. Painted Wine Glasses– If you're not crafty enough to pull off a project like this yourself, these painted wine glasses would still make a huge statement on your Thanksgiving table! Talk about a conversation piece!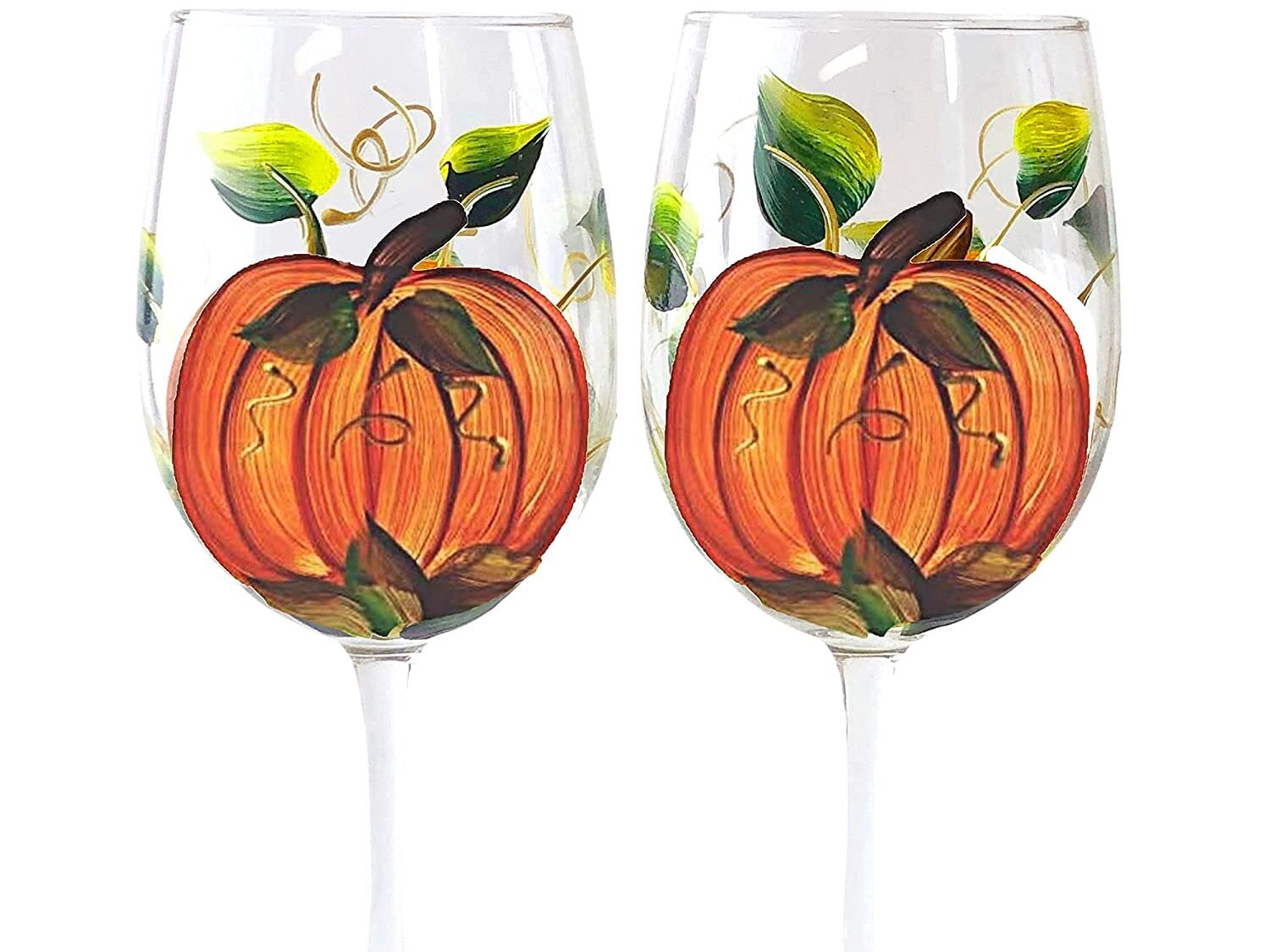 13. Glass Charger Plates – For those of you looking to have a more royal affair for your holiday meal, these gold glass charger plates are beyond stunning! They would look beautiful paired with antique dishes or flatware.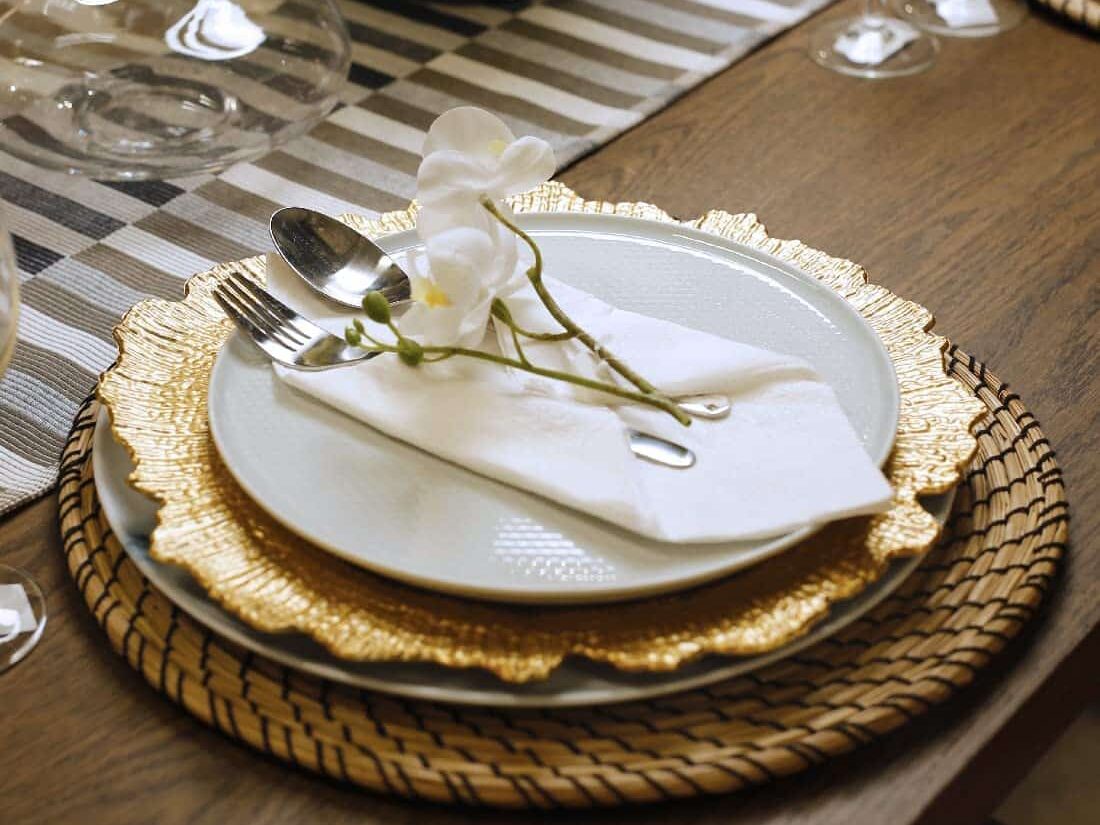 14. Maple Leaf Goblets – No matter which color option you choose, you cannot go wrong with these gorgeous maple leaf embossed goblets. They are sure to dress up any table setting you have prepared. Bonus: you can even throw these in the dishwasher once you're finished!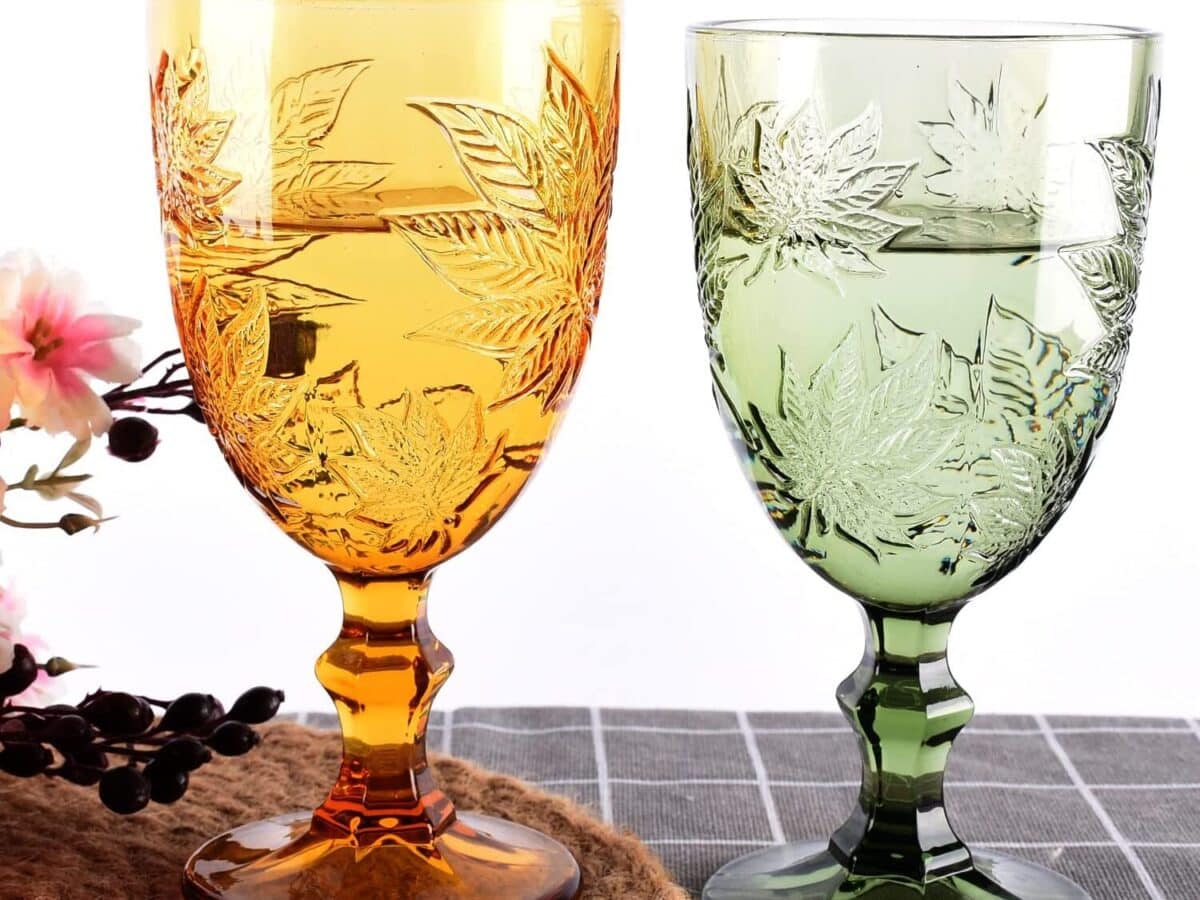 15. Fall Dinner Plates – Add some style to your dining table this Thanksgiving with this floral white pumpkin dinner plate. These would be great for any special occasion in fall and are sure to dress up your dining table set!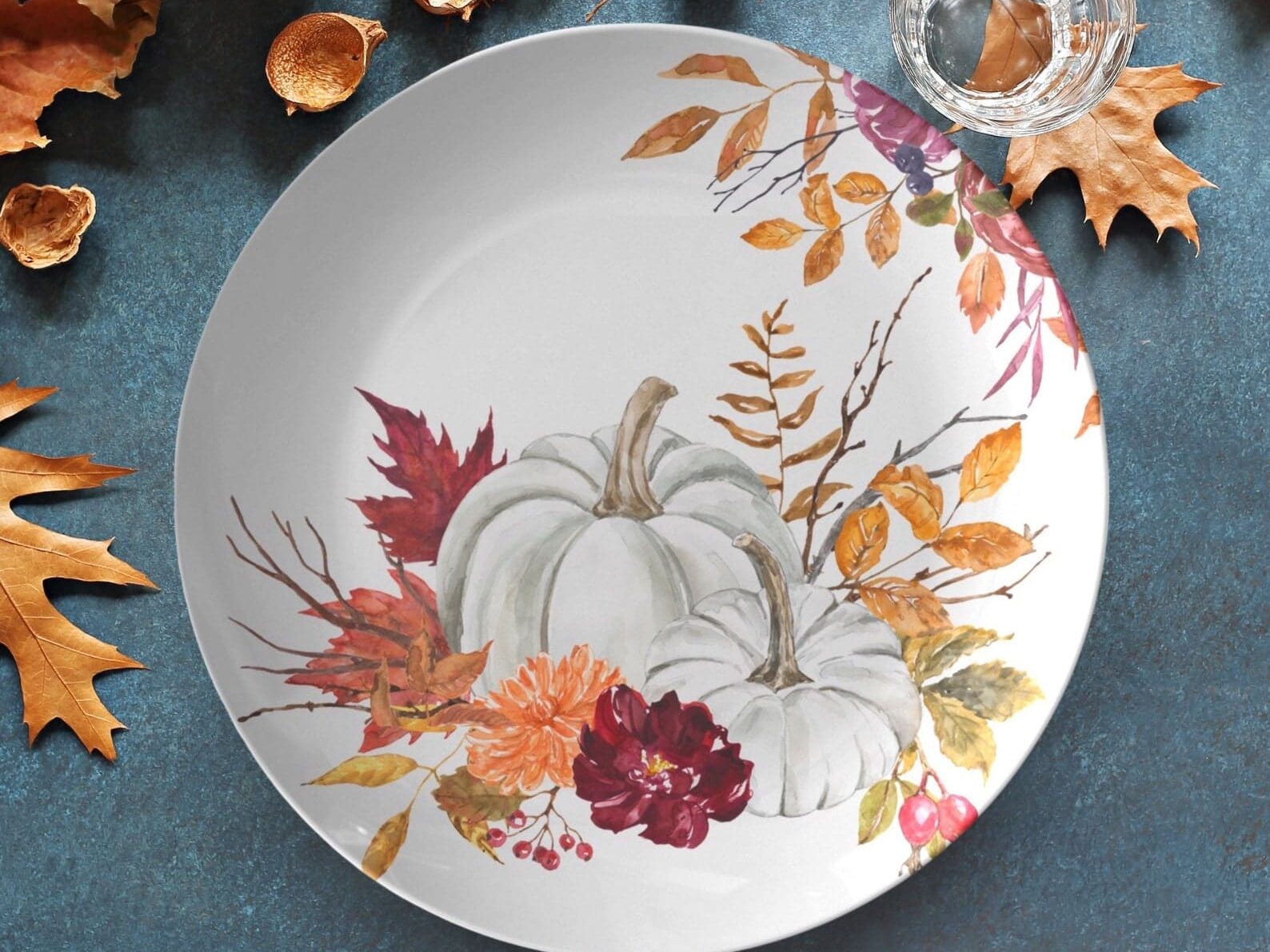 Thanksgiving Table Linens
Whether you're in the mood to dress up your Thanksgiving table with a table runner, napkins, placemats, or pillows, holiday linens are such a fun way to kick things up a notch. They are also the easiest way to elevate the look of your table in the blink of an eye!
16. Buffalo Check Table Runner – When it comes to holiday decor, you can never have enough plaid, right?! This buffalo check table runner is fun, festive, and can honestly go with any tablescape theme!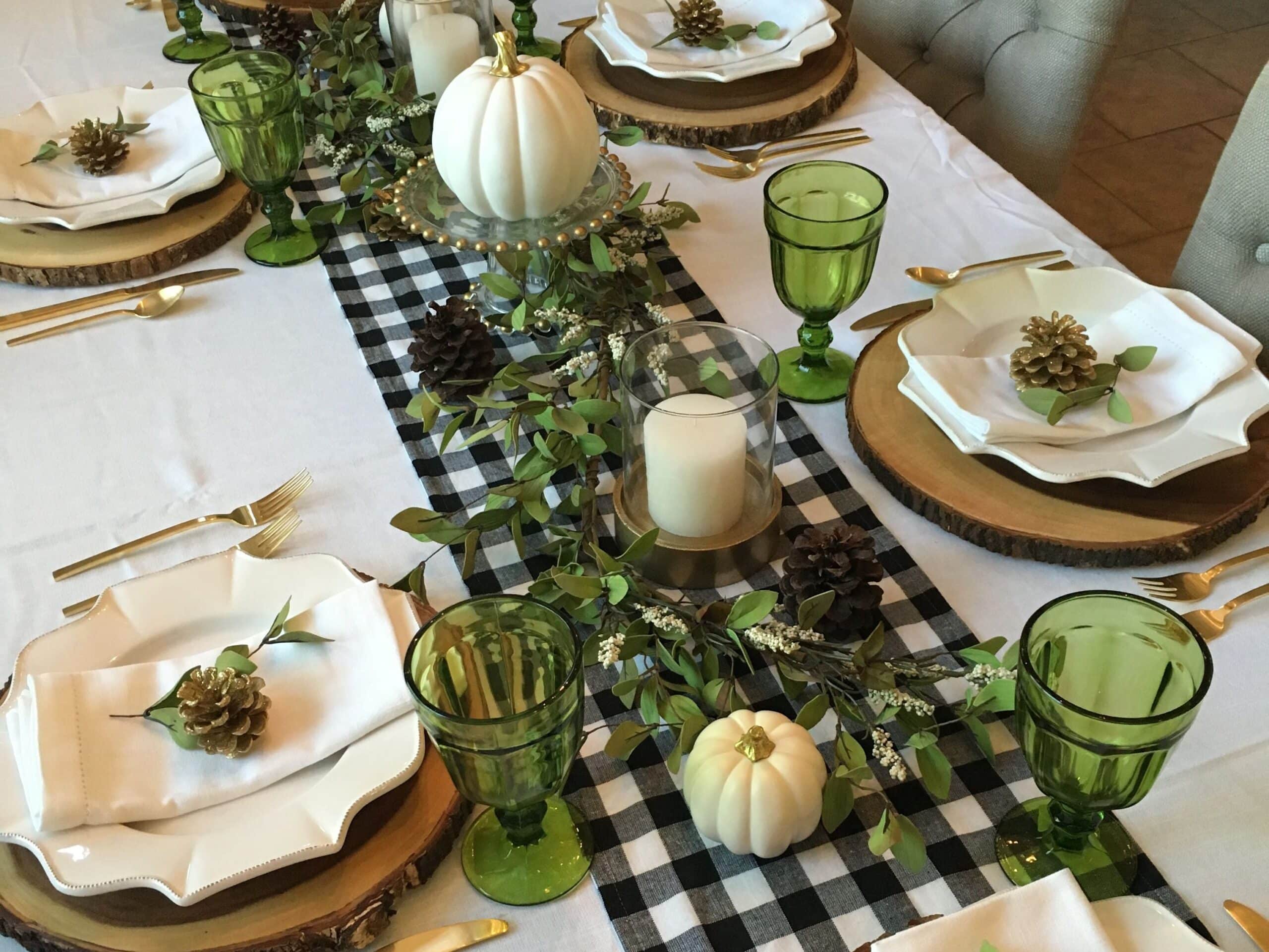 17. Buffalo Check Napkins – Of course, you'll also need some cute buffalo check napkins to match your plaid table runner! These would be great hanging over the table, folded up on the plates, or even displayed with a festive napkin ring.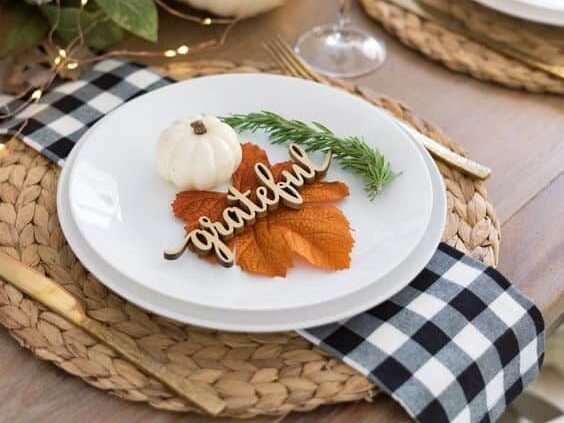 18. Hello Fall Table Runner – Simple, modern, and oh-so cute! For those of you looking for a more minimalistic Thanksgiving table, this has your name all over it. Because it's also not turkey themed, you could even leave it on your dining table for the whole season!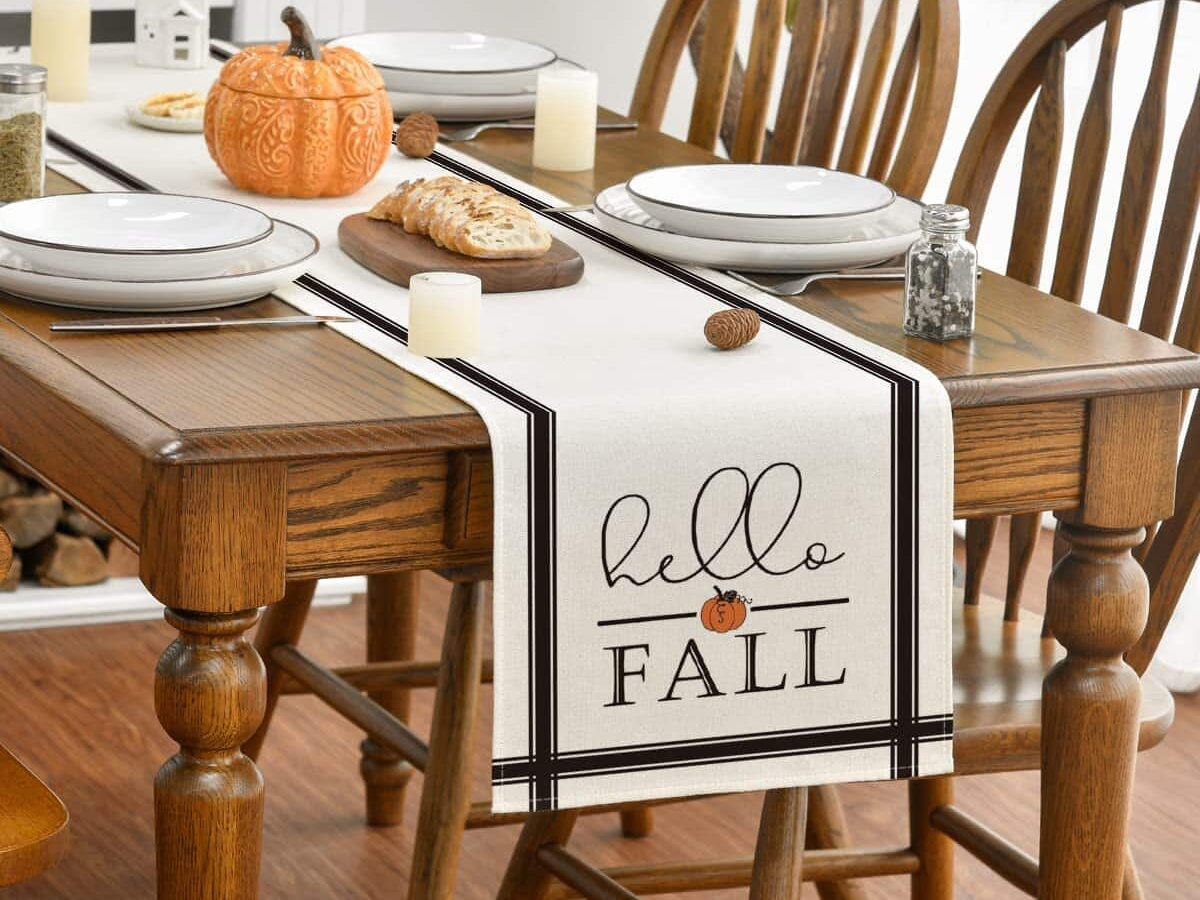 19. Cloth Linen Napkins – One of the best things about holidays is the ability to dress everything up a bit! Isn't it fun to pull out your expensive dinnerware, get dressed up, and eat a fancy meal? These cloth napkins will for sure help add to that overall feel!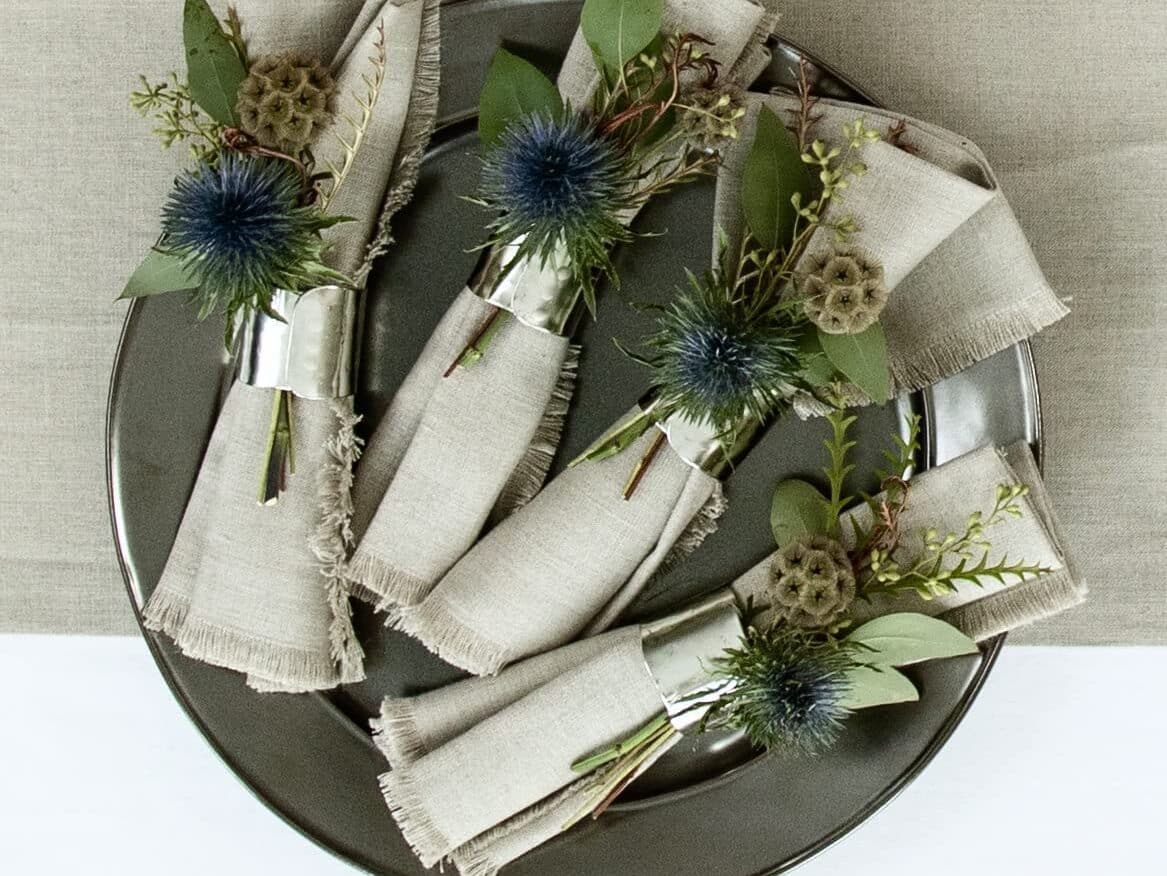 20. Give Thanks Table Runner – A fun and festive table runner for Turkey Day! Stuff the rest of your dinner table with orange, red, and yellow decor and you'll be able to create an entire fall-themed display!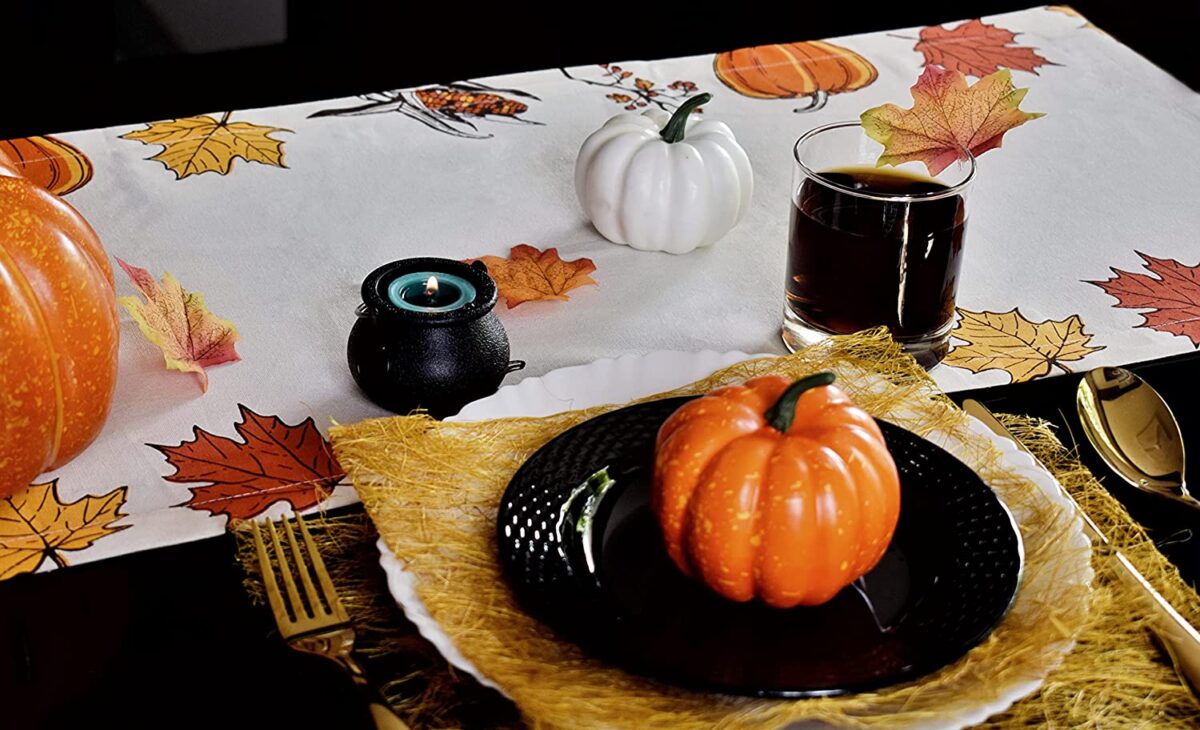 21. Pumpkin Placemats – For those of you who want to step away from the traditional Thanksgiving colors, these placemats would be a good place to start! Pair these with some white pumpkins and greenery, and you'll have the perfect boho table decor.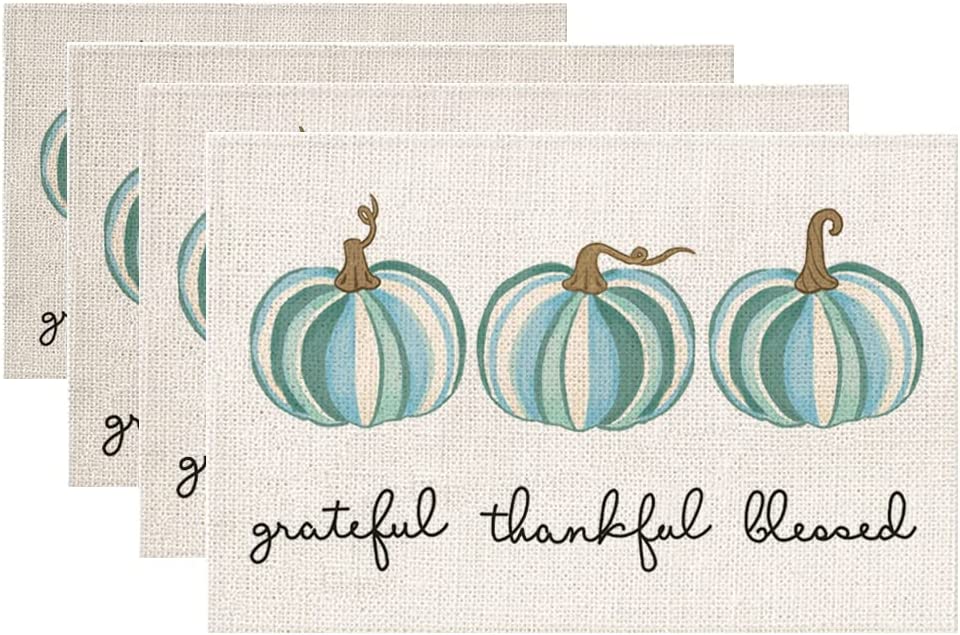 22. Thanksgiving Pumpkin Table Runner– If you want to keep things sweet and simple, this pumpkin-themed Thanksgiving table runner is super cute. It would look so beautiful paired with some little pumpkins or turkeys!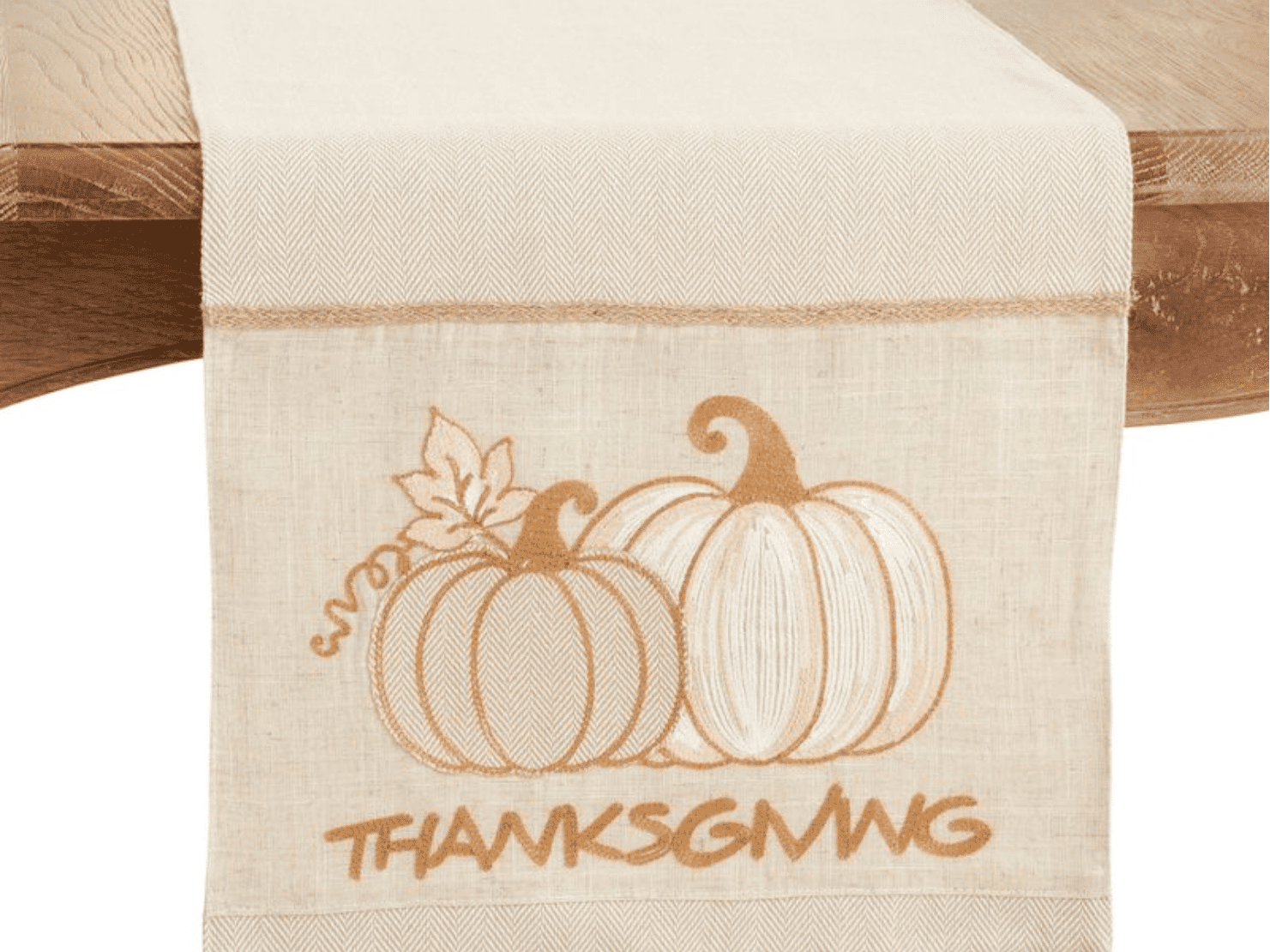 23. Leaf Placemats & Coasters – While these leaf placemats and coasters might not be everyone's cup of tea, there's no denying the fact that they are super unique! If you're feeling like the bright colors may be too childish, you could always use these for the kids table!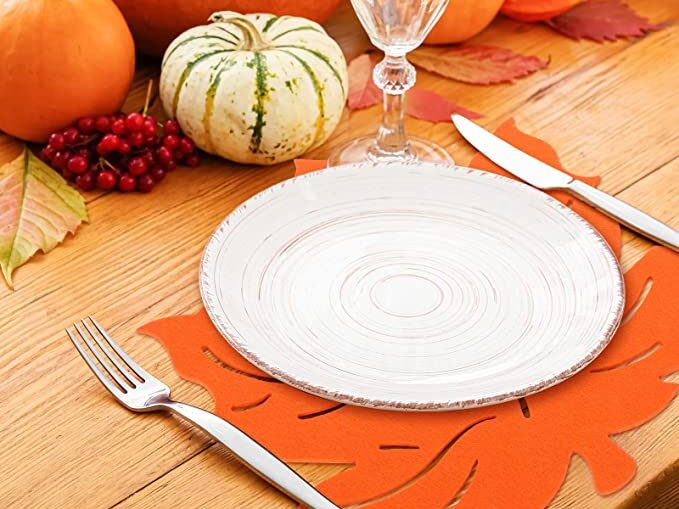 24.Beaded Table Runner – This embroidered beaded table runner is sure to bring elegance and class to your dining table. It's a perfect tabletop decorative accessory for Thanksgiving and all fall long!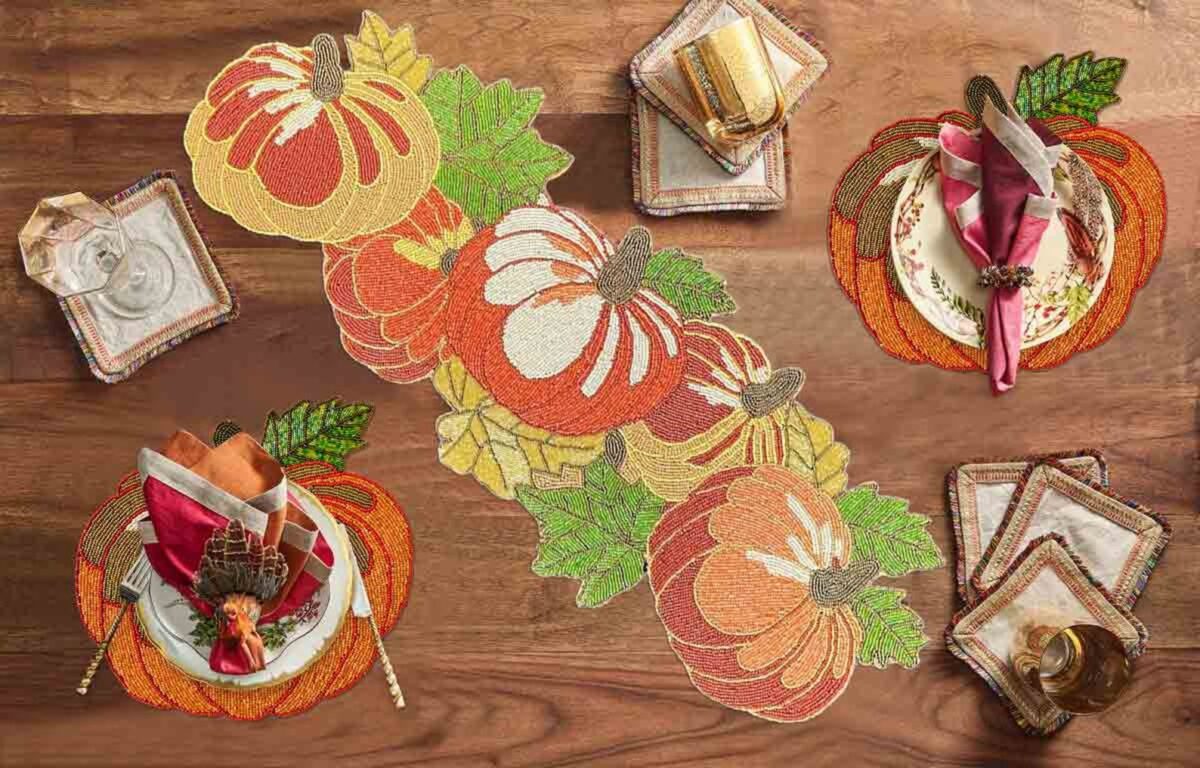 25. Embroidered Turkey Napkins – Set a classically elegant Thanksgiving table and celebrate your favorite holiday in style with these turkey embroidered linen dinner napkins!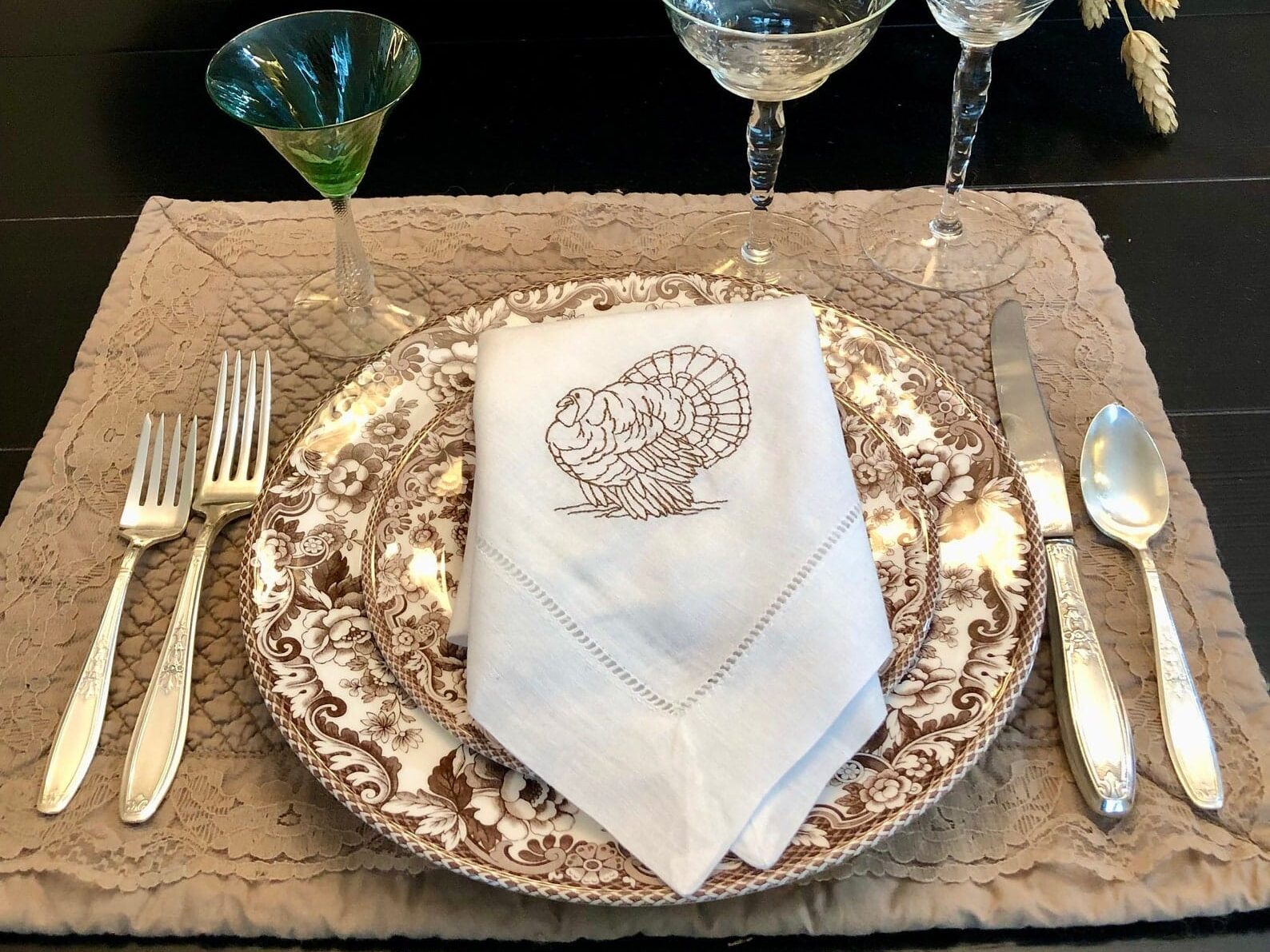 26. Fall Pillows – If you're looking to cozy up your Thanksgiving table a bit, try adding a festive pillow to everyone's chair! These fall-themed pillow cases are just darling! Just grab some pillow inserts and you'll be good to go!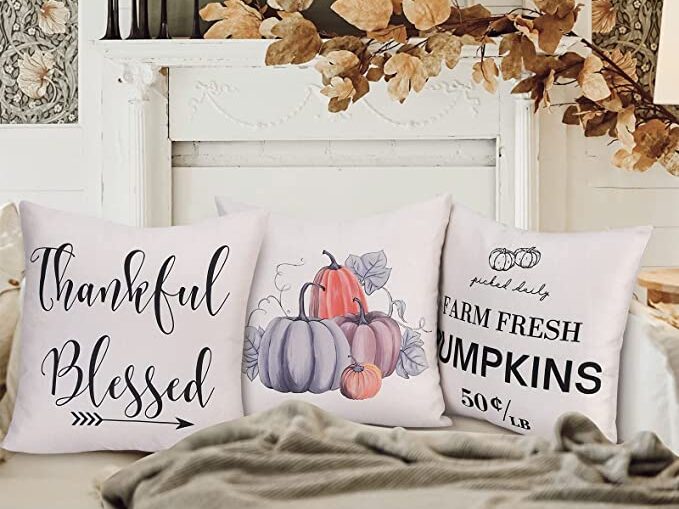 Thanksgiving Table Centerpiece Ideas
Awww, the centerpiece! When it comes to Thanksgiving table decor, this is arguably the most important element–aside from the food, of course! The good news is, there are so many options to choose from, and you almost can never go wrong with your decor selections.
27.Fall Wreath – Okay, okay, I know what you're thinking. It might not be so "normal" to use a wreath as a table centerpiece. But, hear me out! Grab a cute fall-themed wreath, and try displaying it in the middle of your table along with some candles. It's super easy and a guaranteed showstopper!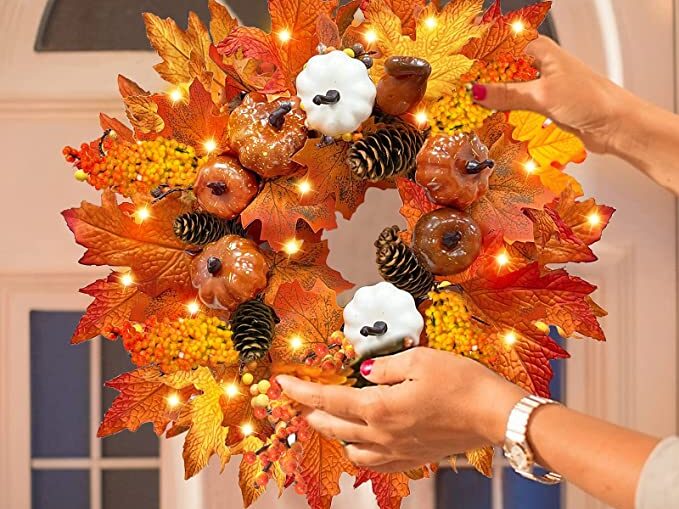 28. Cornucopia Basket – The quintessential Thanksgiving decor item. If you don't have some sort of cornucopia on display, are you even celebrating Thanksgiving?! I love this one, because you can stuff it with pumpkins or gourds and showcase the basket as a centerpiece!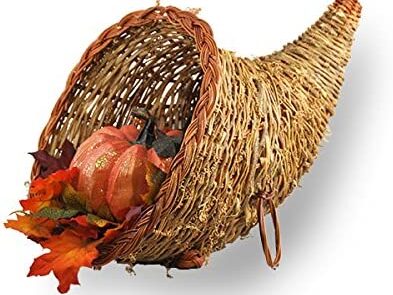 29. Pumpkin & Greenery Garland– If you're looking for a lazy-gal's decor option, this pre-made garland will be your winning ticket! The pine cones and pumpkins add a whimsical touch and help to bring an all-natural feel to your table. Not to mention, this definitely falls into the "cheap Thanksgiving table decor" category!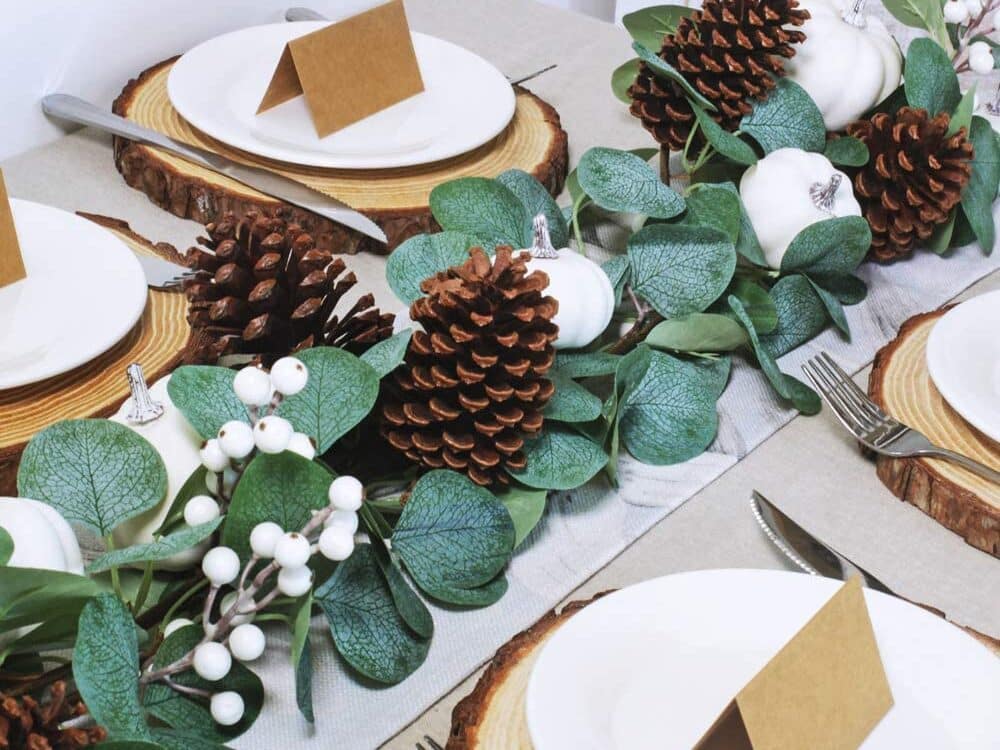 30. Turkey Centerpiece – Some might call this obnoxious, I call it FESTIVE! I mean, when else do you get the opportunity to plop a giant turkey in the middle of your dinner table? Not to mention, all the kids will probably love it (and maybe even name him/her)!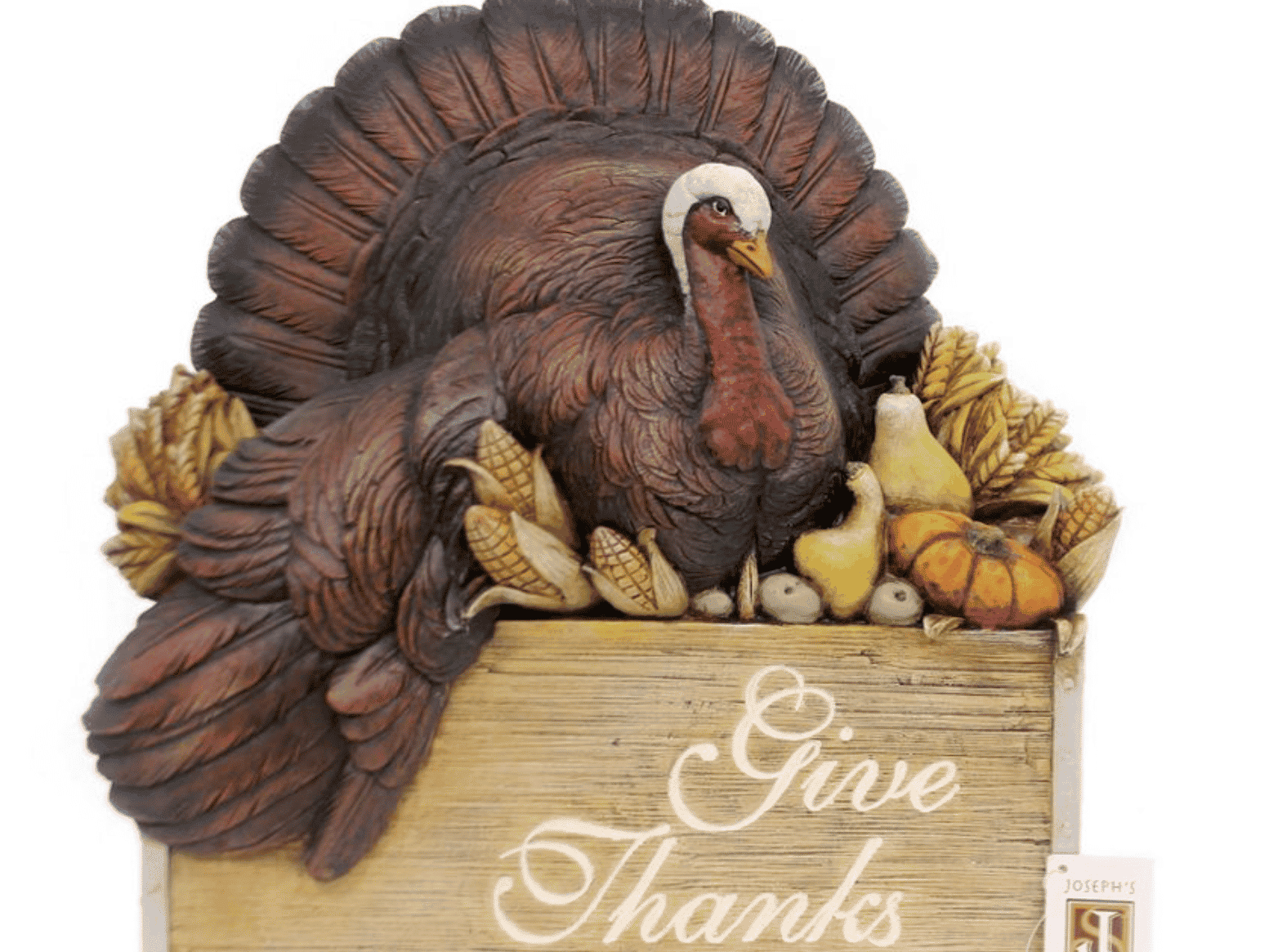 31. Glittered Cornucopia – If your family is more the glam-type, this glittered cornucopia will be right up your ally! I mean, how beautiful is this?! The sparkly leaves and glittery pumpkins add such a classy and elegant touch to the holiday!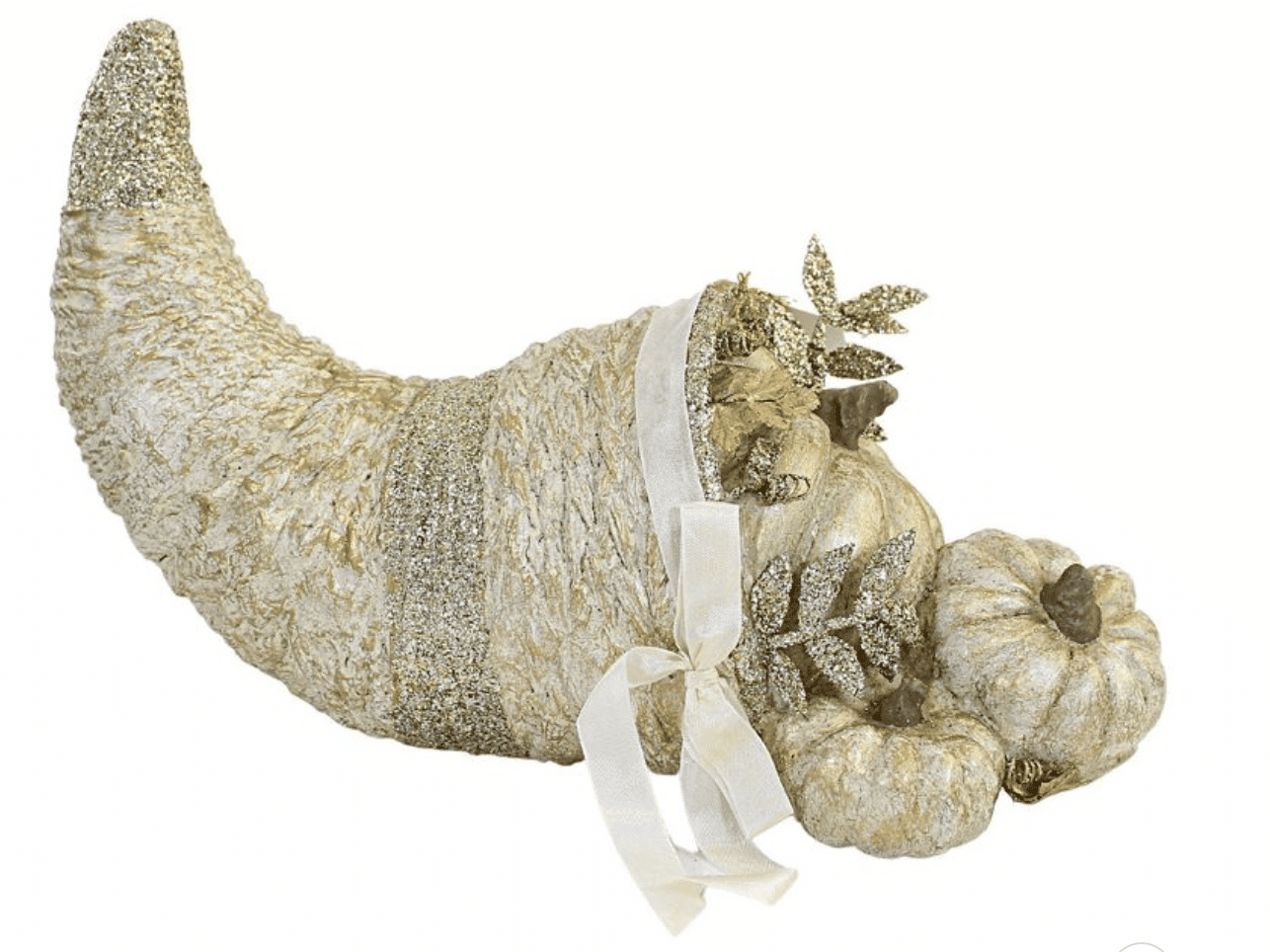 32. Thankful Centerpiece – Looking to keep the table decor ultra simple this year? This "Thankful" centerpiece is already put together and comes with the cute little extra elements. It doesn't get much easier than this!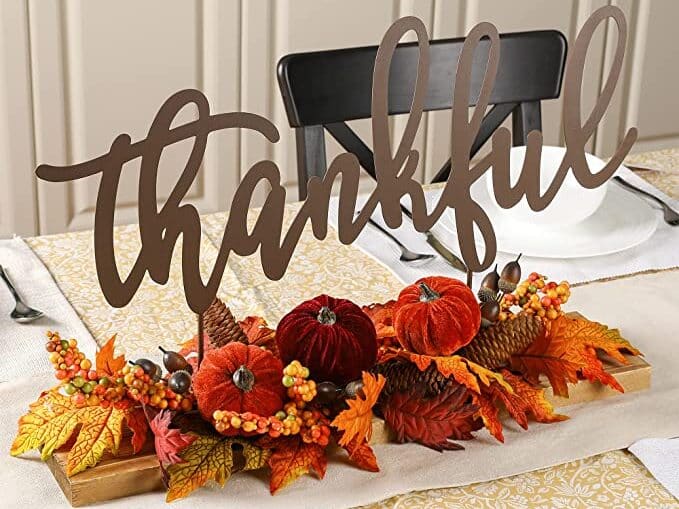 33. Leaf Garland – If you need some added pizazz to your decorated Thanksgiving table, this faux leaf garland would be so fun! Plus, there's the added bonus of not having real leaf bits making their way into your apple pie.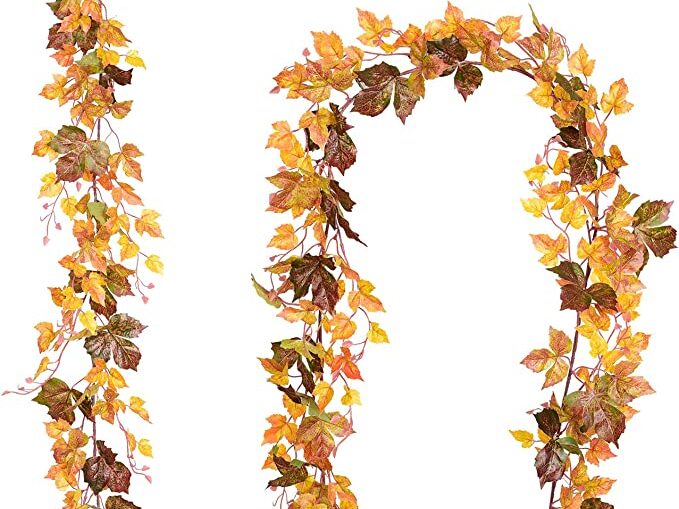 34. Mason Jar Flower Display – Spruce up your Thanksgiving table this year with this mason jar flower display. You can fill up the jars with artificial or real fall flowers and display it on your dining table. We love that you can leave this out for the whole fall season!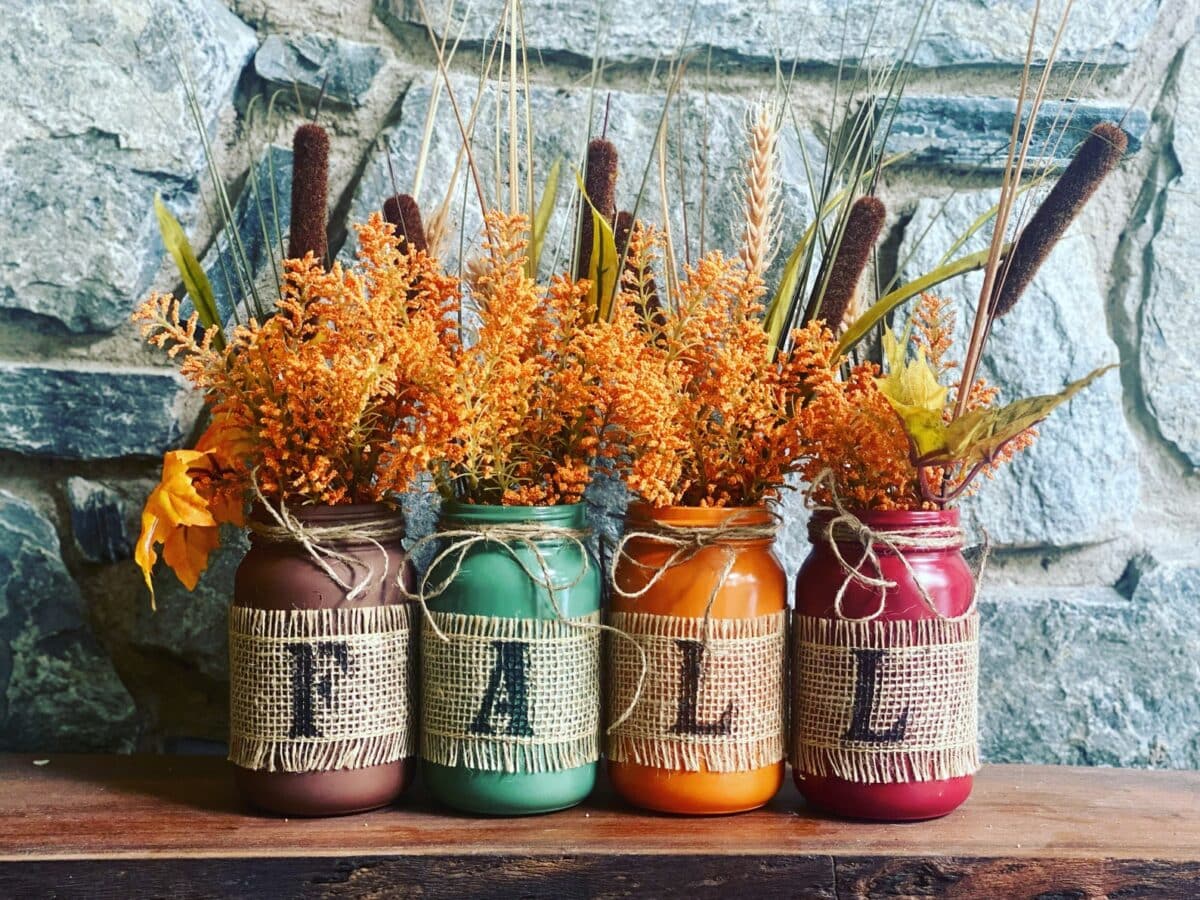 35. Stacked Pumpkins Centerpiece – This whimsical, rustic pumpkin centerpiece would be so gorgeous on anyone's holiday table! You can never go wrong with seasonal favorites such as pumpkins and leaves.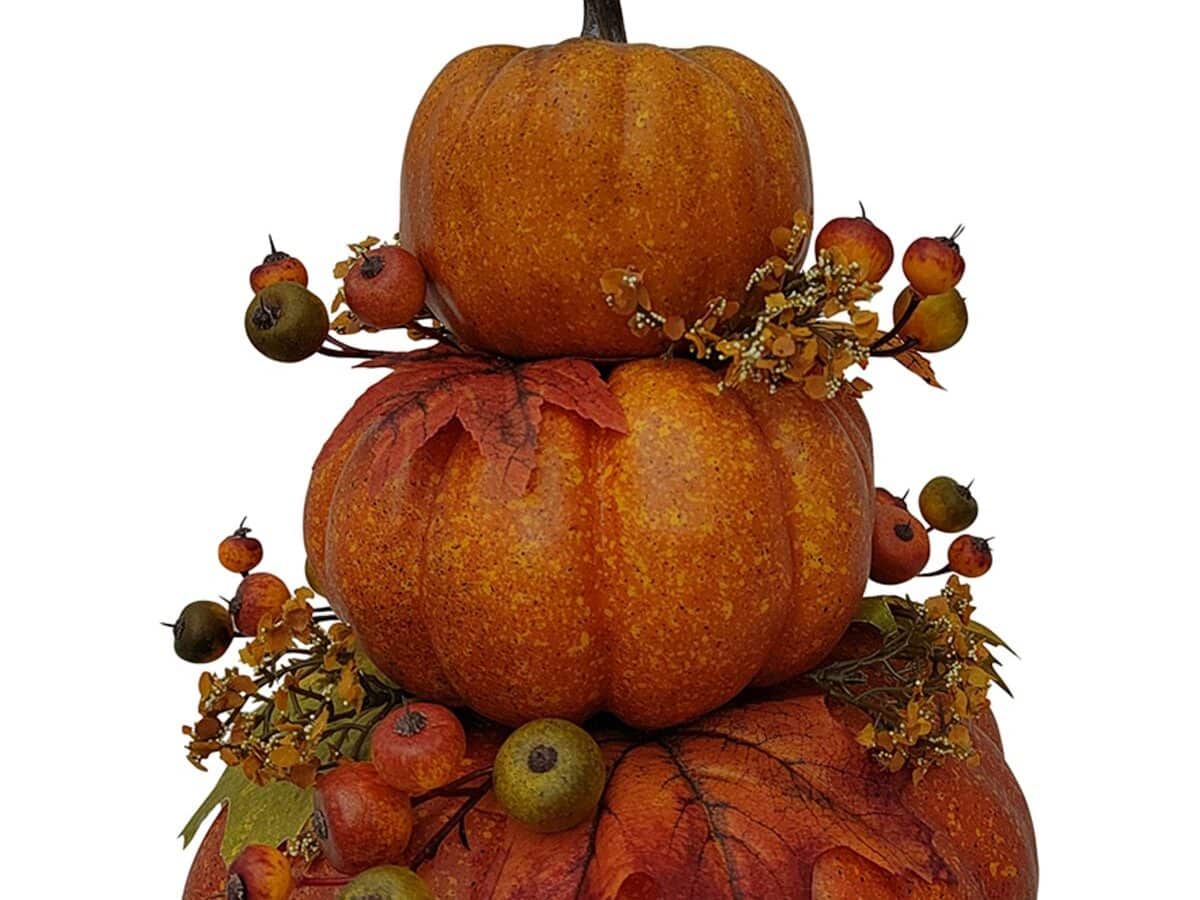 Thanksgiving Table Candle Decor
Dinner by candlelight… there's nothing better, right?! Holiday meals provide the prime excuse to load up your table with some romantic candles and enjoy the time spent with loved ones. Candles are also a perfectly cheap Thanksgiving table decor option!
36. Black Candlestick Holders – Classic black candlestick holders are the perfect holiday investment piece! You'll be able to pull these out for many other holidays or celebrations, and they help to elevate the look of any dinner table!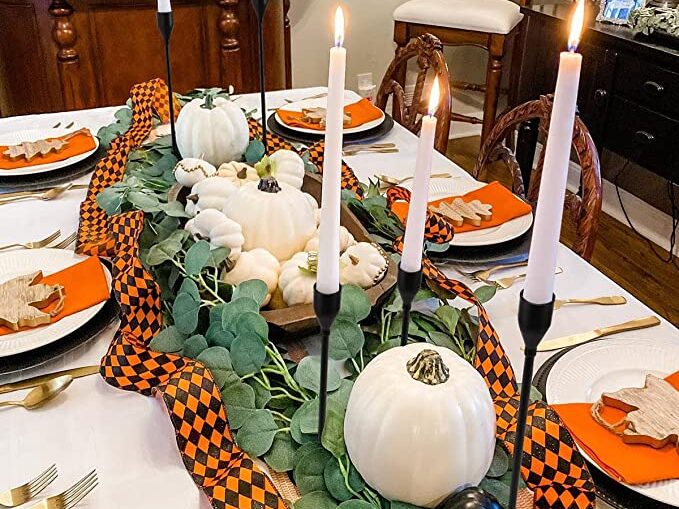 37.Black Candlesticks – If you want to go for a sleek and modern look, grab some of these all black candlesticks to go with your black candlestick holders. They would look so chic with a black and gold table setting!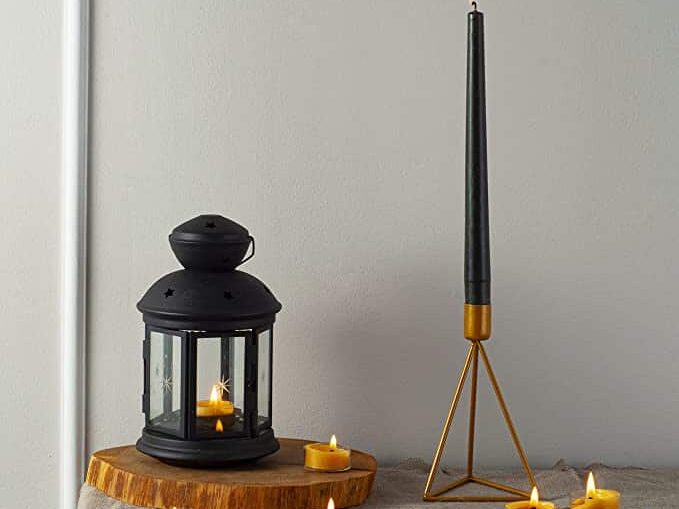 38. Flameless Candles – Flameless candles are amazing to have if you don't want to stress over hot wax dripping or potential fire hazards. This festive set would look so cute displayed on your next Thanksgiving table!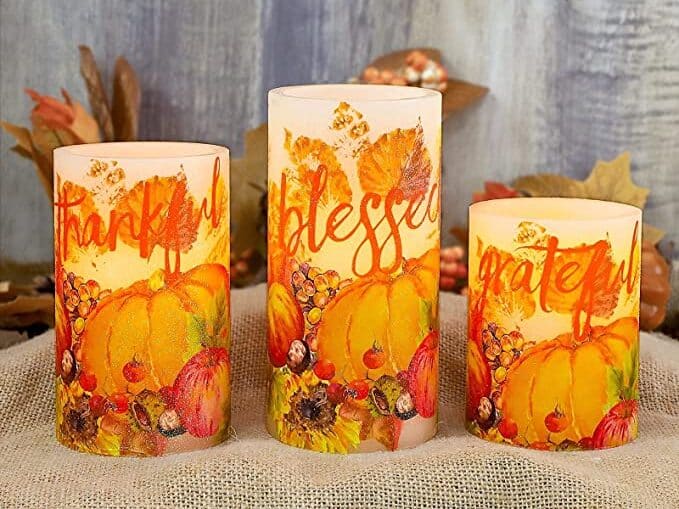 39. Turkey Tea Light Holder – Okay, how adorable are these little turkey tea light holders?! This set comes with four turkeys and would make the cutest addition to your holiday table decor. Don't forget to grab some tea lights to go with it!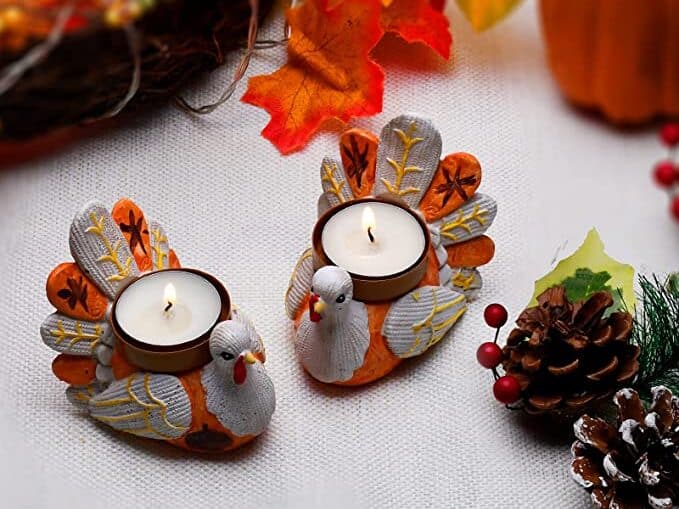 40. Iron Pumpkin Tea Light Holder – These little iron pumpkin tea lights are so unique, and we love the industrial vibes they are giving off! Bonus: you could easily reuse these for Halloween as well! Don't forget the tea lights!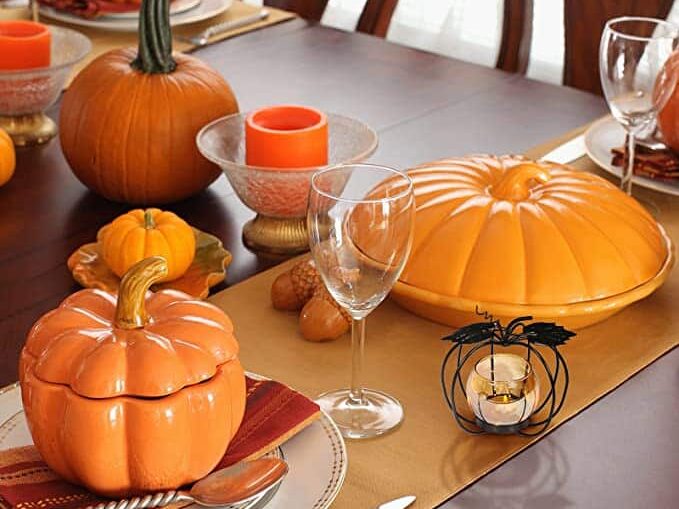 41. Pumpkin Candles – These cute little pumpkins would look gorgeous on your Thanksgiving table. And the best part is, you can even pick festive scents such as pumpkin spice, pumpkin pie, pecan pie, and other fun options!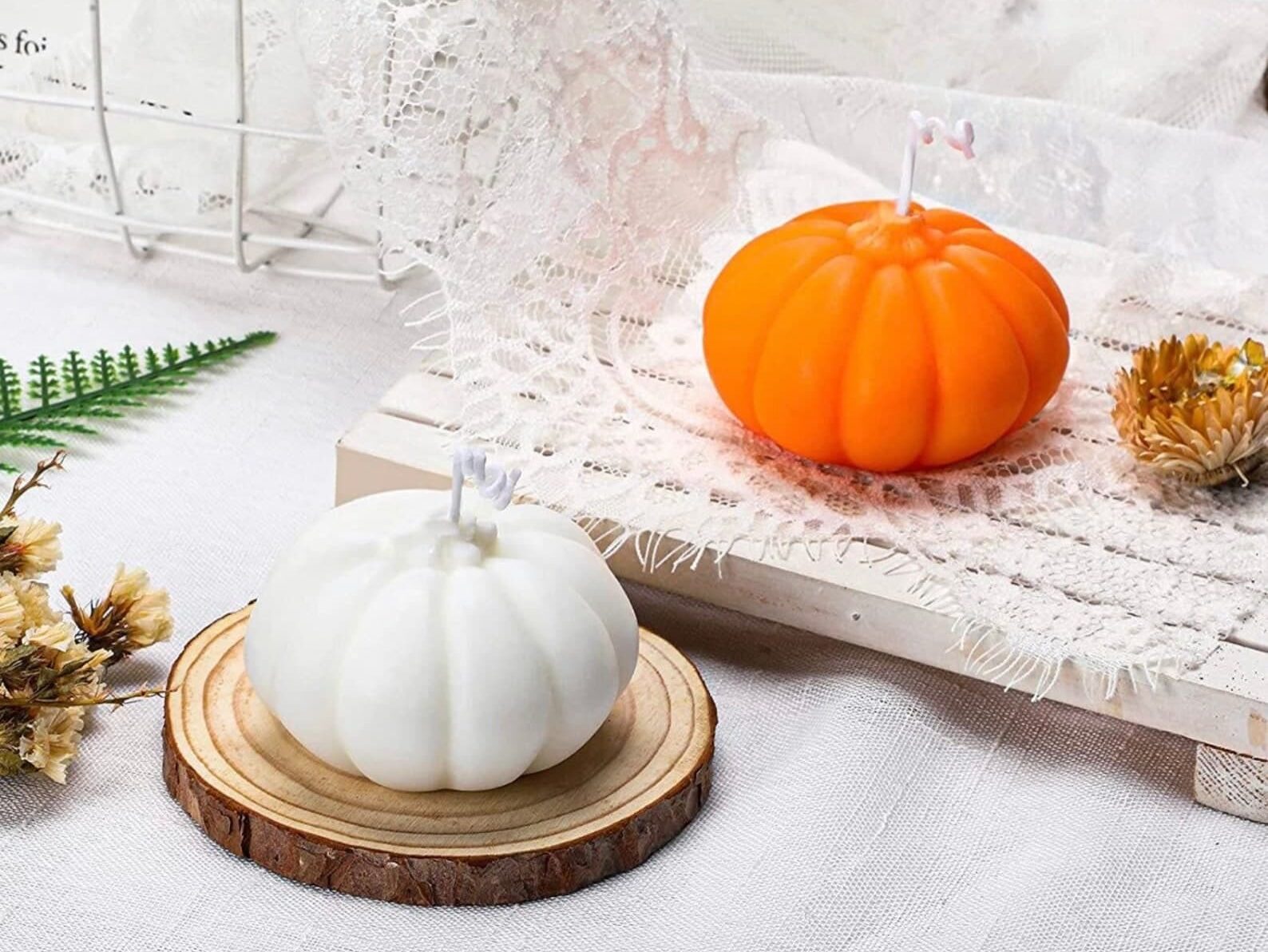 42. Turkey Candle Holders – Aren't these little turkeys so adorable?! Grab some tea lights, and space some of these around your Thanksgiving table. They're so festive, and your guests will love them!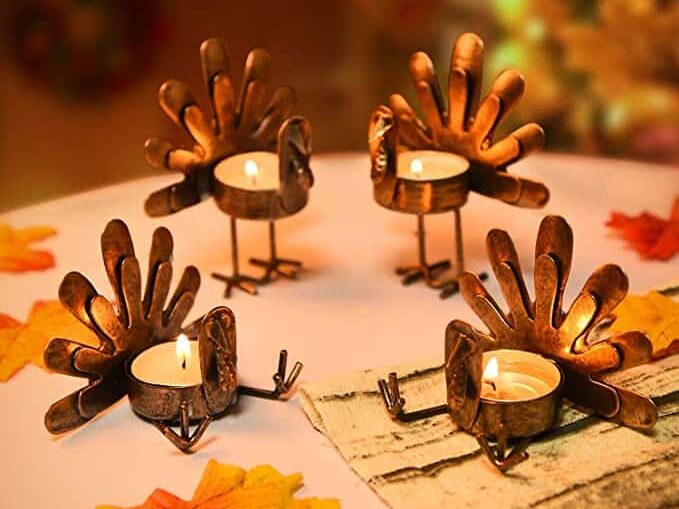 Thanksgiving Table Serving Ware
Your favorite Thanksgiving dishes and sides deserve to be served on something pretty, don't you think?! These platters, tiered servers, and boards are so beautiful that you might even consider putting them out on display instead!
43. Thankful Platter – The only thing that would make this "Thankful" platter more appealing is if it had loads of turkey on it! It's simple, classic, and also super affordable!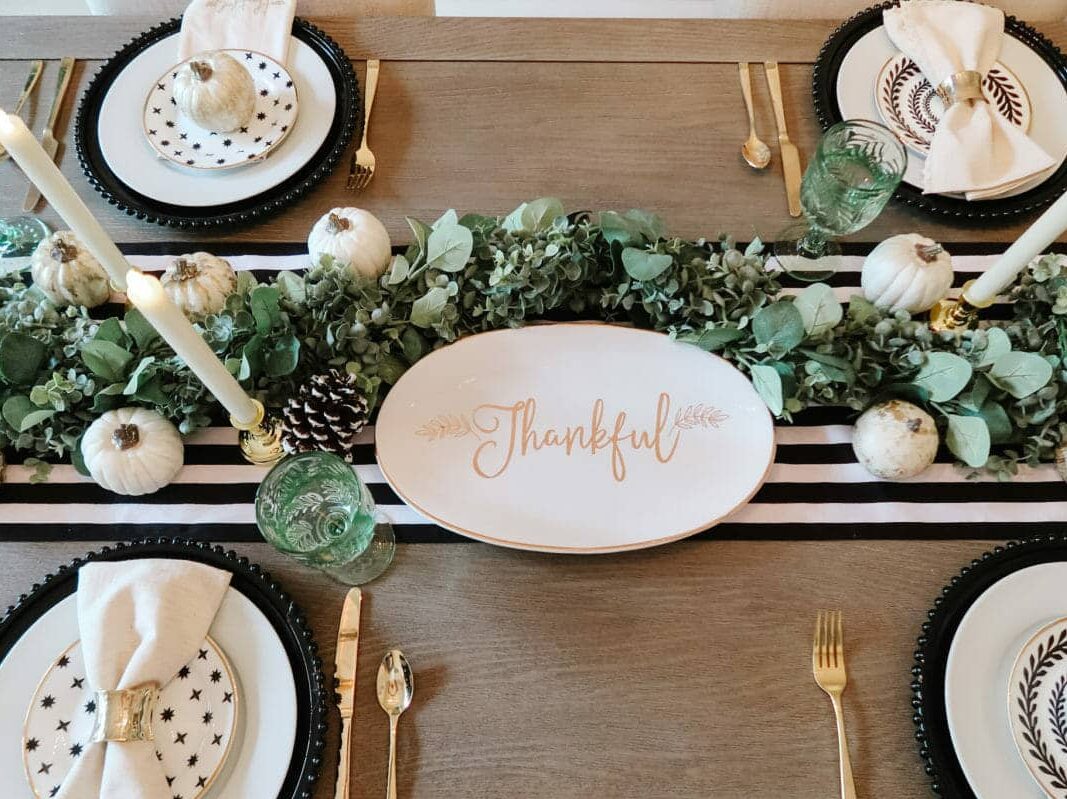 44. Harvest 2-Tier Server – Because we all need something to serve our holiday treats on, this 2-tier server would be perfect for serving little finger foods or dainty desserts. The golden details of the leaves and branches are also SWOON-worthy!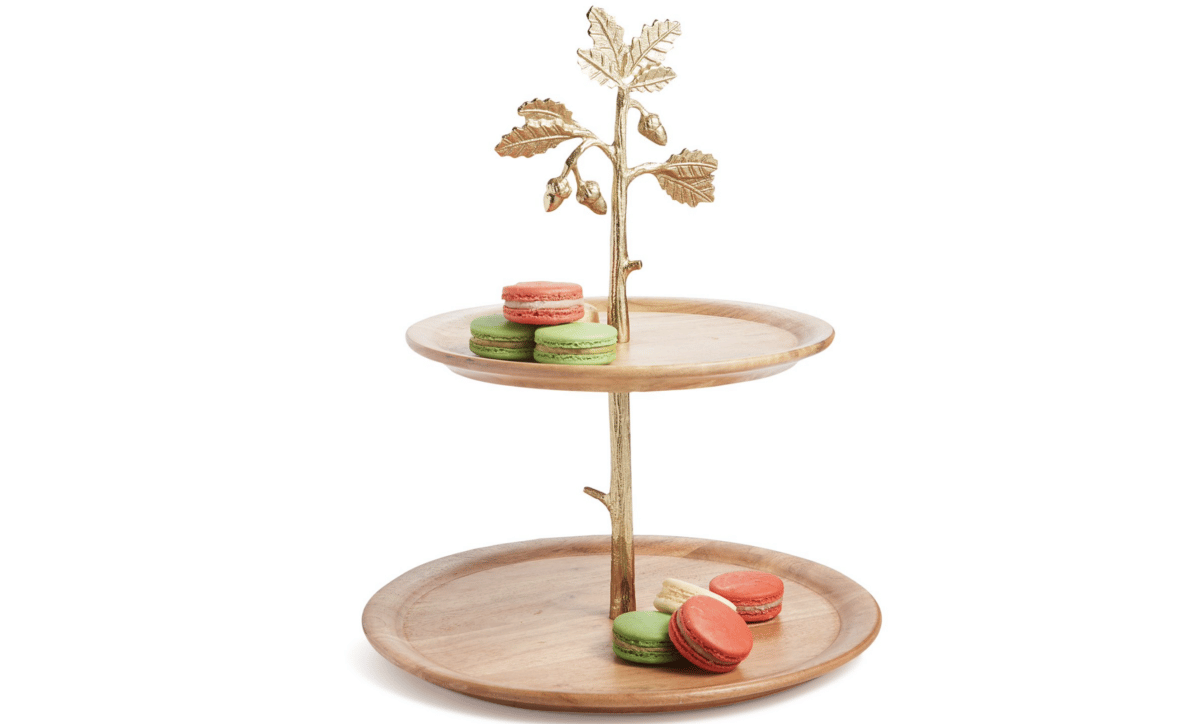 45. Pumpkin Pie Dish – You can't exactly celebrate Thanksgiving without your family's famous pumpkin pie, right?! This ceramic dish can be used to bake your pie as well as serve it! The lid will keep your pie nice and warm or could also be used to keep your leftovers fresh.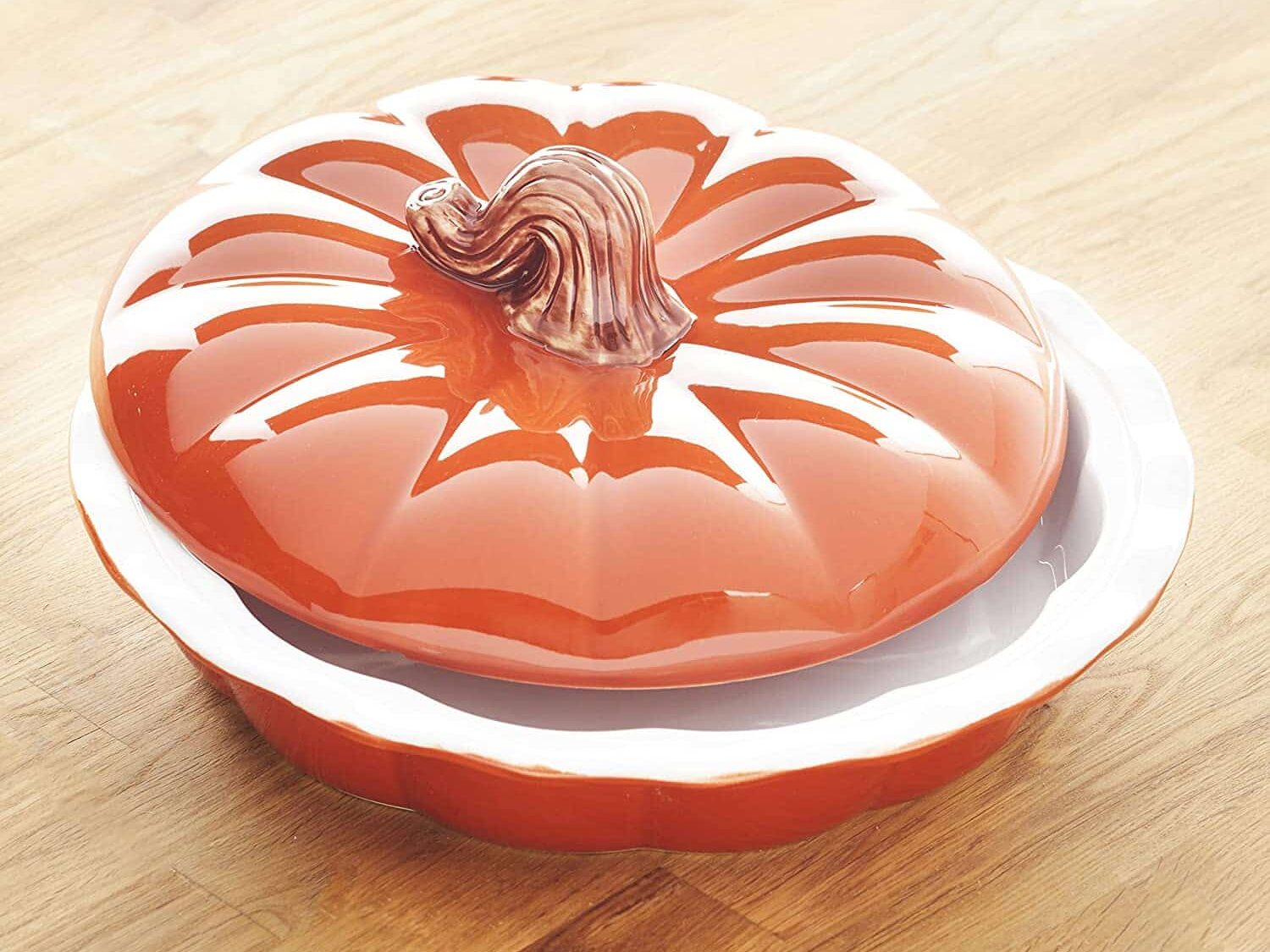 46. Pumpkin Serving Bowls – Too pretty to serve food in? The debate is officially on! These mini snack bowls would be perfect for serving nuts or other little snack options. They would look incredible on display at your dinner table!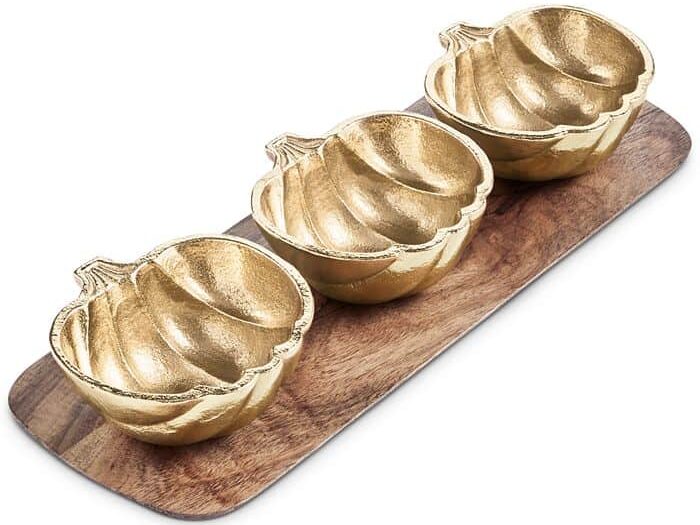 47. Turkey Serving Dish – This adorable turkey-shaped covered serving dish will add a festive accent to your table! It's perfect for serving stuffing, squash, or vegetables, and the lid will keep your second helping as warm as your first.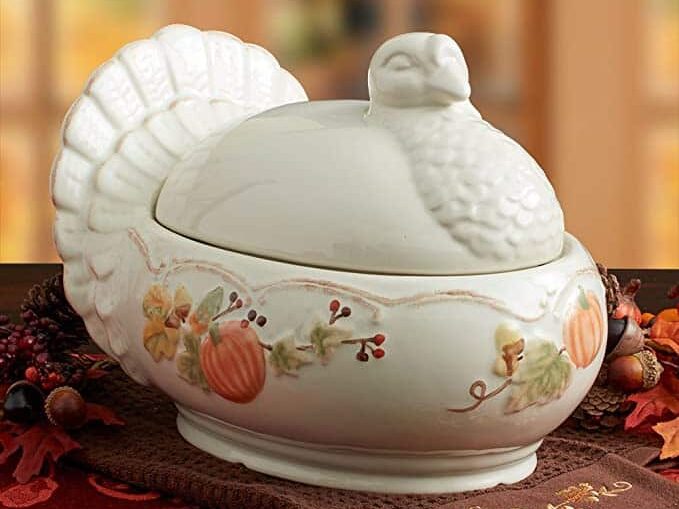 48. Harvest Serving Board – Perfect for anything from serving drinks to creating a charcuterie board, this board is super elegant and beyond gorgeous! I am so in love with the gold leaf accents!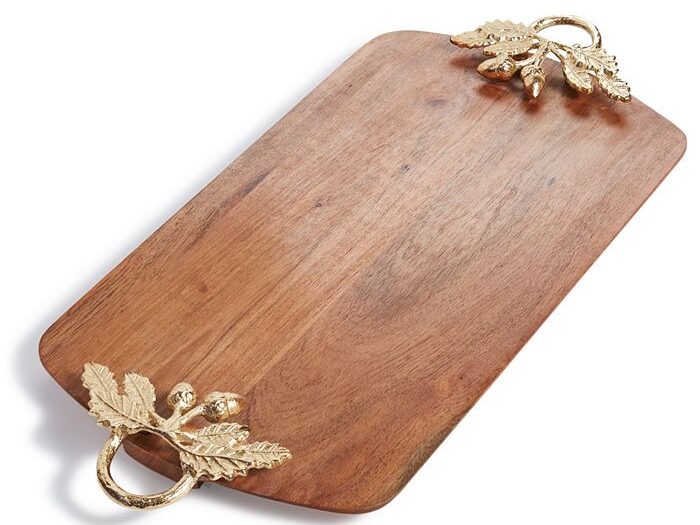 49. Gravy Boat – This ceramic farmhouse gravy boat will be begging to be used! It's simple, yet eye-catching and would look darling displayed out on the dinner table for Thanksgiving!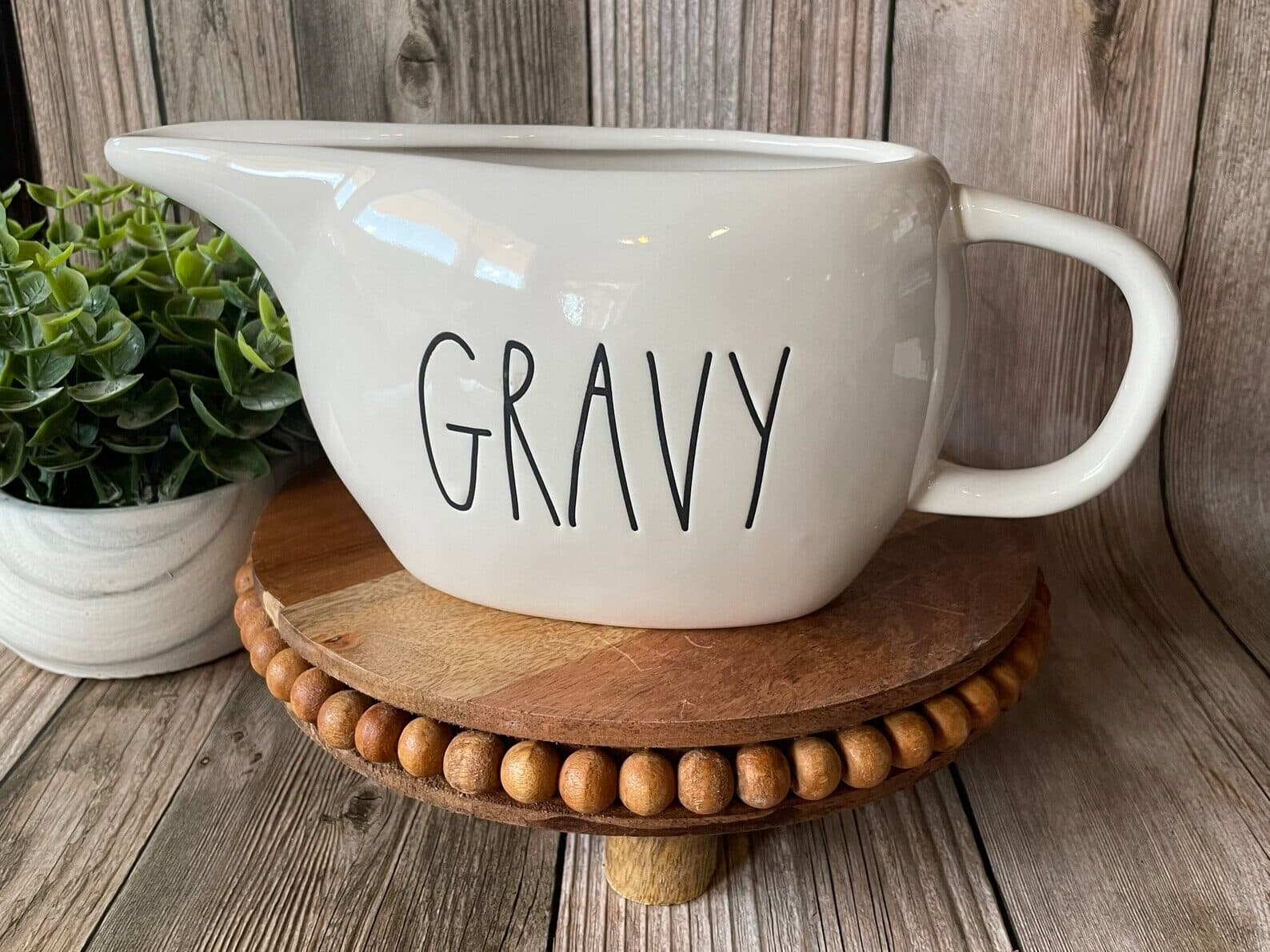 50. Turkey Platter – The classic turkey platter. Something tells me that everyone's grandmother used to own a platter that looks something like this one! It's definitely large enough to hold a lot of turkey and will look beautiful displayed on your table.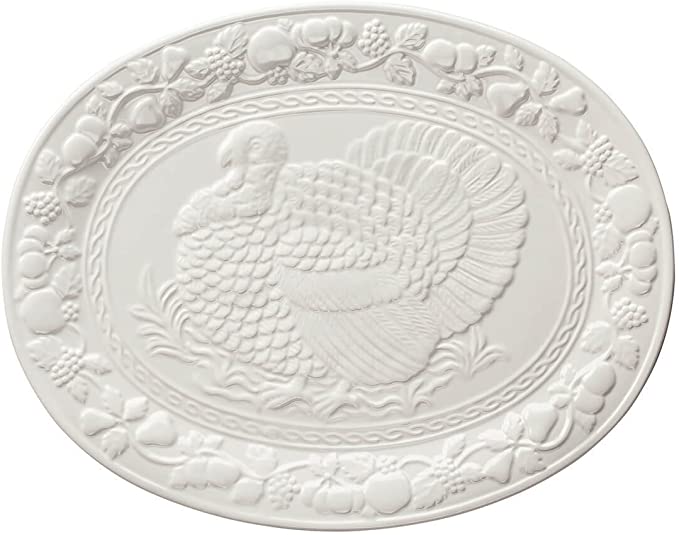 Thanksgiving Table Accessories
Accessories make everything better and the same goes for table accessories! These add-on decor items will bring your Thanksgiving table decor to a whole new level–one that will totally wow your holiday guests!
51. Wooden Table Cards – If you're hoping to spice up your place settings, these wooden table cards are such an easy, yet stunning way to do that! These come in a pack of 8 and contain a variety of festive sayings!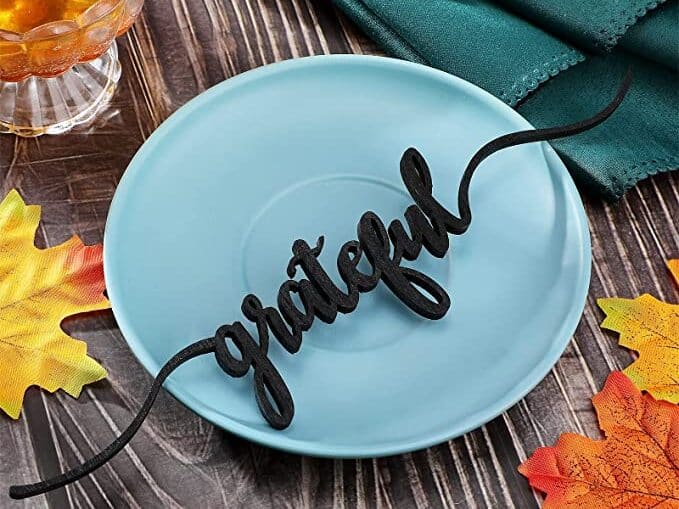 52. Leaf Napkin Rings – You'll need something to use with those gorgeous new cloth napkins you picked out! We love these neutral leaf napkin rings, because they will go with almost any color napkin you choose!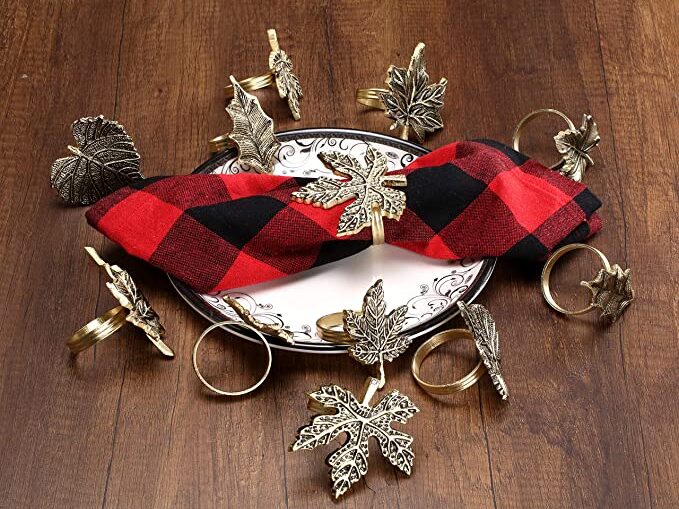 53. Pumpkin Napkin Rings – If you want a more festive option, these pumpkin napkin rings are too cute! We think they would look stunning with the buffalo check napkins from above!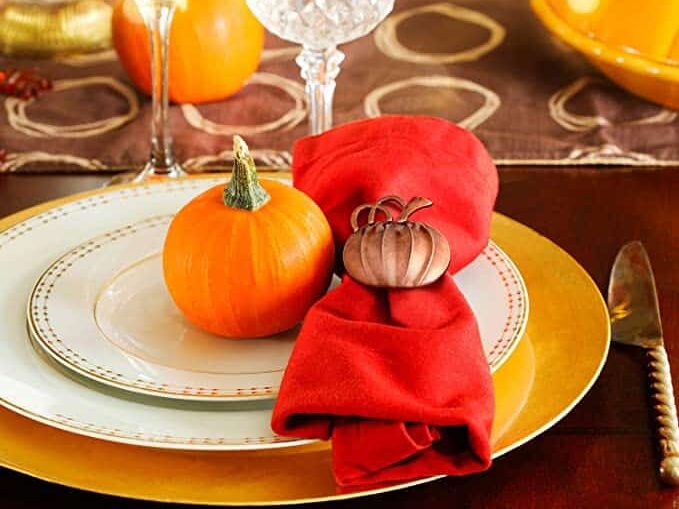 54. Name Place Settings – Surprise your Thanksgiving dinner guests with their names on a plate! These custom laser cut name signs will give your table the best personal touch.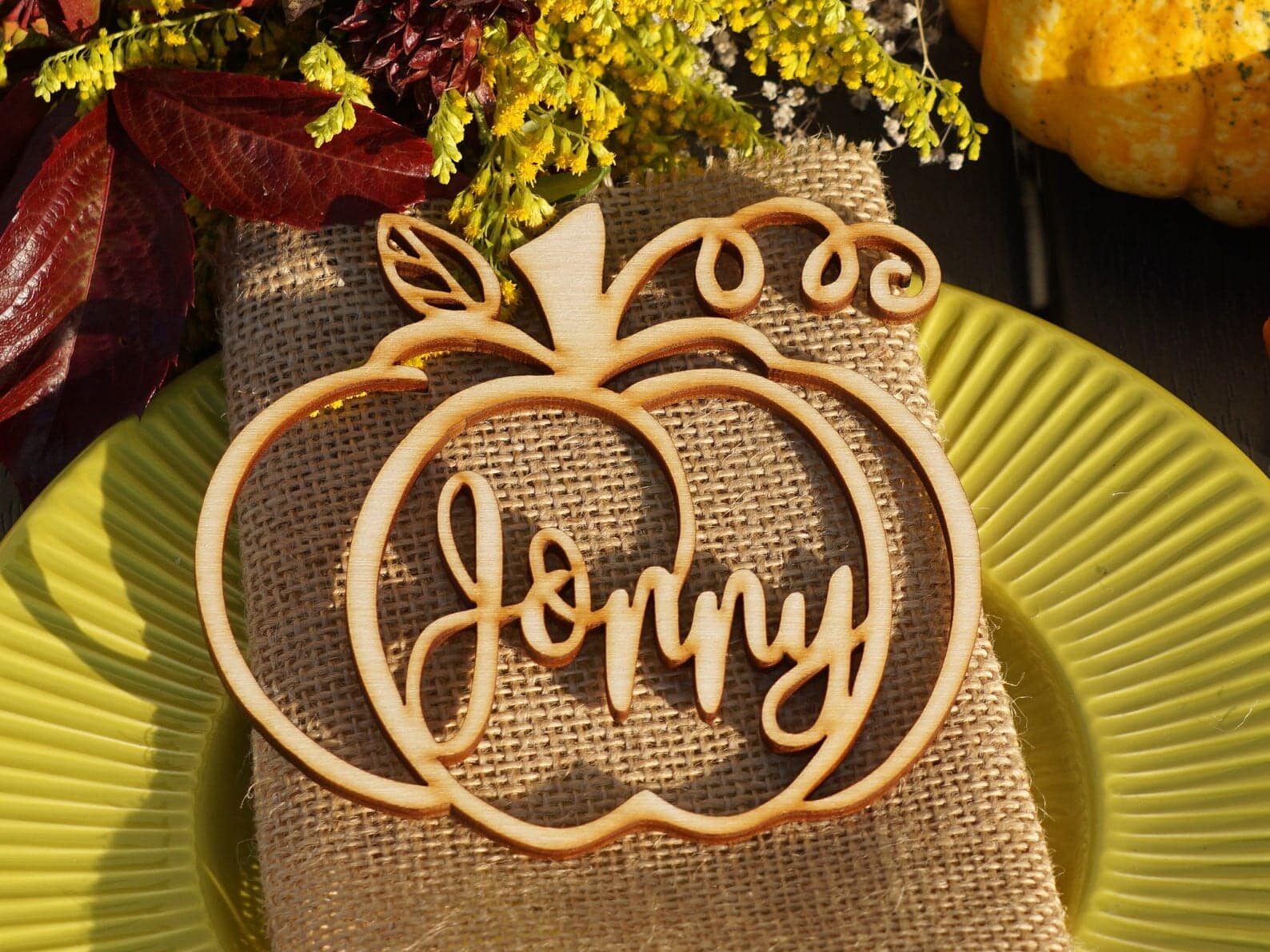 55. Pumpkin Coasters – Dress up your drinks with these beautiful gold-toned pumpkin coasters. These coasters come in a pack of four and can definitely be used all fall long!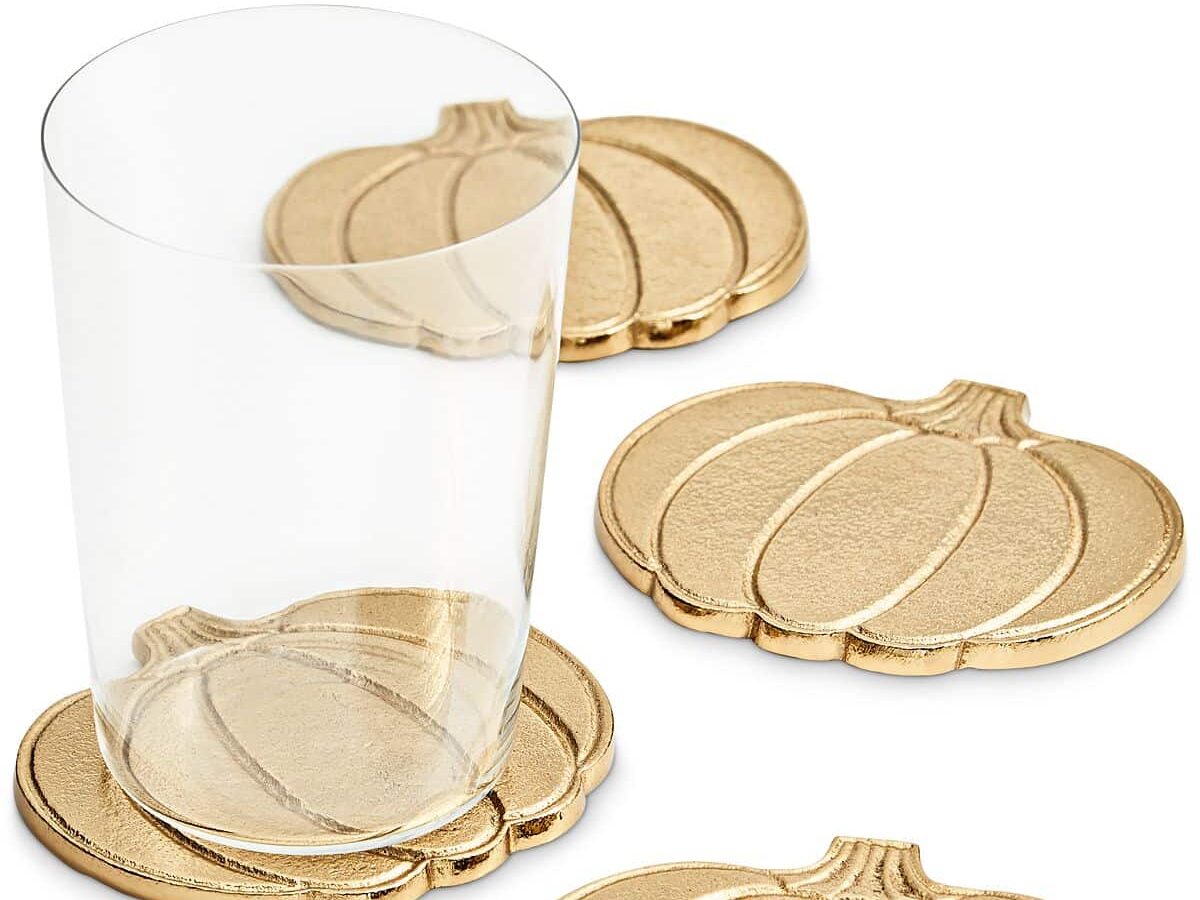 56. Chalkboard Paper Table Cloth – Okay, how genius is this idea?! While this technically isn't a table cloth, it will give the appearance of one once you have jazzed it up! You can use a roll of this chalkboard paper, attach it to your table, and then customize it with whatever designs you want using some chalk or chalk markers.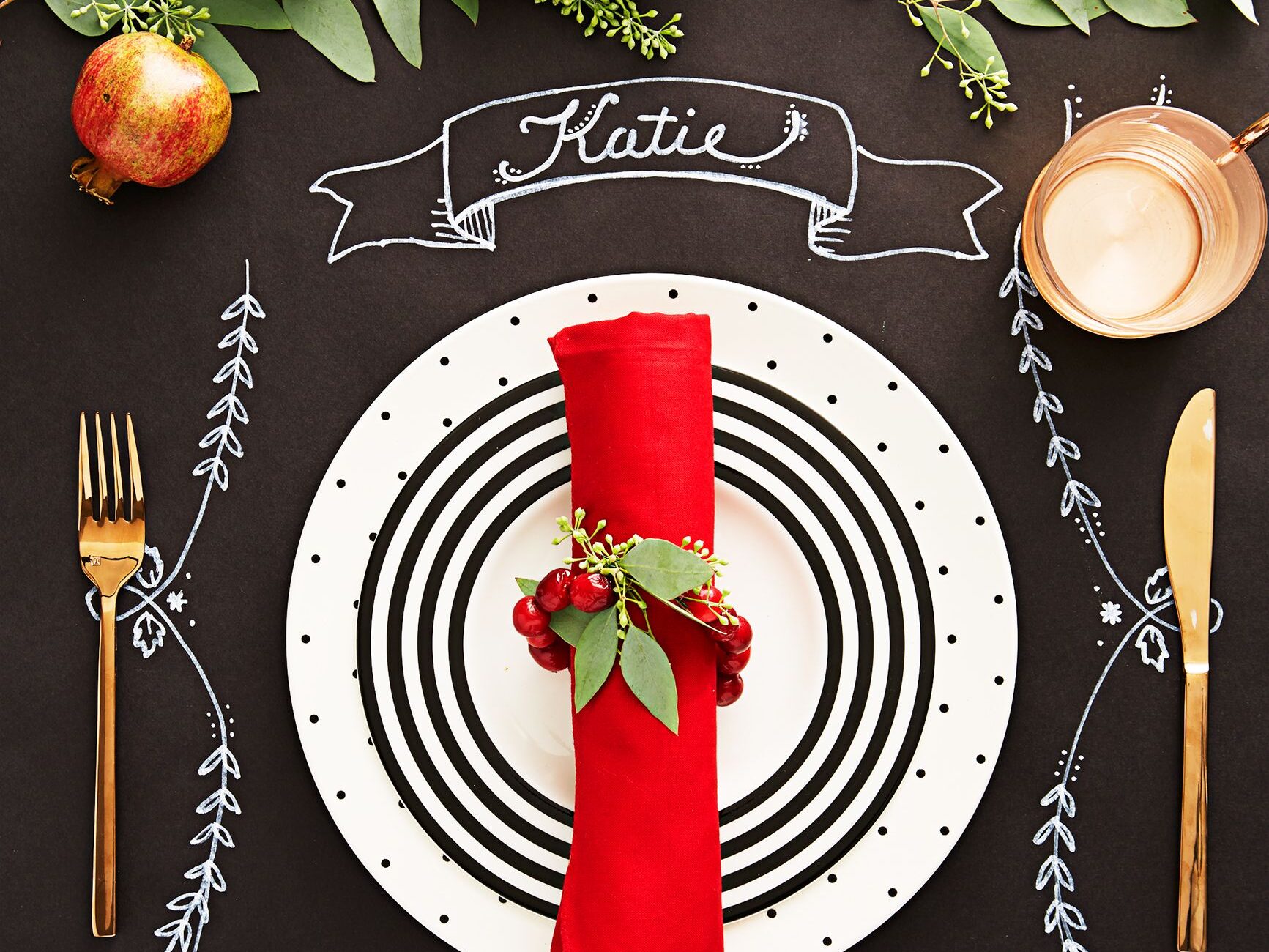 57. Kids Coloring Placemats – For all of the little guests at your Thanksgiving table, keep them entertained with these Thanksgiving coloring placemats. It will definitely add some color and life to your table decor and keep all of the kids happy! Don't forget to supply them with crayons!
58. Wooden Log Slices – These wooden log slices give off the ultimate rustic vibes– perfect for any Thanksgiving celebration. These would be amazing to use as a part of your centerpiece, as charger plates, or even as serving trays. The possibilities are endless!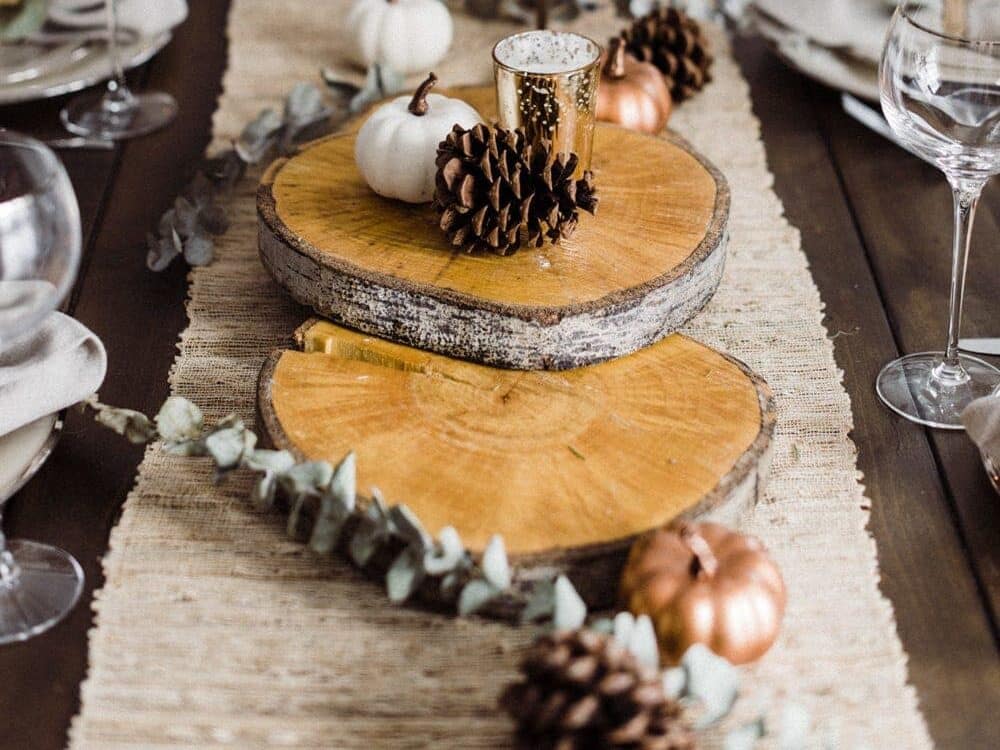 59. Natural Pine Cones – The perfect filler item for any holiday table! You can never have too many pine cones when sprucing up your Thanksgiving table decor. And, you can definitely pull these out again come Christmastime!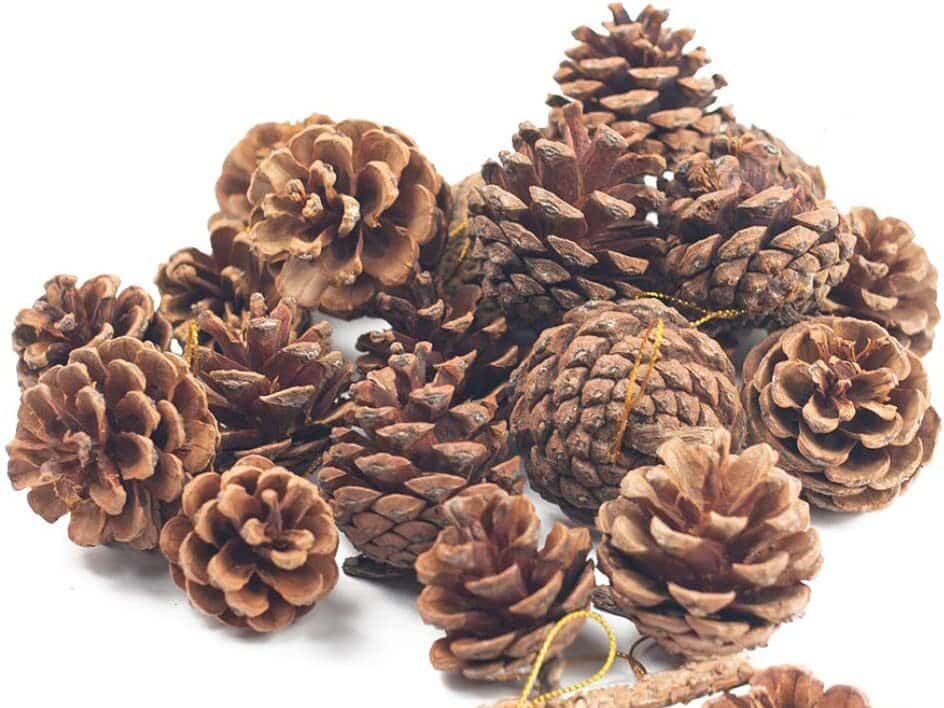 60. Napkin Tags – Add a festive highlight to your Thanksgiving and fall tables with these napkin tags. Perfect as napkin decorations or you can order them blank so you can write your own names on them for place cards!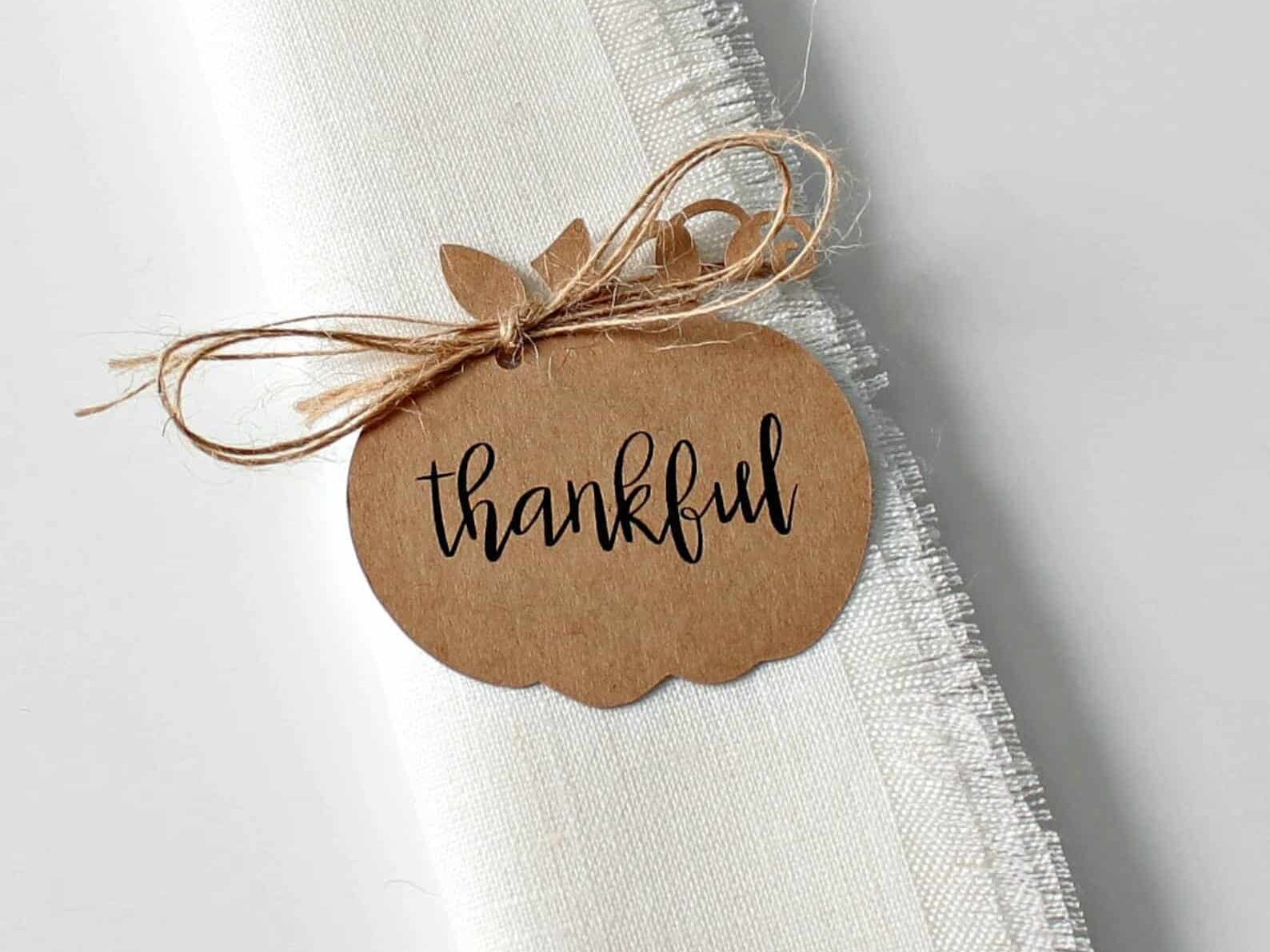 61. Turkey Nutcracker – Probably the silliest piece of Thanksgiving table decor you will find! We mean, have you ever seen a Turkey nutcracker before? It is definitely a first for us! Somehow we just can't resist the total cuteness of this one!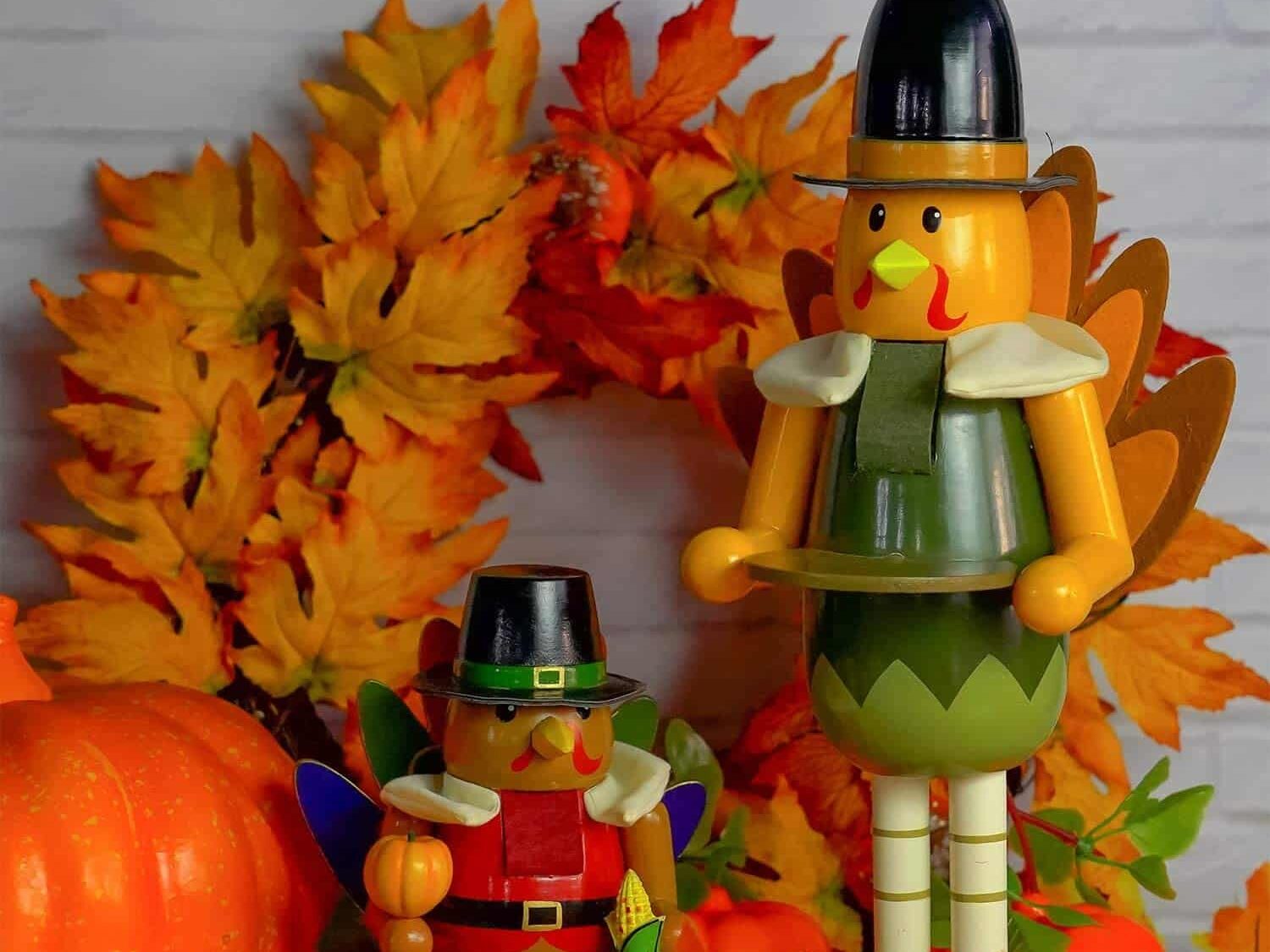 62. Thanksgiving Favor Bags – What a great way to dress up your Thanksgiving table! Show your friends and family how thankful you are to have them in your life. Fill these bags with dinnerware or candies and give them to the people that make life special.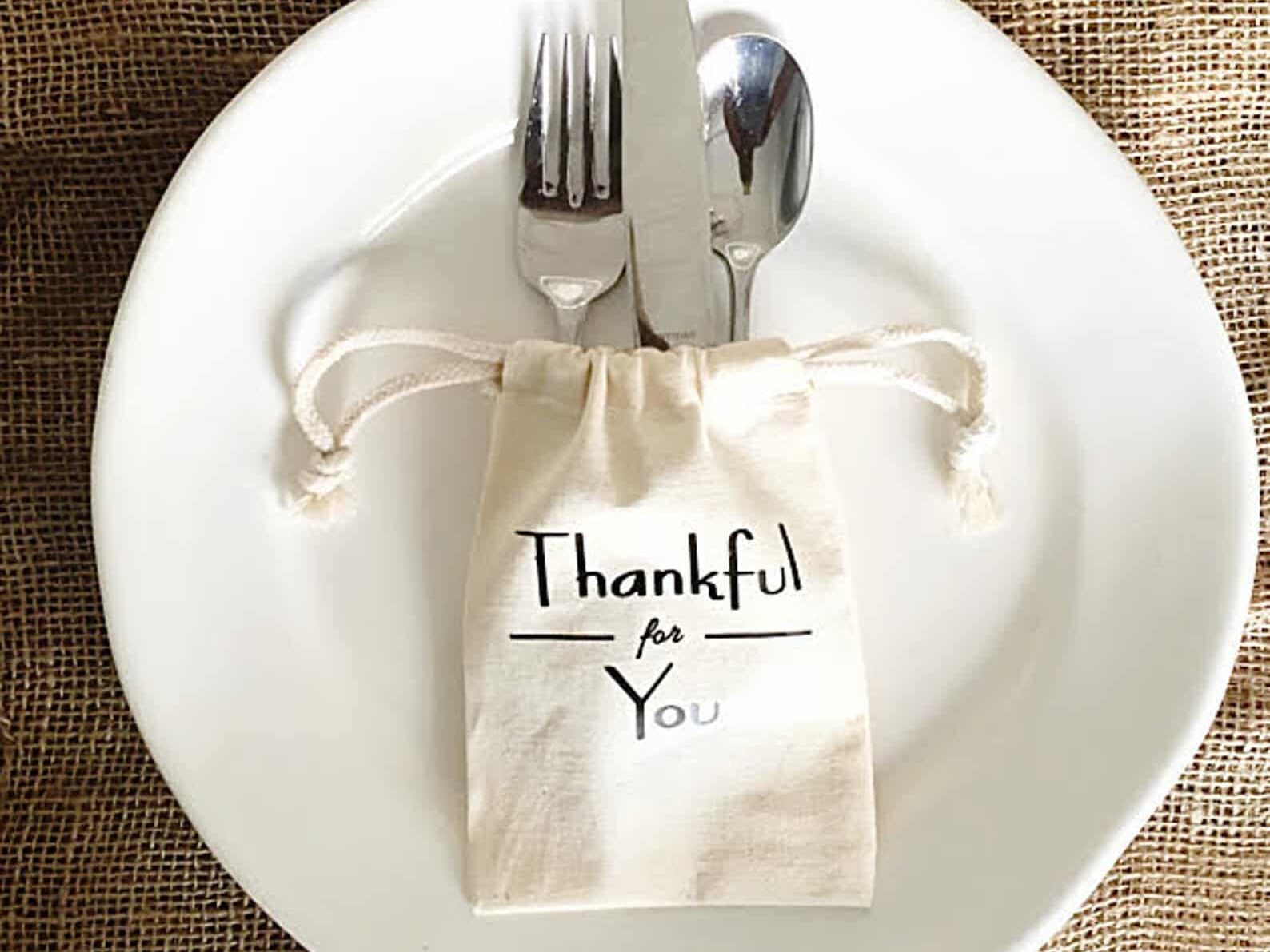 63. Dried Wheat Stalks – Bringing in natural elements to your Thanksgiving table is such a great way to breathe life into your decor. These dried wheat stalks would be so beautiful displayed on their own, as part of your centerpiece, or even in a festive vase.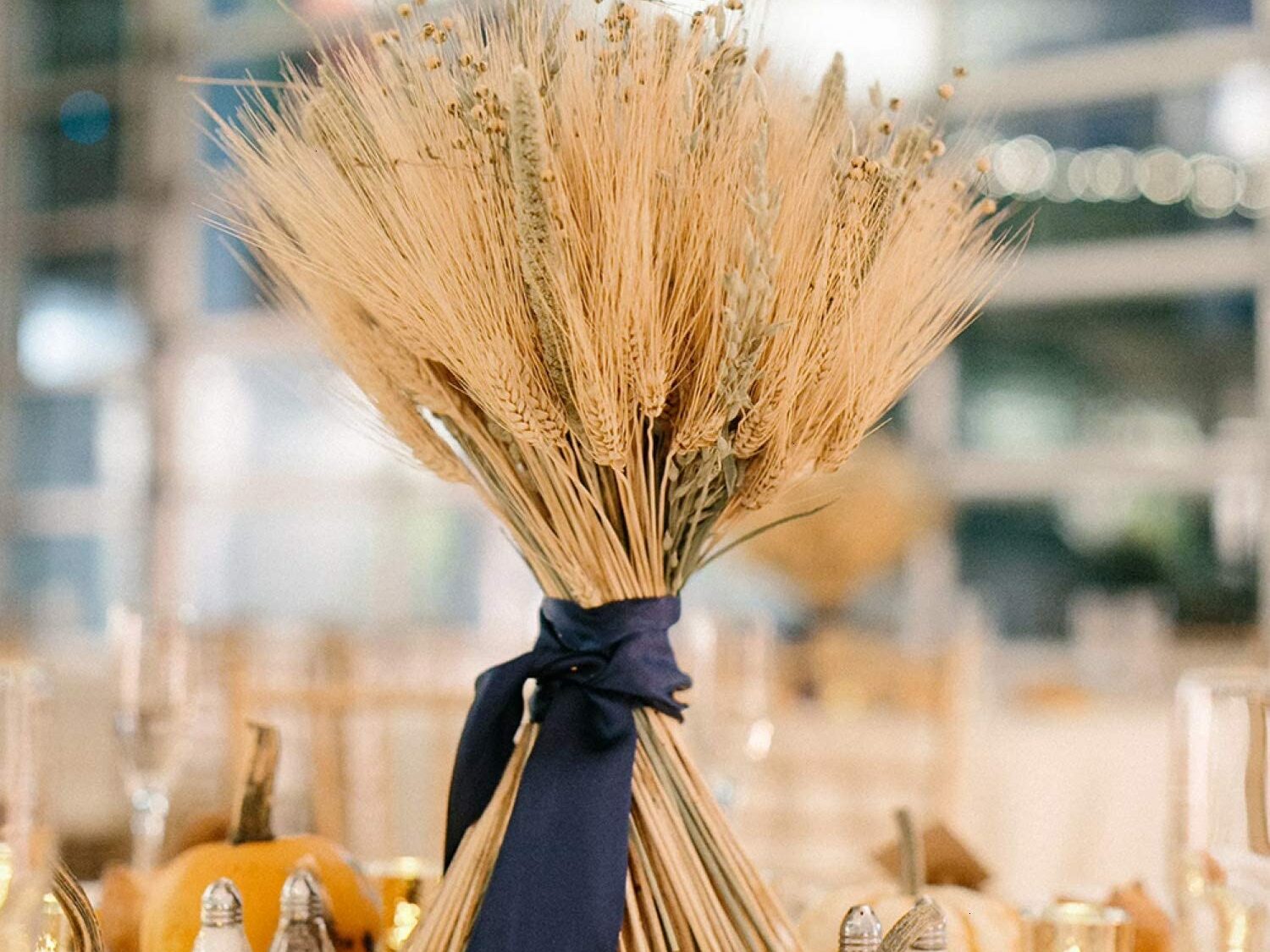 64. Dried Pampas Grass – If a whimsical pampas look is more your style, try grabbing some assorted grasses and playing around with it on your holiday table. You can display it in a vase, attach stalks to table cards or napkins, or stick some pieces into your centerpiece.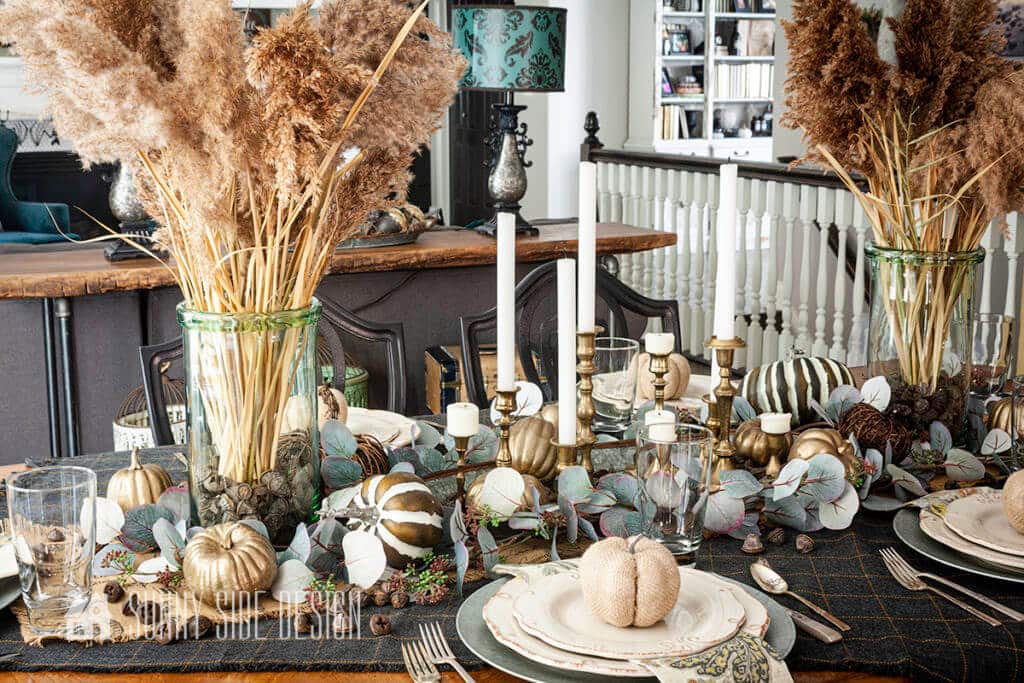 65. Hinged Flower Vases – These hinged flower vases are what dreams are made of! They are so romantic and would look insanely beautiful with some fall flowers and greenery tucked inside them!
If your inspiration hasn't struck quite yet, don't worry! We've also rounded up 20 of our favorite Thanksgiving decorations for inside and outside! These Thanksgiving decor ideas are guaranteed to get you ready for the holidays!
Happy Thanksgiving!