"A Charlie Brown Thanksgiving" Family Activity
Who is a fan of the classic "A Charlie Brown Thanksgiving" movie?! Us, too! In fact, we Divas have a love for the Peanuts holiday classics. This Diva, in particular, loves spending Halloween watching "It's the Great Pumpkin, Charlie Brown" in between answering the door for trick-or-treaters! 😉
With that in mind, we are always looking for fun holiday traditions and knew "A Charlie Brown Thanksgiving" activity would be perfect this year. Good grief! We just can't wait! So grab your footballs and put on your striped shirts because it's time to celebrate fall the Peanuts way!
CLICK TO JUMP TO THE FREE PRINTABLES AT THE END!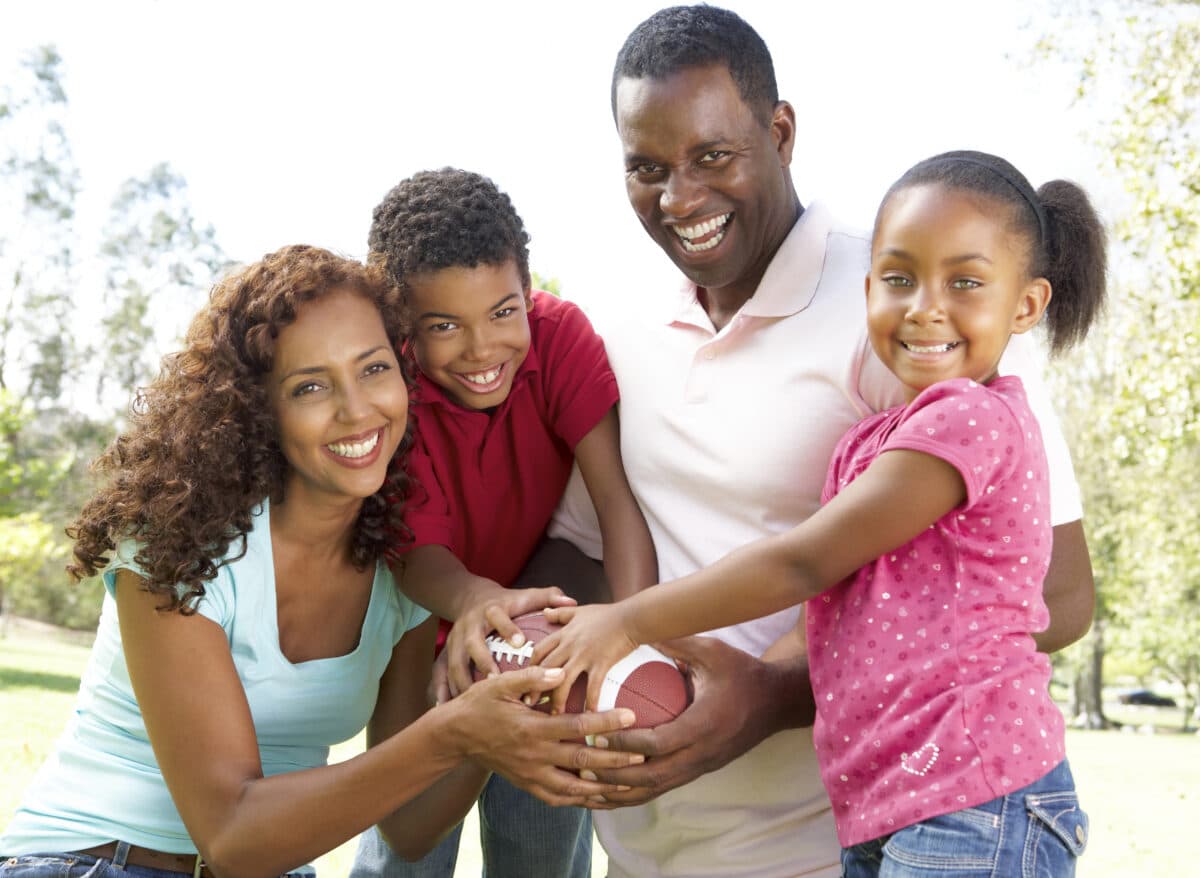 Disclaimer: This post contains affiliate links. To learn more about 'em, click here.
Table of Contents
Your Peanuts-Worthy Printables
Before we kick off the rest of this post, let's review your FREE printables! Your printable pack (located at the bottom of this post) includes:
1. One invitation for friends and family: Isn't this invitation darling?! Any fan of Charlie Brown will immediately recognize his iconic black and yellow print!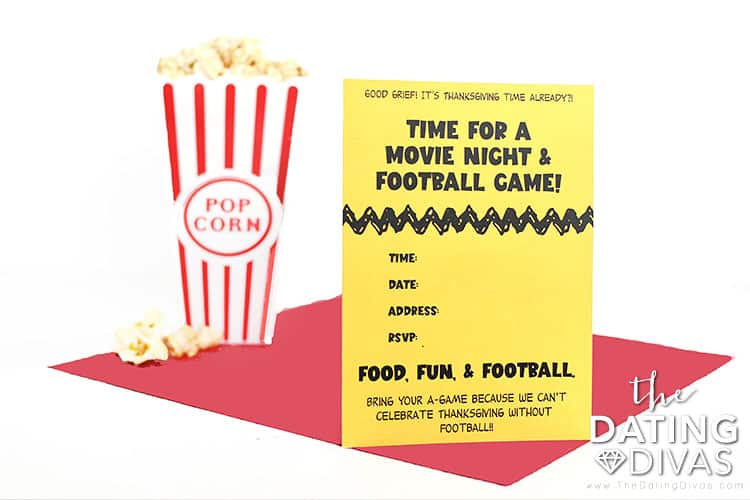 2. Two flags for a game of Capture the Flag: One flag for Team Snoopy and another for Team Charlie! You will need to attach your flags to popsicle sticks or wooden dowels.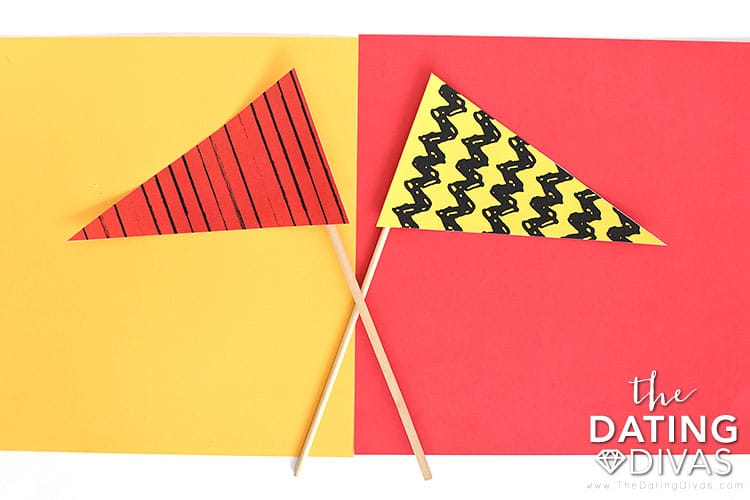 3. Two snack boxes: Only one snack box is pictured, but you can see the other in the photo below! These small snack boxes are perfect for holding treats during the movie!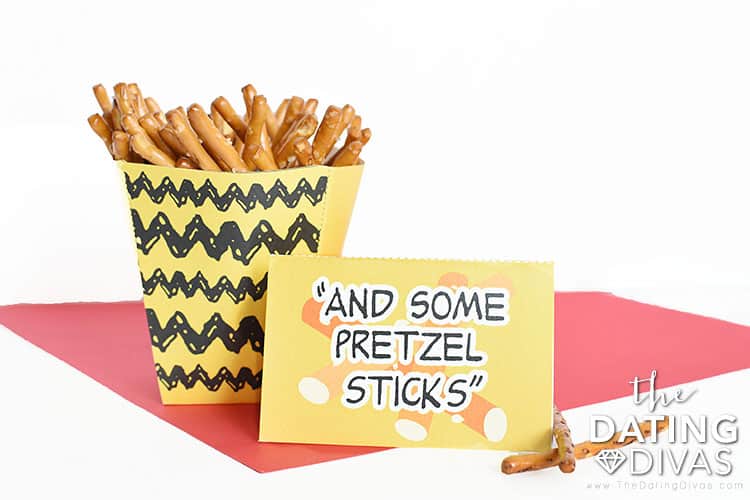 4. Four food labels for your snack table: Only three are pictured, but the fourth food label says, "A few jelly beans." Can you guess where these snack ideas came from? That's right! Charlie Brown served his Thanksgiving guests these exact snacks for their holiday dinner! 😉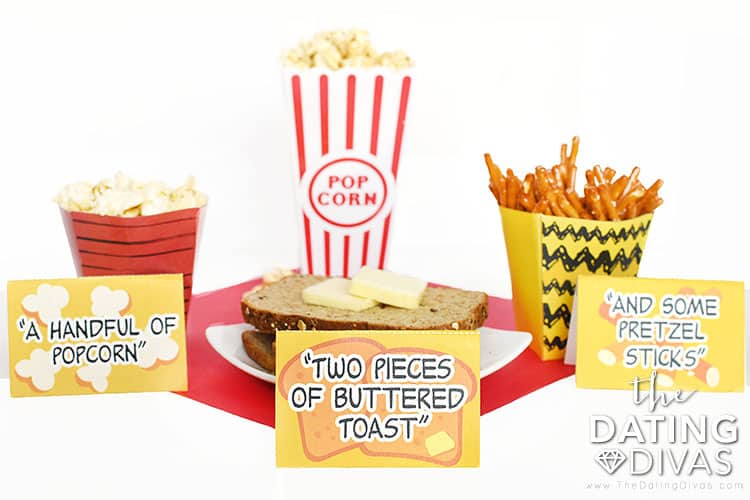 These labels are themed with "A Charlie Brown Thanksgiving," but you can serve your guests whatever treats you'd like!
Speaking of other treats, our dear friend Leora from Pass Your Plates has created a special puppy chow (AKA Chex mix) specifically for our followers reading this post! Hey, that's YOU!
This yummy treat expertly combines nearly all of the snacks Charlie and Snoopy served their guests at their last-minute Thanksgiving dinner. Make sure to check out her party-perfect Peanuts Puppy Chow!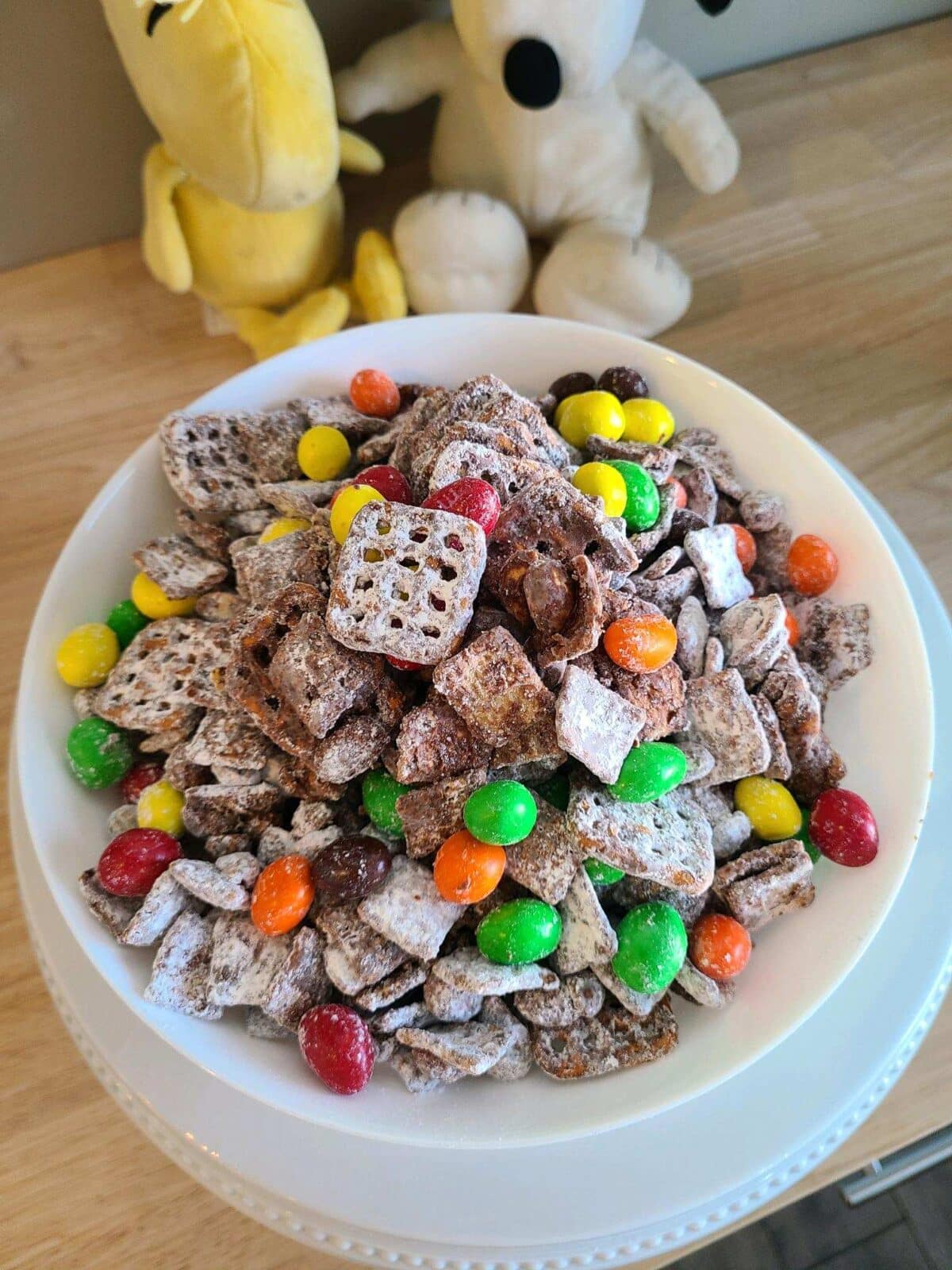 Family Fun with Capture the Flag
Lucy van Pelt from the Peanuts gang said, "Well, one of the greatest traditions we have is the Thanksgiving Day football game. And the biggest, most important tradition of all is the kicking off of the football."
We feel the same, Lucy! So that's why we thought the perfect activity for the evening would be a game of Capture the Flag. This would be a fun way to help get the wiggles out before you watch the "A Charlie Brown Thanksgiving" movie!
How to play Capture the Flag:
Toysmith.com states, "Capture the Flag is a classic team game played indoors or outdoors. Two teams each have their own color flag placed in their 'home base.' The objective is to steal the other team's flag and take it to their own base. Players can tag or capture opposing players if they enter enemy territory. Tagged players may be frozen in place, sent back 'home,' or placed in 'jail.' Players can only be freed by their own team members.
Experiment and make your own rules for Capture the Flag!
We have included two printable flags for you to use for your game but feel free to print more if needed. But, of course, you will also need a football!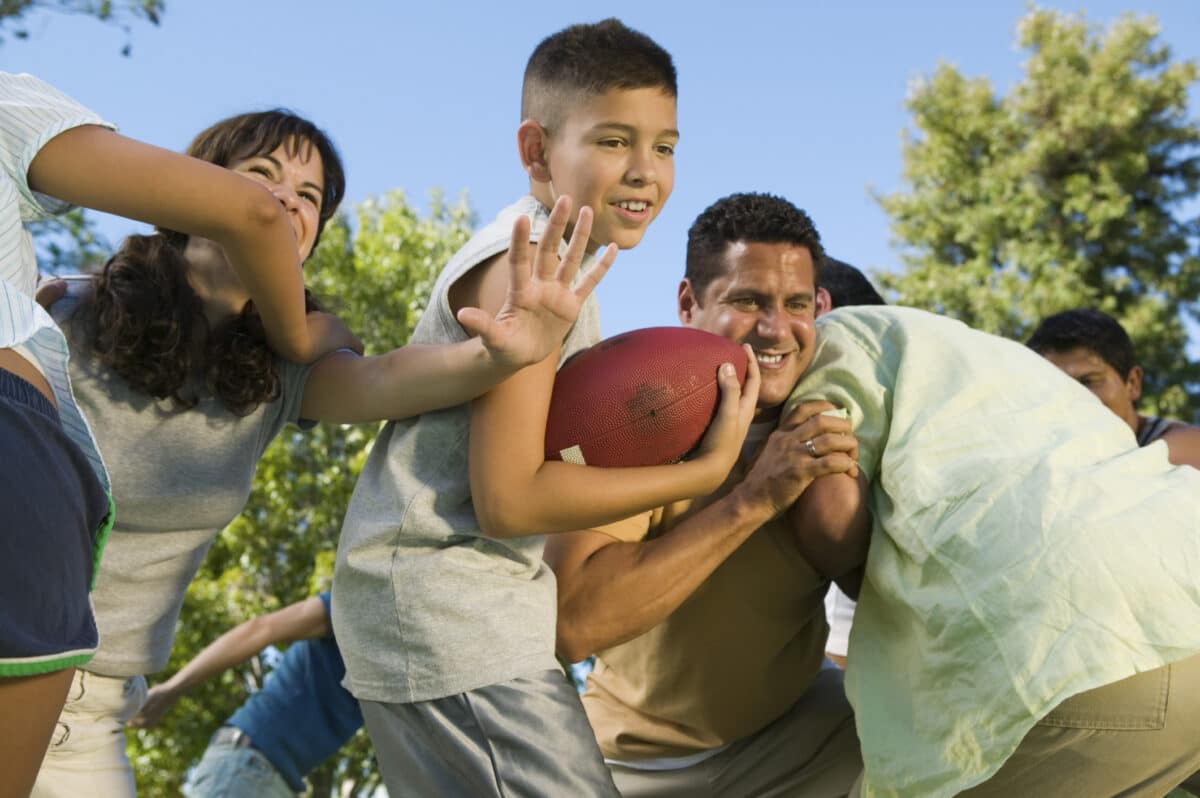 Hosting Your "A Charlie Brown Thanksgiving" Movie Night
You have the printables and the activity planned; now what? For starters, time to locate your copy of "A Charlie Brown Thanksgiving!"
If you don't have your own copy, don't fret! Amazon has the 40th-anniversary edition DVD and a bundle of all three Peanuts holiday classics, including "It's the Great Pumpkin, Charlie Brown" and "A Charlie Brown Christmas."
Use our Charlie-approved invitation to invite your friends and family for a night of Peanuts-filled fun! Prep your flags for the game, set up your snack table with pretzels, jelly beans, buttered toast, and popcorn (as well as that delish Peanuts Puppy Chow!), and put in the DVD!
Once your guests arrive, it's time to get this Peanuts party started!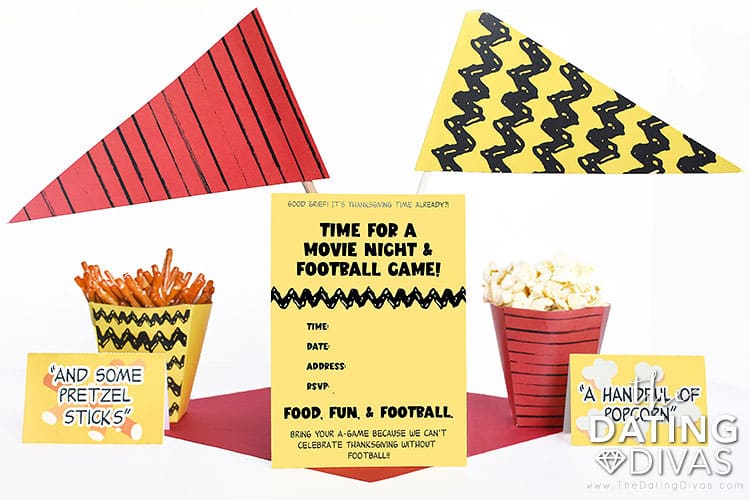 We hope you love this Charlie Brown-themed family night as much as we do! Happy Thanksgiving!
For more holiday-inspired movie nights, make sure to check out:
The Goonies Movie Night (Halloween)
White Christmas Movie Night (Christmas)
Santa Claus Movie Marathon (Christmas)
Star Wars Movie Date Night (May 4th)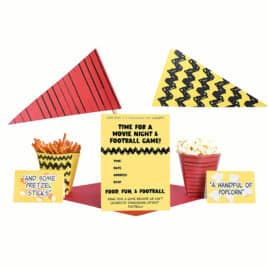 A Charlie Brown Thanksgiving