Steamy Dates
Use our Sex Bucket List to turn the heat up in your marriage! Around here, we are big fans of lists: honey-do lists, goal lists, chore to-do lists, grocery lists, bucket lists, etc. Lists are important because they keep life focused, are helpful in remembering important tasks, help us get things accomplished, and they help organize our schedules. Out of all these lists, we decided one was missing… INTIMACY!
We have collected over 60 sex ideas that will make you both swoon. Challenge your spouse to see how many sex ideas you can check off your list this year. The book is small enough that it can be a discrete secret between just the two of you! Make it a regular tradition to skim through the bucket list during or after every date night to see what new kind of fun you and your lover can discover together!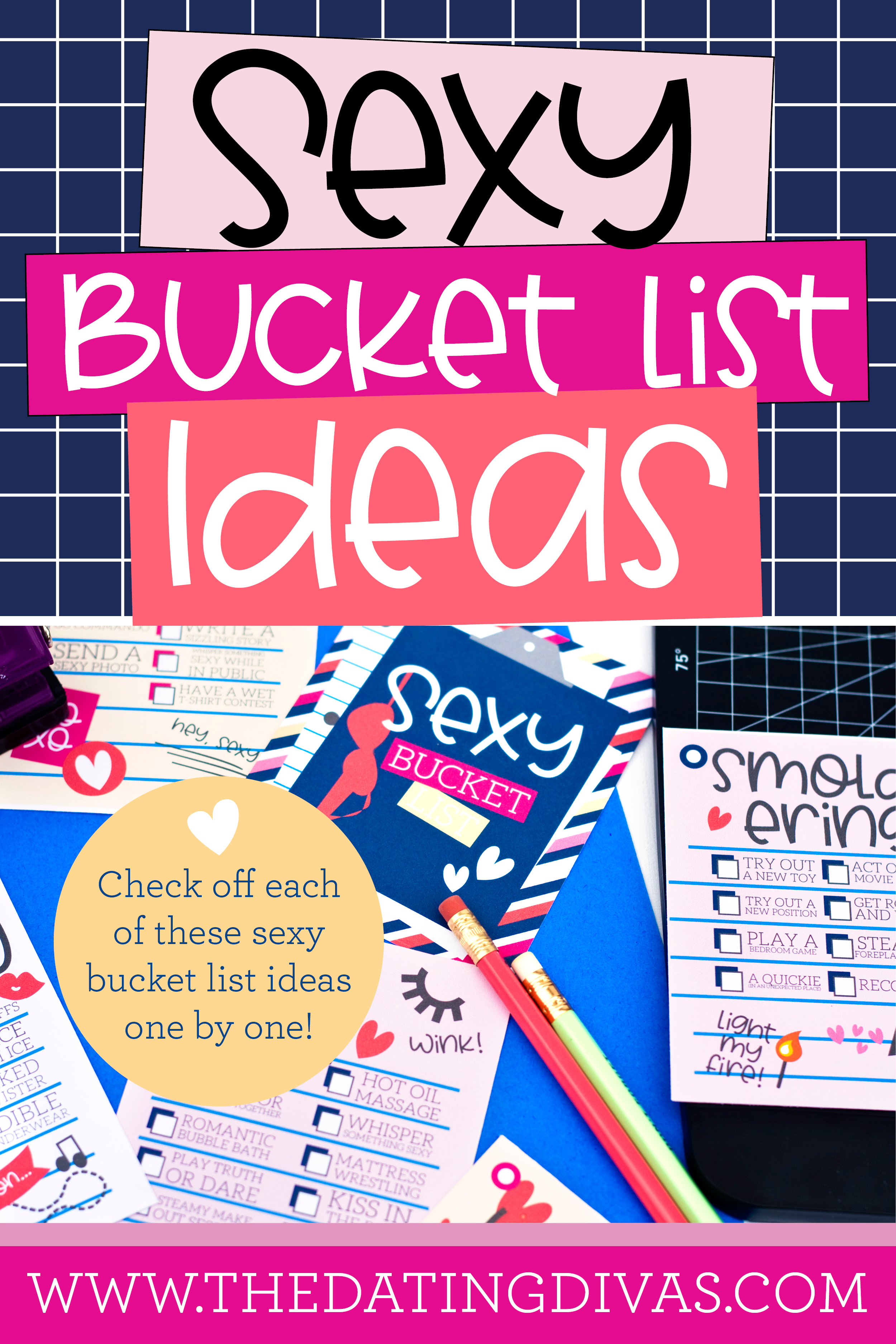 Disclaimer: This post contains affiliate links. To learn more about 'em, click here.
Steamy Date Ideas
So many ideas, and so many steamy nights (mornings, and days) to come! From this day forward you are not allowed a single excuse for bedroom boredom! Pick an evening or two to add a special date night for just the two of you to increase, deepen, and improve intimate time with your spouse.
Now that you're excited about all the possibilities of a steamy bucket list it's time to make your own!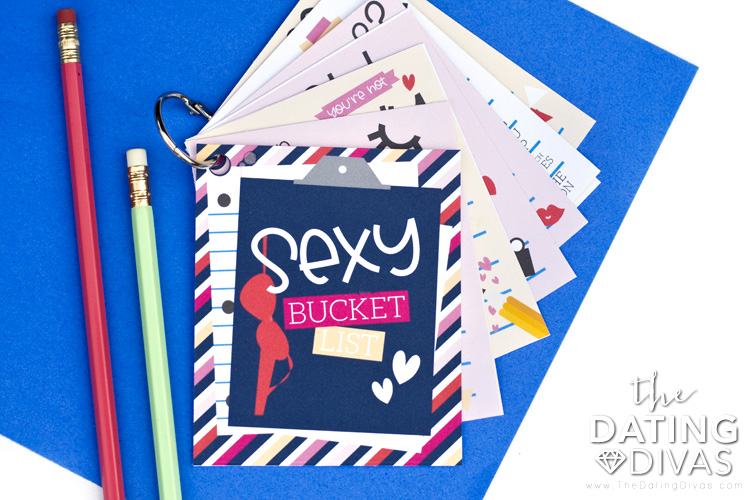 Keeping the heat alive in your marriage is one of the major keys to happiness in your relationship. Whether you have a great sex life or love is lacking in the bedroom department, this post is for you! The Sex Bucket List will help the two of you keep things fresh, steamy, and exciting in and out of the bedroom. The best part… sex is free and you can do it (literally) as often as you two want! So no more excuses–you have every reason to use these bucket lists to turn your honey on!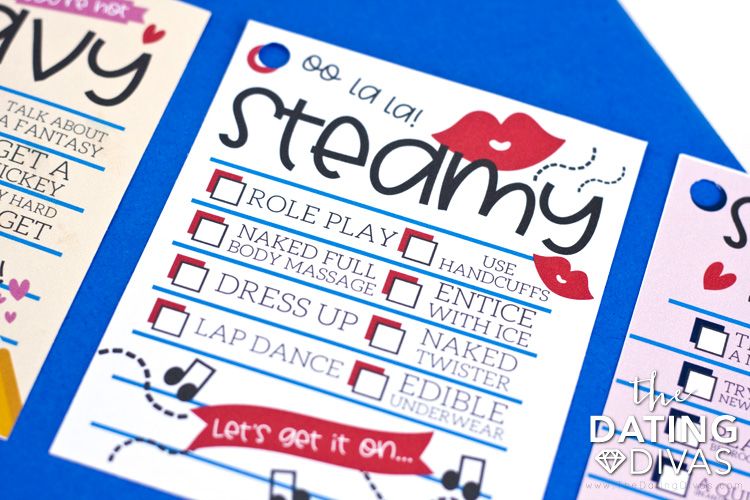 Bucket List Ideas for Lovers
The sex bucket list book is ultra easy to assemble. Simply print, cut, and hole punch the pages full of sexy ideas for you and your sweetheart. As you can see, we used a clasp like this one to hold the pages together, but you could also use a ribbon.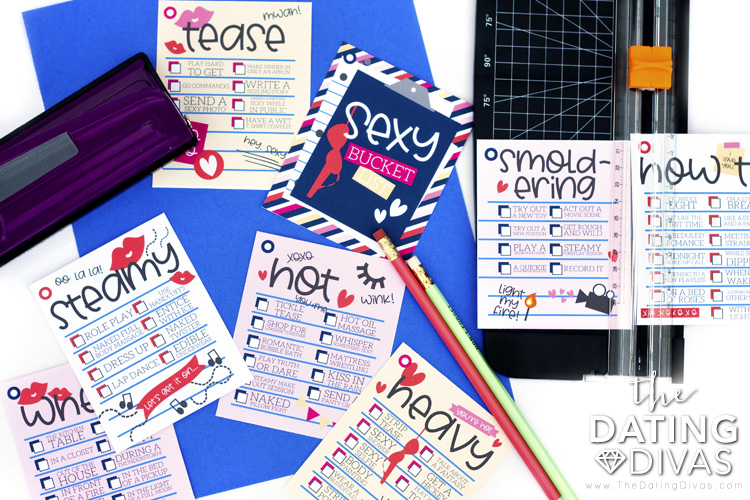 The bucket list printables are full of hot, heavy, steamy, and smoldering ideas to get those fires burning out of control. As you move through these categories from hot to smoldering, the ideas get juicier and juicier. Yum!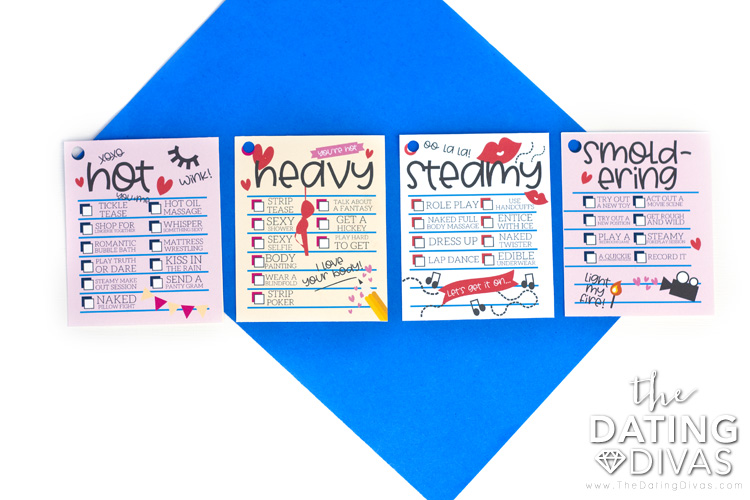 Of course, we want you to get creatives so there is a sex bucket list page that is blank for you to fill out with your steamy and dreamy ideas. You know each other's favorites best, so work together to fill that list up with all of your favorites!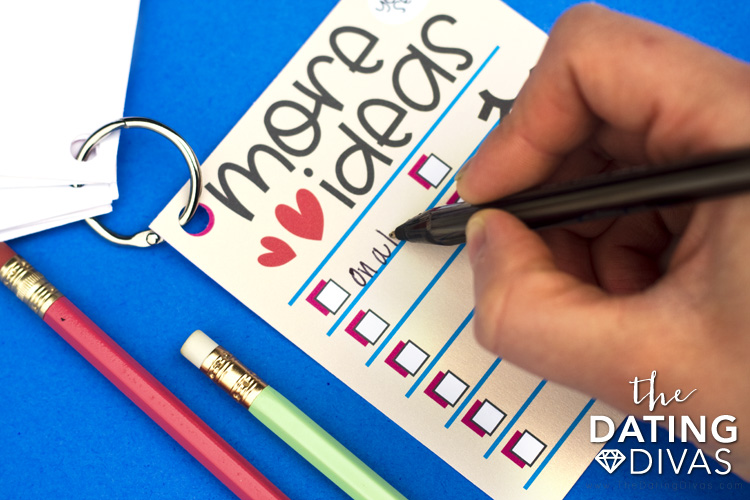 If you need help coming up with some ideas, don't you worry. Check out our Sexy Bedroom Games and Foreplay post, our Sexy Games for Couples, and all of our Sexy date ideas right here!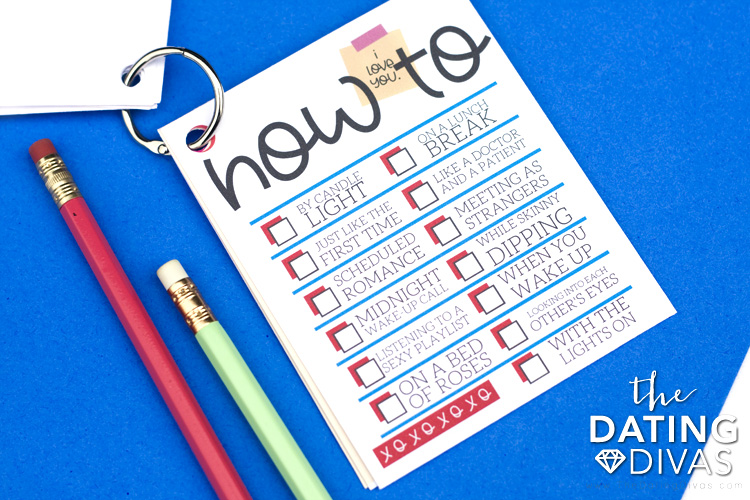 We also included sex bucket list pages that are full of flirting, dates, and quickies. There are pages about how to tease, how to do it, and where to do it! We are going beyond hinting, we are giving you a step by step guide to make each sex adventure a reality!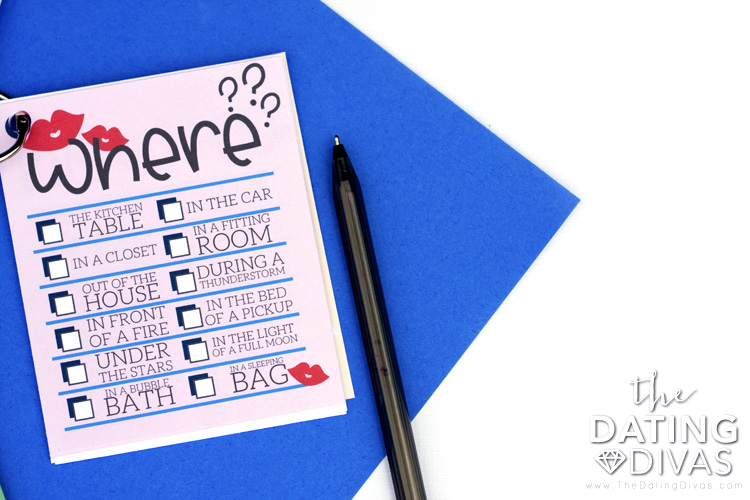 Sex Bucket List
As mentioned above, you two seriously have no excuse not to rev things up in the sex department! If you two struggle with intimacy, if those boots aren't knocking, or if you two do the same old over and over again, this is a great way to help you both improve your sex life. If your sex life is hot, this will turn the heat up a notch or two!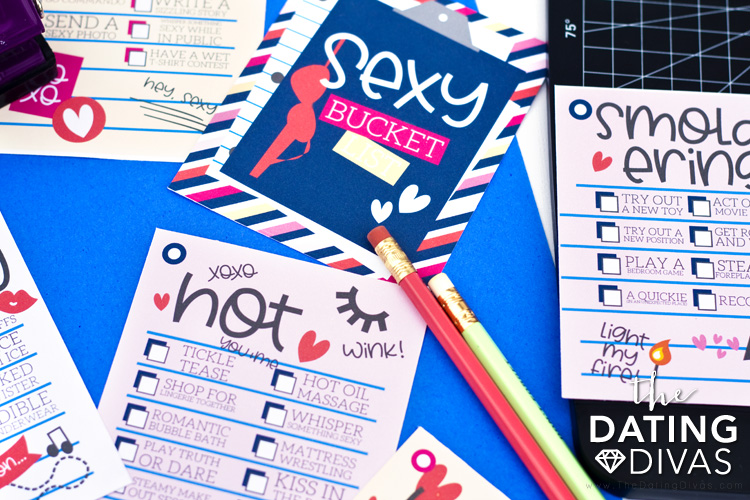 Go and grab your Sex Bucket List printables and challenge your heartthrob to check off every idea this year.
You may want to grab a few items for playtime in the bedroom! The Getaway Kits from Kama Sutra are a fun place to start! Similarly, we love and recommend Mentionables for lingerie because they are a model-free site which makes shopping for lingerie WAY more comfortable–and your sweetie can pick things out for you!