Sex Bucket List Ideas
Keeping the heat alive in your marriage is one of the major keys to happiness in your relationship. Whether you have a great sex life or love is lacking in the bedroom department, this post is for you! The Sex Bucket List will help the two of you keep things fresh, steamy, and exciting in and out of the bedroom. The best part… sex is free and you can do it (literally) as often as you two want! So no more excuses–you have every reason to use these bucket lists to turn your honey on!
To make these sexy sexual bucket list ideas easier to digest, we broke our ideas up into different categories, such as HOT ideas, steamy dates and ideas of how/where to do these sex bucket list ideas!
P.S if you keep scrolling you will find some FREE printables to help make your sex bucket list become a reality! 😉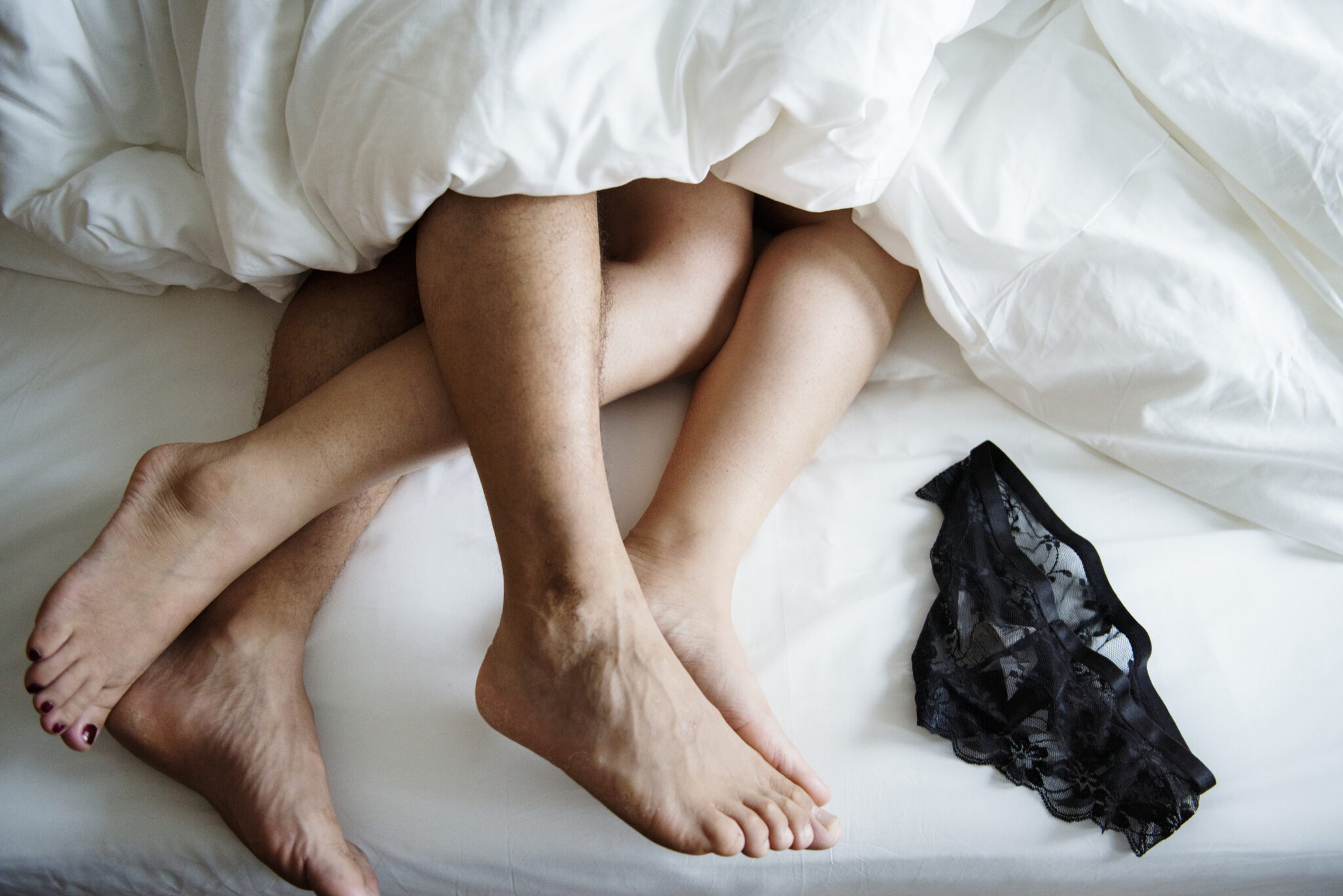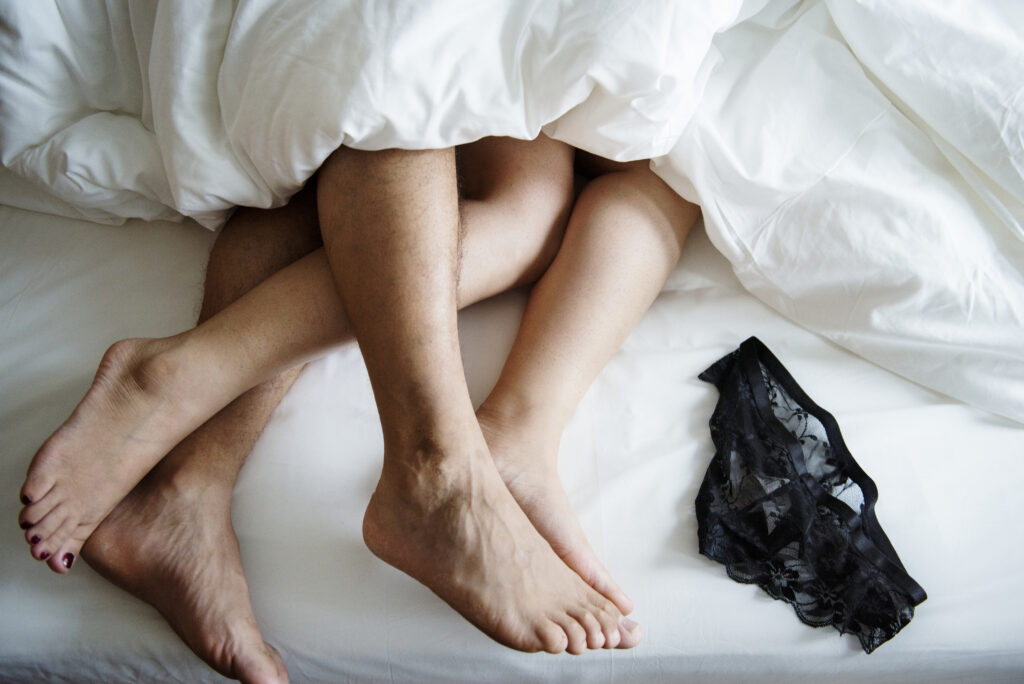 HOT
1 . Tickle tease
2 . Shop for lingerie together
3 . Romantic bubble bath
4 . Play truth or dare
5 . Steamy make-out session
6 . Naked pillow fight
7 . Hot oil massage
8 . Whisper something sexy
9 . Mattress wrestling
10 . Kiss in the rain
11 . Send a panty gram
HEAVY
12 . Strip tease
13 . Sexy shower
14 . Sexy selfie
15 . Body painting
16 . Wear a blindfold
17 . Strip poker
18 . Talk about a fantasy
19 . Get a hickey
20 . Play hard to get
STEAMY
21 . Role play
22 . Naked full body massage
23 . Dress up
24 . Lap dance
25 . Use handcuffs
26 . Entice with ice
27 . Naked twister
28 . Edible underwear
S'MOLDERING
29 . Try out a new toy
30 . Try out a new position
31 . Play a bedroom game
32 . A quickie in an unexpected place
33 . Act out a movie scene
34 . Get rough and wild
35 . Steamy foreplay session
36 . Record it
TEASE
37 . Play hard to get
38 . Go commando
39 . Send a sexy photo
40 . Make dinner in only an apron
41 . Write a sizzling story
42 . Whisper something sexy while in public
43 . Have a wet t-shirt contest
HOW TO
44 . By candle light
45 . Just like the first time
46 . Scheduled romance
47 . Midnight wake-up call
48 . Listening to a sexy playlist
49 . On a bed of roses
50 . On a lunch break
51 . Like a doctor and patient
52 . Meeting as strangers
53 . While skinny dipping
54 . When you wake up
55 . Looking into each others eyes
56 . With the lights on
WHERE
57 . On the kitchen table
58 . In a closet
59 . Out of the house
60 . In front of a fire
61 . Under the stars
62 . In a bubble bath
63 . In the car
64 . In a fitting room
65 . During a thunderstorm
66 . In the bed of a Pickup
67 . In the light of a full moon
68 . In a sleeping bag
FREE BONUS PRINTABLES
Use our FREE Sex Bucket List Printables to make turning up the heat up in your marriage a reality!
This sexual bucket list book is ultra easy to assemble. Simply print, cut, and hole punch the pages full of sexy ideas for you and your spouse. As you can see, we used a clasp like this one to hold the pages together, but you could also use a ribbon.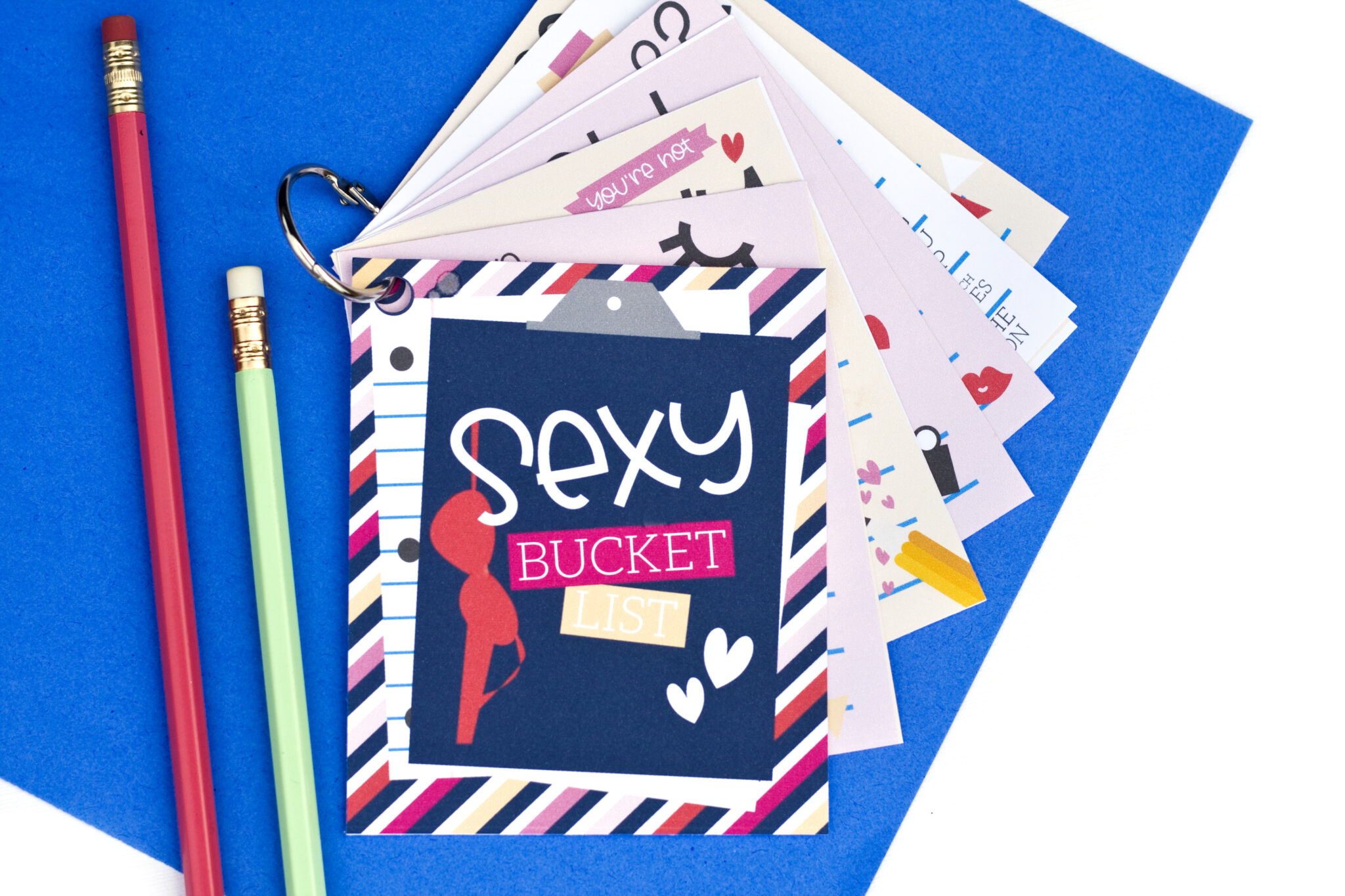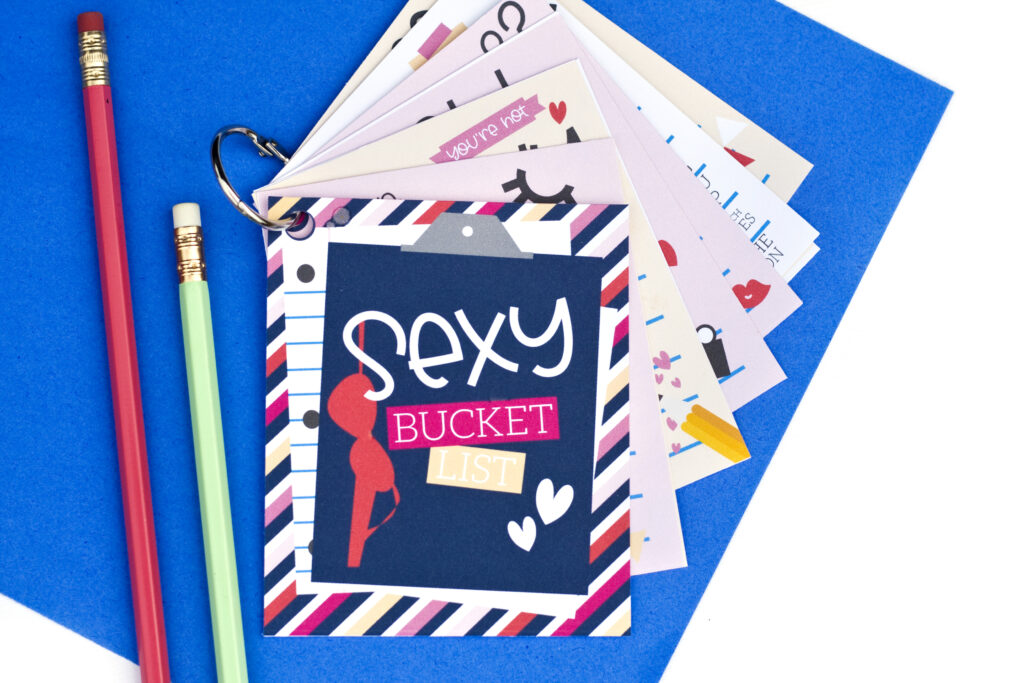 The bucket list printables are full of the hot, heavy, steamy, and smoldering ideas above to get those fires burning out of control. As you move through these categories from hot to smoldering, the ideas get juicier and juicier. Yum! You can even find some steamy date ideas to use. 😉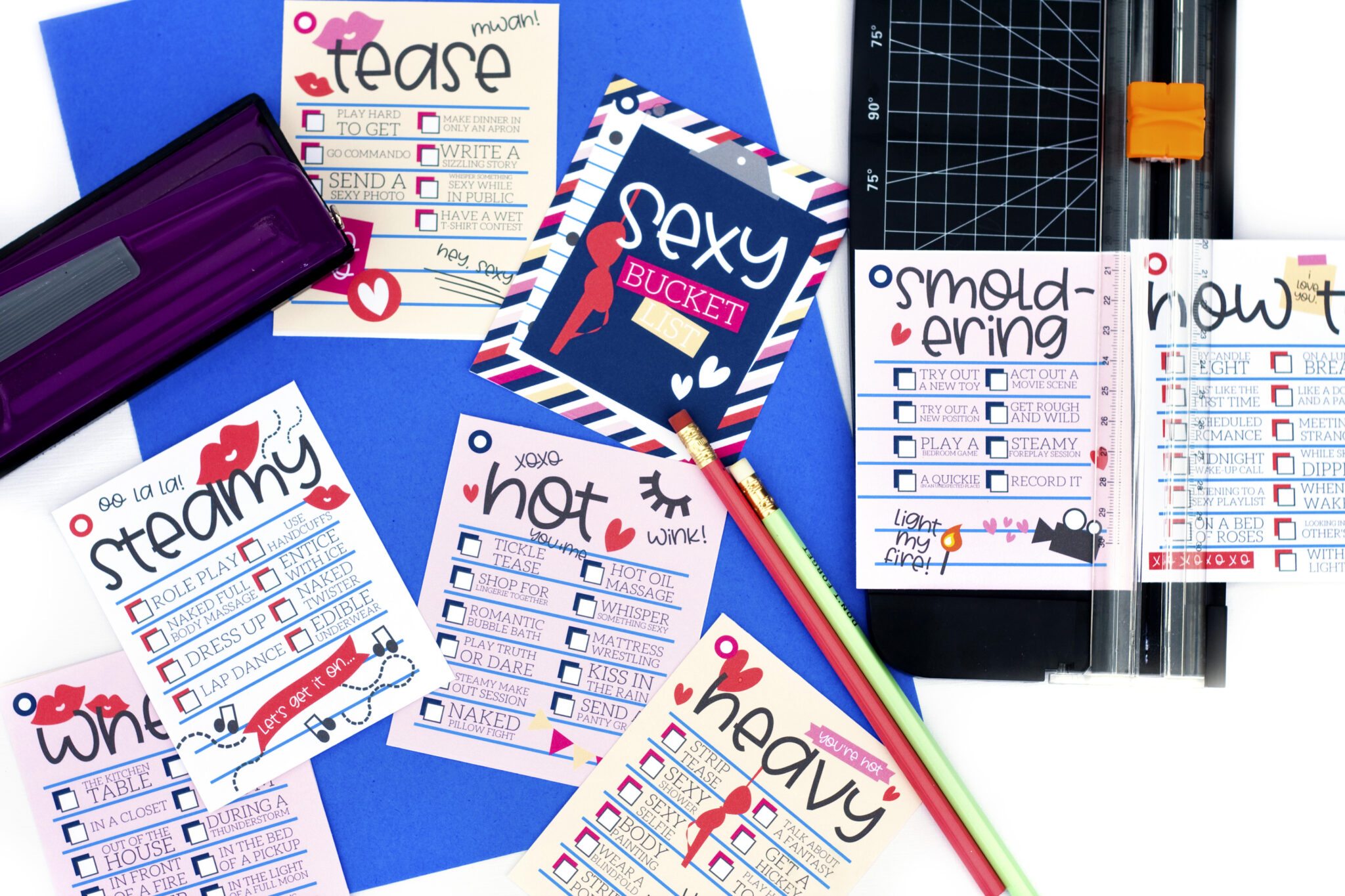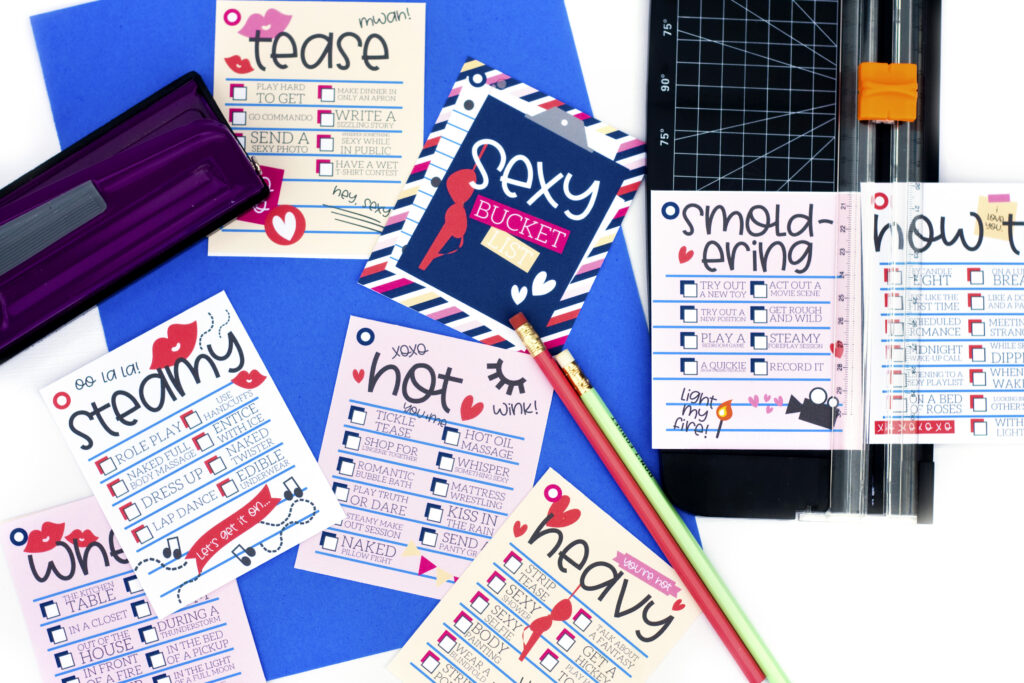 Of course, we want you to get creative on your own, so there is a sex bucket list page that is blank for you to fill out with your own steamy and dreamy ideas. You know each other's favorites best, so work together to fill that list out together! 😉
You may want to grab a few items for playtime in the bedroom to incorporate to your list! The Getaway Kits from Kama Sutra are a fun place to start! Similarly, we love and recommend Mentionables for lingerie because they are a model-free site which makes shopping for lingerie WAY more comfortable–and your sweetie can pick things out for you!
If you need help coming up with some ideas, we've got your back. Check out our Sexy Bedroom Games and Foreplay post, our Sexy Games for Couples, and all of our Sexy date ideas right here!