Sexy Bucket List
I'm a big fan of lists: honey-do lists, goal lists, chore to-do lists, grocery lists, bucket lists, etc. Lists are important because it helps keep life focused, helps with remembering important tasks, helps to get items accomplished, and helps organize daily schedules. Out of all these lists we saw something important in married life that was in need of one… INTIMACY! The "Steamy Bucket List" is here to the rescue!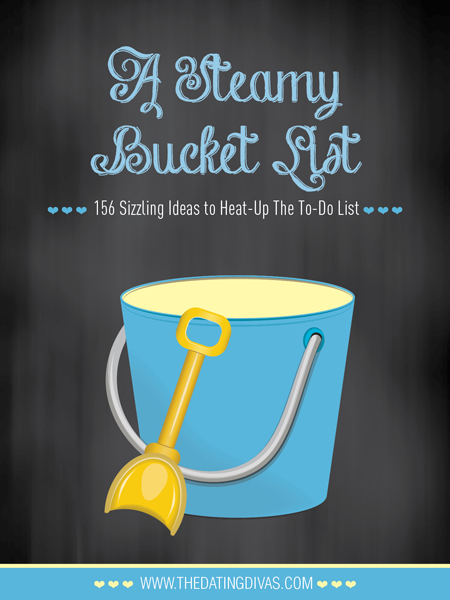 With so many lists for so many areas of our lives, I figured that husbands and wives needed "A Steamy Bucket List" for intimate time with our spouse.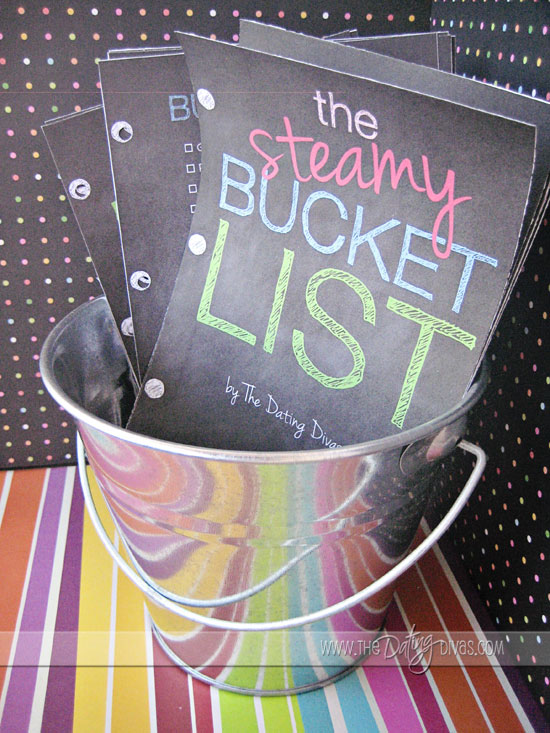 From this day forward you are not allowed a single excuse for bedroom boredom! Pick an evening or two to add a special date night for just the two of you to increase, deepen, and improve intimate time with your spouse.

Now that you're excited about all the possibilities of a steamy bucket list it's time to make your own! 
Prep Work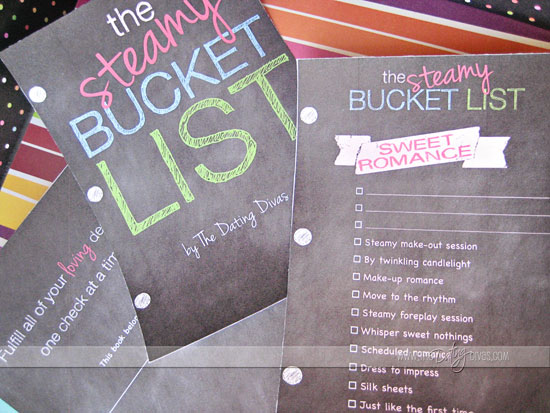 1. Grab your Steamy Bucket List printables and print off all 9 pages onto white cardstock. 
I absolutely love, love, love these completely adorable printables by our ridiculously talented designer, Leah Aldous. Take a moment and check her out, you will be impressed by her talent!
2. Cut each page out
3. Hole punch all pages.
4. Using a colored chalkboard crayon, write your names on page two and maybe a little steamy message as well!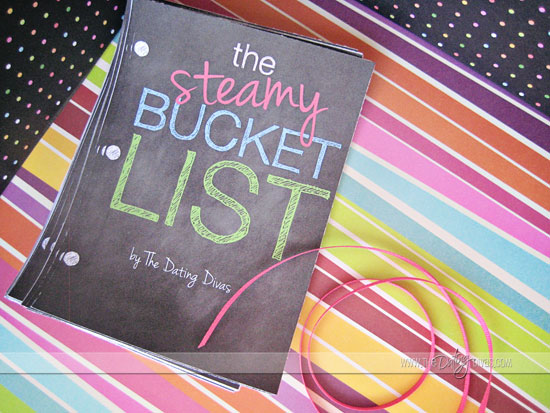 5. Arrange each page into order and stack them up. Slip a pretty ribbon through each hole in the stack to create a book.
Doesn't get any easier then that!!! Now it's time to use your book. There are several intimate category lists to help keep romance exciting and to keep you on your toes, or in any other position you might find yourself, *wink, wink!
Sections: 

Sweet Romance – A pinch of spice and everything nice. 
Around The House – Make use of each nook and cranny in your home sweet home!
Oh La La – Kick romance up a notch with these hot and heavy ideas!
Tease – Flirting, teasing, and pleasing all in one spot.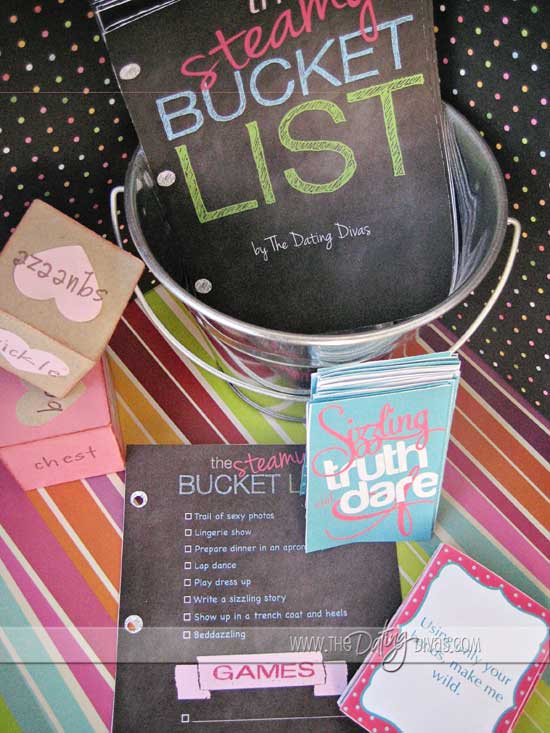 Games – A hot challenge in the bedroom never hurt anybody! (Most of the games on this can be found in the 75 Sexy Bedroom Game Roundup post or in our always increasing Bedroom Games section on our site. Print off or purchase the game you've selected that night and you're set to go.) 
Sports – Bring a little sass to your 'A' game. 
Outdoors – Add a pinch of risque to your love life. 
Seasons – Whether it's Winter, Spring, Summer, or Fall don't forget the steam factor!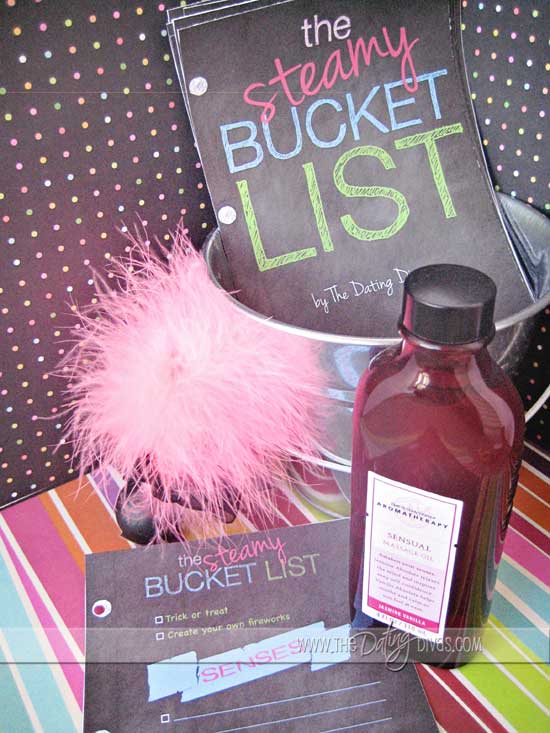 Senses – Let your five senses carry you away. 
Long Distance – Hot encounters to shorten the miles. 
Touring – Pack spice into your adventures.
A Category All Your Own – Create your own wild fantasies! 
If you weren't excited before, now's the time to get really excited because it's gonna get hot in here!!!
A Bucket List Date Night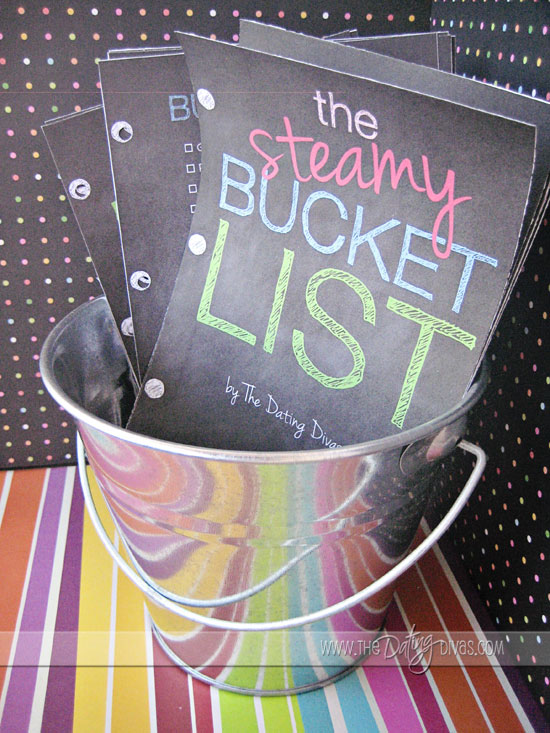 1. Pick one item out of your Steamy Bucket List to fulfill on date night. Gather everything you need to plan for the item you selected. 
2. Schedule in a special date night. 
3. Present The Steamy Bucket List to your spouse. Read through the 156 bucket list ideas.  
4. Using your chalkboard crayon fill out one, two, or all of the blanks. While you are going through your book, the two of you might want to strikethrough any items that you are both uncomfortable with fulfilling. 
5. End the date by surprising your spouse with your first planned steamy bucket list item.
6. Check the item off the list.
7. Hand the book over to your spouse and give them the hint that the next Steamy Bucket List item is his to prepare and surprise you with.
————————————-  
What intimate items do you want to cross off your steamy bucket list?! During your special date nights the two of you will discover that your steamy pleasures are only one check away!!! What are you waiting for… The time to rev up intimate time with your spouse is right now. 
———————————- 
If you love this Steamy Bucket List, you need to check out The Naughty Bucket List for a few more ideas to keep the two of you steamy!!!
Happy revving!!!!