UNIQUE EASTER BASKET IDEAS TO TRY THIS YEAR
What better way to add a little extra magic to Easter this year than by gifting your loved ones sweet, cute, and sentimental Easter baskets? Of course, there are so many adorable Easter basket ideas out there, so it can be overwhelming to choose! Don't worry—we've gathered up a list of our 50 favorite ideas for Easter baskets for men, Easter baskets for kids, and basically anyone else you'd love to surprise this Easter!! Get ready to make some bunny's Easter eggstra special!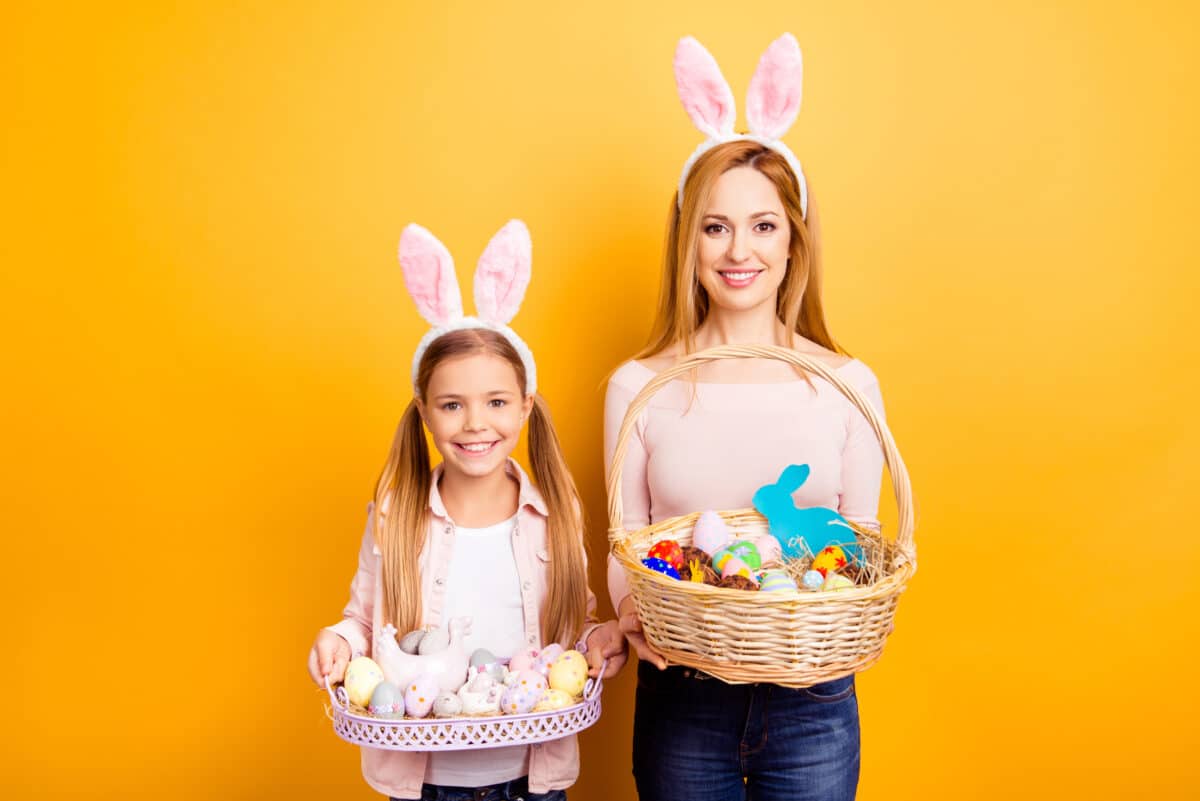 Table of Contents
Disclaimer: This post contains affiliate links. To learn more about 'em, click here.
EASTER BASKETS FOR KIDS
Kids Easter Baskets are usually the cutest and most fun to put together, and these ideas are no different! I don't know how I'm supposed to choose my favorite!
1. Baby Swing Basket – Let's start with the youngest "peeps" on our lists—how cute is this baby swing basket idea? The basket itself is super functional and perfect for warm weather, and you can stuff it with all the snacks, clothes, and toys your baby needs anyway!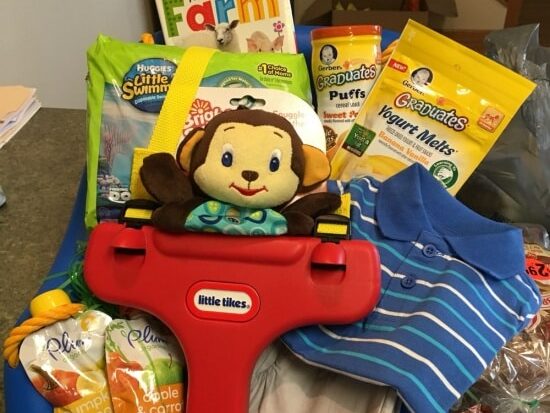 2. Stuffed Animal Basket – I just love the look of this sweet, classic Easter basket with natural-looking, Montessori-style toys. Top it off with one of these cute animals from Cuddle + Kind, and this basket is sure to be a hit!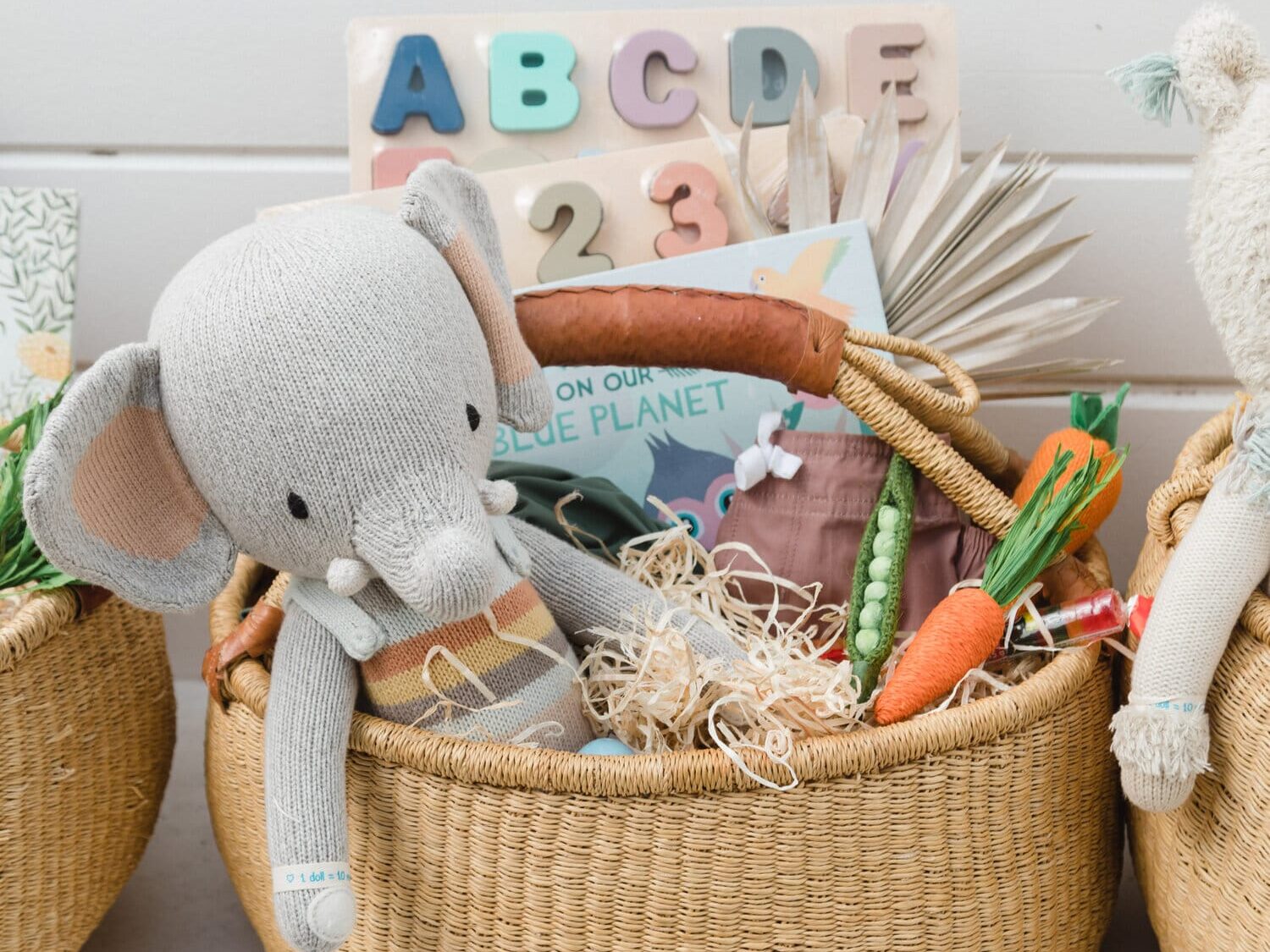 3. Dump Truck Easter Basket – I'm sure every little boy would love to find that his Easter Basket is a dump truck! Fill it with little toys or candy, and his Easter will totally be made.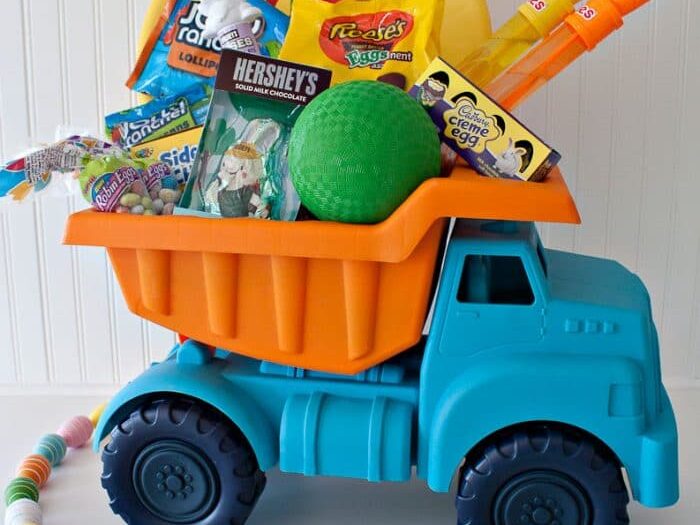 4. Potty Trainer Easter Basket – This is just too clever for words. If you've got a potty trainer at home, why not fill a new potty with treats? What a great way to get your little one pumped about potty training AND knock Easter out of the park all at once.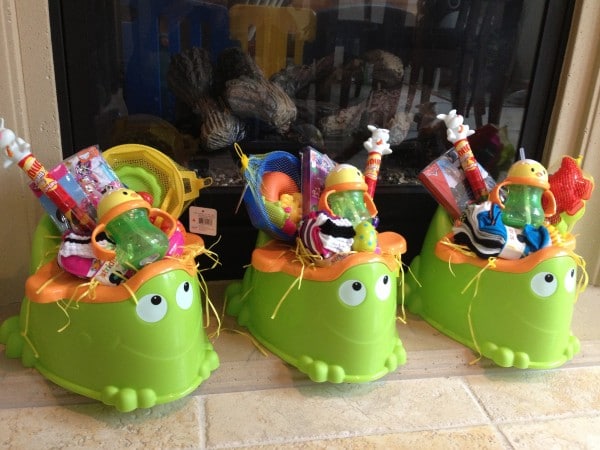 5. Rain Boot Easter Basket – The perfect gift for springtime—rain boots full of Easter fun! These rain boots are a huge hit on Amazon, and I can see why—there are so many colors and patterns to choose from.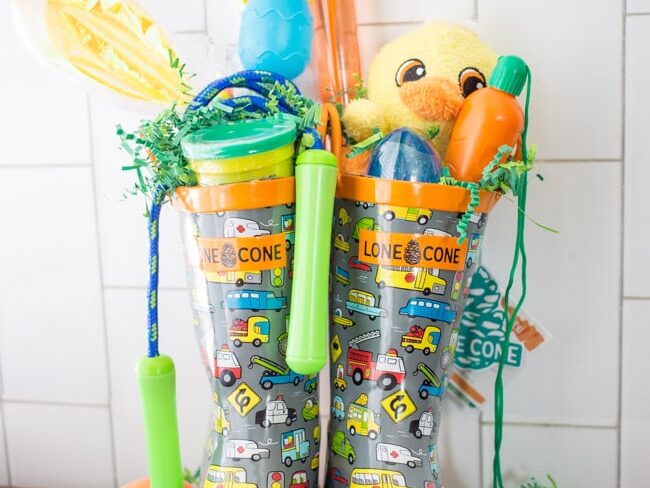 6. Book Themed Baskets – I absolutely LOVE this basket idea. There are so many fun book options you could use, and this is a basket they are sure to remember forever. (I was especially drawn to this one because my kids looooove the Dragons Love Tacos books.)
7. Umbrella Easter Basket – Another super functional spring favorite! Using an umbrella is such a clever idea, and this big basket is a sure way to put a smile on your kids' faces.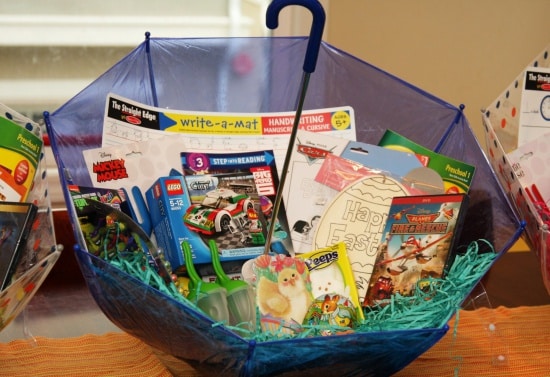 8. Musical Easter Basket – Your little musician will love a musical Easter basket this year! Stuff the basket with rice-filled eggs for maracas, add a cute tambourine or ukulele, and a musical coloring book. How darling is that?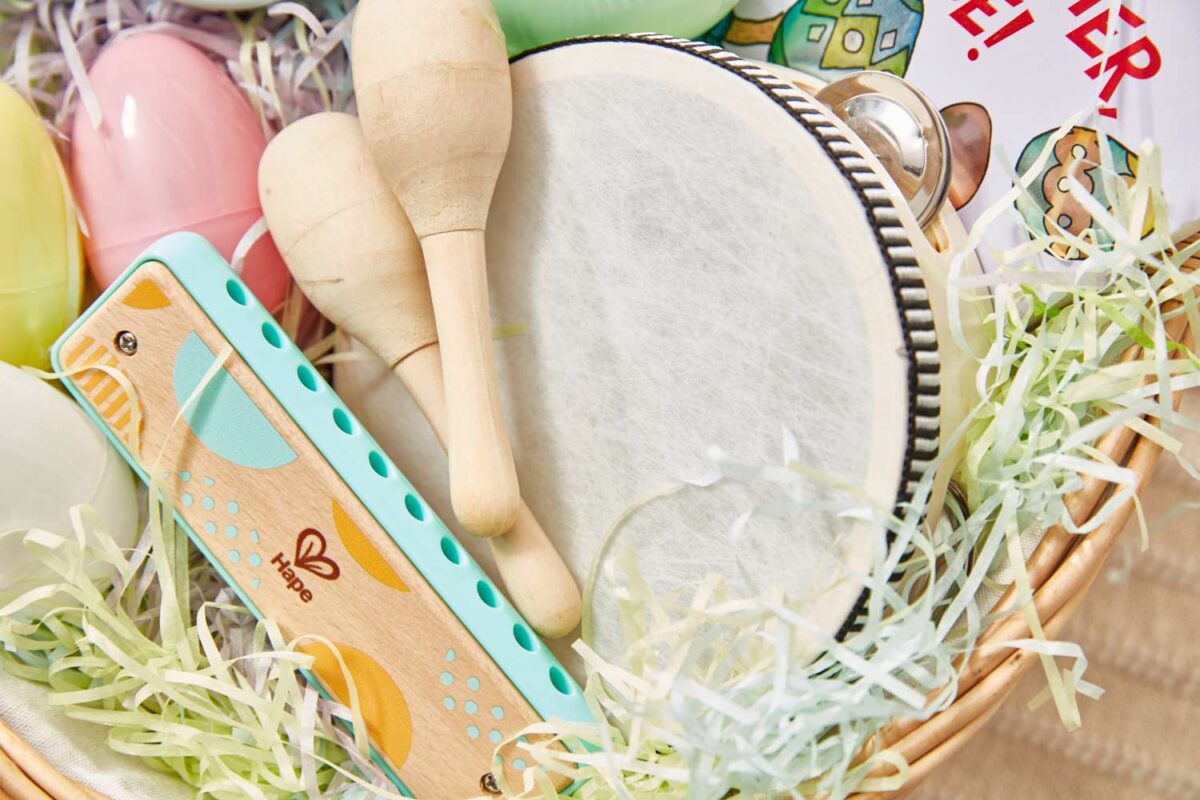 9. Art Lover Easter Basket – If you've got an art lover on your hands, then you are in luck. There are so many quick and easy ideas to make an art-themed Easter basket. Even the classic, colorful eggs perfectly fit the theme! Try some color wonder pages or bathtub finger paint for some clean, colorful fun.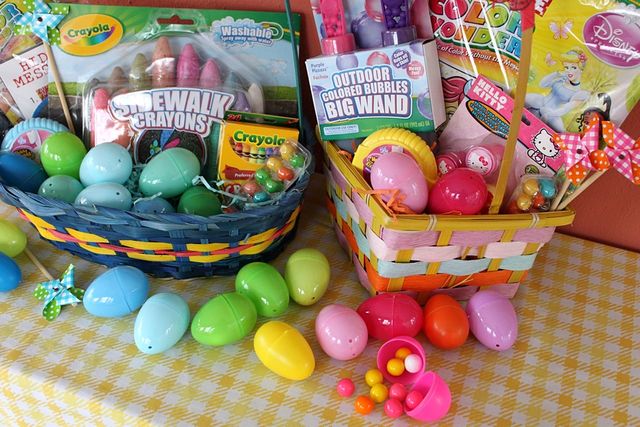 10. Springtime Celebration Easter Basket – Everything about this basket just screams CUTE to me. Think SPRING and fill this basket with an adorable watering can for the kiddos and some handy gardening gloves they will LOVE!!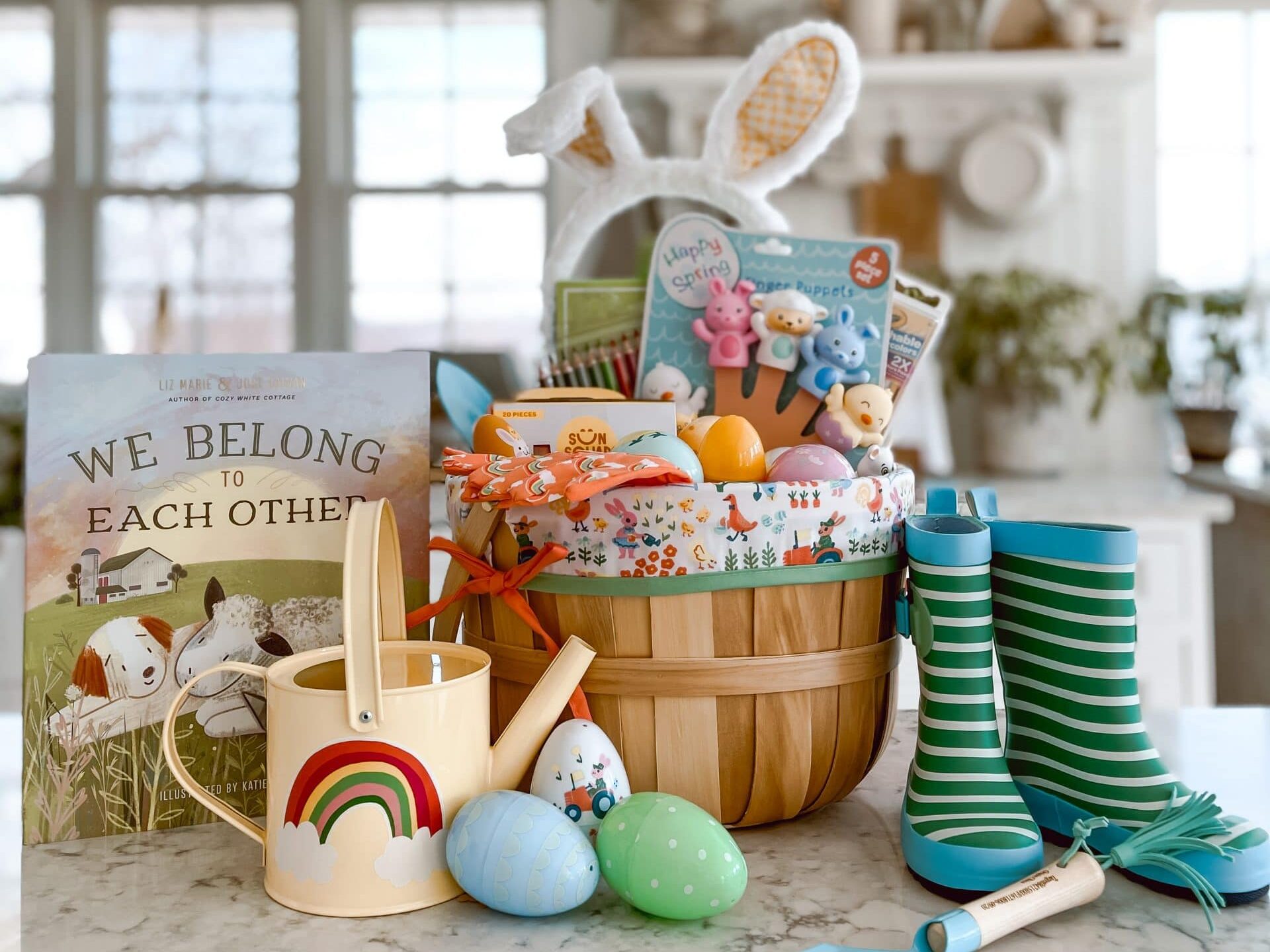 EASTER BASKETS FOR MEN
I know my husband's Easter basket is usually the hardest one to fill, so I LOVE these cute and clever ideas that he totally won't see coming. The only question is…which one should I do?
11. Firepit Easter Basket – This firepit basket is PERFECT for springtime and so functional! If you've always wanted your own backyard fire pit…BAM. Gift, done.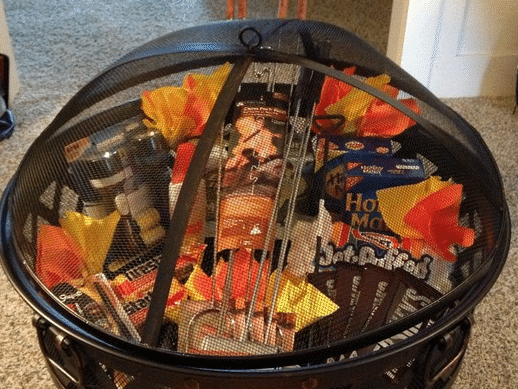 12. Manly Easter Basket – Why not just grab some of his favorite things and put them together in a "manly" tin? This idea is like a classic Easter basket, but all grown up and just for men.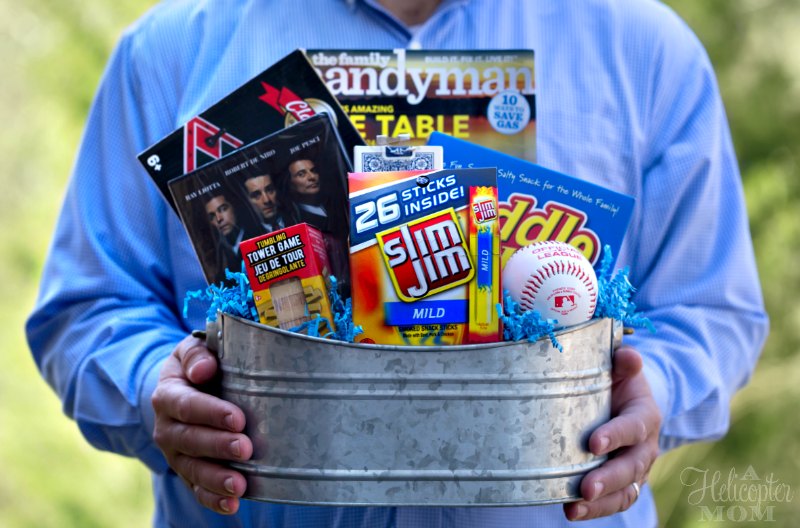 13. Shaving Easter Basket – The oldest Easter basket trick in the book? Give them something you know they'll use! This shaving kit is awesome, but if your husband is more of a beard guy, try some beard oil instead.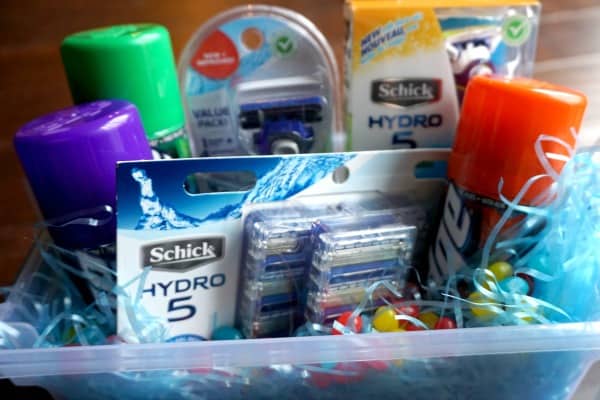 14. Cozy Easter Basket for Men – Gift him a cozy night at home with some soft pillows, a comfortable blanket, and his favorite snacks.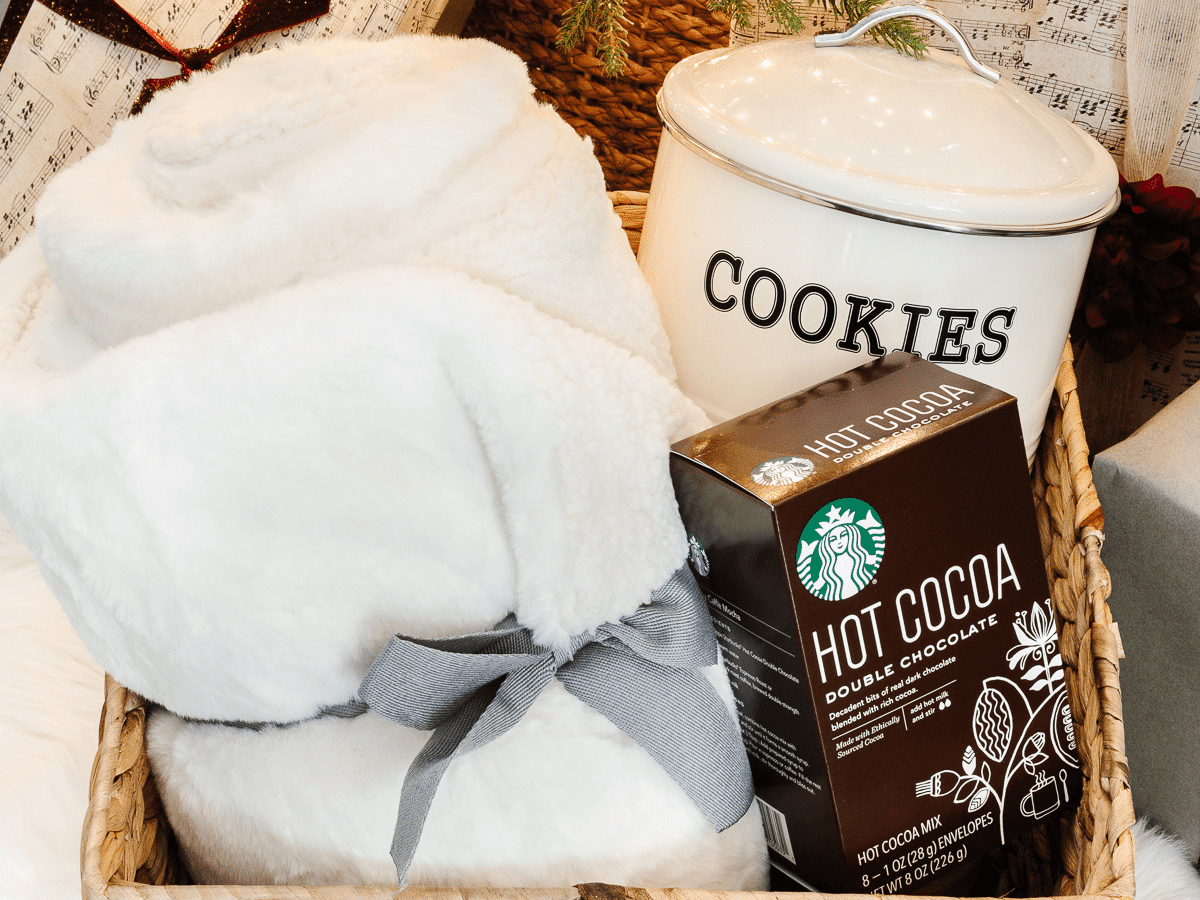 15. Emergency Essentials Easter Basket – This is a wonderful and super practical idea that your man will love, AND you might be glad to have around someday!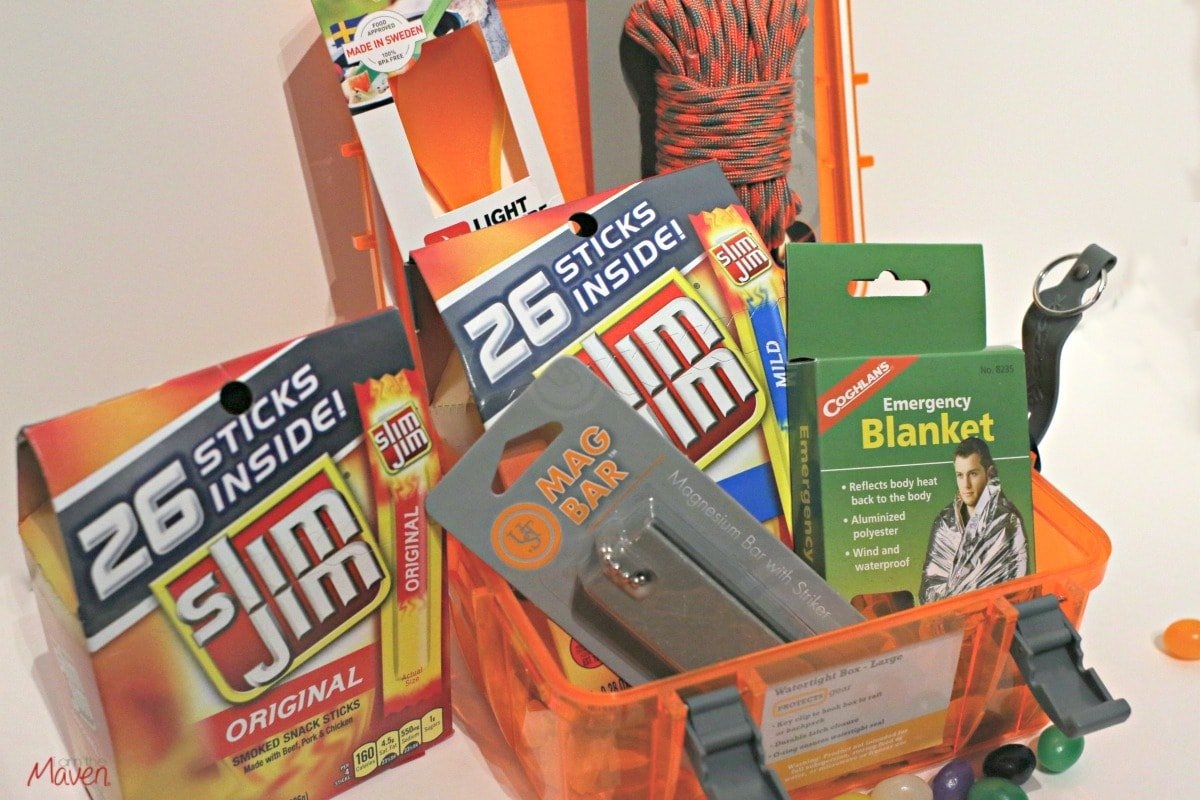 16. Tools and Treats Basket – It doesn't matter how many you have already; you can always use more screwdrivers. Add some tools in a basket with some treats, and Easter= done.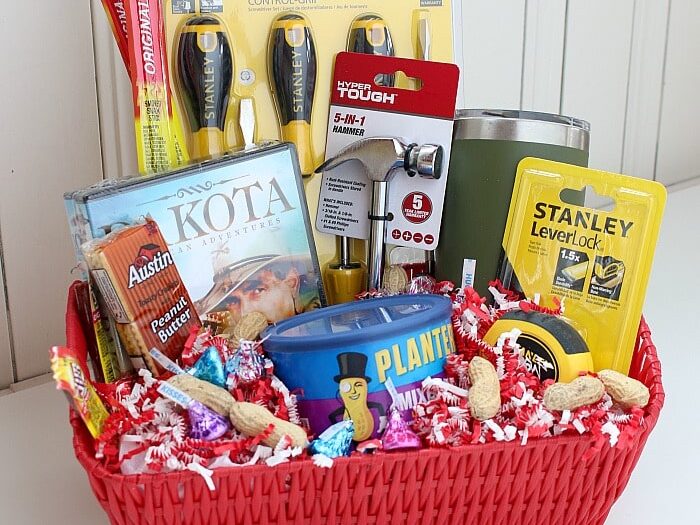 17. Golf Lovers Basket – This basket is perfect for the avid golfer in the family. (Seriously, how clever was this idea of shredding the paper and adding it to the basket?)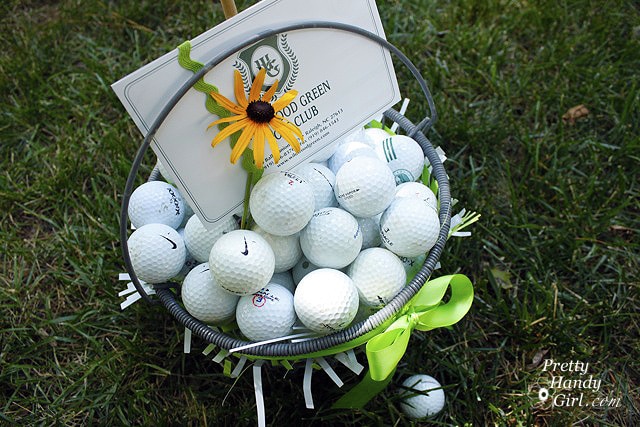 18. Tackle Box Easter Basket – How genius is this tackle box Easter basket idea with fishing-themed treats? Add some gummy worms, goldfish crackers, and Swedish Fish for a perfect basket for your fisherman.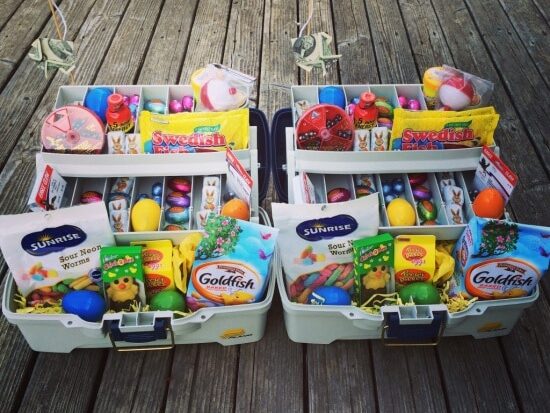 19. ToolBox Easter Basket – Similar to the idea above, this is basically a toolbox stuffed to the brim with candy! (You know…before you stuff it with actual tools!)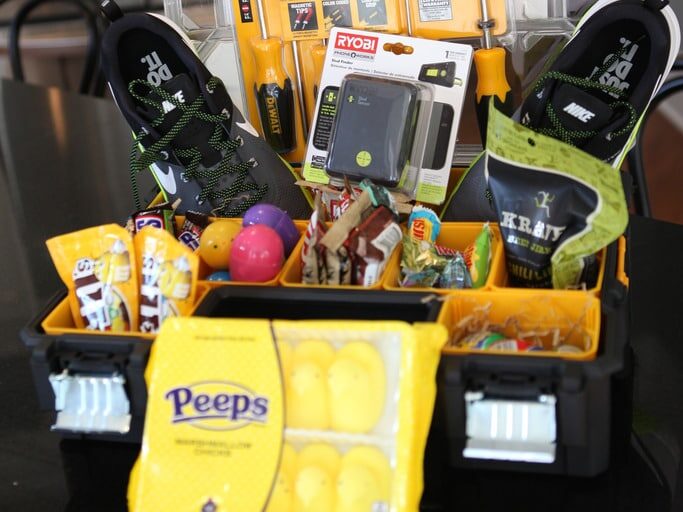 20. Intimate Easter Basket – Show me a man who wouldn't prefer this basket from his wife over every other idea here! This entire basket is so clever and fun, but the invitation to the "Peep Show" really puts it over the top for me.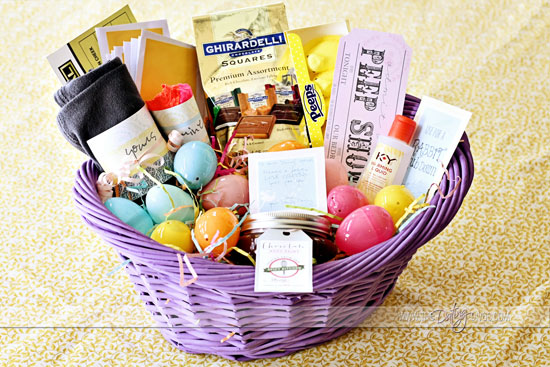 EASTER BASKET DECORATIONS
We've got plenty more darling basket ideas for you, but what about when your Easter basket just needs a little extra pizzazz? Here are some fun Easter basket decorations and basket stuffer ideas to really make your Easter basket hop…I mean pop!
21. Printable Easter Bunny Baskets – Oops—Easter morning, and you don't have a basket? No problem!I I can't even believe how quick and easy these adorable baskets are…and totally free! Anyone would love a gift in these cute bunny baskets.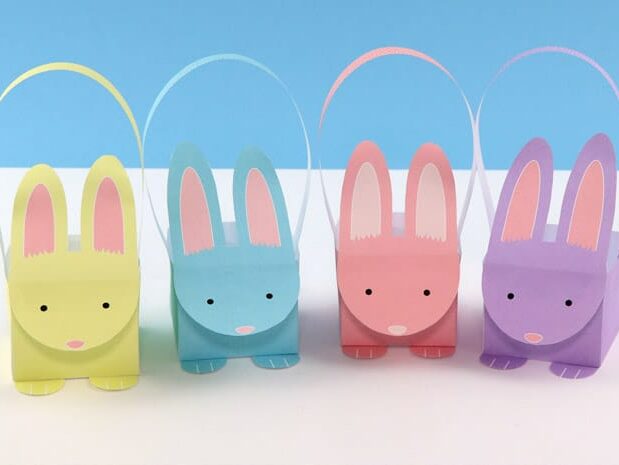 22. Wood Bead Carrot Basket Fillers – These wooden carrot beads are a cute and simple way to add a little something extra to your Easter basket.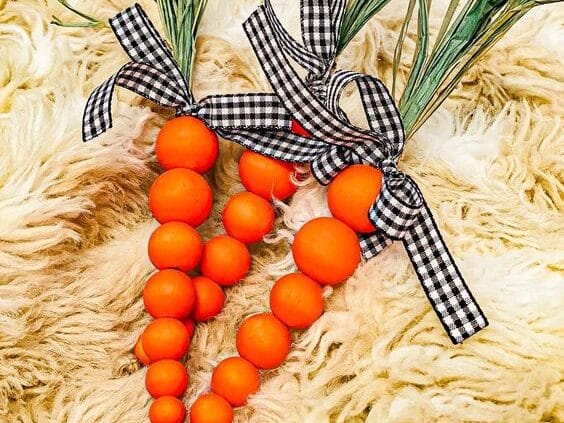 23. Easter Basket Wreath – WHY have I never thought of this before? From the Easter grass to all the classic treats, I think this is the CUTEST, most unique basket idea ever!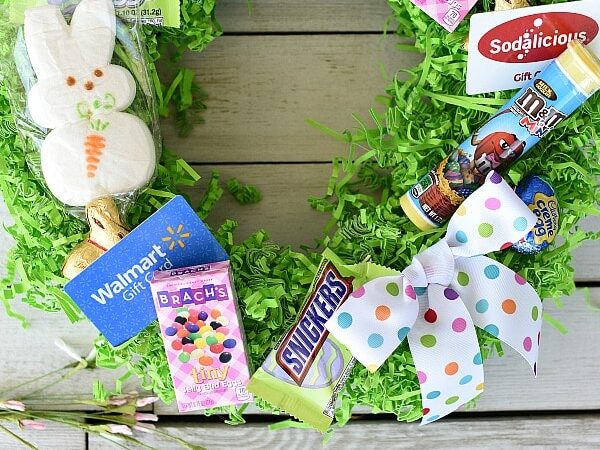 24. Carrot Tags – Do I really need these carrot tags? Probably not. Is that going to stop me from buying 10,000 of them because they are so stinking cute? Nope. Not at all.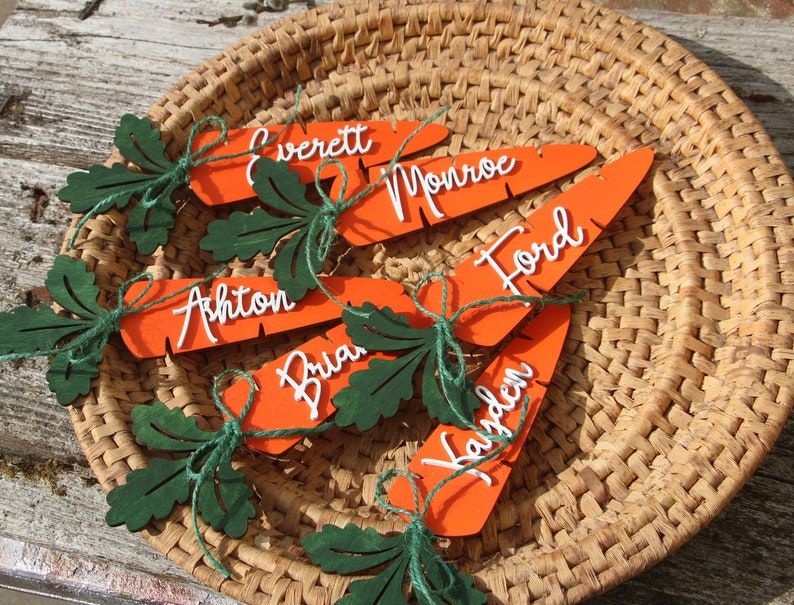 25. Crochet Easter Basket – This classic crocheted basket would make such a sweet gift to reuse year after year.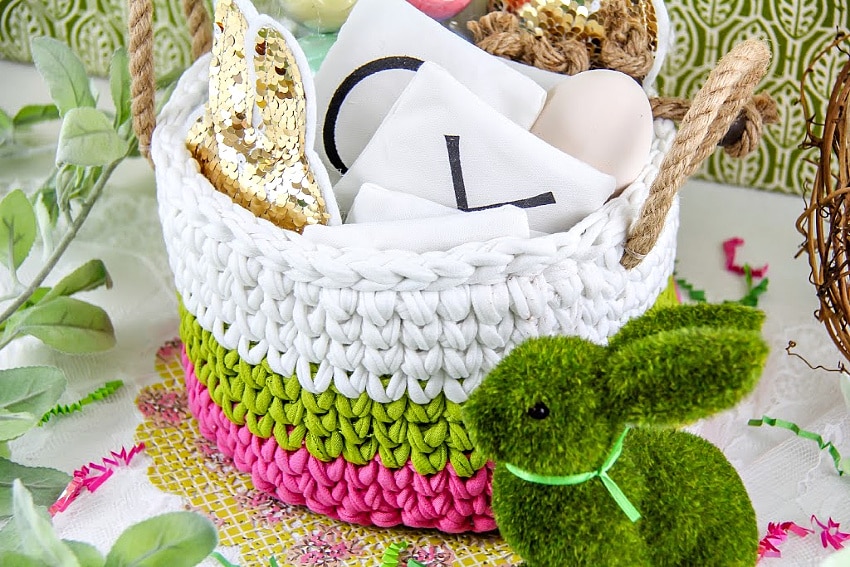 26. Printable Easter Egg Fillers – If you need some extra fillers, head on over and grab these adorable free printables. They will top off any basket so well!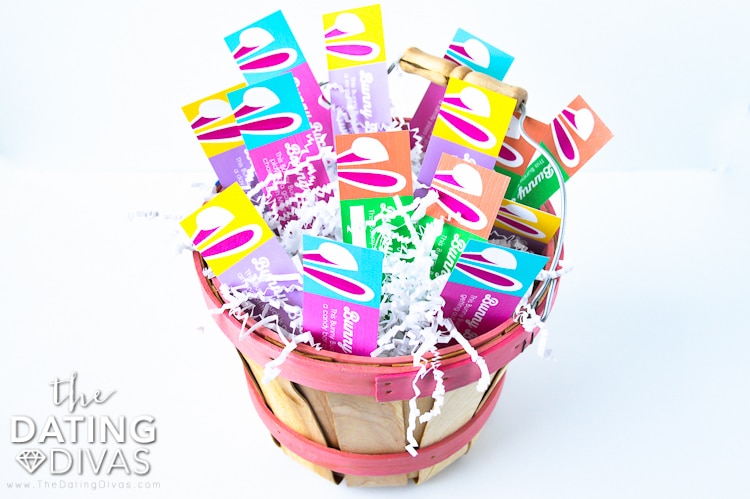 27. DIY Tutu Easter Basket – I love this idea for dressing up a basket for a little girl. SO darling and easy!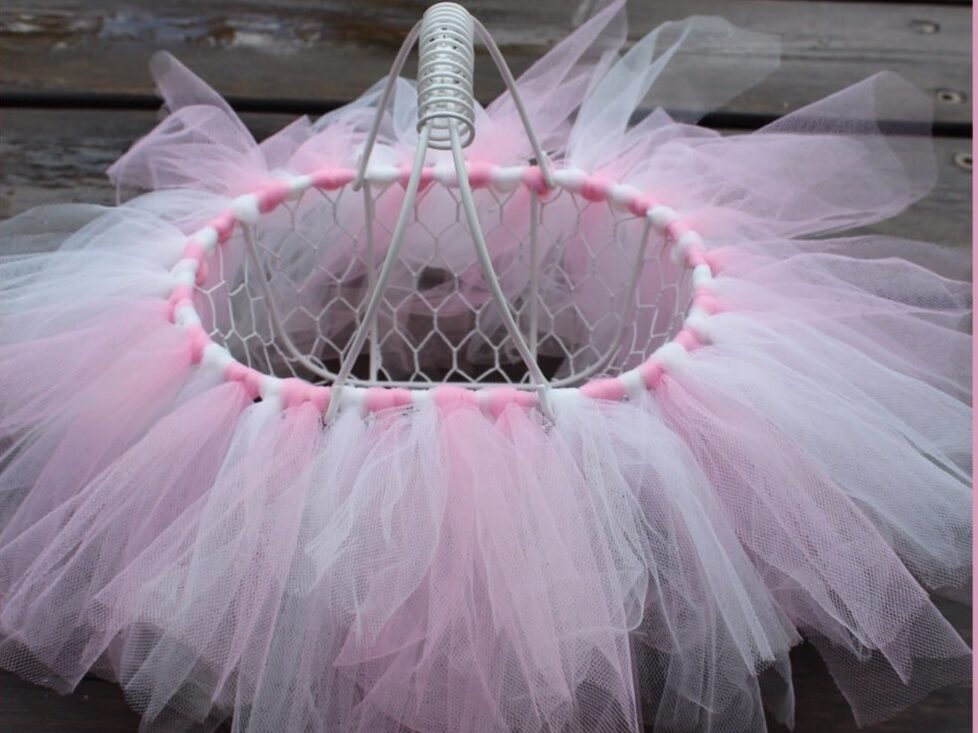 28. Bunny Name Tags – Uh oh, looks like my carrot name tags are going to be joined by these darling bunny name tags. Look at the one with the bow tie! I can't even handle ALL the cuteness.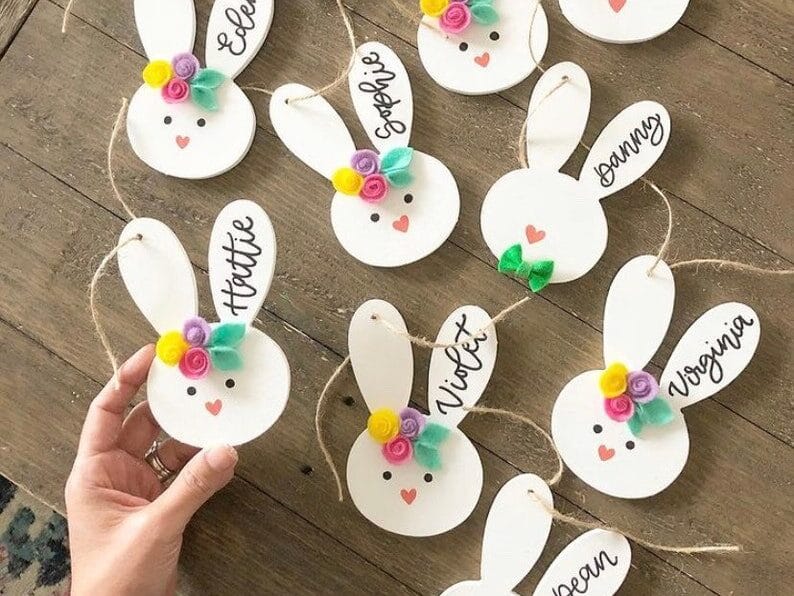 29. Hand-Knit Easter Eggs – How cute would these be instead of plastic eggs as basket fillers? Save them and reuse them, year after year!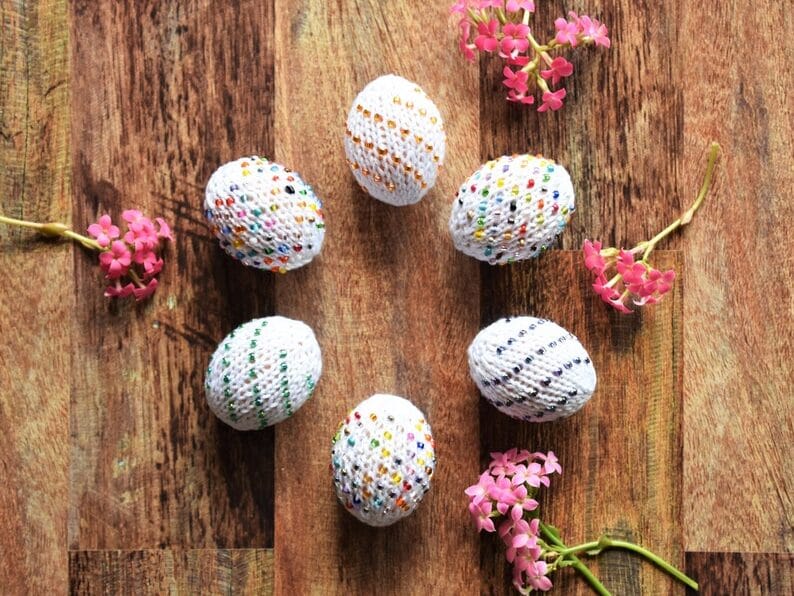 30. Personalized Wooden Eggs – Okay, okay, ONE more personalized item for my baskets this year. Picture this: your kids receive their own personalized egg in their baskets, and later on, they have to find this very same egg in the egg hunt for a special prize. How fun would that be?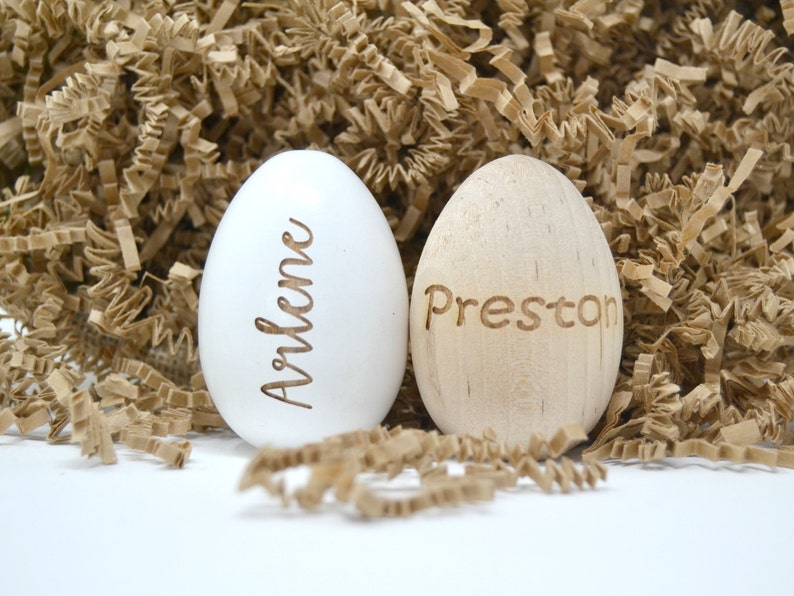 TEENAGER EASTER BASKET IDEAS
Teenagers can be hard to buy for because they are in that in-between phase, where they don't want little kid stuff, but you better believe they still want some candy. Here are some really fun, cool teenager Easter basket ideas that will have them smiling Easter morning (just…not before ten am).
31. Baseball Hat Easter Basket – Clever, simple, and practical! Fill a hat with treats, and they will have something they want and something they need all wrapped up in one awesome surprise!!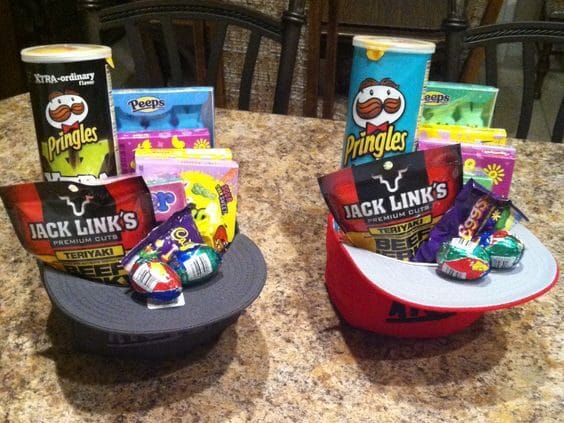 32. Teen Girl Easter Basket – Try some fun new nail polish or makeup and beauty items for your teenage diva! This basket would be so simple to make and shop for. Quite frankly, the possibilities are endless, so get creative!!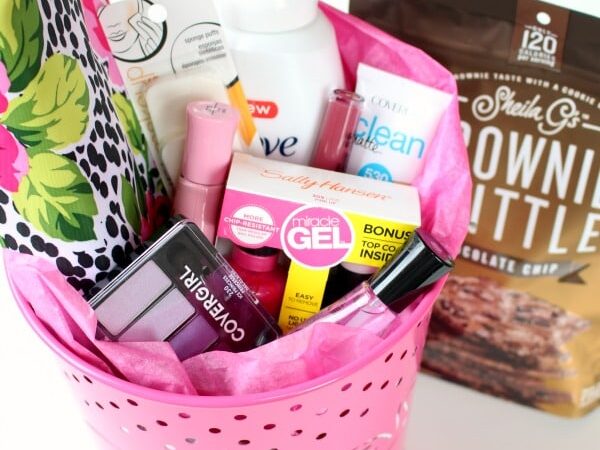 33. DIY Candy Box Easter Basket – If ALL your teen wants is candy, this box is absolutely perfect! Just glue some boxed candy together, add a Nerds Rope handle, and stuff it with…you guessed it…more candy!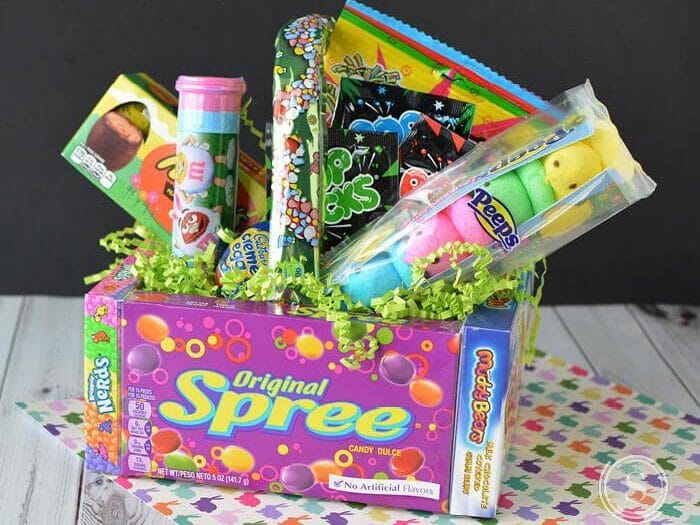 34. Teen Boy Essentials in a Tool Box – Use a toolbox as a clever and creative Easter basket and fill it with the bath essentials he needs. (And, of course, candy.)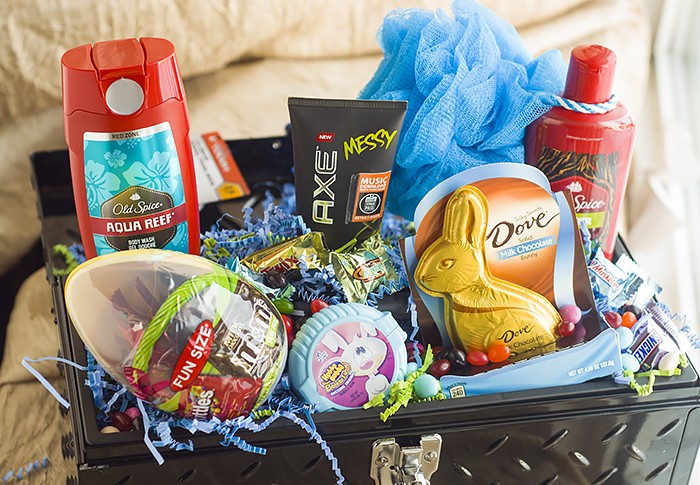 35. Teen Girl Essentials in a Makeup Bag – Another practical Easter basket for girls is a makeup bag filled with bath essentials and beauty products. This is a gift she's sure to love!!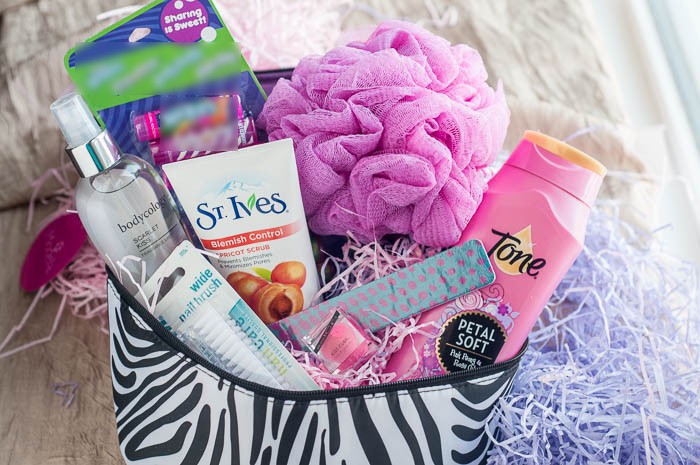 36. Basket of Sunshine – This box of yellow items would be so fun to shop for and is sure to brighten anyone's day!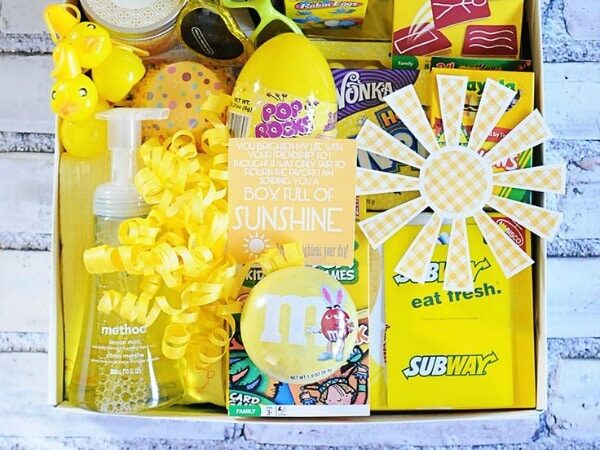 37. Future Author Easter Basket – I love the idea of shopping for someone's specific tastes. How darling is this basket for your future author? As a writer, I can tell you that I would be busting into those Story Cubes right away!!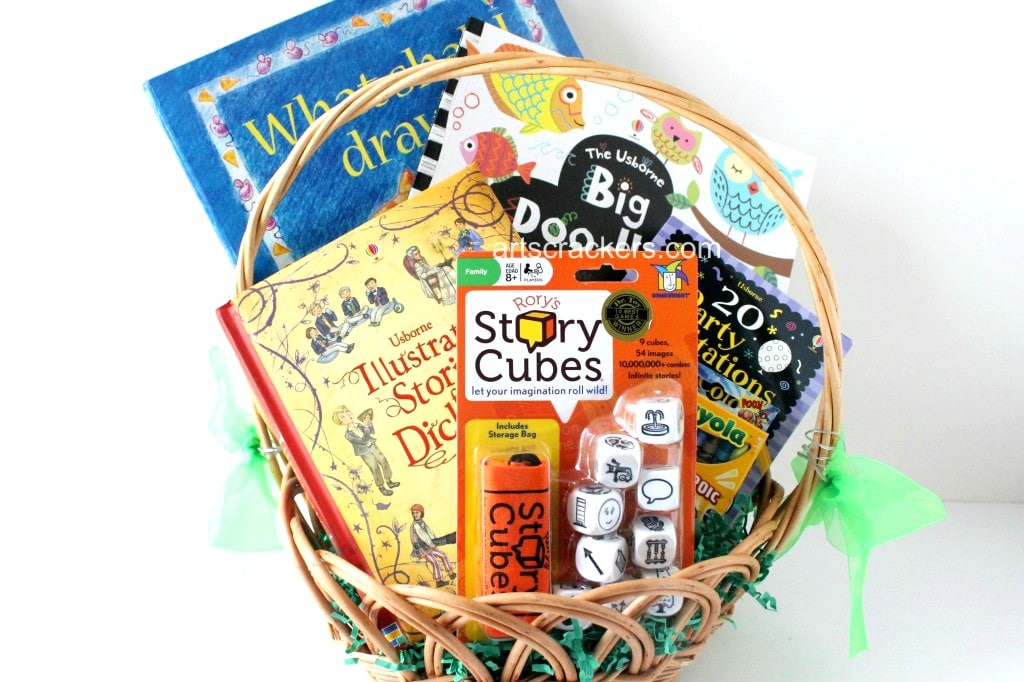 38. Game Night Easter Basket – This basket would be so fun to unwrap because each gift promises fun family time together! Some of our favorite family games you could include are Love Letter, Skull King, and Codenames.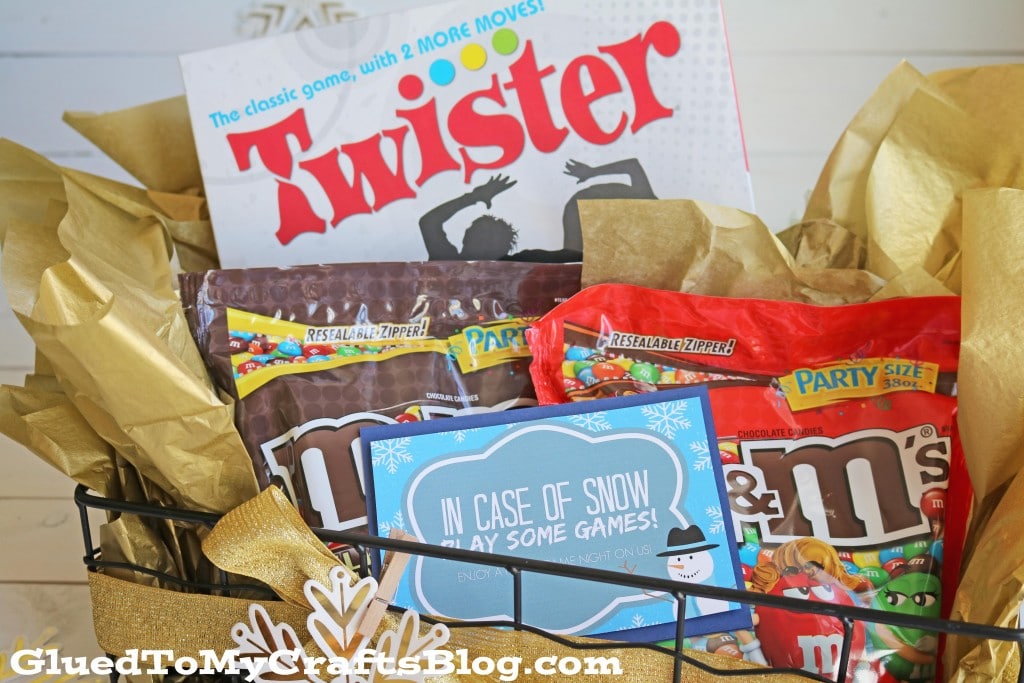 39. Tech Basket for Boys – You really can't go wrong with including anything techie in a basket. Try some headphones, an Echo Dot, and some of their favorite treats or essentials.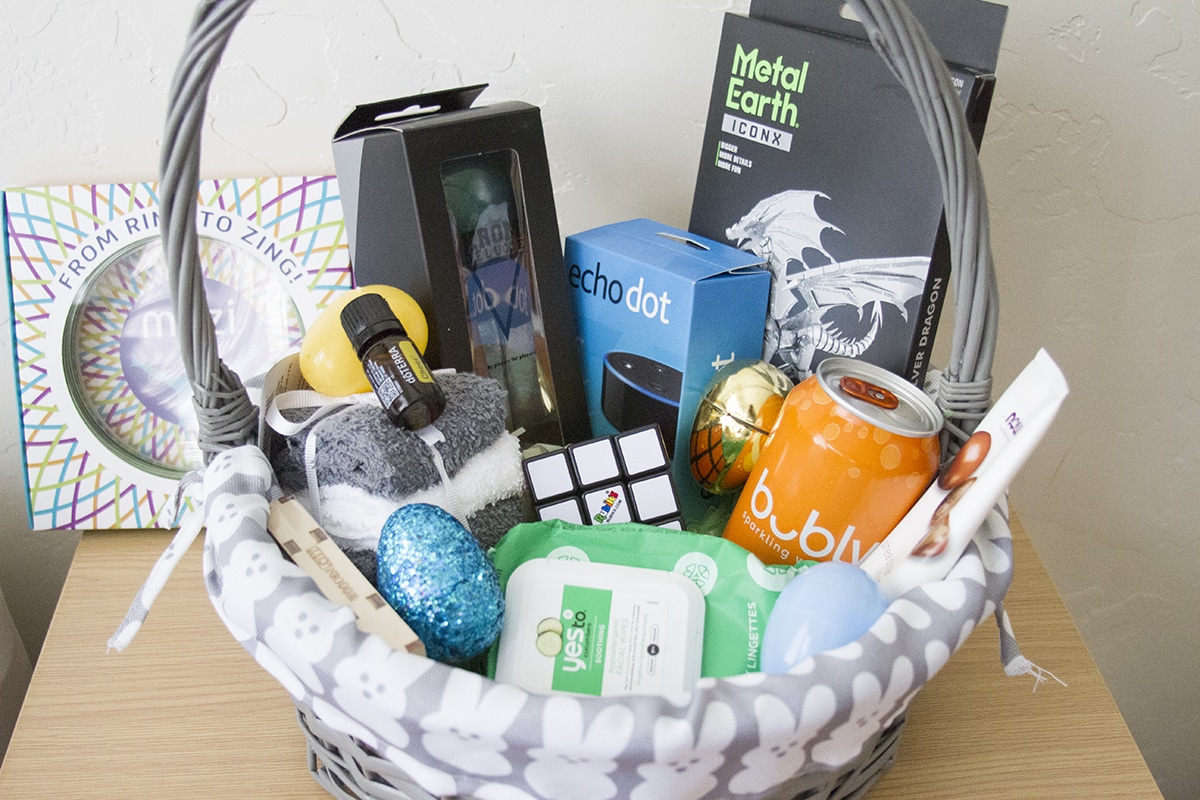 40. Beach Towel Teen Girl Easter Basket – Wrap everything up in a beach towel for a basket that just screams: summer fun is coming!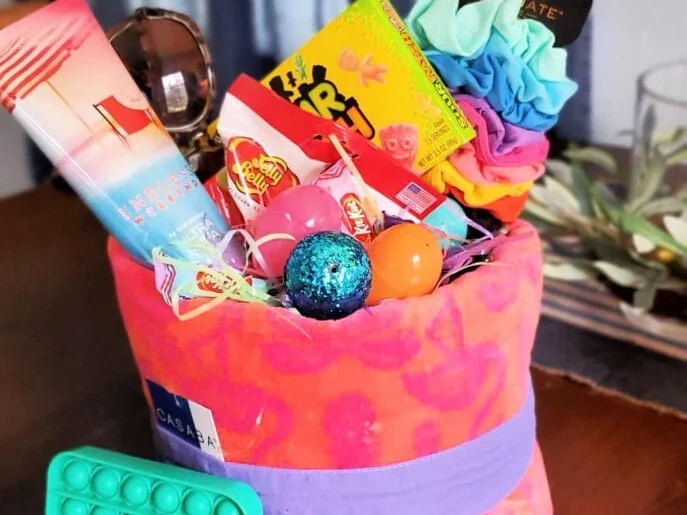 EASTER BASKETS FOR ADULTS
Still have some people left on your list? Teachers, Neighbors, Grandparents, Friends…We've got an Easter basket idea for everybody! Check out these fun Easter baskets for adults!
41. Grown Up Easter Basket – This classy basket is such a beautiful gift for anyone on your list. I love the gold-wrapped chocolate bunnies and those pretty watercolor eggs.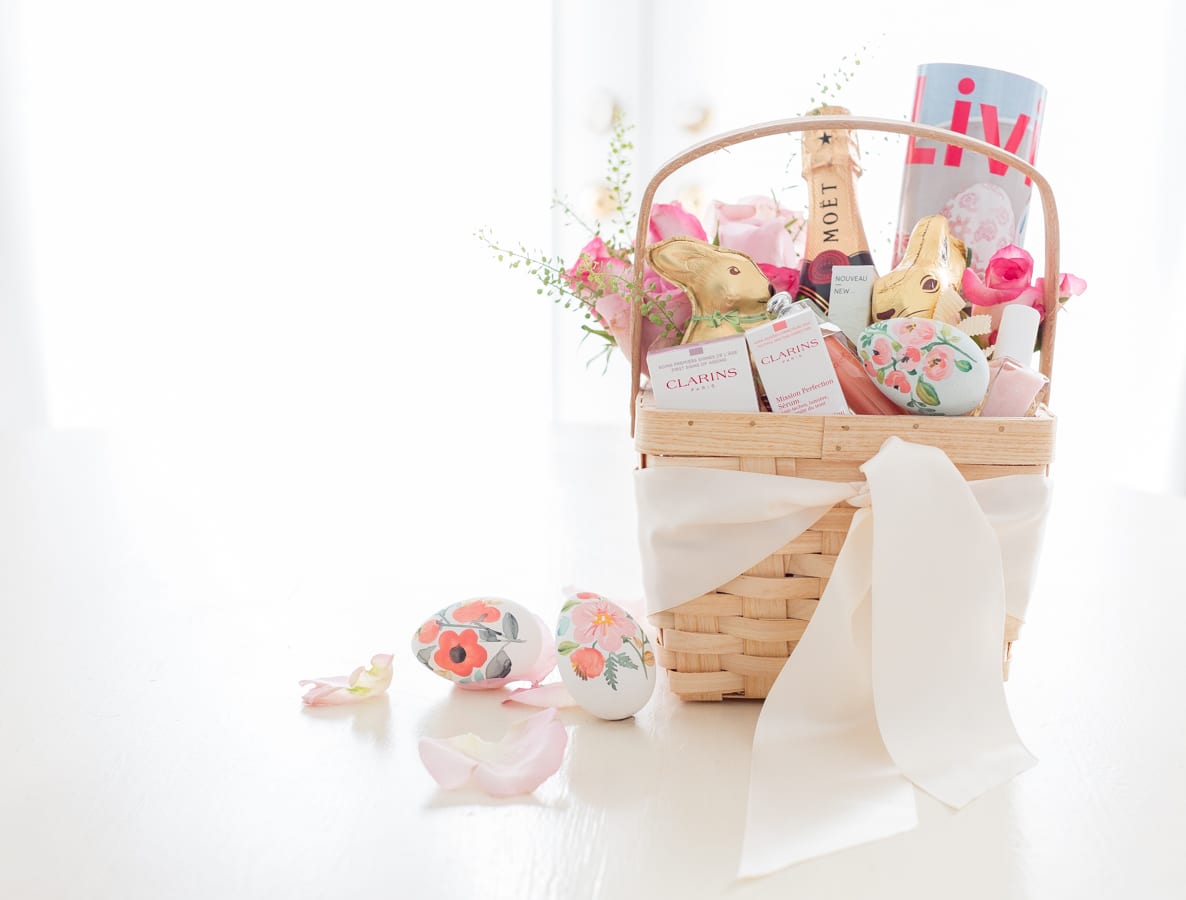 42. Kitchen Essentials Basket – Take a trip down the kitchen-needs aisle and load a colander with some baking essentials for this adorable and super-handy basket. (Photo by Kaitlyn Nystul)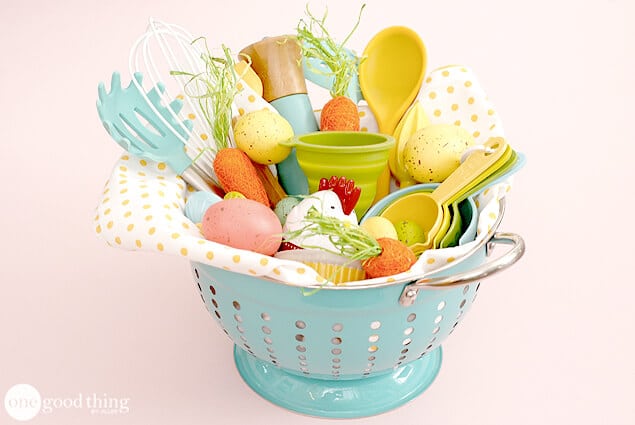 43. Mason Jar Bunny Surprise – This is such a clever basket made with some simple items and makes the perfect neighbor gift! Suddenly I want to buy ALL the chocolate bunnies.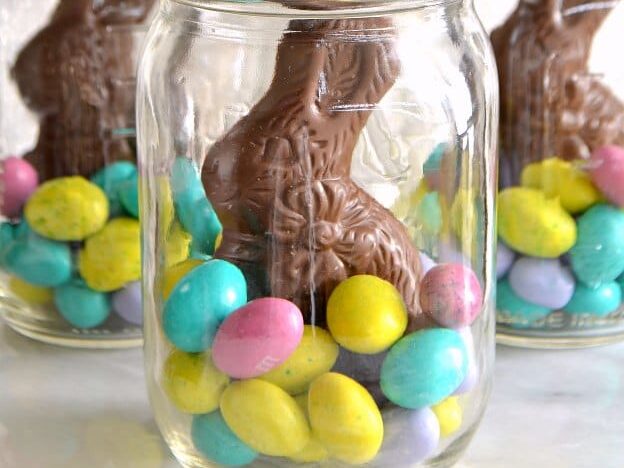 44. Gardening Easter Basket – A gardening lover's basket is a perfect, colorful idea for spring! Grab some blooms from your local nursery and load it all up in a cute planter box.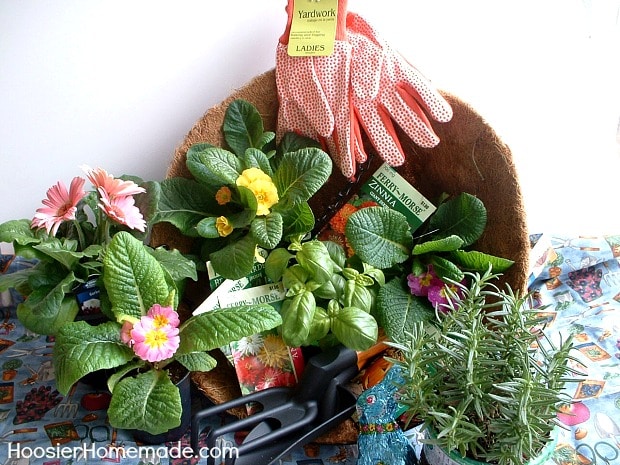 45. Ice Cream Easter Basket – Who doesn't love ice cream?! This would make such a cute Easter gift for a family friend or neighbor. Just fill it up with all the ice cream essentials, and it is sure to make their day!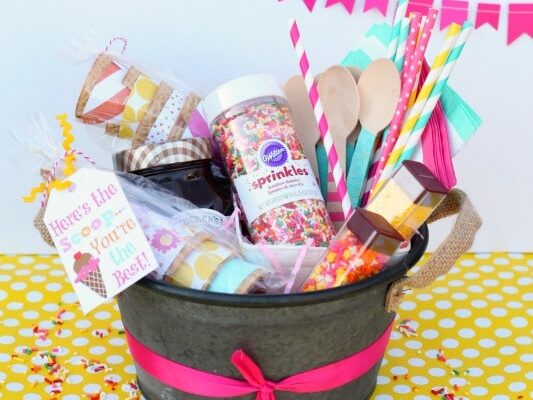 46. Classy Adult Easter Basket – I haven't received an Easter basket since I was a kid, but suddenly I need one. Seriously, how cool is this classy basket for an adult?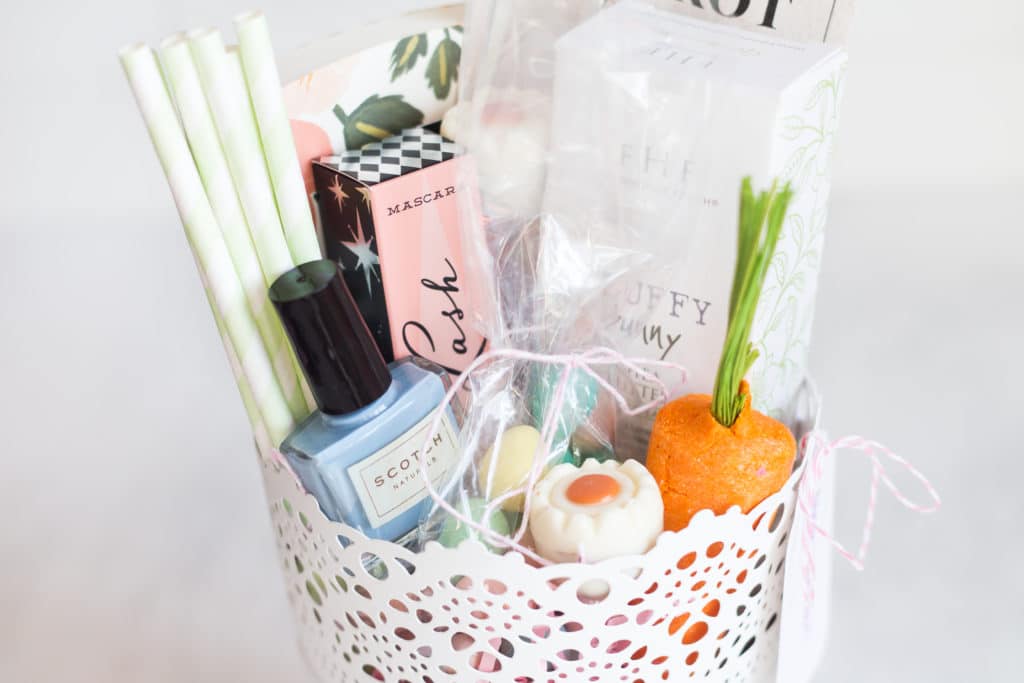 47. Spa Easter Basket – Grab some nice towels, bath bombs, and lotions to gift someone you love a very pampered Easter!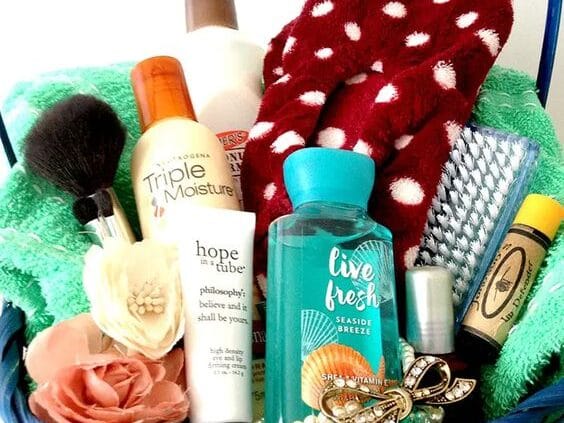 48. Painted Egg-Carton Baskets – This basket is a cute and clever way to recycle old egg cartons and get creative filling up each slot! You could even let your kids help paint the cartons as a fun family activity. This would make the perfect Easter Basket for the grandparents.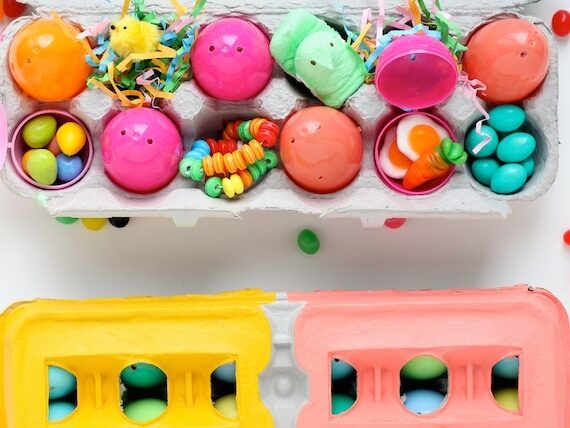 49. Egg-cellent Teacher Basket – This printable is the perfect addition to an Easter Basket for your child's teacher, and they are sure to love whatever you put inside!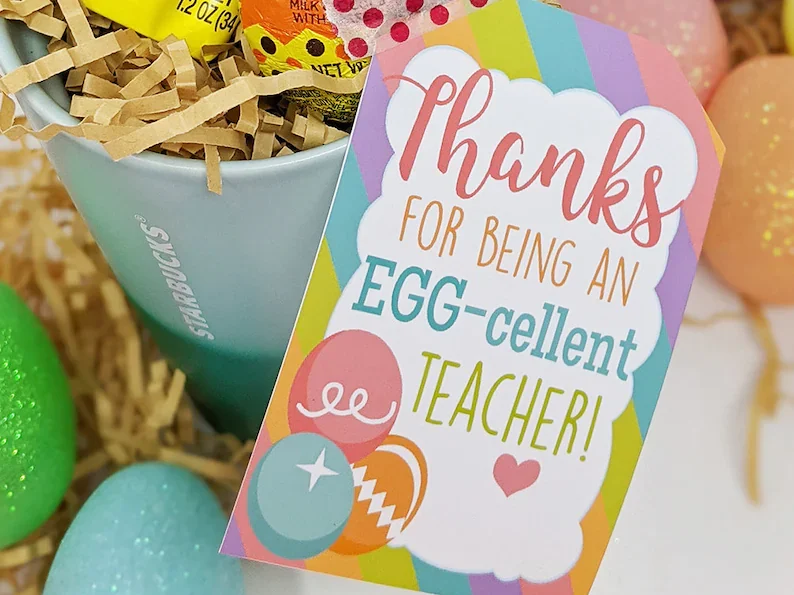 50. Doggie Easter Basket – Well, what did you think we meant when we promised something for EVERYONE on your list? Give a little something to your pets, too, with a cute dog-themed basket like this one!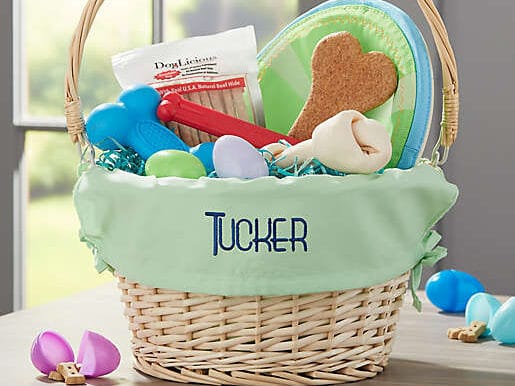 I don't know about you, but I now have my next five years' worth of Easter baskets planned out, and everyone I know is going to get one! We hope you found some new ideas you loved, too!
Have a very Hoppy, I mean HAPPY Easter!