Graduation Party ideas to CELEBRATE THE MILESTONE
Do you know someone who is graduating? What an amazing milestone to celebrate! Successfully graduating from preschool, high school, college, grad school, or anywhere in between is a HUGE accomplishment. If you know someone graduating soon, then this is the post for you! We've gathered up some of the absolute best graduation party ideas out there for you to enjoy.
We have included food ideas and graduation cake ideas, graduation decorations, and even photography ideas. We also have one of the BEST ideas for graduates to keep track of all the cards they receive: a graduation card box! No matter what type of graduation party ideas you're looking to find, you're sure to find some inspiration here!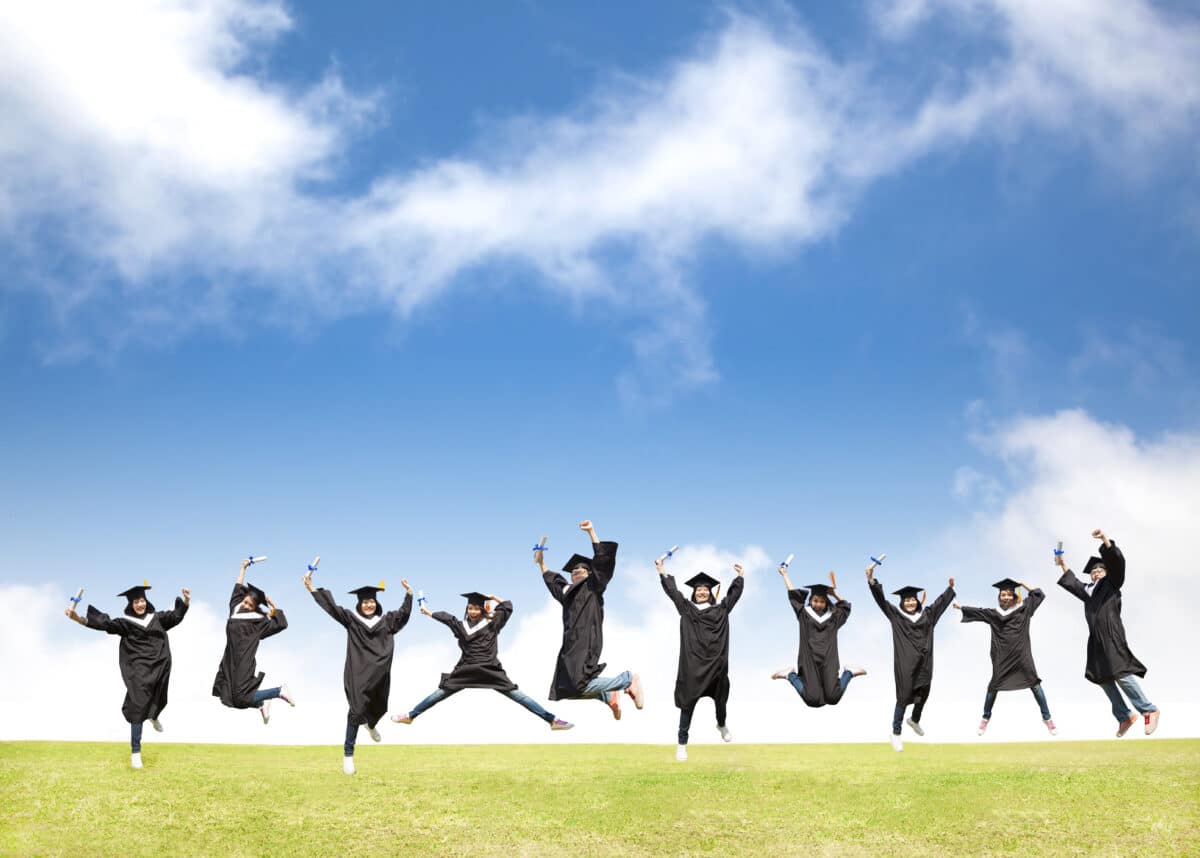 Disclaimer: This post contains affiliate links. To learn more about 'em, click here.
Before we dive in, let's remember that graduation is a momentous occasion for everyone. It represents hours of studying, years of hard work, and in some cases, pretty big sacrifices. Once graduation day arrives, it's important to remember and celebrate all that hard work. With the ideas we've put together here, YOU can help make graduation day one to remember for that special graduate!
To make browsing these ideas easier, we've divided them into the following categories:
To clarify, ANY of these ideas would be winners for celebrating your graduate. But thankfully, we've compiled so many options that you'll be able to find what best represents your graduate and their hard work.
Ready to get into these graduation ideas? Let's go!
Graduation Party Ideas: Themes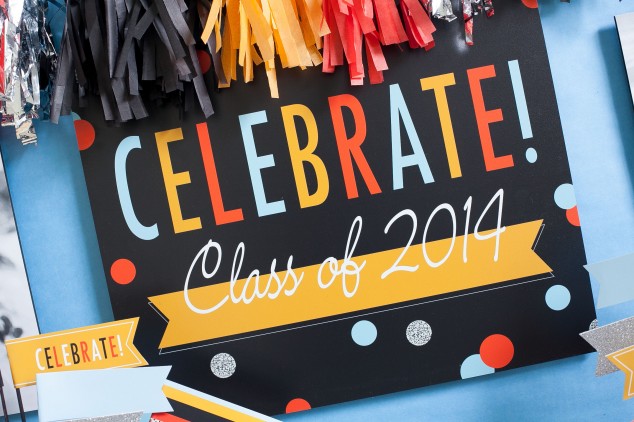 It's time to THROW the graduate a party! Wahoo!! If you're searching for graduation themes and party ideas, we've got you 100% covered here! Not only do we have a whole slew of ideas below, but we've also linked up to some ingenious party planners, too! They will give you the inspiration you need to throw a rockin' graduation party. Check these out!
1. Celebrate – If you're going for fun, spunky, and colorful, Frog Prince Paperie created such a fun, bright party with this "Celebrate" theme! Not to mention, she's offering her party printables for free, too. Take a look!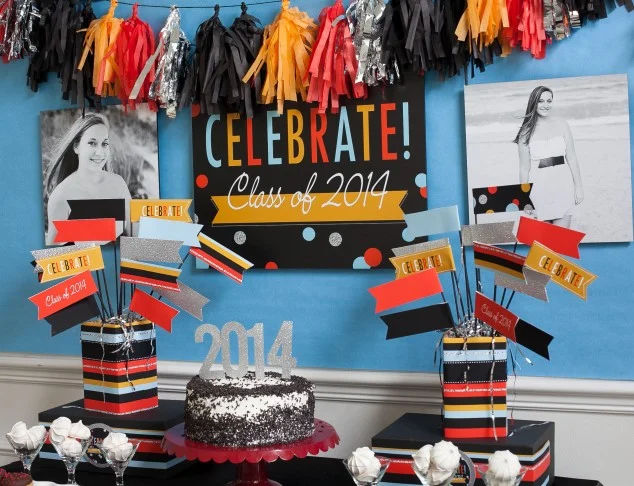 2. The Tassel was Worth the Hassle – You will be blown away when you see all of these adorable graduation decorations at Amy's Party Ideas! Additionally, she shares the most fun and unique graduation card box and mason jar tassel drinks. Don't forget these charming graduation cap ideas she used for her backdrop!
3. Key to Success – Celebrations at Home did an astounding job carrying out this party theme, complete with a "Keys to Success" dessert table, DIY key favor tags, and an amazing guest table display. This is one elegant graduation party idea!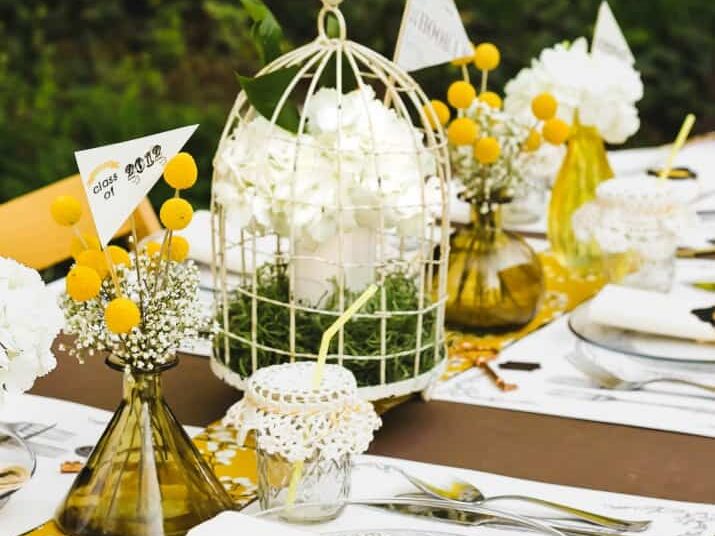 4. One Smart Cookie – Get it Together used this theme and put together the most darling "One Smart Cookie" bar. Without a doubt, every guest at this party enjoyed themselves!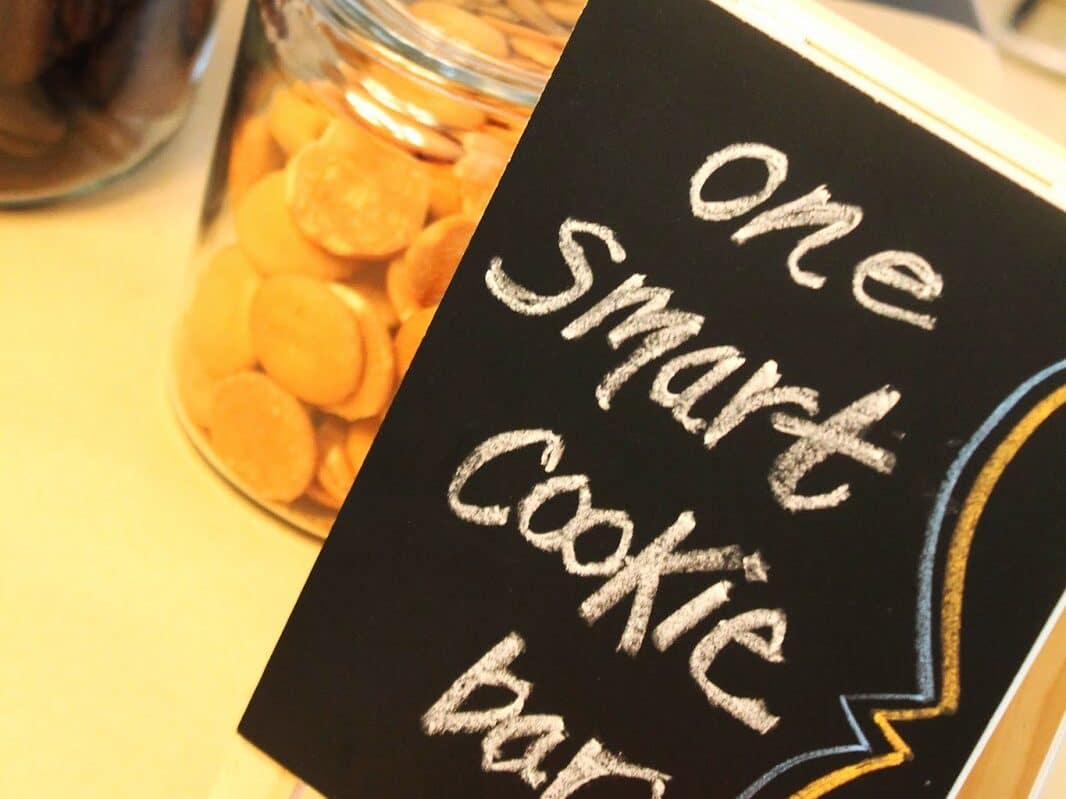 5. Sail Away – Your Homebased Mom has a lot of darling ideas for this nautical-themed graduation party! For her graduation decorations, she includes a fun photo booth, picture display, fabric pennant banners, and even a graduation card box!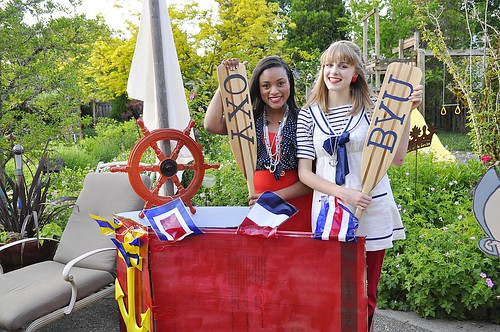 6. Oh, The Places You'll Go – Although Dr. Seuss is typically a childish theme, this particular title works so well for a graduation party! Therefore, enjoy a clever rhyming invitation, colorful graduation decorations, and a Dr. Seuss guest book from this adorable post!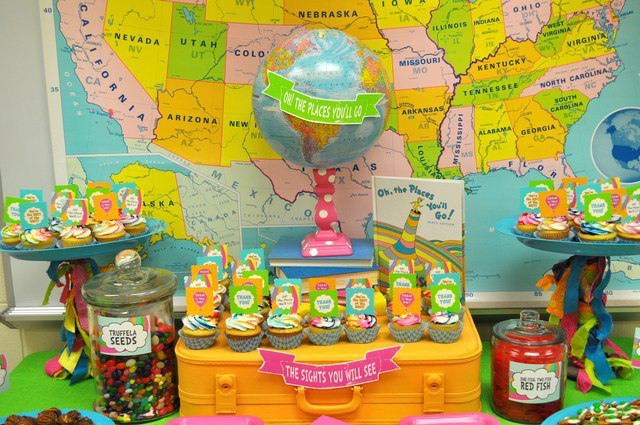 7. Follow Your Dreams – Pink Peppermint Design went above and beyond with these fun graduation party ideas. Just look at that metal print and those gorgeous acrylic blocks!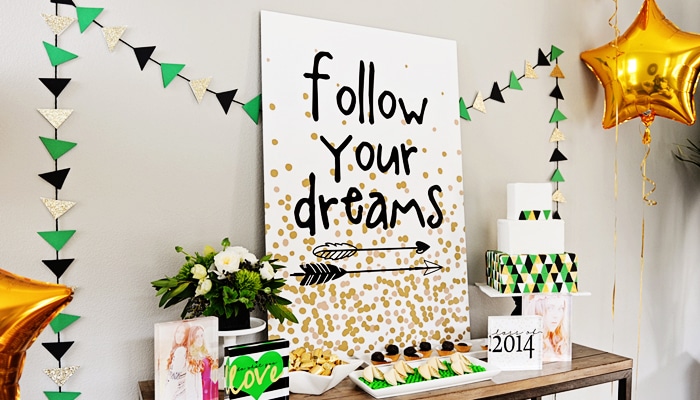 8. Instagram-Themed Graduation Party – Instagram is pretty much ALL the rage right now, which makes this graduation party in an Instagram photo "box" so fun! In addition, it comes with a free printable! Get it from The Thinking Closet.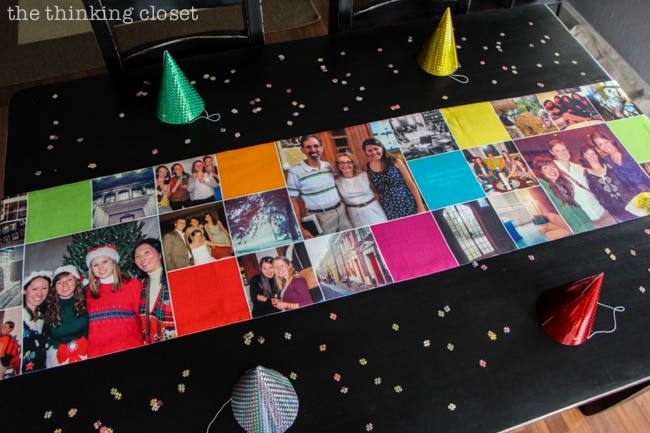 Graduation Party ideas: Food
People come to a party for the food … Er, okay, the people too! But it's no secret that good food will bring a good crowd! If you're planning to celebrate your graduate in the best way possible, don't forget to plan for food.
Not only will a great food selection draw in a crowd, but it will also keep them coming back for more! We've included graduation cake ideas, cookies, candies, and more. Check out the food ideas below to ensure the perfect graduation party!
9. Diploma Cookies – These diploma cookies are SO clever and SO easy. They could easily be paired with a few other dessert options like cookies, brownies, or even ice cream!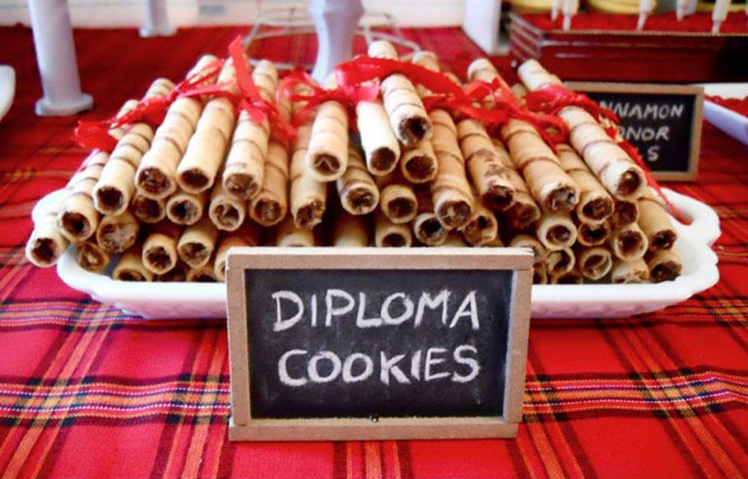 10. Graduation Chocolate-Covered Strawberries – How fun are these chocolate-covered strawberries adorned with a tiny cap and gown?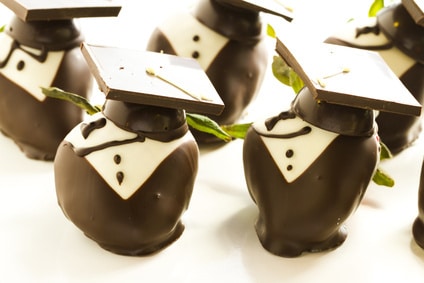 11. Graduation Cupcake Toppers – Pretty sure this is the perfect graduation party cupcake. I mean, look at that little ribbon on the diploma! Make sure to add this one to your list of graduation cake ideas!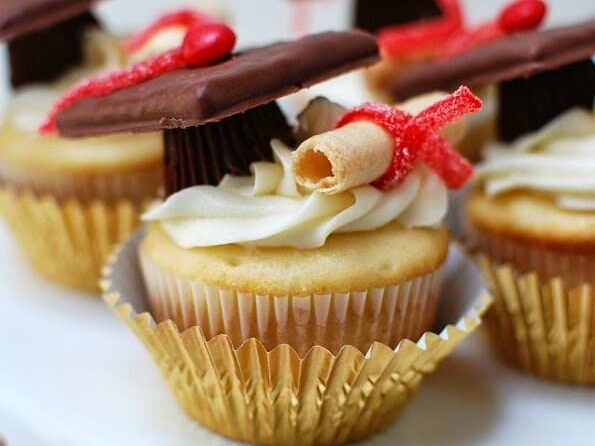 12. Graduate Cupcake Toppers – These "jumping for joy" graduate cupcake toppers scream FUN and EXCITEMENT. Not to mention, they are a breeze to make!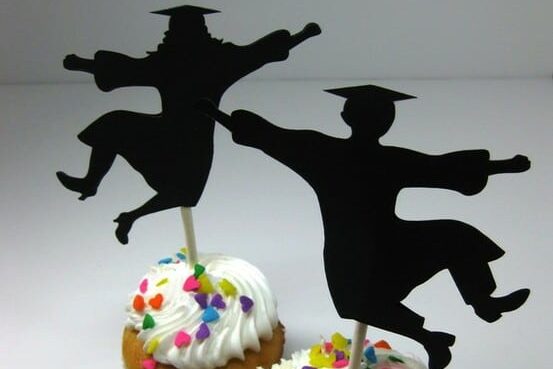 13. Mini Cupcake Graduation Caps – These mini graduation caps would be so fun on a big party tray. These make for perfect graduation cake ideas!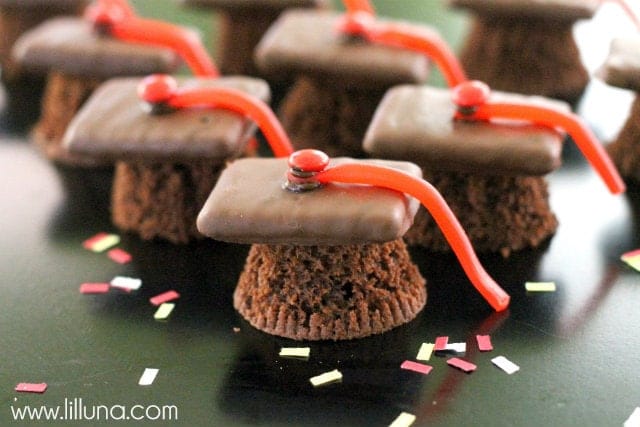 14. Chocolate Pastry "Diploma" Rolls – Okay, don't these diploma pastry rolls look divine? And can you believe they only need THREE ingredients? We're sold!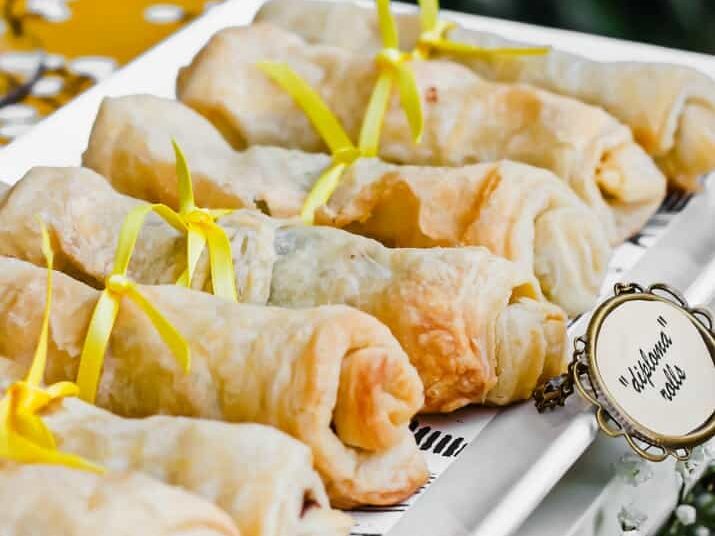 15. Graduation Cupcakes in Glasses – These classy graduation cakes in a glass would definitely make an elegant addition to your graduation decorations. Don't you just love all of these graduation cake ideas? We do!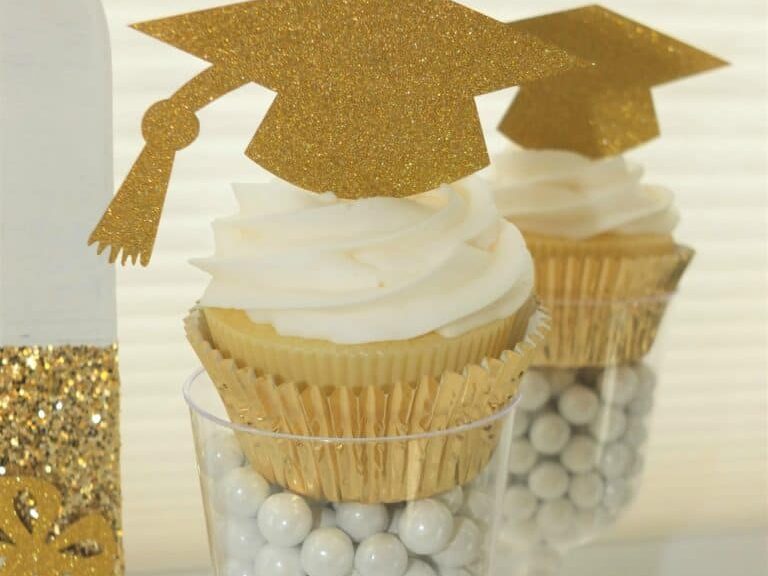 16. One Smart Cookie – Any assortment of homemade or store-bought cookies would work for this cute food display! In addition, she shares several other ideas for graduation party ideas, including decor, pictures, and graduation card box ideas.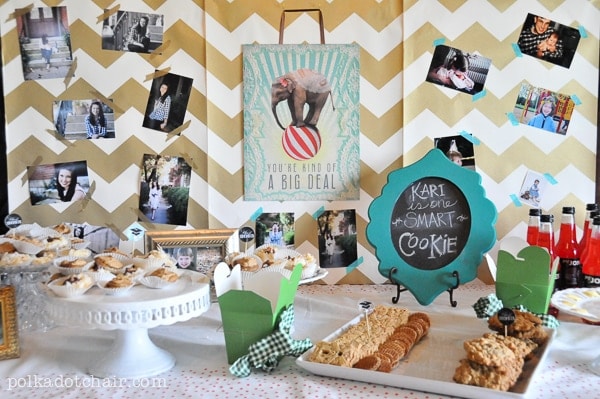 17. Book Worms – Why not include some gummy worms in honor of your book worm? It's so perfect!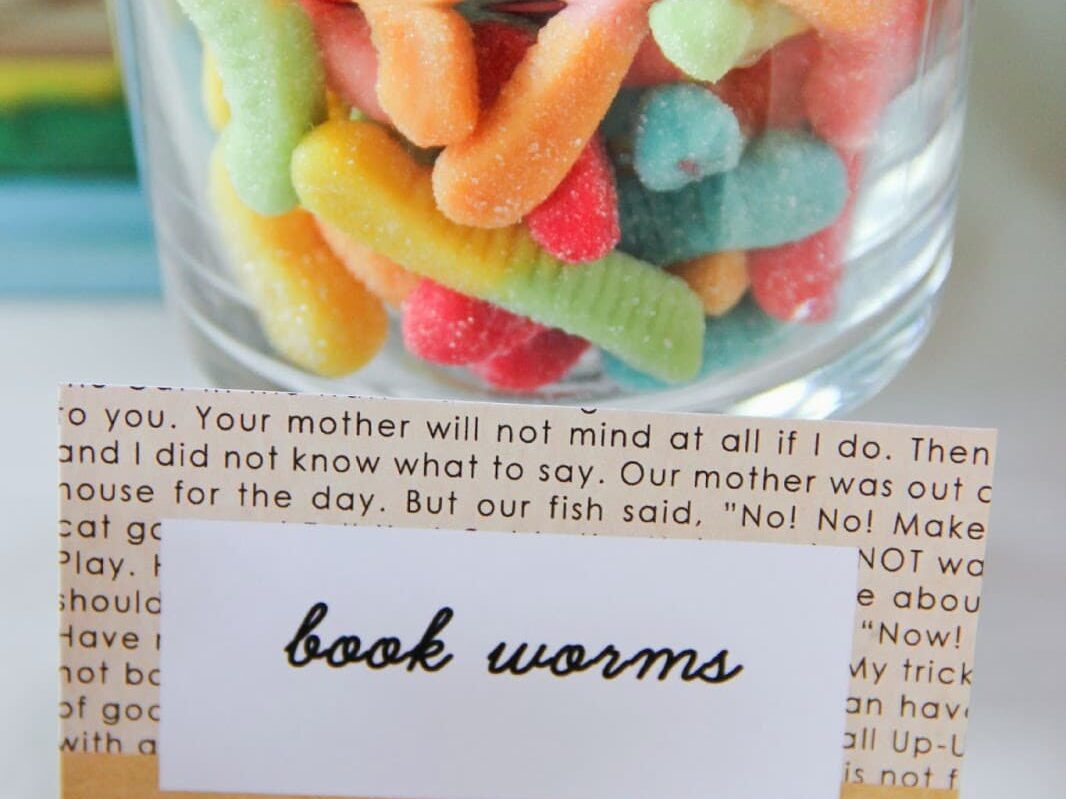 18. Graduation Candy Favors – For a sweet and simple party favor, check out these adorable Rolo candy grad caps! I love how they added a picture of the graduate to personalize it! How's that for cute graduation cap ideas?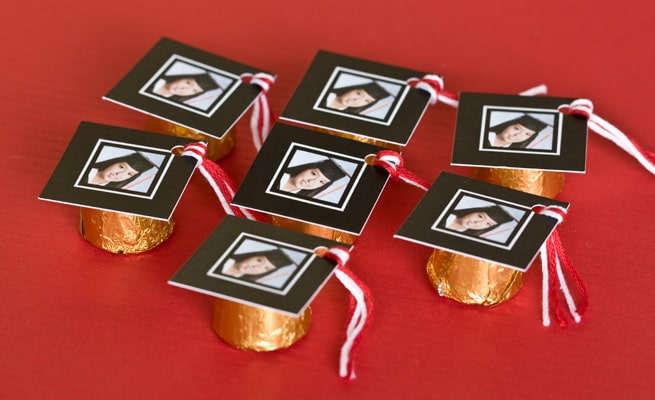 19. Graduation Cap Bottle Toppers – Top off any bottled drinks or sodas with these cute and simple graduation caps!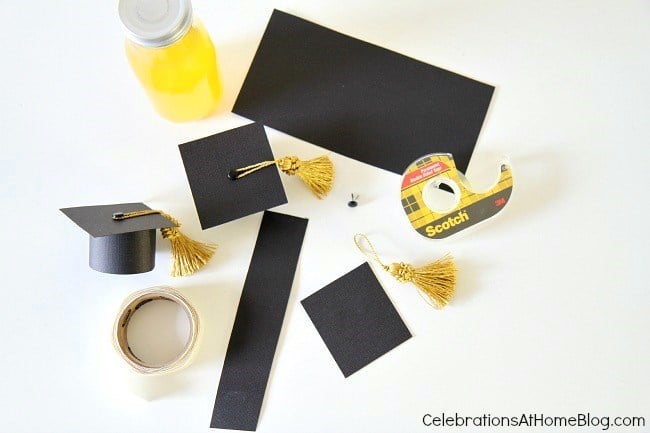 20. Diploma Napkins – Here's a simple cutlery idea. Wrap up the eating utensils with paper napkins, and tie them with some ribbon to resemble graduation diplomas. This site has TONS of other graduation party ideas, including photo displays, food styling, and graduation card box ideas!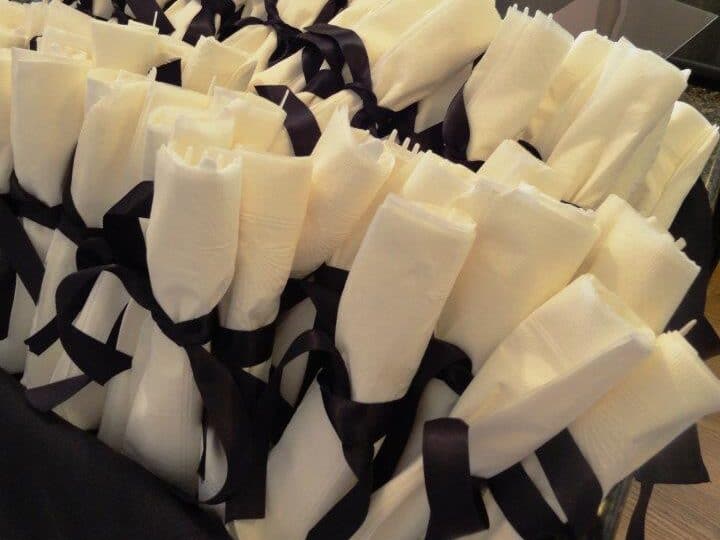 Graduation Party Ideas: Decor
The party is just around the corner, and you want it to look amazing in honor of your graduate. Look no further for adorable graduation decorations than right here! We have everything you can imagine, including photo display ideas, balloon ideas, and photo booth ideas. You can check one thing off your to-do list after viewing this list—decorations!
21. Giant Graduation Year Photo Collage – Take your favorite photos of the graduate to a local print shop and have them arranged in a collage pattern of their graduating year! What a statement!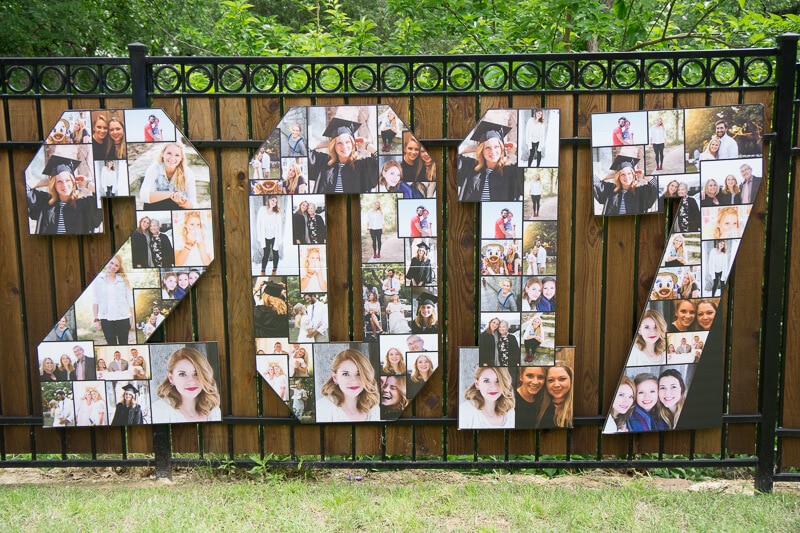 22. Line the Walkway or Driveway with Pictures – Not only is this idea cute, but it's also super affordable! You could even line up the pics from past to present so guests can watch the graduate "grow up" as they come in.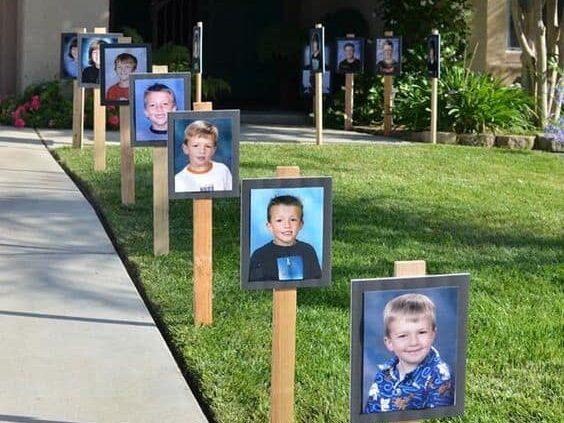 23. Graduation Yard Sign – Here's a fun yard sign to help decorate! In addition, it points your guests in the right direction for the party.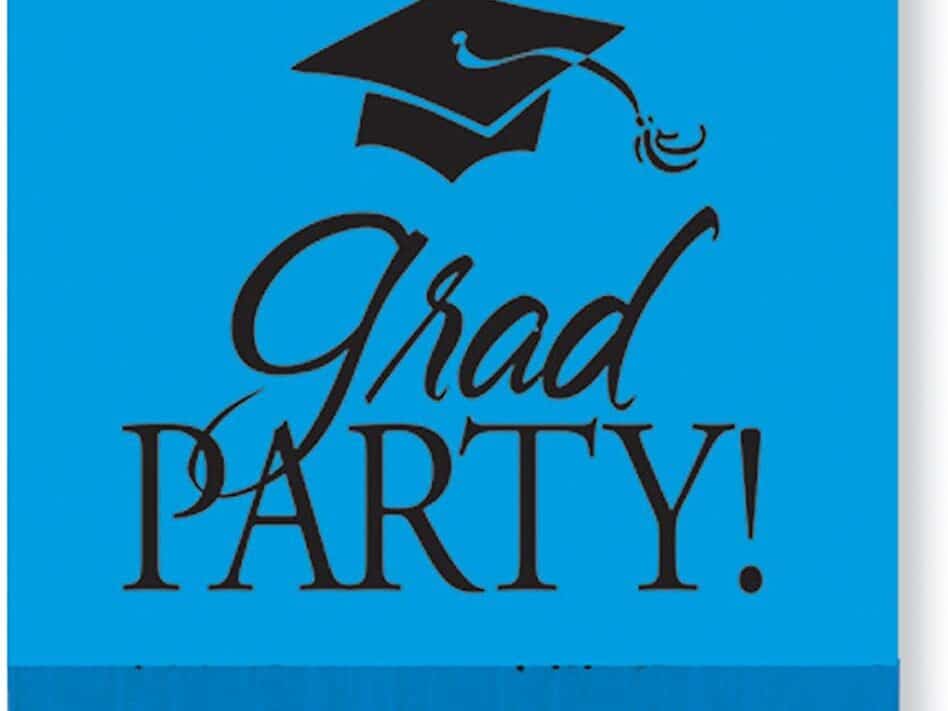 24. Grad Wreath – Isn't this DIY grad wreath so cute? And you can make it for less than $15! Sign me up!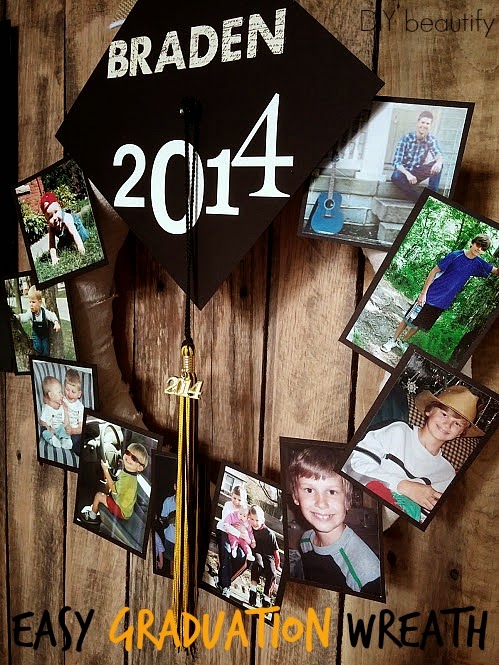 25. Photo Balloons – This is a relatively easy decoration that makes for a fancy party look!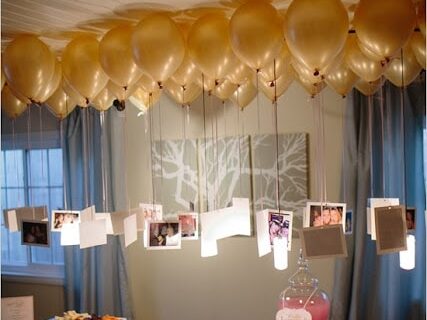 26. Balloon Graduate – This graduate balloon man is another awesome graduation party idea! Isn't he fun?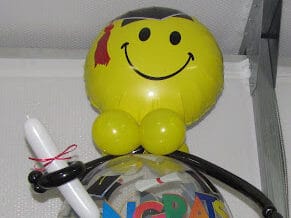 27. Oh, The Places You'll Go Guest Book – Have your guests leave a message and sign their names inside this adorable children's book. The graduate will treasure the notes left by their loved ones.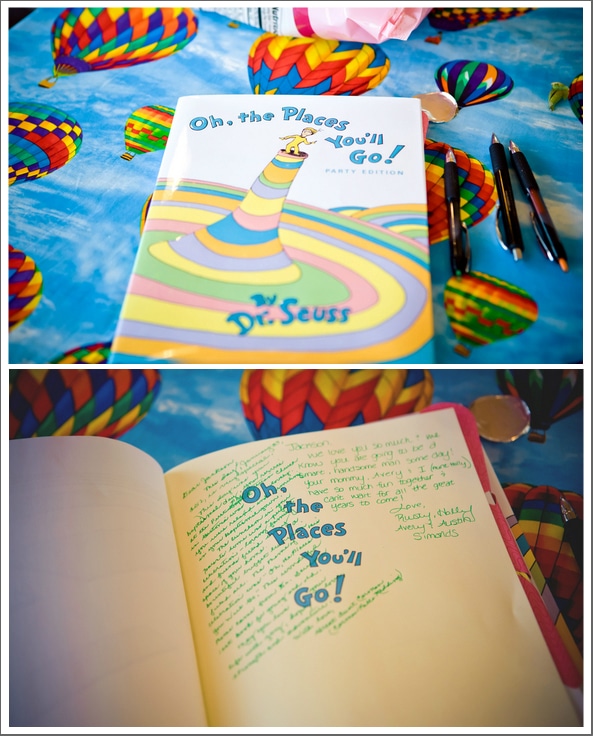 28. Envelope Guest Book – In addition to the guest book idea above, here's another fun idea! You could purchase this pre-made book, OR simply glue envelopes inside an empty journal or notebook for guests to leave personal notes inside the envelopes for the grad.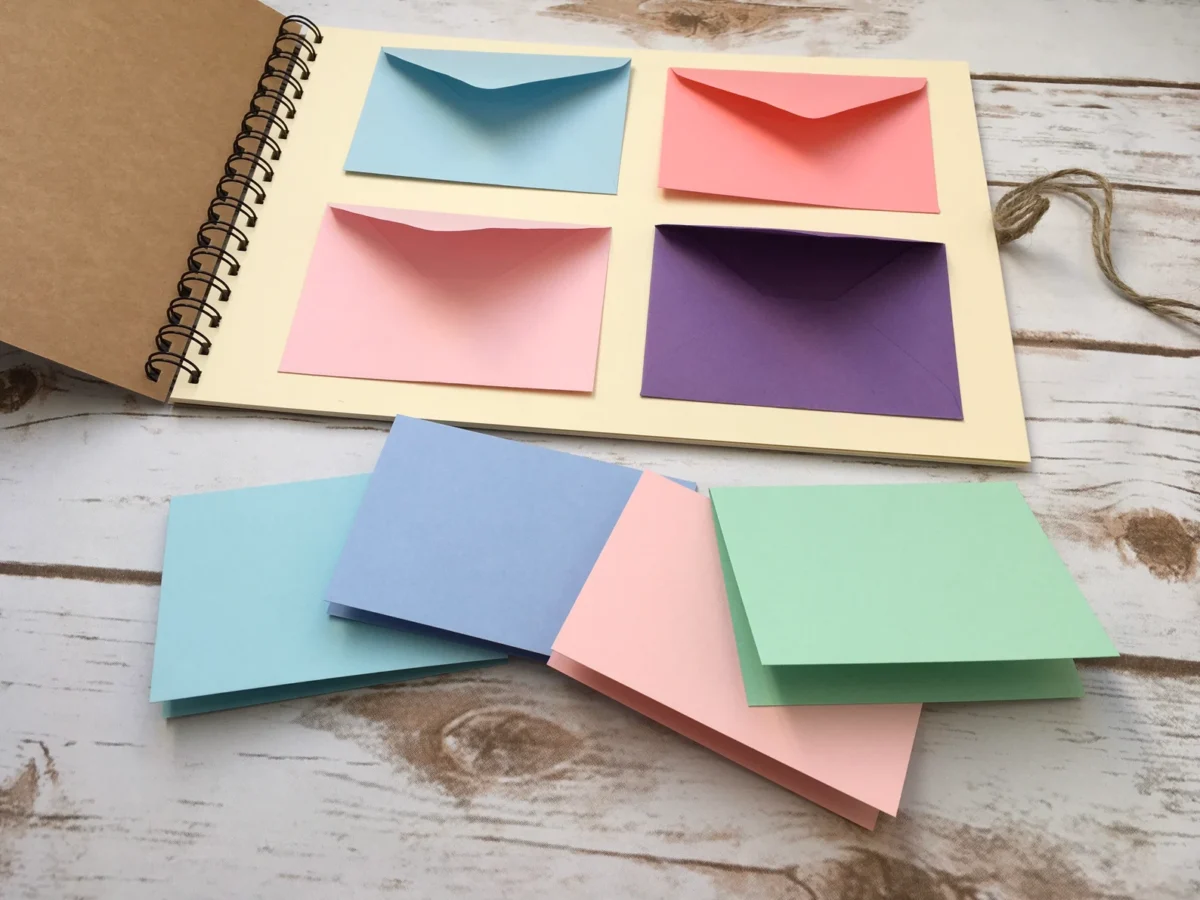 29. Graduation Signature Guest Book Picture – On the other hand, you could skip the guest book altogether and ask guests to sign a picture instead. This way, the grad can hang it on their wall.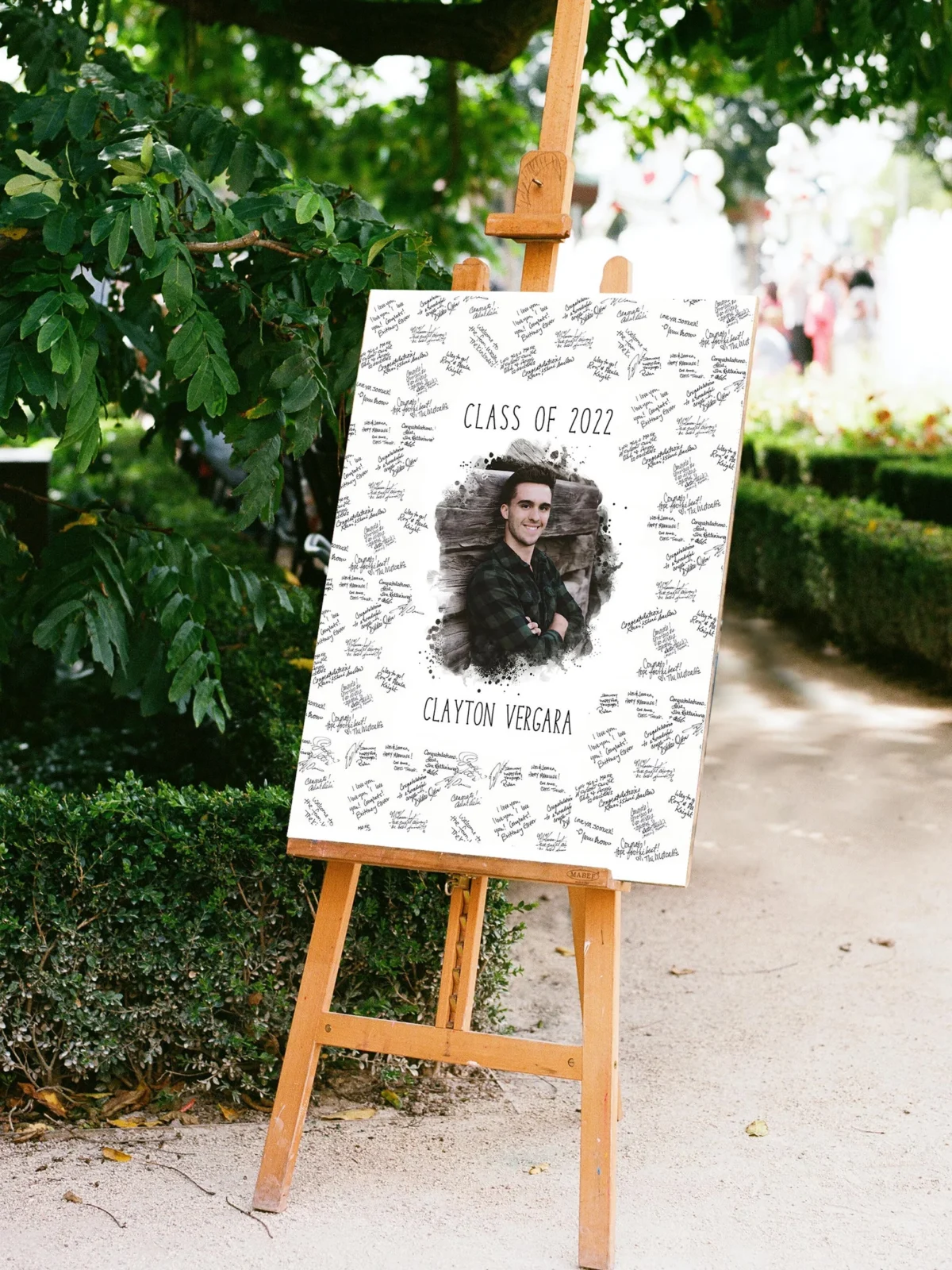 30. Graduation Photo Booth Props – Set up a graduation party photo booth. Capture priceless pictures and memories of the graduate with all of their friends!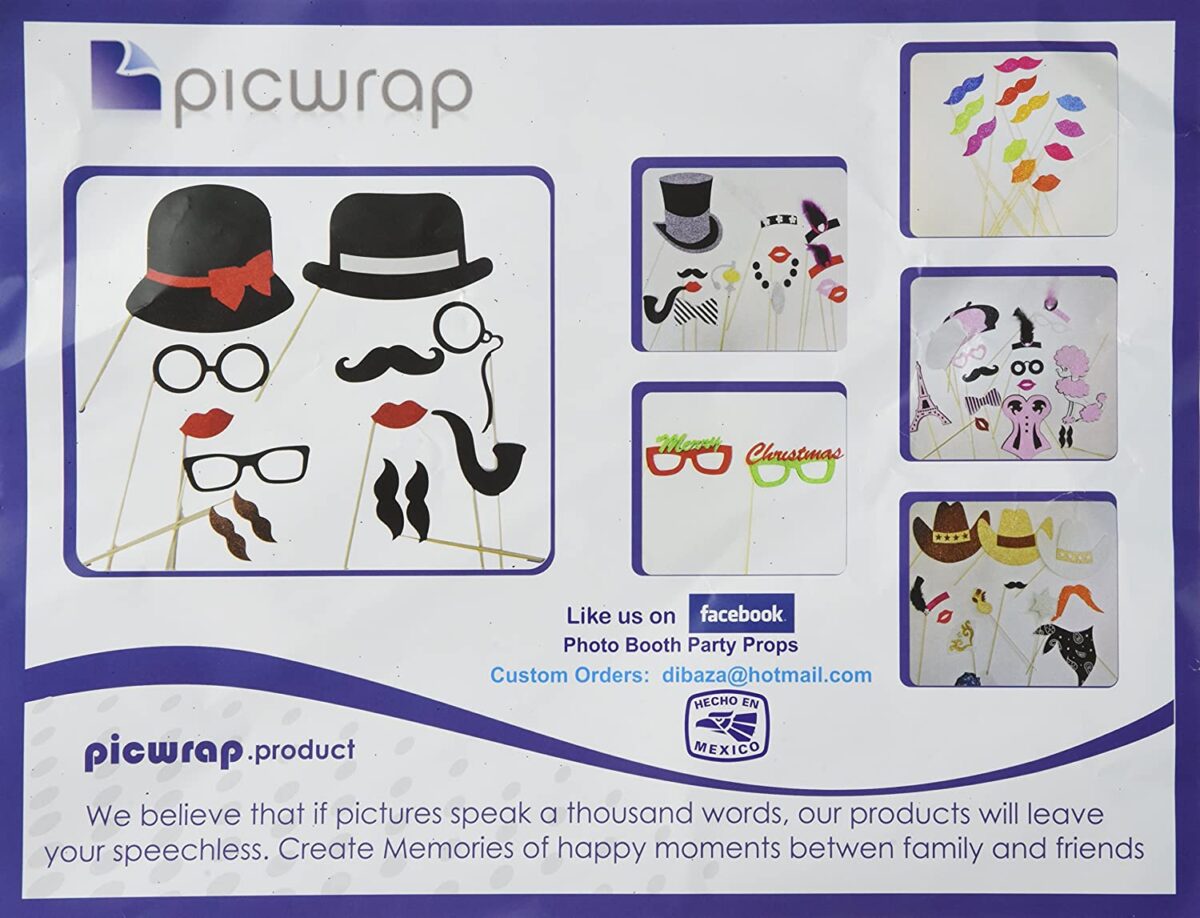 31. Grad Cap Treat Boxes – These grad cap treat and favor boxes are pretty much the perfect graduation party gifts!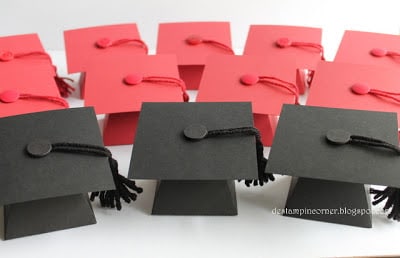 32. Free Graduation Party Printables – Most importantly, check out this printable chalkboard graduation party pack from Catch My Party! They've done most of the work for you, so all you have to do is just print!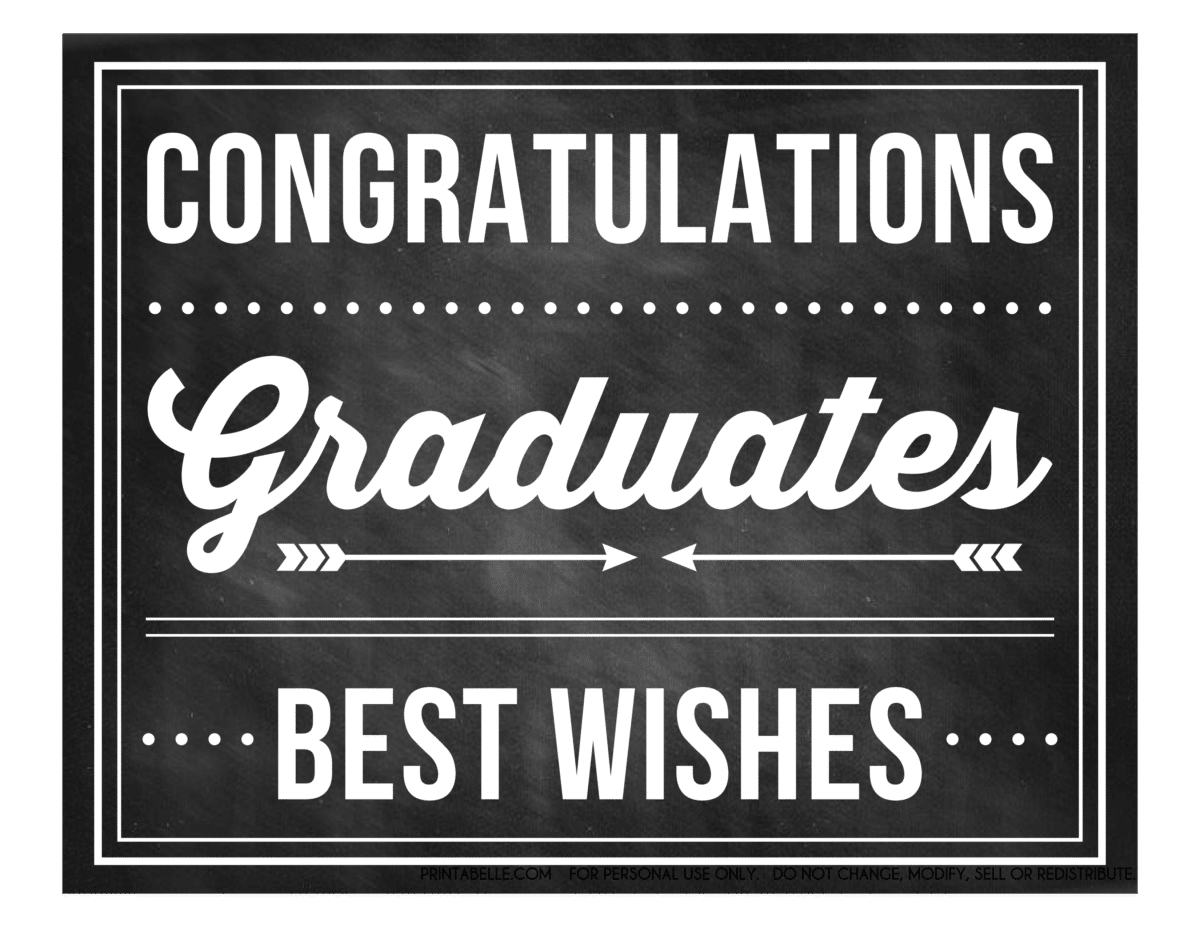 Graduation Party Ideas: Pictures
Unquestionably, pictures are required on graduation day. Whether the graduate wants them or not, photos just have to be taken to commemorate the day! Lucky for you, we've compiled a huge list of graduation photo ideas to inspire your picture taking.
Whether you're planning a whole graduation photoshoot or just looking to snap a great photo of your grad in their cap and gown on graduation day, here are some great graduation photo ideas for inspiration.
33. Throwing the Grad Cap – Nothing shows the celebration of graduation quite like a graduation cap flying in the air.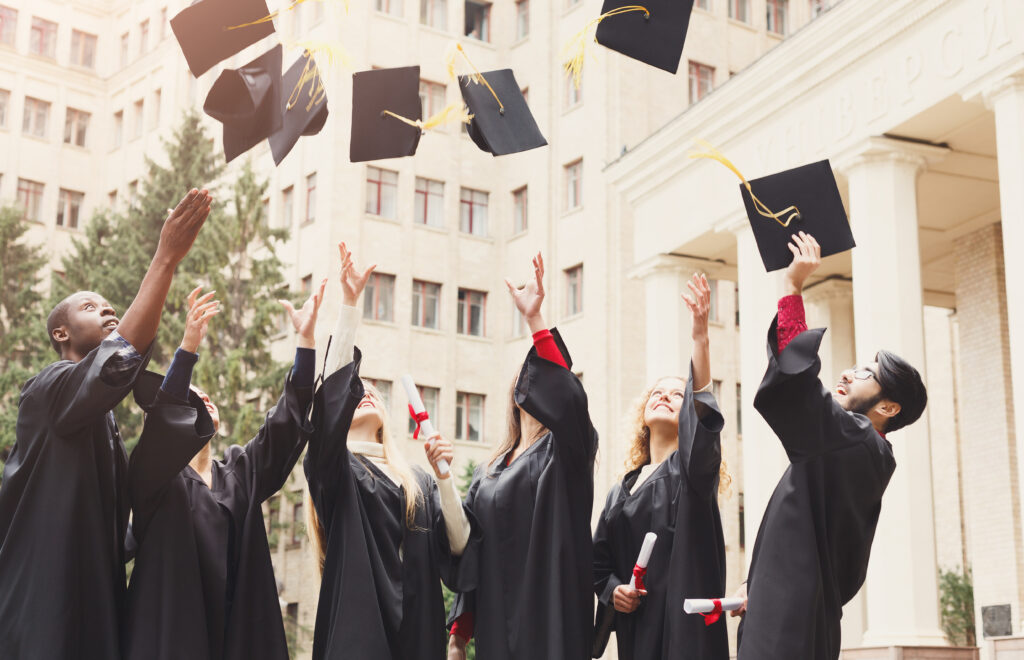 34. Graduation Sign – Have the graduate hold up a chalkboard or poster with their graduation year, their school name, or a personal message. What graduate isn't excited to shout out from the rooftops that they are DONE with school?!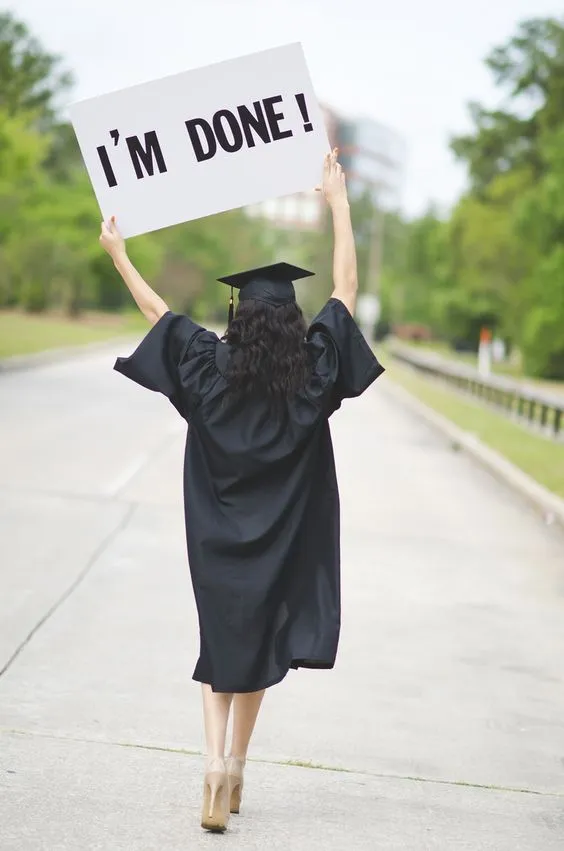 35. Graduation Year – Use giant number props or balloons to display the graduation year. You could even have the grad show the year using their fingers.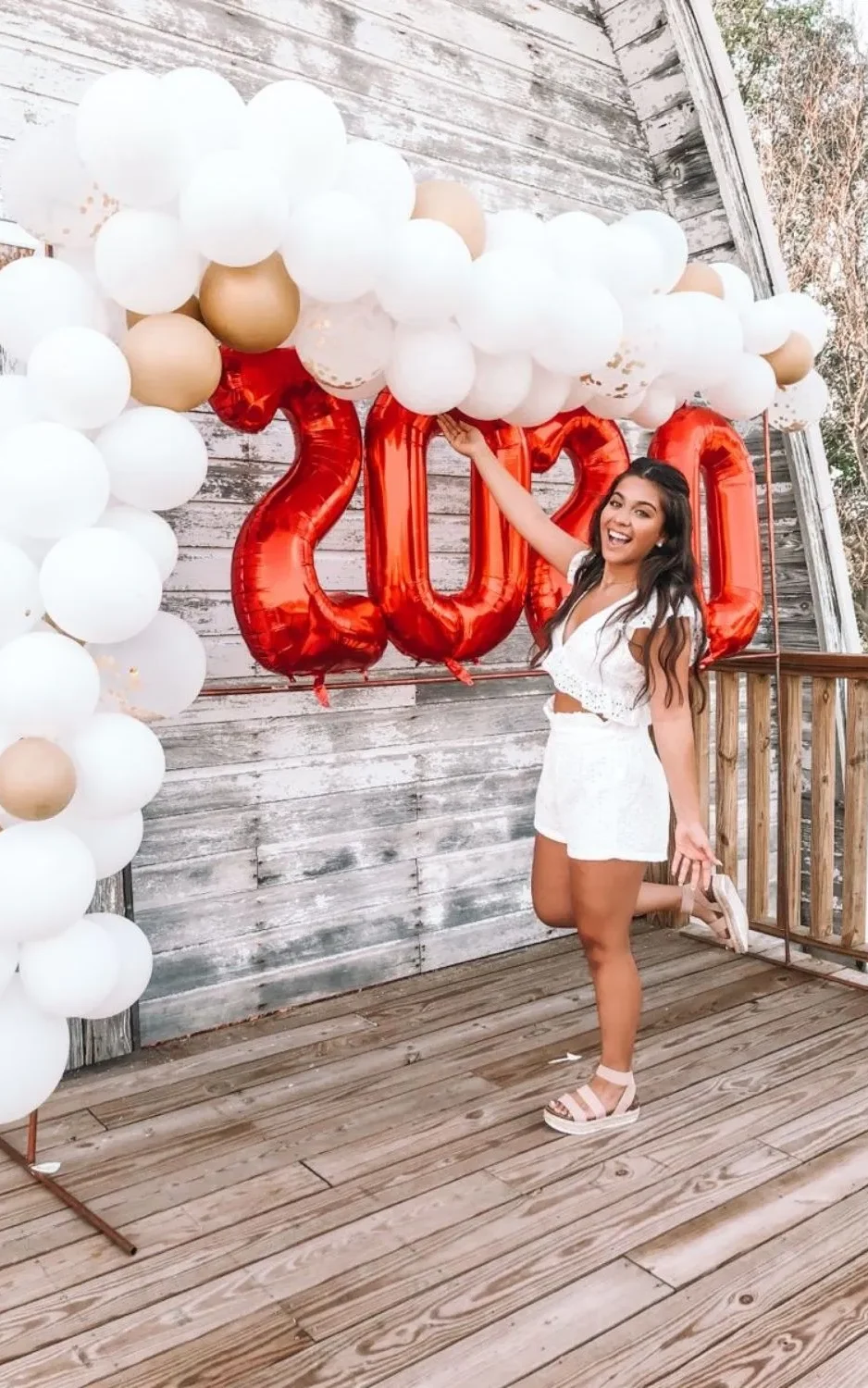 36. Blowing Glitter – Here's a creative photo idea—have the graduate blow a handful of glitter toward the camera. Why? Because nothing says "party time" like some glitter! 😉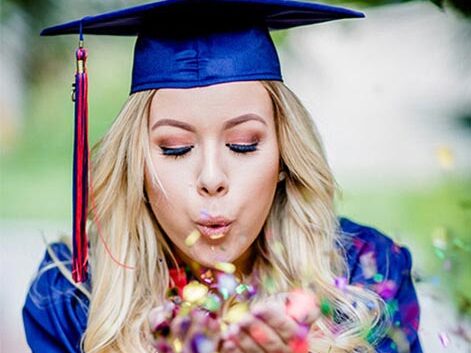 37. Class Ring – If the graduate has a class ring, make sure to capture a close-up. In addition, you could take a picture of the ring next to their diploma and cap.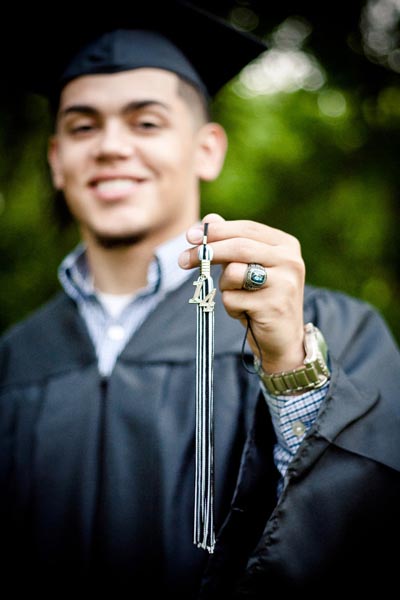 38. Acceptance Letter or Diploma – Acceptance letters or diplomas are great photo props for seniors or graduate photo sessions!
39. Silly Graduation Picture Ideas – You always need some silly pictures! The graduate has worked so hard. Make sure to capture them having FUN!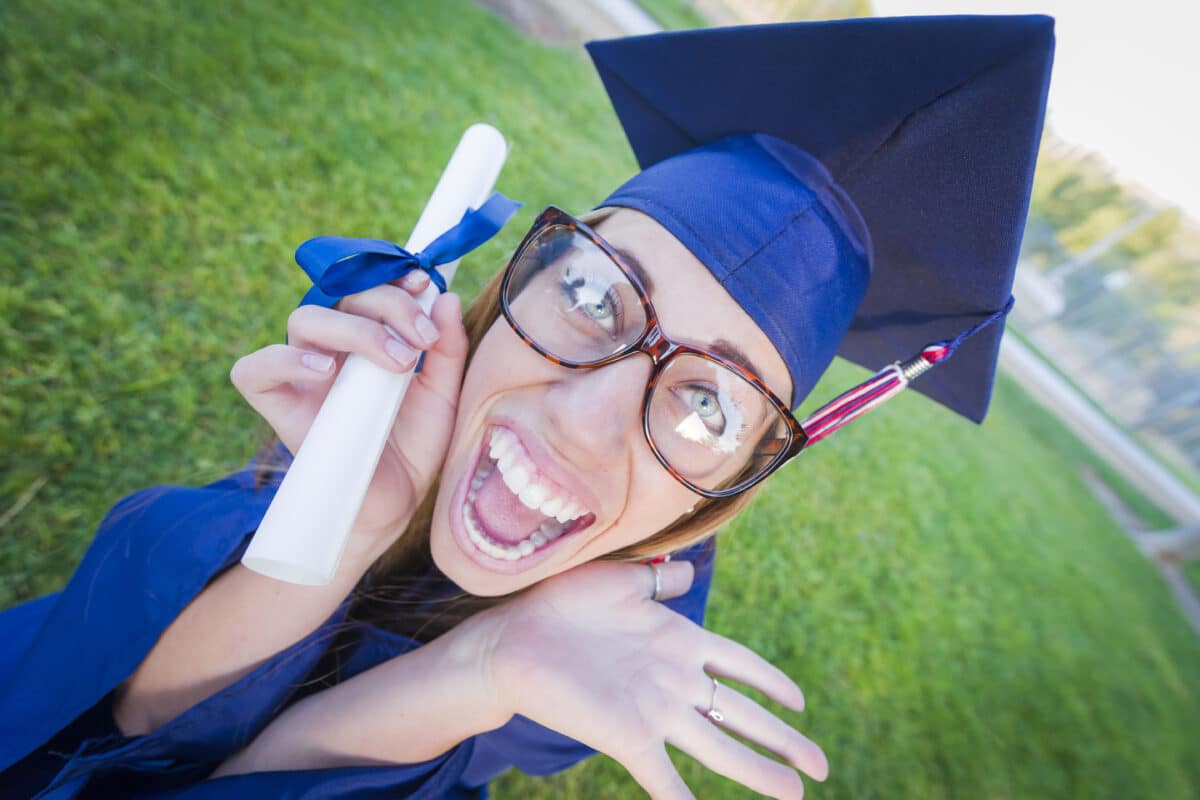 40. Jump for Joy – You did it! Capture that enthusiasm with a picture that has them jumping off the ground!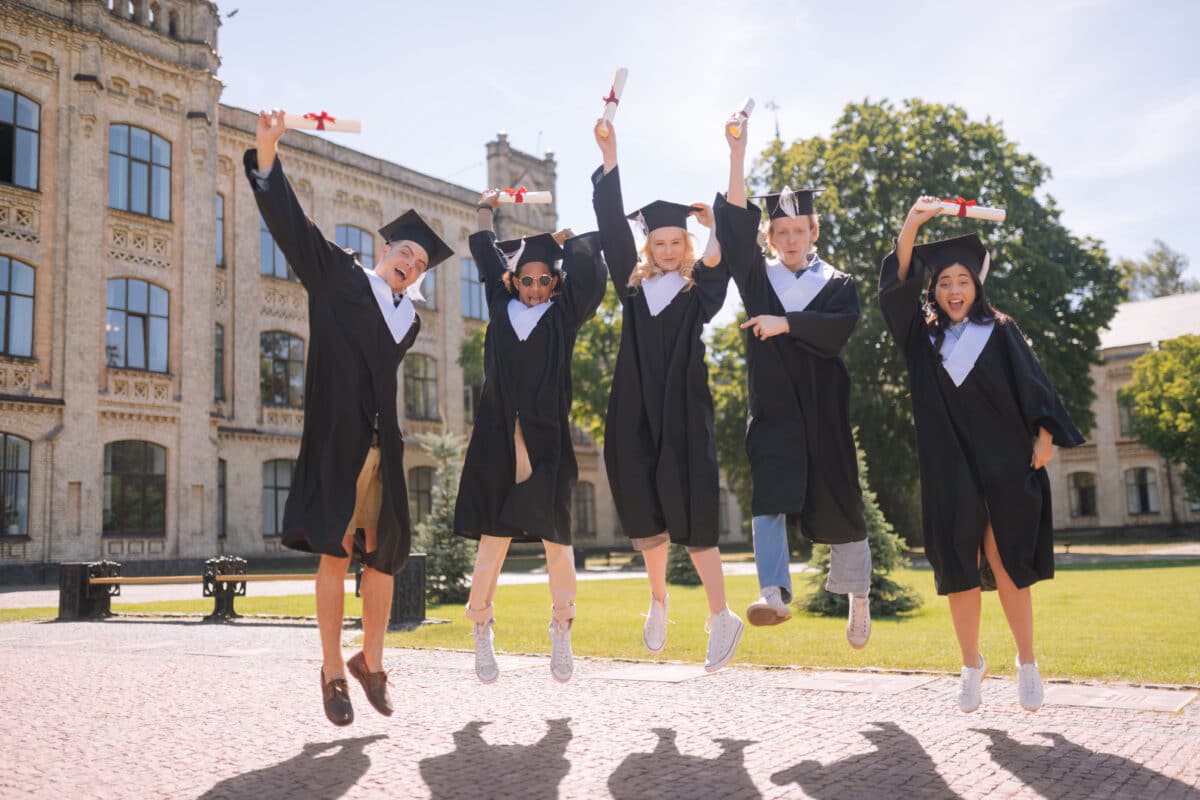 Graduation Party Ideas: Card Box
One of the most customary graduation tokens is a card that says "Well done!" or "Way to go!" On that note, where should you put all of the cards for the graduate during the party? This section is all about graduation card box ideas!
Some card boxes are so simple to make, and it will probably only take you a few minutes! Other boxes have extra special details that are sure to make them pop! Regardless of which way you go, these are a fun addition to any graduation party!
41. Graduation Cap Box – This cute DIY card box is simple to make and pleasing to the eye! Any way to tie in that graduation cap and tassel is a win! (Or simply order your own pre-made card box!)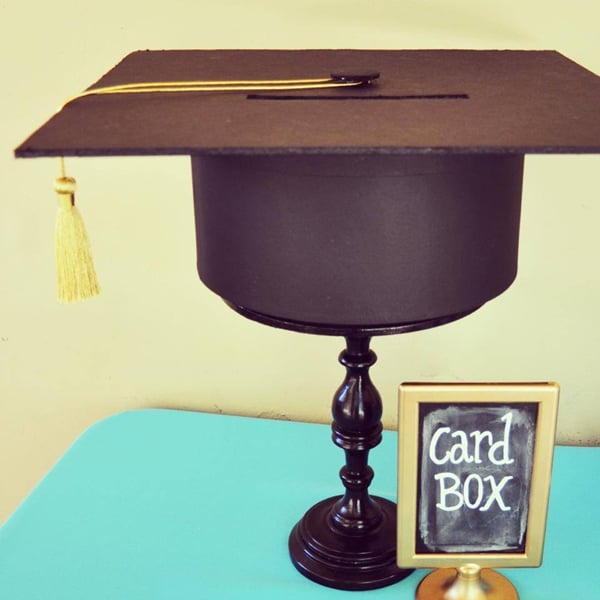 42. DIY Photo Frame Card Box – Photos of the graduate are the perfect way to honor them at their graduation party. Simply throw together this graduation card box using photos!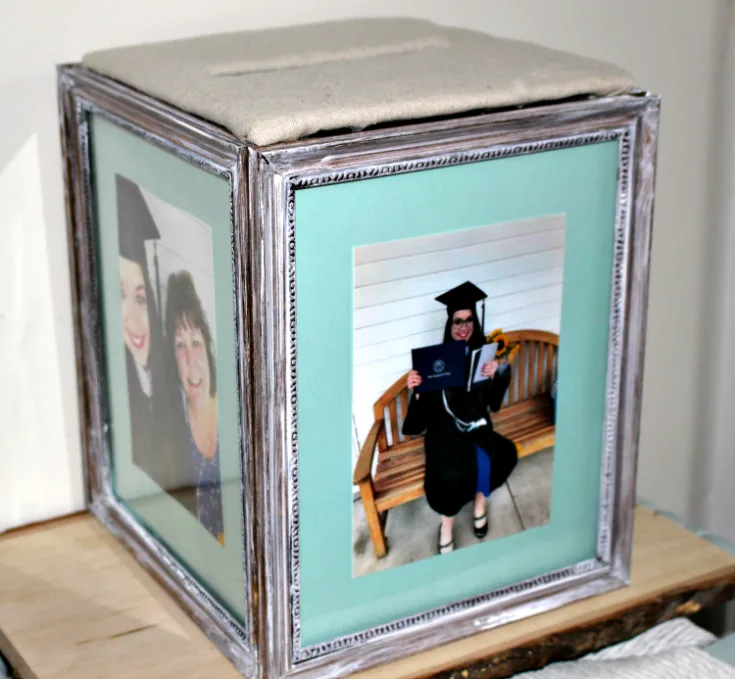 43. Collage Basket – Any way to demonstrate the hard work and sacrifice of the graduate through pictures over the years is a great idea for us! This collage basket would be so cute to make!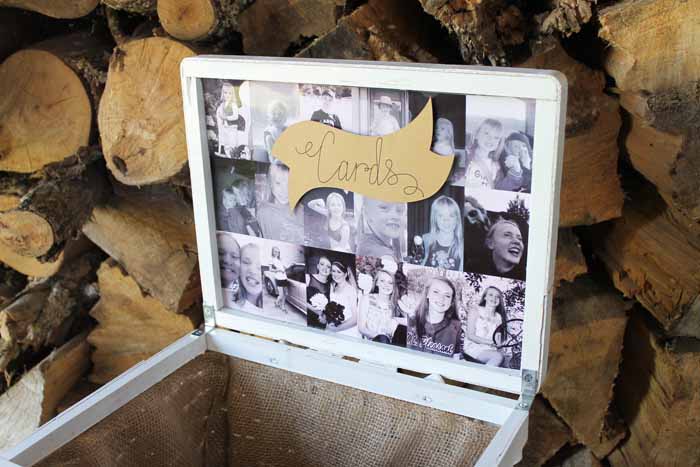 44. Sports-themed Card Box – If your graduate is a sports lover or player, this is quite possibly the coolest graduation card box we've ever seen!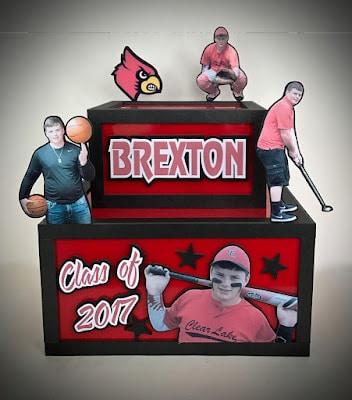 45. Suitcase – Simple and classic, this suitcase for a graduation card box is a wonderful idea! String a simple "Cards" banner across it, and you're good to go!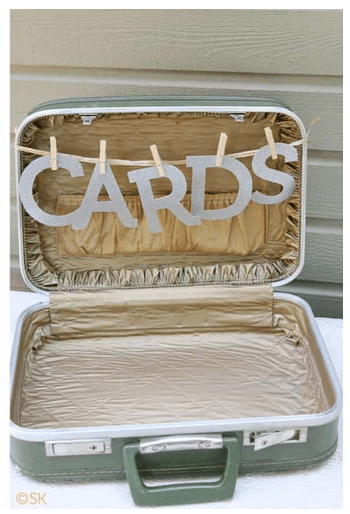 46. Bucket For Cards – For starters, this idea is just plain adorable. Secondly, it would only take a few minutes to put together. Sounds like a winner to me!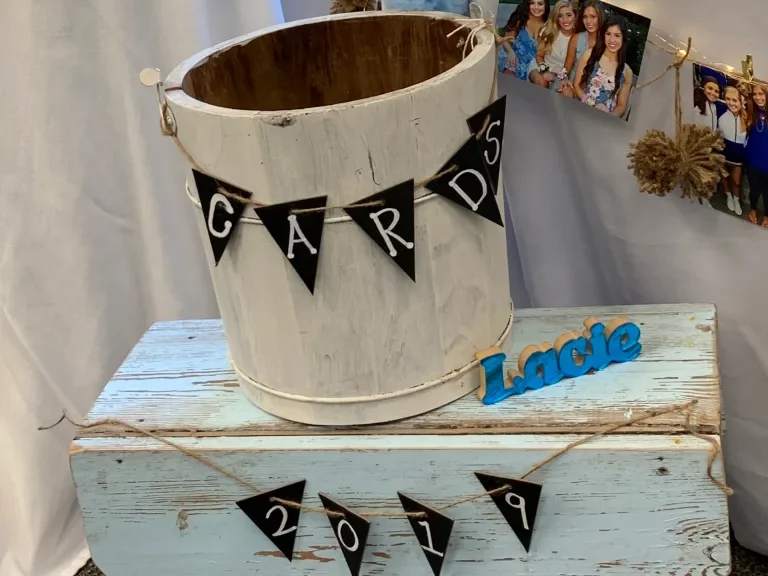 47. DIY Hand-lettered Box – This creative and homemade graduation card box turned out stunning. Also, it's quick and painless to create!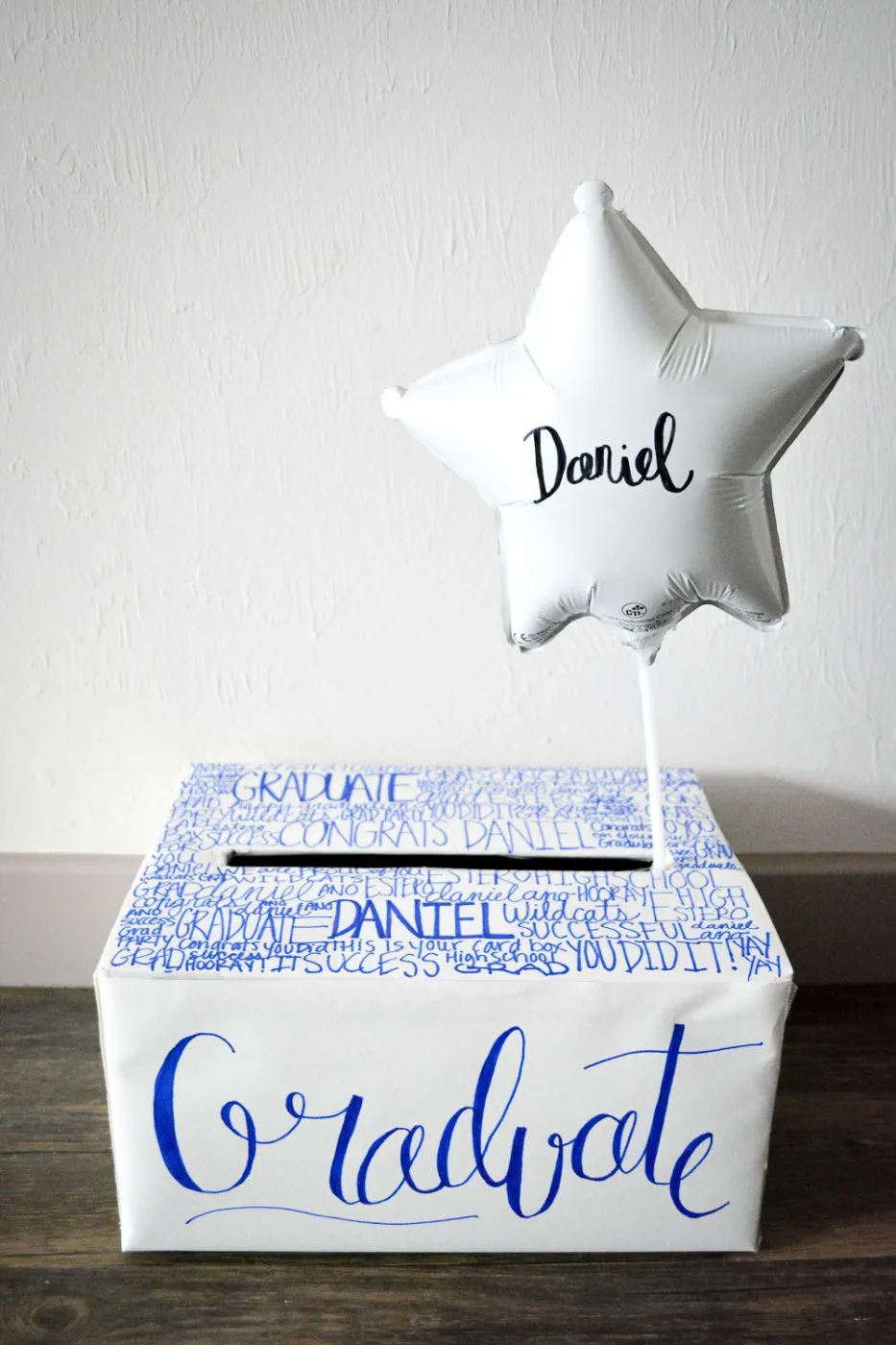 Graduation Party Ideas: Printable Card Ideas
Look no further for great graduation gift ideas! If you're attending a graduation party to celebrate a graduate, then you're likely going to show up with a card. Below we've listed the cutest and most symbolic graduation card messages you'll ever see. Without a doubt, we are sure you'll find a fun and creative card option to choose from below! Choose from printable cards to gift cardholders. Don't forget to check out the "pop up" cards!
48. Free Printable Congrats Card – Check out these fun and bright printable "Congrats" cards, all found in one place. How convenient!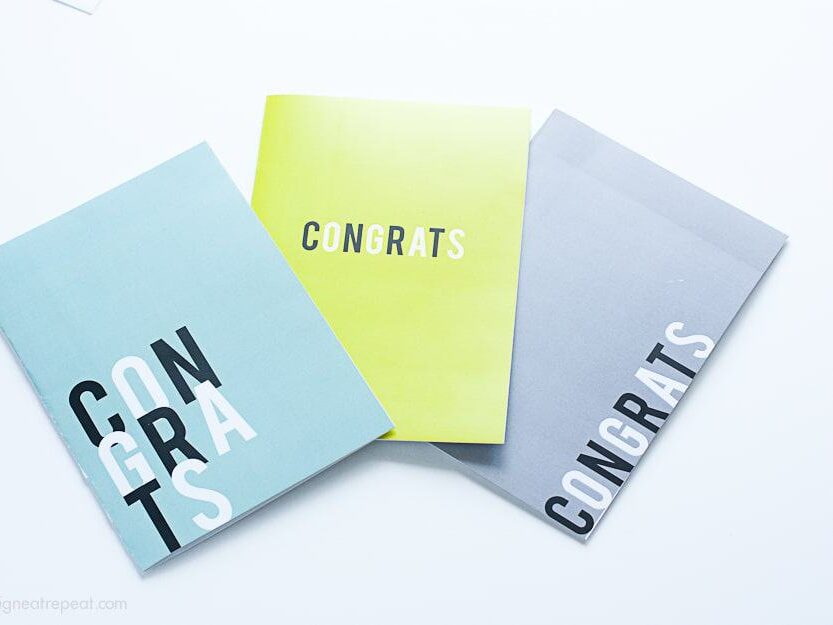 49. Lightbulb Graduation Cards – Wish the grad a bright future with these three printable lightbulb cards!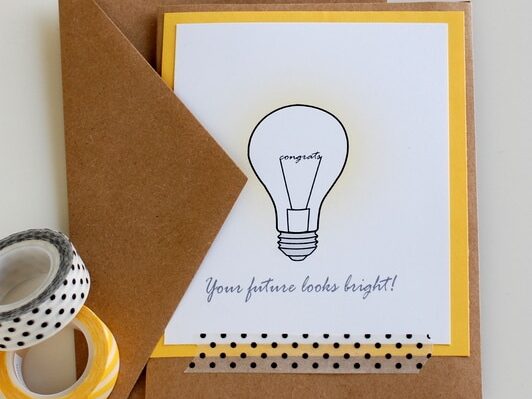 50. Paper Airplane Graduation Card – This idea requires a bit of paper-folding skills. Let your grad know "The sky's the limit" with this fun, 3D paper airplane card.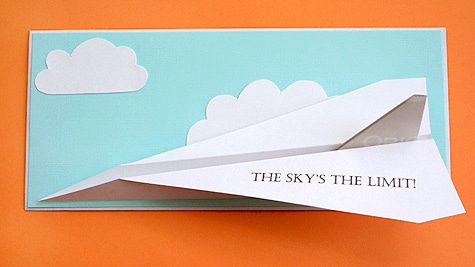 51. App Store Gift Card Printable – Punny cards are our favorite! Just print this free card and attach a gift card to the app store to let your grad know he or she is "app-solutely" amazing.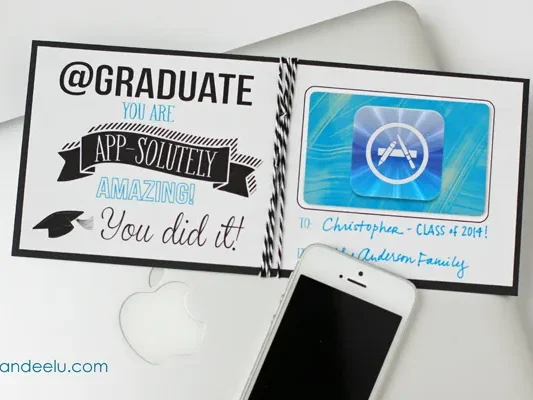 52. Graduation Money Holder Card – Want cheap and easy graduation gift ideas? Just print the card and insert how much money you want to gift the grad. In our experience, most graduates appreciate cold, hard cash!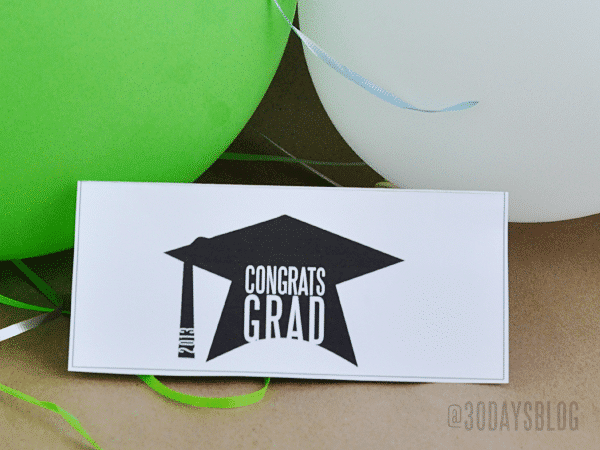 53. Graduation Cap Pop-Up Card – Isn't this pop-up card fun? The tutorial looks easy, and it even includes a downloadable template.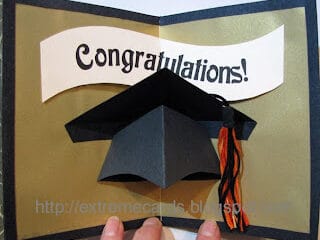 54. Graduation Cap & Gown Card– This would be an awesome card for any male graduate. I love that it includes the cap, gown, diploma, and even a tie! It would also pair perfectly with a cap or diploma graduation card box!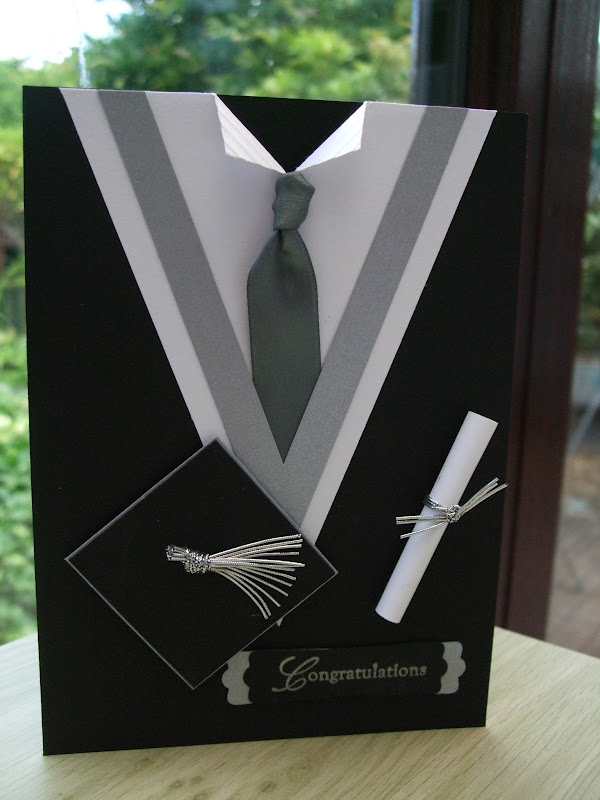 55. Con"grad"ulations – Wish the grad "congradulations" with this cute card. We just love the paper tassel!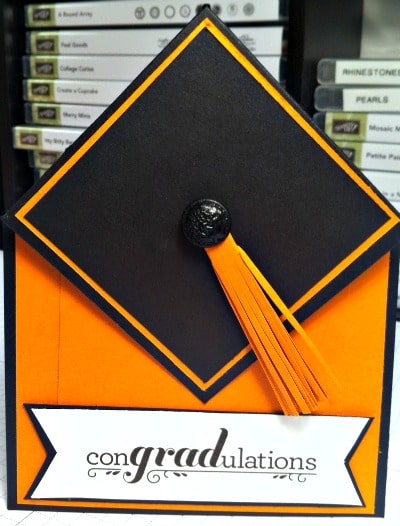 56. Graduation Gift Card Holder– This fun grad cap card has a space to insert a gift card, cash, or check. It even has two different templates to choose from. This one is a slam dunk!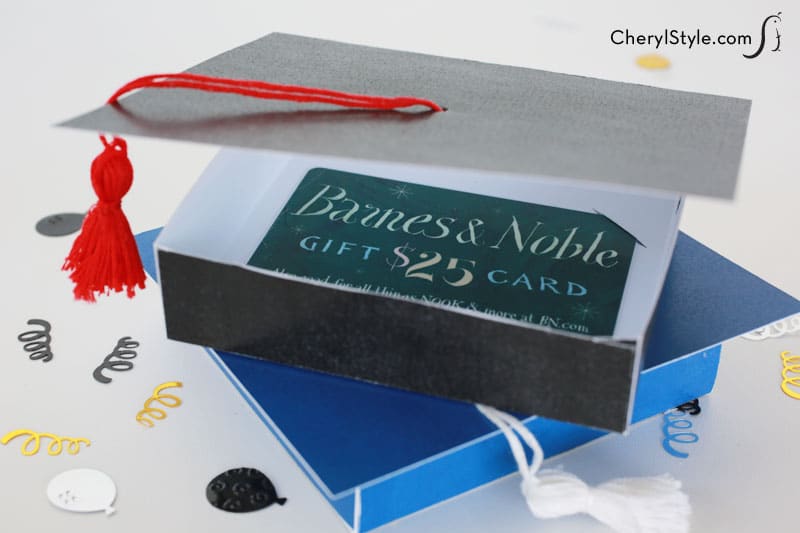 57. Graduation Pop-Up Gift Card Holder – Try this fun pop-up card that springs forward! There's even a video included to show you how to put it all together.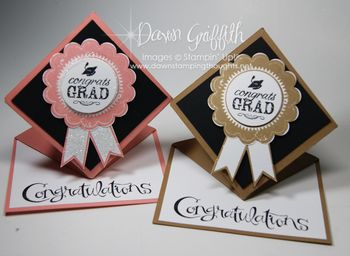 58. Graduation Money Holder Box – Here's a fun and easy graduation card idea! Simply follow the tutorial to make this origami graduation box, then insert some rolled-up dollar bills.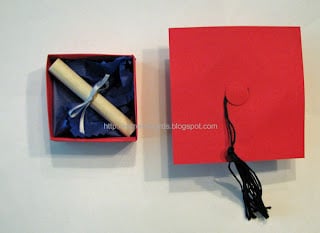 59. Graduation Card in a Box – This card is so impressive! If you're the crafty, card-makin' type, you should definitely check this out.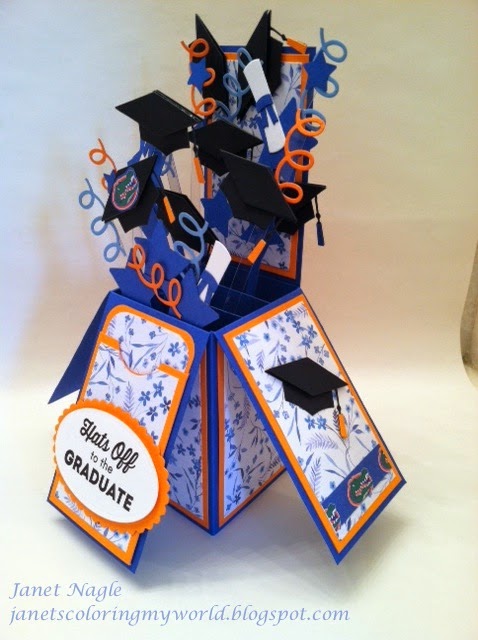 60. Graduation Exploding Box – Isn't this a fun graduation card idea? It's very similar to our Exploding Love Box but with 8 sides instead of 4. It's a little more labor-intensive but makes for a dramatic presentation. What an amazing graduation card!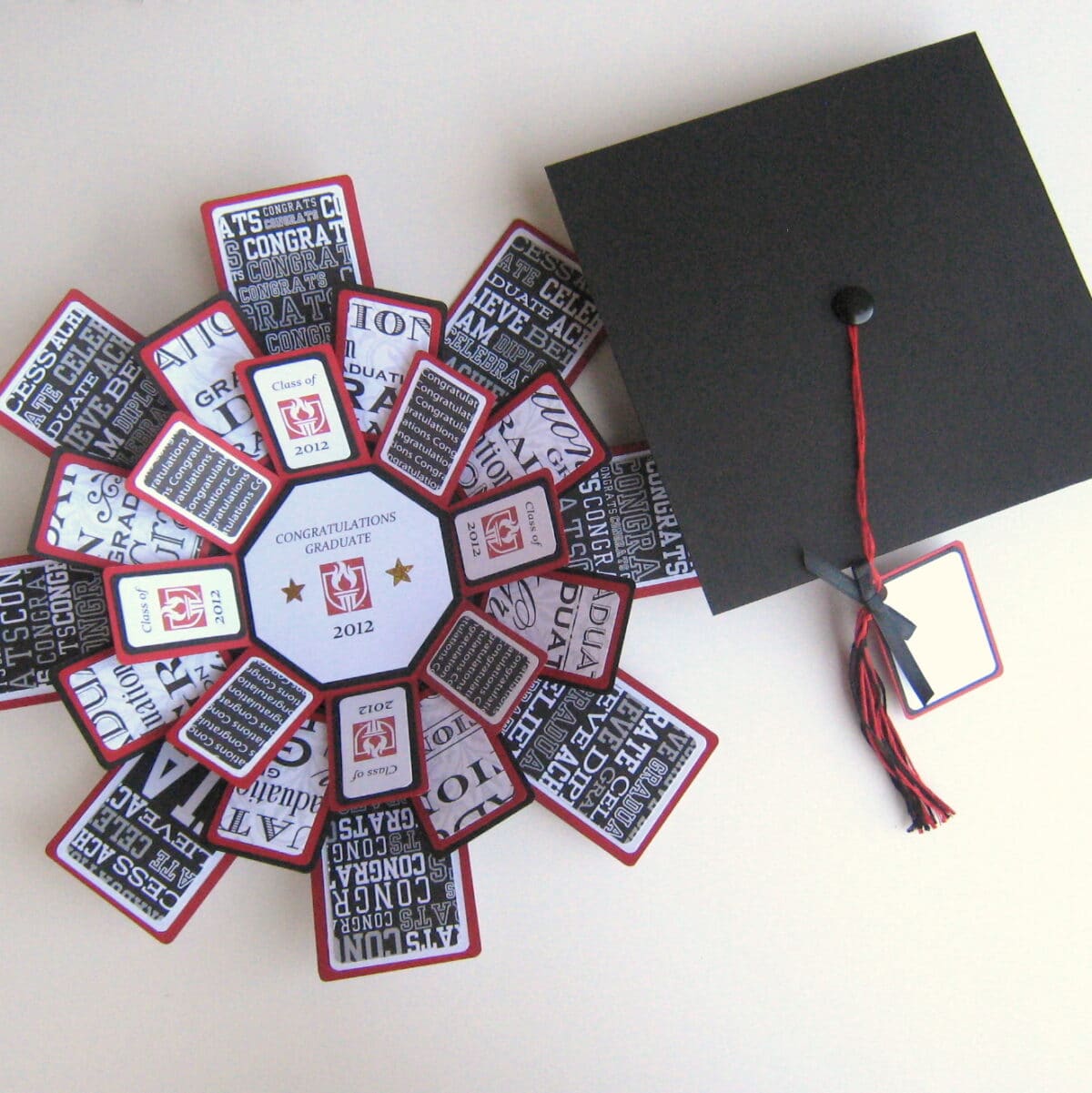 And there you have it. A giant list of amazing graduation party ideas, graduation decorations, and graduation gift ideas! Didn't I tell you we found some fun ones?
However, don't forget to check out our very own Graduation Kit. It comes with three FABULOUS DIY gift ideas for grads. It includes a Graduation Candy Gift Basket, Graduation Lawn Signs, and a Graduation Letter Binder. Not only are each of these ideas perfect for any graduate, but they work phenomenally together for one AMAZING graduation gift!
Also, take a peek at our list of The Best Graduation Gifts if you're looking for ideas on what to get the graduate!
Last but not least, give your graduate a big hug! After all they've accomplished, this will make their day the most!