80 Ideas to Use with Your Kids After School
Can you believe that it is already school time?! I sure can't! That means it's back to fighting the after school blues (as I like to call them). I feel like my kids use all their good behavior at school so when they come home… well, let's just say it's not always pretty. I'm constantly searching for ideas to help make our time after school much better. This post has 80 ideas to help every mom make their after school time a breeze! Yay!!! Sign me up!!!!!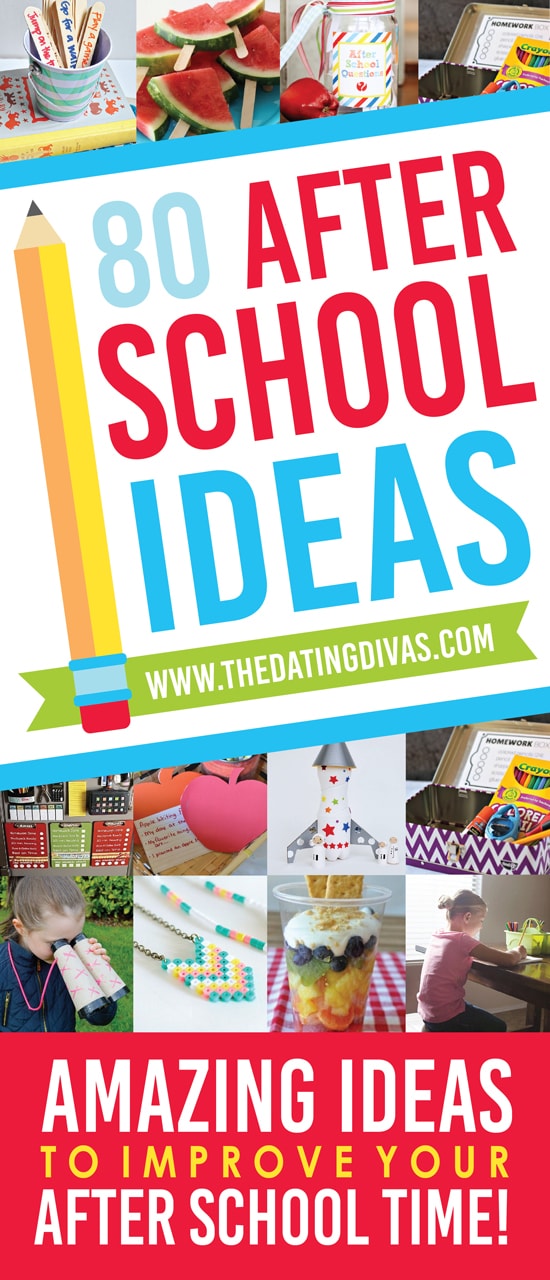 Disclaimer: This post contains affiliate links. To learn more about 'em, click here.
We have covered all your after school needs for your kiddos. Below you will find…
30 After School Snack Ideas
20 After School Activity Ideas
20 After School Craft Ideas
5 After School Homework Ideas
5 After School Conversation Starters
Awesome, right?! Read through each of these ideas to find what your favorites are to help your home run more smoothly after school.
30 After School Snacks
 Don't fret about what to do as an after school snack! Use these awesome and super easy ideas to turn after school eating into a breeze!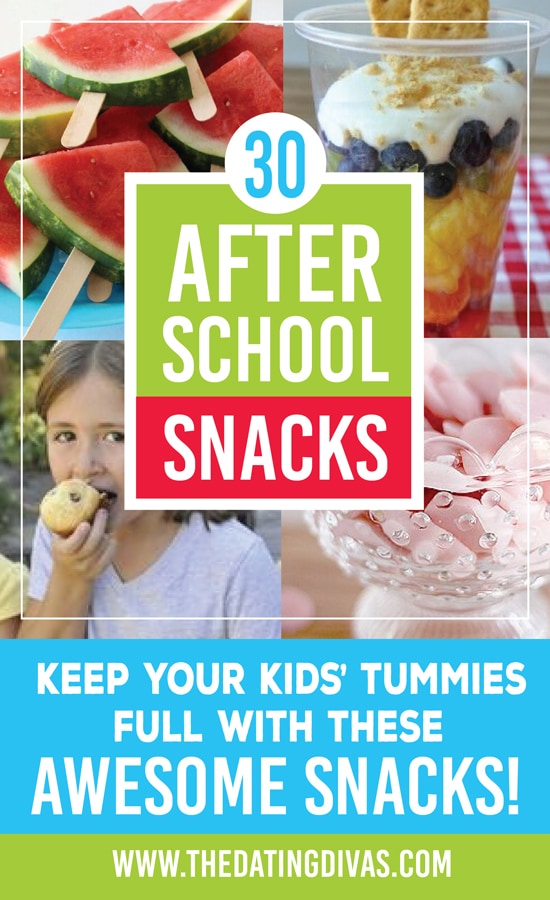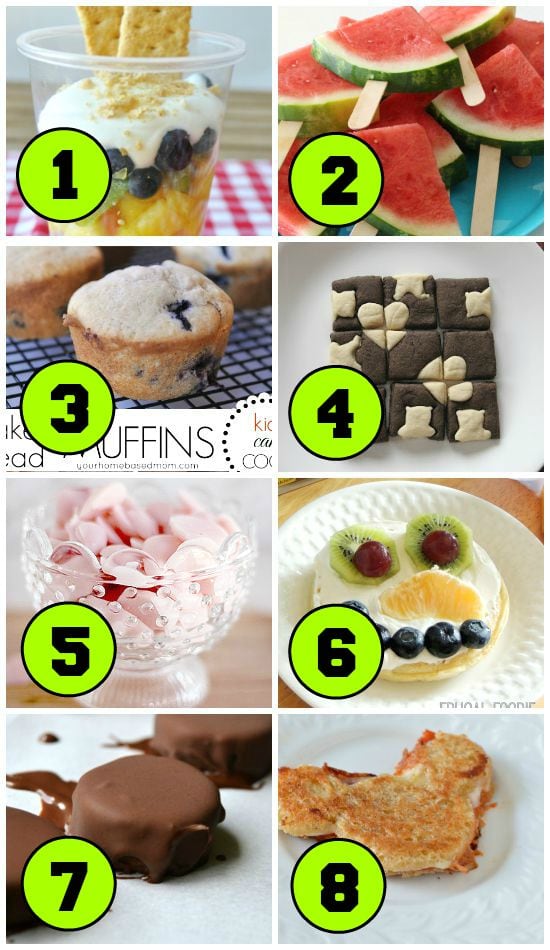 1. Rainbow Fruit Cups (My Frugal Adventures) – This cute after school snack will put smiles on your kids' faces – use these plastic cups for easy clean-up!
2. Watermelon on a Stick (Somewhat Simple) – Turn an ordinary, healthy snack into something extraordinary by putting it on a stick for your kiddos to carry around.
3. Make Ahead Muffins (Your Homebased Mom) – Make these muffins well in advance so your kids have a healthy snack to come home to.
4. Puzzle Cookie (Almost Unschoolers) – These cookies are not only good, they help your kids learn by putting a fun puzzle together before they eat.
5. DIY Yogurt Dots (One Good Thing) – Yogurt dots will be a huge hit with your kids after school. I love how she uses a plastic bag – throw the mess away!
6. Olaf Waffle Snacks (The Frugal Foodie Mama) – Turn this favorite childhood character into a favorite child snack!
7. Gone Bananas (The View from Great Island) – Freeze these chocolate covered bananas for a super yummy snack.
8. Grilled Cheese Pizza Sandwiches (Courtney's Sweets) – Create the ultimate snack by making these adorable Mickey Mouse sandwiches!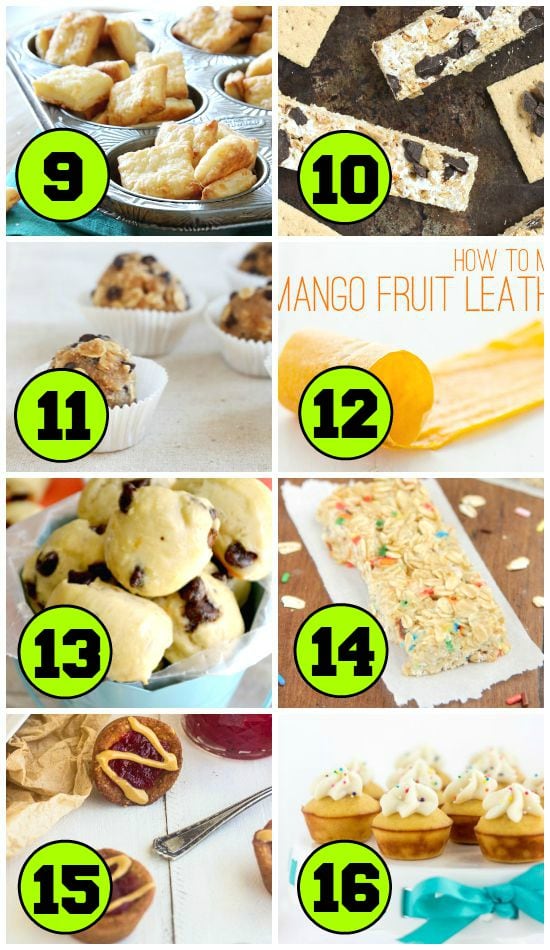 9. Baked Cheese Crackers (Baked by Rachel) – Every kid likes cheese crackers, so make these amazing homemade ones for a healthier alternative.
10. No-bake S'more Granola Bars (Spoonful of Flavor) – Make these delicious s'more granola bars as a homemade healthy after school snack.
11. Oatmeal Cookie Dough Bites (Dessert for Two) – These yummy and easy cookie dough bites are just what your kids will fall in love with when they get home from school!
12. Mango Fruit Leather (Oh My Veggies) – Fruit leathers are a perfect and easy after school snack for your kids' healthy appetites.
13. Chocolate Chip Pretzel Bites (Lemon Tree Dwelling) – Every kid loves pretzels and chocolate chips. Make this easy recipe to combine both of them!
14. Funfetti Cake Batter Granola Bars (Amy's Healthy Cooking) – Use a kid's favorite cake batter mix to make these delicious and easy snacks.
15. Peanut Butter Oatmeal Cookie Cups with Jelly (Weelicious) – Kids love both peanut butter and oatmeal cookies so this makes the perfect and best snack because it combines them both! The original idea we had here no longer exists, so we found another option for you! 
16. Mini Protein Cupcakes with Funfetti Icing (Amy's Healthy Baking) – These are a great healthy snack that provides not only a great protein source, but also a yummy sweet icing topping as well.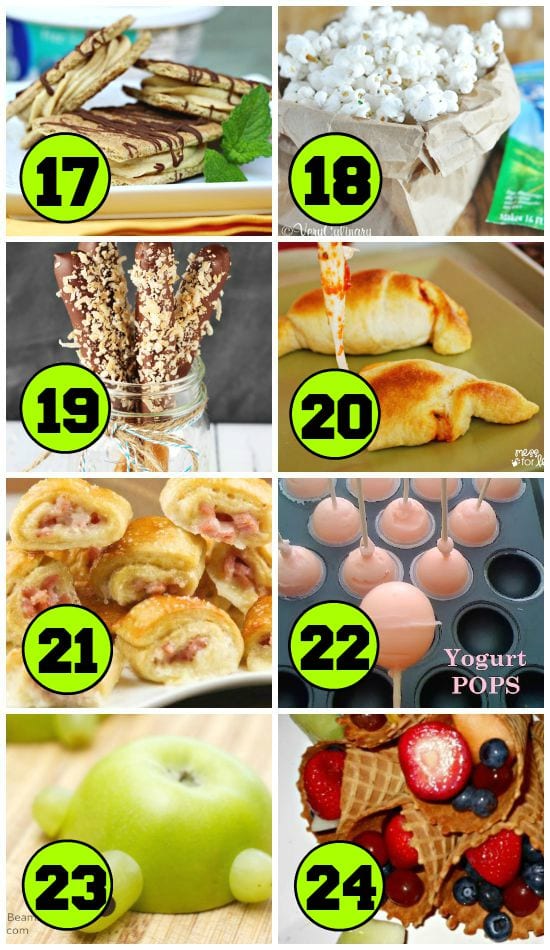 17. Frozen Peanut Butter Snack Square (Renee's Kitchen Adventure) – Make these easy and healthy snacks that include all of your kid's favorite treats…peanut butter, graham crackers, and chocolate!
18. Ranch Popcorn (Very Culinary) – Make your kid's favorite healthy snack – but spice it up with a little flavor for a fun variation.
19. Samoa Pretzel Sticks (Life, Love and Sugar) – Can I have some of these? I deserve an after school treat too, right?
20. Pizza Crescent (Mess for Less) – Use delicious crescent rolls to make easy, yummy homemade pizza rolls. Mmmmmm!
21. Ham and Cheese Pretzel Bites (My Honey's Place) – Mix up your normal pretzel bites by adding some delicious ham and cheese. So easy… So yummy… So healthy!
22. Frozen Yogurt Pops (Fit Mommy Diary) – Freeze yogurt in a cake pop pan with sticks inserted for a lip licking snack
23. Apple Turtles (B-Inspired Mama) – Turn some apples, grapes, and mini chocolate chips into an easy, and irresistible turtle snack your kids will fall in love with.
24. Fruit Cones (Mom with a Lesson Plan) – Instead of using a waffle cone for the traditional ice cream … add some fruit instead! Delicious!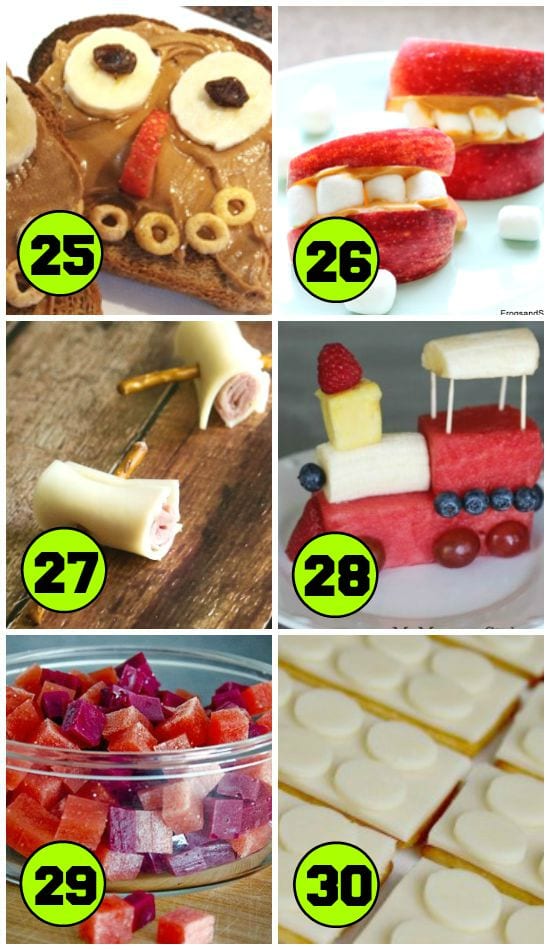 25. Happy Toast (Joy Bauer) – Put a fun twist on the same old boring toast by making it into a smiley face using some healthy toppings.
26. Apple Teeth (Frogs, Snails and Puppy Dog Tails) – Get some apples, mini marshmallows, add a little peanut butter, and voila – an easy snack that will get your kids chomping.
27. Lunch Meat and Cheese Roll-ups (A Mom's Take) – Turn ordinary lunch meat, cheese, and pretzels into a creative lunch.
28. Fruit Train (My Mommy Style) – Use some super healthy fruit and create a fun after school snack your kids will love.
29. Healthy Fruit Snacks (Thank Your Body) – Who says fruit snacks are too sugary? Not these. Make these easy homemade fruit snacks for a healthy and yummy treat for after school!
30. Lego Snack (Create-Celebrate-Explore) – Cheese and crackers are ordinary no more! Your kids will go ga-ga over this easy and creative snack!
20 After School Activities
Have fun with your kiddos when they get home with these exciting activities!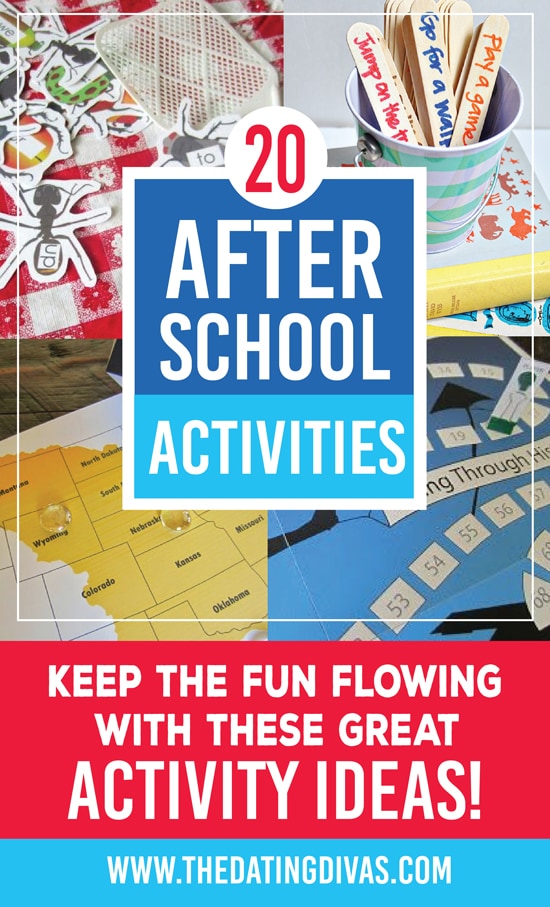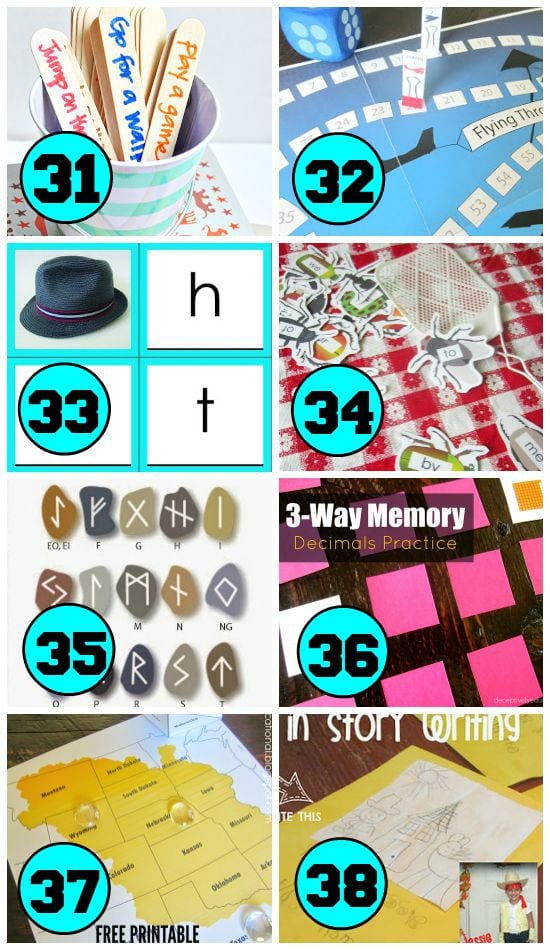 31. Positive Interactions (Thirty Handmade Days) – Spend time with your kids in a positive way when they get home from school by choosing two activities with them.
32. History of Flight Board Game (Relentlessly Fun, Deceptively Educational) – Your kids will have tons of fun while also learning, with this great after school idea.
33. CVC Word Hunt (Relentlessly Fun, Deceptively Educational)  – Help your younger kids learn their letter sounds and work on putting words together with this fun, after school game.
34. Swat the Sight Word Insects (Relentlessly Fun, Deceptively Educational)  – Swatting flies has never been so much fun!
35. Viking Runes (Relentlessly Fun, Deceptively Educational)  – Solve this fun puzzle by decoding some ancient writing in this after school game.
36. 3-Way Memory Game (Relentlessly Fun, Deceptively Educational)  – This is a twist on the normal memory game – use pre-cut squares to make this even easier!
37. Louisiana Purchase Geography Game (Relentlessly Fun, Deceptively Educational)  – Let your older kiddos learn some important history of the United States while playing this fun after school game.
38. Dress Up Stories (The Home School Coach) – Keep your kids' imaginations flowing with this fun and interactive activity.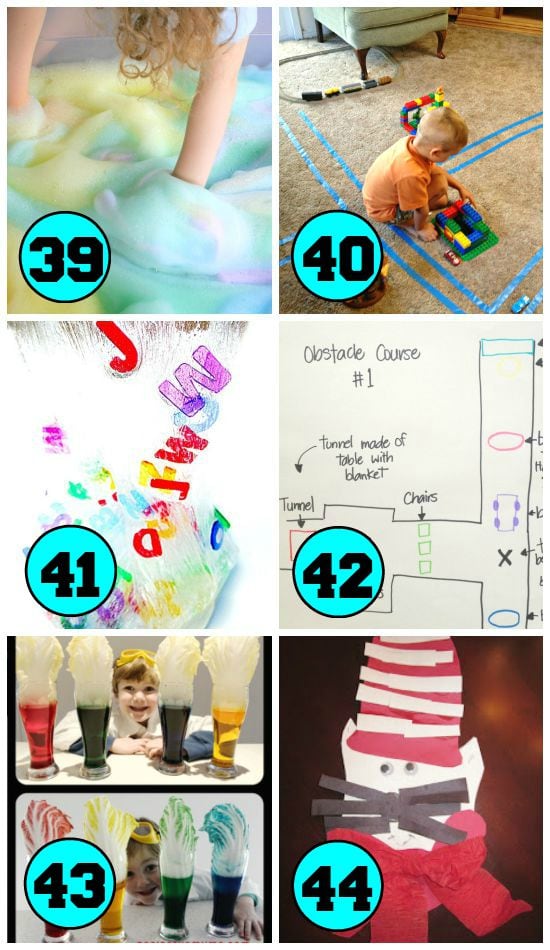 39. Rainbow Soap (Fun at Home with Kids) – Give your kids the chance to create with this soapy, sensory activity!!
40. Railroad Tape Town (365ish Days of Pinterest) – Use painter's tape with your kids to create a fun town for railroads and cars. Then have your kiddos build the town, cars, and trains with Lego's! This is a great after school activity.
41. I Spy Slime (Growing a Jeweled Rose) – Create this fun and easy slime for your kids to have an I-Spy adventure on the search for letters!
42. Build an Obstacle Course (The Crafty Mummy) – Your kids can get out their extra energy in this physical and fun after school activity.
43. Cabbage Science Experiment (Paging Fun Mums) – Have a blast with science in this after school amazing science experiment using cabbage leaves or flowers and food coloring!
44. Dr. Seuss Fun (The Educator's Spin On It) – Celebrate the great Dr. Seuss with these awesome Dr. Seuss after school ideas! Want more Dr. Seuss inspired fun? Check out our 101 Ideas for Dr. Seuss Fun!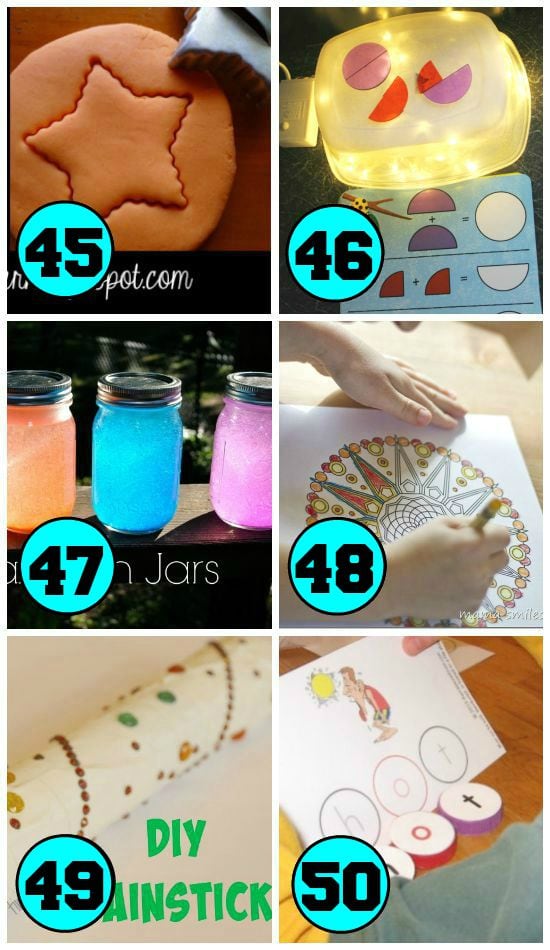 45. Orange Scented Playdough (Liz's Early Learning Spot) – Make this awesome play dough with your kiddos and let them create, create, create!
46. Mini Light Table (In the Playroom) – Create this fantastic light table and let your kids have fun with shapes, math, and letters. The possibilities are endless with this after school activity — it just takes a plastic container, a string of lights, and white paper!
47. Relaxation Jars (Play Dr. Mom) – Make these great relaxation jars to help your kids calm down after school. Use a plain jar so you can decorate it!
48. Detailed Coloring (Mama Smiles) – Give your kids some detailed coloring pages to help their bodies calm down after school.
49. Rainstick (School Time Snippets) – Make these fun rainsticks for a great after school activity – I bet you have everything but the applique pins already lying around the house!
50. Milk Cap Spelling Caps (The Measured Mom) – Let your kids have some spelling fun with these great milk cap letters and mats. What's even better is they can use the milk caps for their spelling homework, too! This is a fun after school activity full of variety!
20 After School Crafts
These are fun and easy crafts that you can do with your kids after school!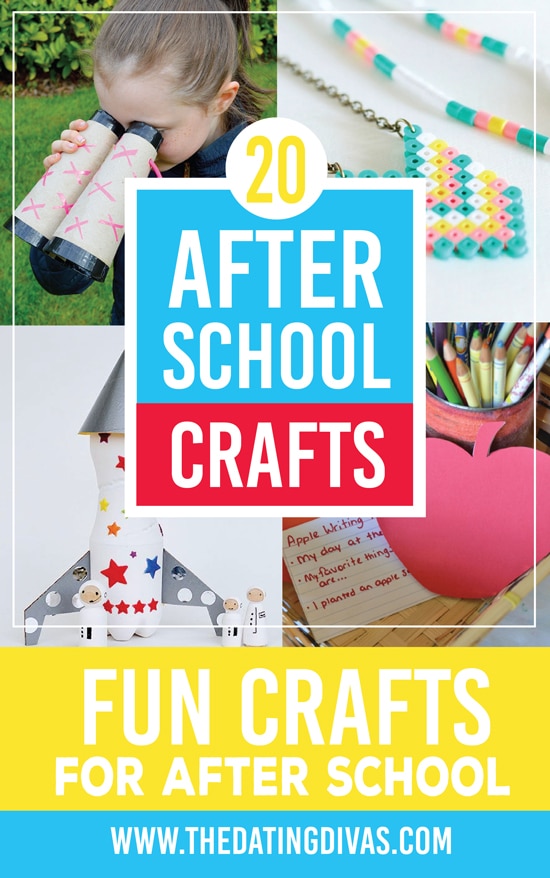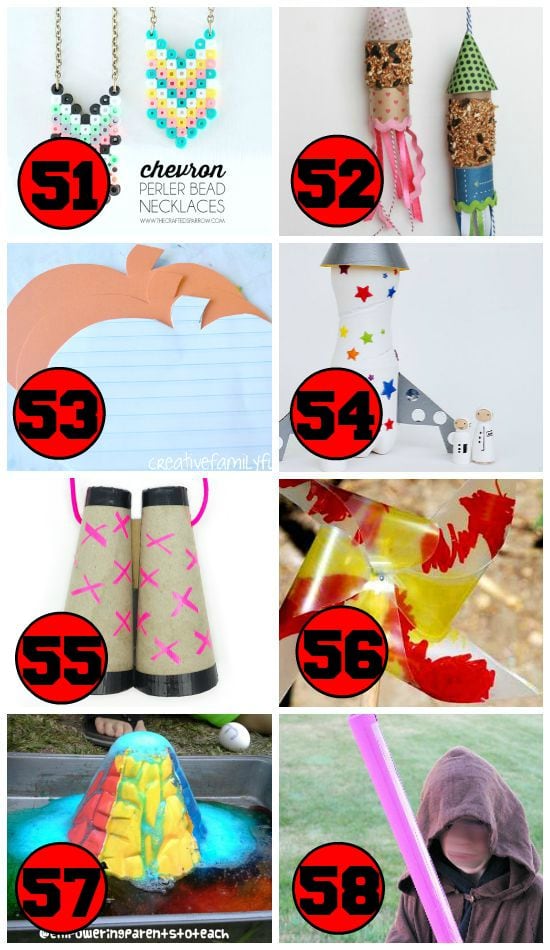 51. Chevron Perler Bead Necklace (The Crafted Sparrow) – Make this perler bead necklace with your kids when they get home from school. What's great is they can create whatever pattern they like in the board – it will keep their creative juices flowing!
52. DIY Rocket Bird Feeder (Lolly Jane) – What a fun project to do with your kids! You'll have a blast watching the birds come eat the bird seed you put out!
53. Apple and Pumpkin Mini Books (Creative Family Fun) – Let your kids jot down their thoughts, draw, or maybe even write stories in these fun DIY mini books. What a great after school craft!
54. Take me to the Moon (Mollymoo) – Let your kid's imaginations soar to the stars with this after school idea.
55. Cardboard Cone Binoculars (Mollymoo) – Create these fun binoculars that your kids can use to get 'lost' in their own adventures. What a fun after school craft!
56. Artsy Personalized Pinwheel (Red Ted Art) – Have fun making these personalized pinwheels with your kids after school.
57. Colorful Eruption (Empowering Parents to Teach) – Have fun with this great volcano eruption. Your kids will love it!
58. Star Wars Light Saber (Crazy Little Projects) – What kid doesn't want a light saber? Help your child make their own with this fun after school craft.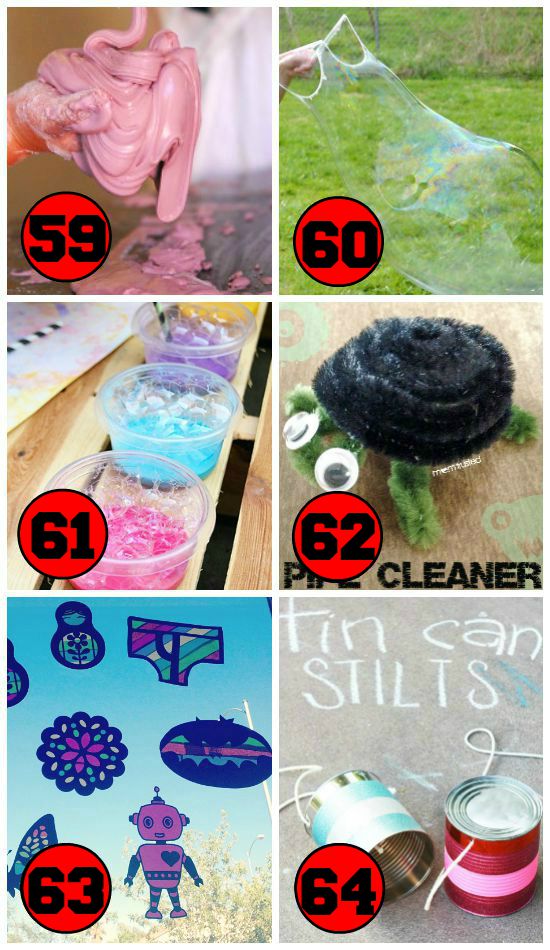 59. Gak Slime (Meaningful Mama) – Make this great, gak slime for hours of after school entertainment for your kids.
60. Big Bubble Maker (Come Together Kids) – Every kid loves to play with bubbles – no matter their age. Help your kids make over-sized bubbles using string, soap, and plastic straws!
61. Bubble Paint (Ziploc) – Make this homemade bubble paint as an after school craft that's also entertaining!
62. Pipe Critters (Mom Trusted) – Create fun critters using pipe cleaners for a fantastic after school craft. What's great is your kids can play with their critters over and over. It's a craft that keeps on giving!
63. Suncatchers (Eighteen25) – Every kid, no matter their gender or age, will love making their own sun catcher out of tissue paper!
64. Tin Can Stilts (Lolly Jane) – Have your kiddos make these great stilts to have endless fun with after school!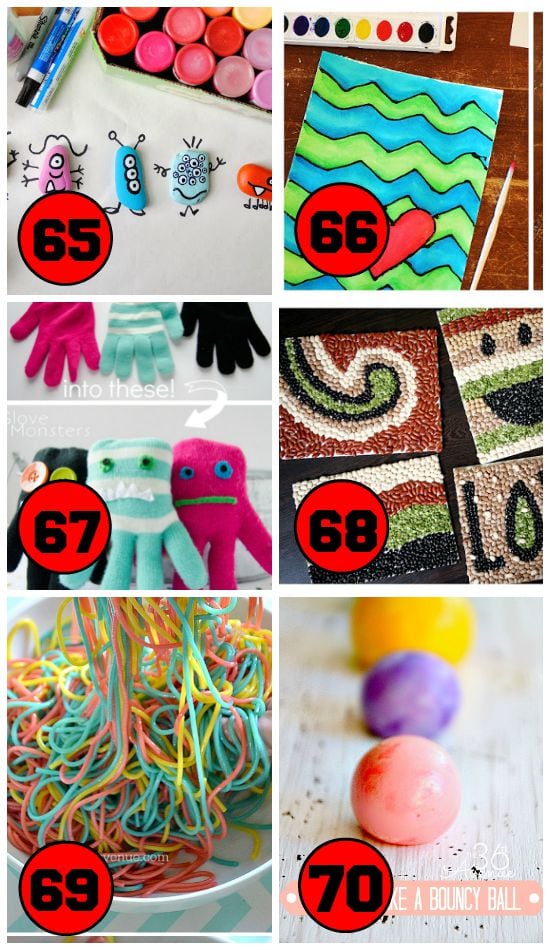 65. Pet Monster Rocks  (A Pretty Cool Life) – Rocks are fascinating to kids. Let your kiddos have fun creating pet monsters out of them using paint for a wonderful after school craft.
66. Water Color Glue Art (Eighteen25) – Use some glue and water colors to create some awesome after school art with your kids. This idea would be a great addition to our Creativity in a Box, it's an awesome hands-off set of activities to prep for your kids – the PERFECT after school boredom buster!
67. Glove Monsters (Craftaholics Anonymous) – Have a blast turning a winter glove into an awesome monster for great after school fun!
68. Bean Art (Eighteen25) – Use a variety of colored beans to create some awesome after school art with your kiddos.
69. Spaghetti Slime (The 36th Avenue) – Your kids are going to go crazy with this fantastically gross (ew!) after school craft!
70. DIY Bouncy Balls (The 36th Avenue) – Have so much fun after school making these homemade bouncy balls with your kids! Who knew you could make your own?!
5 After School Homework Ideas
Help homework time run more smoothly with these great ideas!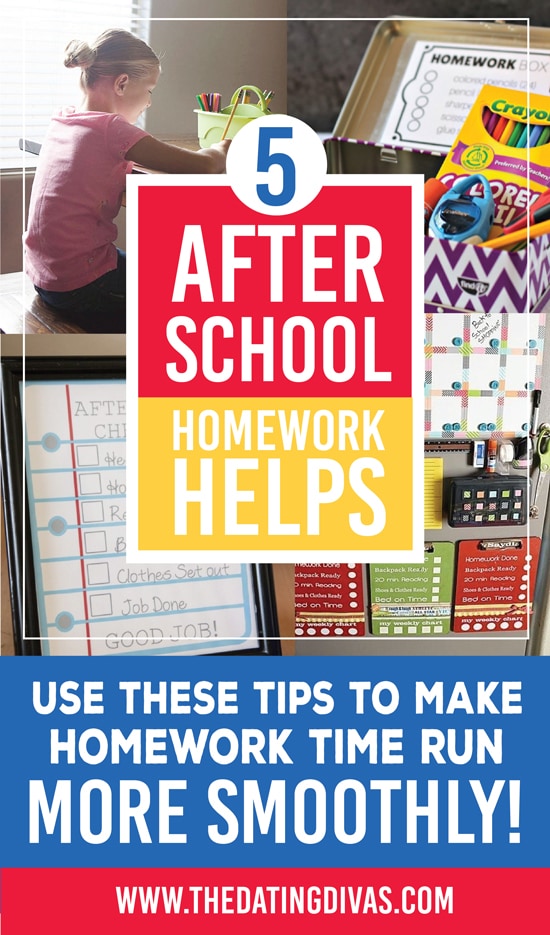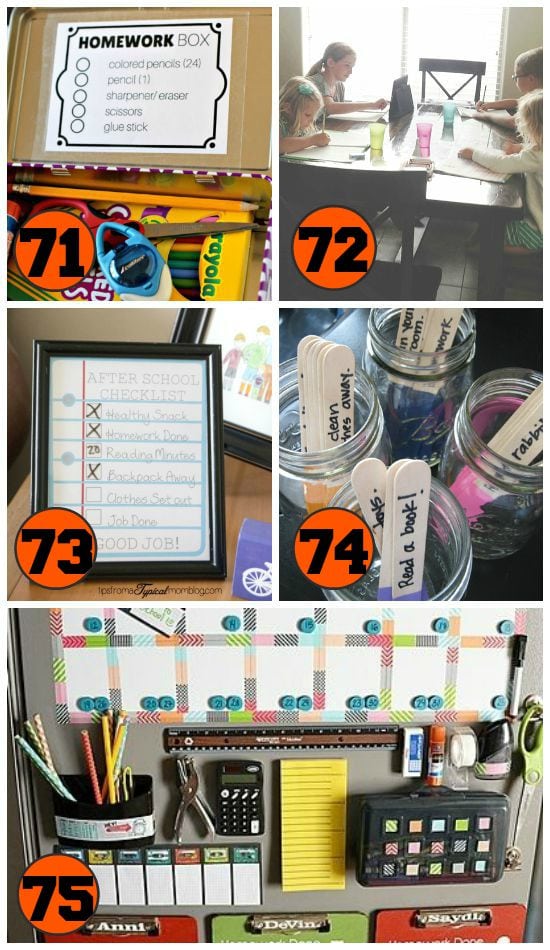 71. Homework Box (A Whimsicle Life) – Get organized after school to help homework go smoothly with this awesome, homework box.
72. Develop a Routine (Simple as That) – Help your kids know exactly what to expect by establishing a set routine for every day.
73. After School Checklist (Pretty Providence) – Create a checklist for your kids to follow so they know what's coming next! If they finish the checklist, you could even reward them with a little educational technology time using this great resource filled with 100 Apps, YouTube Channels and Websites for Kids!
74. Chore Stick (Ginger Snap Crafts) – Creating these great chore sticks will help your after school homework session go much better.
75. Homework Station (The 36th Avenue) –  Make a homework station for your kids to use while they are doing their homework.
5 After School Conversation Starters
Sometimes kids have a hard time expressing how their day went at school beyond the "it was fine" or "I don't know." Get the conversations rolling with these awesome ideas.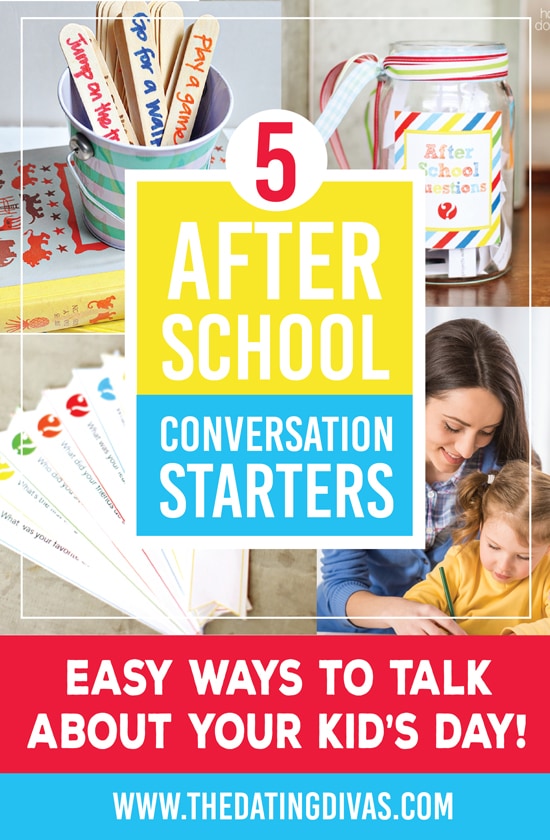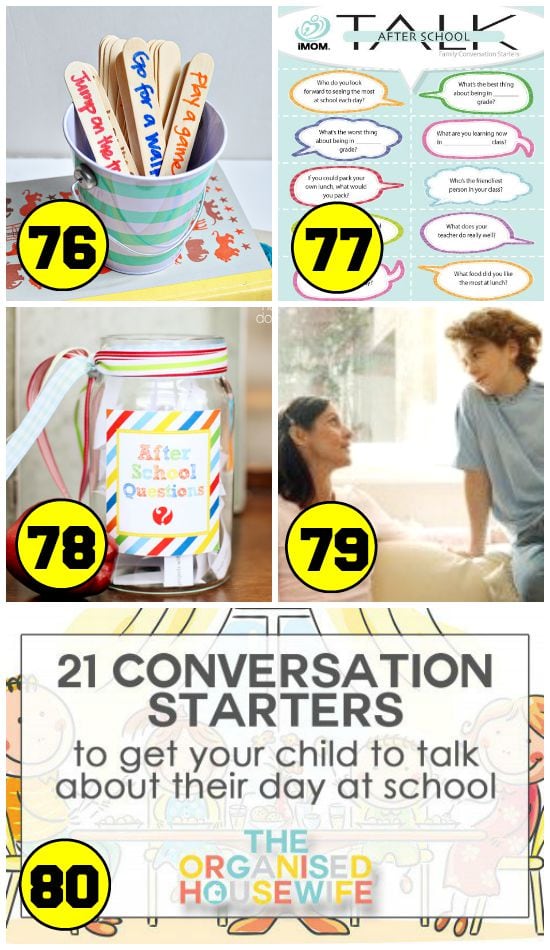 76. Three Things About Your Day (30 Handmade Days) – Help prompt your kids to tell about their day at school by listing off 3 things about their day – 2 positive and 1 negative. It will definitely get their words flowing.
77. After School Talk (iMom) – Use these conversation prompts to help your kids answer questions about their day.
78. After School Questions Jar (How Does She) – If your kid is having a hard time saying how their days were at school beyond a 'good' or 'fine,' start pulling questions from the jar to help get the conversation started. The Divas have a super adorable set of questions, too!
79. 10 Questions (Scholastic) – Here are 10 questions to ask your kids when they get home from school.
80. 21 Conversation Starters (The Organised Housewife) – As parents, we all want to know what happened at school and kids often struggle to think of what actually happened without being prompted. Use these unique questions to help them think back to what happened during the day!
These are awesome ideas, right?!!!! If you like these, check out these Lunch Bag Notes by fellow Diva Paige or Niki's post on Outdoor Water Activities for your kids to enjoy!